7 Best Lead Generation Tips For More High Quality Leads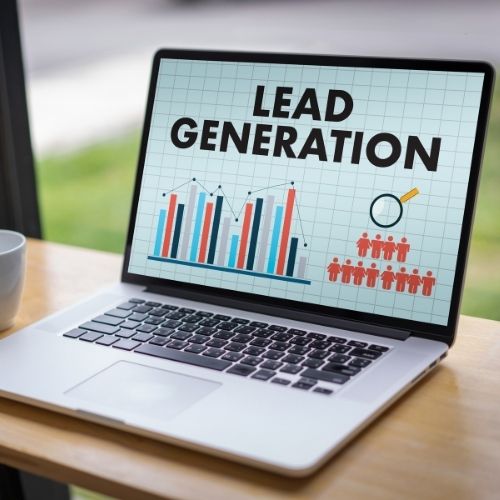 Lead generation is the #1 profit producing activity that any business can invest in. Without leads, you can't generate customers. And without customers, you don't have a business.
This is why lead generation is so important and why we're going to cover the top 7 best lead generation tips now.
If you're doing any form of digital or online marketing, these lead gen tips are going to be crucial for your business journey.
Why Lead Generation Is Important For Your Business
It's said that, "Lead generation is the life and blood of your business."
Every word of that is true.
Lead generation is important because it provides entrepreneurs and businesses with a way to create qualified leads that are ready and willing to buy their product or service.
This guide will cover everything lead gen and more.
---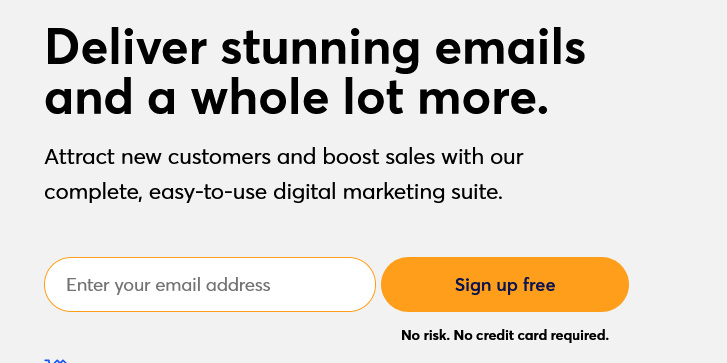 ---
What Are The Best Lead Generation Tips?
You'll find that the best lead generation tips are one's that improve your lead generation efforts, and are repeated over and over again by top marketers.
These lead building strategies have stood the test of time and are more important than ever to learn and put into action.
That's why we're going to completely cover the best lead generation tactics that we've discovered after being in the online marketing industry for multiple decades.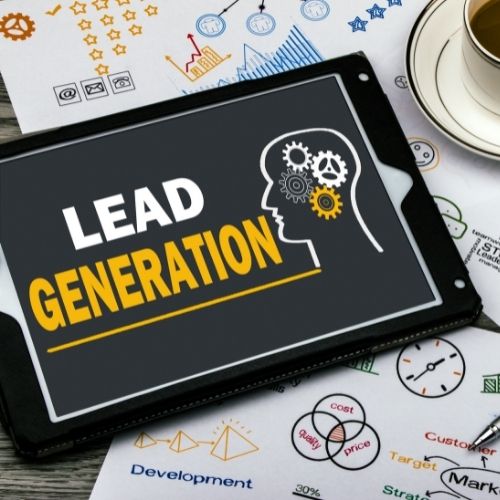 The universal lead generation fundamentals are what the greatest marketers of all time use!
The best lead generation tips are also one's that when used, will produce results for years to come.
Temporary short term wins aren't for long term lasting gains.
You'll find that marketing & business leaders like us, Frank Kern, Joel Therien, Mike Filsaime, and many others all use them, because they just always work..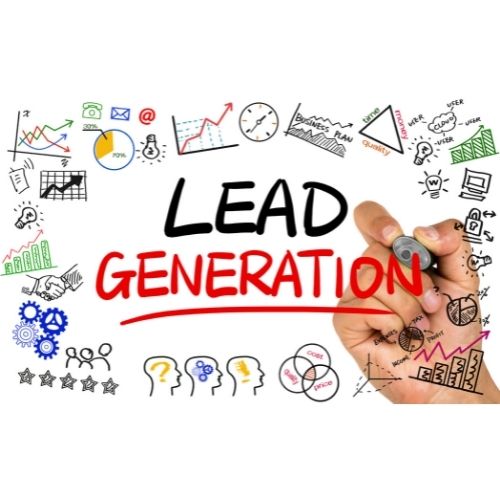 Let's dig in!
7 Best Lead Generation Tips And Strategies
Use these following strategies to scale your lead generation efforts.
Each of them has been perfected and used for decades.
These are sound list building methods.
You should apply all of these tips after you've gone through and read each one.
They are by far the 7 best lead generation tips and tricks that will create momentous increases in lead quality and quantity for you.
Use them well and keep reading on!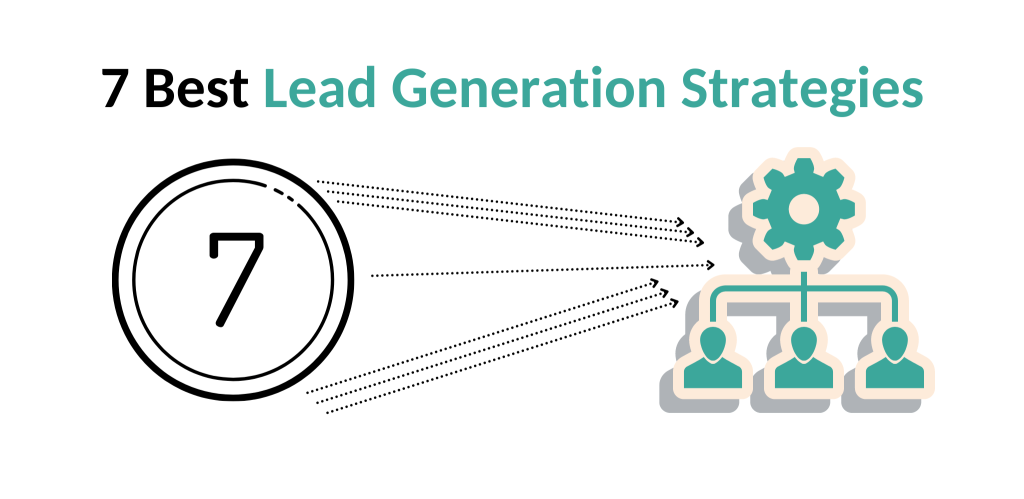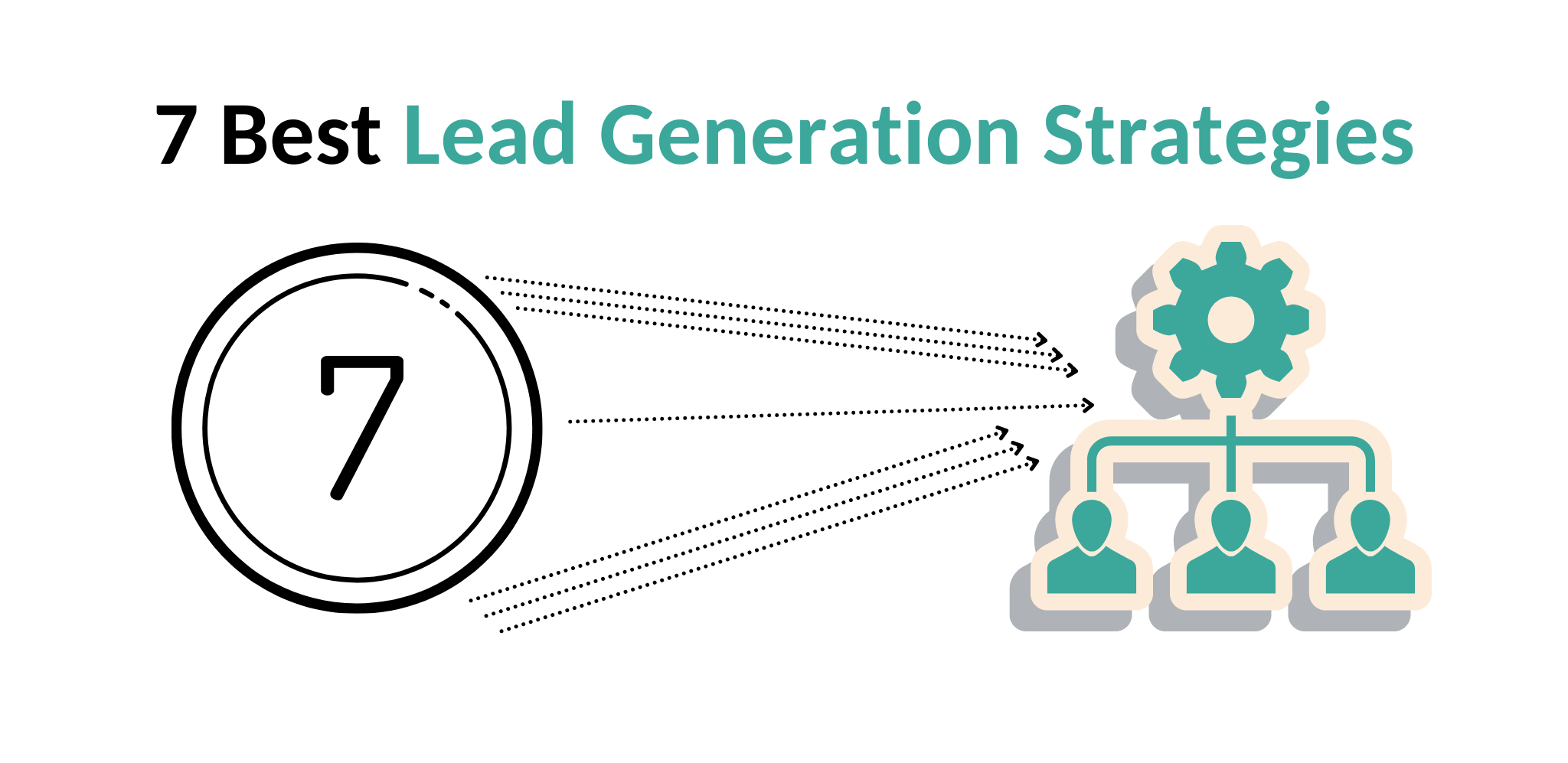 #1: Get More Leads By Increasing Your Opt-in Rates.
Being able to increase the % of people opting into your list and filling out your forms is the fastest way to instantly improve lead generation.
There are a few impactful ways you can go about increasing these opt in rates.
Improve the copywriting on your landing / opt in pages. The page that your viewers see where they have an option to become a lead is the first page of your sales process. This opt-in page can be improved in many ways that will increase your opt-in rates fast. By improving your copywriting, you can improve the likelihood of someone opting in, because the copy is more persuasive.
Decrease the amount of required information on your opt-in forms. People like to fill out as little information as possible. So only gather what is absolutely necessary for you to begin a conversation with your prospective leads. Reducing this, will decrease friction between a visitor actually putting in their info and becoming a lead. Often by reducing the amount of required information on your forms, you can increase your opt-in rate by 5-15%. You'll normally only want to gather your leads name, email, and sometimes phone number if you plan on calling or texting them immediately. Otherwise you can collect phone number in the email nurturing process.
Have a better offer or incentive (Lead Magnet). By having a more impactful reason for your audience to opt-in, a higher percentage of them will want to. Make sure that you have a strong and valuable offer in place no matter which industry you're in. Consider sweetening the pot.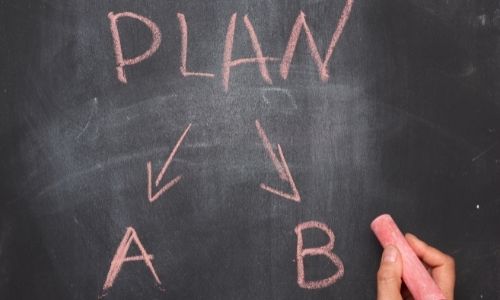 #2: Increase Lead Production Through Split Testing
One of the fastest and most affordable ways to increase your opt-in rates, is to run split tests.
What is a split test?
"A split-test is an experimental test to see which variation of a landing or sales page will perform better."
Here's an example of this…
You're running ads to your opt-in page, and you create a second opt-in page to test against this.
You have opt-in pages, A and B.
The only difference between the 2, is the headlines on each page.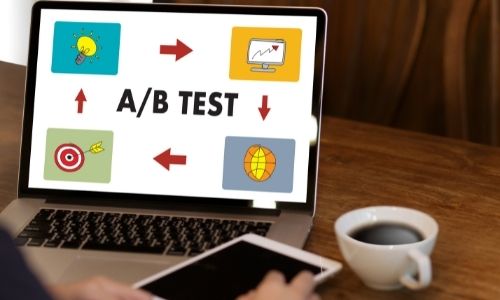 To run a split test effectively, you need to run an equal number of viewers or clicks to each page.
After you've ran an equal number of clicks, you're able to measure and check which page got more opt-ins.
Whichever page got more opt-ins, is the winner of the split test. Being able to run these split tests is quite impactful.
Because if you're able to run a variation page with a different headline that gets a 15% higher opt-in rate, you instantly increase the number of leads you're producing.
The side effect of increasing your leads being generated by 15%? You'll get more customers and you'll also make more money without increasing your cost!
Do not get comfortable, you can always get better results.
The key to making split testing work.
Change only one thing at a time, otherwise you will not know what worked. Even colors on a button can have an impact, we know as we have run many split test.
Run at least 5000 or more visitors to both pages of your split test. You need some numbers for real data.
---
---
#3: How To Get Leads With Giveaways
There's another lead generation tip that can potentially go viral. By running the right "giveaway" or "sweepstake" you allow yourself to attract large amounts of quality & interested leads.
What is a lead generation giveaway or sweepstake?
It is a lead strategy where you offer something extremely valuable for free to an audience in exchange for their name and email.
A real world examples of this – are when you visit a mall and you see that nice new car sitting in the middle of the hallway. Businesses give away cars, trucks, 4 wheelers, and much more in order to generate leads they can contact.
You don't necessarily have to giveaway something like a car, but you can give away different products and services of much lower values & costs, and generate lots of new leads fast.
Marketers often give away hats, wristbands, courses, free trials, laptops, cash, and free subscriptions in a giveaway format to generate leads for their business.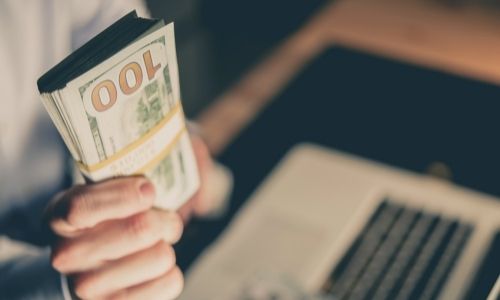 These are just a few ideas that you can use to potentially run your own lead generating giveaway.
#4: Getting Less Leads At A Higher Quality
Every business wants more leads, but many don't understand the potential costs of only focusing on lead quantity.
It can actually cost you a substantial amount of money, to be generating the wrong leads.
On average, a large portion of ad spend is completely wasted on uninterested leads who have no intention to ever become a customer with you.
What's the reason for why this happens? Your focused only on generating large quantities of leads.
You need to focus more on lead quality. Your paid advertising and organic lead gen marketing content should be highly targeted for attracting leads who have the following 3 attributes…
Your lead can afford what you're offering
Your lead wants and is looking for what you're offering
Your lead has a problem to be solved or result they're looking to achieve
Those 3 attributes describe a "quality lead" that every business across the world is looking acquire.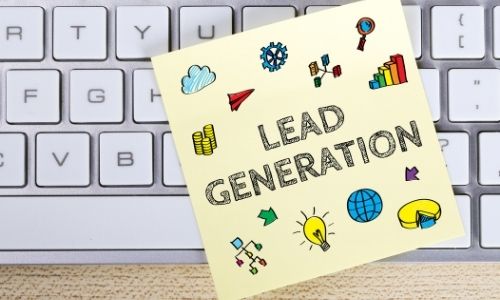 In order to get higher quality leads you need to improve your messaging, copywriting, and targeting.
Each of these 3 areas of digital advertising, effect who is interested and taking action with your ads or content.
By controlling the kinds of people and leads you're attracting, you're able to mostly control the quality and value of them as well.
Always target the right audience.
---

---
#5: Getting Leads Referred To You
Using affiliate marketing or referral marketing is another great way to generate leads.
Affiliate marketing is when you award someone who refers you a lead or customer a defined commission.
This means that for every time someone refers a lead or customer to you, you pay them a certain amount of money.
Most affiliate marketing programs pay out varying commissions per customer referred to them.
This allows a business to have others sell their products and services for them. You can use this lead generation tip to bring in high quality interested leads for your business.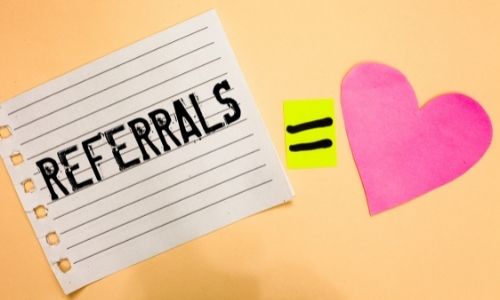 #6: Increase Lead Flow Using Better CRM's
If you want to increase your leads, improve the quality of them, and remove tire kickers from your email list – use a high quality CRM or autoresponder.
Since CRM's and autoresponders are responsible for managing your leads, it's important you invest in a quality one.
You'll want to only use a high quality and reputable CRM or autoresponder that has thoroughly been used by businesses and other marketers.
As well, you want to make sure the lead management tools you'll be using has large amounts of positive reviews.
Often people jump to using a CRM or autoresponder without doing enough research. Then, they discover that company they're using has bad usability and deliverability, doesn't support customers right, or charges ludicrous fees.
Using the right customer and lead management tools can increase your ROI a hundred fold..
---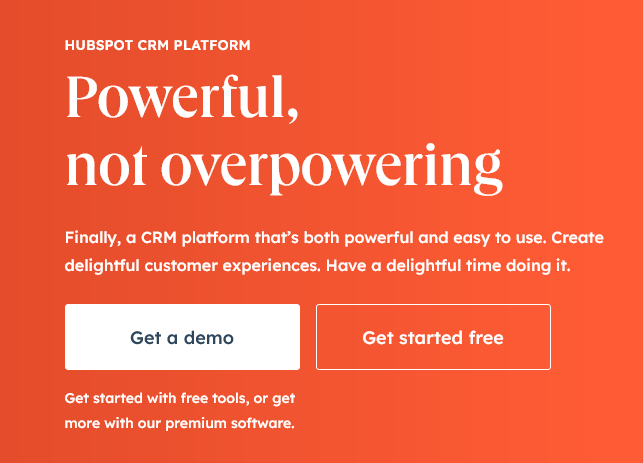 ---
#7: How To Increase Lead Retention
What you do with your leads after they opt-in to your list is just as important as how you acquire them. This is why lead retention and lead nurturing is so critical.
The way you communicate to your leads will determine whether or not they are engaged with your content and whether or not they will buy from you.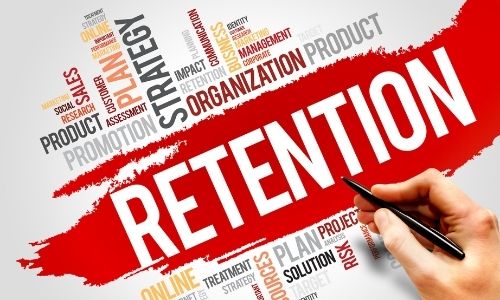 What you'll want to do, to increase your lead retention, is to follow these steps.
Follow up with your leads from multiple different perspectives. The people on your list are real people, who have real lives. Because of this fact, you need to relate with them from different avenues and ways. For example, for one week you may follow up using a lot of statistical communication and messaging. The week after you should mix up the communication again and follow up from storytelling perspectives. Each week, you change a follow up, leading with a different kind of communication. By doing this, you relate to all of the different kinds of personality types on your list.
Follow up with your leads using multiple different sources. Instead of just emailing your leads, you should be communicating to them from all of the available resources available to you. You should be emailing, texting, calling, and social messaging your leads. If you don't have all of those ways to communicate with your leads, just use as many as you have leveraged in your marketing strategies.
Give value to your leads and genuinely help them. Most businesses do to much selling, and not enough providing solutions for their leads. The more you provide for the leads following you – the more they'll trust & buy from you. Free gifts, resources, ideas, strategies, etc. Find out their problems and provide the solutions, that's how you sell without selling.
By focusing on using all 3 of these strategies you will retain and turn more leads into lifelong customers.
Being able to retain more leads is profitable and one of the best lead generation tips there are.
Sign up below to learn how lead generation and different marketing strategies can multiply your own income.
Lead Nurturing
Lead nurturing is the process of developing relationships with leads at every stage of the sales funnel, and through transitioning a lead into a paying customer or client.
This is also a huge part of retaining more of your marketing leads and customers.
It focuses marketing and communication efforts on listening and finding the needs of your prospects, then providing the information and answers they are seeking through your product or service.
On average, 50% of leads in any follow up system are not immediately ready to buy (Marketo).
79% of new leads never become sales (MarketingSherpa).
Companies that excel at lead nurturing generate 50% more sales ready leads at a 33% lower cost (Marketo).
Nurtured leads makes 47% larger purchases than non-nurtured leads (The Annuitas Group).
Special Note: Lead generation is a big part of or also considered email marketing.
WE can help YOU with lead generation!
We offer a completely FREE course (no obligation at all) that you can sign-up to below.
We can't wait to start working with you!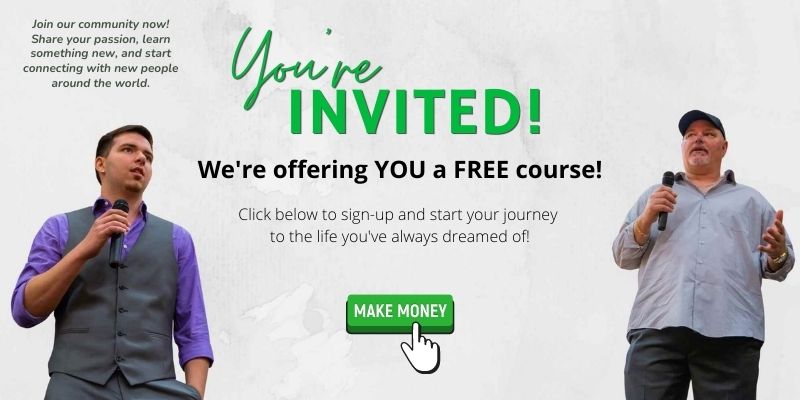 Now that you fully understand how to improve your lead generation efforts, here's more lead generation tips and tricks specifically made for different industries.
Top Lead Generation Campaign Strategies For Specific Industries
Often people want specific lead generation tips that apply to the exact industry they are in.
Whether you're an agency, SaaS company, are a small business, or are a digital marketer – we have more lead generation methods for you to use.
Each of these industries we'll go through, have their own highlighted lead generation tips that work best for only their industry.
Use and apply these lead gen methods and you will see a great increase in leads generated on a daily basis.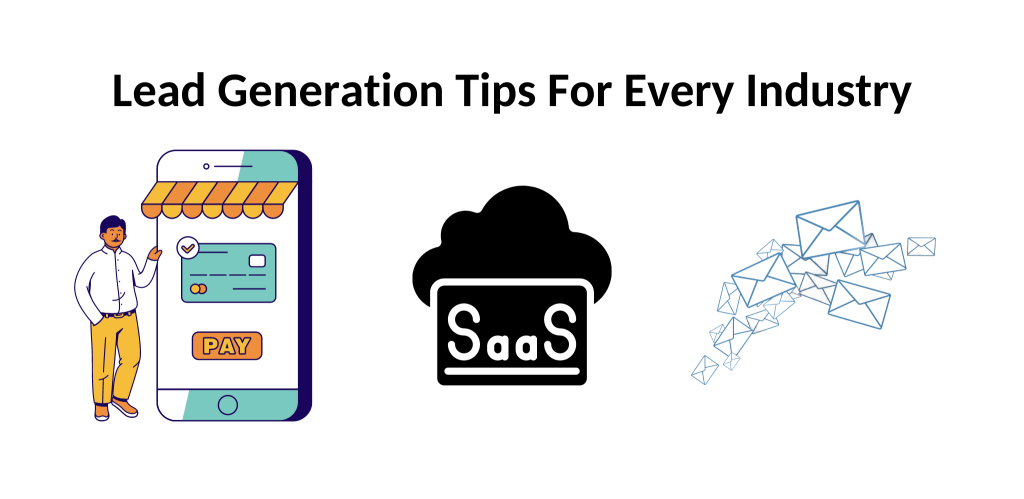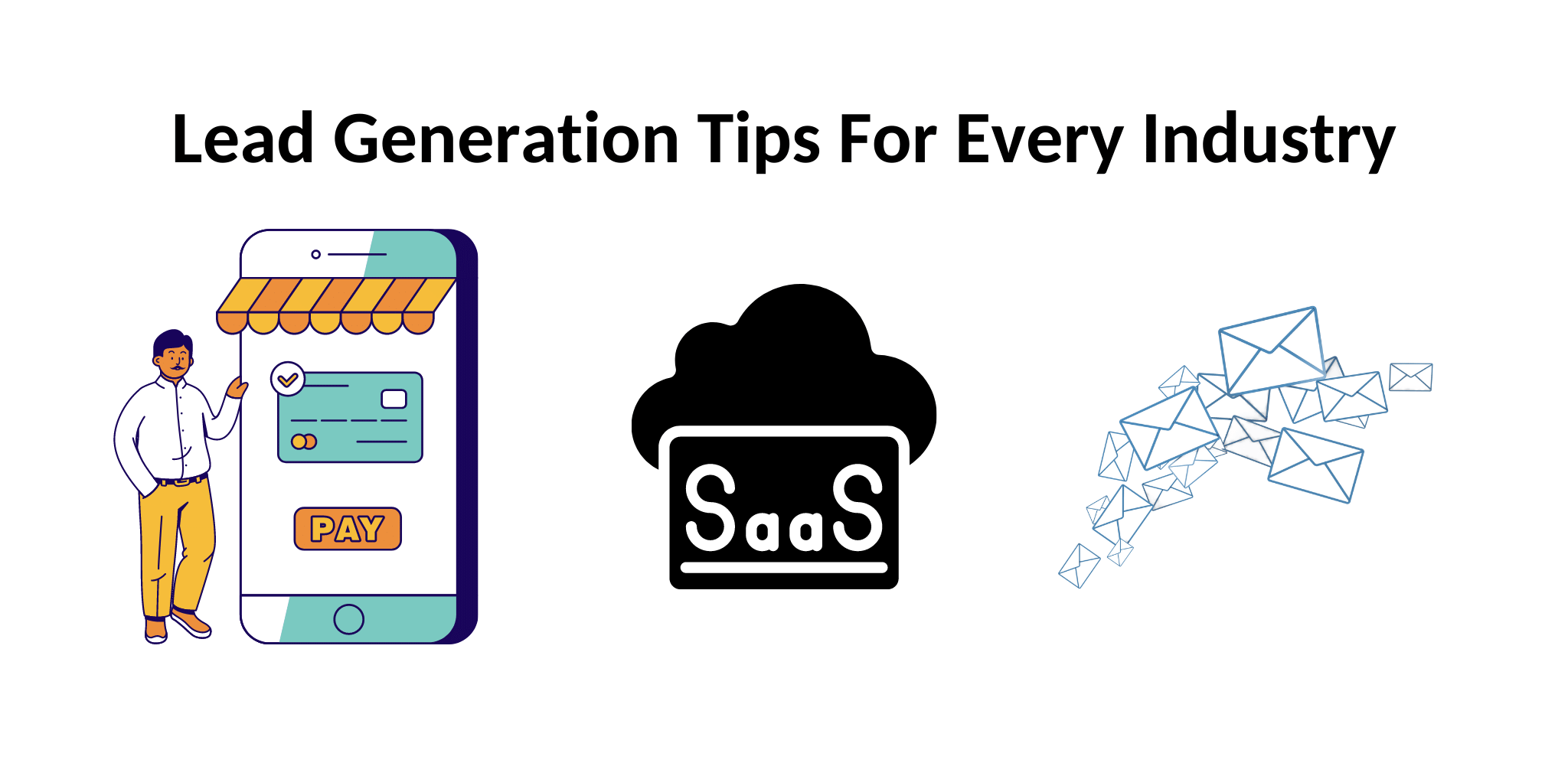 B2B Lead Generation Tips
You'll find that the common messaging in the industry suggests that "B2B (Business to Business) lead generation strategy is different than any other kind of lead gen".
However, this isn't entirely true.
Almost all lead generation strategies are similar or the same.
The reason for this, is that regardless of industry, you are always selling products and services to real people.
And regardless of industry, people tend to act relatively the same.
Even with this being true, there are a select few B2B lead generation tips that you should know.
B2B copy can be more professional in tone.
With B2B lead generation, you need the highest quality of business leads possible. B2B is usually includes high ticket sales and high ticket price tags, or dealing in bulk. Prospecting businesses on the brink of financial ruin will not be good leads to have.
Make sure you are dealing with solid business leads.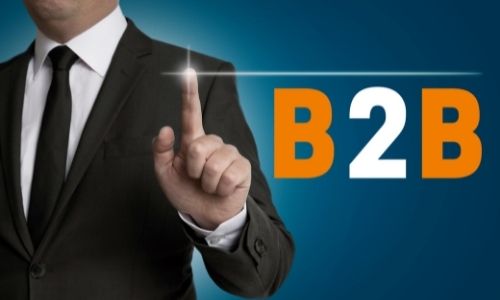 B2C Lead Generation Tips
With companies selling larger quantities of products often at lower price points, B2C (Business to Customer) lead generation is slightly different than B2B.
Here are the 2 main things should focus on when doing B2C lead generation:
Understand that your copy, advertisements, follow up, etc… – are being read by a singular person – not a group of people. Most of the time when people write any written word in business they write as if there will be a group of people reading their copy. However, only 1 person at a time is ever reading each piece of your copy.
B2C usually involves large amounts of products and services being sold at lower price points. Usually, the sales process is shorter and getting a customer to purchase is less work when in the B2C industry.
Ecommerce Lead Generation Tips
There is one highly profitable eCommerce strategy that you should use if you're in the industry. Ecommerce covers a large variety of niches and this strategy works great regardless of the niche you are or types of products you are selling to clients.
Giveaways Work Great For Ecommerce Lead Generation
Because of how eCommerce products and services are usually sold, giveaway promotions usually work great in the eCommerce space.
Try a giveaway, or buy 1 get 1 free promotion, and you will see some great results.
Affiliate Marketing Lead Generation Tips
Have multiple affiliate offers available to be sold to your leads. IF you want to make large margin profits from your affiliate business or for someone else's – you need to have a variety of related offers to be purchased by your leads. Not everyone you have on your list is interested in 1 or 2 products or services, which is why you need a variety.
Sell a variety of high and low ticket products and services. Because there are different kinds of people on your list, you need to have offerings at various price points so you can maximize your profit. Some people on your list will only be interested in lower ticket offers while some will be interested in higher ticket offers. By having both, and some in the middle, you'll be able to profit from each area.
Solo Ads can be very effective for generating leads for many affiliate marketing offers.
Read Our TrafficForMe Solo Ads Review
Inbound Lead Generation Tips
They might have found your business or content through a Google search, a social media post, or one of your marketing campaigns.
Regardless, the important thing to remember is that an inbound lead enters your lead funnel on their own — not as the result of any direct outreach efforts you've made.
You have leads flowing into your business, who are reaching out to learn more about what you have to offer.
For inbound lead generation specifically, there is 1 particular strategy you can use that drastically increases the chance of converting your leads into customers.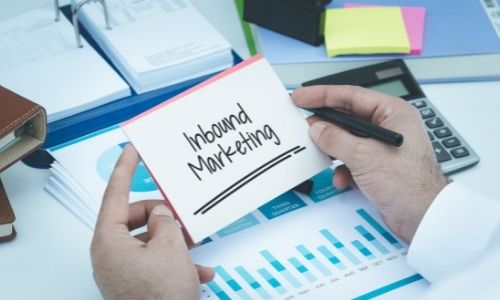 Reach Out To Your Inbound Leads Immediately, These Are Hot Leads!
If you can call or message a lead back within 10 minutes to an hour of them subscribing to your list, requesting a call, or wanting more information…
You will MULTIPLY 10 fold the chance of converting them into a paying customer.
Yes, you will literally multiply your lead to customer conversion rates by reacting quicker to inbound leads.
---

---
Outbound Sales Lead Generation Tips
Often if you're in a sales role, their is some responsibility on your part to do outbound lead generation of some kind.
In order to be successful doing outbound lead generation and especially in sales, you should be following these 4 strategies.
Be helpful and always offer value first to your leads. Before you ask a business to potentially invest in what you want to offer them. Most sales people make the mistake of asking for something before giving to the prospect. Give, give, give, provide value, and they'll naturally want to work with you.
Be professional and genuine. When you're reaching out and doing outbound messaging – your communication needs to be as genuine and professional as possible. After all, you're interrupting other people's day to try having them purchase your products or services.
Be honest and truthful. People can pick up on when you lie or try to deceive them. When asked for testimonials, work examples, etc… Be yourself and be honest to your prospects.
Don't be afraid to reach out. Most sales professionals are scared to reach out to their prospects. You need to let go of the anxiety, and let yourself reach out to as many prospects and leads as you need without fear. You can do it!
Listen. Your prospects will tell you what their problems are, then explain to them how your product or service will solve their problems.
Following these best lead generation tips will be crucial for you to see more results in your business.
Before we offer our final thoughts, you can learn more about lead generation and how it can ramp up your business.
Final Thoughts On The Best Lead Generation Process Tips & Strategy
The biggest mistake in learning new knowledge, is not taking action and applying what you have learned.
All of the above lead generation tricks and strategies should and can be used immediately after reading this article.
You need to take massive action and apply these tips to your business now, so you can see an increase in your leads being generated. And as well, you will see an increase in profit.
Lead generation and nurturing is the #1 profit producing activity that every business should be focusing on. Make sure it's one of your main priorities, and your business will scale exceptionally fast!
We hope you enjoyed this article "7 Best Lead Generation Tips," and learned a lot about how to take your lead generation to the next level.
Please leave us a comment below if you have any questions or need help in anyway, or just say hi.
Have a fantastic day!
Sincerely,
Your Friends And Partners
Richard And John Weberg