Where To Buy Lead Generation Packages That Convert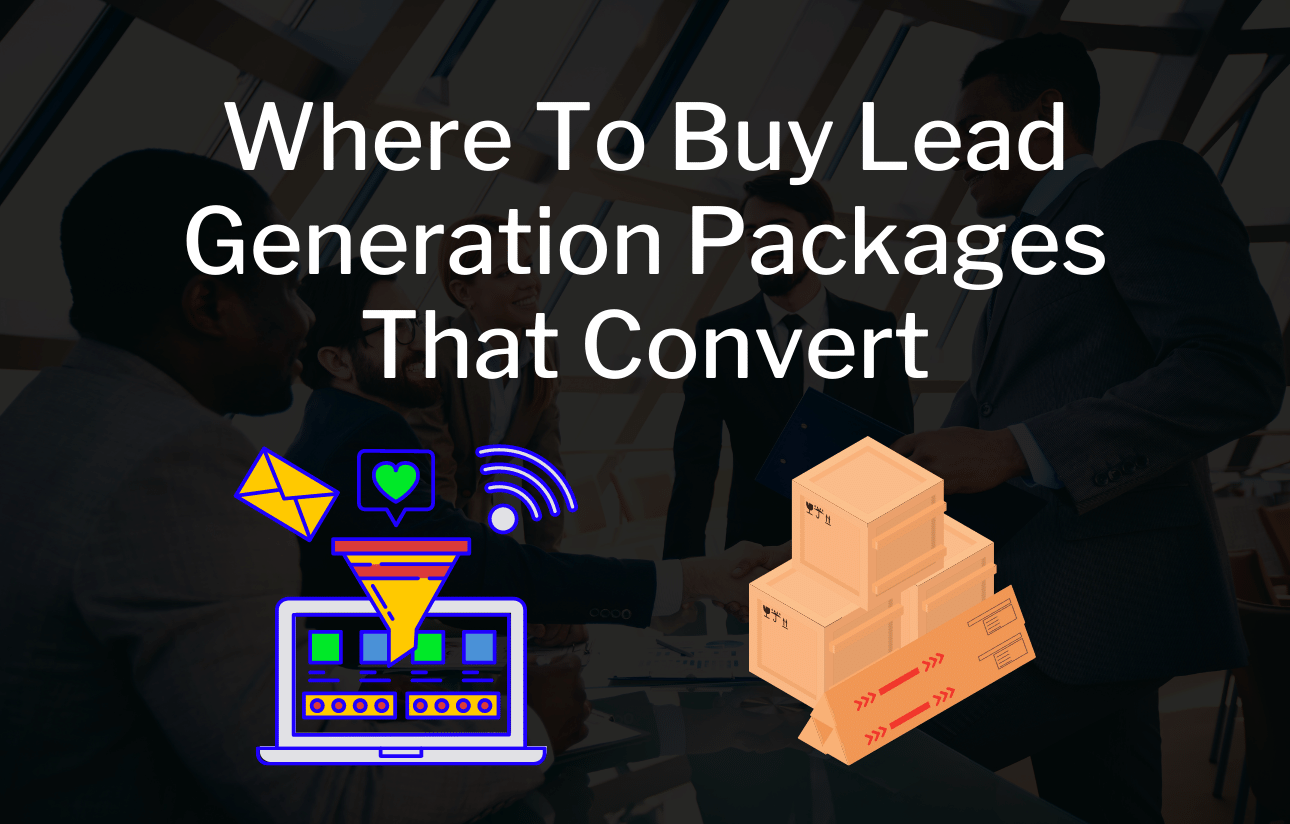 Being able to buy quality leads at affordable prices is important for every single business owner. Because of this, we'll be introducing you to the companies that offer the best lead generation packages for you to buy. Most importantly, we have personally tested how well each of the lead suppliers convert, so we know that their traffic will get you results.
Make sure if you do decide to buy lead gen packages from any of the below resources, that you make sure their type of leads & traffic matches your offer. Since leads only convert when they're directed towards an offer they genuinely have interest in. Lead quality from any packages you invest in, is key to your success.
Best Places To Buy Lead Generation Packages
Traffic Authority
If you're looking to purchase masses of clicks and leads at affordable prices then traffic authority may be the best place to invest. Priced at around $1.10 – $1.20 per click, you'll find that they have clicks at an affordable price. However, TA traffic is only for businesses that are in certain niches or industries…
Here's the list of niches and industries that Traffic Authority lead packages works for…
Affiliate Marketing
Network Marketing
MLM
Make Money From Home
Low Ticket Health And Wellness
Lead Agencies
If you really want customized lead packages that precisely match up with the kinds of traffic you need – you may want to hire an agency. Now, not all agencies offer a "package" for their traffic. This doesn't mean that they wouldn't consider it. Here's a plan to reach out to agencies in a way that will land you quality leads and possibly even in a package deal…
Reach out or request a call with agencies that specialize in the leads you're looking for. For.
Ask for a cost per lead, or ask if they would be willing to sell or generate X amount of leads for a specific cost. This would then turn their lead gen services into a cost per package or specific amount of leads.
Haggle and try to bring the price down as much as you can.
Make sure if you purchase leads from any agency, that you ask how they generate leads and where they get their leads from.
Costs for the high quality leads can be anywhere from $5.00 – $100. Don't be scared of the cost however, because if you have a higher quality lead, that means you'll have to do less follow up to convert them. Also, higher quality leads spend more, and stay customers longer.
Solo Ad Sellers
There is also another great resource to get leads sent directly to the products and services you have to offer. We highly recommend solo ads, or direct emails sent to massive email list that have the types of customers you want to connect with, on them. You can buy solo ads from a variety of different places.
There are specific solo ad marketplaces, solo ad vendors, and also private solo sellers. You can even sometimes request from a company the cost to send an email to their database of leads or customers.
Here's the best list of solo ad providers…
Udimi Solo Ads
Solo Ad Facebook Groups
Organic Reach Out To Companies With Large Email Lists
Expect to spend anywhere from $1.00 per lead – $5.00 per lead.
Email List Sellers
If you really want to buy a bulk database package of leads that is interested in what you're offering, considering buy someone's email list. You can buy leads and email list from specific vendors, list suppliers, and from companies directly.
Keep in mind that buying a bulk package of leads will cost more money since you're buying such a large amount of leads & potential customers at once.
Expect to spend at least a few thousand dollars per email list you buy.
Are Lead Generation Packages Expensive?
The cost of lead generation packages depends on where you get the leads from. If you're great at following up with leads however, then the cost won't matter as long as you can generate a customers at a profit from the purchase.
A lead generation package, if it contains the right quality of leads, can cause a large increase in customers acquisition. Just be careful when selecting who you're going to purchase the leads from. And make sure, that you ask questions pertaining to where and how they get their leads.
Final Thoughts
This guide walked you through exactly what lead generation packages are and how you can buy some for your business. Lead generation is key for business growth to truly do vet any places you decide to buy leads from.
With our kindest regards,
Jon Weberg
Richard Weberg