Affiliate Commission Rates: 30 New Programs You Should Join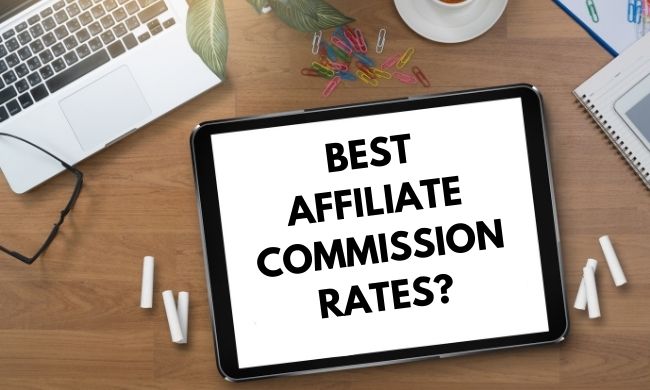 A major part of deciding which affiliate program to join are the commission rates the offer has. These can vary considerably, depending on what industry the program belongs to.
For example, if you enrolled in the Amazon Associate Program, which is one of the largest affiliate programs in the world, affiliate commission rates on average are set at around 4% to 7%.
On the flip side, if you join as an affiliate for a Web hosting company, financial business or a company promoting health products (and other competitive businesses), affiliate commission rates can be as high as 70%!
These industries can be incredibly competitive, so making money can prove difficult if you don't know how to promote them.
We've investigated a range of companies from different niches to help you decide if they are worth joining!
As part of your online affiliate marketing business, its research like this that can make or break your empire!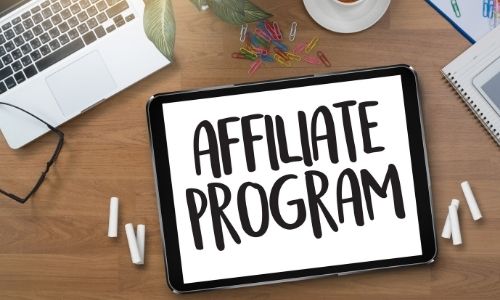 Web Hosting Affiliate Commission Rates
There are an estimated 1.7 BILLION websites on the internet, making web hosting big business!
With them all fighting it out to host your website or blog, hosting companies have some of the highest affiliate commission rates around.
Let's take a look!
Bluehost Affiliate Rates
Bluehost are a leader in inexpensive shared web hosting.
With over two million websites hosted on its servers, they are the go-to choice for businesses and individuals who need reliable hosting services.
But how good are there affiliate commission rates?
Commissions rates start at 65% when a new customer signs up to a qualified hosting plan.
However, because there are 'tiered' Bluehost packages, affiliates can earn up to $110.
Becoming a Bluehost affiliate is dead simple – just sign up with a few details and you're good to go!
Beware though, because this industry is ultra competitive.
We suggest using a CRM to build a targeted list of people who are interested in creating or running a website or blog.
Your lead capture pages and sales funnels need to be perfect!
---
Siteground Affiliate Commission Rates
Siteground has grown into to one of the most successful web hosting businesses in the world, serving over a million customers in over 180 countries!
They have the utmost commitment to customer service.
By providing top-notch support has been the key to success for Siteground, and they work hard to make sure their customers are happy.
But what are Siteground commission rates like? Are they competitive?
Well, they offer a tiered structure, which ties in to how many customer sign ups you can get.
These are as follows:
| | |
| --- | --- |
| Number of Sign-ups | Commission Rates |
| 1 to 5 sales | $50 per sign up |
| 6 to 10 sales | $75 per sign up |
| 11 to 20 sales | $100 per sign up |
As you can see from this pricing table, Siteground offers VERY competitive commissions.
The more sign ups you get – the more you can earn!
---
KnownHost Affiliate Commission Rates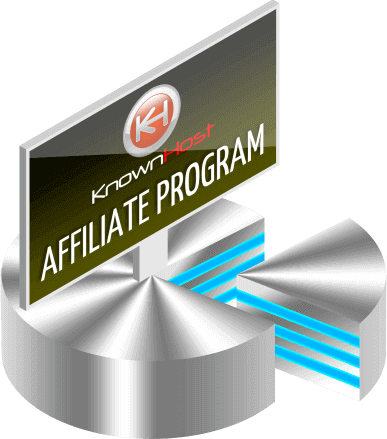 We are huge fans of KnownHost because we love the range of hosting plans on offer, plus they have always helped us with any issues that we've had.
With incredible support, they have a range of plans to suit any business – however big or small.
From managed WordPress hosting (perfect for starting your own affiliate market business) to installing an SSL certificate on your existing website, KnownHost excels in every area.
We think that their affiliate commission rates are pretty decent too!
The KnownHost program is FREE to join, with the ability to earn as much as $125 per customer that signs up to KnownHost (based on the quantity sold of course)
Check it out for yourself below.
---
Hostgator Affiliate Commission Rates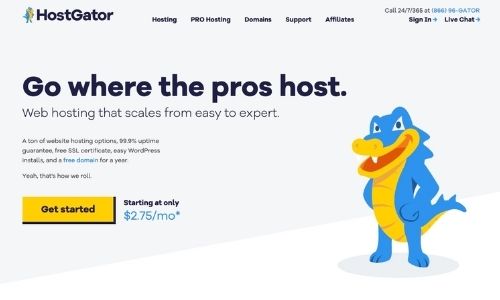 Have you heard of hostgator web hosting?
Hostgator is a very reputable hosting company with thousands of websites hosted on their servers and is used by bloggers and large-scale eCommerce businesses.
They have been in business for a long time and they are extremely reliable when it comes to uptime, speed and customer support.
Hostgator's prices vary depending on what sort of hosting package you're looking for – shared, reseller, dedicated or VPS.
They have cheaper plans that start from just $4 a month and then go up into the higher hundreds for more powerful hosting packages.
I personally host a few smaller websites on their shared plan which costs me about $15 a month.
A simple – but reliable web hosting company.
If you join their affiliate program, you can expect to earn some great commissions!
Like Siteground, they have opted for a sliding scale.
The more sign-ups you can get each month – the better commission rates you will receive!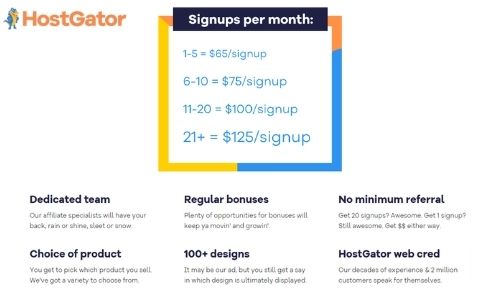 ---
LiquidWeb Affiliate Commission Rates
Devoted to web and cloud hosting, we have used LiquidWeb for many years and have found them to be very professional with our demands!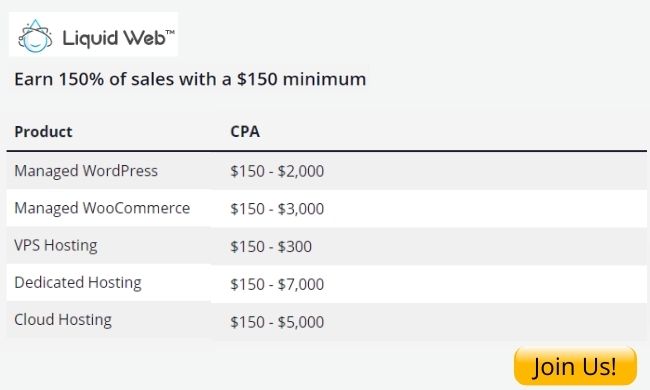 With customers in over 150 countries, over half a million websites are hosted with LiquidWeb – backed up by a team of 500 support professionals.
What type of hosting products do LiquidWeb offer?
From managed WordPress hosting to looking after your database, LiquidWeb offer a wide range of options, which include:
VPS
Managed WooCommerce
Magento Cloud
Dedicated Hosting
VMware Private Cloud
Basically – everything your business needs to grow and flourish!
Like all big hosting companies, the LiquidWeb affiliate & referral program is highly competitive.
Powered by in-house platform 'Impact Radius', you can earn as high as $150 PER SALE!
This includes promoting LiquidWeb on your website, referring friends, family or business clients.
All commissions are tracked by simply logging into your account.
Get started as a LiquidWeb affiliate today!
---
Digital Products Affiliate Commission Rates
If you're an affiliate marketer, or are looking at trying affiliate marketing to build wealth, then you will no doubt need to join a digital services platform.
These portals feature hundreds of services that you can tap into and make some pretty decent affiliate commission rates in the process!
So, let's take a look at some of the most popular digital marketplaces.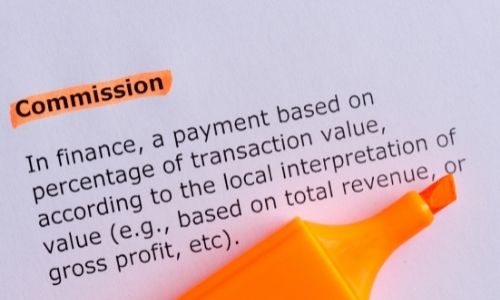 Fiverr Affiliate Commission Rates
When fiverr.com was first created, the idea behind it seemed to be of a service that could offer a cheap alternative to outsourcing work.
Billed as 'a gig economy', Fiverr has become THE place for people looking to hire freelance services.
As fiverr has evolved, so too have its products and services available for purchase on the site which includes graphic design, content writing, voice-overs, programming and tech to name but a few.
This has led fiverr to create its own affiliate program.
By promoting fiverr's services via a fiverr affiliate account, you can start earning commission on any sales that are generated through your promotional efforts.
This can be from your own website, a blog or social media.
How do you become an affiliate for Fiverr?
The first step is to sign up to the partner program which you will find here.
It's easy to sign up, and once you're done with that, head over to your dashboard where you can manage all of your campaigns.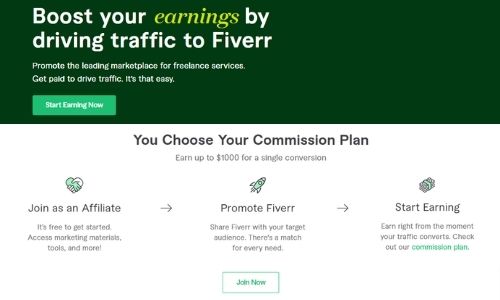 There are many benefits to joining the Fiverr affiliate program:
Get paid for every first-time buyer, with no referral limit and a lifetime attribution<Gain access to professional support, tutorials, and a dedicated Affiliate managerEasy-to-use dashboards to launch, manage and monitor campaignsA portfolio of high-performing creative assets to help you promote
Because there are four main Fiverr businesses, affiliate commission rates vary.
Fiverr Business (Business freelancers) – $100 CPA once you reach $100 in spend, plus a 10% revenue share for 12 months
Fiverr Affiliates (Freelancers) – 10% of every referred affiliate's earnings for a lifetime
Fiverr Learn (Online Courses) – 30% for every course order placed
Fiverr Workspace (Projects, Proposals & Contracts) – 50% for every unlimited plan sign up
As you can see, Fiverr offers a very generous commission rate structure!
We love this program, and have earned plenty of extra pocket money because its very easy to promote.
Clickbank Affiliate Commission Rates
Clickbank was one of the very first affiliate programs and is now one of the leading platforms for marketers promoting digital products and eBooks.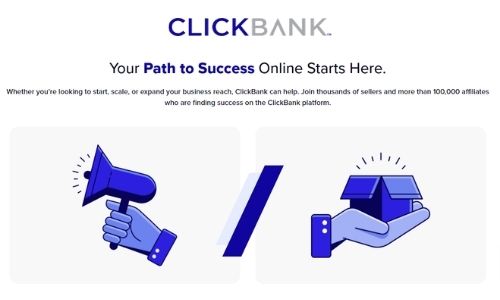 When looking for the best affiliate program to join, Clickbank offers some of the best commission rates around.
When I first stumbled upon Clickbank, I was a little skeptical because it seemed like clickbank was full of poor programs and ebooks.
A clickbank affiliate told me that he had made $8,000 over the course of five months and eventually convinced me to join clickbank and try it out for myself
I'm glad I did!
But what is Clickbank exactly?
Clickbank is an online platform where you can buy and sell digital products such as ebooks, video training courses, computer software programs and more.
You receive a certain percentage of sales, but each product is different and rates vary.
In this instance, its best to give you a quick example.
Digital Product Cost: $47
Commision Rate: 75% + 2% Clickbank fee
You Earn: $35.25 – 2% fee of $0.94 = $34.31
Plus, a lot of these digital products can be recurring, opening up the opportunity to earn passive income!
---
CJ.com Affiliate Commission Rates
Formerly known as Commission Junction, CJ.com is similar to Clickbank.
They work with a wide range of recognizable brands to make it easy for you to find reputable partners that you canpromote and earn from.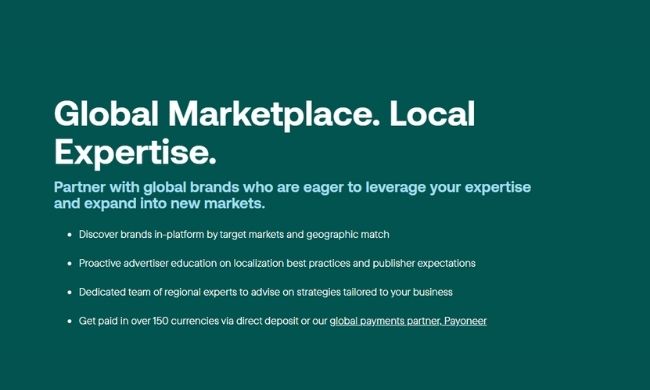 Once you sign up with CJ.com, you are offered a wide range of tools to help you promote and earn advertisers offers.
Access includes:
Instant access to a global network of brands
Ad and content monetization to compliment your workflow to increase conversions
Reliable payments system
Insights and analytics on-demand
Robust API's for custom solutions
A dedicated team of experts on hand every step of the way
From the moment you sign up, you can expect a whole package of tools to help you get started.
So, how are CJ.com affiliate commission rates comparable to other leading programs, such as Clickbank?
Most offers that you can promote are CPA (cost-per-action).
This includes pay-per-sale, pay-per-lead and pay-per-call, depending of which affiliate offers you want to promote.
As a ballpark figure, commissions tend to be between 20-35%, which is excellent compared to other digital product affiliate marketplaces.
---
ShareASale Affiliate Commission Rates
Voted best CPS network in 2022, ShareASale is the fastest growing affiliate platform on the planet!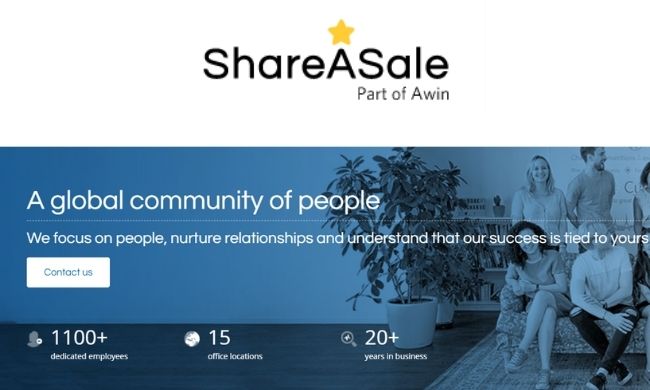 With over 16,000 publishers, we are huge fans of this platform.
Whatever niche you are in, ShareASale is bound to offer a product or service that you can promote.
Whether you are an influencer, content creator or website owner, ShareASale can offer you:
Access to hundred of well loved brands
Transparent real-time reporting
Custom affiliate tools
Cutting edge technology
Superior support
Merchants of the ShareASale platform set their own affiliate commission rates, which can range from 10% up to 60%.
This is in line with other reputable market platforms, such as Clickbank and CJ.com.
We promote a few products using ShareASale and we have found them to offer a high value service.
As a side note, we have had no issues with the dashboard, support or payouts during our time with them as a publisher.
What are you waiting for?
Unlock your potential by joining ShareASale and receive access to thousands of products and services ready for you to promote today!
---
eCommerce Affiliate Commission Rates
Over the past couple of years, there has been a seismic shift in our shopping habits.
We have flocked to shopping online, so it does make sense to get in now and start promoting ecommerce products across your websites, blogs and social media channels.
But who offers the best affiliate commissions rates?
Let's take a look…….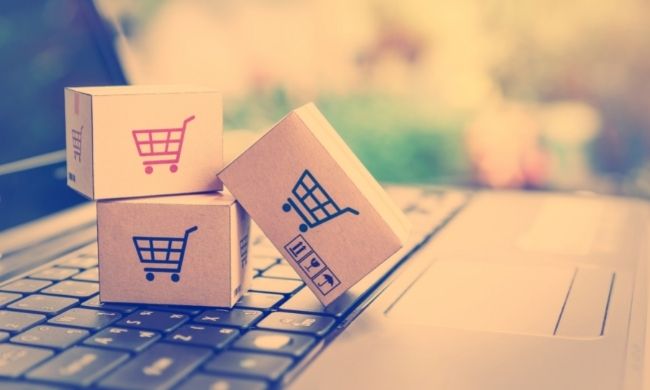 Amazon Affiliate Commission Rates
The biggest online retailer in the world happens to also own the largest affiliate program in the world too, which comes as no surprise!
Whether you're a publisher, content creator or blogger, the program helps monetize your traffic.
Over the past few years, Amazon affiliate commission rates have been cut – much to the dismay off marketers everywhere.
But Amazon is still a brand that is trusted.
Lets jump in to the current affiliate rates for each category.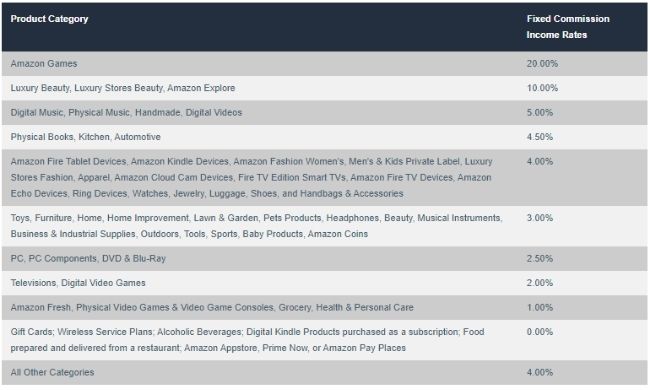 As you can see, you really do need to pick your niche carefully.
Otherwise, you will have to work twice as hard to generate decent profits!
---
eBay Affiliate Commission Rates
Known as the eBay Partner Network, eBay is similar to the Amazon program above.
You can earn money by driving traffic and promoting sales on your website, blog, email or social media marketing.
For any 'qualifying transaction', you receive a percentage, based on the commission structure for that category.
These are as follows: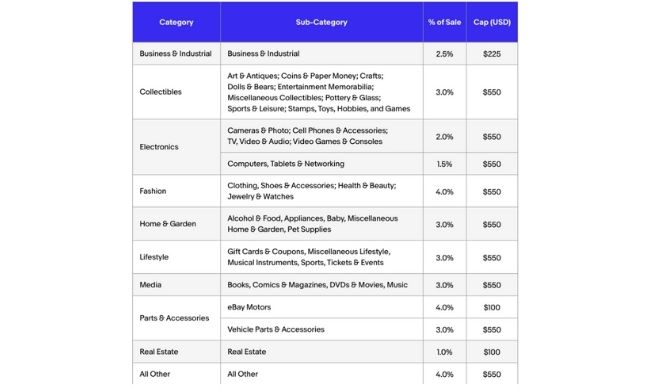 eBay affiliate commission rates are quite low, but they do the hard work because eBay are a trusted brand, known worldwide.
If I had to choose between the two, the Amazon Associates Program just about scrapes this battle!
Join the eBay Partner Network!
---
Walmart Affiliate Commission Rates
Refer customers to Walmart – and earn big bucks!
The thing is, you don't – unless you are driving huge amounts of traffic to your website.
Walmart affiliate commission rates are between 1% and 4%, which is very low.
| | |
| --- | --- |
| Category | Payout |
| Media & Gaming, Electronics, Cameras & Supplies, Wireless, Toys | 1% |
| Sporting Goods, Patio & Garden | 2% |
| Books & Magazines, Photo Services, Stationery, Automotive, Tools, Personal Care, Pets, Baby, Personal Care, Beauty, Shoes, Apparel, Jewellery, Seasonal | 4% |
Most products fall within the 4% bracket, which is on par with some categories found on eBay or Amazon.
We haven't personally experimented with the Walmart Program, so let us know how you get on if you do join?
---
Email Marketing Affiliate Programs
Email marketing has been a key component to the success of many businesses, big and small.
So joining an email marketing affiliate program makes sense!
As you may know, we are huge fans of email drip campaigns, and our success and expertise in this area allows us to promote a range of tools that have helped us create strategic and compelling campaigns.
Here are our personal recommendations of the email marketing affiliate programs that are worth promoting to your audience.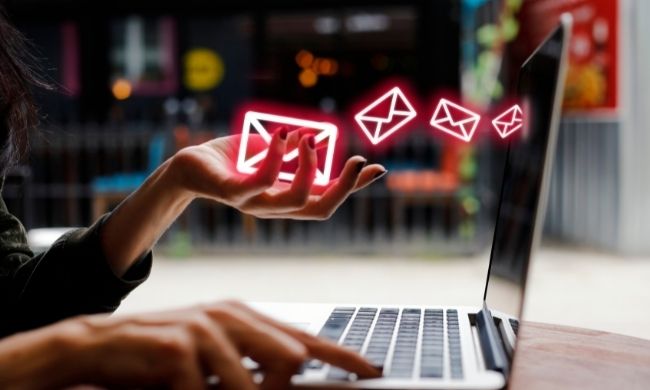 AWeber Affiliate Commission Rates
With a high payout per sign up, AWeber is one of our favorite affiliate programs to promote.
You can earn (and we have!) up to 50% recurring payments every month for the lifetime of a paid account.
If you are passionate about digital marketing, have built a targeted audience or have grown your email list to a decent size, you will enjoy promoting AWeber!
The earning potential is HUGE!
Let's say you refer just 50 new paid accounts within a 12 month period (that's just 4 sign ups per month) and they all opt for the £19.99 package.
This will generate $6,000 per year – for every year they stick to the plan!
Once you sign up, you will receive access to:
Helpful articles and ads
Visitor and sales stats
Email sales notifications
Customer referral newsletter with tips on promoting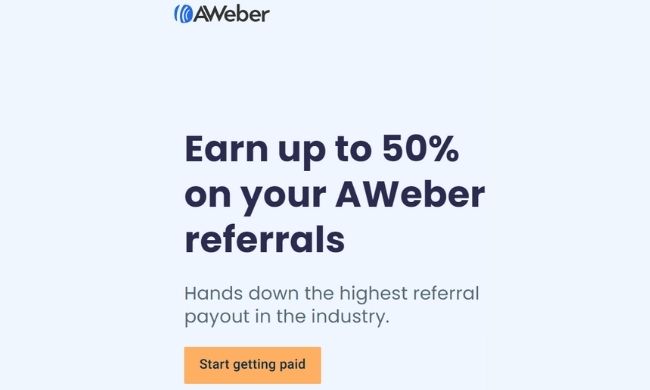 We talk about AWeber a lot on our blog.
This is because it has really helped us focus, build and grow our email marketing campaigns.
With AWeber, you can:
Gain access to tons of pre-built email templates
Send push notifications
Create highly effective landing pages
Plug AWeber into Canva and open up endless design solutions
Receive educational resources
Become an AWeber advocate TODAY!
(You can join AWeber yourself, or scroll down to the bottom and click 'Customer Referral Program')
---
GetResponse Affiliate Commission Rates
GetResponse is a powerful suite of tools that are used to send emails, create pages and automate your digital marketing.
There are actually two programs that you can choose from:
Affiliate Recurring Program where you can earn continuous affiliate commission rates of up to 33% every month, or;
Affiliate Bounty Program that pays you an upfront commission of $100 per sale.
These are exceptional affiliate commission rates!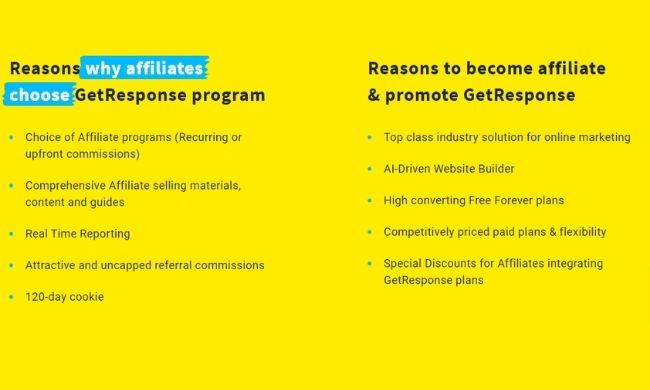 What is most interesting, is both offer a lucrative way to rocket your affiliate earnings because GetResponse is now used by thousands and has turned into a reliable all-in-one marketing platform that is easy to promote!
As a GetResponse affiliate, you are treated to:
A choice of two programs to join
Selling materials, guides and content
Real-time reporting
Uncapped referral commissions
120 day cookie
We promote GetResponse because we love their AI-driven website builder, pricing is competitive and flexible to the needs of our business – plus, we like to tap into their sales funnels and lead magnetsin all of our email campaigns.
What are you waiting for?
Start promoting GetResponse and unlock some serious wealth as you build up your portfolio of services to promote!
---
SendShark Affiliate Commission Rates
SendShark help people and businesses create wealth for email lists, and includes everything you need to get started.
An autoresponder and lead page buildercombined, if you want set-and-forget email marketing automation – you'll want to join SendShark!
For affiliates of SendShark, you can expect residual affiliate commission rates of up to 50%.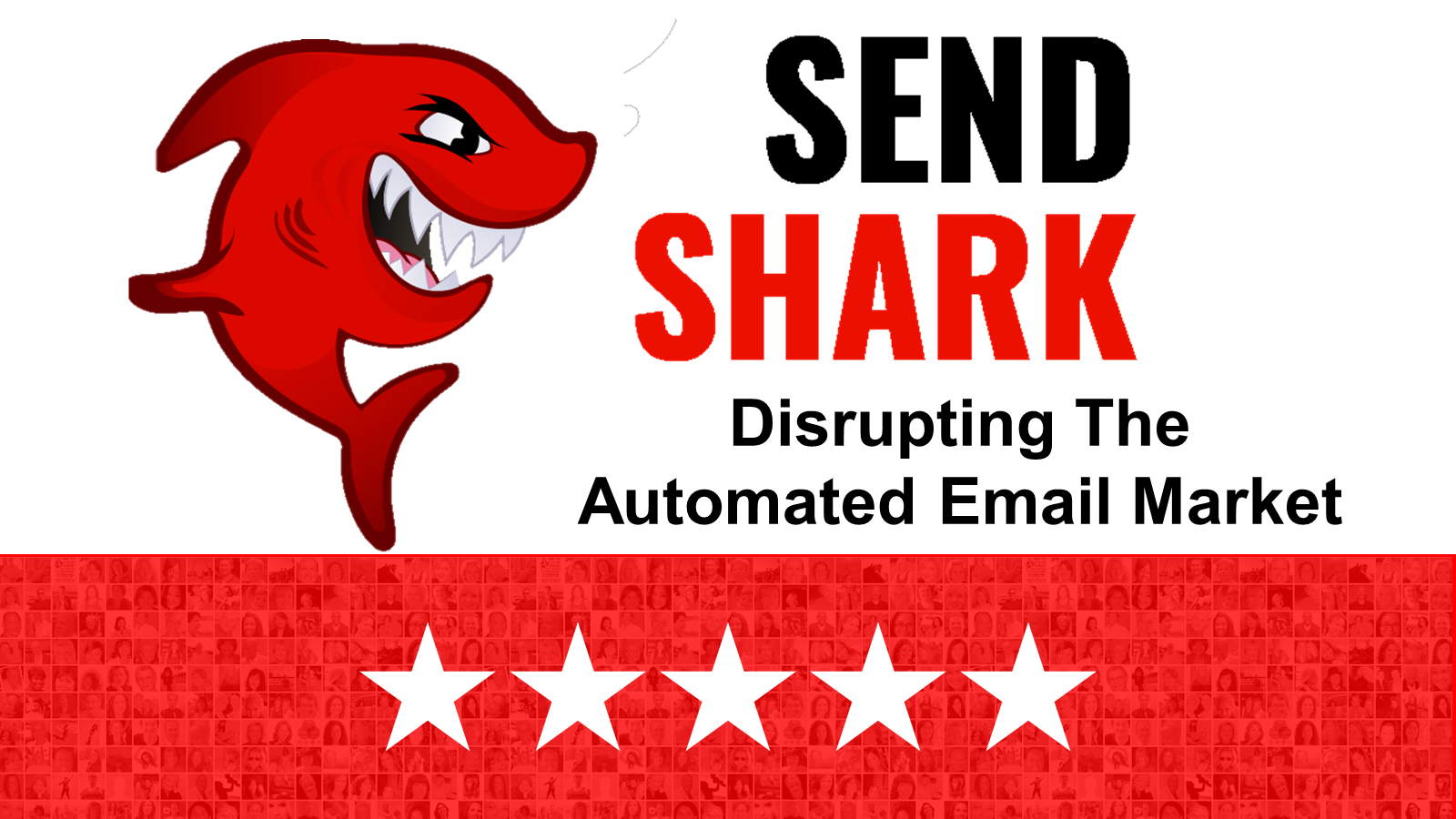 But, that's not all!
They happen to be one of the best value for money autoresponderson the market, costing just $25 per month to build a list of up to 50,000 subscribers.
With that kind of value, we are confident that your visitors will be keen to give SendShark a whirl.
To make that happen, just sign up below to get started!
---
ActiveCampaign Affiliate Commission Rates
Our 4th email marketing platform we recommend is ActiveCampaign.
Utilizing cloud based software, you can drive growth to your portfolio using a whole host of automation tools at your disposal!
This includes:
Email marketing
CRM & sales automation
Sales engagement
Service & support
Now used by over 150,000 businesses, we are avid users of ActiveCampaign.
All of the tools that we have tried are powerful, flexible and easy to use.
We are particularly fond of the 'plug n play' automation's which have helped us to tag email opens and clicks, and integration of our segmentation lists.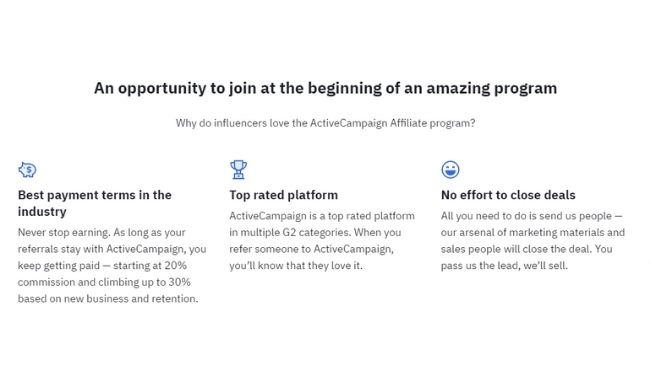 But why would you want to be an ActiveCampaign affiliate?
Promoting a great product always helps.
But ActiveCampaign affiliate commission rates are what drives us to include this software through our emails, website and social media channels.
With a recurring commission bracket of 20-30%, all you need to do is generate your unique link to begin referring potential customers and leads.
According to ActiveCampaign, there is the potential to earn $1350 per referral.
That is insane!
The math is simple to understand too. If a customer pays $100 per month, you earn $20.
If they pay $1000 – you earn $200 EVERY. SINGLE. MONTH
Now this is an affiliate program worth joining!
---
Content Creation Tools Affiliate Programs
When content is king, content creation tools provide the means to not only create content, but to also present and publish it.
Luckily for us affiliate marketers, there are plenty of options around.
But we're not hear to talk about content.
We're here to discussthe best content creation tools that offer the best affiliate commission rates!
We have used a fair few tools in our time, and we have highlighted not only our favorites, but those that also offer decent payouts!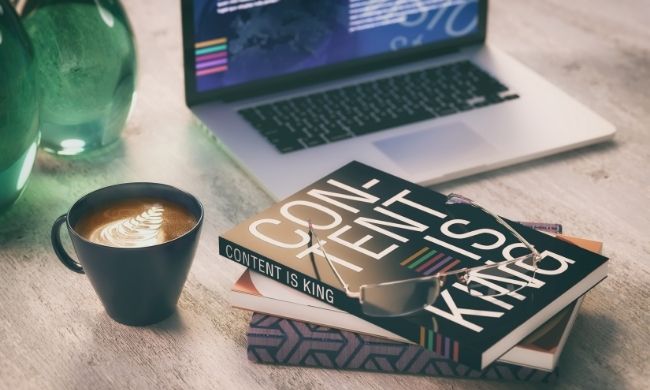 YT Evolution Affiliate Commission Rates
Harnessing the power of video in your affiliate marketing journey can really take your business to the next level.
We know – because we've done it, and found huge success through YouTube marketing.
So what is YT Evolution?
If you've ever wanted a piece of software that can convert YouTube videos into engaging content, and then automate this onto your blog, would you be interested?
We were – and it surprised us just how easy it was – and it is LEGAL!
If you want to profit from your hobbies and interests, or in fact any topic based around your website, you have to give YT Evolution a shot.
Its as simple as copying and pasting a YouTube URL into the software, then watch it do its magic as it converts video into written text and POSTS this to your website automatically.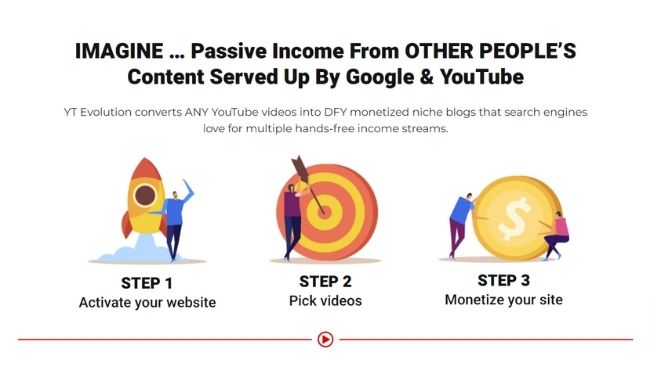 We just know you are going to find it easy to promote this program!
So, what are the affiliate commission rates for YT Evolution?
You have the ability, once you join, to earn up to $178 per lead!
We suggest watching the video below, and then signing up yourself to promote this fantastic product.
Become a YT Evolution Affiliate!
*The link to sign up as an affiliate is in the footer of the page.
---
Sqribble Affiliate Commission Rates
Creating eBooks used to be time consuming and hard work.
With Sqribble, this is no longer the case!
In just 5 minutes, you can produce amazing eBook's and reports without typing ANY words whatsoever.
And do you know what?
This is true, because we tried it ourselves!
See for yourself……!
Most people presume eBooks are so outdated, but they are still highly effective affiliate marketing tools today.
With Sqribble, there is no messing about either.
No complicated design issues. No writing skills required. No technical know-how needed.
It really is a great affiliate marketing tool for beginners, and well worth promoting because they also reward their affiliates with 50% commissions!
Once you join Sqribble, you are given a vast amount of resources to get started quickly.
This includes:
Software updates
Leaderboard positions
Prize allocations (This is cool!)
Banners
Email swipes
Promotional material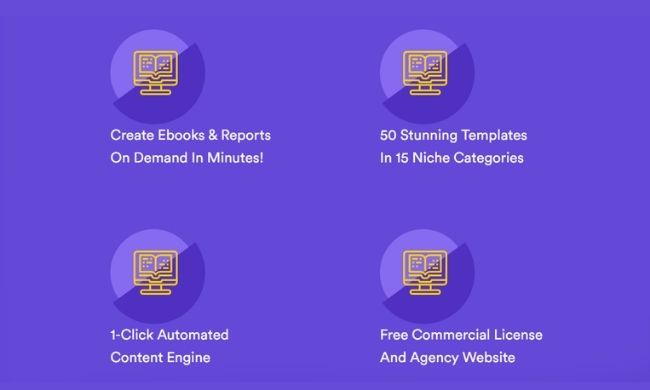 You do need a Clickbank account to get started (sign up here).
Plus, as a special bonus, if you refer an affiliate (perhaps a friend or family member) you get a 10% second-tier commission!
In our view, these are good affiliate commission rates in this industry.
---
List Leverage Affiliate Commission Rates
We are avid users, and using the high-converting lead capture pages via a viral lead pass-up system, we have grown our email listinto the tens of thousands.
If you sign up, which costs $49 a month, List Leverage provides you with 15 pages designed to capture traffic and join your list.
You have the potential to turn ONE LEAD into thousands by tapping into a software program packed with email marketing tools, social media and influencer marketing and advanced data monetization methods.
It has to be seen to be believed!
Promoting the List Leverage System is highly rewarding, with average affiliate commission rates between 40-50%.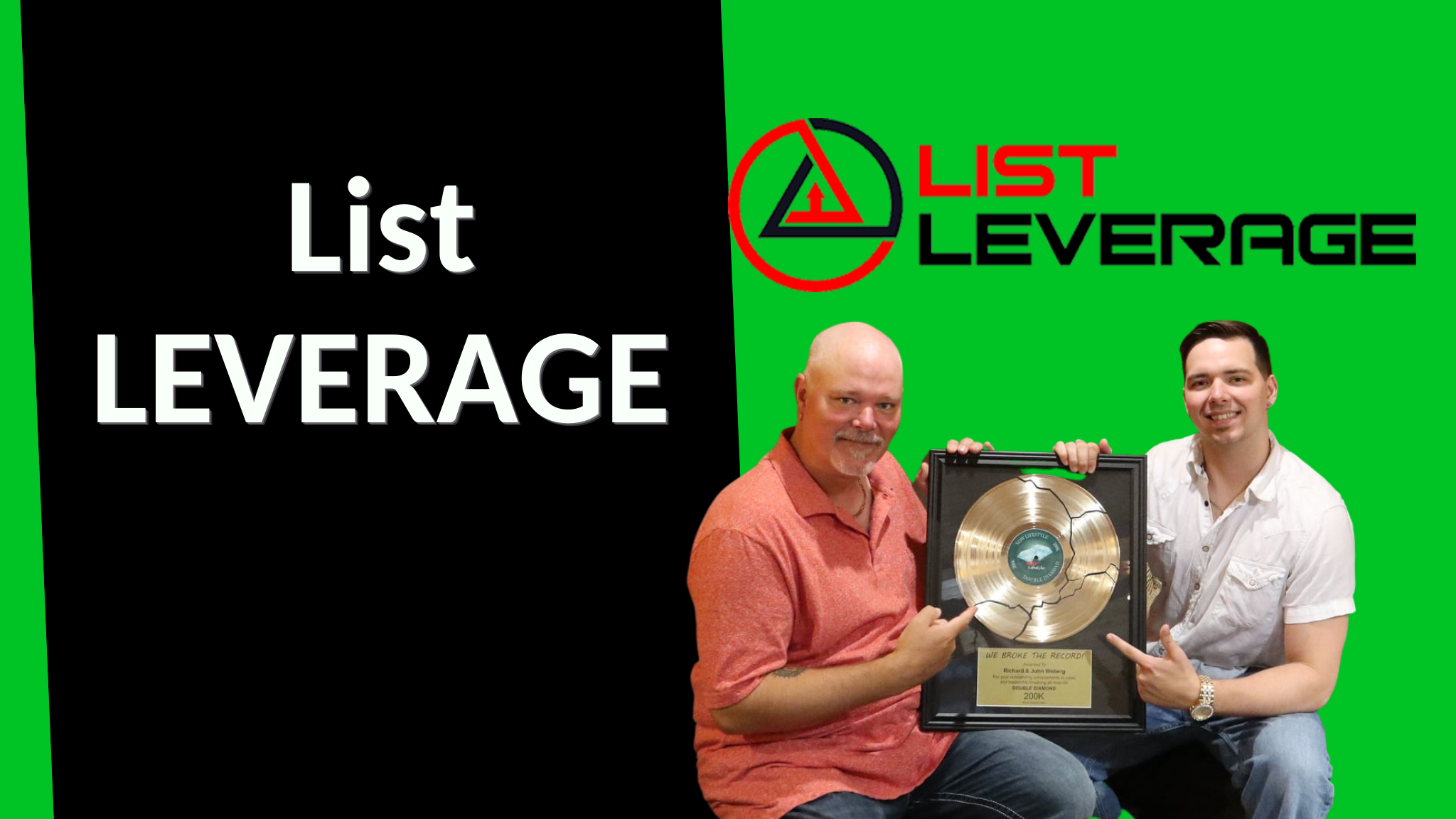 In fact, List Leverage pays you by five different methods, which are:
Viral Passups – this costs you just $9.97 (one-time payment) and you will receive leads from your referrals. Every 5th lead always passes up directly to YOUR email list.
List Leverage Reseller – Costing $49 per month, your referrals can also become resellers of the List Leverage Viral Passup System.
List Leverage Annual One-time Only – you pay $398 and your referral will receive two years List Leverage paid for. If anyone 'upgrades' you can earn big $200 commissions!
Members Area Ascension – Lovers of recurring offers will enjoy our upsells, which include Autoresponder, Traffic Optimizer and Traffic Academy. Residual income at it's finest!
High Ticket Traffic- for $1,997 you are in the big boys arena! Promote the webinar (which costs $1,997) and you be taking home a big fat $800 in commissions!
Of course, if these 'methods' are confusing to you, or you would like more information – please hit us up in the comments and we will gladly help you out.
---
Content Gorilla 2.0 Affiliate Commission Rates
Our final content creation program we recommend joining is Content Gorilla 2.0.
It's a cloud based app that offers similar features to YT Evolution.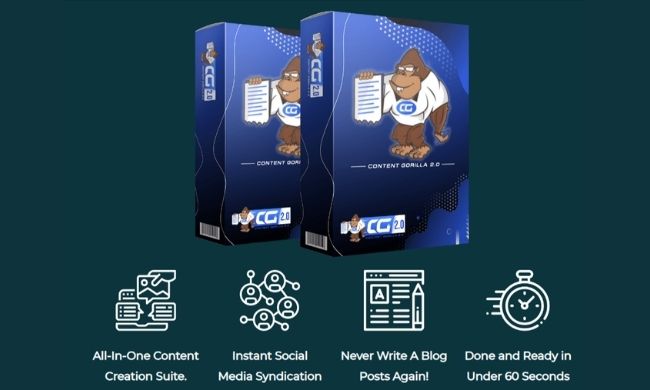 You can convert any YouTube video into a fully formatted blog post in less than a minute!
With Content Gorilla 2.0, you are creating content that ranks, converts and brings in some decent affiliate revenue.
If you want to promote Content Gorilla 2.0, you can expect to earn affiliate commission rates of between 50-60%.
There also contents and some huge bonuses on offer!
Content Gorillas affiliate program is through JVZoo, so sign up there if you want to promote it. JVZoo has many other offers you can promote as well.
---
Best CRM Affiliate Commission Rates
If you want to interact with your audience, which you should be doing as an affiliate marketer, then CRM (Customer Relationship Management) software is a must have.
CRM software can also help you keep organized, improve time management and make your business more efficient.
But which CRM's are worth shouting about?
We discuss the affiliate commission rates for a host of CRM platforms so you can decide for yourself!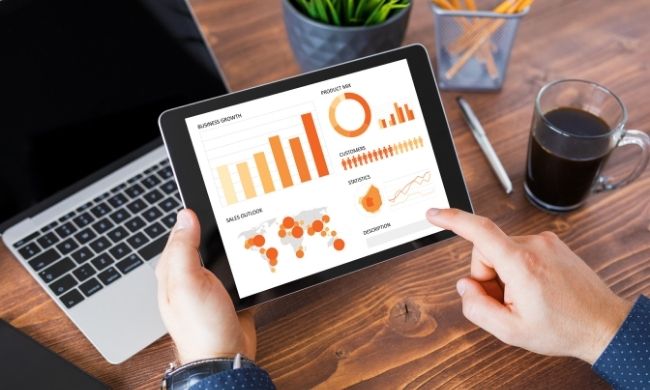 Groove.cm Affiliate Commission Rates
Groove.cm is the world's fastest growing CRM and marketing automation platform, with over 550,000 users across its network.
Used to increase sales, collect leads and engage with visitors, it is a very powerful piece of software!
We love using Groove.cm, especially GrooveFunnels (a full CRM and CMS) which helps us create and manage our pages and funnel building.
Whether your business require web pages, landing pages or upsell pages, GrooveFunnels takes minutes to create these funnels using conversion focused templates.
In our opinion, it's one of our favorite affiliate programs to promote.
Members (it's free to join!) earn 40% recurring income, and are handed a complete suite of tools to help with promotion.
These include:
Partner relations manager
37-day commission releases
GrooveSell & GroovePages just for joining
Free sign ups are connected to your affiliate account forever
---
HubSpot Affiliate Commission Rates
If you are looking for a complete CRM & CMS- HubSpot leads the way!
It's powerful and easy to use, and offers a range of 'hubs' to help you manage all of your affiliate marketing.
You can use HubSpot for:
Creating inbound marketing campaigns
Lead generation
Marketing automation
Analytics
Customer feedback
CMS, which includes a drag-and-drop editor, SEO recommendationsand website themes.
All of these unique selling points make HubSpot an easy platform to promote to your list.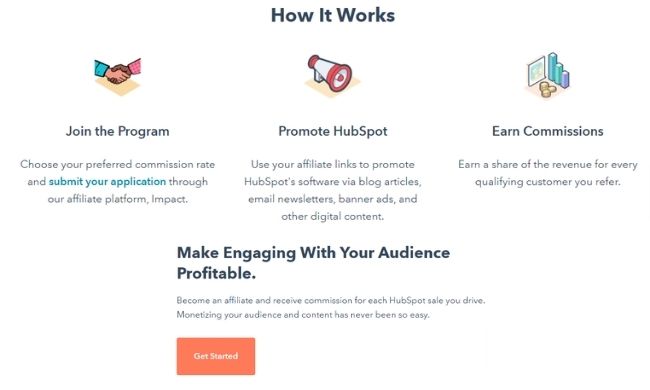 If you decide to partner through HubSpot's affiliate program, you can opt for a 15% recurring commission rate, or a 100% flat fee payout.
Now that's a clear incentive to start working with HubSpot!
You can even earn $20 simply for driving qualifying free signups to HubSpot's CRM.
---
Accounting Software Affiliate Commission Rates
Quickbooks Affiliate Commission Rates
Save time managing your affiliate income with Quickbooks, which is a leading accounting software company geared towards small and medium to size businesses.
Taxes and finance control can be daunting, and take up valuable time that could be spent on increasing your bank account.
We love Quickbooks because:
Helps set money aside for taxes
Manages all our expenses
We spend less time on admin
We have the ability to create quick invoices
Connect our bank account
Give access to our accountant
If your business is scaling up quickly, you may want to consider using Quickbooks!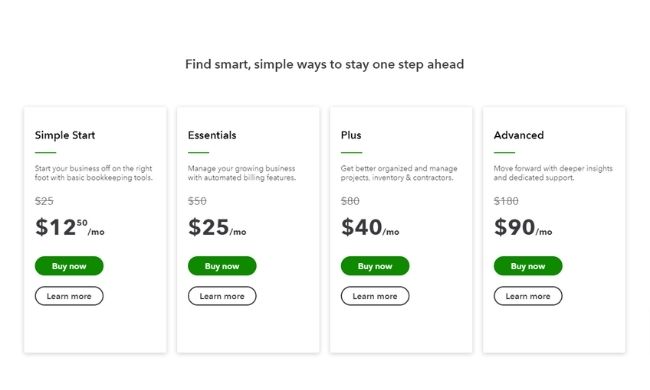 This software is very easy to promote, however Quickbooks Commission rates are set at 10%, which is not great, but there are worse programs to join that require a ton more hard work.
You've the option to offer subscribers or customers a range of accounting products, and Quickbooks deals with orders and shipping.
In fact, all you have to do is place a their logo on your website, or in an email, and commissions will be tracked all the way back to your account.
The Quickbooks dashboard offers:
An affiliate toolkit to track orders, commissions, clicks and impressions
Reporting
Marketing assets
Oh, and the minimum payout threshold is $50 per month.
Join the Quickbooks Affiliate Program!
---
Sage Affiliate Commission Rates
Sage and Quickbooks are the leading accountant software firms, with Sage perhaps edging this contest!
They have a more complete package of products, which includes accounting, payroll, human resource tools and sales.
Plus, they offer some respectable affiliate commission rates if you join the program.
7% product sales commissions, which includes software, add-ons and training
Free trials – $5 per sign up
We feel this is very competitive, because packages range from $12 per month up to $145 or more!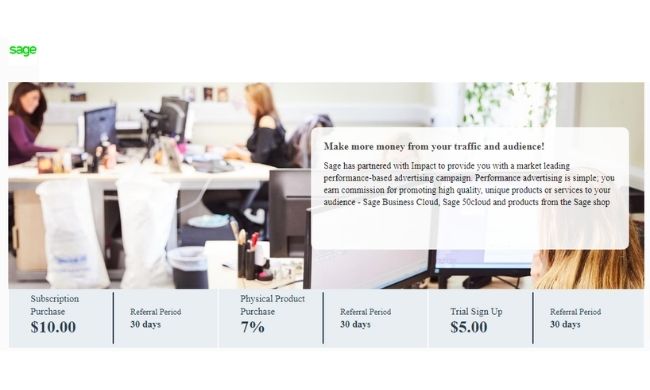 What benefits do you receive when you start promoting Sage?
On top of a competitive commission structure, you have a 30-day referral period, dedicated support team, detailed reporting and income is paid directly into your bank account.
If finance or accounting is your chosen niche, you can't go wrong with the Sage Affiliate Program!
---
Best Training Course Affiliate Programs
If you ever want to learn to do something, you would usually find a resource online, such as a video , or you would take a course.
Benjamin Franklin once said 'Knowledge is the key to success' and this is true to this day if you're part of the affiliate marketing game!
Promoting courses is a no-brainer.
People are always to learn more, and what better way than tomake money recommending courses to your audience?
We take a look at some of the best training course affiliate programs that you will have no trouble promoting.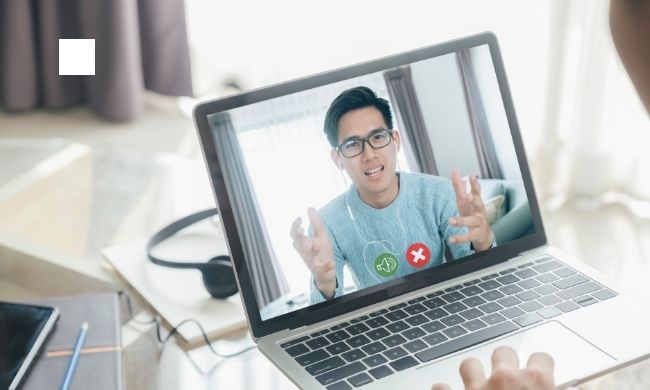 YT Marketer Affiliate Commission Rates
This in-depth training course teaches you how to rank and monetize YouTube channels. Hand down the absolute best!
Taught by a 7-figure YouTube marketer, in this course you will learn:
To build your own channel from scratch
Uploading videos
Optimization
Increasing 'watch time'
Adding subs
Monetization approval
All the content is taught 'over-the-shoulder' style, so you can follow along step by step by exact methods used by Chris Derenberger.
You can earn big commissions promoting YT Marketer, up to $647.50 per sale!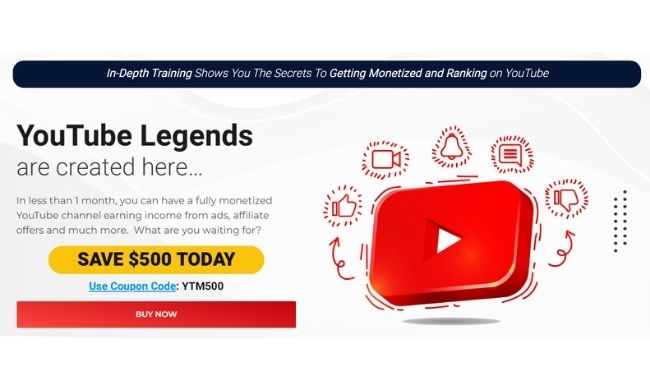 One of the biggest advantages in wanting to promote YT Marketer is the ability to select and promote multiple other products and services as well. Because in order to promote YT Marketer, you need to join WarriorPlus.com
WarriorPlus is similar to ClickBank in that it is a platform that brings together product creators and affiliate marketers.
Since 2006, WarriorPlus has brought together the leaders in online digital product creation and marketing.
They have established a thriving and dynamic community where digital product creators come together with affiliate marketers all in one place.
They are a worldwide leader in affiliate marketing & ecommerce growth.
Chris Derenberger list all of his products and services on WarriorPlus, including YT Marketer, as it is one of the most trusted affiliate marketing platforms.
Join WarriorPlus today, and put in a request to promote YT Marketer.
---
Affiliate Millionaire Affiliate Commission Rates
Affiliate Millionaire is an all inclusive proven guide that shows you how to create your own affiliate marketing business on autopilot!
They will walk you through which products to promote that convert and sell the absolute best, so that there is no guessing on your part.
Then you'll be guided through how to sell and offer those products in a way that's highly profitable for YOU.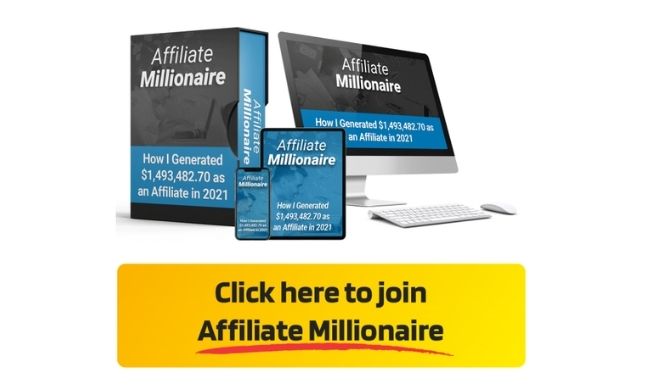 This course will show you exactly how a complete newbie affiliate marketer went from zero to over $1,493,482.70 in ClickBank affiliate commissions in one year!
You can earn up to $151.50 commissions per sale promoting Affiliate Millionaire.
So if you want to promote this high in demand product, you will first need to join the ClickBank affiliate program, then chose Affiliate millionaire from one of many products you can promote as an affiliate.
Better yet, take the course yourself first and learn how to master affiliate marketing to rake in even bigger money.
---
Udemy Affiliate Commission Rates
Udemy is a leading platform for learning and teaching online.
Offering a range of up-to-date courses across a variety of topics, instructors are expertise in their field and have a passion for what they teach.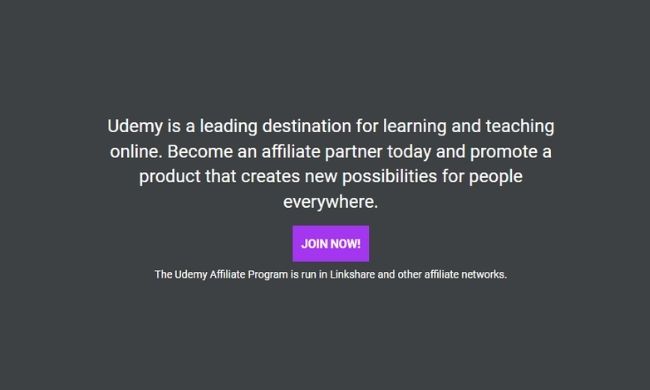 Now you can earn commissions by promoting Udemy courses across your marketing channels, whether through a targeted email campaign, or a review of the course on your website.
Baseline commissions start at 15% of valid affiliate sales.
These can be increased depending on your performance, which is good to know.
Cookies last just 7 days, but although this time frame doesn't seem long, even if you have driven traffic to Udemy from your links, and they buy ANY course, you will earn that commission.
---
LinkedIn Learning Affiliate Commission Rates
Linkedin is huge, and if you are a new or existing online business, it is THE platform you should join to make connections with fellow affiliate marketers or outreach to potential leads.
But what is LinkedIn Learning?
If you are looking to learn about software, improve your business skills or find out about new technology, LinkedIn Learning is the place to find these courses.
With over 5,000 courses taught by expert instructors using video, you can add these courses and skills learnt to build up your LinkedIn profile.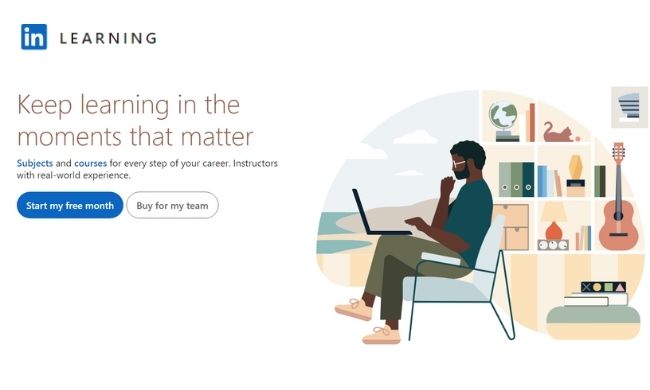 There are two ways to earn commissions once you join.
A one-time $40 commission on monthly subscriptions
or 35% of the sale from a standalone purchase
Once you have joined, which is free, you have access to banners, text links and free trial offers.
For every link that is clicked from your website, blog, email or social media channel – a 30-day cookie is set.
This is the best course provider offering excellent affiliate commission rates.
---
Best Affiliate Commission Rates: Final Verdict
We hope you've found this round up of the best affiliate commission rates helpful.
This list is a good place to start when looking for an affiliate partner that offers competitive commissions, but it should not be considered exhaustive or comprehensive.
Learning about the best affiliate commission rates may not be your main priority when it comes to running your business, but you should know what programs pay the most, combined with how easy they are to promote, so that you can make smart business decisions.
As always, if you have any questions, don't hesitate to post them in the comments section below or just say hello ????
Sincerely,
Your Friends And Partners
Richard And John Weberg