Get Paid To Send Emails? Our Email Make Money Strategy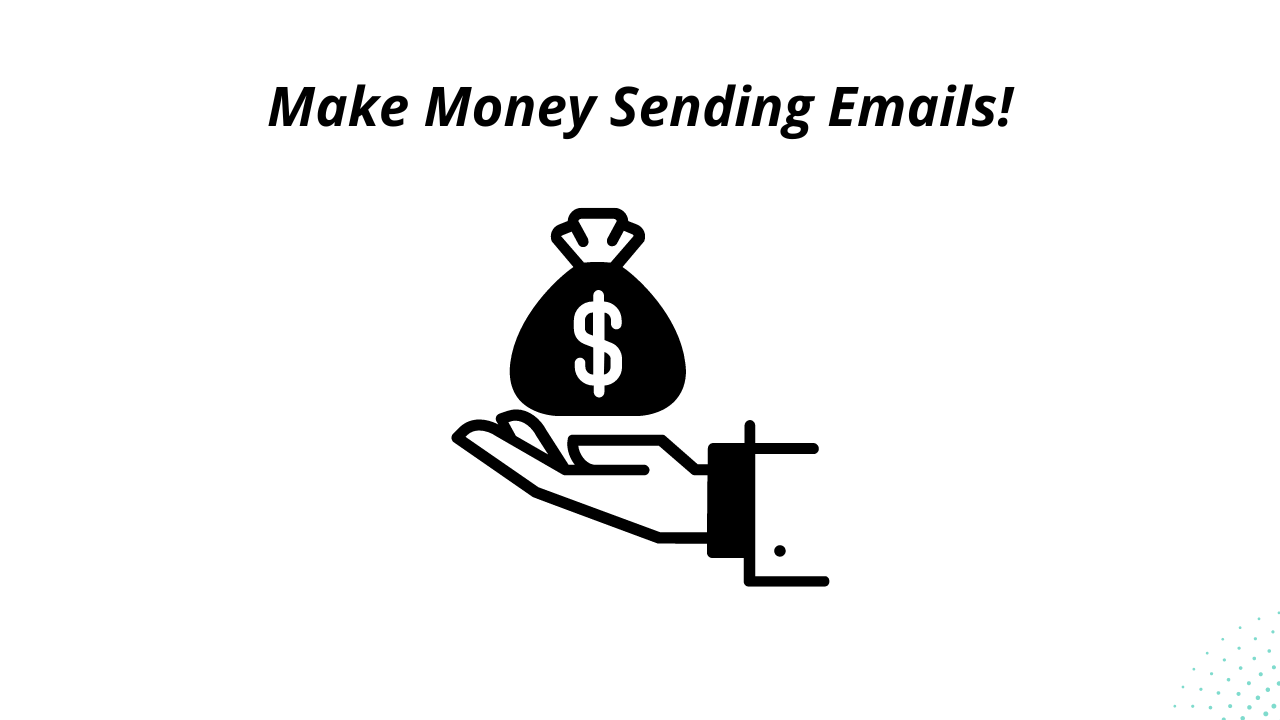 Do you want to get paid to send emails? We have found this to be a great method to make some extra money. In fact, we even make our living doing it!
With a little effort, you can easily set up a system like we use, that pays you based on sending promotional emails to an email list.
And, since online email marketing is one of the most effective ways to create income online, it's a great way to build a side hustle without a huge investment.
In fact you can even take an email marketing course to learn how.
So why not give it a try?
You could be getting paid just like us, to send out emails everyday.
We will even show you how to get started..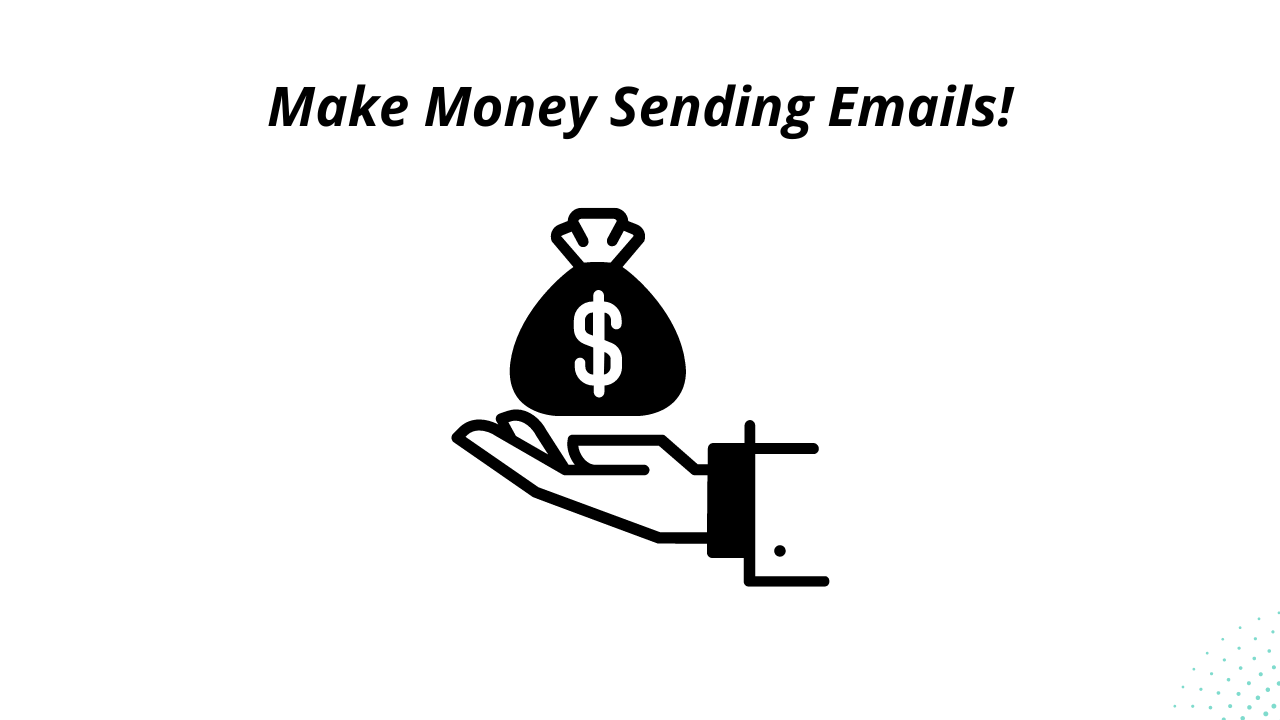 Can I Really Get Paid To Send Emails?
Yes you can! You can get paid to send emails, and when you do it right, you can even eventually turn it into a full-time gig like we have.
There's a variety of ways you can get paid by sending emails. However, in this article we will mostly be highlighting email marketing that you do for yourself as a business.
There are also legit work at home freelance opportunities you could find, but the legit ones are going to require that you already have developed the skills necessary.
Meaning – work from home email jobs & freelance opportunities want people with experience and knowledge, they generally want experienced email marketing professionals.
If this is the case with you, and your looking for more of job type situation (You get paid by the hour or job), versus your own business, then we suggest going through MarketerHire, they are a very reputable, and well respected company.
Also be aware of the work from home email job scams, as most of these scams will tell you no experience necessary, and then you have to pay them for a supposed database of email jobs – which in most cases your not qualified for..
The method we will share with you to make money sending emails, is tried and true, and all successful entrepreneurs, and businesses use it.
It all starts with you building an email marketing list. (Don't worry we will show you how to do this.)
Keep in mind, this will take some time, effort and learning to make this happen. However, getting paid from writing emails can be a reality!
And it works, and is worth it!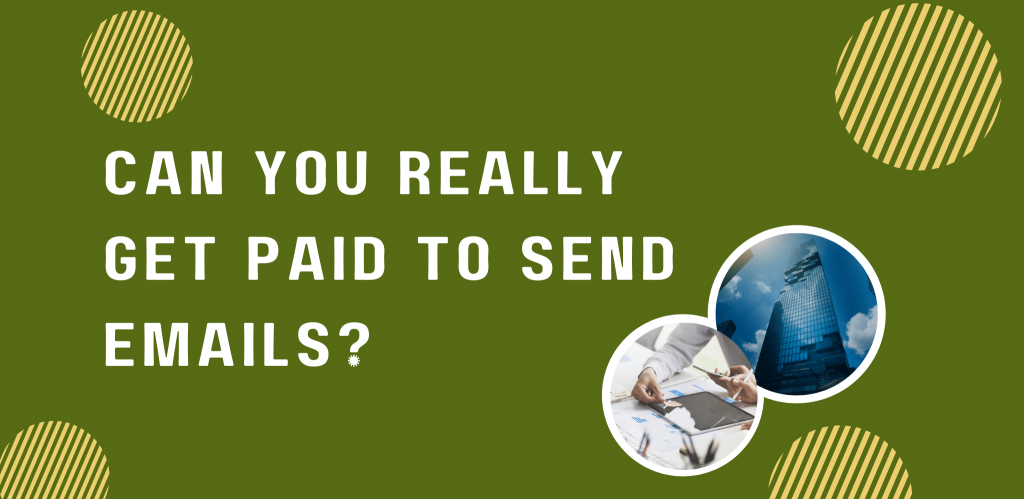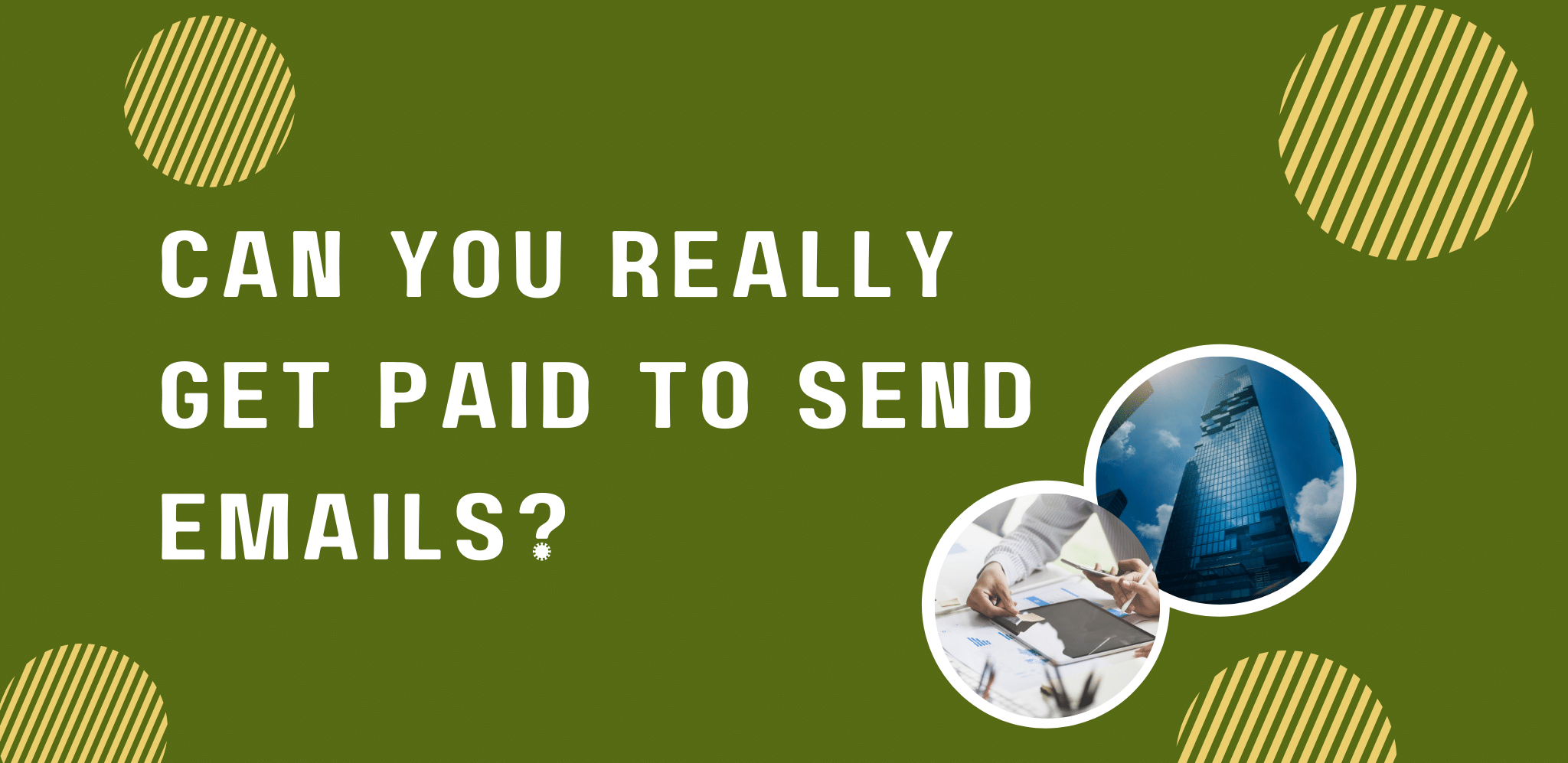 How does it work – Email marketing is a form of digital marketing that uses email to send advertising and promotional messages to a list of subscribers.
Do You Want To Be Paid Money To Send Emails?
Our course offers EVERYTHING you need to know get started – plus it's completely FREE!
How You Make Money Sending Emails:
You create and build a list of email subscribers.
You join affiliate programs, and they give you specialized links.
You send these specialized links in your emails.
Your subscribers when interested will then click on these links in your emails.
These links will lead your subscribers to a product or service you are promoting, and if someone then purchases, you will make a commission that gets paid to you.
The larger your email list gets, the more potential sales you will make every time you send an email. Repeat this process and be paid more money every time.
It is extremely effective, and email marketing strategies themselves have proven to be the highest converting form of marketing to ever exist online.
In fact, studies have shown that email marketing generates a 4,200% ROI for those using it correctly!
The global e-mail marketing market was valued at $7.5 billion in 2020 and is projected to increase to $17.9 billion by 2027. (Statista, 2021)

Do I Need To Build An Email List To Get Paid?
Yes – we would recommend getting started building your email list as soon as possible.
Read Also: The Ultimate Email Marketing Checklist To Improve Your Email Campaign
The more leads you have on this list, means the more people you will be able to send promotional emails to.
If you don't have your own offer, you can become an affiliate and sell other people's / companies' products and services)
So, let's explain how you can build an email list and audience that wants to buy from you.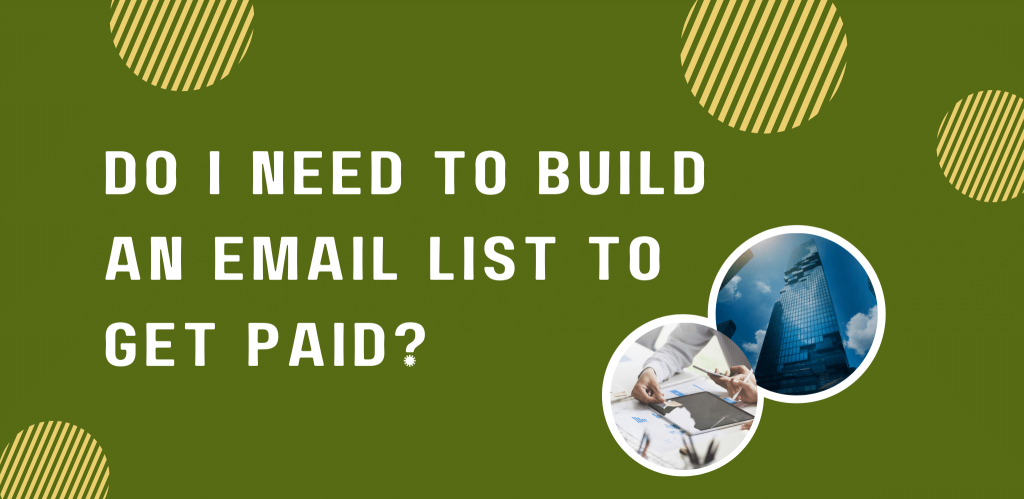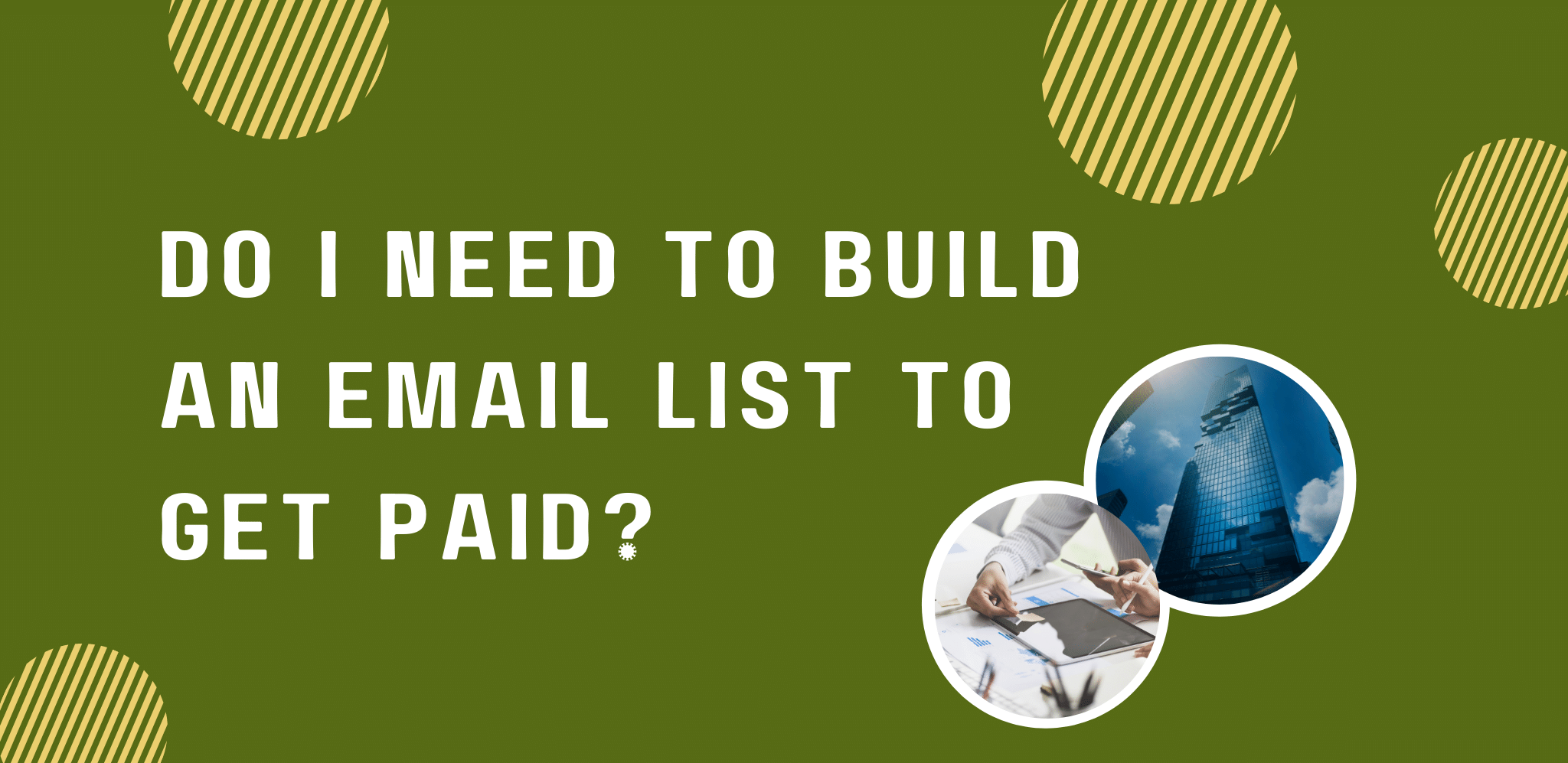 How To Build An Email List To Make Money
These are our best tips on what you should do to get paid to send emails.
Build A Website
For beginners, building a website is the best way to start building an email list.
Because with a website, landing page, or funnel; you have a place for your audience to go to learn more about yourself or what you're offering to be purchased.
Building these digital assets can take time, however, not everyone knows how to build them properly.
This is where you should consider investing in a website or funnel building platform that provides easy to use templates, that are basically drag and drop simple.
You can create a simple website or funnel with GetResponse, or ClickFunnels, and other easy to use website builders.

Use An Opt-In Form
We've all seen those annoying pop ups and forms on websites, but if you place them in the right areas, they are great for building your email list.
Posting pages with your opt-in forms across your social media channels and other places you have an audience, can generate leads for you as well. (and more leads, means more money to be paid to you in the long term)
Wherever you post an opt-in form, landing page, or way for you to generate leads – you need to incentivize your audience to take those actions.
This means that you need to offer discounts, free bonuses, and others things to draw in people to naturally want to opt-in to your email list. This incentive you offer is also referred to as a lead magnet.
GREAT NEWS! WE CAN HELP YOU CREATE YOUR OWN OPT-IN FORMS!
Our course offers EVERYTHING you need to know get started – plus it's completely FREE!
Read Also: How To Create An Email Capture Landing Page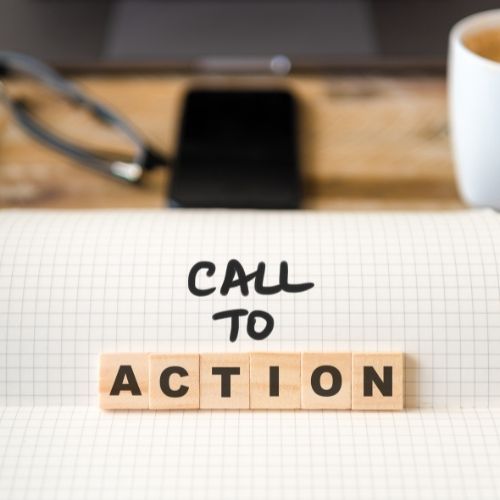 Call-to-actions (CTAs)
CTA's, such as a subscribe now button, is a simple and effective method to get sign ups to your list, etc. Throughout your website, and pages, you'll want to make sure you have really good CTA's and buttons that attract leads to opt-in.
The better the (lead magnet) reward someone gets for opting in, the more likely you are to get them to opt-in, in the first place.
Giveaways & Competitions
Give away a free 'how to ebook or report', or offer a huge discount on them -these are both highly effective ways to get people onto your list.
Rewarding the process of people signing up (becoming your lead) means that you can quickly generate leads at an increased conversion rate.
Leverage Social Media
There are tons of social media platforms to engage with communities of like minded people in your industry. Offer free advice and engage to boost your lead generation efforts.
Being able to send emails and make money from it, means a social media presence that will increase the conversions you see from that list.
Why?
Because as people watch your emails, they also watch your social media channels. As they see content produced on social media, they believe you are more active and more of an authority in your niche and what you are offering.
Can I Automate My Email Sends And Still Be Paid?
Yes – you an automate all of your emails to go out automatically to your leads, once the lead opt-ins in to your email list.
In order to automate your email sends, or "follow up", you will need an autoresponder or CRM.
These are tools that automate the process of generating, managing, and emailing your leads in an organized fashion.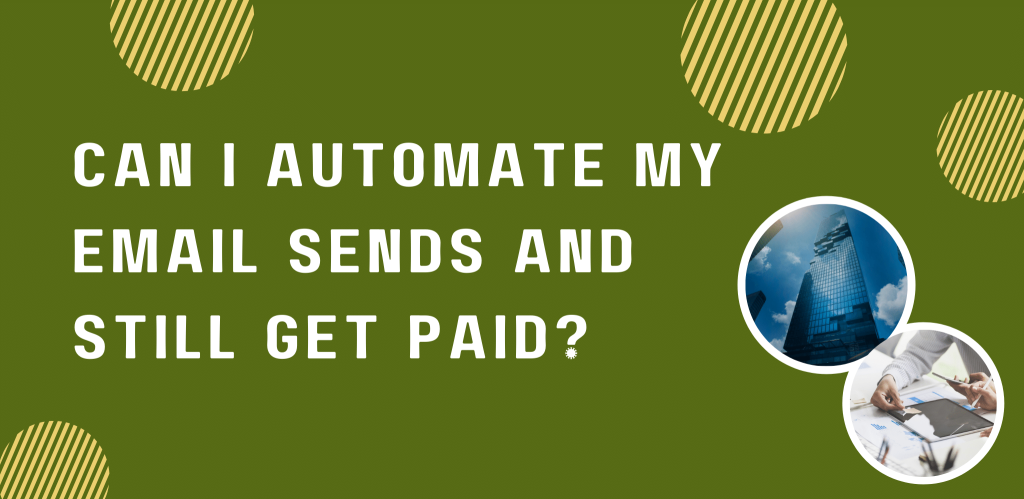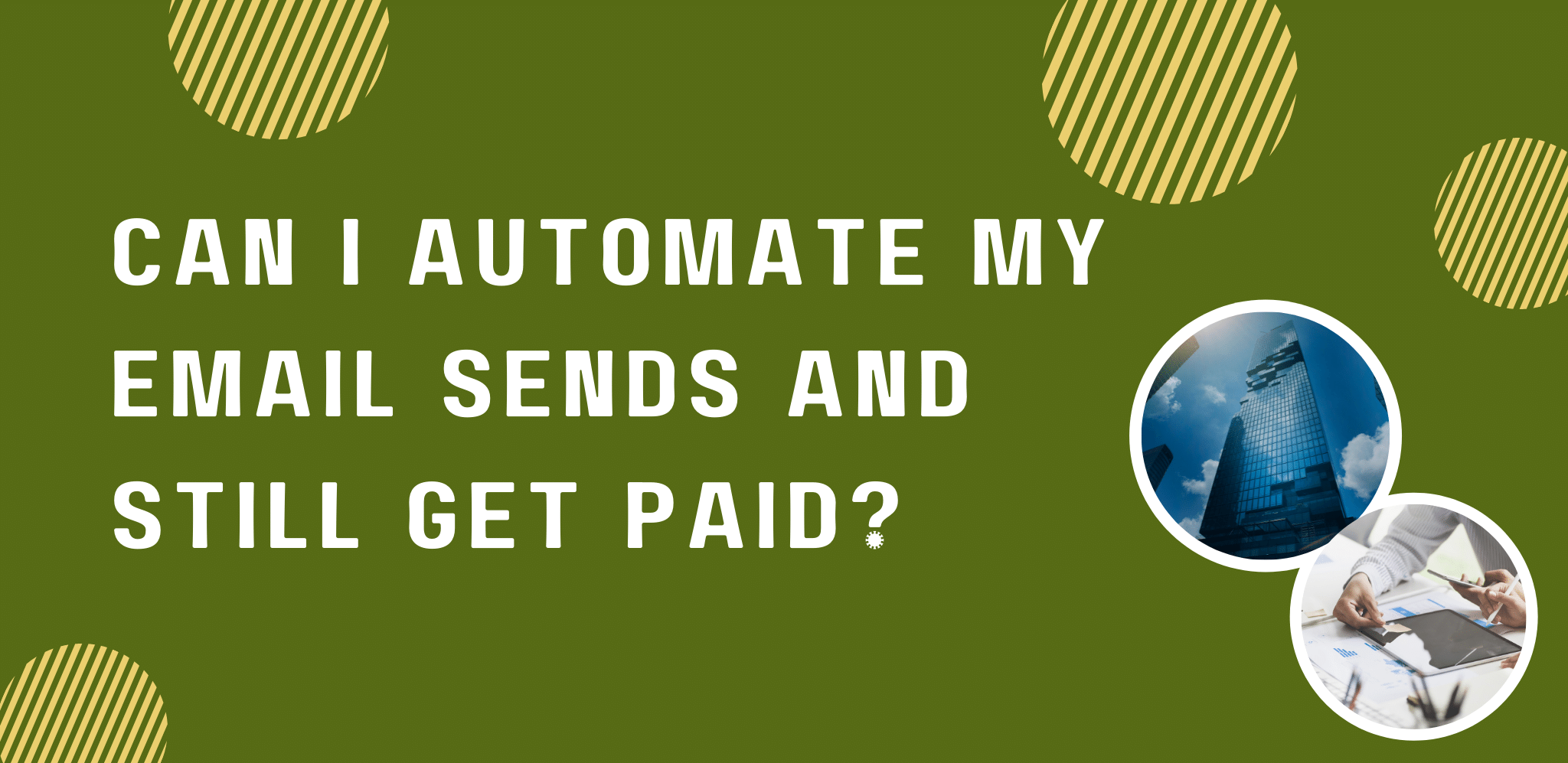 Once you sign up to an autoresponder or CRM, you'll be able to create forms, and lead capture pages to generate leads.
You will also be able to create an email campaign with follow up emails to automatically send emails to your leads.
Here are a few of the best autoresponders and CRM's we suggest you take a look at, and then choose one to get started.
Having an autoresponder or CRM will save you time, and give you freedom to take other actions to grow your business.
Using these tools, that we highly recommend by the way, will help you earn money faster through sending emails to your leads, customers and followers.
The follow up is where the most money is made online, and why it is important to automate this process as much as possible by using good email marketing software.
LEARN HOW TO AUTOMATE YOUR OWN EMAILS!
Our course offers EVERYTHING you need to know get started – plus it's completely FREE!
Why Monetize Email Marketing?
If you are an experienced internet marketer, or new to affiliate marketing, monetizing your email list is the number one method to get paid to send emails.
It will allow you to earn more money and build a loyal base of followers and customers. It's the best way to be paid.
Your audience will become a lifelong list of leads who are willing to invest in what you will offer, time and time again.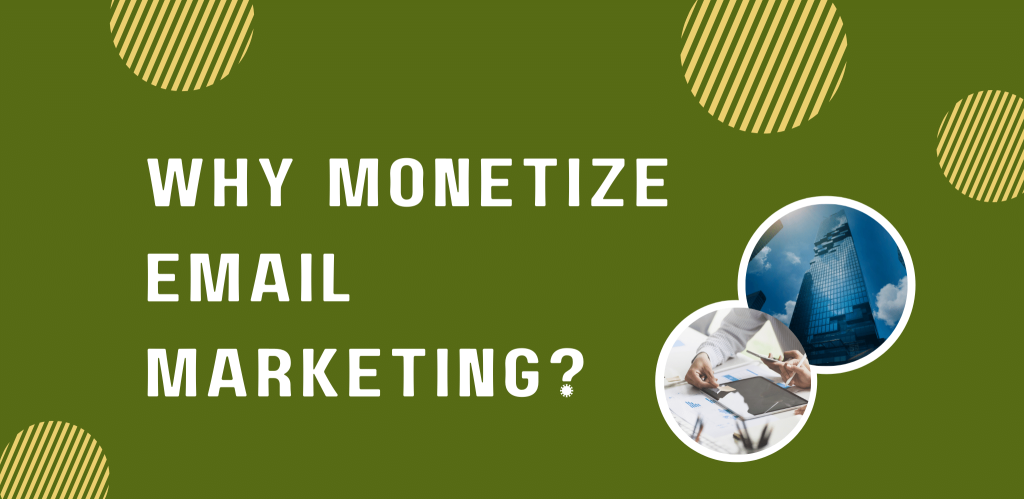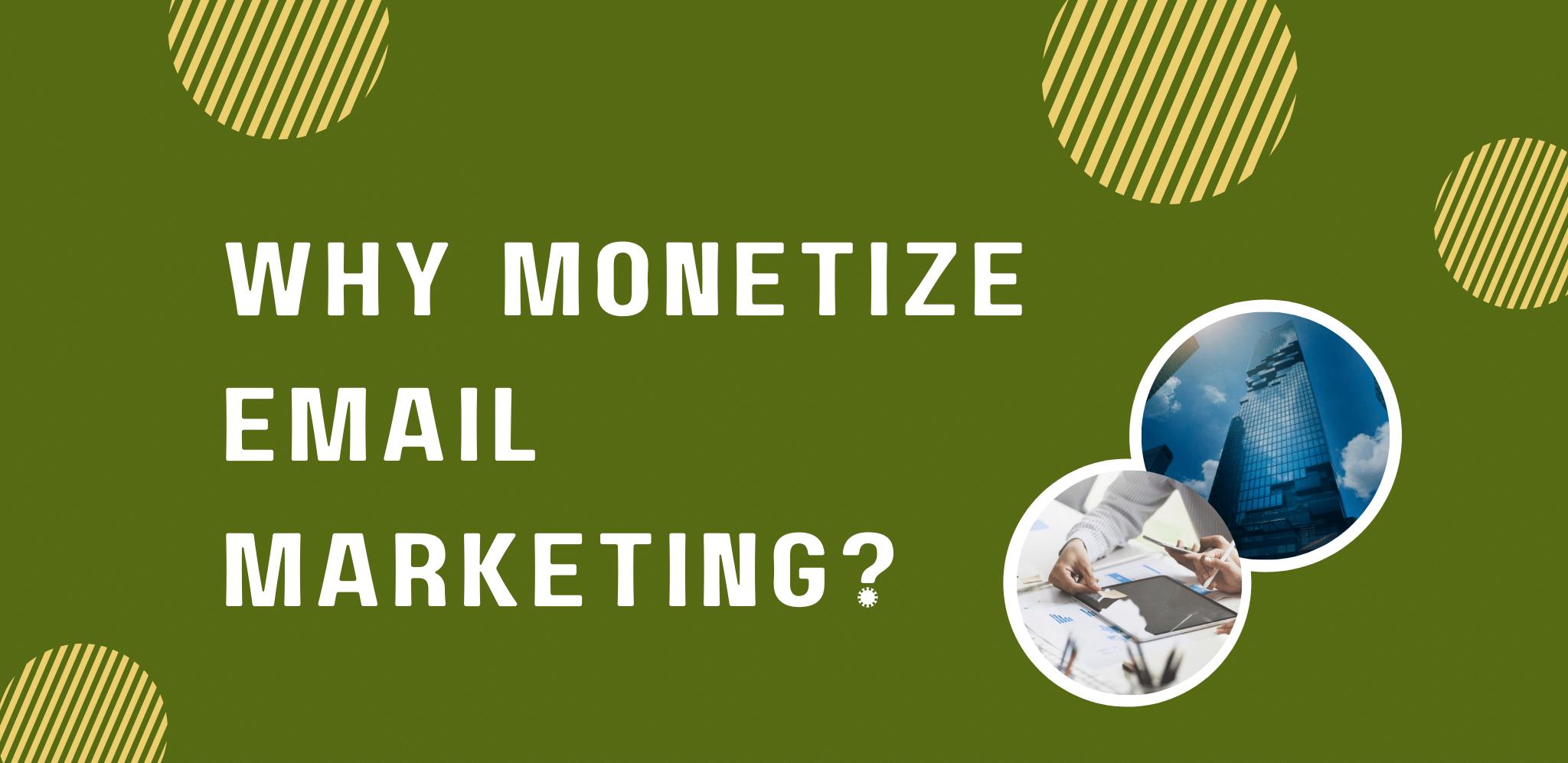 Here's how you can truly start monetizing your email marketing efforts to make them profitable.
And remember that earning a reliable and consistent income from email marketing, will take time and patience.
Opportunity To Sell Your Own Product Or Service
If you're up for the task, you can sell your own products and services to this growing email list that you are building.
This means that your leads that become customers, will be loyal to YOU and what you offer them.
However, the downside of selling your own products and services, is that you have to take full responsibility of your product or service.
Customer support, product management, and much more will be under your complete control.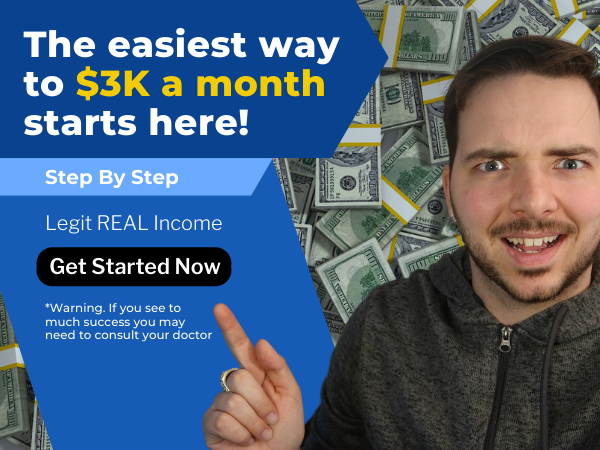 Sell Other People's Products
Becoming an affiliate marketer is a much more simple way to monetize your email marketing efforts.
By selling other people's products and services enables you to fully monetize your email list without having to be a full business owner. This means that customer management, support, product development, and more won't be your responsibility.
However, there is a single downside to affiliate marketing. You don't collect the full amount of the sale generated when a lead becomes a customer.
Usually, you'll earn 50% or less of the total purchase made by the customer, which is still pretty decent!
Over the years we have sold both our own services and sold as affiliates for numerous companies, and we can tell you by first hand experience, affiliate marketing is much easier.
Here are a few of the best affiliate programs we suggest you take a look at, and then choose one to get started.
Repeat Purchases
By monetizing your email list, you can get leads to buy multiple products and services.
This will drive repeat purchases and allow you to grow your business even more profitably.
If you want to learn more about how to upsell, resell, and downsell your email list, here's our video explaining how to do it.
Email Automation
Through using an autoresponder or CRM like we highlighted above, you'll be able to automate your email business in no time at all.
This will make it more simple, easier, and more profitable to make money sending emails.
Email marketing automation is especially necessary if you want to scale this business up to a substantial income like we have.
EMAIL AUTOMATION SAVES TIME – AND WE CAN HELP!
Our course offers EVERYTHING you need to know get started – plus it's completely FREE!
Use These Writing Email Examples To Make Cash
You can write your own emails, or you can use the email examples we have for you here!
Writing your own emails can take a lot of time, energy, and sometimes money, so a template is often the best way to start.
This is why you need to take a look at other emails that have already been written by others for inspiration, but you should NOT copy them word for word.
When you do this, you'll be able to replicate other already proven to convert emails, and customize them for your own list and offers.
Send A Welcome Email
The first email your leads need to receive, should be a welcome email.
The welcome email is responsible for introducing:
Who you are.
What you offer.
Why someone should invest in what you're offering.
Make sure to structure your welcome email with an introduction, a thank you to the person who opted in to your list, and a link directing the lead to continue to possibly buy a product or service.
Newsletters
A newsletter, is a daily or weekly email that should be sent out to your email subscribers on a consistent basis.
These newsletters should either educate, entertain, or entice your audience.
This means that you need to offer true value to your audience, and not just sell to them like some corny salesperson.
In order to generate sales and commissions from your email list, you need to build a relationship with the people on it.
Make sure to tell stories, give bonuses, give discounts, and much more to your leads to KEEP them engaged and on your list.
These "newsletter emails" can be automated as daily follow ups or emailed by broadcasting anytime you wish.
One-off Email Campaign
You can also run singular and manual emails to be sent out whenever you'd like, to run a promotion or email campaign of your choice.
This could be an email about a webinar, launch, sale, or anything you want it to be.
You can send these out frequently or only every once in a while.
---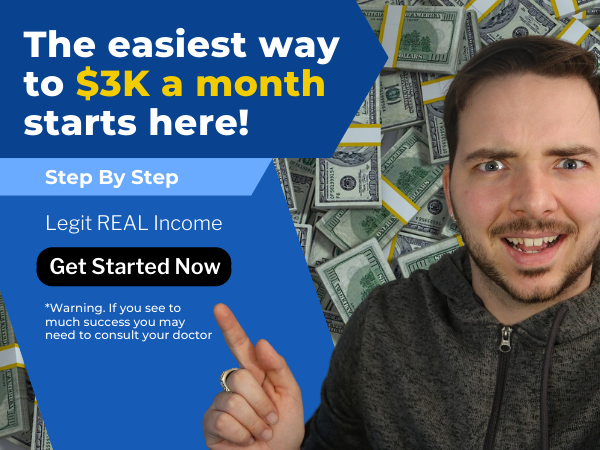 ---
FAQS
Can anyone be paid money for sending emails?
Yes, anyone can learn how to do email marketing and get paid for every email sent, technically. While you may not get paid directly always, you can be paid indirectly by generating sales for yourself or another company for commission in return.
Writing emails to make real money, is it legit?
Yes, people use email marketing to grow wildly successful businesses. The largest companies across the world that you recognize and buy from, all use email marketing.
You should seriously consider learning more about email marketing and how you can generate a real business with it. Using emails to be paid is a real business practice.
Can I be paid to send emails for companies?
Yes, you can become an email marketing freelancer in order to be paid for such services.
You can get paid to send emails for companies' as a freelancer, salaried employee, or in a collaboration of some kind.
MarketerHire is one of the most reputable companies you can apply through. You can be hired through them as an "email marketing freelancer" and in essence they will pay you to send emails. You can make money fast if you do a good job.
Can you earn by reading emails?
Yes, with certain companies you can earn money reading emails as well. You can be paid some money determined by a variety of factors. Reading emails isn't very profitable however. Most of the time your paid pennies per email read, and you would have to read hundreds of emails per day to make any real money.
Can I get paid to send emails from home?
Yes, if you decide to start an email marketing business, you can earn money through such efforts regardless of your location. We've sent emails and generated sales from all across the world, even when we travel.
And just like we mentioned earlier in this article, we told you not to worry, that we would show you how to get started and be paid some good money & cash.
So if you want step by step instructions with screen share videos.
Read also: How to Start an Email Marketing Business That Works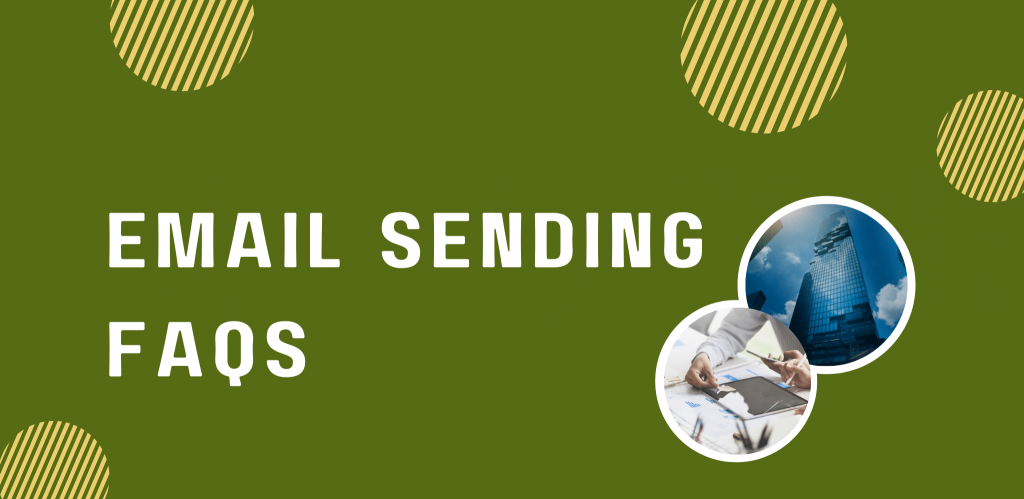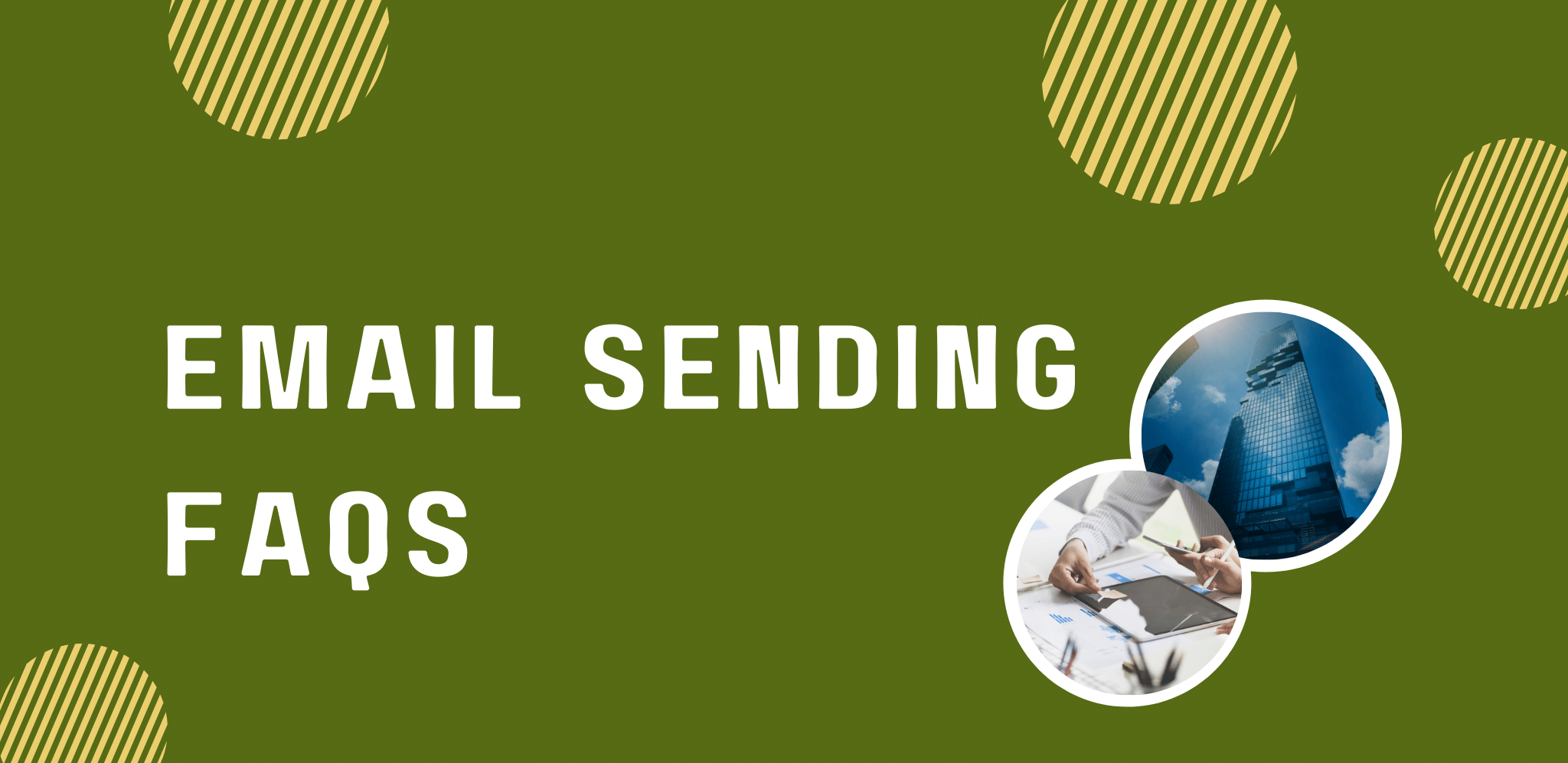 Getting paid to send emails is more than possible, tens of thousands of people do it every single day.
Regardless of your past experience or industry you've been in, email marketing is wildly available to anyone and everyone. Anyone is able to be paid. It's why we send emails every day!
Throughout the years we have coached tens of thousands individuals on how to setup and scale an email marketing business successfully.
Through this guide here, we hope we gave you some great insights into how to truly make money through sending emails.
Please leave us a comment below if you ever have any questions or need help in anyway, or just say hi.
Have a fantastic day!
Sincerely,
Your Friends And Partners
Richard And John Weberg