11 Best Autoresponders To Grow Your Business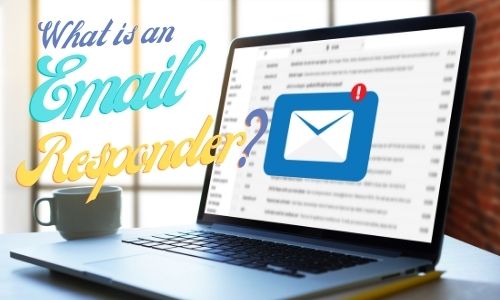 An autoresponder is a clever tool that allows you to set up predefined email messages that are sent to your users whenever they subscribe, un-subscribe or send you an email message.
Affiliate marketers love using them because it can improve the customer journey, engagement and reduce time to work on other aspects of their online business.
You can use autoresponders for all sorts of things, such as:
Creating welcome emails
Initiating follow up emails
Send emails out to targeted lists
Selling products and services
Notifications, such as a blog post alert, news items etc
Defining what the best autoresponders to use for your business, depends on your budget, email list size, ease of use and accessibility.
Our goal is to talk you through the many email autoresponders on the market, and offering our advice about the pros, cons, features and pricing for each autoresponder.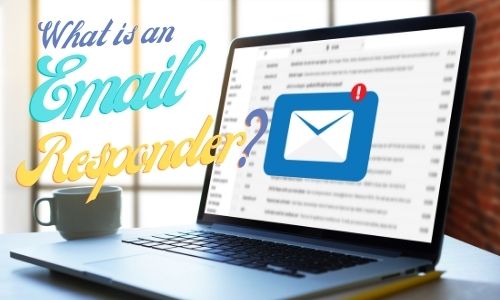 What Is An Email Autoresponder?
An autoresponder is a program, or piece of software, that sends out preset responses when certain actions are taken.
More commonly, autoresponders are used for marketing, such as sending out an email newsletter to subscribers.
How Do Autoresponders Work?
When a person subscribes to a list, the autoresponder automatically sends them a series of emails, according to which subscriptions they choose.
For example, if you subscribe to get the latest news from the blogof a marketing mentor, you'll receive the latest news in return.
If you want updates on new episodes of your favorite TV show, you'll get an email back all about the times new episodes are aired, and other useful information.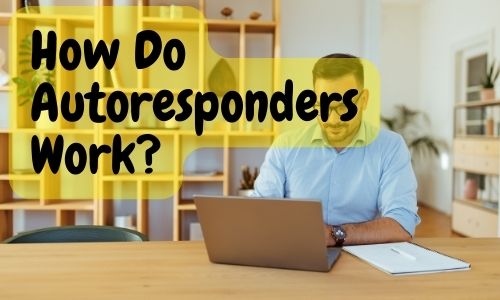 Why Should I Use An Email Autoresponder?
We have already mentioned what you can use autoresponders for, but why should you use them?
Well, you can use autoresponders for a variety of tasks, including:
Letting your current email subscribers know about new content, or website updates, before they are published – this offers 'exclusivity' before new content is made public
You can apply the same to new products or services. Your audience will love that they can receive new products before they are made available to everyone!
Sending follow up emails after website visitors sign up for your newsletters. This improves communication, which leads to trust as you aim to build brand loyalty.
Remind your customers, followers or subscribers about abandoned shopping carts, waiting lists for sold out events, and subscription expiration's. The possibilities are endless!
Send autoresponder emails daily, or after specified periods of time, so your subscribers don't have to check your site constantly for updates or newsletters.
Attract new readers by setting up autoresponders that link back to popular blogs or news sites in your industry. People can then subscribe to the content from those sources.
So, by using the best autoresponders, marketers like us can save valuable time, since we do not have to personally respond to every message from prospective customers or viewers, which would require hours of extra work each day.
In addition to using autoresponders for saving time, marketers can use autoresponders as a way to avoid spam messages.
That's a great incentive to sign up to one of the many best autoresponders we have reviewed below!
Mailchimp Autoresponder
Do you want to automatically follow up with your potential customers after they purchase a product?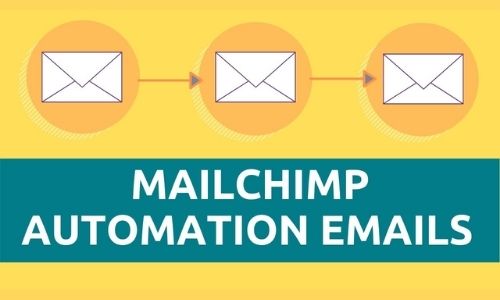 MailChimp's autoresponder can help you do just that.
If you didn't know, Mailchimp is one of the most popular email marketing servicesavailable.
It provides a platform for users to design, send, and track emails as well as collect data from subscribers.
The Mailchimp autoresponder can be used as a standalone tool or as part of its monthly service plan starting at just $10/month.
As one of the best autoresponders, Mailchimp allows its users to set up automated replies via email in response to certain events such as user registration, purchasing a specific product, signing up for a webinar, etc.
With Mailchimp, you can:
Create automated welcome emails
Test your emails first
Email 'tagged' contacts from your list
Share blog updates
Say Happy Birthday
Enable order notifications
Recover abandoned carts
There are some great features that can really drive your business forward!
Mailchimp Autoresponder Pricing
| | | | |
| --- | --- | --- | --- |
| Free | Essentials | Standard | Premium |
| Up to 2,000 contact | Up to 2500 contacts | Up to 2,500 contacts | Up to 10,000 contacts |
| $0 | $34 | $59 | $299 |
As you can see, pricing is based on the number of contacts you wish to set up your autoresponder, and send emails too.
However, each price plan offers very different features.
The free plan offers everything you need to get started, but features are very limited, and this is a great option to to test out what the Mailchimp autoresponder can do before you upgrade.
As you upgrade, a whole host of useful features become available, which includes:
Automations
Email scheduling
A/B testing
Marketing CRM
Custom sign up forms
Behavioral targeting
Creative assistant
Content studio
Customer journey builder
Custom-coded templates
You really are treated to a full marketing suite of tools, which works hand-in-hand with your autoresponder campaigns.gb.
To get started with mailchimp, you can sign up below.
---
GetResponse Autoresponder
We have a full review of the GetResponse autoresponder, however, it deserves an honorable mention in our best autoresponder guide.
Here's why:
You can set up a complete email marketing campaign
Full automation and workflow tools to boost campaigns
Includes a website builder
Allows you to create awesome conversion funnels
Access to a suite of analytic tools
Email list management and segmentation
You can create powerful forms and pop ups
Offered a portfolio of pre-designed templates that are proven to convert
Push notifications and SMS messages
It really is the complete marketing solution!
GetResponse Pricing
Plus, the GetResponse pricing is tailored to offer users the best value for money autoresponder in the industry!
Here is the pricing:
Free plan – up to 500 contacts
Basic – from $15 per month
Plus – from $49
Professional – from $99
---
Gmail Autoresponder
The Gmail autoresponder is more geared towards setting up an 'out of office' reply, rather than used as a fully automated tool to increase engagement with your customers.
But with that said, some businesses rely heavily on using Gmail to respond to customers who have messaged 'out of hours'.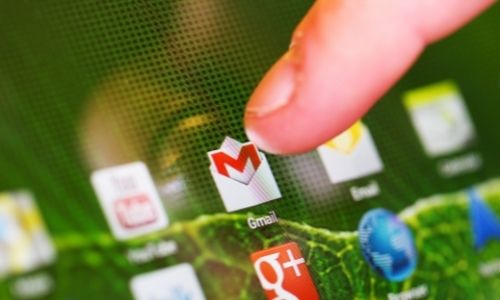 So, we felt that the Gmail autoresponder was well worth discussing, because we know a few smaller businesses use this tool.
How to setup the Gmail autoresponder:
Login to your Gmail account
Click on Settings, which can be found in the top right hand corner of the page
In the pop-up menu, click Settings
On the 'General' tab, scroll down to the bottom
The last option, named 'Out of office auto-reply' needs to be enabled.
Now, you can setup the timeframe which you would like to send your auto response.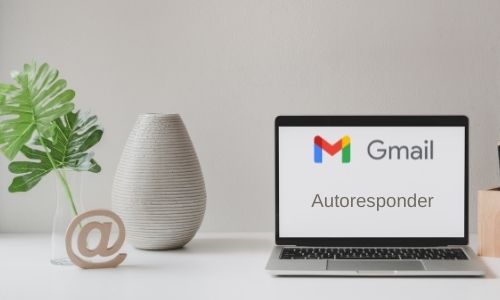 This is easy to set up. Simply add a subject, and the message you would like to send as an auto-reply.
An additional option exists. If you would like to ONLY send this auto response to your contact list, click and mark the square.
Save any changes – and you are all done!
Now that you have set up your Gmail autoresponder, you will see a banner at the top of your inbox with the subject of your auto response.
If you need further help setting up your Gmail autoresponder, you may find it easier to watch this video.
Before we move onto one the next best autoresponders, we wanted to mention 'canned response' in Gmail.
This tool offers you an efficient way to answer repetitive questions received in an email to your Gmail account.
Maybe you have created a contest, or giveaway, and you would like an auto response to be sent thanking a subscriber for entering.
With a canned response,you can create a template that will sends this auto reply!
Clever eh?
To do this:
From your Gmail account, go to settings and open the 'filters and blocked addresses' tab.
Click 'create new filter'.
A pop up screen will appear. You can now specify rules that you would like to apply to this filter.
Click 'create filter', then click 'send canned response'.
Now create the filter and any new emails you receive from this point on, and that fits the criteria you have set, will receive an auto reply.
This feature can be used for a whole raft of emails, such as subscribers asking for help, or thanking new subscribers for joining your email list.
It is well worth setting up some filters and experimenting with them!
If you need help, you can join our FREE list, where we offer tips and tricks on autoresponders, affiliate marketing and access to our community.
---
Whatsapp Autoresponder
The Whatsapp Autoresponder is one of the best autoresponders on the market for messaging.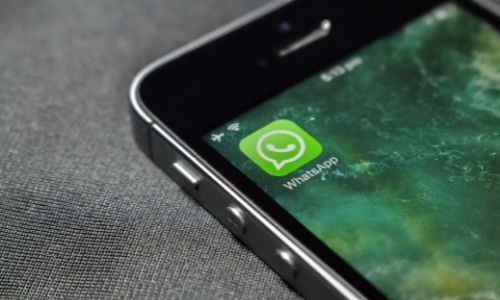 However, the tool itself is more of an auto-reply feature, than a full suite of features.
Whatsapp Business is a platform for small business owners, and the auto-reply function is limited.
You cannot generate leads, use different templates or set schedules.
But, it is a useful feature for setting up automatic responses when customers message you out of hours, so if you use Whatsapp as part of your marketing campaign strategy – it's better than nothing!
To use the Whatsapp Autoresponder:
Tap on the three dots located in the top-right of Whatsapp.
Click settings, followed by business settings.
Now you should see an 'away' message. You should press this.
Toggle on the 'Send away message' and enter your message. You can tap the text to edit.
You should then select the type of schedule for when you would like your auto reply message to be sent.
Then select the recipients to whom to send the message to.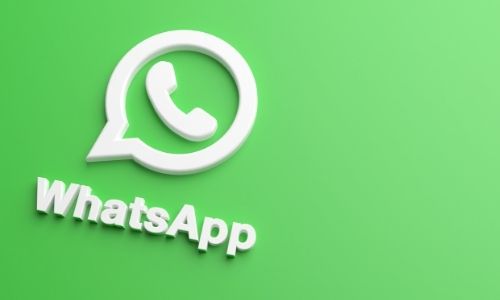 There are three types of schedule you can set up for the Whatsapp autoresponder.
These are:
Always Schedule. This option is for sending auto replies when you can't respond for a few days.
Custom schedule. You can choose a predefined time to send your auto responses to your list. Customers will instantly receive the message you set up if they send you a message between the time frames you set.
Outside of Business Hours. Again, you can set your business hours on your profile. This option will then send an instant message if a customer messages you outside of business times.
As you can see, the Whatsapp autoresponder is great for setting some sort of automation if subscribers want to contact you but your unavailable. Something is better than nothing, and your customers, clients, subscribers or followers will appreciate a response, even if its automated.
As one of the best autoresponders for managing a messaging service, just search the iOS store or Play store for 'Whatsapp Autoresponder' to get started.
---
Outlook Autoresponder
Similar to Gmail, the Microsoft Outlook Autoresponder allows you to set up out of office replies, which is great for engaging with your audience when you are unable to personally respond quickly.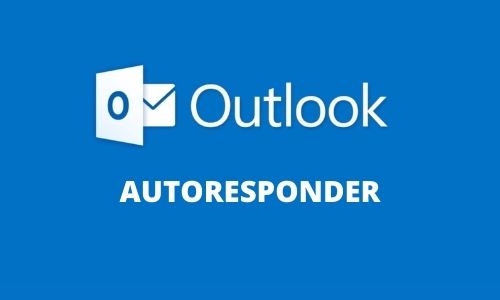 As you may be aware, 'Out of Office Replies' are automated messages that let the sender know when you will be back again.
In fact, we highly recommend that, as an email marketing best practice, to deploy an autoresponder, or auto-reply across your email, website and social media channels because this will increase engagement rates and conversions, which, as affiliate marketers, is what we strive for.
How to set up the Outlook Autoresponder:
Open Outlook through your web browser, desktop client or app.
Go to File > Automatic Replies
In the automatic replies box, select 'send automatic replies'.
Here, you can optionally set times when auto replies are sent, such as after hours.
You can now type your subject line, and message, and hit save.
Your Outlook autoresponder should now be ready to auto-reply to any emails you receive, depending on the settings you have chosen of course.
As we've mentioned, setting up an autoresponder for your email service, such as Gmail, Outlook and Yahoo allows you to automate your responses to your contacts, thus improving communication with your audience.
Next up is the Sendshark Autoresponder, which we feel is one of the best autoresponders on our list!
---
Send Shark Autoresponder
Now, we do have a full review of the Send Shark autoresponder, but it is that good that it is well worth mentioning again!
Call me crazy, but when it comes to my business, I don't like wasting my time.
I don't like sending out emails that no one reads, I want each email to be read and responded to!
If you've got an impeccable product or service, why wouldn't you expect the best in return?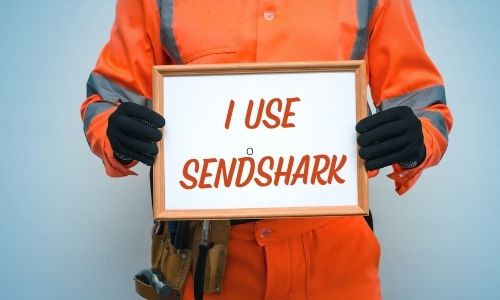 So, when I finally discovered the Send Shark Autoresponder, we knew right away that this was one of THE best autoresponders we have had the pleasure of using!
But why?
First, the page builder was so easy to use, and exactly the tool we were searching for to create highly converting landing pages, so that was a big plus!
Secondly, although it is a breeze to use and setup in seconds, the pricing model suited my business because I had a HUGE email list that was proving too costly to send my email drip campaigns out too…
You see, for just $25 PER MONTH, I can use Send Shark to send out automated, hand-crafted, easy-on-the-eyes email to up to 50,000 subscribers, with NO additional charges.
Now that is competitive, and fits my business perfectly.
Take a look for yourself…….!
---
Dyno Autoresponder
Now, we are going to make this short, because this particular autoresponder is for users of Discord (form those that don't know, Discord is a great place to hang out and talk to fellow affiliate marketers).
'Dyno' is a discord bot.
Enabling the autoresponder allows you to make Dyno automatically respond to a users message with a predetermined messages (that you can set) or simply a reaction.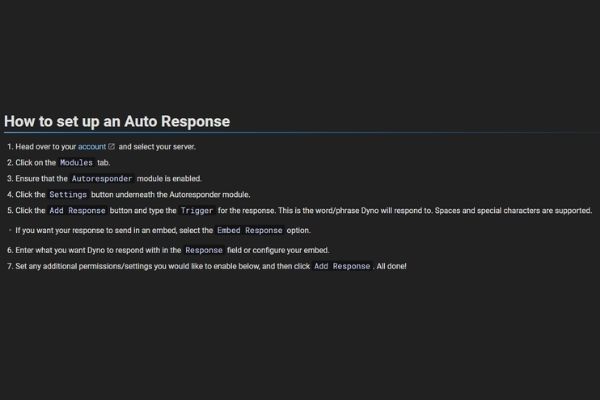 This sounds complicated if you are not familiar with Discord or the Dyno service.
---
HubSpot Autoresponder
HubSpot is a popular CRM platform that allows you to:
Generate leads
Close deals
Create customer journeys
Use a full marketing & sales platform
Execute timely emails
Set up an autoresponder
Now it is the latter we are interested in – setting up an autoresponder!
First, you can grab an account right here.
So, to setup up your autoresponder on HubSpot:
Login to the HubSpot dashboard
Now click on 'your account'.
Choose 'Integrations'.
One the left sidebar, select 'HubSpot API Key'
Click 'Show key'
Copy your HAPI Key, or write it down.
Your HAPI Key will be what identifies you on Hubspot. Head over to your website and enter this key into the relevant fields.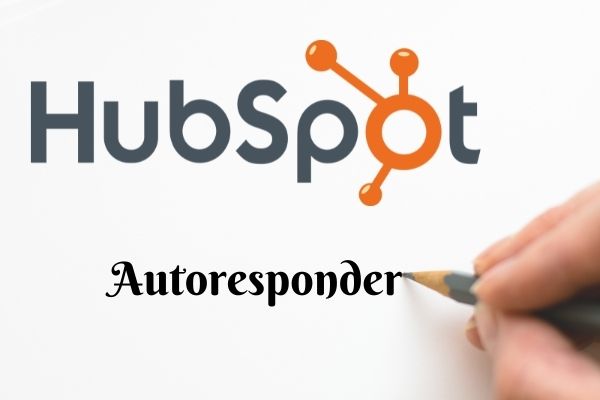 There is an alternative way, and that is to use a create workflow to automate your emails.
You will however need to be on the HubSpot Marketing Pro or Enterprise plan to send follow up emails.
This is for setting a pre-empted response to an email form on your website.
The instructions to set this up are quite long, so it is probably best to head over here now and take a look!
---
Contact Form 7 Autoresponder
Because WordPress is one of the most popular CMS in the world, the Contact Form 7 plugin has been used millions of times.
This plugin is for embedding forms into your WordPress website, and is incredibly popular.
For those who are new to affiliate marketing, embedding forms is a key part of building your list and driving leads.
So what if you could create a better customer journey by setting up an autoresponder for this form plugin?
Well, you can!
All you need to do is implement 'Use Mail(2)' in the settings of your form, and setup your response template.
This video talks you through everything you need to know to set this up for your website or blog.
---
AWeber Autoresponder
We love Aweber, and have used this automation software for many years to cut down on our time, but just how good is the AWeber autoresponder?
Is it one of the best autoresponders on the market?
Well, it is certainly one of the leading autoresponders, that's for sure.
The autoresponder allows you to:
Setup a sequence of emails
Welcome new subscribers
Promote your products and services
Share information about yourself
Use an easy email builder
Tap into a collection of premade templates
So yes, once you sign up, you get a LOT of cool features that canturn your business into a profitable business, and free up time to concentrate on other areas.
Check out this sample email template that is ready to be sent out!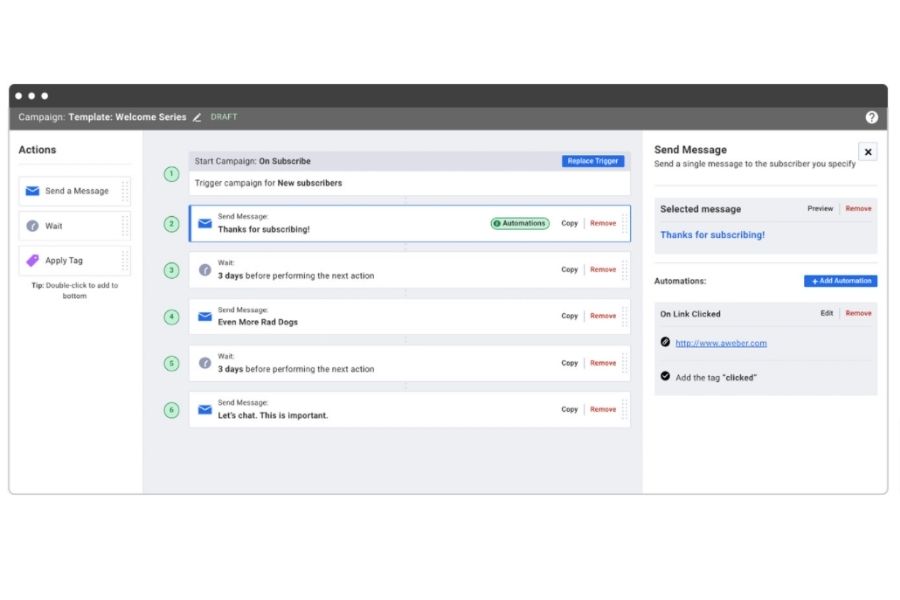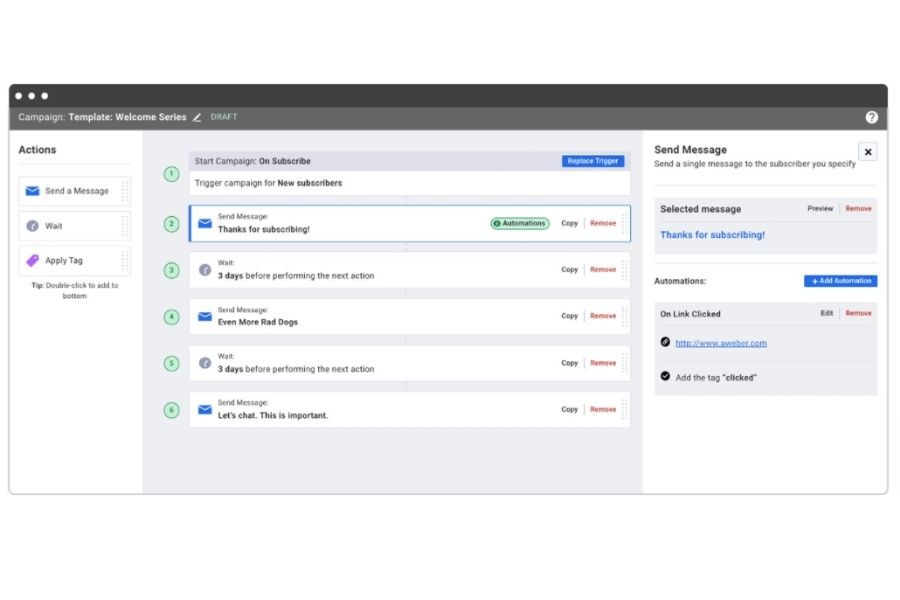 If you are looking for an autoresponder, along with a full suite of tools to help build your business further, you should give AWeber a try!
---
Facebook Autoresponder
Again, this is more of an auto-reply function using Messenger, but nonetheless it is a useful tool to know how to use!
Social media has grown to become a great weapon in the affiliate marketing industry, with Facebook at the forefront.
So it makes sense to go ahead and setup an autoresponder to manage responses from your contacts when you are away.
This can be done through 'Creator Studio' – however, you do need to be either an admin, editor or moderator of a Facebook page to use it.
At the time of writing, there are 7 predefined responses you can setup to send to any messages that come into your inbox.
These are:
Away Message
Instant Reply
Contact Information Requested
Location Requested
Page Recommended
Page Not Recommended
Application Received
Now, you may be able to work out what most of these mean, but you may find it easier to head over to the business support page to learn more.
This is how to edit your automatic responses: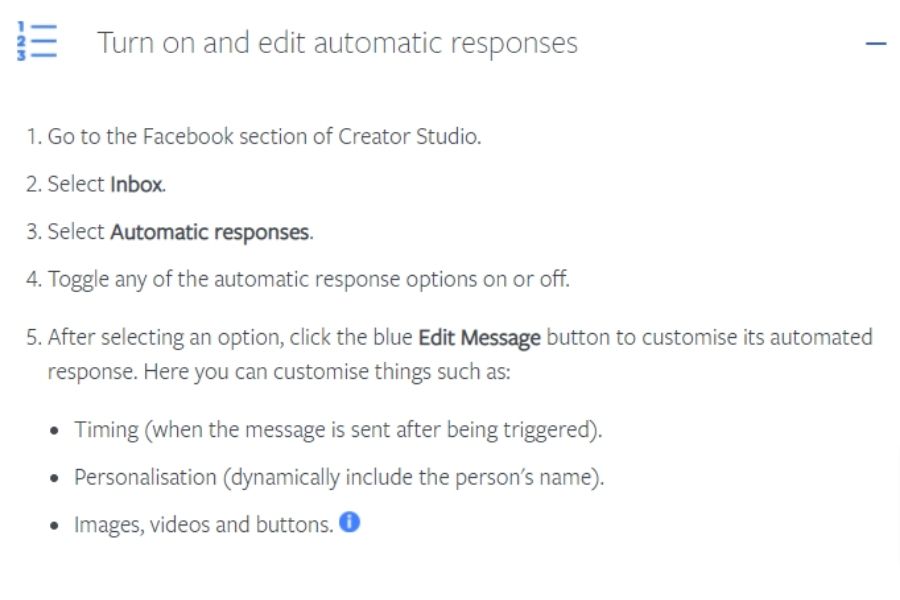 Best Autoresponders: Final Verdict
If you're in the market for a new autoresponder, we want to thank you for checking out our roundup of the best autoresponders for 2022.
From using a CRM to power your email automation to setting up a simple auto-reply on social media, we hope you found this resource as useful as we did writing it.
As always, if you have any questions, don't hesitate to post them in the comments section below or just say hello ????
Sincerely,
Your Friends And Partners
Richard And John Weberg