SendShark Autoresponder Review 2022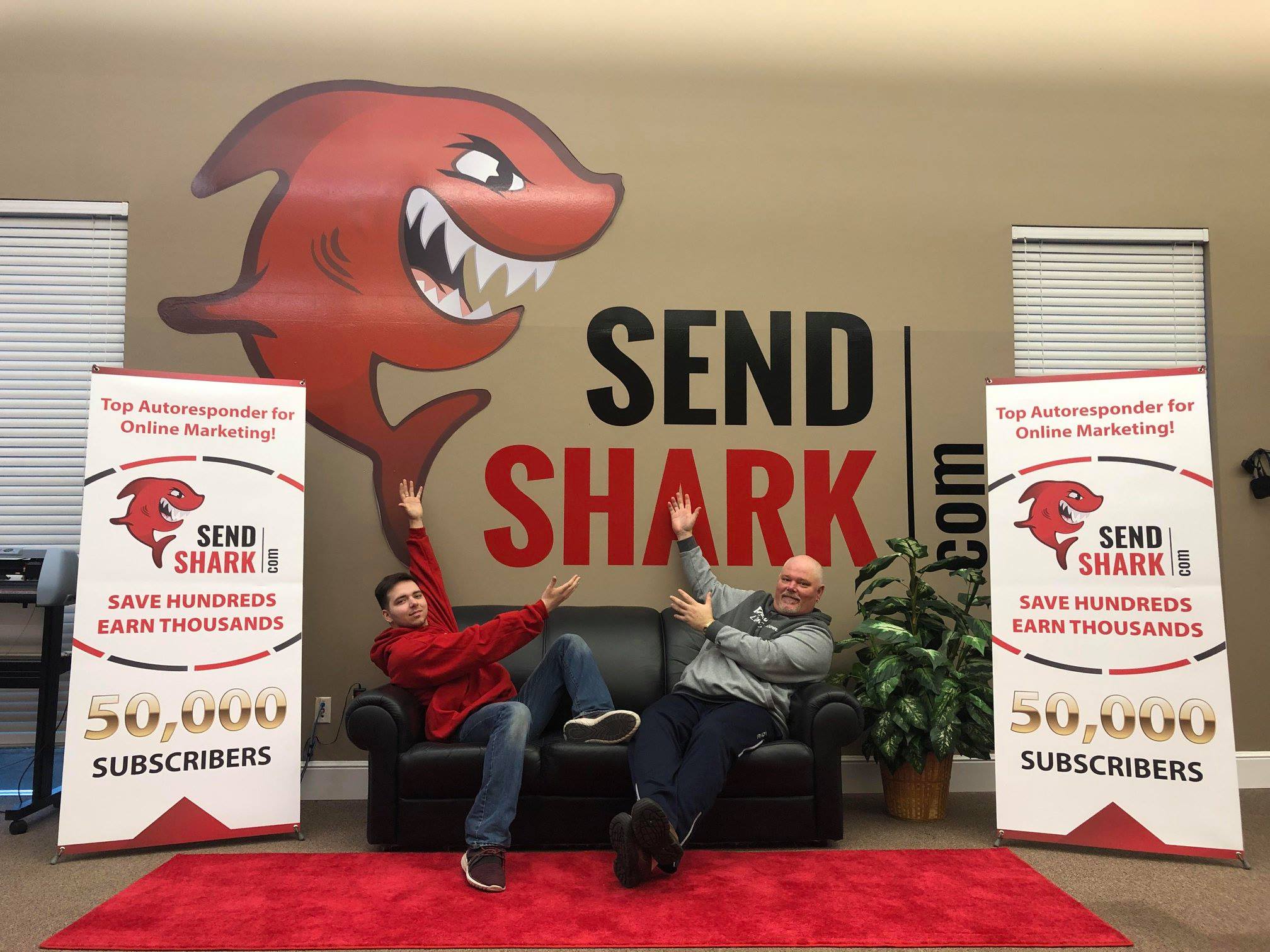 SendShark provides an extremely solid autoresponder service, with a lot of great features for very little money.
In our opinion, it's definitely worth considering if you are looking for an affordable autoresponder service to use in conjunction with WordPress or as a stand alone autoresponder software.
It will serve you well no matter what kind of marketing you are doing.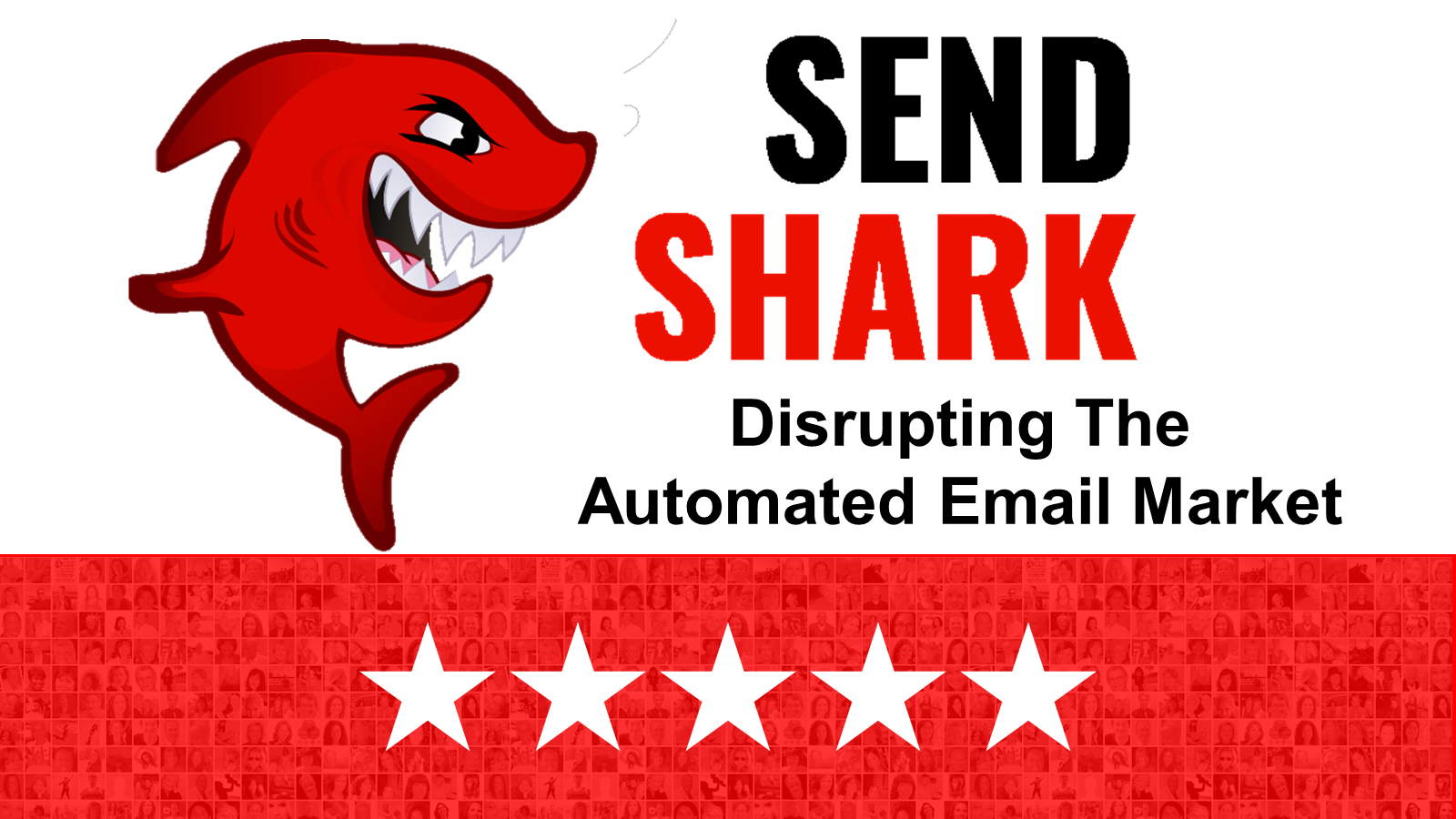 Sendshark autoresponder overview
The Send Shark standard plan starts at just $25/month, which is very good value considering the number of features the service brings to the table (more on these later!)
SendShark's main selling point is it's interface; making it easy-to-use as possible for every single user – whatever browser or device you are accessing it from.
In this day and age, affordability is critical to people starting a business or are looking to fuel growth connected to what they are passionate about.
There is a high demand for quality and affordable marketing tools that can be used to increase profits, and expand your presence in the marketplace.
SendShark is one of those tools!
In our SendShark Autoresponder review, we cover every aspect of the SendShark email marketing tool, and how you can benefit to grow your online business.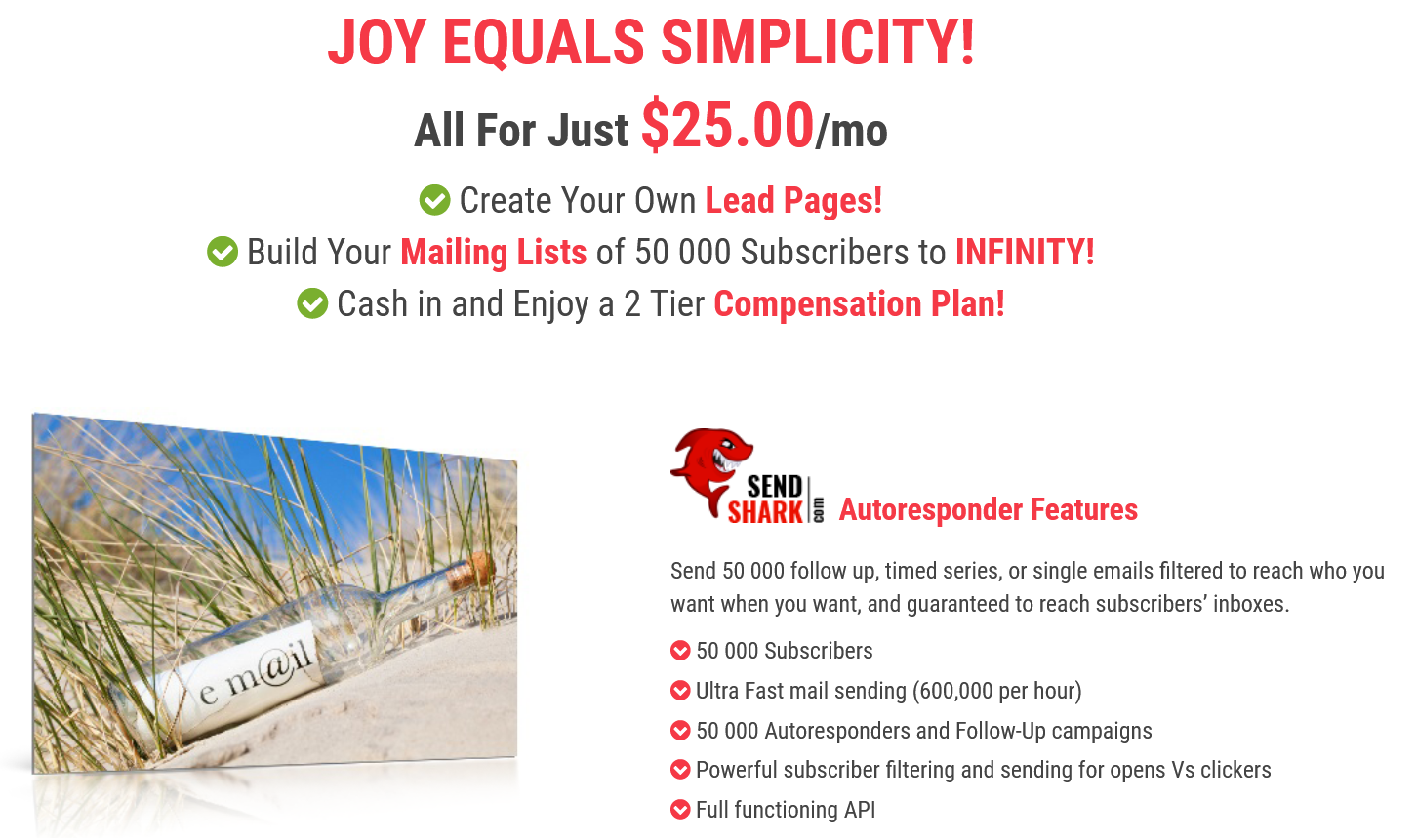 What Is SendShark?
SendShark is a popular autoresponder with a growing customer base.
With SendShark you're able to become a customer of one of the most affordable email marketing tools on the planet!
The parent company behind SendShark is GVO/NowLifeStyle who have been in business now for over 2 decades.
We know personally that they are obsessed with providing quality products and services.
With SendShark, you can automate your email marketing and create more income from all of your marketing activities.
One of the keys to making money online is being able tofollow up with your leads and potential prospects on an ongoing basis.
This autoresponder is a true marketing automation tool, that will save you time and allow your business to become more efficient – and profitable.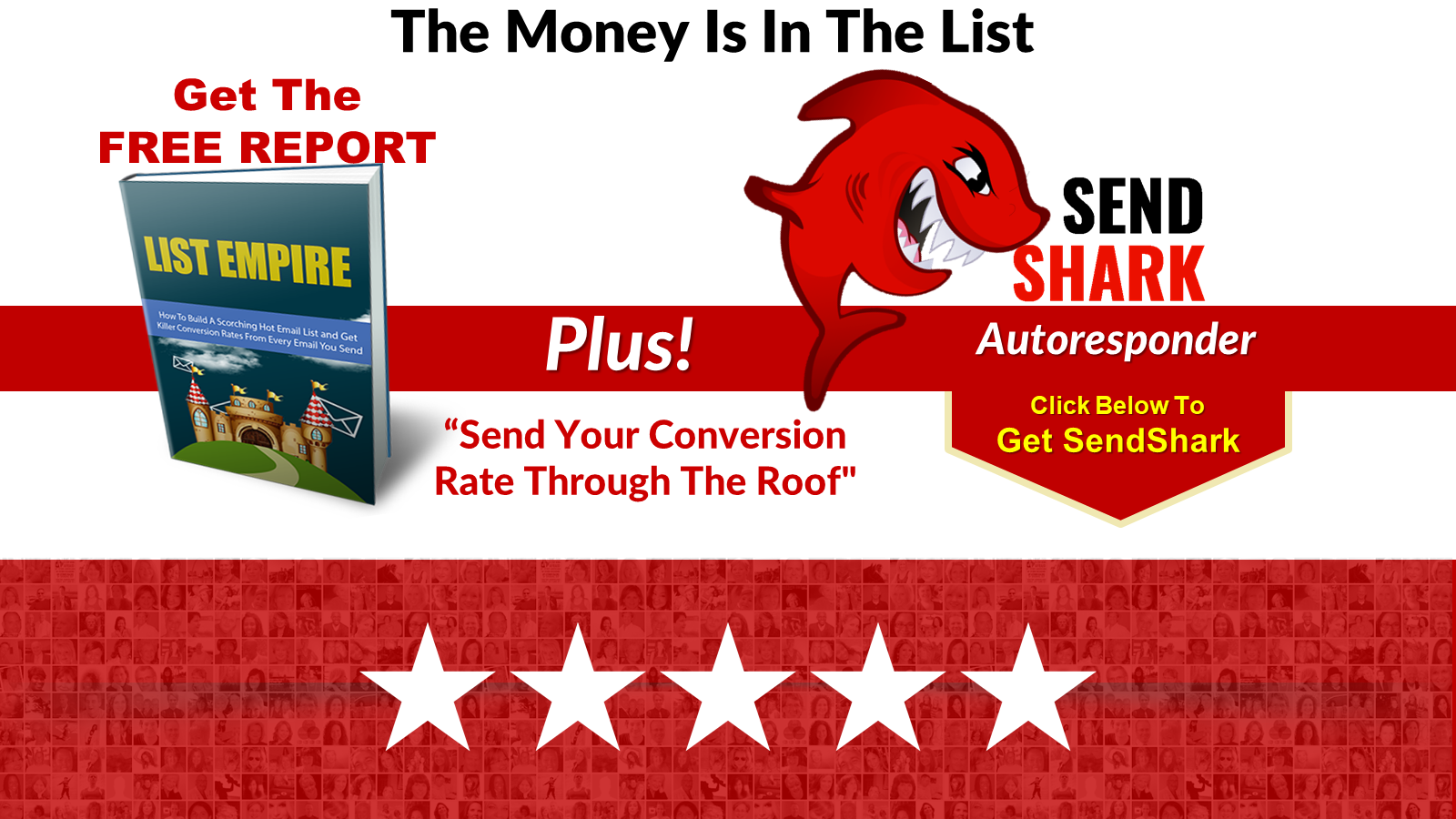 Who Should Use SendShark?
Affiliate marketers
Bloggers
Course creators
Ecommerce business owners
Influencers
These are just a few of the users that can benefit from using SendShark. Of course there are many more!
What else is so special about SendShark?
Well, to start with you have access to a full page builder.
We will cover this in more detail as we progress through our SendShark autoresponder review!
Basically, it allows you to fully automate your email business, now who wouldn't want to do that!?!
Join SendShark!
SendShark Video Review
What Is An Autoresponder?
For those unfamiliar with the term 'autoresponder', we will explain exactly what this is.
An autoresponder, is a marketing automation tool that allows you to collect, manage, and follow up with leads.
This ability to interact with the leads you generate means you can communicate with them professionally and turn them into loyal customers, social media followers or even lifetime buyers to your brand.
Furthermore, using an autoresponder gives you the ability to follow up with your leads.
'Follow up' means to continuously and automatically communicate with them over a period of time.
From our experience, this 'follow up' process increases conversions and push up your profits across your whole business.
Email marketing is a one of the best marketing methods to build confidence and trust in your business or brand.
It really is the key to building fast and continuous sales.
Want to learn more about building an email list?
Then join our FREE course below and we will walk you through it.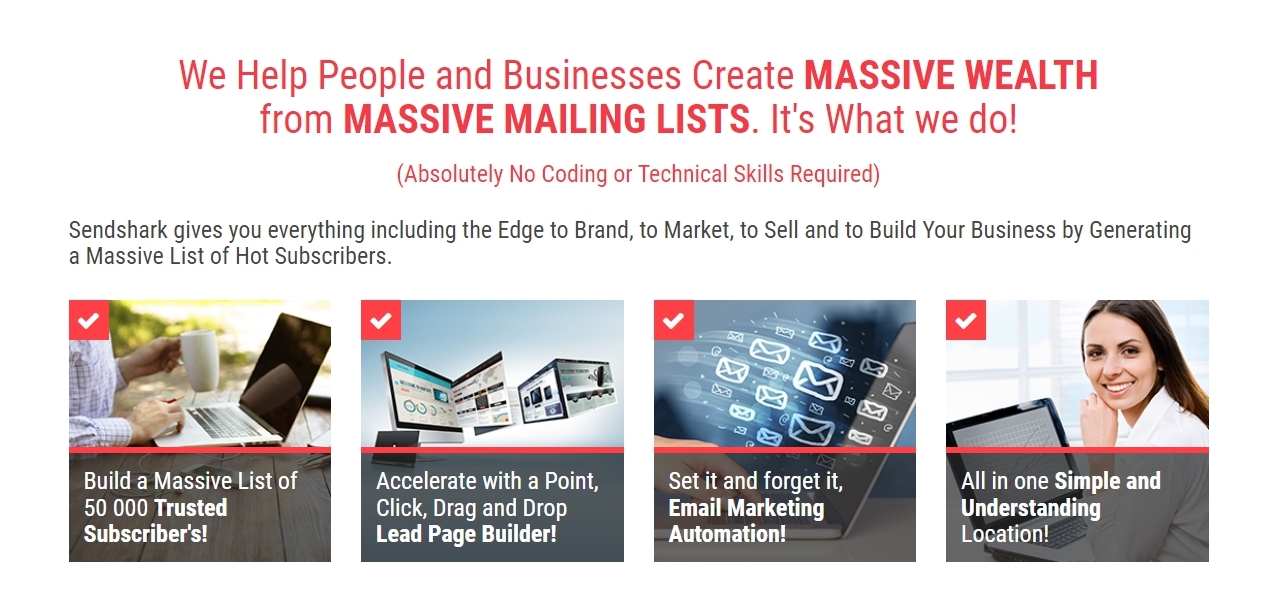 SendShark Page Builder
A full page builder and website designing software is included with SendShark.
Signing up gives you instant access to the page builder and the autoresponder.
Two hugely popular tools for a very low price!
Of course this means you DO NOT need to purchase a separate page builder, because you have one already included and built into your autoresponder software suite.
But what can a page builder accomplish?
You can:
Build landing pages to your affiliate offers
Create opt-in pages to boost your email list
Offer checkout carts to enhance your call-to-actions
Design sales pages and funnels to further boots revenue
Page and click tracking
…and there is so much more you can do with SendShark!
Join SendShark!

SendShark Email Marketing
The autoresponder included in SendShark will allow you to setup and automate your email marketing business, build your list, and manage your leads.
All from one software suite!
Using the SendShark autoresponder has skyrocketed our email list, and we've seen first hand that this form of marketing is extremely profitable, and because we also use the SendShark autoresponder, our conversion rates are through the roof!
Email marketing is often used by businesses in order to gather, build a relationship with, and convert leads to customers.
With SendShark – you get to automate the whole email marketing process!
SendShark what to know – SendShark is both a lead capture system and full autoresponder.
In fact, both tools automate everything for you.
Who doesn't love set and forgot technology?
Join SendShark!

---
SendShark Pricing
SendShark is arguably the most affordable autoresponder in the world.
At just $25 per month, there really is NO OTHER AUTORESPONDER that can compete!
If you opt to pay yearly, you could save a further $100!
This includes a 50,000 subscribers limit!!!
But what how does this pricing structure compare to other leading autoresponders?
Let's investigate!
| | | | |
| --- | --- | --- | --- |
| Autoresponder | Free Plan Limit | Paid Plans | Notes |
| SendShark | Free trial all features | $25 per month (50,000 subs) | One Price! |
| HubSpot | 100 Subscribers | $50 per month (1000 subs) | $240 for 5000 subs |
| GetResponse | 500 Subscribers | $15 per month (1000 subs) | $50 for 5000 subs |
| ActiveCampaign | Free 14-day Trial | $29 per month (1000 subs) | $79 for 5000 subs |
| MooSend | Free 30-day trial | $16 per month (1000 subs) | $64 for 5000 subs |
| AWeber | 500 Subscribers | $26 per month (1000 subs) | $66 for 5000 subs |
| MailChimp | 2000 Subscribers* | $17 per month (1000 subs) | $90 for 5000 subs |
| Omnisend | 250 Subscribers | $20 per month (1000 subs) | $65 for 5000 subs |
*MailChimp offers limited functionality on the free plan.
As you can see, most autoresponders charge between $50 and $70 per month for a limit of 5,000 subscribers.
As you grow email list, these costs can really rise, but with SendShark, you know that you will be paying just $25 as long as your list stays under 50,000 subscribers!
Our advice would be to grab this offer RIGHT NOW!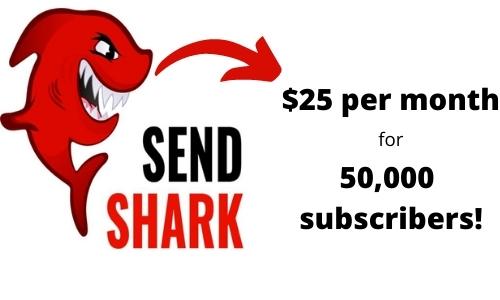 This low cost has attracted tens of thousands of customers to Send Shark, and illustrates that just because a company is professional and offers great services
This doesn't mean they have to overcharge for their services and products.
Throughout Joel's life, the CEO of Send Shark, has always made sure that he offered affordable products and services to the marketplace, with whatever product he was putting out there.
SendShark Two-Tier Pricing
There are only two pricing packages for the SendShark Autoresponder.
You can pay $25 per month, or if you want to send emails to over 50,000 subscribers.
Or you can raise the limit to 100,000 subscribers for only $25 extra per month.
$50 for 100,000 subscribers is CRAZY!
It just goes to show that so many autoresponders are overcharging their customers.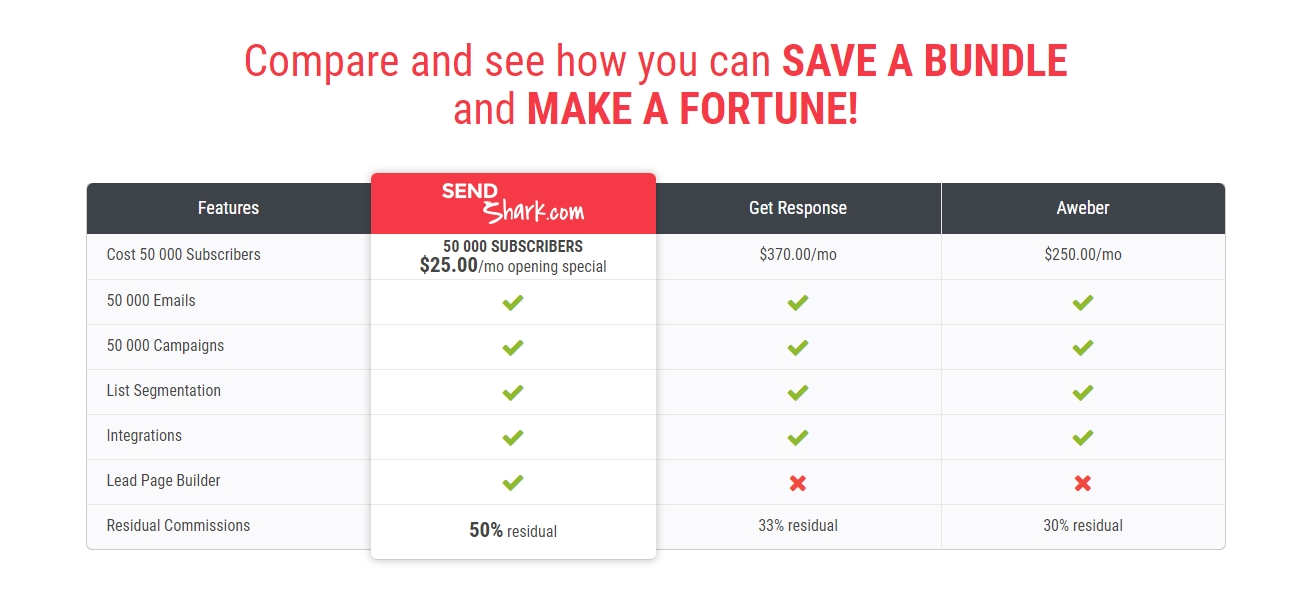 SendShark Free Trial
You can start using Sendshark absolutely free.
Yes – FREE!
You're able to open up a free account and test out their features, such as the autoresponder, before you fully commit and upgrade to a full account.
If you don't have a free trial yet, you should consider getting signed up so you can take the full demo for a spin and find out for yourself what an excellent autoresponder SendShark is.
If you decide that SendShark is for you, it is easy to just upgrade your account in the back office.
How to Build an Email List with SendShark?
Building an email list with SendShark is extremely simple and fast.
All you have to do is advertise one of their pre-built lead capture pages (using their automated lead capture system), and you can start generating leads within hours of logging into SendShark!
Here's the exact steps your should follow:
Sign up as a SendShark paid member
Grab your custom lead capture page URL from the back office
Advertise the lead capture page that you copied
You will start to build email list within the SendShark lead capture system in no time at all!
What about create a custom list geared towards other affiliate offers?
Well, this is also easy!
There is just one additional step you'll need to follow.
Build your lead capture page using the SendShark page builder!
In fact, the lead generation process is pretty much the same as most other autoresponders and CRM's.
If you are still not sure about this process, we have created an in-depth walkthrough video so you can learn how to use the autoresponder and page builder.
Just for the record, Jon uses the full Now LifeStyle account in this demo video.
As a Send Shark customer only, your back office will look similar to the one showcased in our intro video at the top of this SendShark autoresponder review post.
So, please take a look at a complete page build below and see how easy it is to get started!
How To Use SendShark Email Autoresponder
Want to learn more about building an email list and scaling your business?
Check out Marketing Mastery Elite to access 200+ hours of marketing, sales, and business mastery content.
Can I Build Lead Pages Using SendShark?
Yes, you can build all the lead pages you will ever need with SendShark!
You can also build landing pages, funnels, sales pages, and so much more.
But what are lead pages exactly?
For those unfamiliar, lead pages are used to generate leads for email marketingand then you can send follow up efforts to further increase conversion rates.
These efforts are often used and done by business owners, affiliate marketers, and entrepreneurs.
The SendShark lead pages and page builder is of good quality.
You'll find that it's a solid page builder, that has had time and thought put into its design.
How To Build Lead Pages With SendShark?
To build a lead page in SendShark, all you have to do is go to their page builder tab in your backend office.
From there, as we show you in both videos, you can design any page you want from a great selection of pre-built templates.
Within a few minutes, you can have a lead capture page setup and ready to have traffic sent to it!
We found this whole process quick and easy, and we have found no other way to setup lead capture pages as smoothly as SendShark.
SendShark Competitors
One of the most competitive page builders and CRM's in the world is ClickFunnels.
ClickFunnels is a full service CRM software and we have been loyal customers of both platforms.
So, what's the difference between SendShark & ClickFunnels?
ClickFunnels is a full CRM while SendShark is an autoresponder and page builder.
Based on what your business needs and the strategy you are trying to implement, both can work in your favor.
However, there are pros and cons to any software, so let's jump right in!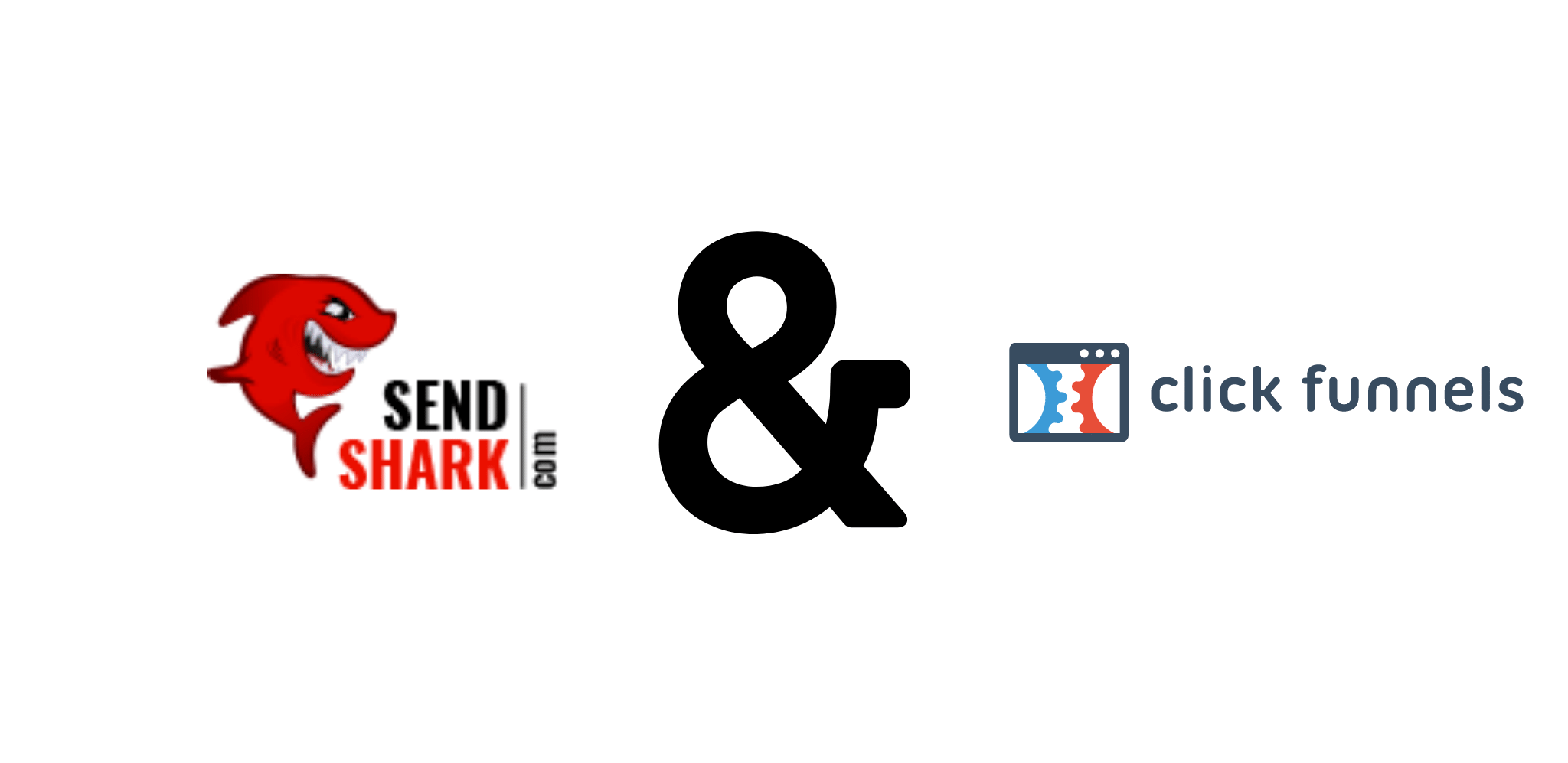 ClickFunnels vs SendShark
❌ ClickFunnels is 10X times more expensive
✔ ClickFunnels is more advanced
✔ ClickFunnels is for more serious businesses
✔ SendShark is easier to use
✔ SendShark is 10X cheaper
✔ SendShark has a more local and supportive feel
✔ SendShark won't limit your account for any reasons
❌ ClickFunnels pays a lower affiliate commission rate- if you plan on promoting it
✔ ClickFunnels is a far superior page and funnel builder
These are our overviews of the differences between ClickFunnels and SendShark.
In short, ClickFunnels offers a more powerful way to build landing pages and funnels.
SendShark is user friendly, cost effective and there are NO LIMITS.
Still on the fence?
You can learn more about ClickFunnels right here, and find out for yourself which you would prefer to use.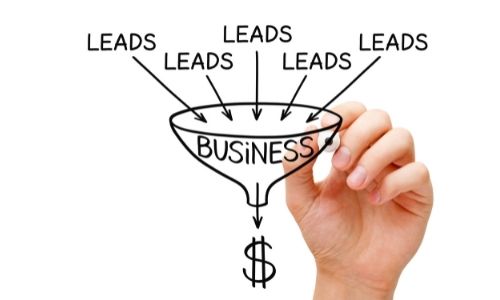 Does ClickFunnels Work With SendShark?
ClickFunnels and SendShark can work together in unison.
But how?
Since ClickFunnels has a superior page builder, you can use the page and funnel builder in combination with the SendShark autoresponder.
Amazing right?
By creating a form, and campaign, using SendShark you can then 'plugin that form' into any ClickFunnels page in order to generate leadsand potentially customers.
ClickFunnels does not have an autoresponder per se because it relies upon hooking up third party email marketing software such as SendShark.
So yes, SendShark works well with ClickFunnels, as we have them integrated together, and it works flawlessly.
SendShark VS GetResponse
Both of these two email marketing software companies have been in the game a very long time and have a very loyal client base.
But, there are several differences between them which we would like to highlight.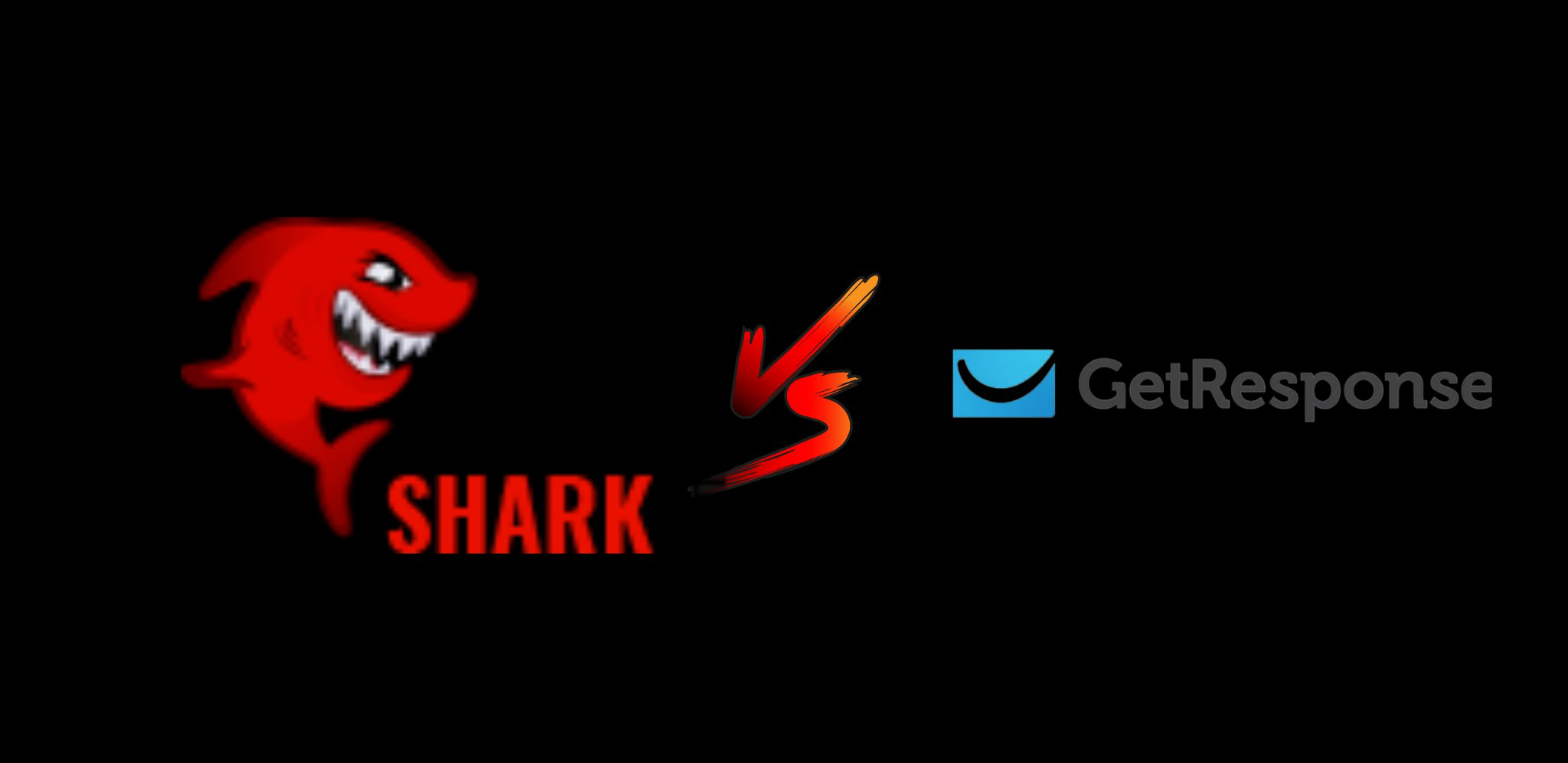 Feature Comparison
Autoresponders: Both GetResponse and SendShark have autoresponder functionality. You can use these features to send action-based or time-based messages. SendShark's autoresponder feature dashboard is much clearer and easier to use.
Marketing Automation: You can create automated workflows on GetResponse using drag and drop functionality. This is a flow chart of instructions that tell the platform what to do when a user opens or clicks on an offer or link. SendShark, unfortunately, doesn't offer this capability.
Campaigns: Both platforms have features that enable you to create and track all of your campaigns with ease. GetResponse offers around 120 templates to speed up the email creation process whether you choose to promote, educate, or sell. SendShark offers fewer templates.
Analytics: GetResponse offers sophisticated email marketing analytics with reporting capabilities. You'll be able to analyze click rate, open rate, and so forth. SendShark offers the same insights on email marketing performance.
Split testing: You can create multiple email campaigns on GetResponse, send them to different groups of subscribers, and monitor the performance of each. SendShark allows you to create and send multiple campaigns to separate lists of subscribers, with the ability to create a unique "From" name, "Reply to" address, and website URL.
Landing page: GetResponse has a landing page creator that helps you build clean and stylish pages and test their conversion rates in real-time. SendShark has a form creation wizard with the same functionality and almost similar ease of use.
Webinars: With GetResponse, you can host webinars on your email platform.
Conversion funnels: On GetResponse, you can create marketing campaigns for Facebook, Shopify, and other channels.
Website builder: You can create a website with GetResponse and link it to your domain. SendShark has a similar page builder tool.
Integrations: GetResponse supports over 150 integrations with other apps and websites.
Pricing: GetResponse pricing starts at 15.00 monthly and goes up as your email list size increases. SendShark has single pricing of $25 per month. Both offer free trials.
Wow, that is a lot of features and comparisons, but what if I HAD to choose one or the other?
Well, we use both of these services in our email marketing business
Yes, they both have their pros and cons.
But we love them both and they have really helped to ramp up our online business!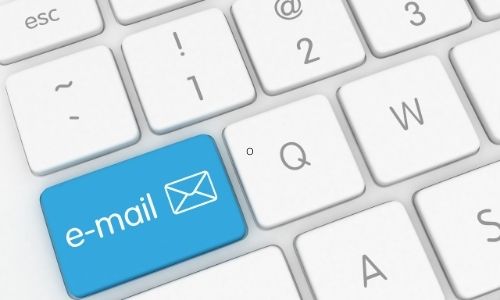 Let us take a minute to offer our own personal SendShark Autoresponder Review case study:
SendShark is easier to navigate and use, and has much less of a learning curve.
GetResponse has more feature rich tools and automated workflows.
SendShark in the long run as you build your email list will cost you way less money.
They both have excellent support, but GetResponse has more in depth email marketing guidance.
Deliverability is very close, GetResponse slightly edges out SendShark.
Both have great affiliate programs, SendShark pays a little higher commissions.
So who wins this battle?
It really is a 50/50 call!
It all depends on what your business needs, but as we've said, they have both served us well and continue to do so.
Are you a bare bones affiliate marketer?
Then you should go with SendShark.
Do you need higher reporting and automation's and are more tech savvy, or experienced?
Then go with GetResponse.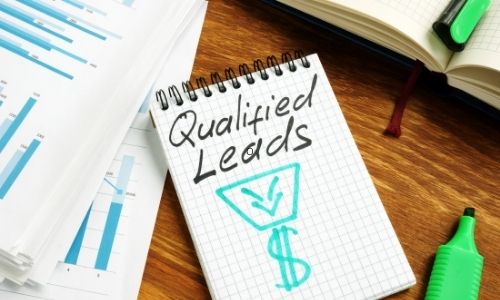 Joel Therien: SendShark Owner & CEO
Joel Therien is a serial 9 figure earning entrepreneur and family man.
Born in Ontario, Canada – Joel made the move to Schertz, Texas – when he discovered the United States had more potentialto scale his growing business.
Joel owns multiple different companies that all serve under the umbrella of GVO. (Global Virtual Opportunities)
Joel is a personal friend of ours, and we consider him family.
For over 10 years we've known Joel, traveled with him, spent weeks at his house, and have had an amazing time getting to know who he really is as a person.
Joel is an extremely caring man, who loves to help and give to others.
He's well into into health and fitness, as he wants to help others improve their health as well as their business.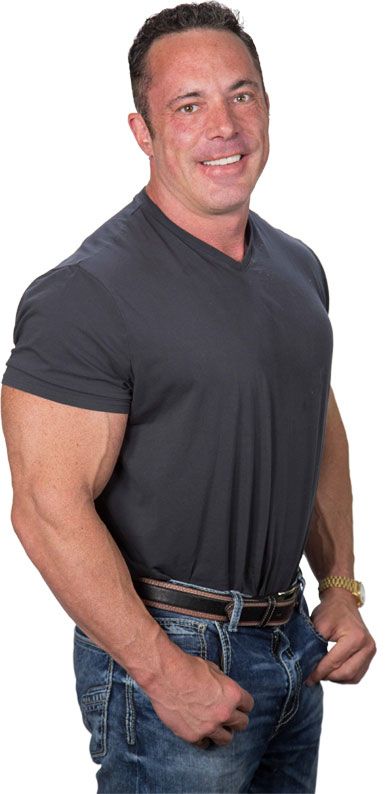 Joel owns many important and growing companies such as:
Now LifeStyle
SendShark
Pure Leverage
GotBackup
Possibly more….
These companies serve a variety of niches and industries and are well worth checking out!
Want to know more about the creator of SendShark?
Check out our video below to learn more about Joel Therien.
If you need any help in getting a grip with any of this software or services on offer, we can help!
Just fill in this easy form below, and you'll be part of an exciting journey!
Why Buy SendShark?
In our opinion, as well the super low price, the biggest benefit to choosing SendShark as your autoresponder of choice is the high limit of subscribers you get access too.
This limit is 50,000 contacts for just $25 PER MONTH!
With other autoresponder businesses, you will have to pay up to a few hundred dollars monthly for 50,000 subscribers.
Some even charge even more than that!
By our calculations, SendShark costs 10X – 30X lower, especially as your list increases into the thousands.
Both the value and subscriber limits are the reason why we had to tell you about SendShark.
Are you enjoying our SendShark autoresponder review so far?
We hope so!
How To Use SendShark Autoresponder With WordPress?
SendShark is adaptable to be used in other forms of marketing and business.
WordPress is no exception.
If you create a campaign or a form, you can plug them into any WordPress blog or website seamlessly.
All you have to do after creating your form, is copy the simple code that is generated.
Then paste this where you want it to appear on a WordPress post or page.
Or you can use SendShark's convenient API key.
Because SendShark forms use html code, you can easily integrate it into any page builder, software, or funnel builder.
How awesome is that!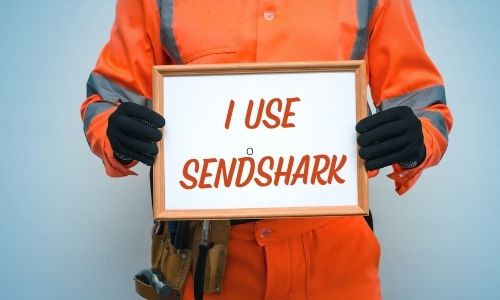 SendShark Affiliate Program
Sendshark has the highest commission payout affiliate program in the entire autoresponder space.
You can earn a generous 50% commissions as a SendShark Affiliate!
There is also a second tier compensation plan enabled as well.
All other autoresponder affiliate programs we have found pay well below 30% commissions.
Again, this is another factor why SendShark stands out from other autoresponder or CRM companies!

SendShark Compensation Plan
When you become a SendShark affiliate, you will earn 50% residual commissions on every single customer you refer!
What this means to you is that for every customer referred, you will make 50% of what they pay to SendShark, every single month for the lifetime of the customer.
Now that's amazing really!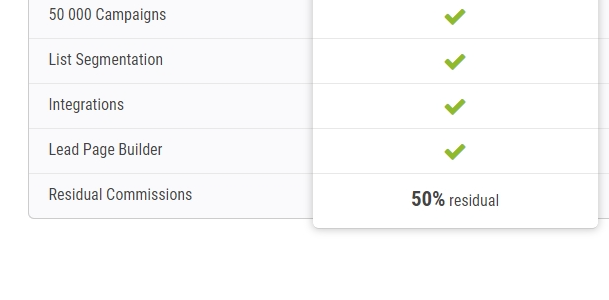 How Good Is SendShark?
SendShark is a solid autoresponder that is easy to use, especially for beginners.
If you simply want the ability to email and manage your leads effectively, then hands down you should join SendShark.
However, if you want to run more complex campaigns, then you should turn to a different autoresponder or CRM.
But don't forget that SendShark offers you the ability to manage, follow up with, and organize your leads properly.
SendShark Login
If you ever get confused after signing up to SendShark and can not remember where the login link is, please refer to this image below, and click here to go login.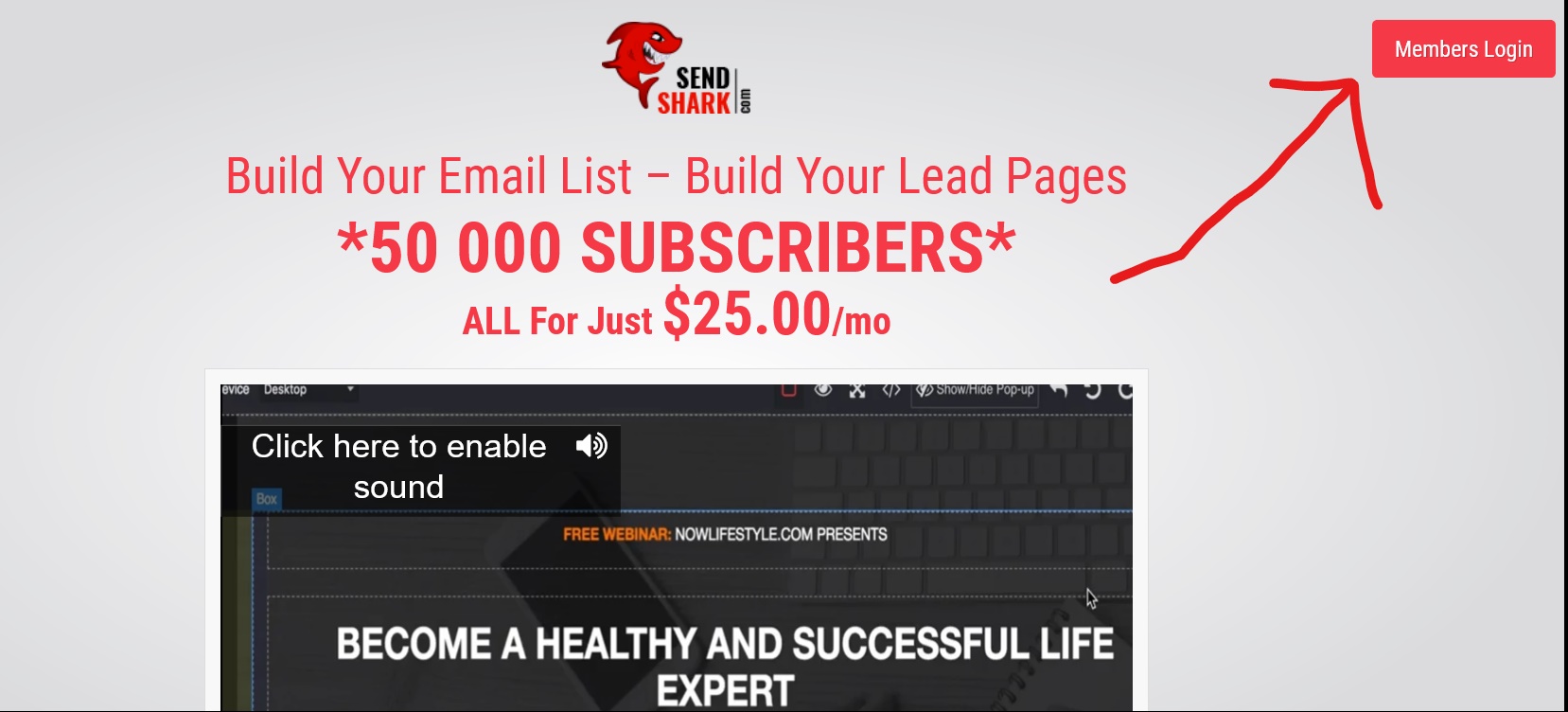 Sometimes people have a hard time locating login buttons as on most websites they are smaller, and even though they are in plain sight, they are hard to see, so we wanted to make sure you always have ease of access to your wonderful new autoresponder service.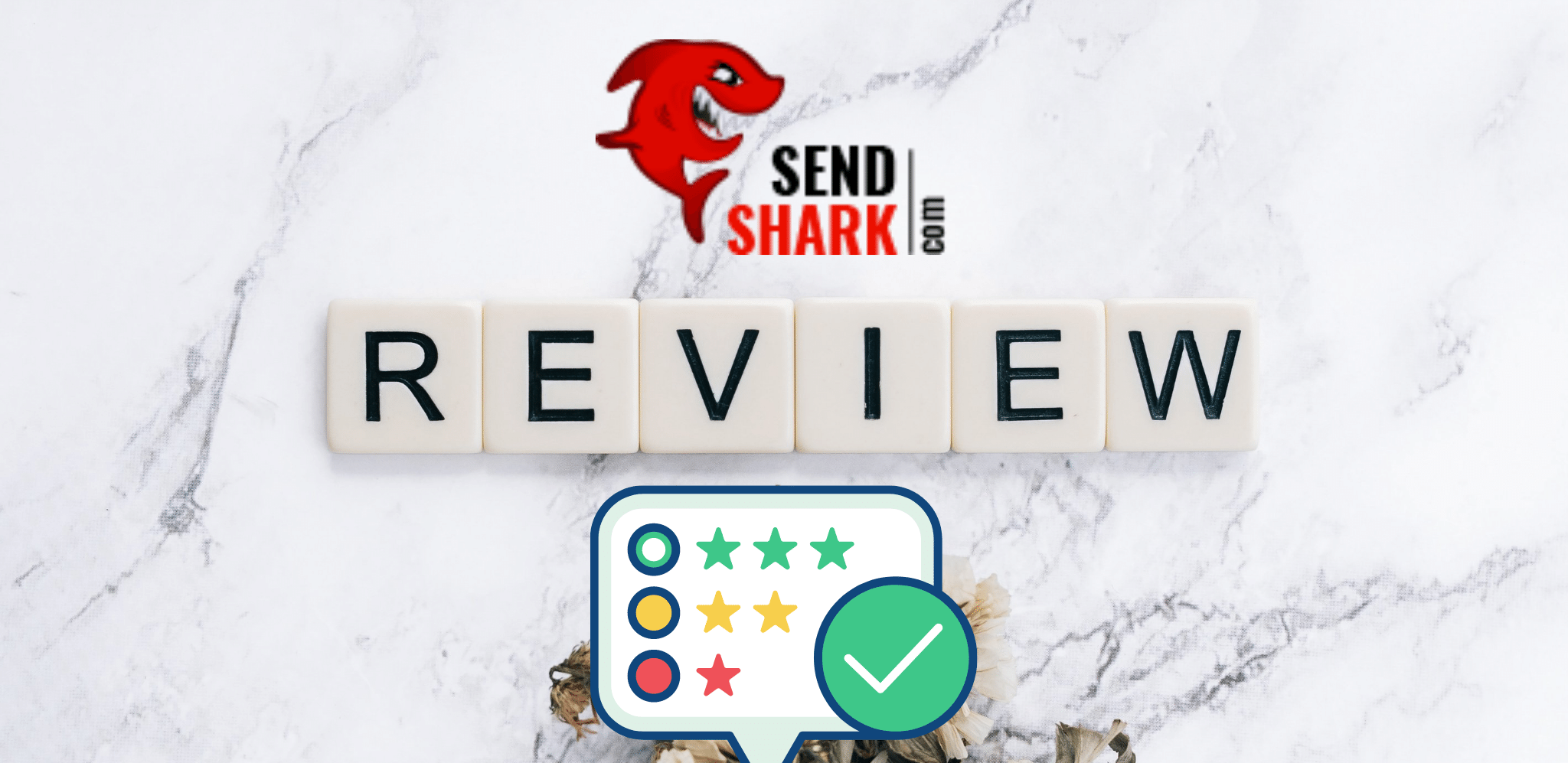 SendShark Autoresponder Review: Final Verdict
We have been a loyal SendShark user for many years, and we have also become one of the top affiliates.
In conclusion, we have found SendShark to be:
A simple solution to running an autoresponder
Completely affordable compared to other autoresponder services
Easy-to-use interface designed for beginners
Feature rich
However, if you're looking to use a more advanced and feature filled CRM or autoresponder, then we'd recommend one of the others we listed above or ActiveCampaign.
We use multiple in our marketing.
Finally, and because we wanted our SendShark autoresponder email marketing review to be completely open and honest, we have put together a final brief of the pros and cons.
Here's the full list:
SendShark Pros
Easily affordable
Easy to use
Simple to understand
Testimonials and help
Good support
Page builder included
Full service autoresponder
Home grown company
Amazing CEO & Founder
Cons
Not suitable for more complex marketing campaigns
Could have more features
Not highly integrate-able
Less automation's work flow
We cannot recommend SendShark enough!
We have formed a great relationship with the founders.
You just won't find better support or pricing, anywhere else!
Discover how you can learn more about how to start an email marketing business, or how to connect your autoresponders to a marketing campaign.
We hope you enjoyed our complete SendShark autoresponder review!
As always, if you have any questions, don't hesitate to post them in the comments section below or just say hello ????
Sincerely,
Your Friends And Partners
Richard And John Weberg