ActiveCampaign Review 2022 – Pricing, Pros and Cons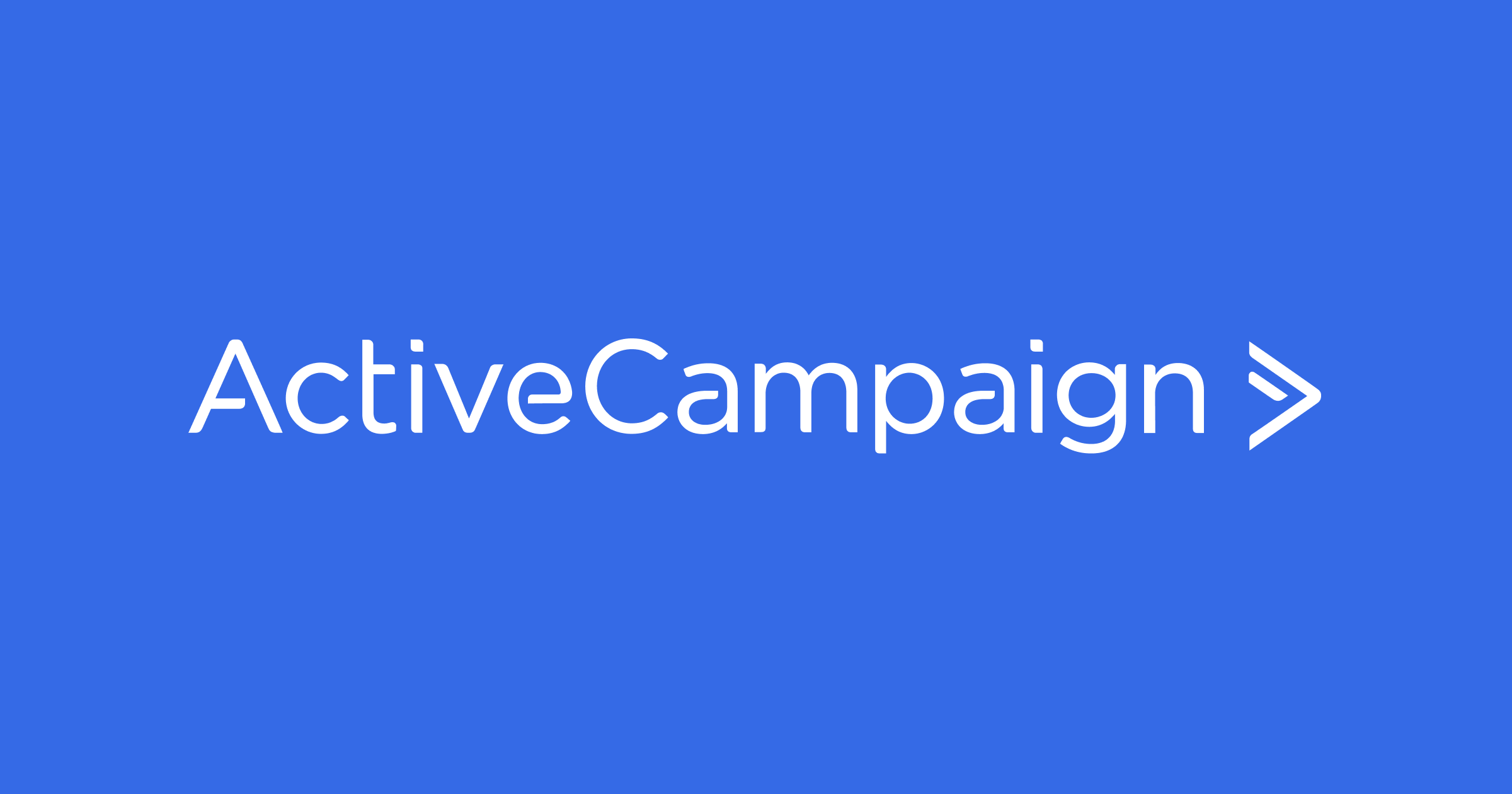 Every successful business, influencer, and person who wants to communicate with their audience in a meaningful way – needs a CRM like ActiveCampaign.
This 'Customer Relationship Management' software allows you to communicate with your audience and create a lasting relationship with them. This helps you generate leads, customers, loyal followers, and lifetime buyers.
ActiveCampaign is a popular marketing automation CRM and email marketing software. Known as been one of the best CRM cloud platforms in the world, we wanted to know why!
So, here in this in-depth ActiveCampaign Review you will learn…
the core features, and what you can use them for
automation tools
the types of businesses it benefits
pricing models
services and modules
email marketing tool & email marketing automation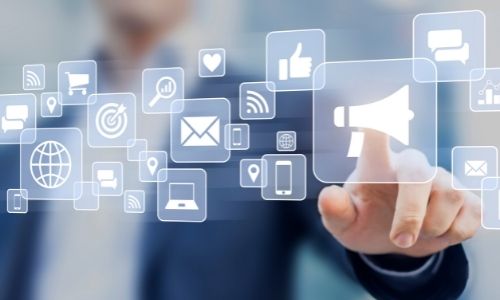 Keep reading on to learn how ActiveCampaign was reviewed.
ActiveCampaign Review
Active Campaign is one of the world's leading CRM and marketing automation tool company that gives you the ability to convert your advertising spend into leads & customers – in the most genuine way possible!
They have incredible customer support, an advanced yet easy to use email management system, a new landing page builder, and so much more that we will cover throughout this article.
But you should prepare yourself, because this ActiveCampaign review, we cover everything you need to know, in as much detail as possible, so you can make your own judgement before signing up.
We are real ActiveCampaign customers – so you can expect an honest opinion from us, and we're sure you'll discover just why ActiveCampaign CRM is one of the best performing CRM's in the market.
What Is ActiveCampaign?
Active Campaign is a full service CRM company.
A CRM (as we mentioned) is a system that automates the gathering, communication and management of leads, customers, and prospects.
ActiveCampaign currently has 850 employees and generate $165 million per year in revenue.
They were founded in 2003 while quickly rising to be recognized as a top Inc 5000 company.
Additionally, they serve over 150,000 customers in over 170 countries, which is impressive for a CRM.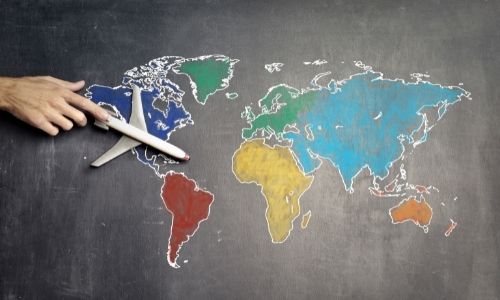 ActiveCampaign Core Features
ActiveCampaign is used in business to achieve and satisfy six main functions:
Gather leads
Nurture & manage leads
Convert leads into customers and upsell / down sell those customers.
Create customer loyalty
Increase automation to decrease business cost and increase profits
Provide a seamless customer experience
In order for a business to run efficiently, it needs one of these CRM's to follow up with and build relationships with existing and potential customers.
ActiveCampaign is also considered to be an autoresponder and ESP (email service provider) – even though it offers many other services than just for lead management.
It's worth mentioning that ActiveCampaign has been in the top-performing G2 leaders in every category for years as well!
Here are some of the impressive industry awards they have received in the past:

One of the main reasons we decided to do this full ActiveCampaign review is because of not just our own experience using the CRM – but also the collaborative experience felt by all of the positive reports we've seen from other Activecampaign users.
Where is ActiveCampaign located?
ActiveCampaign headquarters is in Chicago, Illinois.
They have multiple locations now across the world and are considerably expanding at a fast pace.
At an evaluation as a global entity, they're estimated to be worth around $3 billion.
ActiveCampaign is a very open and exciting company to work for, be a customer of, and an affiliate for.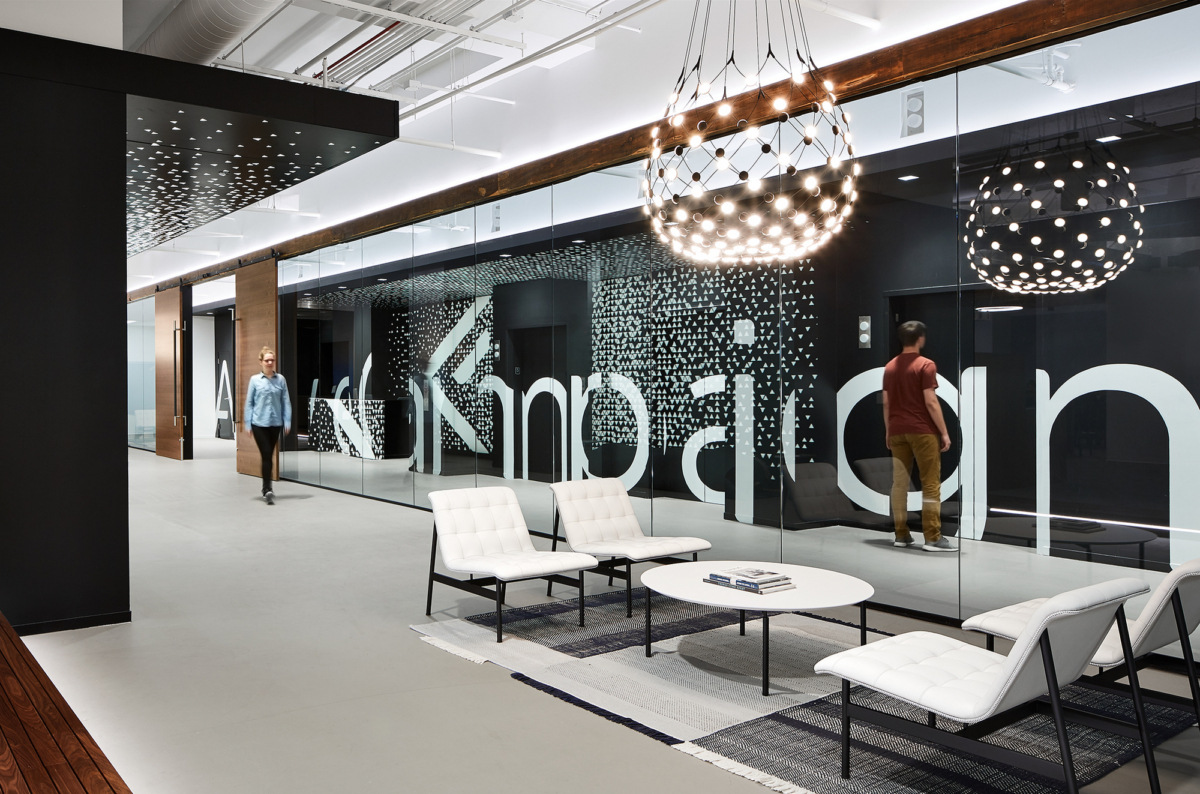 ActiveCampaign is actively hiring and looking for quality employees who want to enjoy competitive salary and benefits.
I'd consider working for them if the opportunity came up!
Who Owns ActiveCampaign?
Jason VandeBoom is the CEO and owner of ActiveCampaign. Being founded in 2003, you'll find that ActiveCampaign is among and possibly is, the best CRM in the digital tool marketplace.
Jason VandeBoom lives and is from Chicago, where he decided to create a marketing automation tool that would serve companies and small businesses, for decades to come.
Is ActiveCampaign A Startup?
Yes, technically speaking, ActiveCampaign is a startup company. They received funding from outside sources in order to scale their growth successfully.
They are now valued at over $3 billion. This entire ActiveCampaign review will go in depth about this Chicago startup company that has thrived.
How Does ActiveCampaign Work?
ActiveCampaign works by providing you a system to manage and follow up with your leads or prospects.
This automated system allows you to email, send SMS messages and social media messages to your leads or contacts.
You get access to a back office that allows you use of their follow up and contact management tools.
Each part of the back office has a designated function for following up with, managing, gathering, or interacting with your contacts in one way or another.

Is ActiveCampaign Easy To Learn?
Yes, among the CRM's we've tested, ActiveCampaign is among the easiest to learn. They have a simple to navigate back office, with many tutorials and guidance being offered regardless of which ActiveCampaign function or service you're trying to use.
After a few times of sending out emails and building landing pages, you'll be able to navigate the back office swiftly and without difficulty.
As you continue going through and learn from this ActiveCampaign review – you'll understand how AC works and why it's easy to learn regardless of past CRM experience.
What Is ActiveCampaign Used For?
As we have mentioned a few times, ActiveCampaign excels at managing, and following up, leads.
Businesses, influencers, and entrepreneurs all use CRM's to communicate with leads and customers effectively.
If you're effectively able to communicate with your leads, then more of them will turn into lifetime buyers and customers.
To put it simply, ActiveCampaign helps with business automation, lead automation, communication and management to help YOU cut costs, save time and increase sales.
Back Office
All CRM's contain a back office that allows you to navigate and use their marketing automation tools.
There are 8 distinctive main inside areas of your ActiveCampaign back office you use to manage your leads and business with.
Contacts: This area highlights the total number of contacts you have, important details about your contacts, when they were last followed up with, and more.
Campaigns: This area is where all of your email broadcasts or "campaigns" are sent out. These are manual follow up messages that you've sent out, and the data behind them.
Automations: This area contains all of your automatic follow up emails and communication.
Deals: In this area you will be able to manage large deals or contracts being landed or converted with particular contacts.
Conversations: Here you can reply to, manage, and communicate directly with contacts who are using the live support function of Active Campaign.
Lists: This place has a gathering of the each contact list or segmented list you have created.
Site: Pages, Forms, Web Personalization, and Site Tracking are all available tools here.
Reports: This all includes; Campaign Reports, All Campaigns, Campaigns Performance, Automation Reports, Goal Reports, Contact Reports, Deal Reports, Custom Reports, Chat Conversations Report, and Marketing Revenue.
Each of these tools and areas allows you to manage your leads and communicate with them easier through increasing active engagement.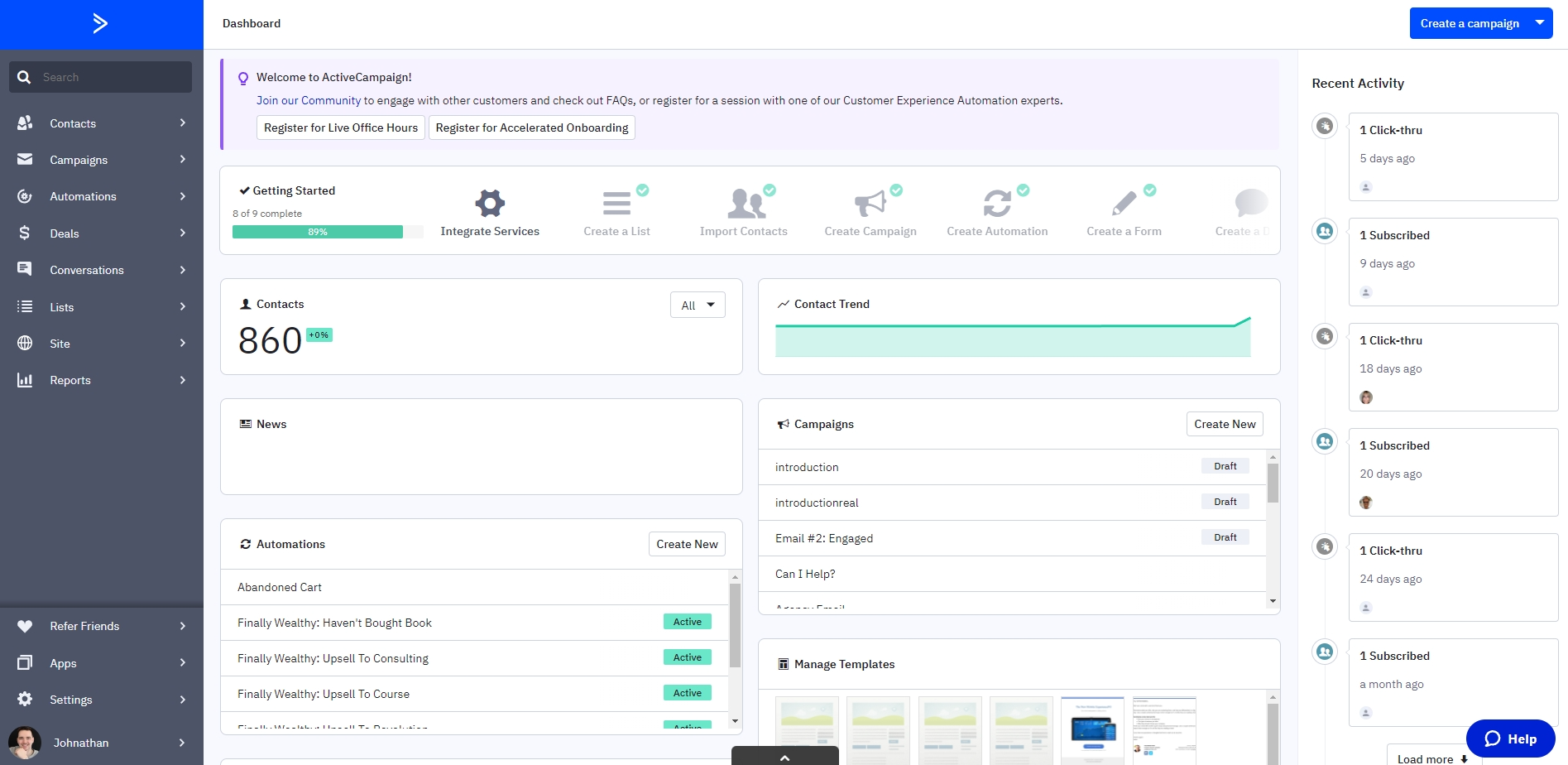 You have more personal areas to manage as well.
Setting
Apps That Connect To ActiveCampaign
Refer Friends
Your Personal Information
The ActiveCampaign back office is easy to navigate and understand. They make sure to only present critical information and data on their dashboard, and they have a clean layout.
As well, they have great customer service and help available if you have any difficulty using any of their tools or services.
Landing Pages
ActiveCampaign provides simple yet powerful tools that help businesses grow their audience and increase conversions.
The ActiveCampaign landing page builder makes it easy to create beautiful, responsive pages that are optimized for conversion. Plus, their powerful email marketing and automation features help you turn prospects into customers and keep them coming back for more.
Here are some of the things ActiveCampaign customers love about their landing pages:
1. They're super easy to create
2. They're optimized for conversion
3. They're mobile-responsive
4. They come with powerful email marketing and automation tools5. They're perfect for growing your audience and increasing conversions
Ready to create your first ActiveCampaign landing page?
Here's a quick guide:
1. Log in to your ActiveCampaign account
2. Go to the "Landing Pages" tab
3. Click "Create Landing Page"
4. Enter a name for your page and select a template
5. Customize your page and add your content
6. Save and publish your page
7. Promote your page to grow your audience and increase conversions
Creating an ActiveCampaign landing page is easy, and they provide everything you need to get started. So why not give it a try today? You could be seeing amazing results in no time!
What's A Landing Page?
A landing page is the first page visited immediately after someone clicks on an ad.
So, let's imagine you have a protein powder package you're promoting with Facebook ads.
When someone clicks to learn more, purchase, or opt-in – they're brought to a landing page.
With the page builder, you'll be able to create landing pages that convert and look clean.
This means they'll be able to attract in leads and customers while also looking stylish.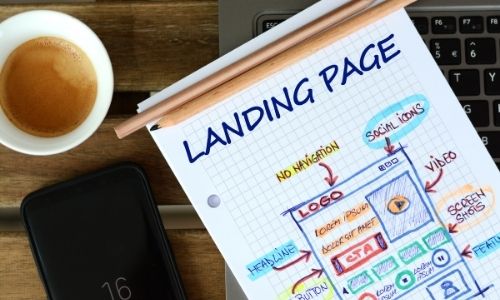 Services & Email Marketing Platform
Active Campaign has a variety of business automation tools available to their customers. Here are all of the areas of business their services can serve you in.
Active Campaign email marketing services
Marketing Automation – over 600 automation's available
CRM & Sales Automation
Sales Engagement
Service & Support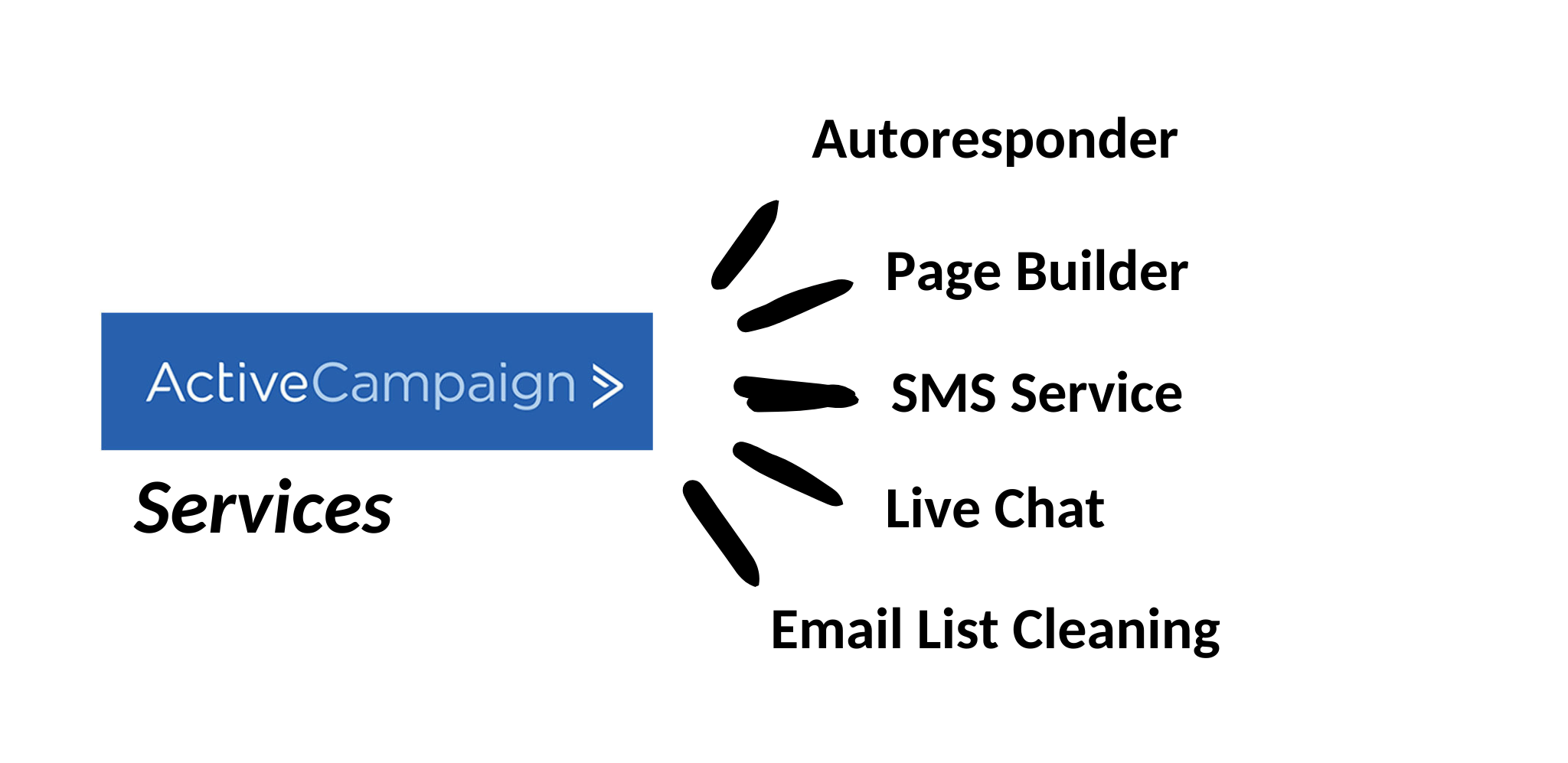 Within each of these areas, they provide different products and services within.
Here are the 5 different services you get when becoming an ActiveCampaign customer.
Autoresponder Email Marketing Tool
The ActiveCampaign autoresponder is easy to use, while offering you personalization, and customization.
You'll have the ability to follow up with your lists with automatic follow up emails, manual broadcasts (called campaigns), and advanced list segmentation will also be available for use.
The ActiveCampaign email marketing has great statistical overview so you can see in real time your:
Open rates for increased opens
Click through rates
Bounce rates
Exact detailed information for each contact
Other collected data
You also can enable a lead scoring system, where leads will be numbered by their amount of engagement with your emails.
The autoresponder is simple and user friendly, even for beginners without much autoresponder, ESP, or CRM experience. Which is all hosted within this software.
There are many kinds of emails you can send out from their AR with many automation's available.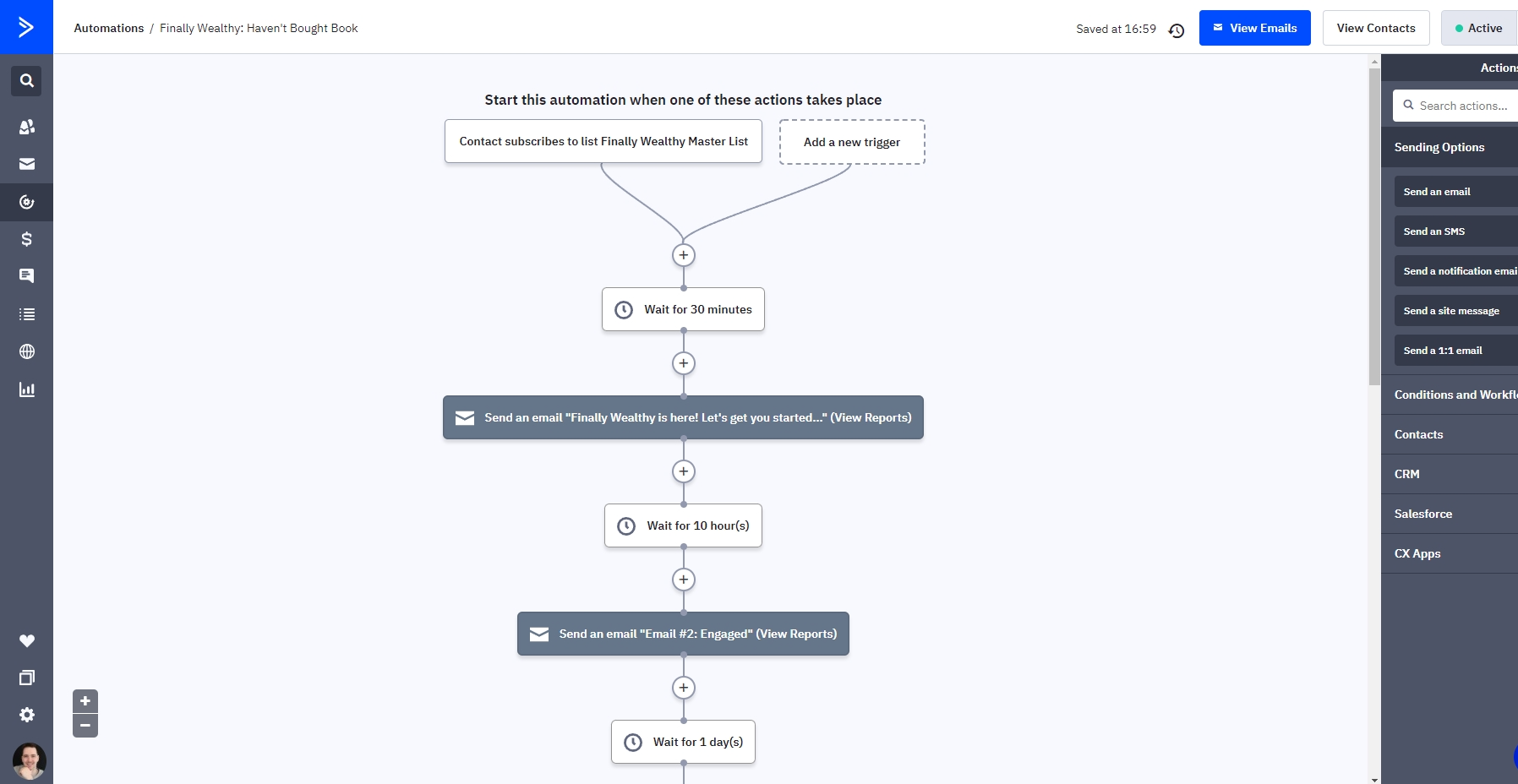 What Types Of Emails Can You Send Using Active Campaign?
Broadcast Emails: Sometimes you need to talk to everyone at once with this function… You can send one-time email campaigns to anyone on your list.
Triggered Emails: Trigger emails based on customer purchase. Or maybe even site visits. Or it could be engagement. Automatically send emails when your contacts are the most interested.
Targeted Emails: Make sure the right message gets to the right person – at the right time of course. Group your audience into segments based on almost any factor you need. Great tracking too
Email Autoresponders: Get in touch automatically. Send welcome emails, start a welcome series, or deliver lead magnets automatically without touching a button.
Email Funnels: Sell more now with email and setup email automation that turns your contacts from interested leads to paying customers.
Scheduled Emails: Schedule emails for a specific date and time period. This is often great for events, holidays, and sales teams too.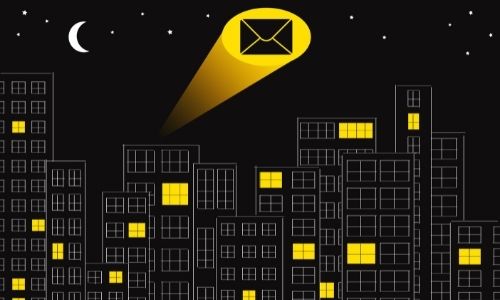 Page Builder
Recently AC decided to add a page builder to their selection of marketing tools and services.
With this page builder you'll be able to create landing pages, opt-in pages, full funnels, and much more.
Active Campaign added the page builder so they could out compete their competition in the marketplace.
Often, businesses need a way to collect leads, and not just a way to manage them, which is why ActiveCampaign now has both services available, and much more.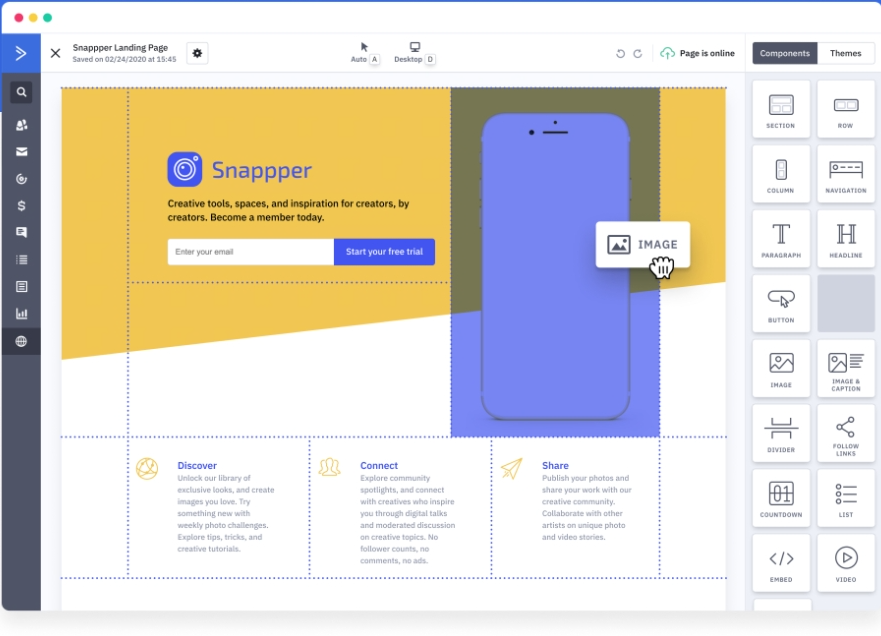 SMS Service
With Active Campaign you'll be able to text and message leads directly.
You may have to use some different integrations or API's.
However, with SMS and texting communication with your leads, you'll be able to increase your conversion rates and generate more customers for your business.
SMS is one of the most effective and well received follow up methods you can use.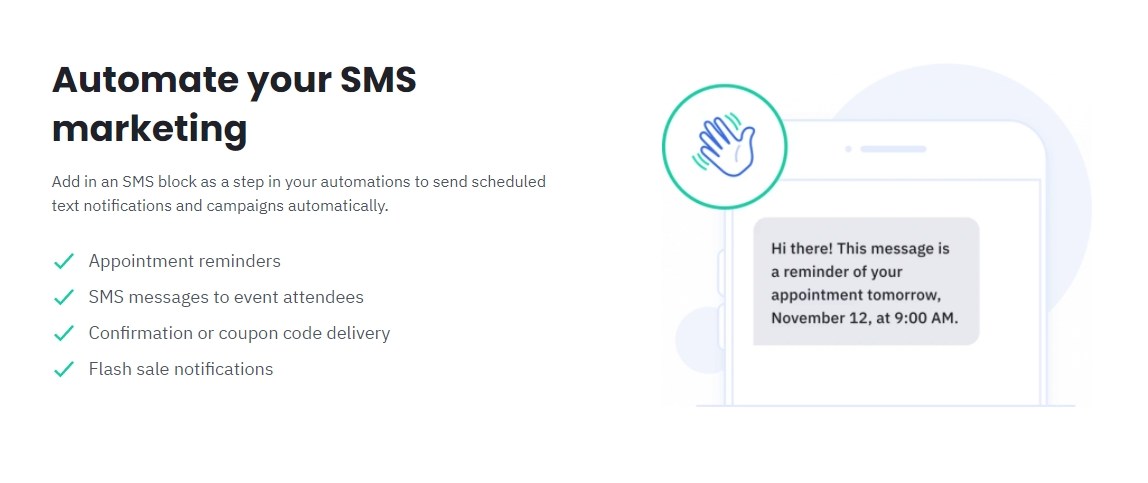 Live Chat & Live Support
One of the incredible new ways to interact with leads and customers is to contact them with live support.
Live support enables you to follow up with, manage, and handle customer issues live.
This means that you will be able to interact with your leads and customers in real time.
This is a far superior form of support that is often appreciated and preferred over phone calls and email support.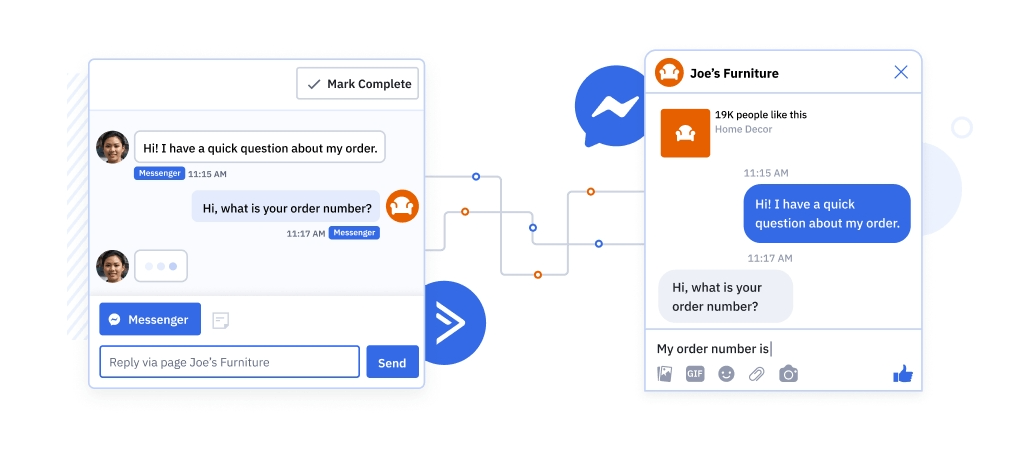 Email Marketing Automation & List Cleaning
One of the most important parts of managing an email list is having the ability to clean your email list.
With ActiveCampaign you're easily able to:
Remove inactive contacts
Transfer contacts between lists
Unsubscribe contacts
Delete unsubscribed contacts
Delete bounced contacts
Manage contacts
This allows you to have higher open and click through rates from your emails, since you eliminate the people on your lists who are no longer engaging with your content.
This Activecampaign review wouldn't be thorough, unless we covered ever single part of what makes ActiveCampaign so great.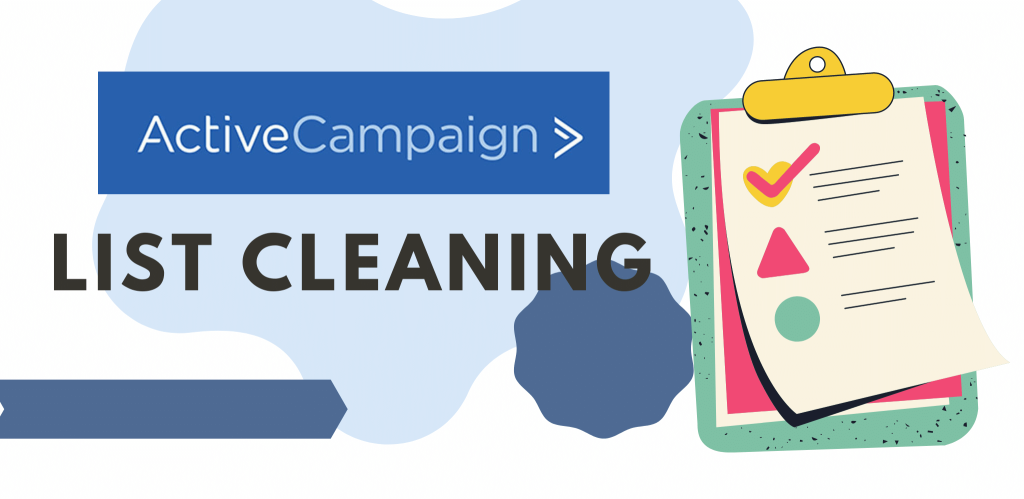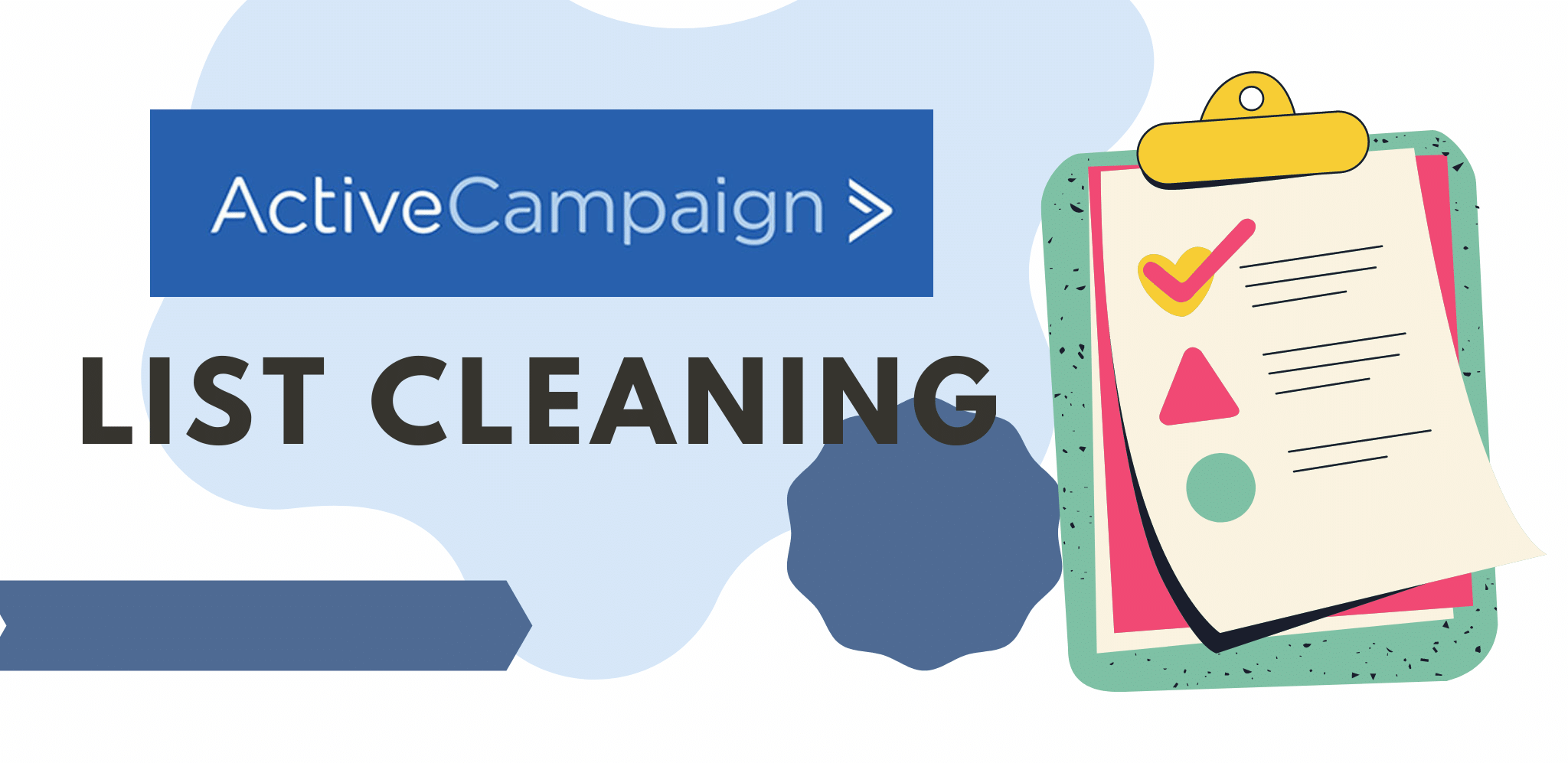 Pricing
You'll find that ActiveCampaign has 4 different inclusive packages with different pricing points per month.
Here are the 4 tiers of ActiveCampaign's pricing plans and packages when paid at the monthly frequency:
Lite at $15 / month for 500 contacts
Plus at $70 / month for 500 contacts
Professional at $187 / month for 500 contacts
Enterprise at $323 / month for 500 contacts
As you increase the number of contacts you have you increase how much you have to pay per month.
However, if you opt in to get billed yearly then you will decrease how much you have to pay per month at each level.
You can request a demo as well if you want to test out ActiveCampaign before you decide to invest in their service.
Active campaign only charges you based on active list size, not on dormant subscribers.

Does ActiveCampaign have a free version?
Yes, ActiveCampaign has a free trial that will allow you to test out their CRM free of charge.
This means that you can try out their tools and services without spending a penny. AC does this so they can provide a better user experience for the people looking to potentially use their services.
Features
At each pricing plan you have available a variety of different features and benefits available to you.
Here are the ActiveCampaign features that are available to all customers at all pricing levels.
As you upgrade to the higher pricing levels and packages then you get access to all of the previous plans features and additional ones as well.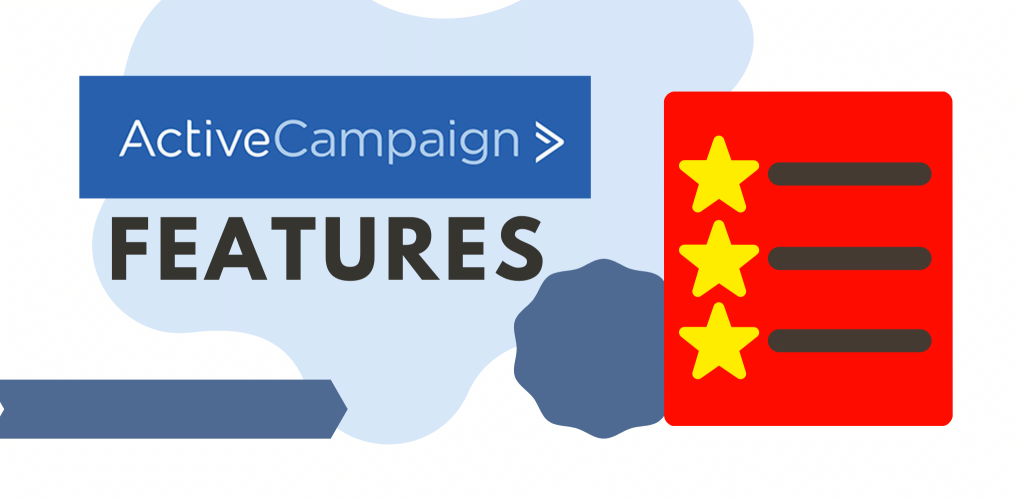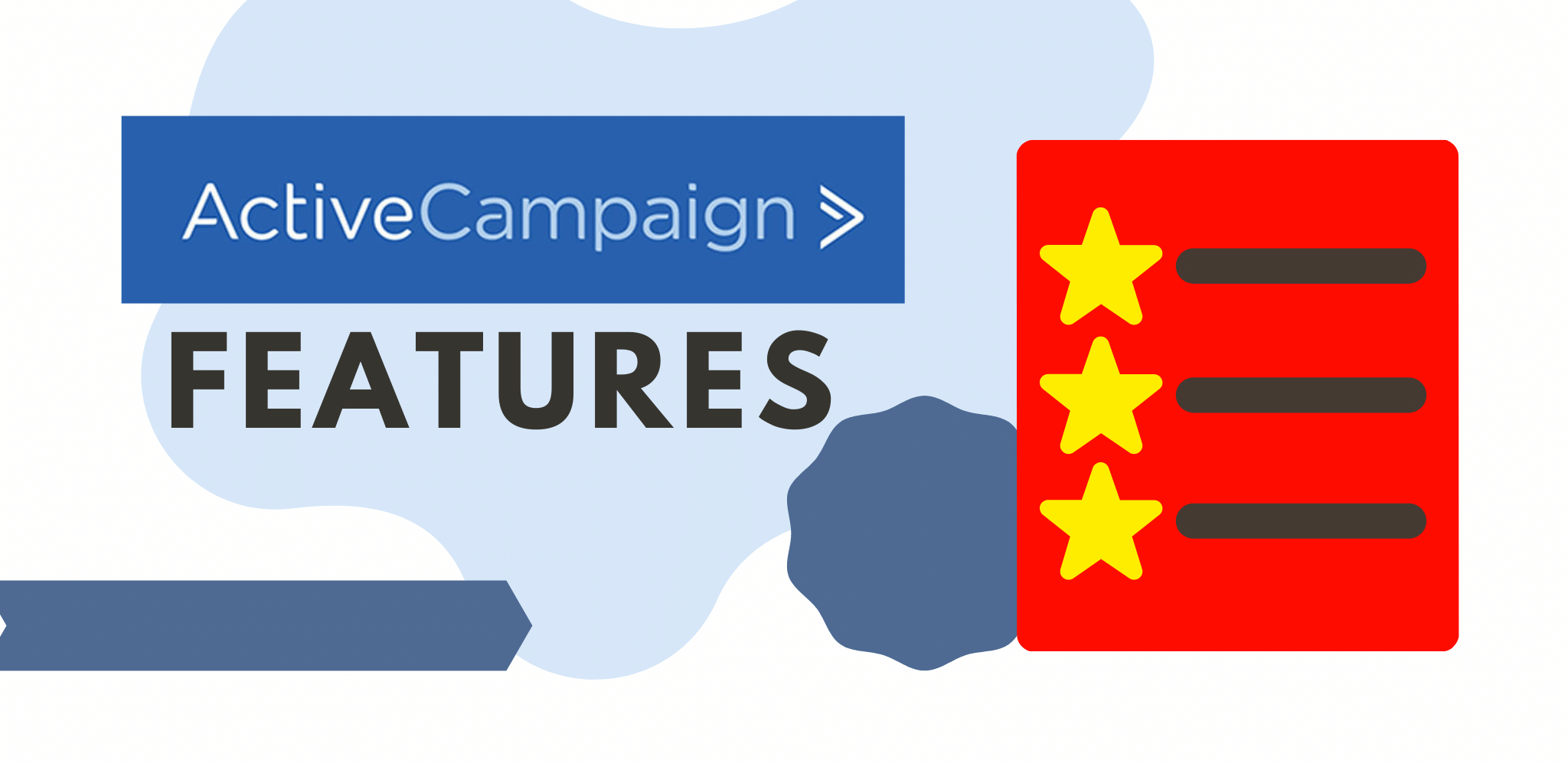 Marketing Suite Features
Marketing Automation
Email Marketing
Unlimited Email Sending
Drag & Drop Email Builder
125+ Email Templates
Send Newsletters
Subscription Forms
Segmentation Site and Event Tracking
Campaign and Automation Reporting
Sales Suite
Import leads
Sales Emails
Lead Capture Forms
Segmented Outreach
Service Suite
Customer Newsletter
Customer Analytics
Platform And Support
1 User
Import Contacts
Chat and Email Support
Unlimited access to online resources library
Mobile Contact Management & Marketing Access
Integrate to Over 870 CXA Partners
500+ Automation Recipes
Unlimited Inactive Contacts APIs, Webhooks, and Developer Tools
These features will allow you to collect, communicate, and manage your leads efficiently.
Is ActiveCampaign Safe?
Yes, it's been found through testing and 100,000's of customers' use, that ActiveCampaign is a safe and secure CRM. The company makes sure that customer privacy and security is a top concern and standard that is always met.
Support
When you use an business or marketing tool, you need to have great support within the organization you're investing with.
On occasion, you may face an issue or have questions you'll want answered by any CRM or autoresponder.
By using a great CRM like ActiveCampaign, you ensure that your future support needs will be taken care of. AC has incredible support that is competent and readily available to solve your problems or answer questions quickly.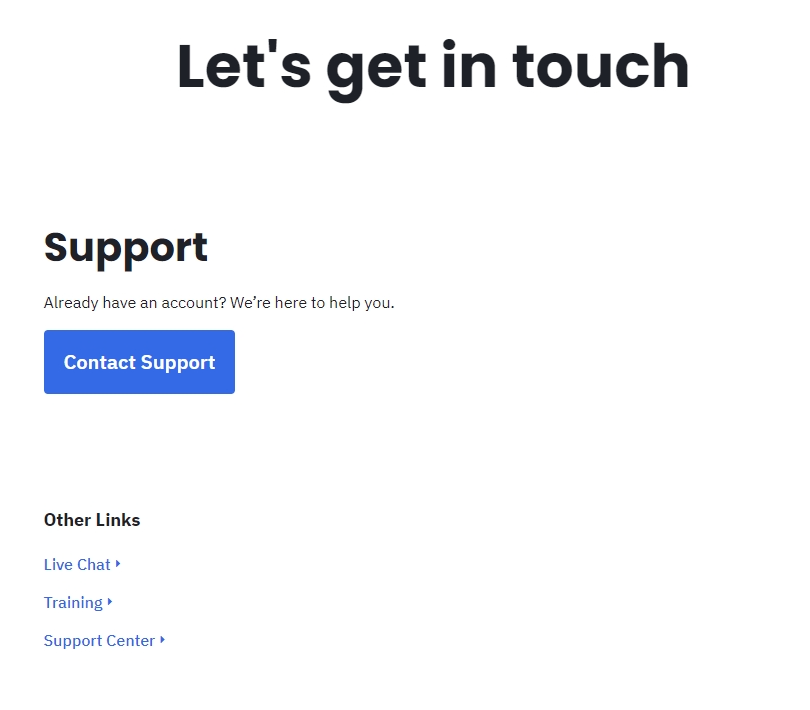 ActiveCampaign has three types of support structure, which includes live chat support, messaging support, and email support which is available to all.
That just about concludes our ActiveCampaign Review software, but what about if you're interested in promoting this instead through their affiliate program?
Before we go through this, please do sign up to our course below (it costs nothing!) if you do want to learn more about how to promote affiliate program online.
Affiliate Program
After being a competitive and powerful CRM company, ActiveCampaign also has an affiliate program that rewards people handsomely for referring ActiveCampaign customers.
The affiliate program has 2 commission levels that you can earn from.
The first commission percentage level guaranteed for affiliates is a minimum of 20%.
If any customers you refer to ActiveCampaign stay for an extended period and you refer a decent amount of customers to ActiveCampaign, then AC will raise your affiliate commissions up to 30%.
ActiveCampaign revamped their affiliate program in order to reach more potential affiliates at a faster pace.
Anyone can become an ActiveCampaign affiliate, and getting your affiliate link is easy and accessible instantly upon becoming an affiliate.
Go ahead and sign up below to start earning some money!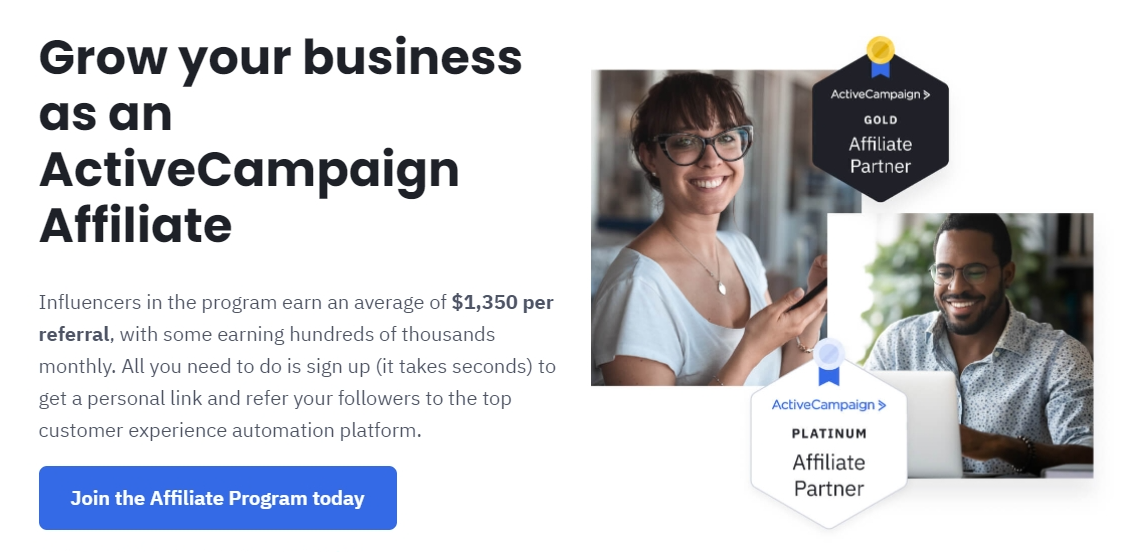 Login
If you're looking for the ActiveCampaign login link, just visit this link right below.
ActiveCampaign has a relatively small login button that they should make larger for customers visibility and usability.
This is one of very few cons that come with choosing ActiveCampaign as your choice CRM.
Integrations
ActiveCampaign's integrates with hundreds of other service providers, connections, and partnerships.
You'll see that ActiveCampaign integrates with over 870+ other apps and companies.
By having a large variety of integrations, you can feel sure that any other connecting service that you need to use – will be available to be connected.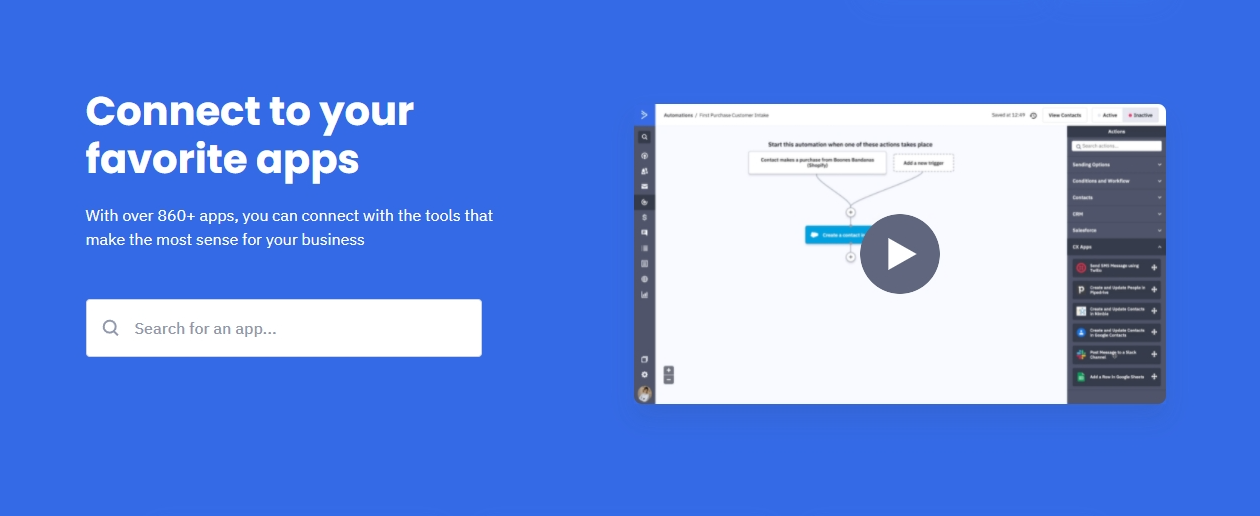 The majority of businesses use other apps and companies in unison with their business and marketing, so having this many different integrations is a breath of fresh air for many.
Among all ActiveCampaign competitors and alternatives, they offer the largest variety and quantity of integrations.
They've put together a powerful and resourceful company.
Pros and Cons
While ActiveCampaign review is among the top industry CRM's and autoresponders in the industry, there are some cons to the software.
Let's go through now all of the ActiveCampaign pros and cons so you can decide for yourself if ActiveCampaign is right for your business.
Pros
Easy to use, even for beginner CRM users
Large amount of integrations
Growing company with a $3 billion evaluation
Numerous features that allow you to communicate with and manage your contacts easily
Autoresponder, Page Builder, List Segmentation, Lead Scoring, Support, Deal Manager, Unlimited Sending, List Cleaning, and more all included…
Monthly and yearly payment options
Great support that is helpful with your problems or questions
Free Demo
Active & Growing Community
Cons
More expensive than alternatives
Difficult to find live support
Small log in link, hard to locate
From our ActiveCampaign review, we found there are very few cons to ActiveCampaign's services.
There are a large amount of pros, that show how great of a product and service they've put together for their users.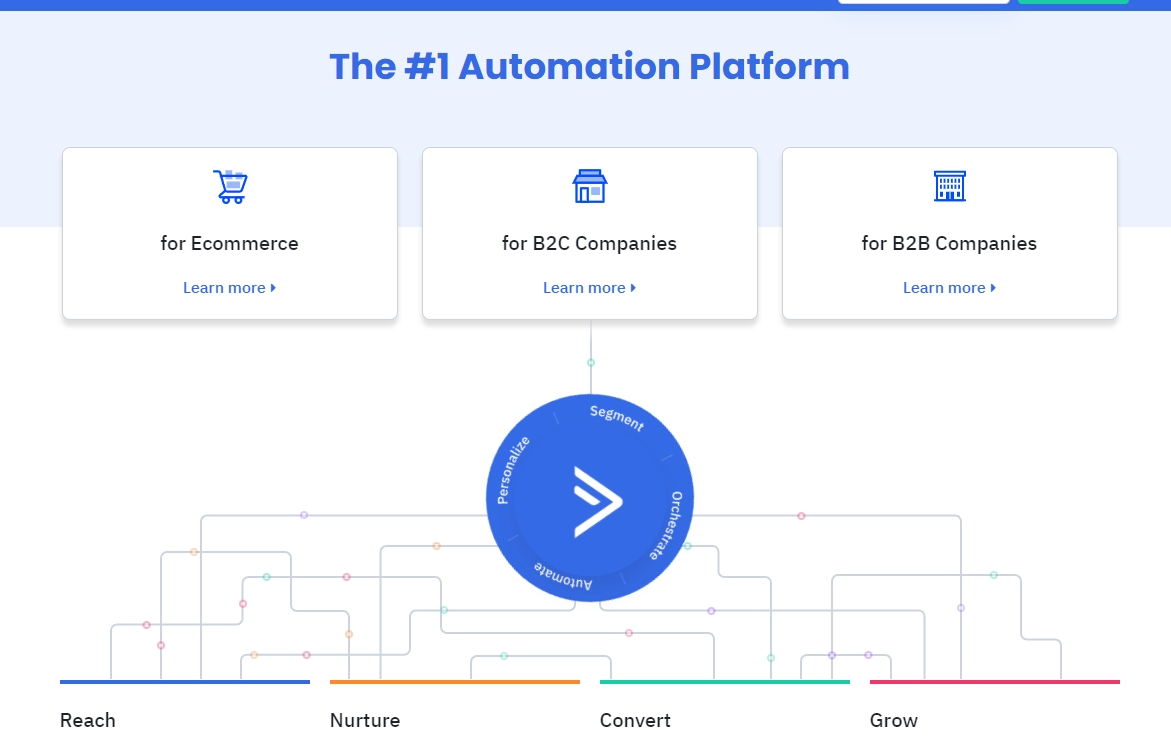 Alternatives
There are a variety of other CRM companies in the marketplace that are able to compete with ActiveCampaign.
While we view it as possibly being the #1 CRM in the world and marketplace, you should still take a look at some competitors to see if they may fit what your business or passion needs better.
Each of these competitors are quality companies that are growing in customer size while providing great services to their users.
We were very selective in choosing which of these companies we included as competitors, as only the best CRM's in the industry should be included.
We've also included some optional email drip campaign software.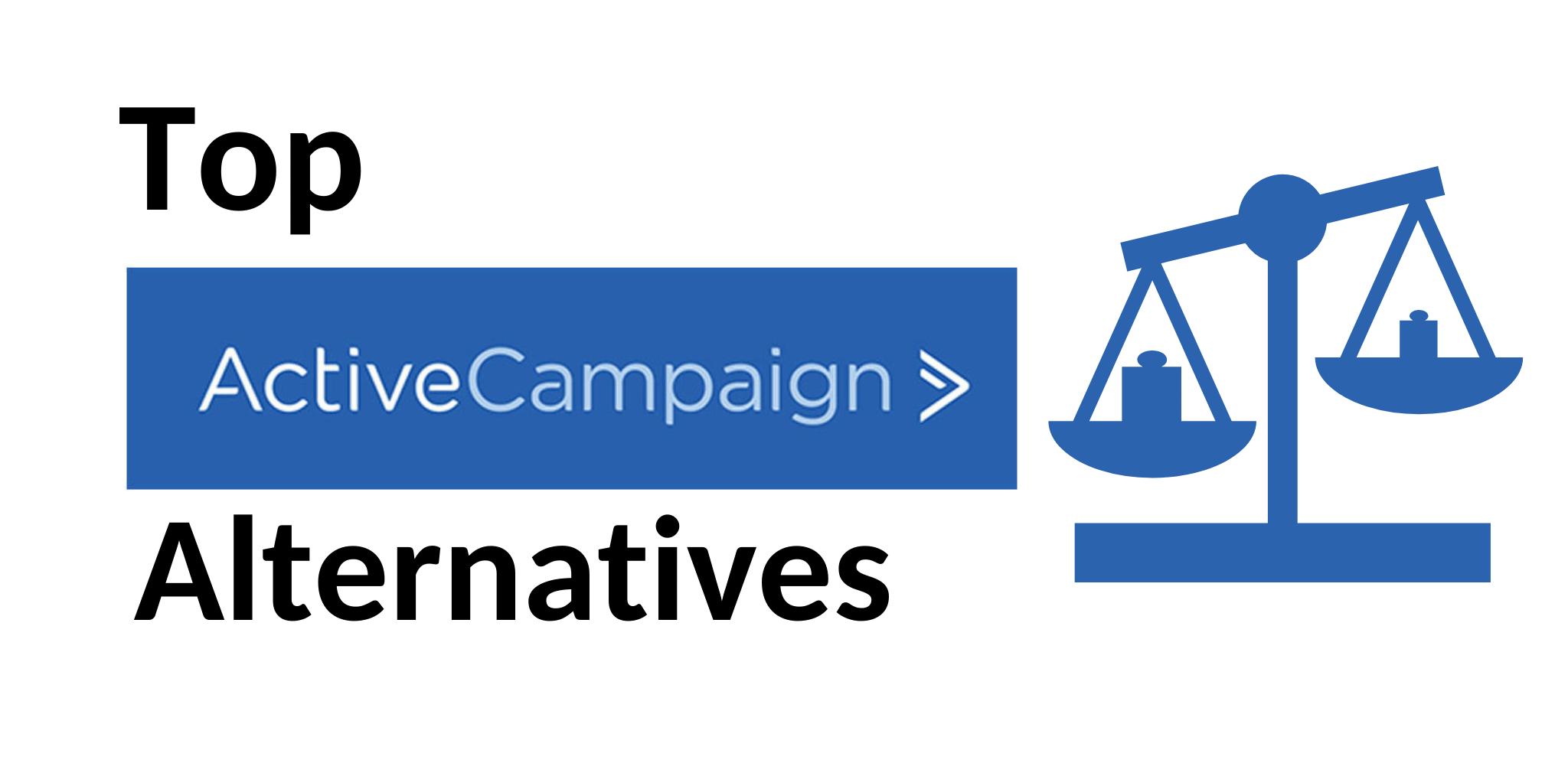 ActiveCampaign vs GetResponse
The leading ActiveCampaign alternative and competitor is by far, GetResponse.
This company has over 350,000+ customers and for a decade plus has been a leading CRM in the industry.
Just like Active Campaign, Get Response has a large amount of services and products included in their CRM with a lot of features that enhance your CRM experience.
Being founded in 1998, Get response was one of the original and first autoresponders to hit the email software marketplace at the time.
They have also recently included a full website builder in their services, but at the time of writing this does not include the ability to do blogging.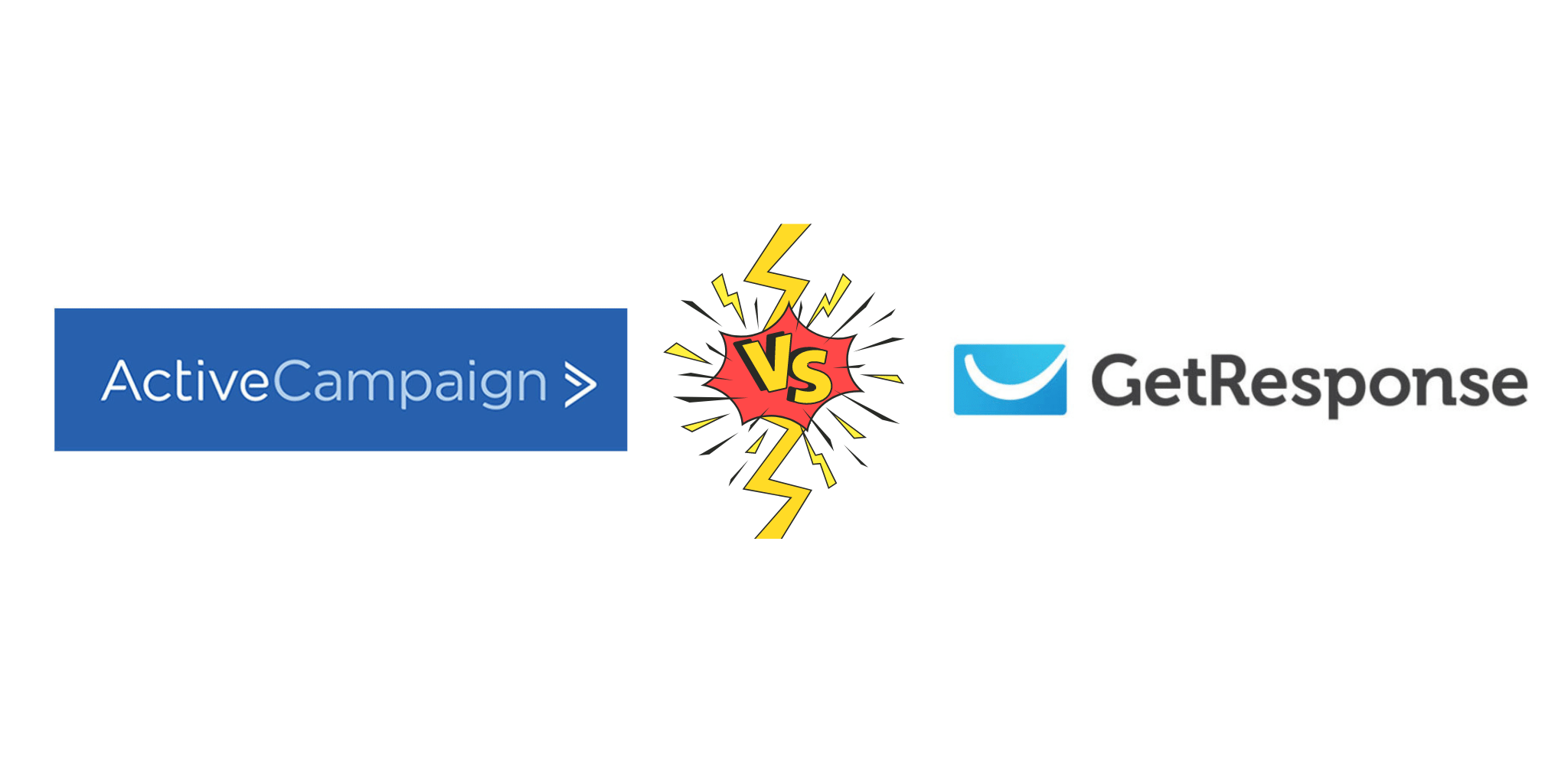 GetResponse is a full service CRM, and there are only 3 main differences between these companies…
GetResponse is cheaper then ActiveCampaign.
ActiveCampaign has a larger range of in depth services and feature automation's available.
GetResponse has a much lower integrations count.
Whichever company you choose for your CRM and lead management needs, you're going to be in good hands.
GetResponse has just as good support as ActiveCampaign has, and has earned a variety of awards for their services too.

You can learn more about GetResponse here.
We are customers of GetResponse just like we are customers of ActiveCampaign, so our experience comes from being real users of both.
I personally have a preference and enjoy using ActiveCampaign better.
My partner and father, Richard Weberg, manages our GetResponse marketing campaigns, so he has a preference of using it.
ActiveCampaign vs AWeber
The next main competitor in the marketplace that has been in business for well over a decade, is AWeber.
They has been in the CRM industry helping small business owners manage their contacts better.
Originally, AWeber was just an autoresponder in 1998, and slowly transitioned to become a CRM like the majority of other competitors in the space.
AWeber has a smaller customer and team base than both ActiveCampaign and Get Response.
AWeber is a cheaper solution then AC and GR.
The let down is the lack of solid support, and AWeber doesn't have the same quality of services and number of features available for use.
We've been AWeber users and customers in the past, however we stopped using it as we saw more value in AC and GR.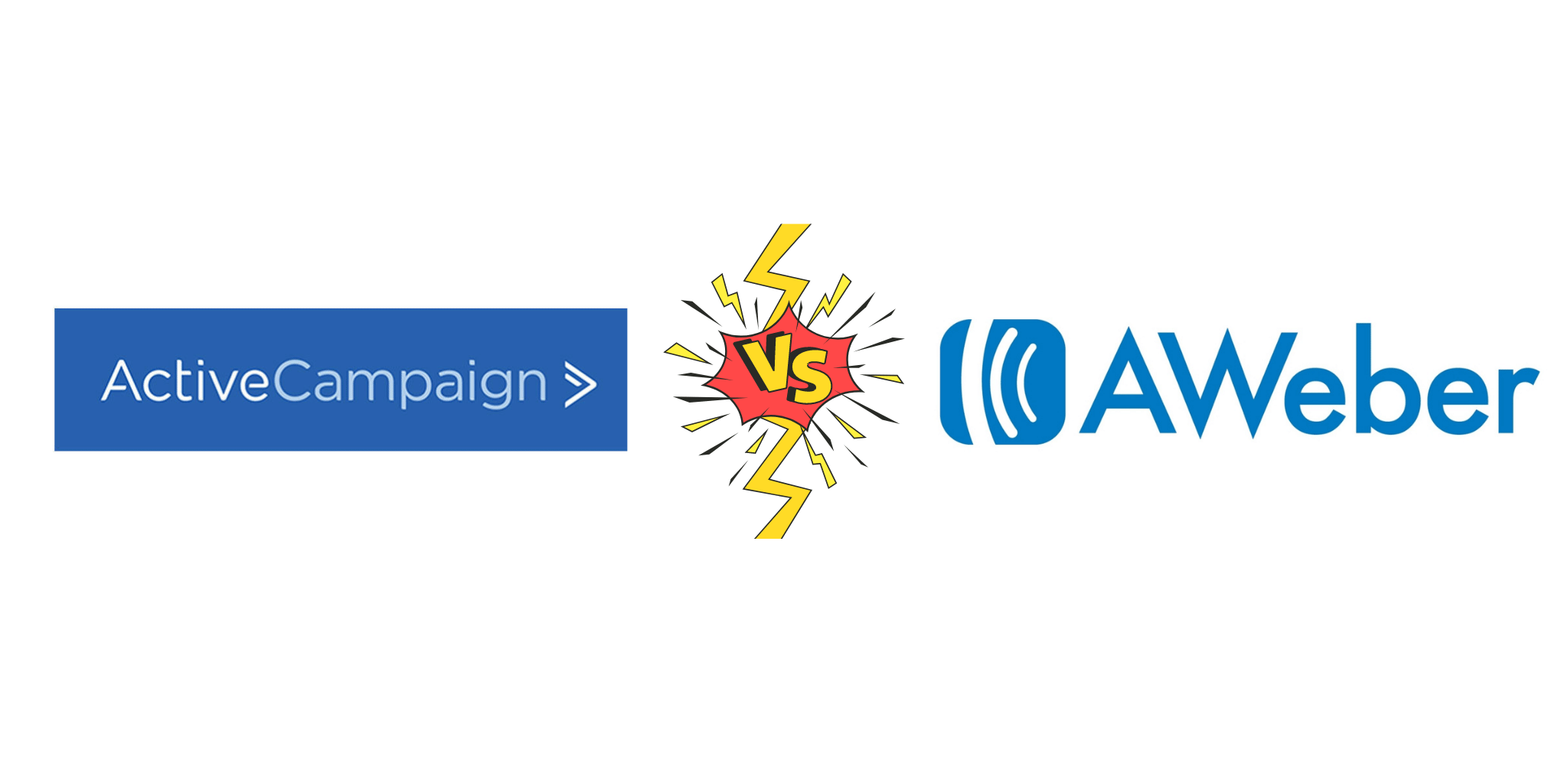 With the AWeber CRM you still get some of the normal range of services and products that come as a staple with most CRM companies.
Your autoresponder, page builder, list segmentation, and ecommerce store builder are included in both their paid packages.
There are a few factors that differentiate ActiveCampaign from AWeber….
ActiveCampaign has a larger range of better quality services.
AWeber is a cheaper alternative that you can try for free.
AWeber isn't as reliable for email deliverability, however it is still a good CRM company.
AWeber is an option, but we recommend first ActiveCampaign above all other CRM's, as it has way more features and automation's available.
You can learn more about Aweber here.
ActiveCampaign vs HubSpot
HubSpot is truly a top competitor to ActiveCampaign, and is an all-in-one platform for everything and anything regarding marketing automation, sales, and customer support engagement, all in one handy dandy place.
It includes CRM software for your sales teams, marketing automation software, email marketing, social media management, and customer service tools.
It's easy to use and you can even use it as a CMS for content marketing or to build your website.
Can get started for free – very basic limited functions
They are a full CRM and CMS
Landing pages
Email Marketing
Customer service software
Much More…
While you can get a huge wide range of services with HubSpot, there is one main drawback of the HubSpot CRM, and sales platform, is it gets gets expensive quickly, especially if you want to use all of their available automation's, features and tools.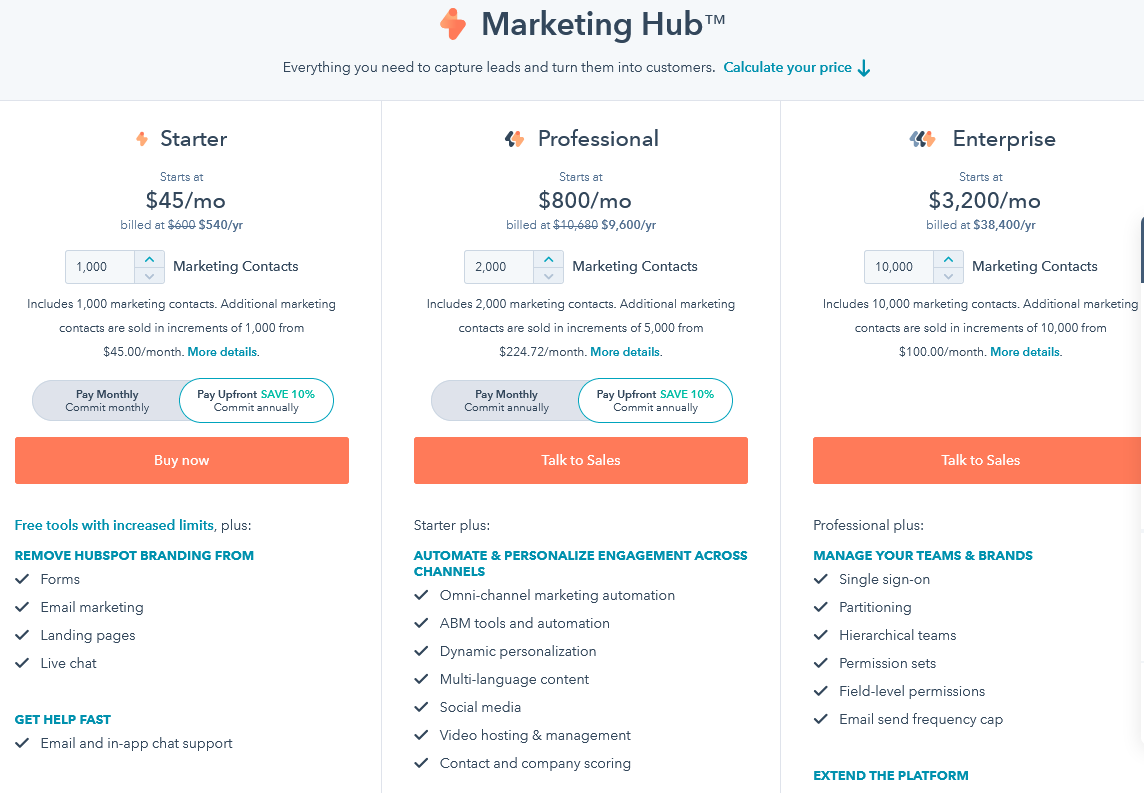 So you will be limited to what your package is, that you can afford as a business.
You could however, increase the package features you need as your business grows, because eventually you will have everything including the kitchen sink.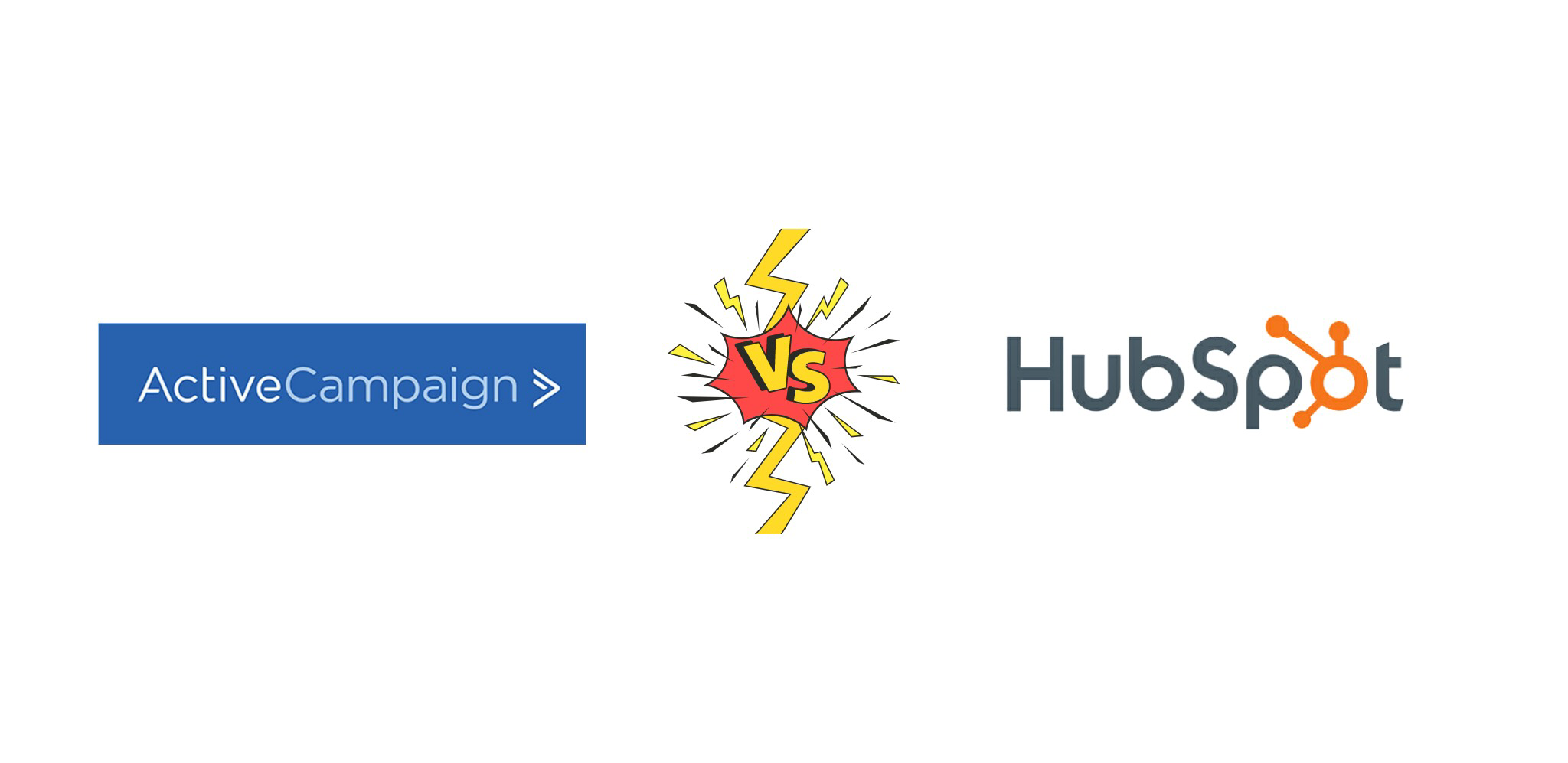 This means that even though HubSpot offers very feature rich, high quality services, ActiveCampaign gives you much more, for a lot less money.
If you're looking for a high quality and dependable CRM, then ActiveCampaign wins out.
If you are a larger company with a bigger budget you may want to consider HubSpot.
You can learn more about HubSpot Here.
ActiveCampaign vs Klaviyo
Klaviyo is more of an autoresponder and SMS service than a CRM.
It is a more recently established company that decided to focus entirely on being an autoresponder and email service provider first above all else.
While Klaviyo lacks the number of services they offer to their customer base, they are highly specialized and have an amazing autoresponder with SMS service.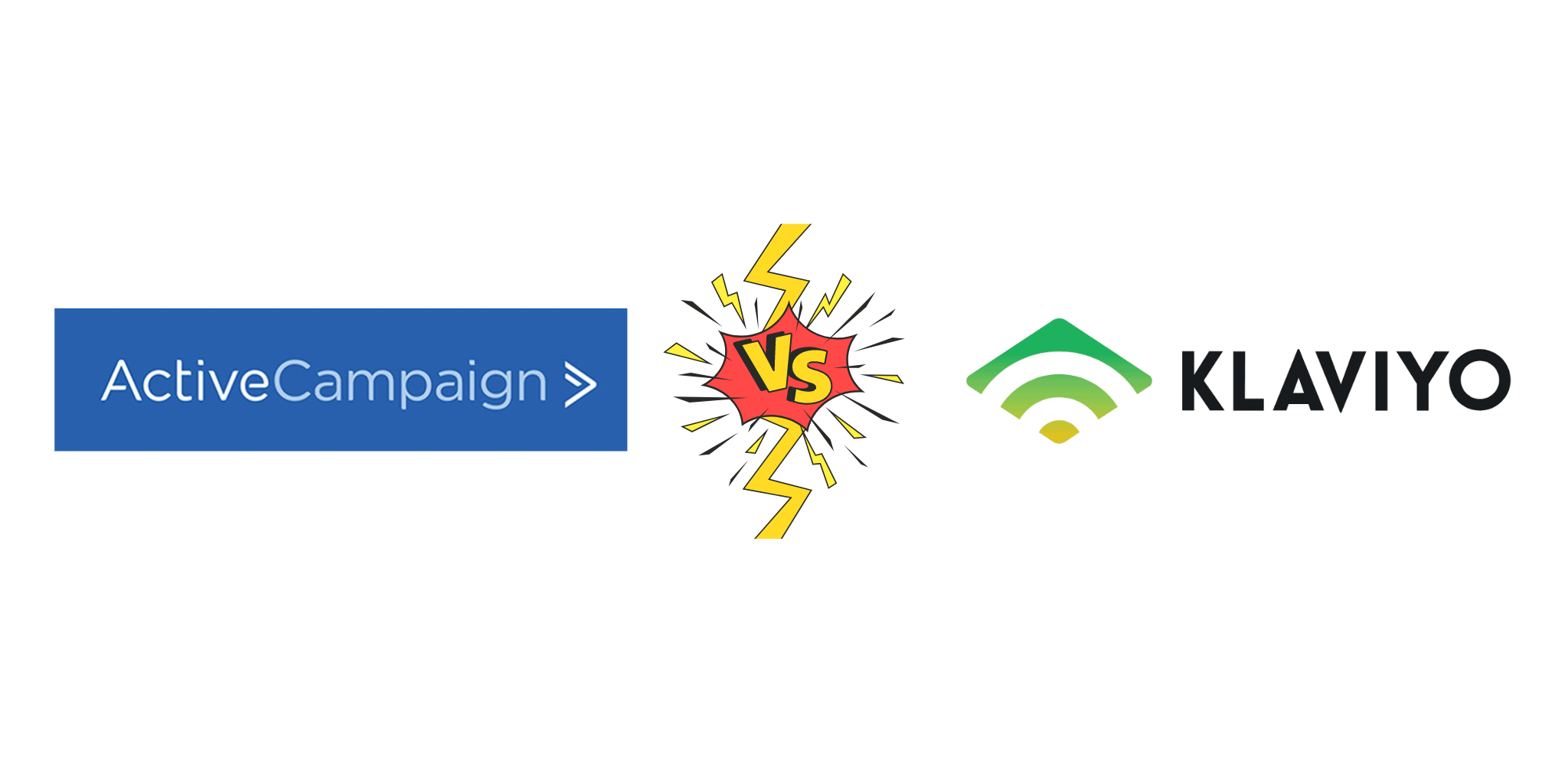 If you only want an autoresponder and SMS service, then you should consider using Klaviyo.
However, if you have any needs now or ever will in the future – for a page builder, customer automations, lead scoring, and other CRM services – go for ActiveCampaign.
With ActiveCampaign you're getting more value for what you're paying, and have more flexibility in the services you can use to scale your business or passion.
Klaviyo is a younger growing company that does great where they specialize, but they aren't a true CRM.
Most businesses require a full CRM to run efficiently, so you'll want to take a look at ActiveCampaign in this comparison.
ActiveCampaign vs Keap
Keap formerly known as Infusionsoft (they changed name in 2019) is a good competitor that does truly care about their customers, Keap is a good CRM.
Keap offers a full service CRM with most of the bells and whistles.
Keap has 20 years of experience helping entrepreneurs grow sales with proven sales and marketing expertise.
However, while they have been around for a while, they have a few flaws.
These common complaints are based on multiple customer reviews we found at TrustRadius.
Primarily built for English speakers in North America
Some features not available in other countries
Works better for service-based businesses than e-commerce
The marketing structure can be complex
The landing page builder is still kinda clunky
Reporting is not as robust as other CRM's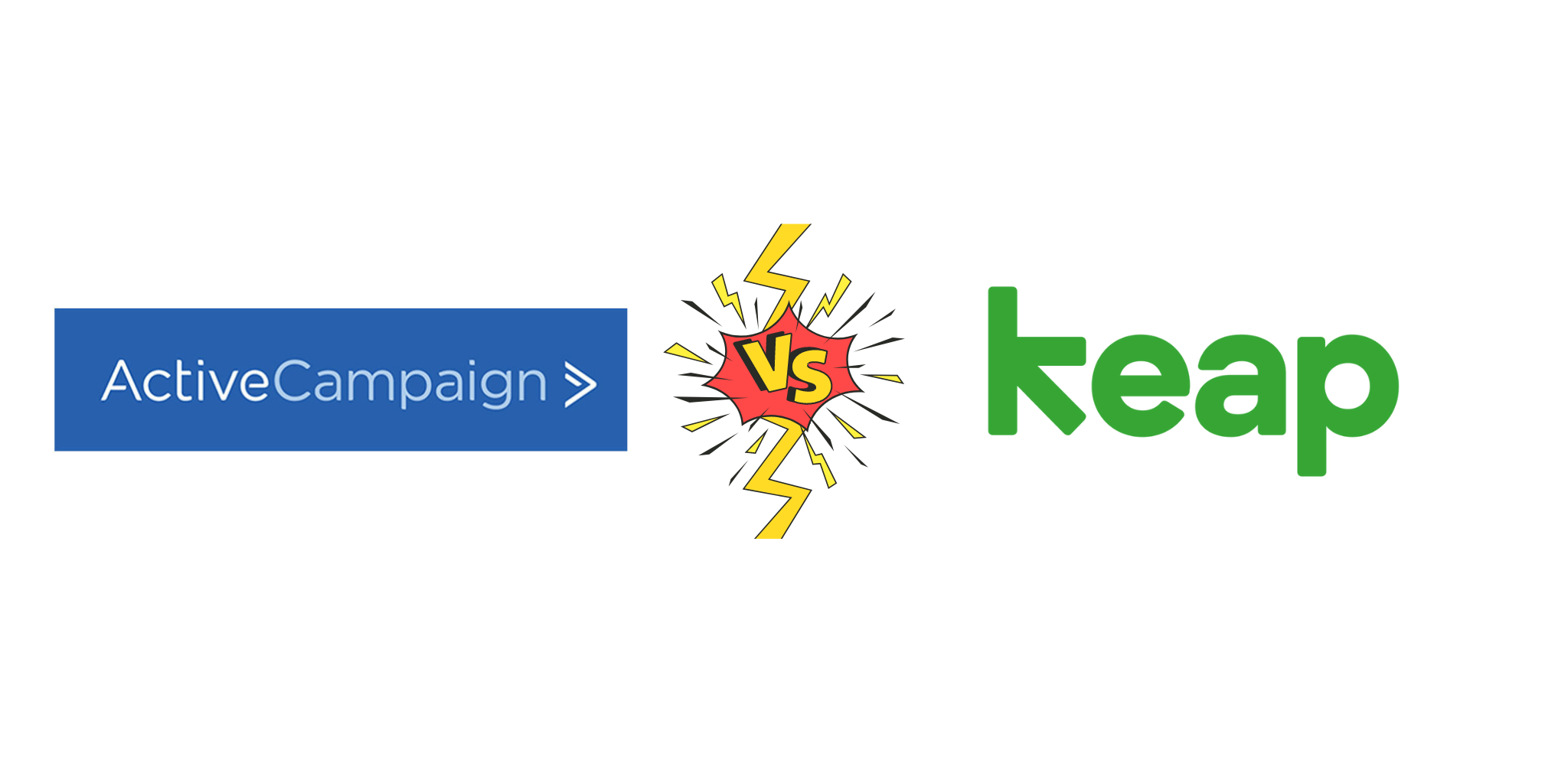 With ActiveCampaign – at the basic level you get access to all business essential services and products.
With, some incredible features on top of that, all at a great price.
So, here are the main differences between ActiveCampaign and Keap.
ActiveCampaign includes all services and necessary features at a great price
Keap forces you to upgrade and pay more for basic features and services
Keap features have more limitations
ActiveCampaign has better reporting, support and customer usability
We definitely recommend investing in ActiveCampaign over Keap.
ActiveCampaign vs MailChimp
There is a large competitor in the autoresponder and CRM space called MailChimp, that does get quite a lot of attention.
However, they are another CRM that mainly specializes in their autoresponder services. Finding exactly what MailChimp offers was difficult.
When you look up the products they have, you have to search 6-7 pages just to find accurate information.
It seems that MailChimp has a landing page builder, and an autoresponder service they provide.
As well, they have several of additional features stacked into these 2 main services.
With the MailChimp pricing plans, you're getting either a cheap solution or extremely overpriced solution.
MailChimp has 3 pricing plans at the 500 contact limit level…
$11 / per month
$17 / per month
$299 / per month (This goes up to over $1,300 a month)
This seems to bottleneck their service and for any serious business owner, you're forcing them to pay an unnecessary premium for no apparent reason.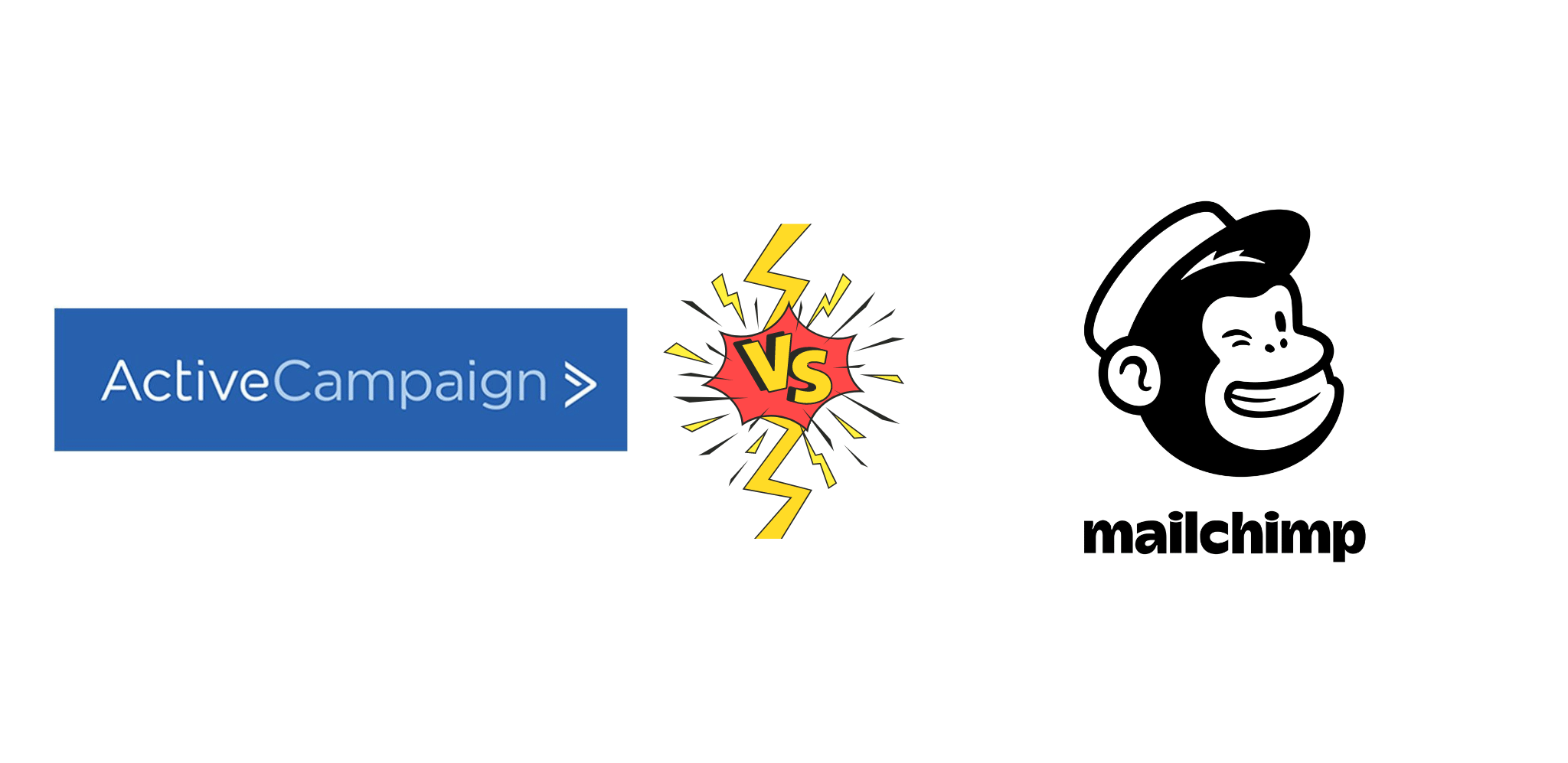 We find that ActiveCampaign is a more transparent, price friendly, and encompassing CRM solution to use for your business.
MailChimp also does not allow affiliate marketing links to be sent in emails, so this can be a downer for many businesses.
ActiveCampaign has all of the features, functions, and services you need – at the right price and offered in the right way.
Competitors
While there are a variety of different ActiveCampaign alternatives, we believe there are only 3 competitors that you should consider.
While we believe ActiveCampaign is the premium #1 CRM in the marketplace, each of these other ActiveCampaign competitors are also of good quality.
Here is the list of the 3 Active Campaign competitors we also would recommend you use, and why they stand out…
GetResponse – GetResponse is an upfront and honest company that clearly shows you exactly how their plethora of CRM automation services can help your business scale. They do not have everything ActiveCampaign offers, but they are running a close second for pricing and features, and now have included a full website builder.
HubSpot – If you want every CRM service imaginable, HubSpot has them, but more geared towards companies with a bigger budget.
AWeber – Somewhere in the middle you find yourself considering AWeber. They have a positive history in the industry and have a mid level of services combined with decent pricing.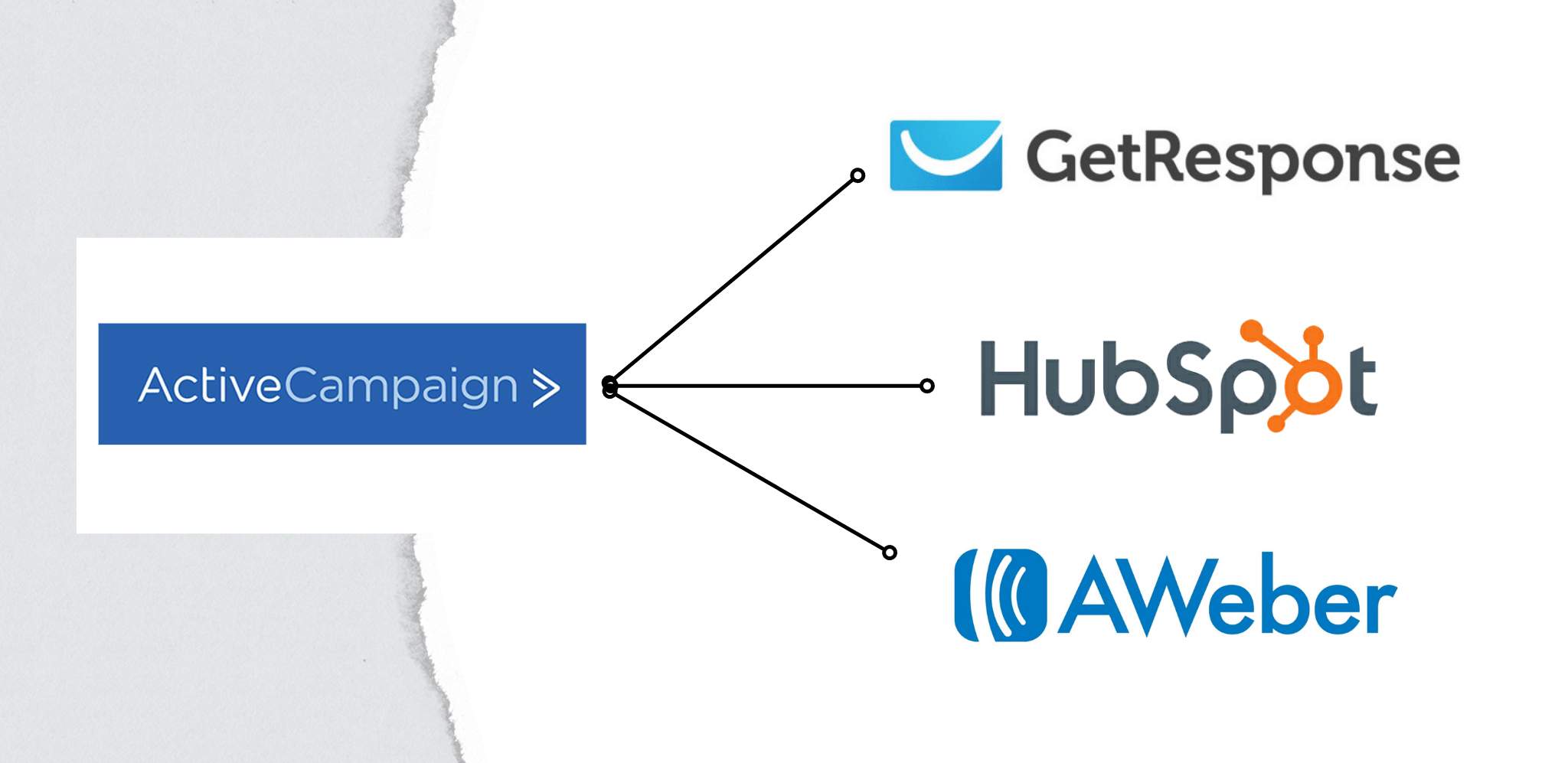 Each of these competitors has their own pros and cons.
They are of higher quality than the other ActiveCampaign alternatives, for a variety of crucial reasons.
Of course, use your own discretion when considering which best CRM to use for your business or passion.
Active Campaign Community
The community of Active Campaign is rapidly growing, and for good reason.
With the amount of partnerships, integrations, and bonds they've built with customers – they've built a positive culture and community you can grow with.
Here are some stats on the Active Campaign community:
Active Campaign has over 150,000+ active customers currently
Active Campaign has over 6,000+ partners.
They have over 500+ automation recipes you can use for any niche or industry you're in.
AC has 870+ app integrations for you to connect other app, resources, and companies too.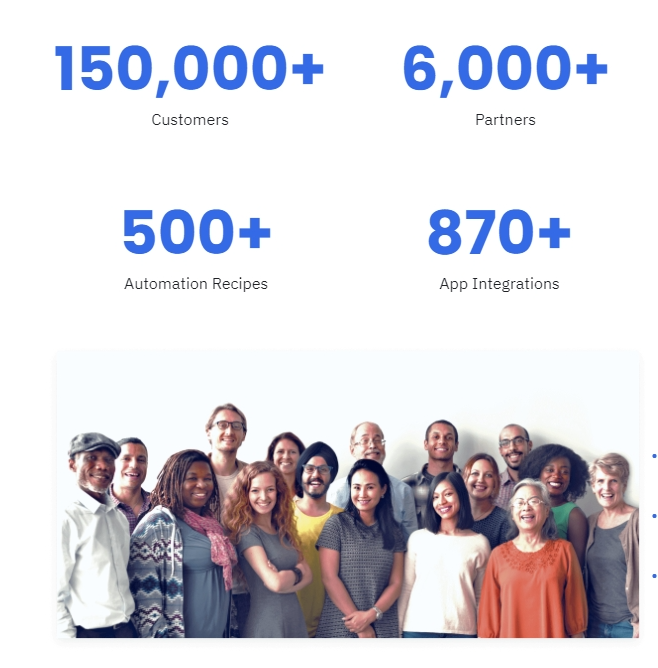 We wanted to do short segment going over an activecampaign review of their community, because of the massive growth they have been experiencing over the past few years.
ActiveCampaign API
You'll find that after research, ActiveCampaign has great API, which allows you to integrate and connect to hundreds of others services, apps, and companies across the world.
We found their API easy to use, and plug in to other software or apps when required.
We recommend you follow ActiveCampaign guidelines on how to use their API in conjunction with any outside company or app.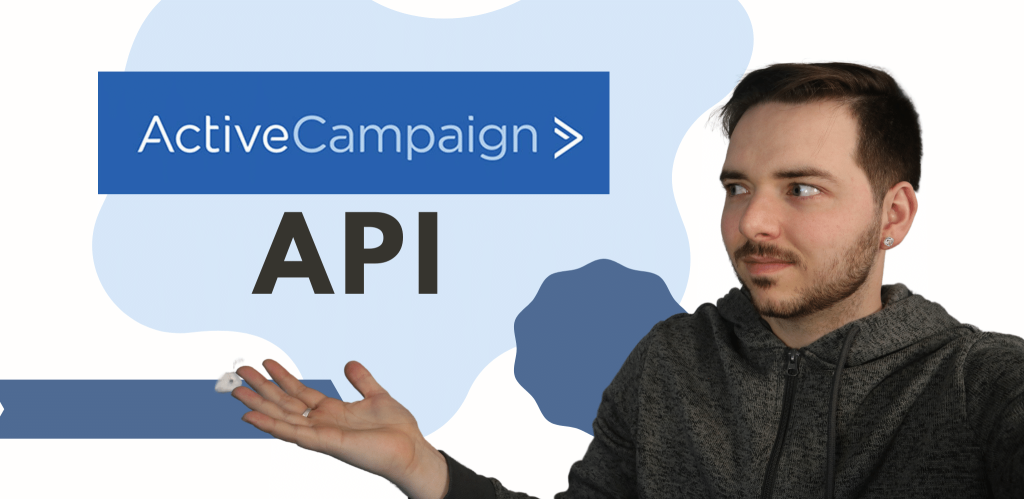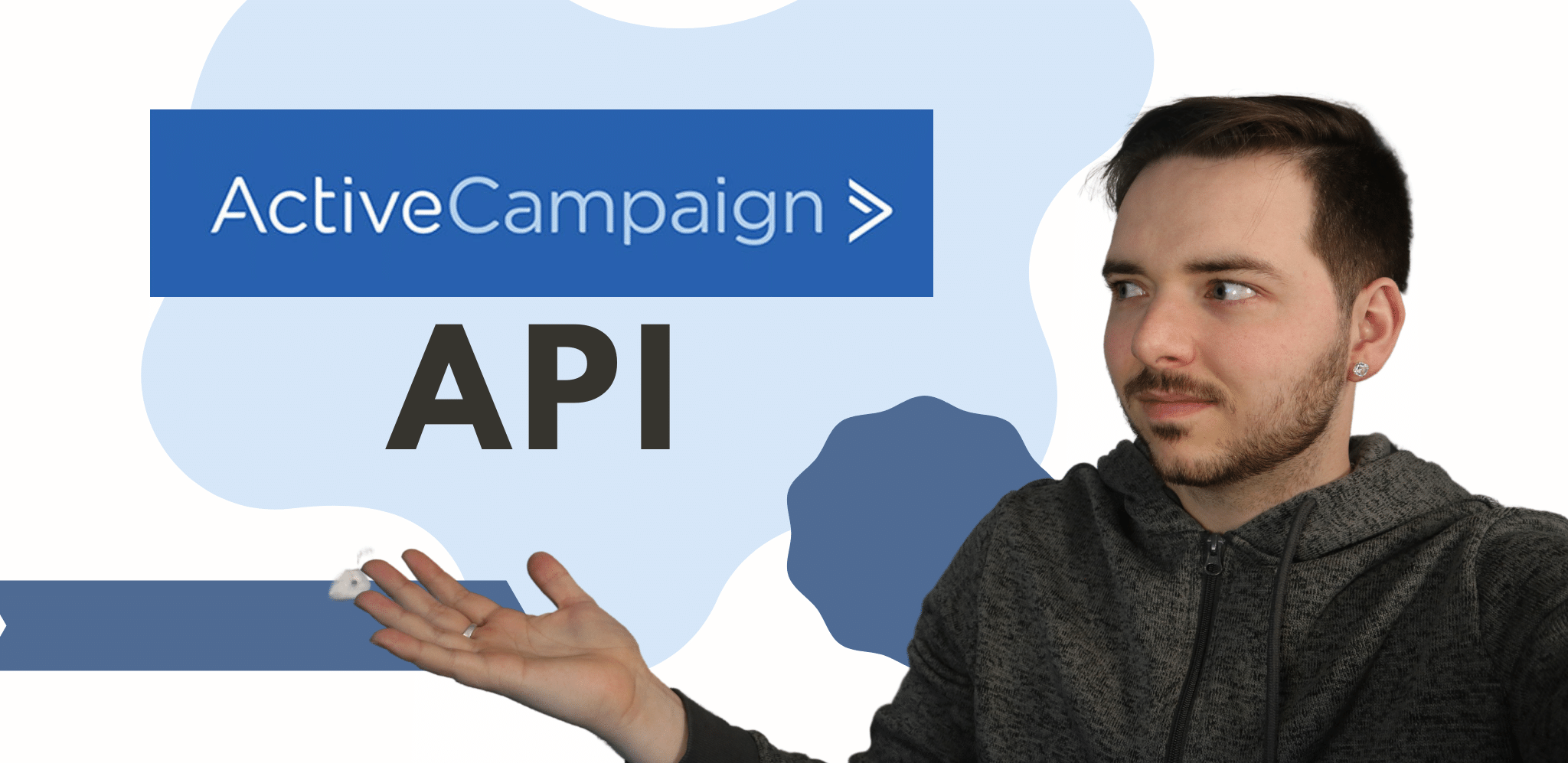 As ActiveCampaign wants to serve their customers in as many ways as possible – they've made sure to have the best API available in the marketplace.
WordPress Plugin
The ActiveCampaign WordPress Plugin is a powerful tool that allows you to connect your WordPress site to your ActiveCampaign account.
This plugin gives you the ability to add ActiveCampaign forms, subscribe and unsubscribe users from lists, and track user activity on your site. The plugin also allows you to send targeted emails to your subscribers based on their activity on your site.
This plugin is an essential tool for any WordPress site that wants to take advantage of the power of ActiveCampaign. With this plugin, you can easily connect your WordPress site to your ActiveCampaign account and start using all of the features that ActiveCampaign has to offer.
If you are looking for a way to connect your WordPress site to ActiveCampaign, this plugin is a great option . This plugin is easy to use and will allow you to take advantage of all the features that ActiveCampaign has to offer!
Reviews Email Marketing Tools By How They Provide
You'll find that an honest reviews go through what kinds of results and benefits tools provide for customers. You review email marketing tools for how they genuinely help people improve their businesses.
The Best Email Marketing Platform & CRM
After much review and thought, we've found ActiveCampaign to be the best CRM of choice in the industry. (While GetResponse is a close second)
You'll find that ActiveCampaign has every CRM automation tool and service you need. In combination with this, they have excellent reporting, stats, usability, and so much more.
To close out our Active Campaign review, here's why it is our CRM of choice:
Why Is ActiveCampaign The Best?
Incredible live, email, and chat support
Full Service CRM
Special Features Included At All Pricing Levels
Good Pricing
Great Lead Tracking
Lead Scoring
Growing Community
Supportive Atmosphere
Full Transparency of Who They Are And What They Have To Offer
User Friendly
870+ Integrations
ActiveCampaign is an incredible company that ensures they perform for their customers. You won't find a better CRM company around. 10/10! The tools and marketing software ActiveCampaign provides is above all others. They are the best source of good email service.
Learn more about Active Campaign <<Click Here
We really hope this article has been extremely helpful to you. If you have any questions, don't hesitate to post them in the comments section below or just say hello. ????
Sincerely Your Friends And Partners,
John Weberg
Richard Weberg