Best Email Marketing Software For Ecommerce: Email Marketing Tools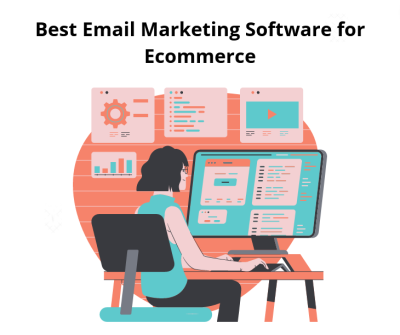 With the changes in the world we live in today, multiple companies have shifted the way they do their business. Instead of having sales representatives build strong relationships with their clients, they now use emails.
Businesses now understand how potent the power of email marketing is. Even small businesses have seen the fantastic results email marketing can do for their business.
With email marketing, businesses have the opportunity to stay on top of the mind of their clients. Plus, it can even ensure lasting relationships between the clients and the business owner with the right strategy & platform.
However, business marketing can be quite a tedious process for any business. For email marketing to be effective, it will require tools that can ensure effectiveness and efficiency.
When it comes to online business and affiliate marketing, email marketing is the most effective way to reach out to customers and keep them engaged.
In order to keep up with the competition, it's important that you have a reliable email marketing software that will allow you to send vast quantities of emails at an affordable cost.
In this article, we'll break down the best email marketing software for ecommerce based on price, features, and popularity.
Grow Your Ecommerce Business Through Email Marketing
Online merchants tend to overlook the value of email as a promotional tool since there is a multitude of social media platforms to choose from.
Nonetheless, email had a higher ROI than any other marketing strategy, boasting an average ROI of 122%, four times higher than social media, direct mail, and paid search.
Like everything in business, email marketing requires the best email marketing platforms and tools to be effective.
It takes the best email marketing platform for ecommerce that can manage email segmentation and automation needs of current marketing trends to get the most from an email campaign.
In 2022 email marketing still remains the most effective sales tools for ecommerce. Not only is it cost-effective, it also allows you through specialized autoresponder software to email potentially tens of thousands of people all with a few mouse clicks.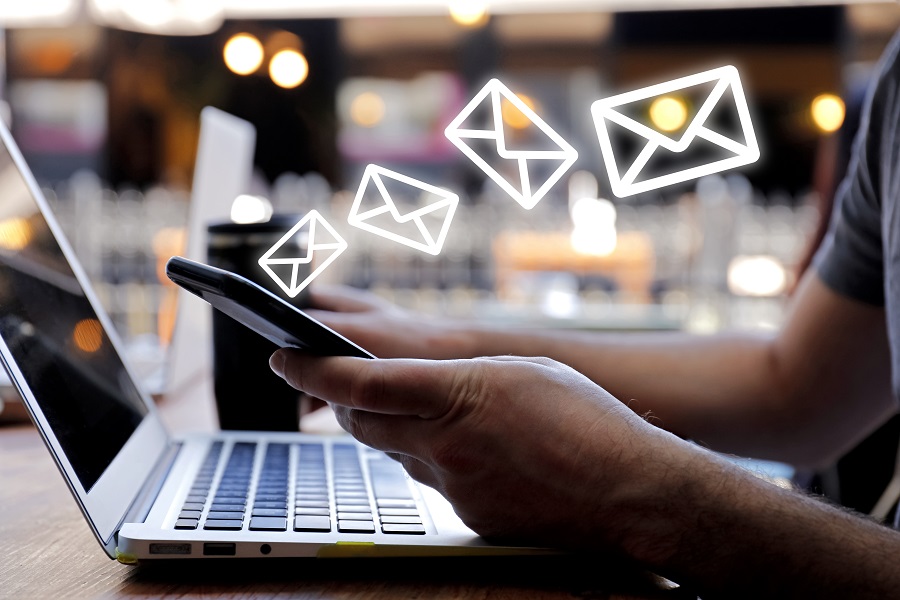 Best Email Marketing Software For Ecommerce
Below you will find the best email marketing software, tools, CRM's, and resources for ecommerce. Email marketing is the highest converting form of marketing that grows businesses profits very quickly.
Consider using one of these below tools in order to use an email marketing tool that is easy to use and high converting.
ActiveCampaign – Email Marketing Autoresponder
If you want to work with the #1 email marketing automation software in the world, choose to work with ActiveCampaign. This company is one of the most sought after email software for ecommerce that goes far beyond what other CRM's and email tools can do.
ActiveCampaign allows you to create segmented emails, testing variants, access high quality pre-made email templates, email sequences, email automations, and so much more!
Your ecommerce business is important, which is why this ecommerce email software may be the best for growing your profits quickly.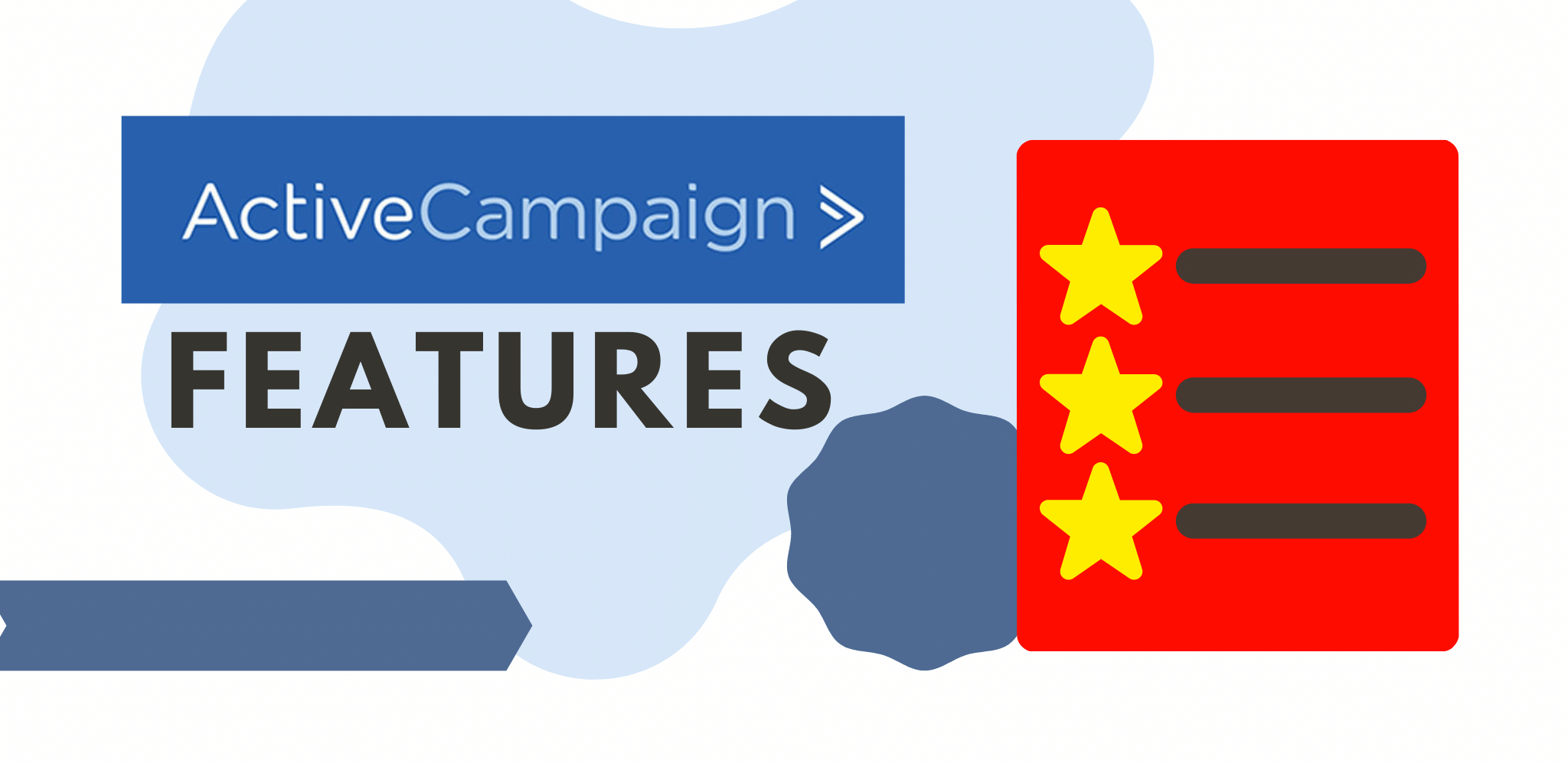 Here's what is included with this premium email marketing autoresponder…
Fully Functional Autoresponder
Email Lead Scoring
Email Sequencing
Email Follow Up
Lead Capture Page Builder
Landing Page Builder
Full API
Integrations With 1000's Of Services & Other Businesses
Split Testing, Data Gathering, Much More!
Affordable Pricing For Any Type Of Business Or Entrepreneur
World Class #1 Customer Support
Active Campaign is without a doubt one of the most comprehensive effective email software tools out there for ecommerce. Active Campaign has 150,000 customers in more than 170 different countries.
Active Campaign Pros
Very affordable in the beginning considering all of the features you get (starting at $9 for up to 500 subscribers, plans available after that vary according to your needs, and list growth)
Best automation features of all the software we've used -over 600 potential automation's
870+ Integrations available
Excellent builder for forms, emails and automation's
Complete list segmentation features, as well: Trigger emails based on purchase. Or site visits. Or engagement. Automatically send emails when your contacts are most interested. Active Campaign has the ability to heavily segment your contacts and target only the specific ones you want to talk to.
Very detailed stats reporting
Excellent customer support
Free account migration service if you want to switch to them
Good email deliverability
Page builder included – you can create lead capture and landing pages/templates available
Available in 6 languages
Full testing functions of email sends
Full List hygiene available – Active campaign only charges you based on active list size, not on dormant subscribers.
Visual workflow builder
Active Campaign has tutorials & learning center
Active Campaign Cons
Per list size growth Active Campaign is slightly more expensive per month
Their interface can be a bit slow to navigate
A bit difficult to broadcast an email to all of your email list at once. Active Campaign is a full CRM and tag-based email service. However, if you want to send a campaign broadcast you still need to use a list. You can't send it to people with a tag across multiple lists. The workaround is that you create 1 master list with all your contacts as a base list, and create a segment of people with a certain tag who are on that list. Then it is a lot easier to send a broadcast.
Longer learning curve because of the tons of features available
Reporting – Despite being fairly comprehensive and providing insights on sales/goal conversions, Active Campaign's reporting is quite crowded and can be difficult to navigate at times.
Although there is even a bigger learning curve when using Active Campaign, everyone should be able to eventually master the ins and outs of this software platform and achieve great results in all of their email marketing campaigns.
Because they have so many features, workflows and automation's, you will be able to connect with your audience faster and on a much deeper level, which will lead to many more sales and customers.
GetResponse – Email Marketing Tool
GetResponse had constantly proven itself when it comes to email marketing. As one of the first email marketing tools, it continues to remain resilient despite the number of available options.
What's great with GetResponse is how businesses wouldn't have to spend so much time creating email templates for their newsletters. More than that, GetResponse has been getting rave reviews as to how easy one can navigate their email marketing tool.
Basically, there is no need to learn to code when you have GetResponse by your side. They also have a complete website and funnel builder that makes it a breeze for setting up fully integrated marketing campaigns.
GetResponse has a real 30 day free trial to get you started. No credit card needed to get the free trial.
Plans start off at around 15.00 monthly for 1000 subscribers, this plan is for beginners, and if you need more immediate space and expanded features, you can pick a higher plan.
All Plans Include:
Email marketing campaigns
Website builder NEW
Autoresponders
Unlimited landing pages
Sales funnels
Unlimited lead funnels
Full API
How Much Does GetResponse Cost:
A true 30 free trial! Then you need to pick your plan according to your needs, we recommend starting with their basic plan and moving on from there as your needs change and subscribers grow.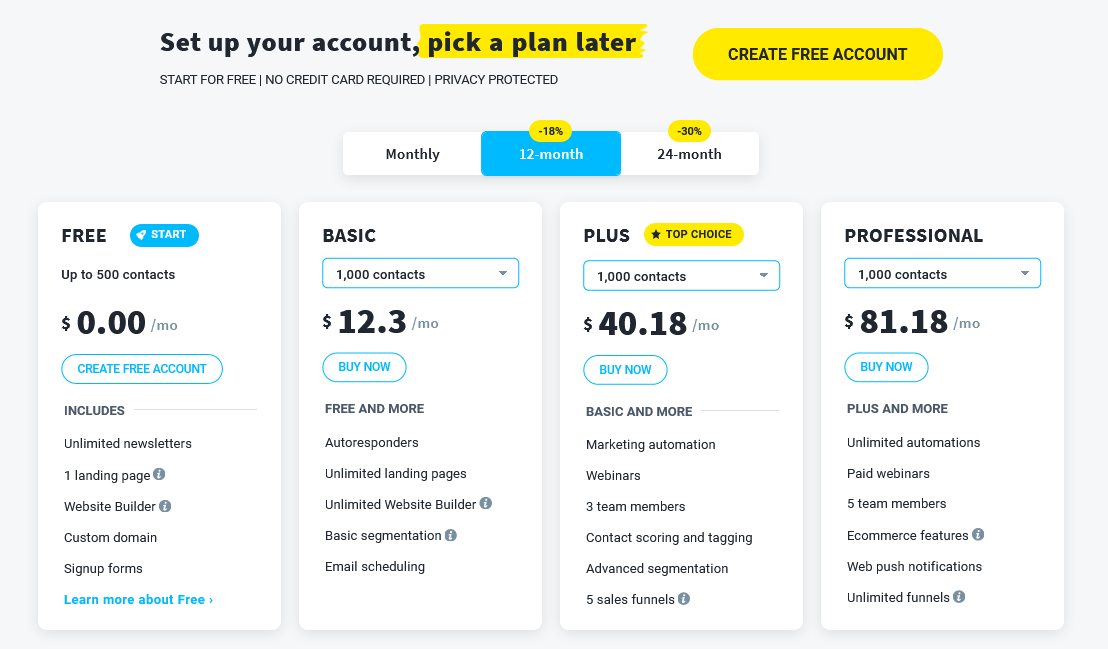 More advanced features than most email marketing software for ecommerce, in fact they are one of the best in the entire email marketing industry, for comparable pricing, features and deliverablity.
They are also affiliate marketer friendly.
They offer many features that will help you automate every part of your online marketing.
GetResponse Features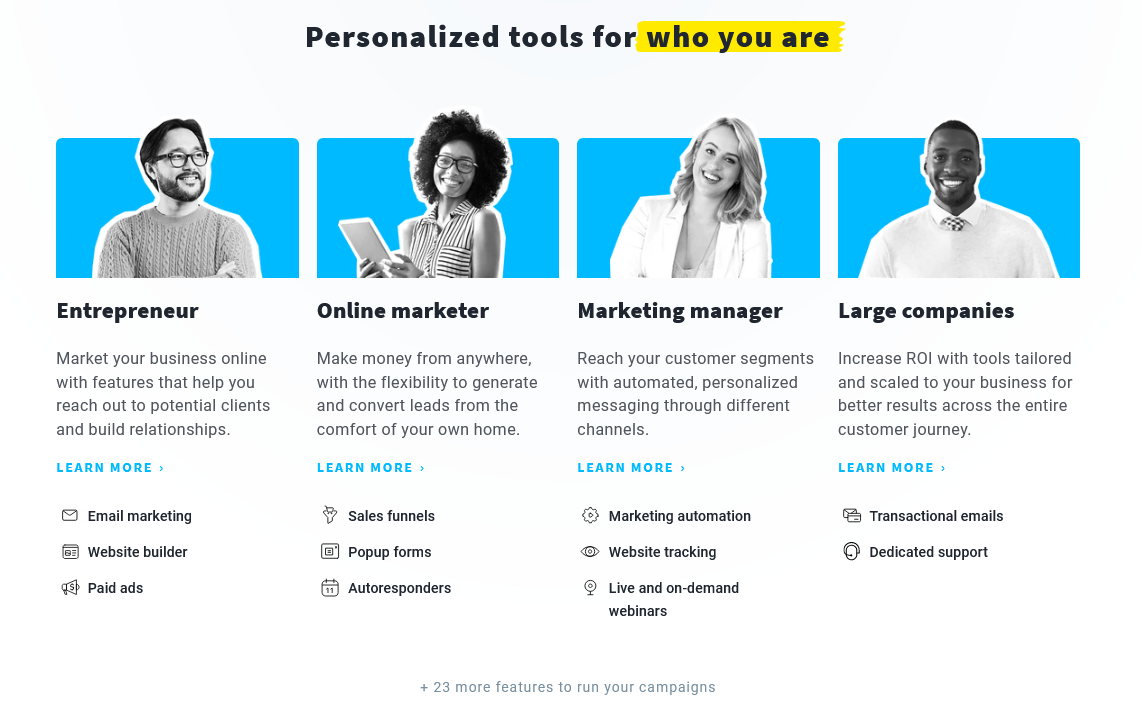 GetResponse is one of top email list software's for Ecommerce. GetResponse has been in business for over 20 years and has over 350,000 customers worldwide. They are surely one of the best we use.
GetResponse Pros
Inexpensive per month to get started – they have a 30 true free trial, no credit card required. (plans available after that vary according to your needs, and list growth)
26 languages available for their platform
Over 125 integrations possible
Very detailed stats reporting
Full testing functions of email sends, including a live preview
Global mapping to see exactly where your leads are located
Live view of opens and clicks – you can literally watch live after you send an email where people are opening your emails at in the world and who is clicking on your links. (We love this feature)
Full List hygiene available
Drag-and-drop Page builder and funnel builder included/hundreds of templates available
Complete segmentation function based on tagging
Collects geographical and referral information automatically
Excellent customer support
Good email deliverability
Affiliate marketing approved
Free account migration service if you want to switch to them
GetResponse has tutorials & learning center
Easy to broadcast emails to entire list
GetResponse Cons
Longer learning curve, as has more bells and whistles
More expensive in the long run, as many email software companies do, as your email list grows you pay more.
Navigation is not as great, takes a bit to get the hang of where all the functions are located.
GetResponse is a really great email software company that has pretty much all of the features you would want. The biggest con with them is getting use to their navigation, and how to move around in your back office to the functions you want to use. But once you get the hang of it, you will love them.
GetResponse is our number one choice for Ecommerce email marketing!
SendShark Autoresponder
SendShark is super friendly for beginner marketers, it does not have as many bells and whistles as some of the other companies, so the learning curve is not as big. Plus SendShark is affiliate marketer friendly, as some are not like MailChimp.
As with all autoresponders and email marketing software there is always some kind of learning curve, and SendShark is the easiest to start using but still powerful enough that we use and recommend it.
It is also one of the least costly over time, as most of these companies charge more as your subscriber list increases. SendShark has the largest initial subscriber count that you can have for the least amount of cost.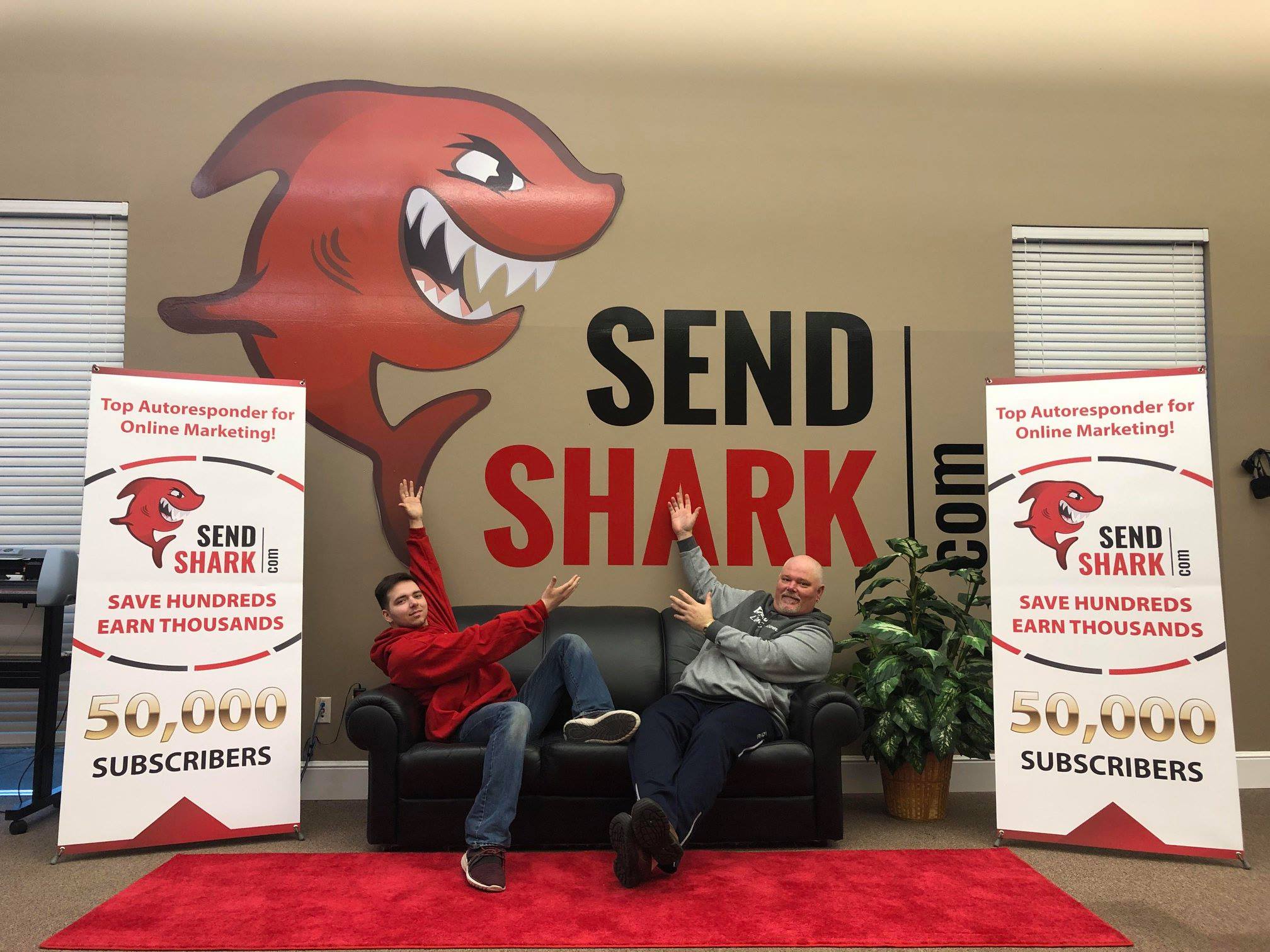 How Much Does SendShark Cost:
$25.00 monthly for you first 50,000 subscribers. This means that until your email list reaches 50,000 subscribers you pay only $25.00 monthly and no more.
With a list size of 50,000 subscribers you could be making multiple 6 figures, so the price tag pales in comparison to the cost. You actually only need a few small sales every month to cover your autoresponder cost.
SendShark also has a page builder that comes included as well. So you can send unlimited emails to your subscribers plus SendShark will even host your lead capture and sales pages at no additional cost.
You can not beat that!
SendShark also has many of the other standard bells and whistles that come with any email marketing software. Such As:
SendShark Features
Template Library
Add, modify text, call to actions
Load Images, Video's, Timers
Add lead forms, fields, submission buttons
Easy drag and drop template formatting
Page pop ups
Preview to Public in minutes
Send in HTML or Plain Text
Immediate Broadcast Sends
Pick day and Time of Sends
Set up full Email Follow up Series
Excellent deliverability
Unsubscribe function
Daily activity report
Bounced message handling
Advanced click tracking and reporting
Ultra Fast mail sending (600,000 per hour)
50 000 Autoresponders and Follow-Up campaigns
Powerful subscriber filtering and sending for opens Vs clickers
Full functioning API
SendShark Pros
Inexpensive – only $25.00 monthly for up to 50,000 email subscribers
Page builder included – you can create lead capture and landing pages/templates available
Unlimited email sends at no additional cost
Excellent customer support
Unlimited campaigns
Affiliate marketing approved – some email software like MailChimp do not allow affiliate marketers. (The sending of affiliate links in emails)
Good email deliverability
Beginner friendly – one of the easiest to use out of the box
Free account migration service if you want to switch to them
Helpful instructional videos
Easy to broadcast emails to entire list
SendShark Cons
Limited email templates
List hygiene – cleaning of list is difficult – getting rid of non openers and unsubscribes
Very limited email list segmentation
Very limited stats function – there is no detailed reporting
Limited test function of emails before sending
Does not collect geographical information, type of subscription or much referrer data automatically
Very limited integrations
Very limited automation's for work flow
All in all it is a great email list software to use for ecommerce especially for beginners and affiliate marketers, but is lacking in many of the advanced features other email software companies have that enable you to really focus your email marketing to increase sales from existing customers.
We use SendShark as well in some of our affiliate marketing promotions. SendShark was created by super entrepreneur Joel Therien, who has been in affiliate marketing for over 20 years.
SendShark is simple, but yet powerful enough to make your email marketing campaigns robust and pulling in big profits.
It may not give you all the bells and whistles, but it has what you need to do affiliate marketing the right way.
We highly recommend it if you are an affiliate marketer.
Benchmark Email
Another wonderful option is Benchmark Email, because its prices are affordable for everything that you're going to get. They are not as complex in their offerings such as Active Campaign or GetResponse, more on the line of SendShark.
But it still has a robust set of features that let you create beautiful emails and set up automatic sequences of emails to better engage leads and customers.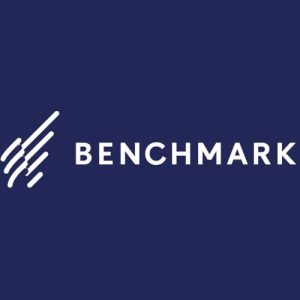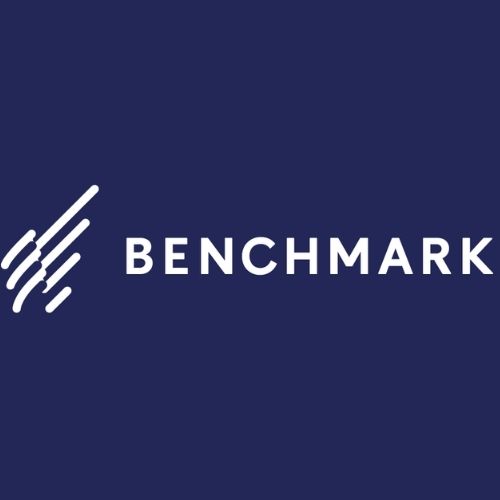 Benchmark Email Pros
Inexpensive pricing to get started, they even have a free plan for you to basically kick the tires
Very beginner and user friendly – Straightforward user interface for email marketing
Hundreds of integrations available
Very Responsive email templates
Full drag and drop email builder that is easy to use
Robust A/B testing features
Benchmark's Inbox Checker allows you to view your email in different email environments before sending – no broken images or render issues here.
Send automated email series that are triggered by website and email engagement.
Full list hygiene which is important for all email marketing
Detailed email marketing stats reporting
Full video learning tutorials – Plus In-app help messages
Good customer support
Drag-and-drop Page builder included/templates available
Benchmark Email Cons
No advanced segmentation
Email deliverability can be rocky at times
Lacking advanced automation
Sometimes there is long delays in receiving test emails.
Benchmark Email focuses on making complex tasks easy, so it's a good solution for inexperienced marketers, especially ones who have never used email marketing services before.
Benchmark Email also excels when it comes to email creation functionality. It also has a robust set of contact management features, but its segmentation options are a bit lacking.
HubSpot Marketing Hub
HubSpot is another full CRM option. Hubspot is a social media and content marketing software company that offers a suite of tools to manage various aspects of online marketing including email marketing.
Their CRM platform has more than 940+ integrations and the ability to create custom apps, you can customize HubSpot to fit your business.
The company was founded by Brian Halligan and Dharmesh Shah in 2006, who have backgrounds in information technology, web development, and entrepreneurship.
Over the years HubSpot has grown from a startup with five employees to a global enterprise with over 128,000 customers and 5500 employees as of January 2022.
They are very similar in their offerings to ActiveCampaign, but quite more expensive as you dive further into their plans. However you can get started for free as well with them, just like ActiveCampaign.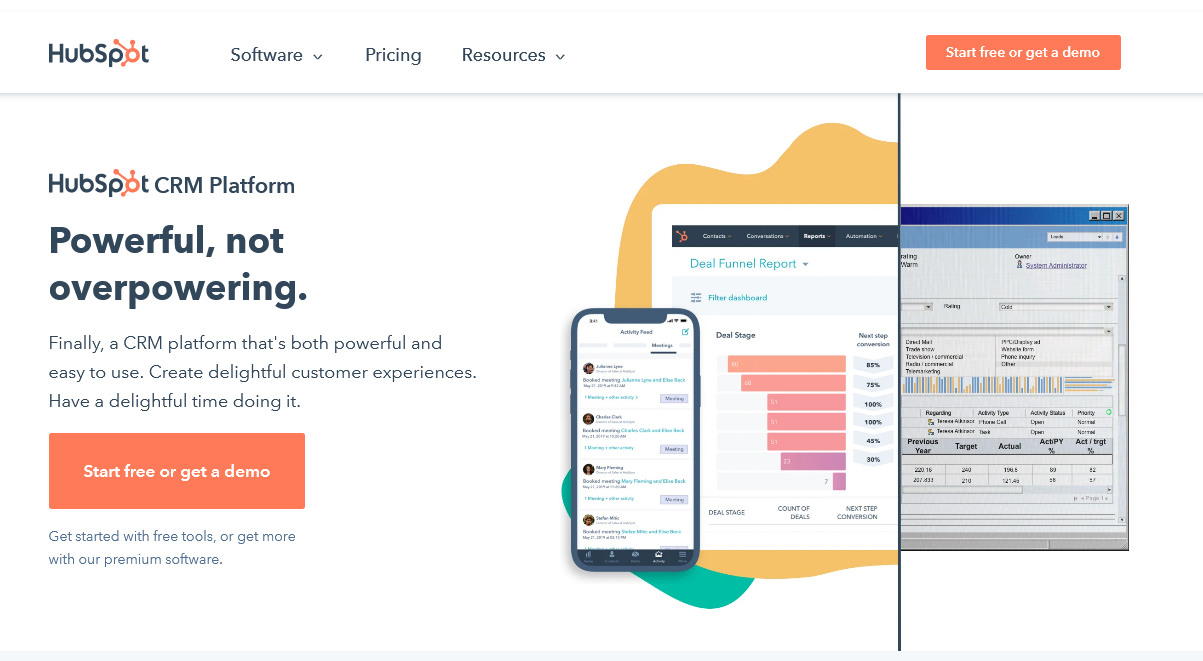 What Defines The Best Email Marketing Software?
You should measure and decide each email tool by it's ability to help your business generate more customers, leads, and conversions. Here's a full list of what defines a good email tool or email software…
Full Feature Email Autoresponder
Landing Page Builder
Great Customer Support
Affordable Pricing
Easy To Use
Variety Of Features & Bonuses
Multiple Integrations & Automations
High Email Deliverability History
The way businesses do marketing has dramatically changed. The most powerful marketing tool any business should invest in is email marketing. What's terrific about email marketing is how it can offer a personal touch to how online businesses operate.
It is important for e-commerce sites to have the best email marketing software. There are many features that are necessary for an effective email marketing campaign, but some of the most important include personalization, segmentation, and targeting. All of these elements will help boost your conversion rate.
The best email marketing software will allow you to customize the content of your email so it feels more personal.
The internet has made the world a much smaller place and many businesses have been able to reach customers they never would have had the chance to otherwise. This includes those operating an ecommerce storefront.
When it comes to marketing, email marketing is one of the best options for reaching potential customers and for building loyal repeat buyers.
With the best email marketing software, an ecommerce retailer can reach more customers and provide them with valuable information and promote their products and specials.
Email Marketing Tools Are Here To Stay
Ecommerce email marketing software is going to be around for decades to come. Email marketers and businesses are always in need of an effective format to communicate with leads and customers. And any ecommerce marketing software is better than not having one at all.
The ultimate email marketing solution that will last for decades – is the one that is the most effective and helping your build a relationship with your audience.
Choose The Best Email Marketing Platform For Ecommerce
There are plenty of email list software's for Ecommerce. They range from their cost, and features to the level of customization.
As a result, make sure and consider your business as a whole before choosing the best option for you and your business. You want to pick the Top email marketing software for Ecommerce 2022 that is right for you.
Email marketing is the most effective way to reach your target audience and drive sales. Choose the best ecommerce platform that you believe will help grow your business profitably.
Are you new to email marketing? – Take the 1SecretCode 7 Day Email Marketing & Business Building Challenge for only $4.95 (limited time)
Here is what you will learn:
Day 1: Introduction to list building.
Day 2: Proper List Building 101
Day 3: Build Trust with your list. Build Sales Fast
Day 4: How to Create Offer Pages That Convert
Day 5: How to write perfect emails where people buy.
Day 6: Copywriting: How to write the perfect email.
Day 7: Scaling your list to 100 000 subscribers and beyond!
Day 8: What Are High-Income Skills And Why Do You Need Them?
With our kindest regards,
Jon Weberg
Richard Weberg