GrooveFunnels Review & Lifetime Deal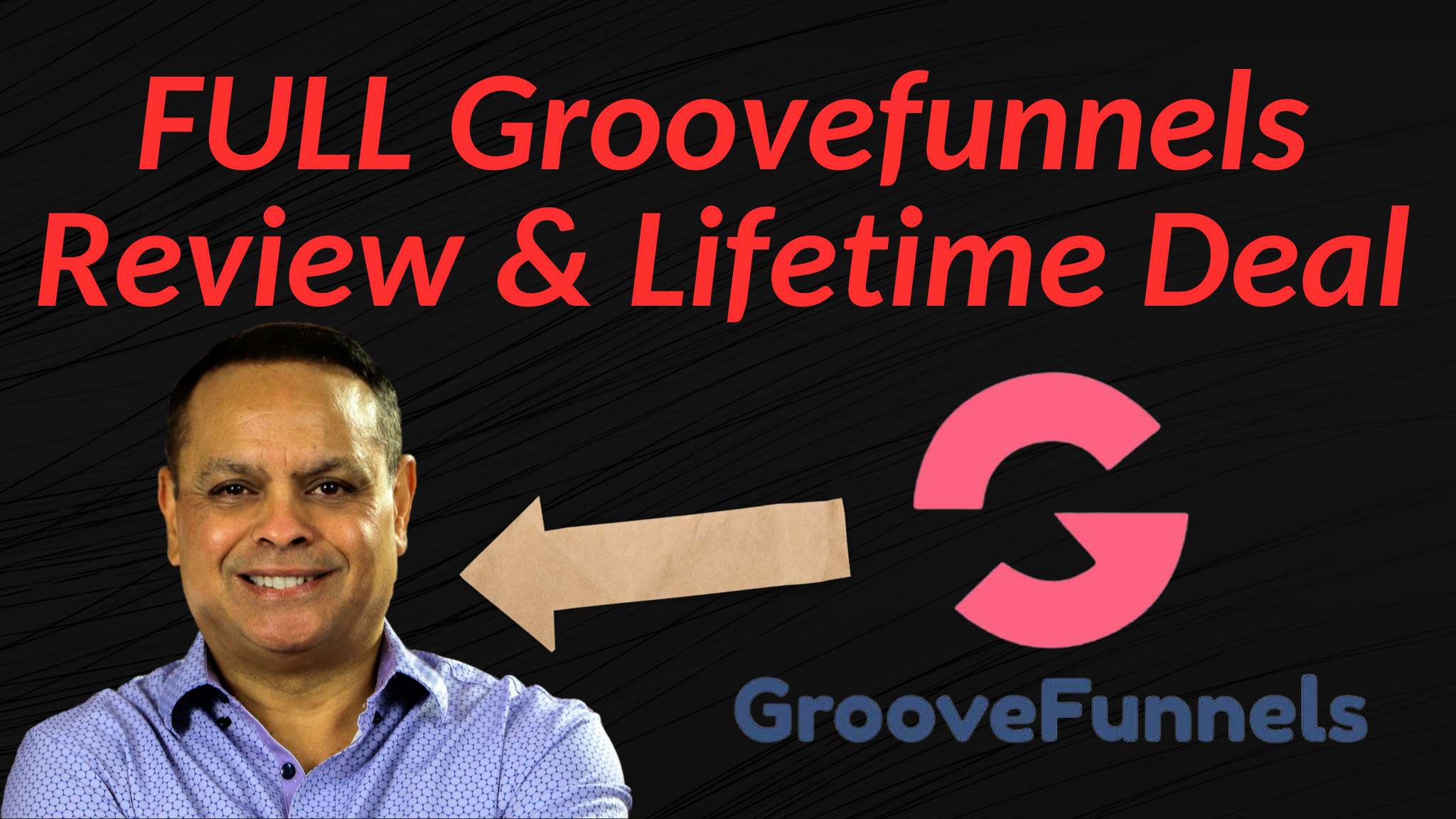 After being in the online and digital marketing space for decades, Mike Filsaime decided to create GrooveFunnels, the one of a kind – all in one – CRM and marketing and sales automation software.
We are doing a GrooveFunnels Review & sharing the differences in savings of their Lifetime Deal, because over the years we've tested and used dozens of different CRM's and digital marketing tools competitors.
Through every single CRM, funnel builder, autoresponder, or other automation software we've used, not a single CRM was capable of doing everything we needed until we found Groovefunnels!
The most successful companies and entrepreneurs in the world realize, they need a few different marketing tools in order to be able to do business properly and effectively.
The GrooveFunnels platform provides the software to help you business generate those important sales. No matter the business model you have, you'll need marketing tools such as an autoresponder, hosting, payment processing, funnel builder, and the list goes on. Your business is an asset, and the better its ability to get sales, the faster your business grows.
Over time, of course you learn how to integrate these tools together, it is time consuming and sometimes by trial and error you learn how to and almost not one single company can truly say they offer everything already integrated together for you in one platform.
In our personal marketing journeys, not a single CRM we have ever used has been capable of matching what GrooveFunnels and Groove Digital can do for your business, because of the marketing tools available for you and being already integrated together.
Both, in the ability to use every single marketing and sales tool imaginable, in a single easy to use platform, but also in the effectiveness of the tools to bring you MUCH more profit and customers.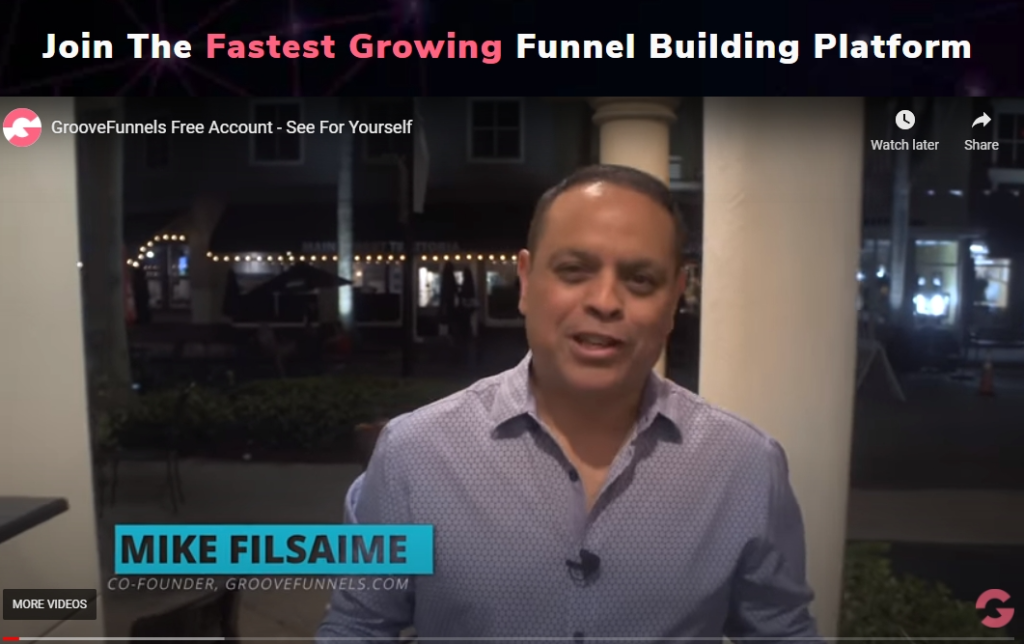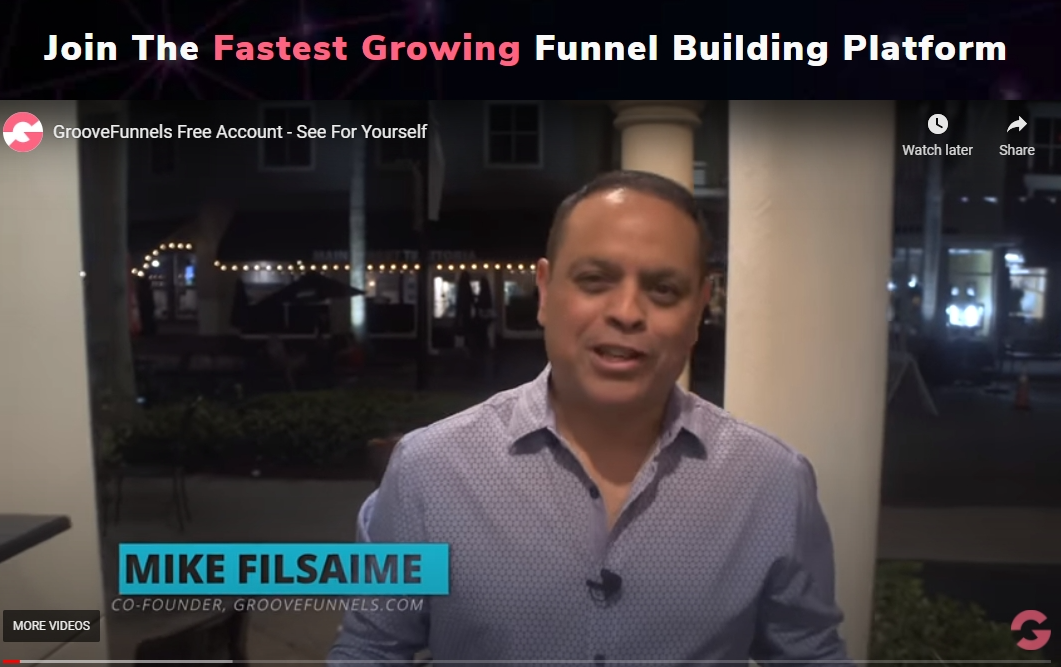 Thankfully a great mind like Mike Filsaime's realized that the industry needed a true all in one solution.
In this day and age, any business that wants to thrive must go online and MUST use the best tools in the industry, otherwise their competition will crush them.
Sure, there are alreadyavailable tools that any business can use to run their entire company and processes digitally.
However, any minimum amount of research will tell you that most of these products are expensive, complicated, and limited in customization.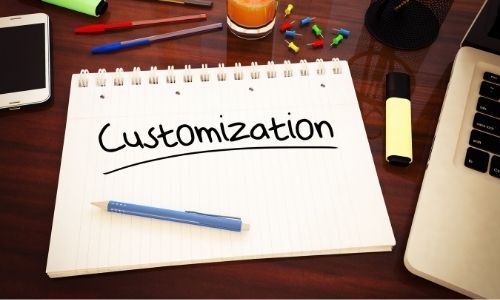 In other words, not very user-friendly, and definitely not suitable for all business owners, especially those who are less tech-savvy and might even be on a budget.
I mean, who can afford to invest thousands of dollars a month into a bunch of complicated tools, and on top of that, hire employees to manage the systems, right?
Well, if this sounds familiar in any way, Groove Digital and GrooveFunnels are going to be your saviour. Instead of connecting and using 3-5 different tools and services to do business, you can use this single all in one platform.
---
What Is Groove Funnels & How Does It Work?
GrooveFunnels is a CRM and by far, the best way we have found to be able to build websites, sales funnels, and sell digital products online.
The best part?
GrooveFunnels is not just a website and sales funnel builder.
The co-founder of GrooveFunnels, Mike Filsaime, is actually a veteran in the Internet marketing space and has put all his experience and expertise into one of the best suites of marketing tools we have ever seen.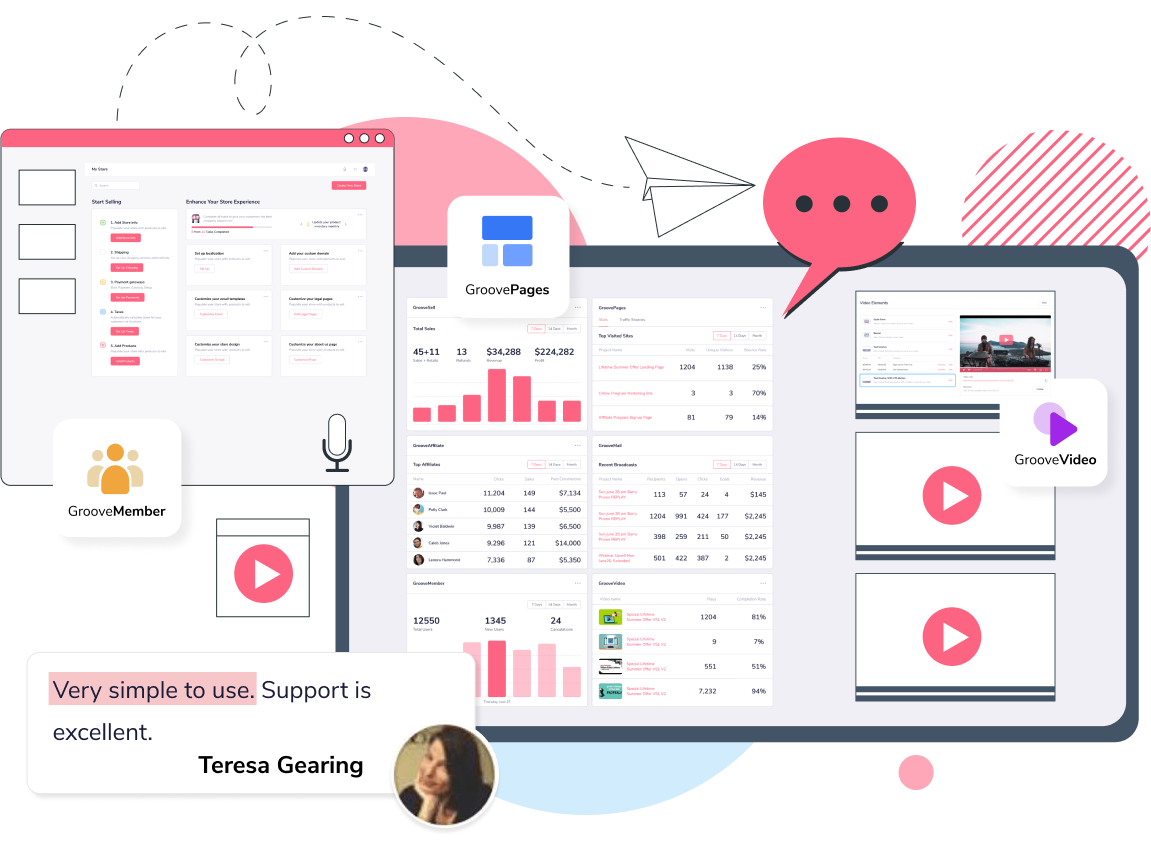 This 100% free tool is perfectly capable of running your entire business, maybe even better than some of the expensive complicated tools out there.
We are not exaggerating by any means!
From what we've seen and experienced so far, this GrooveFunnels review includes everything that you need to run and manage your entire business online.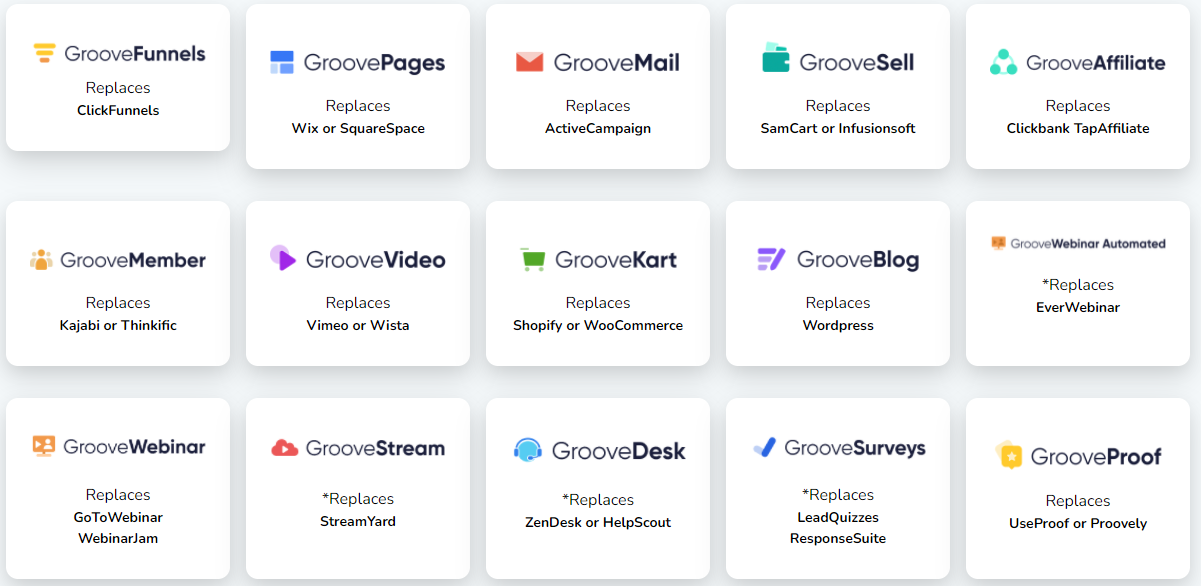 In total, there are 17 apps at your disposal – so you can ditch traditional standalone tools such as Vimeo for your videos, GroovePages for Wix and GrooveMail for Active Campaign.
It really is an outstanding CRM ranked amongst the best in the business!
Here's just a quick list of a few different marketing abilities GrooveFunnels offers that you can use to automate and build your business:
Sales funnel software to create pages, split test pages, website, and funnel building platform (including a landing page builder)
Build your own branded websites with full navigation, blog & menus.
Can integrate with your own custom domain name and hosting.
Able to sell your products, and you can have a 1-click upsell.
Capability to integrate upsells, down sells, and order bumps.
Even has a way to create your very own powerful affiliate program for your products!
Full email marketing software solution and customer management.
Full video hosting.
Every digital marketing tool you can imagine
That's just for starters because there is so much more for us to explore!
We are not even joking when we say that we are planning to move our ENTIRE CRM over to GrooveFunnels!
We didn't even mention some of our favourite benefits of GrooveFunnels.
As a member, you will also received a TON of community benefits.
We've been able to join their private Facebook group, connect with marketing experts inside, get help with all of our problems, access private training within their own academy, ask questions through their help desk, and meet other like-minded entrepreneurs just like us to make the best use of these marketing tools.
So, if you're like us and you are striving to grow your business, or looking to learn more about marketing and getting to know some of the best in the industry at a more personal level, then you won't want to miss out on this opportunity.
If you are keen to get started with GrooveFunnels, or are eager to learn how YOU can use marketing tools to build your list, or drive traffic, why not sign-up to our FREE course below?
---
GrooveFunnels vs CRM's & Marketing Tool Software
GrooveFunnels by far has the best pricing and best deal among every other comparable CRM's and marketing and sales automation software on the market.
To have unlimited lifetime access to every single software and tools GrooveFunnels review offers, it's only a one-time payment of $1,397. ( you can also sign up for free )
Yes, this is real. Unlike every single other CRM or marketing tool on the market, Groove Funnels is the only one that doesn't charge you ever single month YET, and that is cheaper than ever other single CRM option, all while offering every marketing tool imaginable for your business.
Here's an example of how GrooveFunnels features and pricing compared to other competing companies – the free plan is an attractive offer for most! (so is the lifetime deal)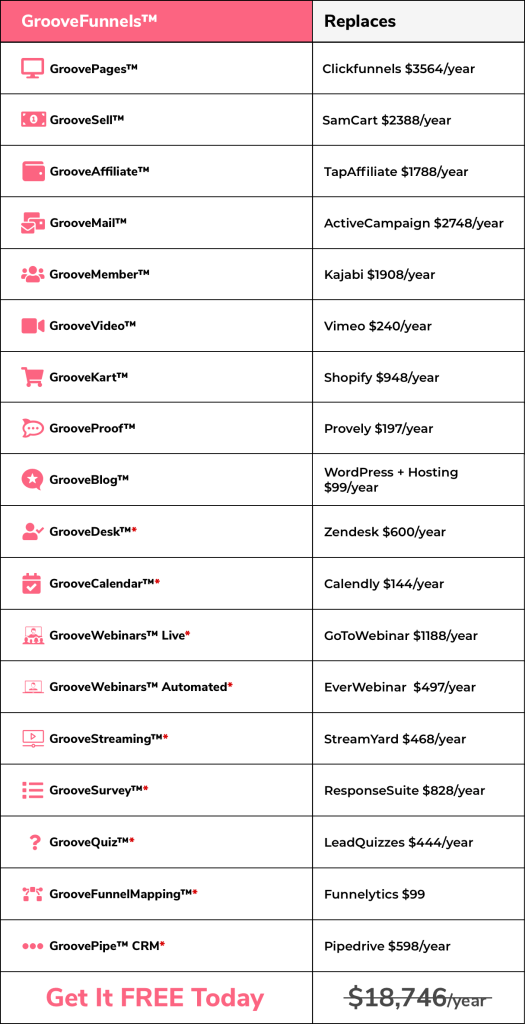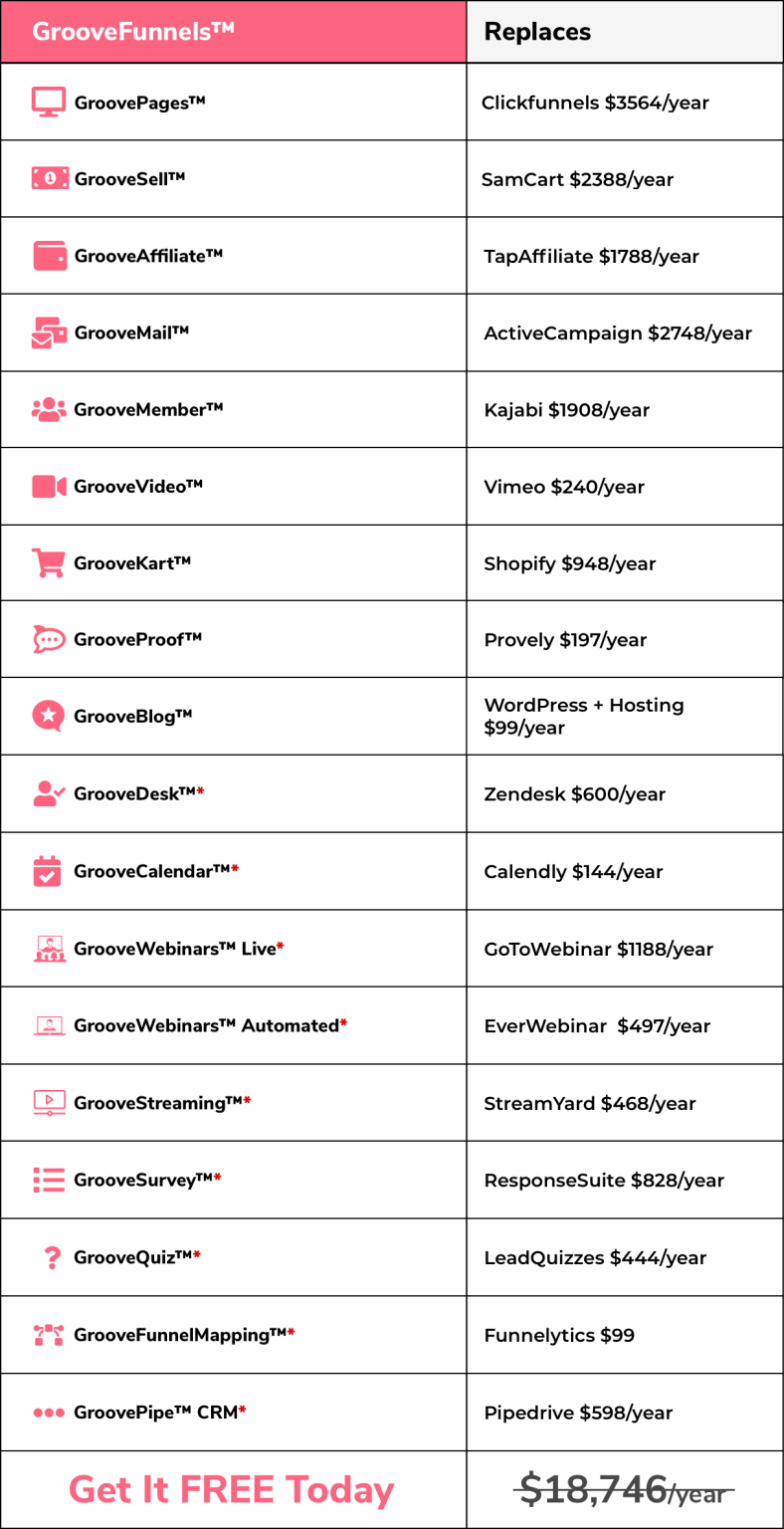 You'll find that Groove review offers the best pricing and best tools, compared to all other marketing software, and CRM's.
In the best way possible, it is truly a one of a kind service and product that has risen extremely rapidly because of the powerful suite of features and competitive pricing model.
Groove Funnels has grown to well over 600,000 plus users and customers, partly due to their excellent customer service and the ability to streamline businesses for them.
People are switching to Groove because of this industry first pricing, and all-in-one package. You get so much all together in one amazing deal.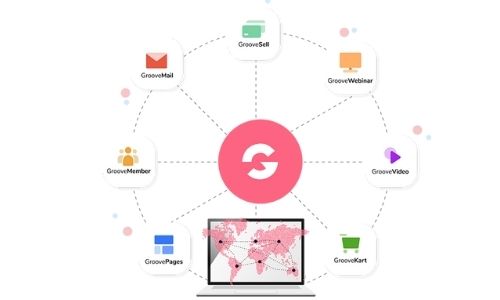 GrooveFunnels Pricing Plans & Packages?
There are only currently 2 different pricing plans and packages for Groove Funnels at the moment.
You can join right now as a Free Member, and get limited access to all of the tools at once.
Unfortunately, at the Free Member Plan & Package you will only be able to create a few funnels, write a few emails, sell a few products, and so on.
It's definitely recommended if you want to test out the service and play around in the back office, and this will help you to understand how easy and simple this CRM is to use.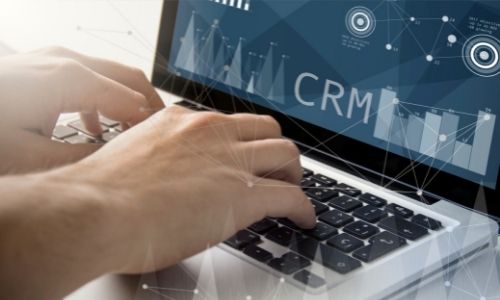 The Lifetime and One Time Payment plan is the best in the industry.
With the GrooveFunnels lifetime plan you get unlimited access with unlimited amounts of use to every single service that Groove offers – for your entire life. It is a one time payment of $1,397.
This plan when compared to different CRM's and services will literally save you $10,000's – $100,000's.
In comparison to ClickFunnels ( a GrooveFunnels review competitor) medium package (which is VASTLY more limited) alone is $297 every single month. ($3564 a year, or 3X more expensive then GrooveFunnels) GrooveFunnels is either free or a one-time payment.
Why we have been making a complete switch to GrooveFunnels from ClickFunnels, is we paid once and its ours forever, where we paid ClickFunnels $3564 every year!
That is a 2200.00 instant savings and a 3564.00 savings for us every year from here on out.
GrooveFunnels Free Trial Account
You'll find with GrooveFunnels there is a TRUE and REAL free account you can get access to and use as much as you wish.
Unlike other CRM's and Automation tool services, this is NOT a fake 7-day free trial!
It's a truly unlimited and FREE access to use all of the services they provide.
With this Free "trial" or free account you'll be able to not just build funnels.
You'll be able to actually start selling your products and services, write email campaigns, host your videos, create your own membership platform, create your own affiliate programs, process payments, and a ton more.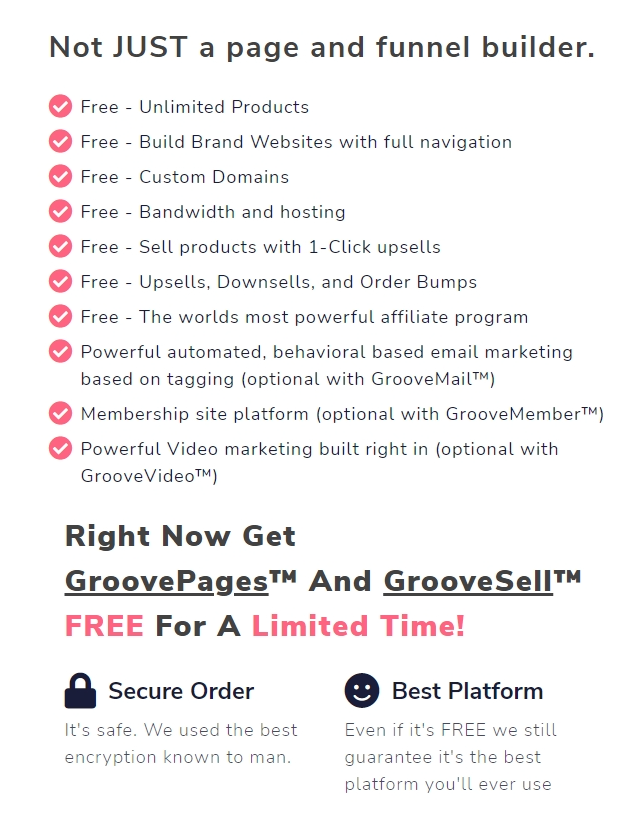 Does The Free Plan Include Everything?
Yes, with the Groovefunnels free plan you have access to everything a paid member does, except it's in a limited capability. For example, you can use the all of the online marketing tools and sales funnel, but you'll only be able to build 1 with the free plan or free account.
GrooveFunnels Lifetime Deal
You'll find that the only CRM's, Autoresponder, ESP, Website Builder, etc, that offers a one time payment for a LIFETIME of service, is GrooveFunnels (GrooveDigital)
For a one-time payment of $1397. If you want to split up the cost you can, you can choose a 2 X Payment of $799 – or a 5 X Payment of 497.
Groove truly offers the best pricing, the most tools, and the best tools, compared to any other CRM's or marketing tool software in the industry.
We foresee that Groove will become one of the largest marketing automation companies in the entire world over the next year.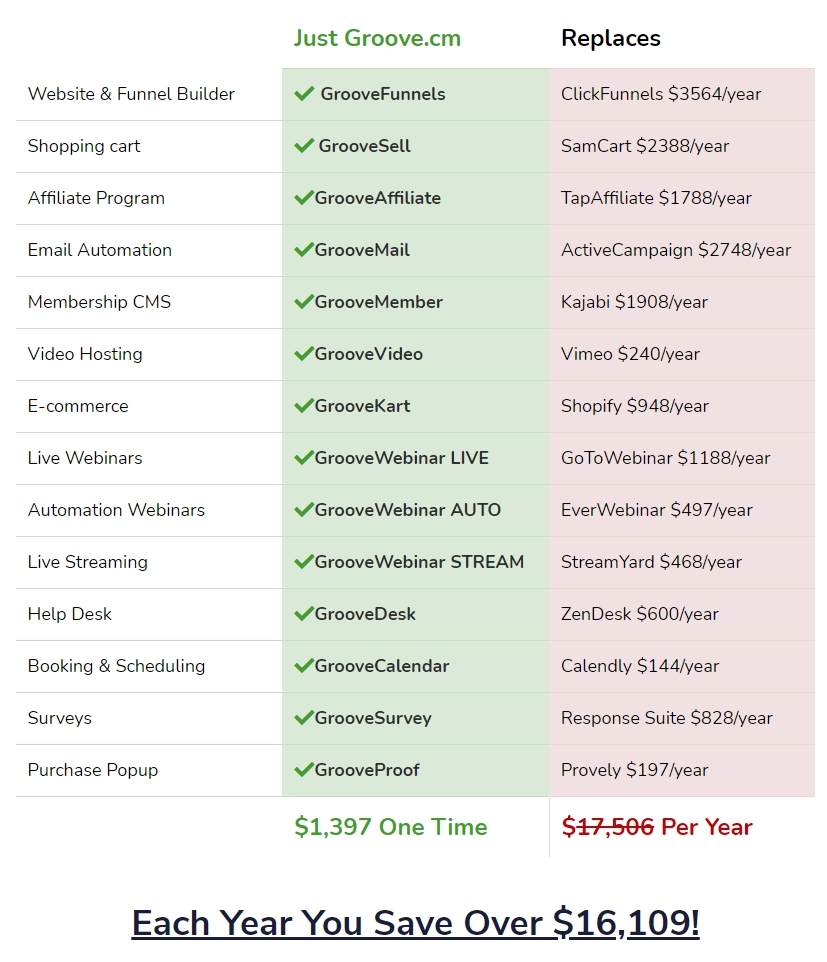 GrooveFunnels Upgrade Options
At any time you can upgrade your "Free Account or Free Trial" in Groove to the Lifetime offer. They offer a one time, split pay, and three way pay for this.
Whichever plan you choose, you still get a lifetime access to Groovefunnels and all of it's features, tools, resources, training, and education.
You can commit to this upgrade at any time that you want or need. If you have additional questions about the Lifetime plan you can contact support after you've signed up for free.
We recommend going with the one time payment Platinum Lifetime plan because you have the lowest cost and never have to pay more then once.
Upgrading is highly recommended so you can use every single tool and automation service that they offer UNLIMITED.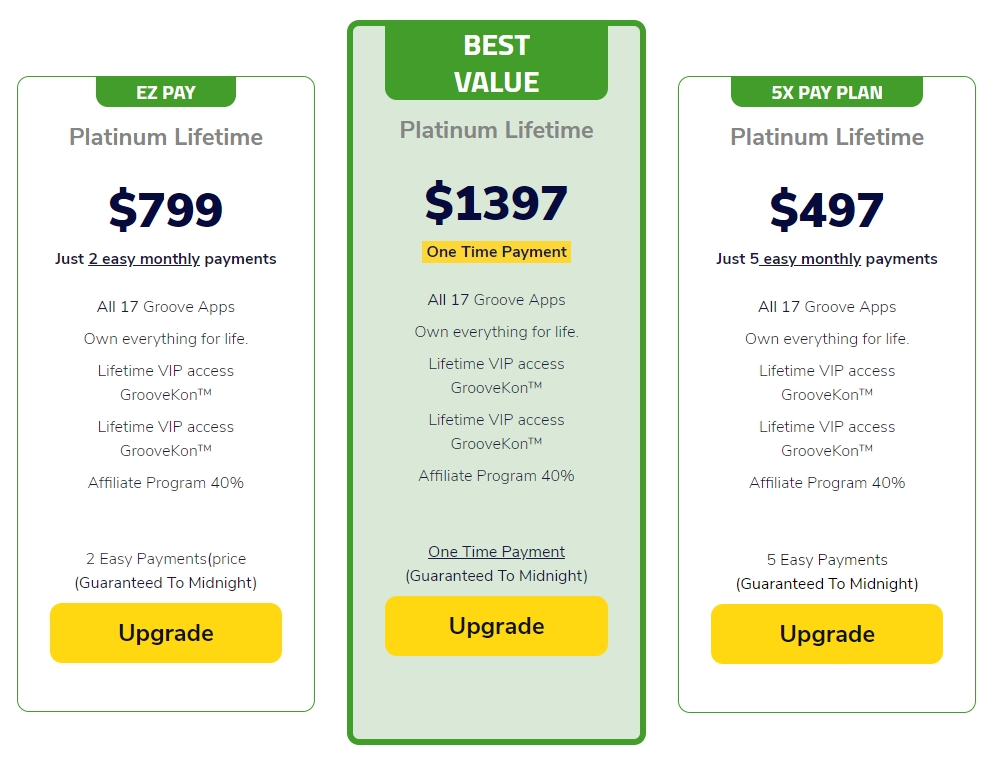 There are plenty of upgrade options, and if you want to scale your business, we run a FREE course designed to help you achieve this!
Groove Funnels Bonuses & Benefits
You'll find that when you feel ready to upgrade to the Lifetime Groove Funnels Plan you'll get access to some incredible bonuses, free GrooveKon tickets, access the Groove Academy, the Groove Funnels members only Facebook group, and a ton more.
They offer these bonuses as an extra incentive to become a part of their rapidly growing community and culture.
The people and community within Groovefunnels are extremely supportive and work hard to answer your questions, help you move forward, and help you see results with your Groove products and services.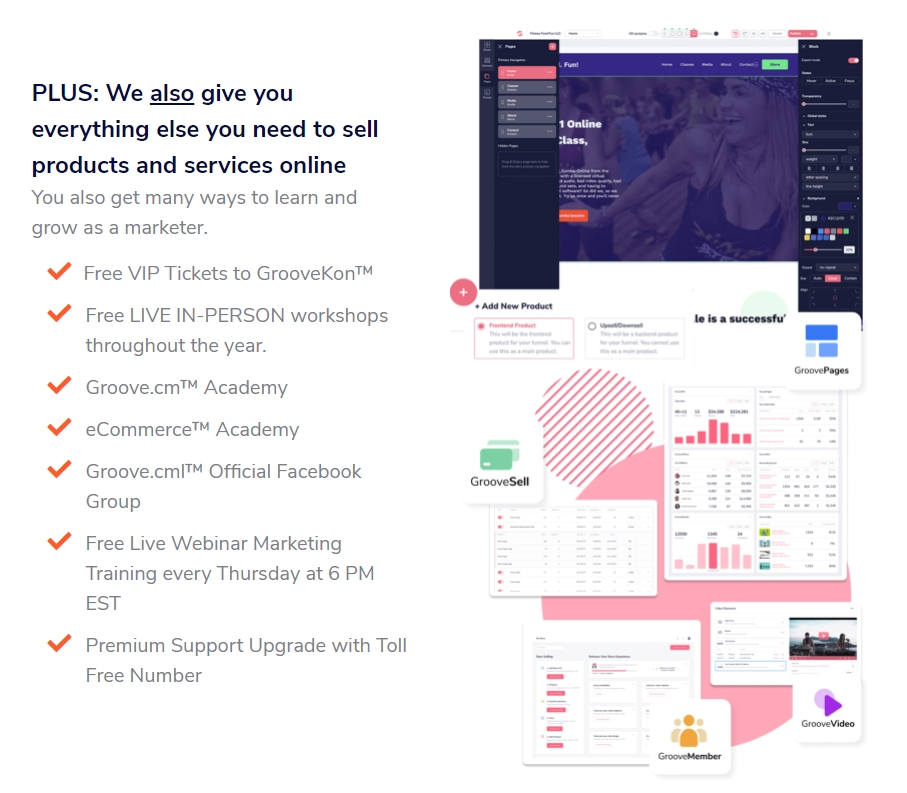 These bonuses may not last forever so make sure that you become a lifetime paying member with Groove Funnels before they end their promotion.
The great thing about Groovefunnels that the other CRM's and companies don't offer as well, is the ability to attend trainings and lifetime webinars regularly.
Sometimes other companies like Active Campaign or ClickFunnels will have a training, but often its generic and doesn't provide any real value to the customer, a.k.a. yourself.
GrooveFunnels Affiliate Program
In addition to their variety of incredible services they provide, and their one of a kind pricing, GrooveFunnels as an incredible affiliate program better than any other CRM or marketing tools software company on the market.
YES, haha… They even are dominating the market with their affiliate program too. 🙂
The affiliate program for Free Members is 20% commissions on your first level, and 10% commissions on your second level.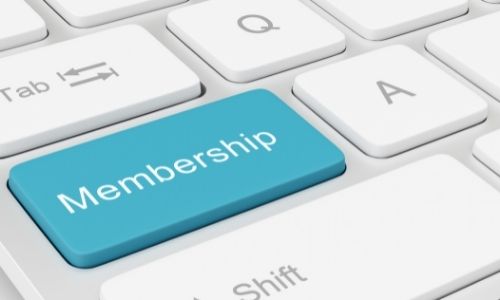 While Lifetime Members, get access to 40% commissions on their first level and the additional 10% commissions on your second level.
Most other companies ONLY pay 1 level, and even worse, they pay between 20-30% only.
Groove Pays out in their affiliate partner program every single week, on time, and they take immaculate care of their affiliates.
Their dedicated affiliate manager makes sure you're able to run smooth promotions and are always paid on time.
The last great thing we love about the GrooveFunnels affiliate program is that they give you a variety of affiliate tools that are easily usable.
You get access to affiliate webinars, sales pages, blog posts, banners, and a ton more that you can copy and paste and begin earning from instantly.
How does GrooveFunnels pay its affiliates?
You can currently get paid from the Groove partner program / affiliate program, through Paypal & Direct Wire Transfer.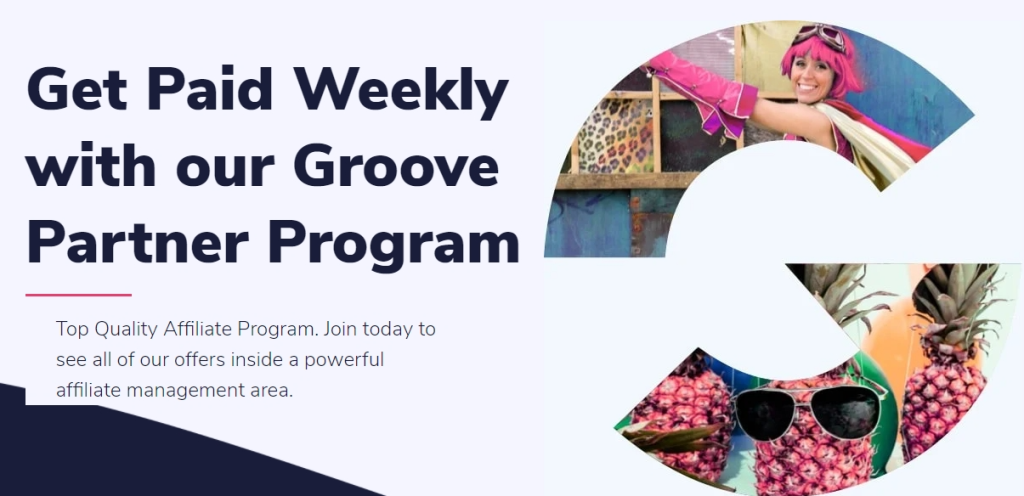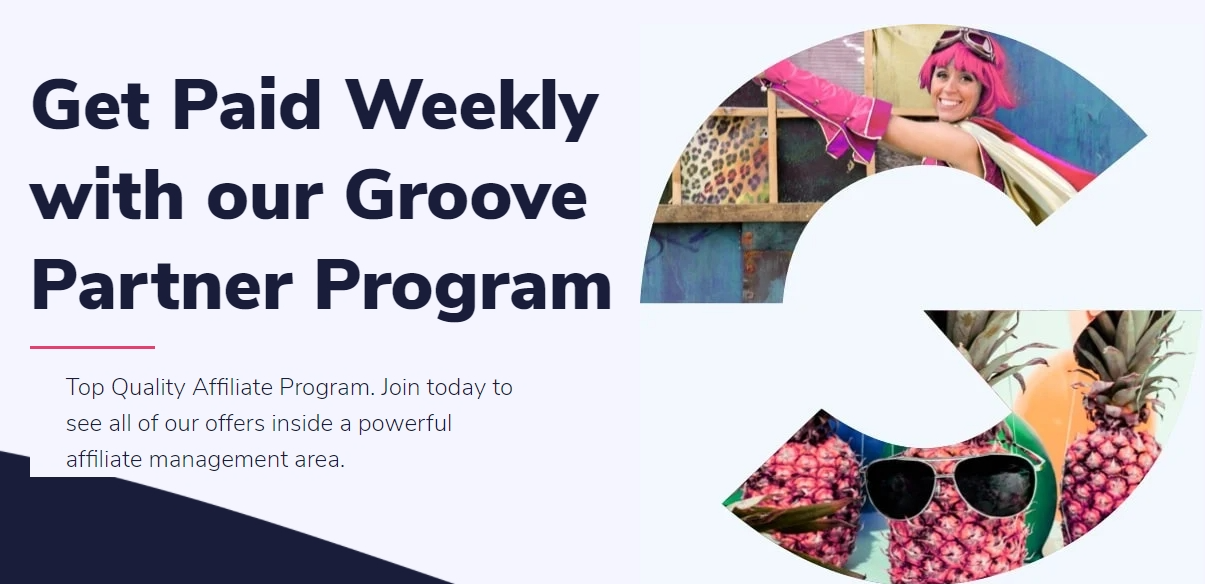 Groovefunnels vs Kartra
Kartra was originally created by Mike Filsaime himself!
However due to varying factors, Mike decided to create a much better, more versatile, cheaper, and better result producing version of Kartra.
Kartra in a similar way to Groove, does offer a large variety of products and services.
However, Karta costs 5X – 6X as much as GrooveFunnels.

It also doesn't offer the same unlimited services in the way Groove does.
With Groove, there is a single unlimited everything membership.
This allows customers of all sizes to work smoothly and effectively with them.
With Karta, if you get more leads, want more domains, or anything, they raise the price on you every single time.
Unless you're already an well established business, Kartra is expensive and doesn't quite offer the customers support, the community, and the growth that Groove Funnels can give you.
Groovefunnels vs Clickfunnels
There's an ongoing debate on whether Groovefunnels or ClickFunnels offers a better CRM, service, support, and reliability.
I'd like to go through and highlight the pro's and cons of both companies so you can determine for yourself which one you'd like to invest your time and money into.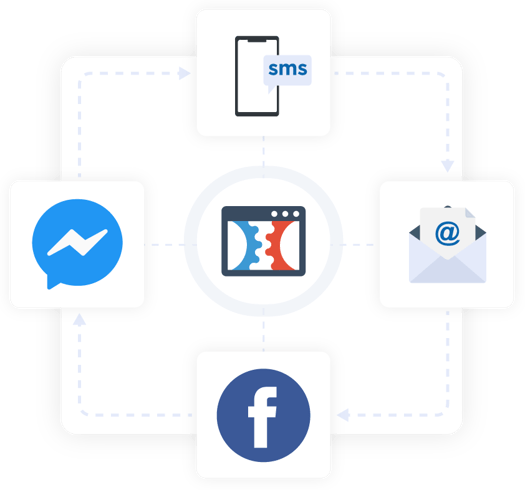 There are 3 main differences between Groove Funnels and Click Funnels….
A) Variety of products and services offered.
GrooveFunnels offers you every single possible marketing and sales automation service you could imagine, while Click Funnels is truly only a partial CRM.
Don't get me wrong… Click Funnels is a solid software, but they just aren't as flexible.
ClickFunnels only offers a clunky funnel builder, an autoresponder ( you have to pay extra for ), and an okay affiliate program.
Their affiliate program used to be more lucrative, but for some reason ClickFunnels decided to shell it out.
B) Price Point.
ClickFunnels is relatively expensive compared to almost any other CRM, especially in comparison to Groove Funnels. ClickFunnels is $197-$297 a month.
As well, Clickfunnels charges extra for their others services which is a huge bummer. GrooveFunnels is a one-time payment of $1397, and that's it you never pay again.
C) Usability and customer experience.
We've used ClickFunnels for well over 5 years, and the entire time it has been a clunky, and weird experience.
Often going between back offices, different tabs, and so on is both confusing and the load time is horrendously slow!
ClickFunnels offers some great templates to use, but fails with their customer support and guidance.
Often when you contact support you get generic and unhelpful answers, which is also unfortunate.
GrooveFunnels isn't perfect, but they actively are working out their bugs, kinks, and issues – while other companies take months to years to actually make changes.
GrooveFunnels is extremely quick and runs smoothly.
So far, we've had no issues navigating our back office or having anything load.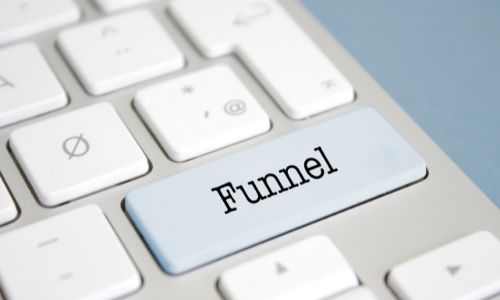 Groovefunnels vs Kajabi
This comparison is the only one that comes close to being an even competition.
Kajabi is another CRM that is of definite quality, while being much more expensive and has a decent community built around them.
The other difference between Kajabi and GrooveFunnels is the usability.

Kajabi uses a different language in their back office when describing their tools.
This often makes it difficult to move around easily until you become familiar with their different lingo.
Kajabi is definitely not a bad company, they have a great service and do offer a large variety of services.
However, when you compare pricing, usability, and the community and potential to grow – Kajabi just doesn't match up to Groove!
Groovefunnels vs Builderall
Builderall is a decent comparison to GrooveFunnels, but it still is lacking in a few critical areas.
Builderall is considered the Walmart of CRM's. Meaning that they have everything you need, but nothing is of the best quality or performs very well.
Cheap is NOT always a good thing, which is why Groove is priced perfectly.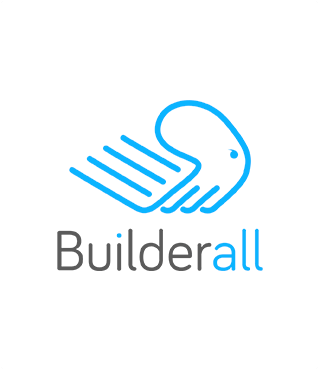 The problem with Builderall isn't the price, it's what you actually get.
You're limited on subscribers, or diskspace, or domains, and over a year once that is used up you're either going to have to drop their service, or they'll charge you a premium more.
If you're on a budget, I'll warn you against using Builderall.
The price point may be nice, but trust me the quality of service, support, and product isn't there.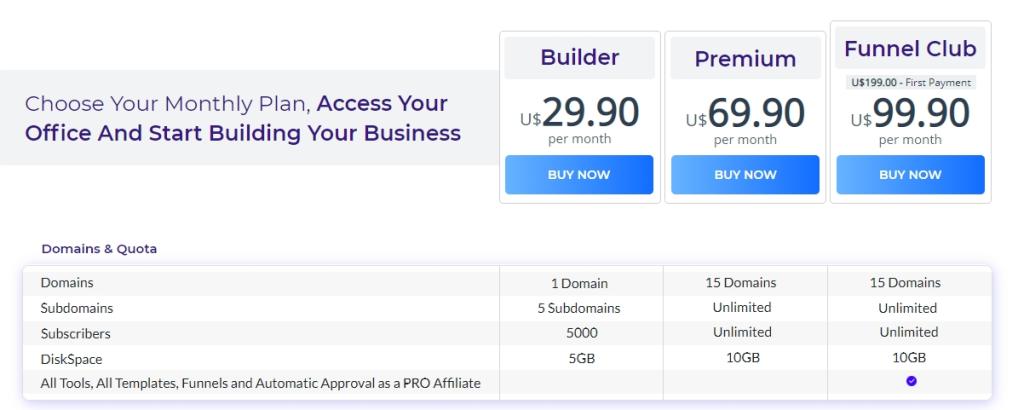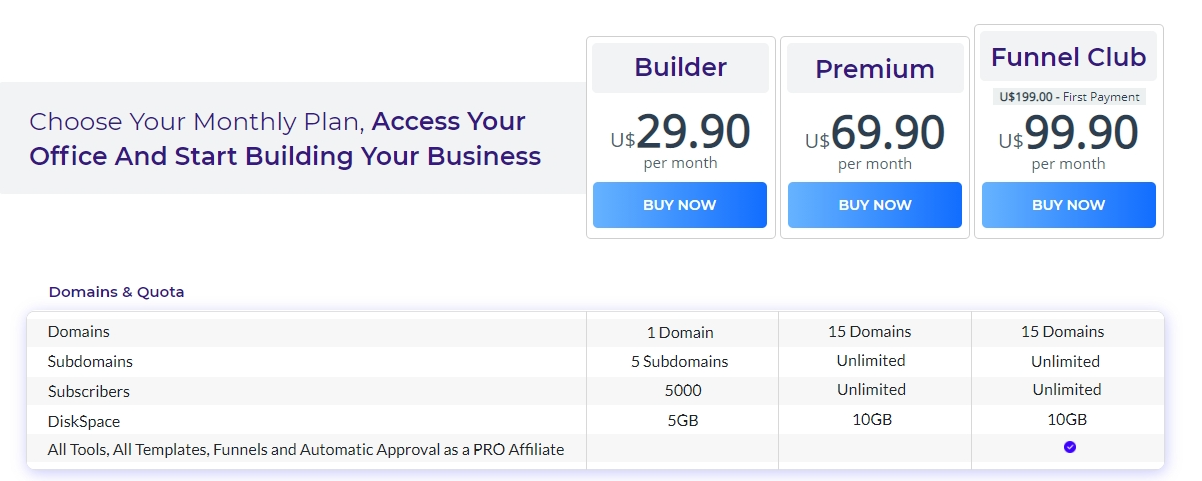 While Builderall is cheaper then almost all of the competition (but not cheaper then GrooveFunnels) they don't provide you unlimited access to everything they offer at every package or pricing plan.
I would include a picture of the comparing offers, but Builderall's only graphic is so long and congested it's impossible to fit into a blog post.
They are offering way to much non important tools that are unneeded, while not giving everything away at each price point.
Unless you have their second or third package, you don't even get access to their funnel builder.
You're limited by Builderall as well with numbers of subscribers, disk space, domains, and more.
Meaning that if you want to build a long term business, you will be charged extra just because your business is growing and needs the resources.
You'll find Builderall is an okay service, but doesn't meet the pricing, usability, simplicity, customer experience, and growing community that Groove has created.
Is GrooveFunnels Really Free?
Yes! You can truly join and use GrooveFunnels completely free right now.
They're the only CRM and company in the industry that actually lets you test drive their service.
You'll find the back office to be a smooth, and easy to navigate experience.
They are constantly making updated for usability and offering more features for their customers.
It's an active growing community of both businesses that are just getting their start, and 6-9 figure industry giants.
If you feel like you would like to learn more, or try Groovefunnels for free right now, click here now: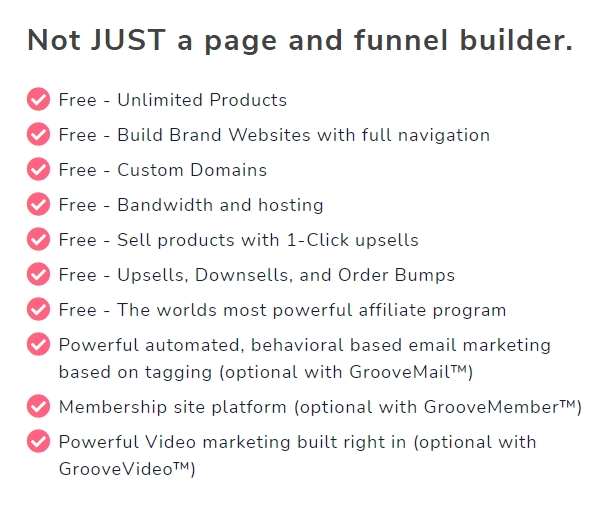 Is GrooveFunnels Legit?
Yes, GrooveFunnels and GrooveDigital is a real company that has grown faster then almost any other start-up in its industry!
Groove was founded by the CEO Mike Filsaime, and is headed to become one of the most successful CRM companies to ever exist.
They have grown in both profit and in customer base size faster then any other CRM in the history of the internet.
I have both direct contact with Mike Filsaime and their Affiliate manager Joe Jablonski.
The plans for their future are built to have them last for decades to come.
They will be among the few CRM's left that retain their customers and build for years to come.
Because when you take a look at different companies, you'll notice what their communities are doing – that's your hint to where their business is heading, and how well they take care of and serve their customers!
Groove has an extremely tight knit community that is rapidly building.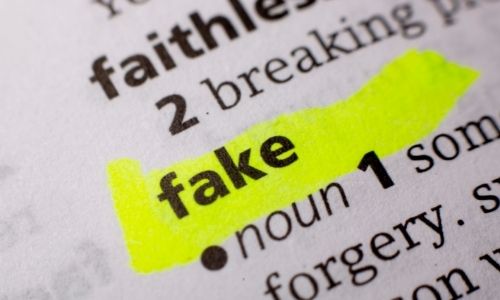 GrooveFunnels & GrooveDigital Founders




Above are the founders and co-founders of Groove Funnels and Groove Digital.
Founders Of Groove Include: Mike Filsaime, John Cornetta, Matt Serralta
Co-founders of Groove Include: Donna Fox, Joe Jablonski, and Anuroop Pillalamarri
Groovefunnels Templates: Are They Any Good?
When you become a GrooveFunnels member you get access to a variety of email, sales page, website, and funnel templates.
You are able to use and customize these templates as much as you'd wish, you have complete and free control. Groovefunnels gives you these templates so you can instantly start using templates that already convert and generate sales.
At Groove they want to give you as much usable value as possible.
This is why they provide templates, bonuses, trainings, the GrooveFunnels Academy, incredible support, and so much more.
GrooveFunnels Templates are there to make your life easier!
GrooveFunnels Support
The support for this company is thankfully reliable, active, and extremely understanding.
Mike Filsaime understood that the customer must be the entire focus of their product, so he made sure their support department and 24/7 support would be taken seriously.
If you have any problems or issues with your account, getting setup, or anything else – you can contact support at anytime and they'll help resolve your issue as soon as possible.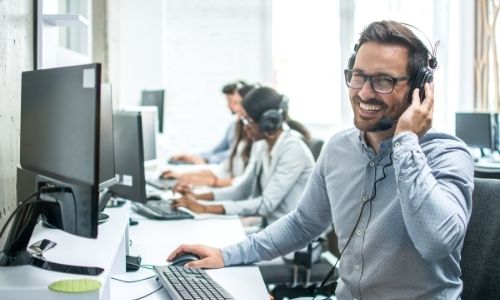 What Is The GrooveFunnels Academy?
You'll find after becoming a member that the GrooveFunnels Academy is your way to learn how to master everything Groove.
Things you will learn from the GrooveFunnels Academy:
Navigation of the site
How to use all of GrooveFunnels and Groove Digital's tools and resources
How to profit from all of the tools and resources
How to setup your website, blog, autoresponder, emails, and so forth
How to begin selling Groove as an affiliate
A TON more
After joining it's recommended that if you're not already experienced with CRM's or marketing tools, that you checkout that huge database and learn as much as you can.

---
GrooveFunnels Review 2022 Summary
Groove Digital decided to do something unprecedented by any other CRM or marketing tools/software in the industry.
They decided to offer the best pricing, support, products, services, community, and growth CRM in the world. Truly, they have done something that not a single other leader in the industry has done.
GrooveDigital has released their entire GrooveFunnels suite of products and services as well to all member both free and paid.
This includes a full website creator, online funnel builder, and powerful sales and affiliate platform that lets digital marketers and entrepreneurs sell their products and services online.
The software at its corehelps members build websites, take payments and manage customers for physical products, digital products and services. It also comes with a full-featured affiliate system to help you recruit and manage commission-only salespeople and affiliate partners.
GrooveFunnels offers a unique and powerful set of tools that let you automate and completely take control of your business.
If you decide to get started with a free account then you get:
3 Websites, 3 custom Domains, 1 Shared Funnel, 5 Received Shared, 15 Import Pages, 15 Videos upload, 5 GB Videos, and more..
And all of this is free – for life..
-No credit card required – ever
-No monthly fees
-No surprise bills
-Full feature set
-Every upgrade they ever do.
When your ready to upgrade your account for a one-time payment, you will get everything with UNLIMITED!
The bottom line is: With GrooveFunnels you get one CRM platform that does everything, that it takes multiple marketing tools and systems to do, and you save butt TON of money! Plus get unsurpassed support that can not be matched!
You can build a complete business using nothing but GrooveFunnels.
And while the folks at Groove Digital hope that one day their free account users will decide to upgrade to the full suite of tools that comes with GrooveFunnels (which includes an email service, membership sites, video marketing, a helpdesk, calendar, and all the tools you need to manage and grow a robust business), GrooveFunnels will always remain free to use for their new customers.
Whether you already have membership services for marketing tools and looking to reduce your monthly bills, or you are just getting started with your online business and your budget is tight… you would still want to check out GrooveFunnels. Y
You can join right now:
---
This has been a true, legit, and accurate GrooveFunnels review.
Regardless of which CRM, autoresponder, funnel builder, or automation software you are using, at least checkout Groove's lifetime deal and signup for free to see if Groove will be right for you and your businesses profit.
You're in the right hands and community with them.
I hope this GrooveFunnels review has shown you the truth about Groove and also their competitors.
Please leave us a comment below if you have any questions or need help in anyway, or just say hi ????
Have a fantastic day!
With our kindest regards,
Jon Weberg
Richard Weberg