Viduber Review | Best Ad Free Video Hosting Platform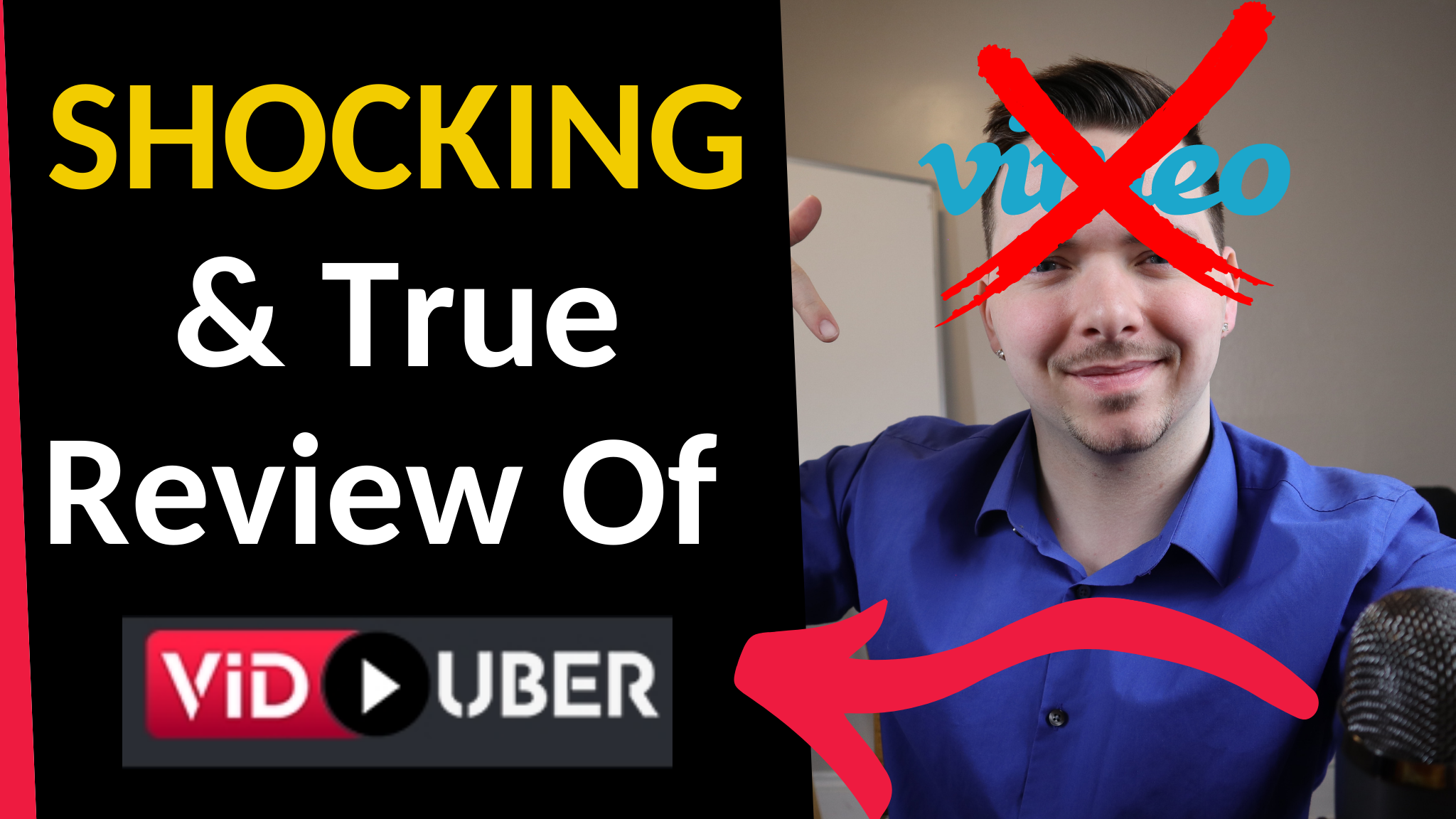 Viduber Review 2022: The Ultimate Guide
When it comes to video hosting, you have to choose carefully according to the needs you have for your business model.
That's why we decided to go over the best ad free video hosting platform on the market and do a Viduber review 2022.
Some video hosting platforms are expensive or have unforeseen charges, yet some that are free like YouTube, and are chalk-full of other businesses and marketers ads that interfere with your messaging and can lead your perspective customers somewhere else.

So you either use the free video hosting platforms and risk your leads and customers going elsewhere, or you pay for your video hosting so your videos will be ad free and keep your customers to yourself.
Well in our minds it is not really a choice, the only choice is in choosing the best ad free video hosting platform.
That's why this review is going to cover Viduber, a brand new ad free video hosting and sharing platform that's going to take over the marketplace.
Throughout this review article, you will see why Viduber is going to be an absolute giant in the video hosting space, and an important highlight of this Viduber review is that it's a 100% ad free video hosting service as well.
Viduber Review: Is It The Best Ad Free Video Hosting Platform?
Read on to learn why we think it is…
What Is Viduber?

Viduber is a video hosting, sharing, and live streaming company.
Viduber will allow you live stream across multiple social media platforms, you can record, share, and host any videos you wish without being afraid of being "shutdown or cancelled", and you'll be able to share them auto-magically to all of your social media followers, blogs and websites.
A special highlight of Viduber as well, is that there will never be anyone else's ads playing on top of or along side of your videos.
Viduber is an 100% ad free video hosting platform that focuses on bringing the best customers experience to the end users, your potential customers.
Viduber is new video hosting platform created by a multi-million dollar company that has been in the online marketing and web hosting space for over 20 years.
They have no shortage of experience, they are the best at what they do, and have cheaper pricing because they own their data center and infrastructure.

How Does Viduber Work?
With Viduber you actually receive a variety of different amazing services.
What is included in the Viduber memberships?
Lightening fast video streaming ALWAYS with their distribution network or your money back!
Multi Purpose responsive video player
Upload video's – lightning fast
Record video's
Audio record
Screen record
Place Your Own Logo/Watermarks
Desktop & Mobile
No limits on bandwidth, file size or duration
Super Feature Bonus – Instant Video Testimonial Generator
Never pay surprising video overage fees again. Cheaper cost.
Privacy Tools
Track viewer stats % to video completion
Life-Time option, one time payment, never pay again. Will save you thousands!
High Paying Affiliate Program
Viduber Pricing & Cost
Viduber has the best video hosting platform prices available on the market. Your payment options are as follows.
$24.97 a month
$699.00 for LIFE. One payment and never pay again.
$224.73 a year.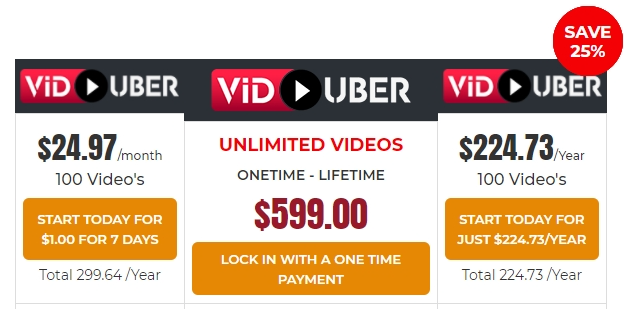 Compared to Wistia or Vimeo, you're getting more value at a much lower cost.
It's not just an alternative video hosting platform, it is truly becoming and is a high quality video hosting company that provides the best fast video hosting service possible with incredible prices better than the competition.
Viduber Affiliate Program
With a true video hosting affiliate program comparison, Viduber pays out the highest commissions by far.
In fact, Viduber has the highest and best affiliate commission structure for a video hosting company on the market.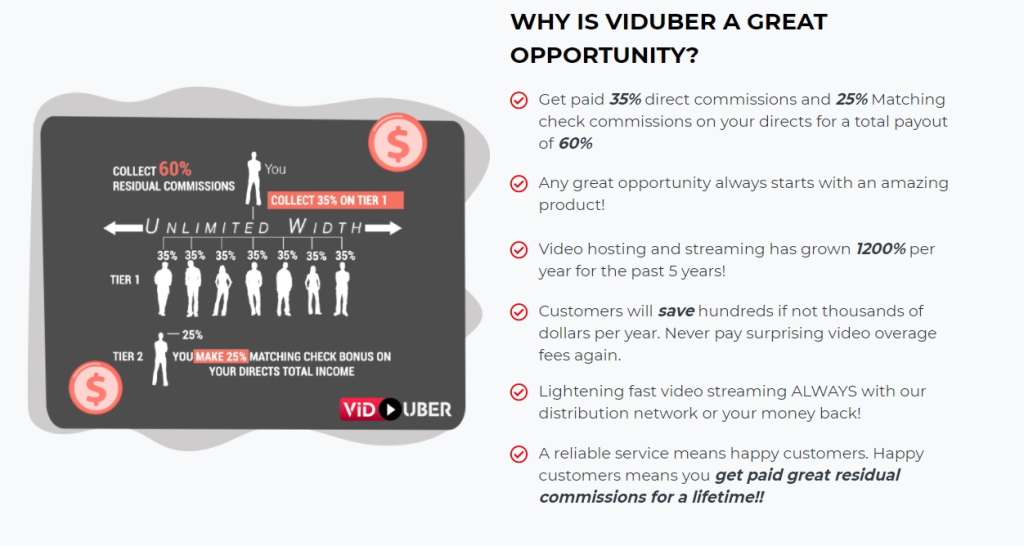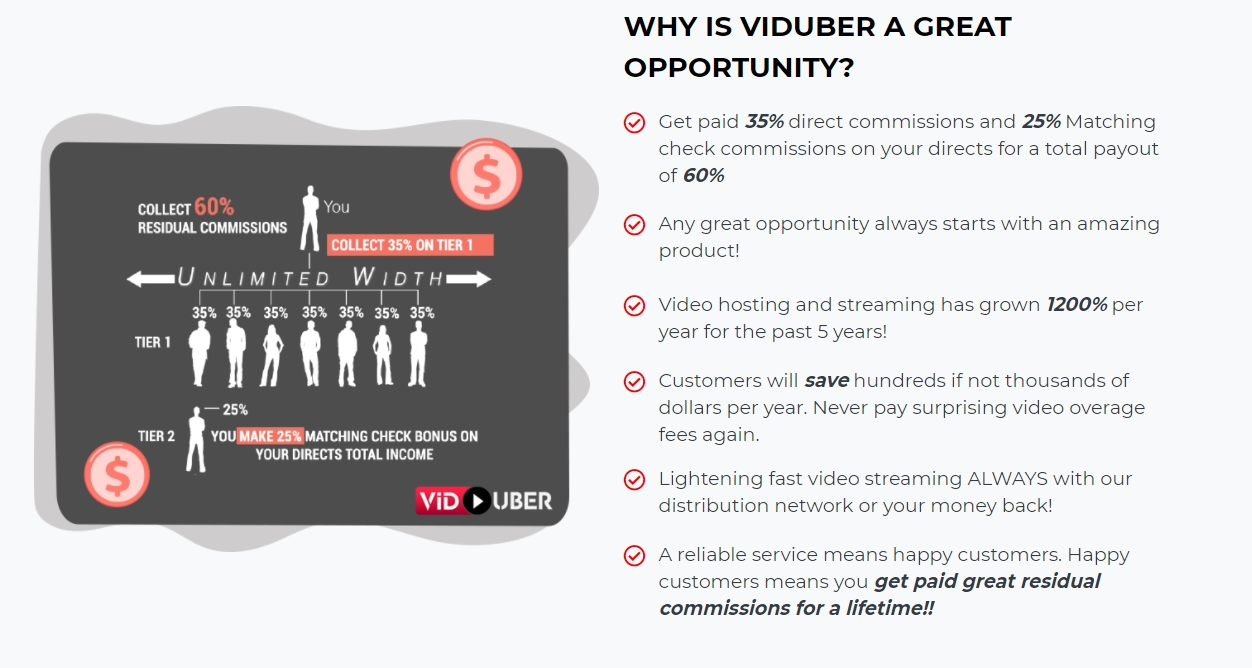 Wistia and Vimeo both pay a limp 3% commissions, to us that's not even worth the time signing up to their affiliate program for, that is atrocious.
That means if you give them a $100 customer you get a whopping 3 bucks!
This is a review highlight of Viduber. You get an incredible service, and if you decide to refer people to the platform you get 35% direct commissions and a 25% matching check bonus on your own directs referrals.
An incredible Two Tier compensation plan for a 60% total payout.
The parent company of Viduber over the last 20 years has successfully paid out tens of millions of dollars to affiliates all over the world, so you can be sure you will get paid out, and on time.
Getting paid this high of commissions on video hosting is a dream come true for affiliate marketers everywhere!
Affiliate marketers at the launch party went crazy when they heard this!
(This video is hosted in our Viduber account)
Viduber Compensation Plan


With Viduber you get paid handsomely to refer others to their products and services.
Viduber lets you earn 35% direct commissions off of anyone you refer for life, and also pays you a 25% matching check bonus on anyone your direct referrals refer.
With video hosting and streaming growing over 1200% over the 5 years for every year.
If a Viduber customer purchase more than one product or service, you will also get the same commissions for those additional upsells and downsells as well.
They value their affiliates just as much as they value their customers.

Viduber Facts
Here is a list of facts about Viduber that separates their video hosting platform from all the others in the marketplace.
Viduber is a true 100% ad free video hosting platform / company
Viduber has the highest paying affiliate program out of all video hosting companies
Viduber offers the only one time payment option for their service
Viduber will not filter out or hide your content based on any political views
Viduber is a proud freedom first company
Viduber owns a state of the art data center and all of their infrastructure, they have no middle man in their operations.
Who Owns Viduber?
Viduber is owned and was created by Joel Therien. Who is also the CEO of the Viduber parent company – GVO (Global Virtual Opportunities)
Joel is a Canadian immigrant who moved to the United States because his web hosting businesses growth ate up all the bandwidth in the city he lived in Canada.
So he decided to move his business to the United States in 2007. He chose Schertz, Texas because of fiber optics needed to expand his business and for strategic reasons due to weather in other areas.
He has successfully made hundreds of millions of dollars in the industry by providing high quality web & video hosting, CRM's, autoresponders, page & website builders, and other digital marketing services.
His company owns a private state of the art data center and all of the infrastructure, this helps them to provide the best products and services at a much less cost than the competition.
Joel is the current owner and Viduber CEO.

Viduber VS Wistia
Wistia is many times more expensive than Viduber while offering less. Wistia is $79 a month for their service of only video hosting. Their beginning pricing for their "Pro Plan" is as follows:
The Pro Plan costs $79 monthly and has space for 50 videos.
Your first 50 videos are included, and you'll be charged 1.00 per month for each video after that. So you get only 50 videos hosted, and are charged an additional 1.00 monthly for every video after that.
And you only get so much bandwidth, so after your bandwith is used up, you will be charged even more.
Compared to Vidubers pricing, you could get Viduber for life with their one-time payment option of $699.00 with unlimited video hosting and never pay again, which would only be 9 months of Wistia video hosting.
Vidubers monthly plan is only $24.97 for 100 videos, with NO limits on bandwidth. Wistia is way more costly.
With Wistia you can't live stream, and you also have higher prices that are incurred on your account when you surpass their "pro" level.
So you can say, that Viduber is a much better Wistia alternative that provides more value while costing much, much less.
Viduber VS Vimeo
Vimeo doesn't do much better then Wistia, and is also a horrible competitor because they just charge way too much.
With Vimeo, you only get live streaming if you spend $65 every month, and if you want more storage or go "over" your limit, you then have to pay "enterprise level" costs and talk to an actual sales person. (No thanks, they do not even publicize the pricing for it, they keep it private).
And here is what happens when you go over your bandwidth limits..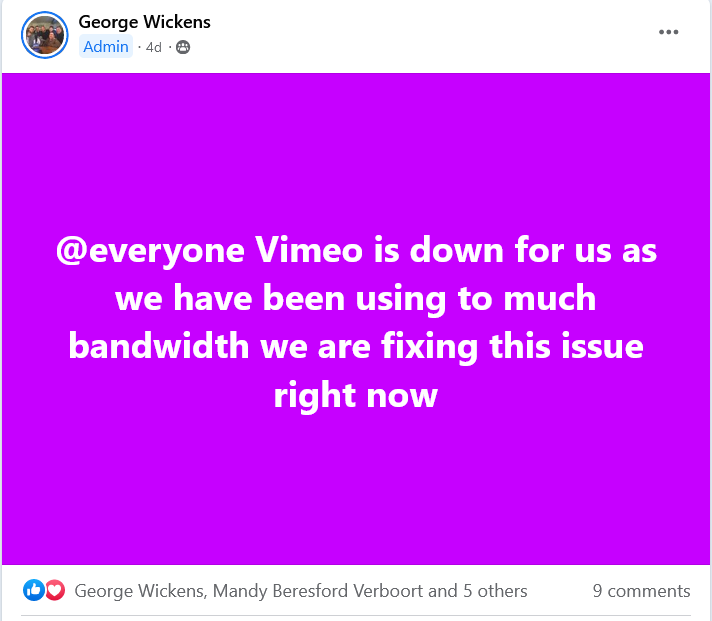 And for affiliate marketers who like to promote the products and services they use, Vimeo and Wistia have one of the lowest paying affiliate programs we have ever seen!
Viduber can offer much lower cheaper pricing on their products and services as well as pay higher commissions because of the fact that they own a state of the art data center and all of the infrastructure.
There is no middleman in Vidubers operations, and have been operating online for over 20 years.
In Closing
Viduber offers more benefits and features than any other ad free video hosting company on the market while having the best pricing available.
And the need for the best ad free video hosting services and platforms is only increasing, as there are well over 2 billion hours of video consumed everyday online.
Viduber will fill a huge part in the future growth of video marketing and entertainment as they have the best features and lowest pricing. Affiliates are always welcome!
Viduber gets are highest recommendation, you can learn more now by clicking here.
We hoped you enjoyed this article "Viduber Review | Best Ad Free Video Hosting Platform" and that it gave you more insight into the video hosting companies available and their features and pricing.
If you ever have any questions, don't hesitate to post them in the comments section below or just say hello.
With our kindest regards,
Jon Weberg
Richard Weberg
Looking for more great marketing software, then check out our YT Evolution Review.