Small businesses, companies, and corporations alike all are in search of quality marketers to scale their profits. Why? Because professionals who are great at marketing, can quickly help a business improve conversions and expand their business profitably. This is where, MarketerHire comes into play.
Through this MarketerHire review you'll learn exactly what makes this marketer hiring platform so successful. They have been able to help businesses acquire the top marketers in the world, as premium freelancers. This review is will walk you through everything this amazing company can offer both businesses – and marketing freelancers alike.
What Is MarketerHire?
MarketerHire is a freelance platform that helps businesses acquire quality marketers, while also helping freelance marketers get hired by companies needing their services.
Created in October of 2018, the company is among the best places for businesses to acquire top tier marketing talent for any marketing needs they may have.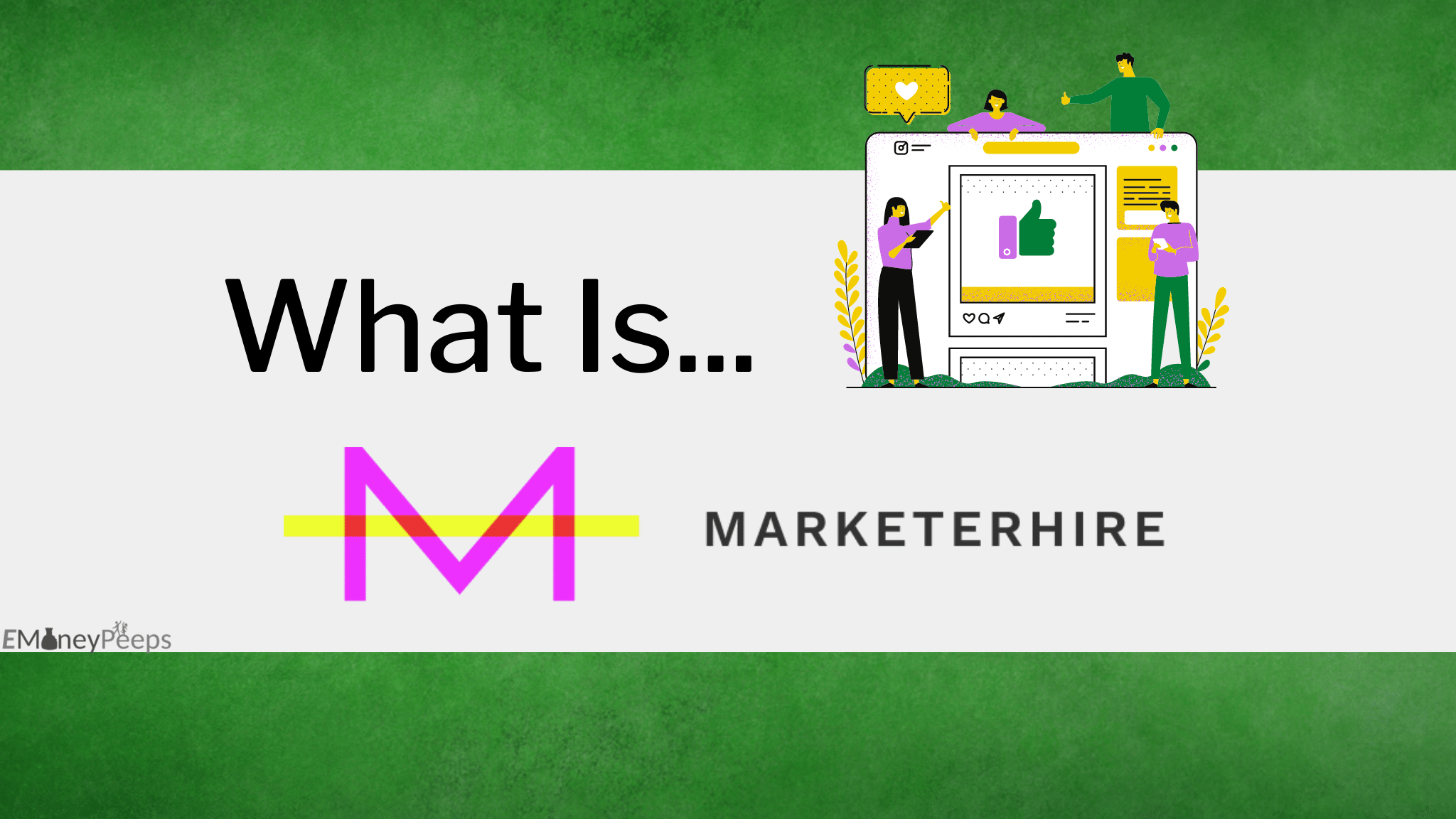 Is MarketerHire Real?
Yes, it is a real company that is legit. MarketerHire has been in business for over 4 years and has successfully grown it's customers & freelance base at scale.
This MarketerHire review was done because of the quality of service this company provides.
How Does MarketerHire Work?
There are 2 ways that you can use the MarketerHire platform. You can apply as a business owner to use the MarketerHire marketing talent base of freelancers to acquire premium marketing talent – or you can become a MarketerHire freelancer and get hired by companies to perform specific marketing services for them.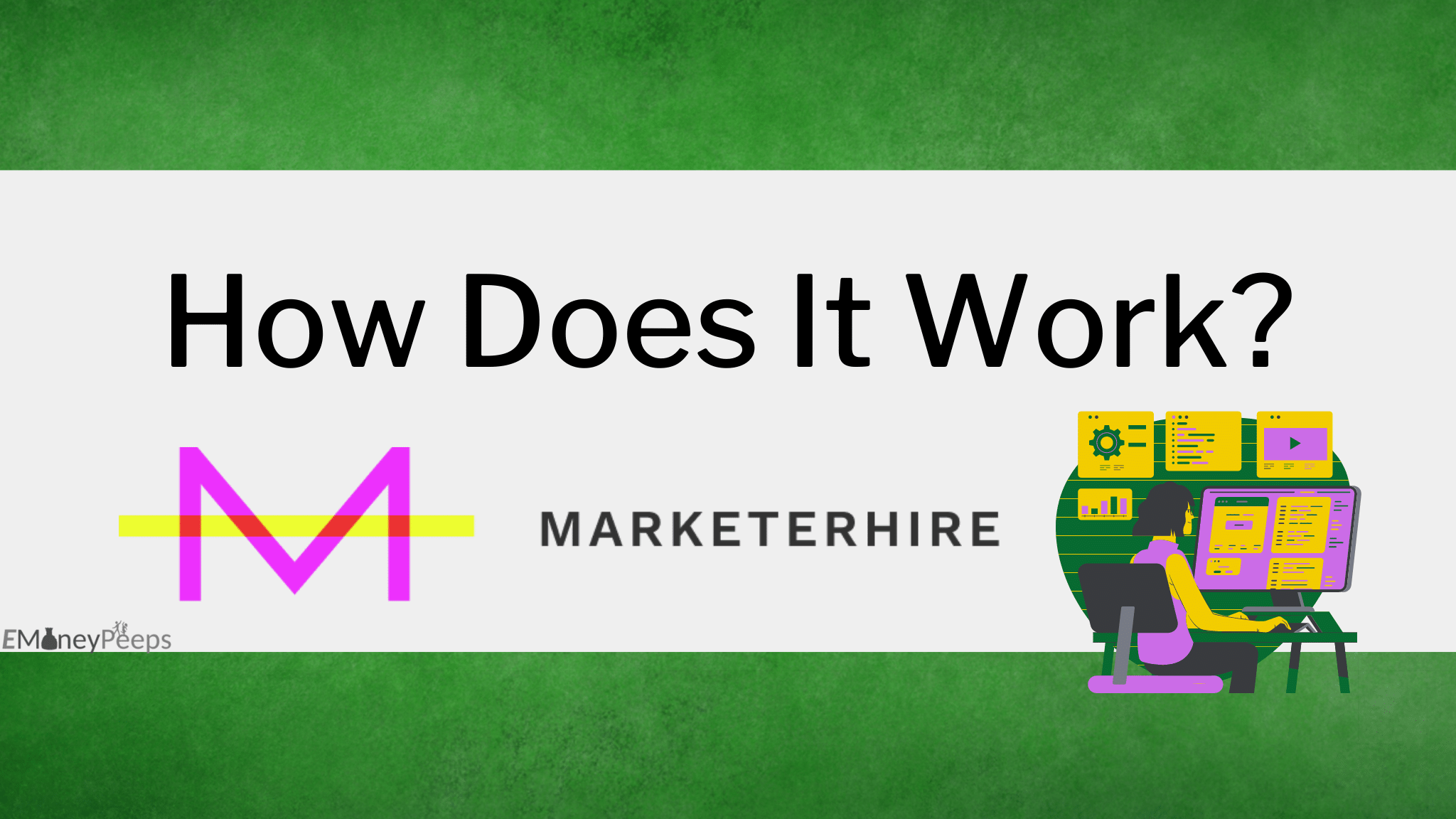 Regardless of how you are going to use the platform, you'll be brought through a professional and pleasant experience. Among the freelance networks that operate, MarketerHire is among the best to work with. Let's go through in more depth, exactly how MarketerHire works, for both businesses and freelancers alike.
You apply to work with MarketerHire either as a freelancer or as a business.
You do an interview with someone from MarketerHire
You get onboarded to this platform and can get started either hiring or getting hired!
Pros & Cons
There are great things and a select few downsides of working with MarketerHire you should be aware of. Here are the main pros and cons of MarketerHire and what they might mean to you.
Pros
Easy to use
Great support
Extremely useful platform
Good pricing and plans available
Work with high tier top talent
Fluid signup process
MarketerHire only allows you to work with verified companies and freelancers
Cons
Slightly higher prices then competitors
It takes time to move through the MarketerHire signup process
You have to perform at a high level
MarketerHire For Business
If you're a business owner or company looking to hire the best of the best marketers on the planet, you've came to the right place! Hiring quality marketing talent is normally a difficult and high time costing process. This is where MarketerHire makes things easy.
MarketHire pre-vets and finds only the top 5% of marketers in the world to be available for hire on their platform. Because of this, companies are able to recruit the best of the best marketers without having to spend time and money manually searching for them. With Marketerhire, the process to find marketing talent that is competent, is effortless.
What Kinds Of Marketing Freelancers Can You Hire?
There are 12 different kinds of marketing roles for hire…
Growth Marketer
Email Marketer
Content Marketer
CMO
Marketing Analyst
Amazon Marketer
Brand Marketer
Paid Search Marketer
Paid Social Media Marketer
SEO Marketer
Social Media Marketer
Programmatic Marketer
Regardless of which kind or quantity of marketing specialists you choose to employ, you will be working with the best. Continue reading through this review to learn more about how MarketerHire works for businesses.
What Are The Steps To Hire A Marketer?
Apply & Submit Details About Your Company & What Your Marketing Needs Are
The platform matches you with potential hires.
Choose who you'd like to interview to verify they are a good fit to work with
Interview the freelancer and decide if you want them on your team.
Hire the marketer, or interview another!
That's it, it's a simple and effortless process that matches companies with the best marketing talent available in the world. Their project management software ensures that every marketerhire match make is perfect!
Are MarketerHire Reviews Legit?
Yes, all reviews made about MarketerHire's services & freelancers are legit and verified. This freelancer work platform makes sure to only use legitimate reviews in order to keep the great reputation they have in the industry.
MarketerHire For Freelance Marketers
You're a freelancer or talented marketing guru looking to work with good companies who will pay you what you deserve. MarketerHire brings all of this to the table in an easy to use platform.
With this company, you're able to decide a few important factors when it comes to getting hired…
You dictate how much you get paid per hour.
You dictate how many hours you work per week.
You dictate which companies you want to work with.
Yes! It is a dream scenario for any freelancers or marketing talent who is looking for a steady and consistent income stream. And, you will be able to be a work from home freelancer as you can perform these freelance marketing jobs from anywhere in the world.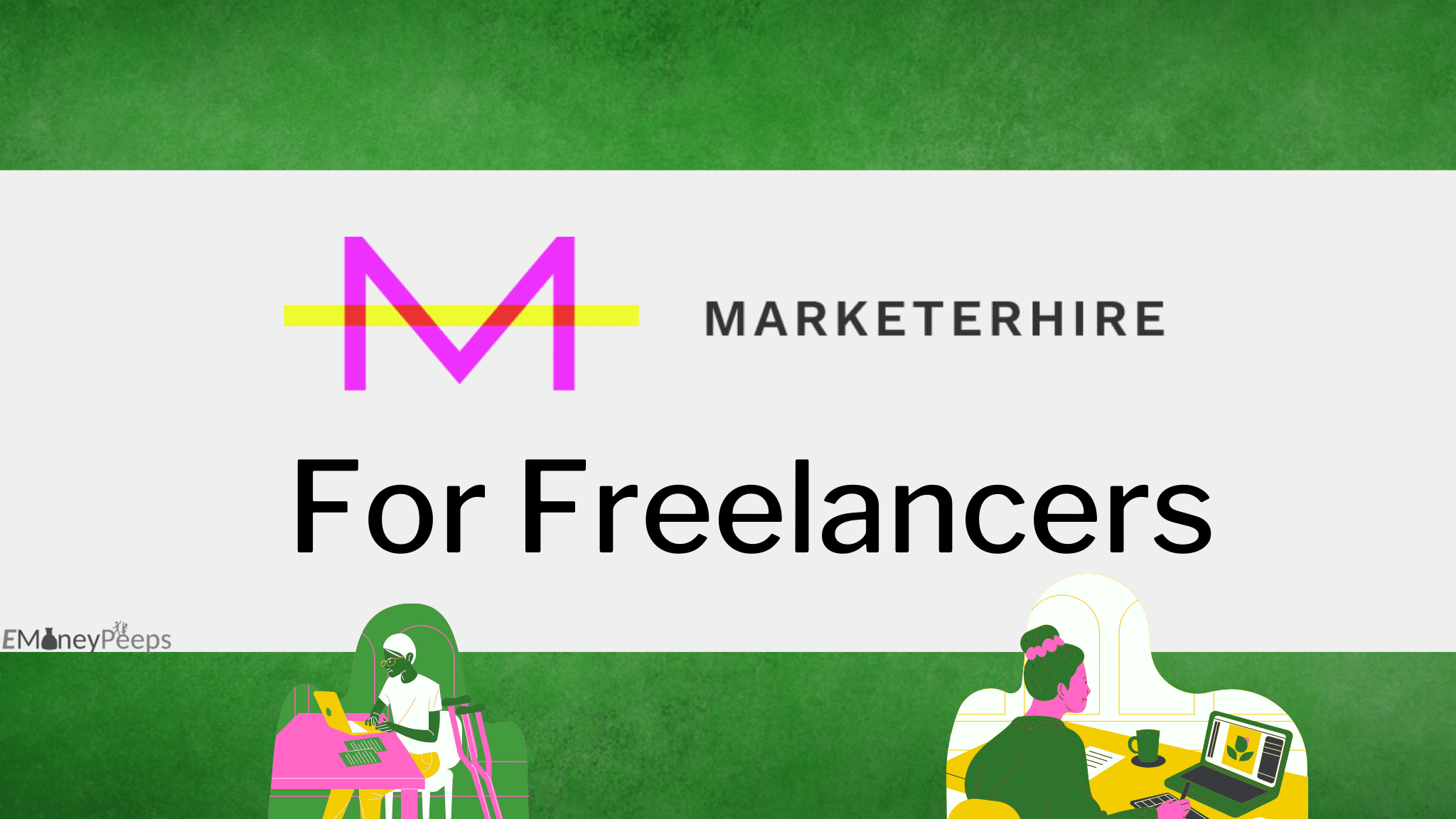 MarketerHire Jobs
As was already highlighted for businesses above, there are 12 kinds of marketing jobs that you can apply to be a freelancer for.
Once you've been put into one of these "job categories", you'll be matched up with businesses looking for the same kind of freelancer.
Here are the marketing jobs you can apply to be a freelancer in…
Email
Content
Growth
Paid Search
SEO
CMO
Amazon
Brand
Social Media
Programmatic
Paid Social Media
Marketing Analyst
Regardless of which position you choose to work in, you are able to decide your pay the same.
MarketerHire Interview & What To Expect
When you apply to become a MarketerHire freelancer, you will have to go through a series of interviews to verify you are a highly talented marketer in the craft you've applied to work in.
Imagine you just applied to be an Email Marketing freelancer on the platform. Within a few days to a few weeks, you'll be contacted by the MarketerHire team saying whether or not they'd like to continue seeing if you'll be a good fit for the company.
If they say yes, then you will be interviewed by a current MarketerHire expert, to see if you truly do have the skills & expertise you say you do.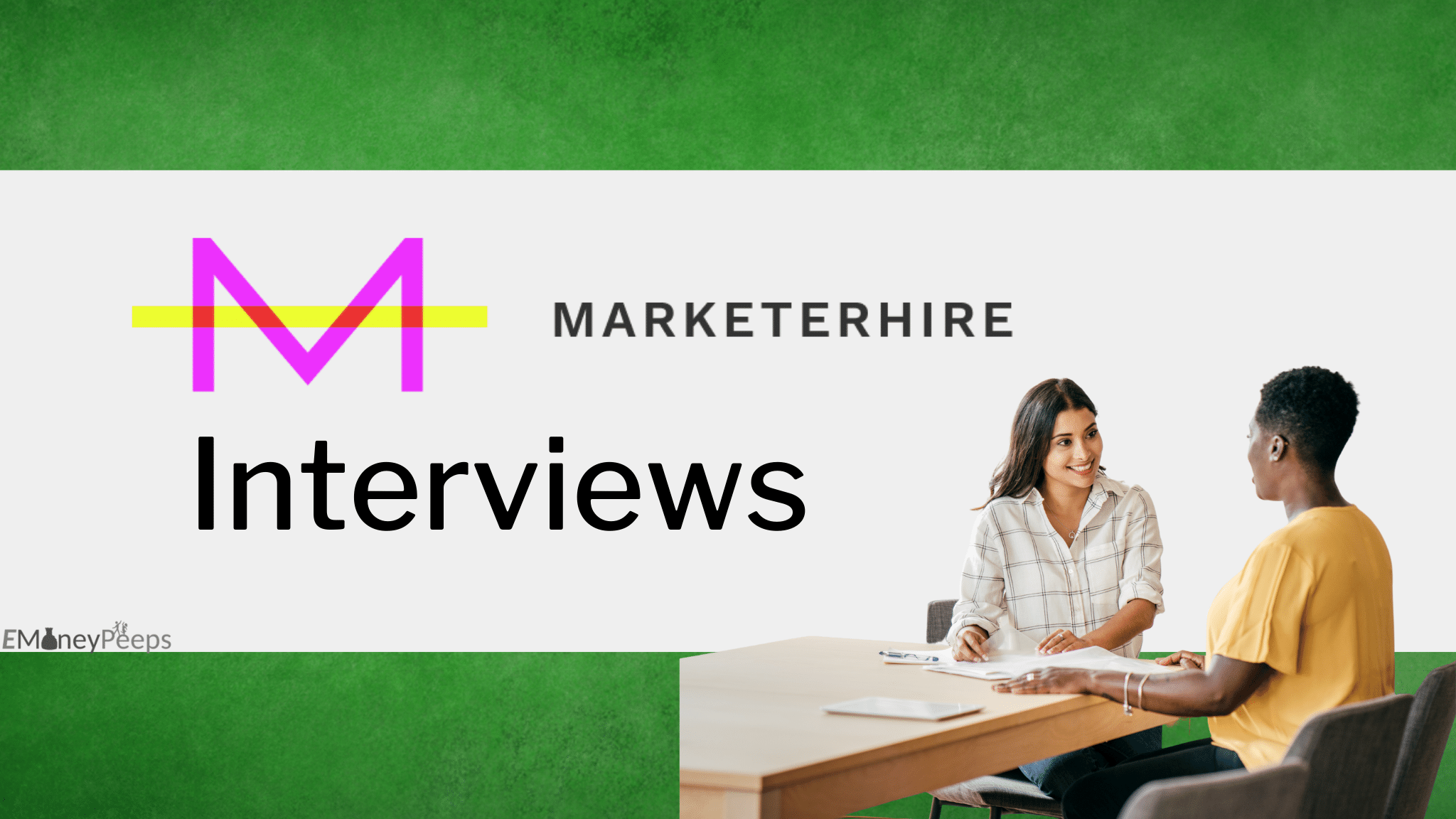 If the team decides after your interview that you do have a top 5% skillset, then you'll be onboarded to the platform. You can feel good knowing that the interview itself is very relaxed and professional.
MarketerHire Salary Expectations
When you're a freelancer, you get to decide how much money you're paid per hour. The only downside of increasing how much you want to be paid, is that you'll decrease the number of companies wanting to pay that higher cost. You can charge between $60 – $140 per hour for your services. If you're working a 40 hour week at any dollar amount between the range I gave, that means you'll make anywhere between $124,800 – $291,200 per year!
This amount can change depending on the number of hours you're working, and the amount of money you're charging
Can You Make A Career Out Of Being A Freelancer?
Yes, you can make a full time income from home by doing marketers freelance work. Especially if you partner with an online work platform like MarketerHire, then you'll have a stream of work always available to you. Most marketers recommend you try to work with this amazing company.
How Does MarketerHire Make Money?
MarketerHire makes money through a small fee they charge businesses for finding them marketing talent. For every payment sent from a business to the freelancer they hire, MarketerHire has the business pay them a small % more on top of what they freelancer is paid.
This does NOT take away any money from what the marketing freelancer is paid. It simply adds a small additional bill to what the business will pay.
This process generates capital for MarketerHire, and so does the seed funding they do as well.
MarketerHire Competitors
Because of how well the company does at managing customers, freelancers, and their own business model – MarketerHire has very few "true" competitors.
However, there are 2 main potential MarketerHire competitors that you should be aware of.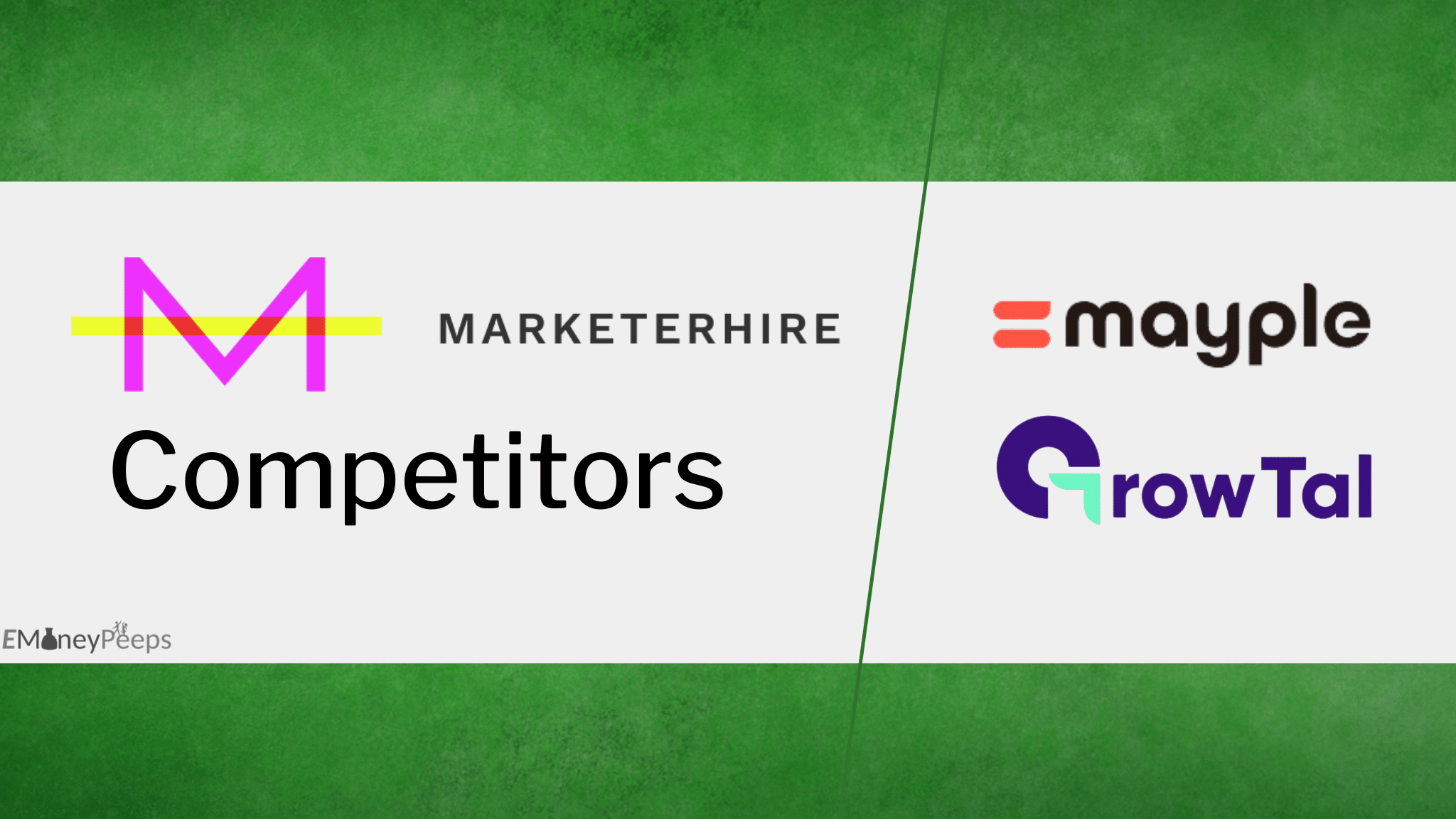 Mayple
Mayple is very similar platform to MarketerHire. They help connect marketing freelancers and businesses in need of marketing specialty together. The only main difference between the 2 platforms, is the fact that Mayple has less options for the variety of marketing positions you can hire for.
Other then that, Mayple is still is a quality company and platform that does an excellent job for helping businesses land quality experts in marketing for their projects.
The pricing is similar to what MarketerHire provides, however it is more complicated.
GrowTal
Yes, Growtal is another platform used to bring freelance and business together in the marketing world.
They also have less positions available when compared to MH, because they only have 10 available. However, pricing is unclear from the outside. You will most likely need to book a call in order to find out how much you'll have to pay
MarketerHire Glassdoor
MarketerHire has a 5 star Glassdoor rating. They get high reviews like this consistently. This is because they offer competitive salaries, a great work environment, and incredible service.
MarketerHire has been one of the most professional and easy to work with platforms ever to be created.
Final Thoughts On This MarketerHire Review
This company goes above and beyond to ensure their freelance talent and customers are both happy and seeing the results they want.
MarketerHire is highly recommended as a go to marketing resource for anyone. You should use MarketerHire if you want to work with the best of the best marketers in the world. It is the top freelance platform in the industry right now.
This review of MarketerHire is unique in the reasoning that I'm an active freelancer on MarketerHire. Very few other reviews are done from active customers or users – which is what makes this review more in depth and honest when compared to others.
With our kindest regards,
Jon Weberg
Richard Weberg