Videly Review 2022: The Best YouTube Ranking Software?
Want to rank your Videos on YouTube fast? Then Videly could be the answer!
Many marketers and businesses in this current digital age are looking to rank their videos on YouTube and to become #1 in the Google search engines.
And they want to achieve this for good reasons!
Ranking in the top 3 spots for certain keywords and searches can generate 10,000's, if not 100,000's of free quality traffic and leads for your business.
Because of this new "trend", we've discovered possibly one of the best YouTube ranking software, and it is called Videly.
In our Videly Review 2022, we'll be going through what makes Videly great for ranking your content #1 on both YouTube and Google alike!
Be warned it is a little long- as this is a complete review to give you the best information.
Stay tuned, as we're going to cover a lot of important things that will help you discover how Videly can grow your business or passion FAST!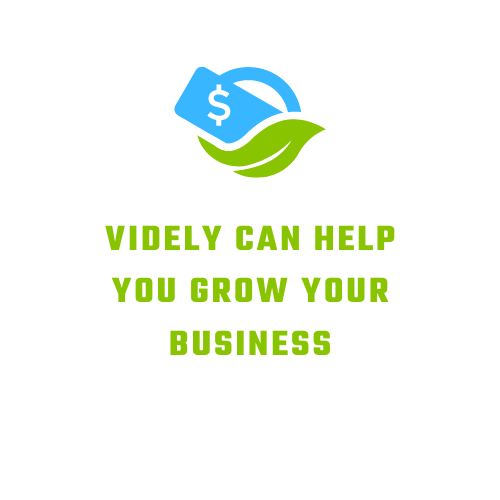 What Is Videly?
Videly is a YouTube ranking software and a search engine ranking software. (Google ranking software).
You may or may not know, that YouTube videos can get ranked on the first page of the Google search results.
We will explain more on this later.
It is a 100% cloud-based app, so you do not need to download or install anything. You simply log in to access the software.
Videly helps you quickly identify the easiest and most profitable keywords to go after, tells you how to optimize your videos and content in order to rank, and much more.
The Videly software was created to help you rank videos on YouTube and Google.
By ranking on either YouTube or Google, you will generate massive amounts of free organic targeted traffic to the videos or content that is ranking.
Now who wouldn't want a slice of that pie?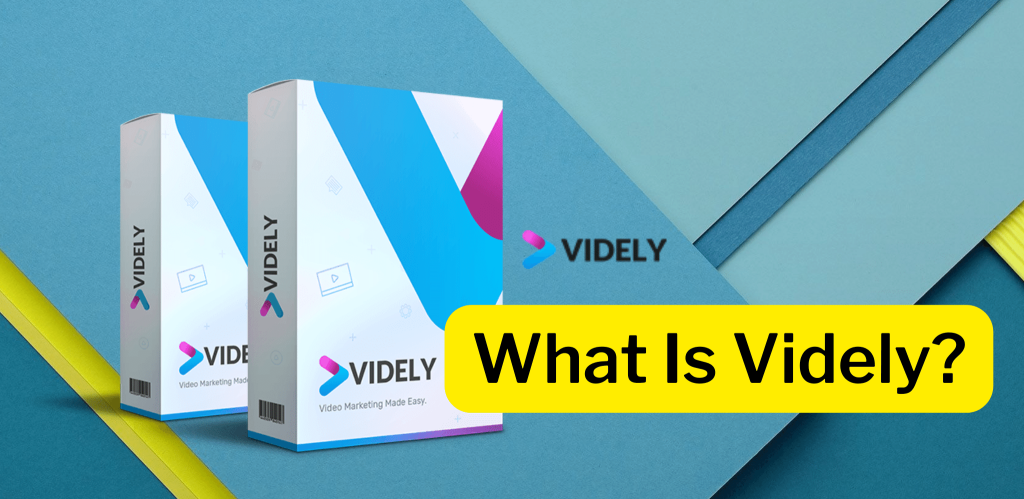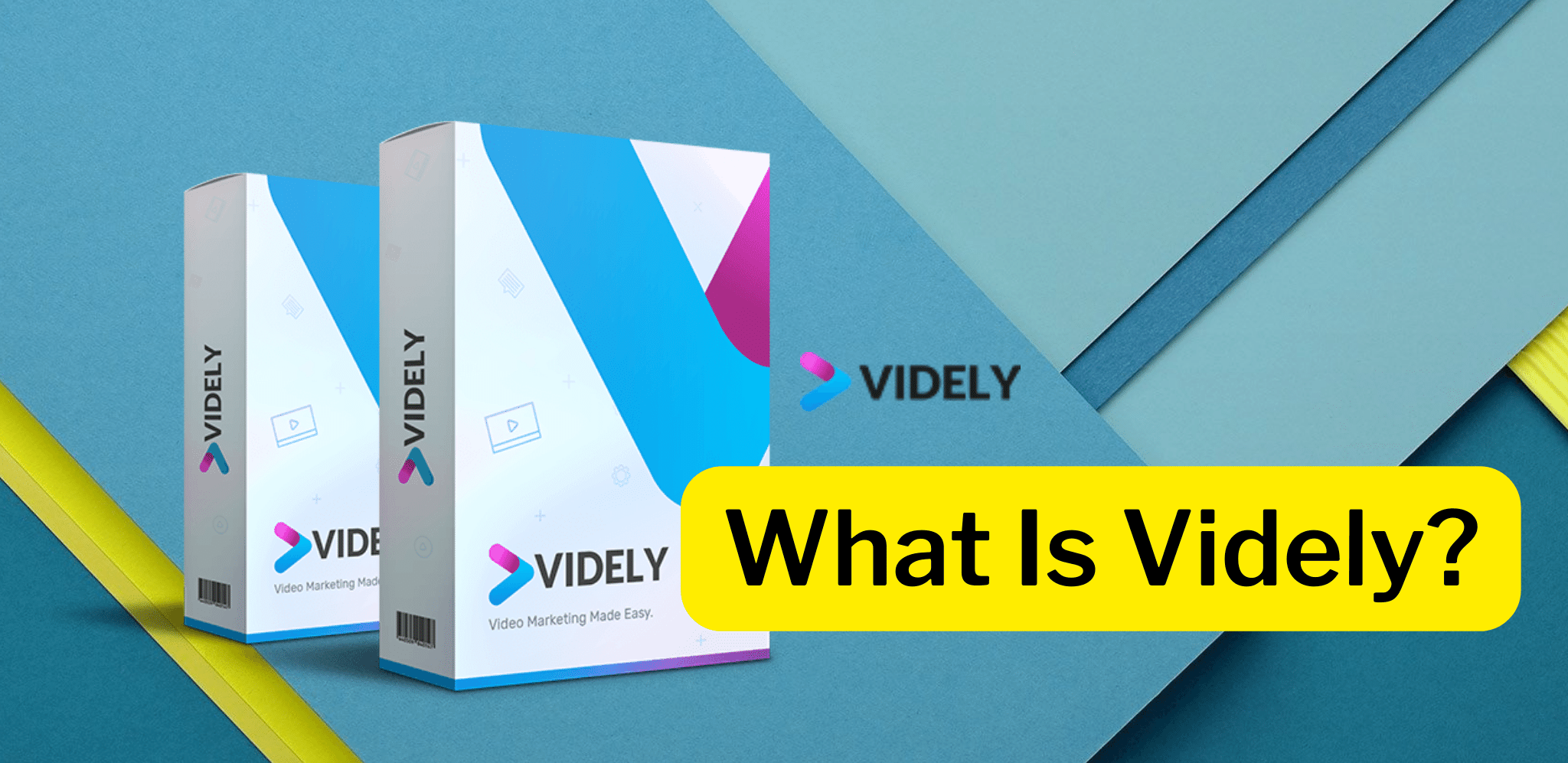 Let's give you an example.
If you head over to Google and type "List Leverage", you will notice our EmoneyPeeps review appears in the top search results.
You will also notice in doing this search, you will see YouTube videos in the top results as well.
Because of Videly, and the power of other video software tools, we were able to generate consistent affiliate commissions for FREE from content that now ranks in Google, and on YouTube itself.
Can you see the impact YouTube ranking software like Videly could have on your business?
How Does Videly Work?
So, the question is how can Videly help you this way?
These are the 3 steps on how Videly works:
The software Finds Highly Profitable Keywords
The ranking software Generates Title, Description, Tags, to be used.
All you do is Upload A Video And You Paste In The Title, Description, & Tags Generated by the software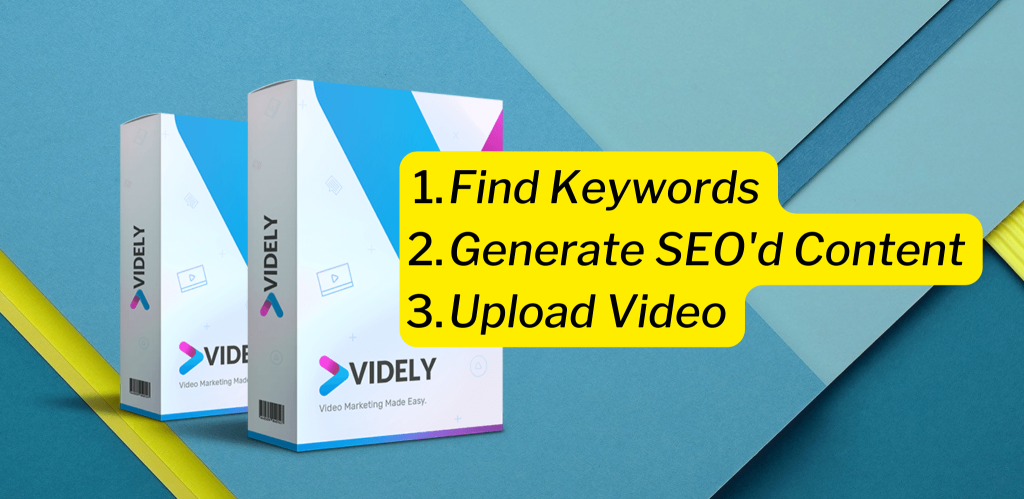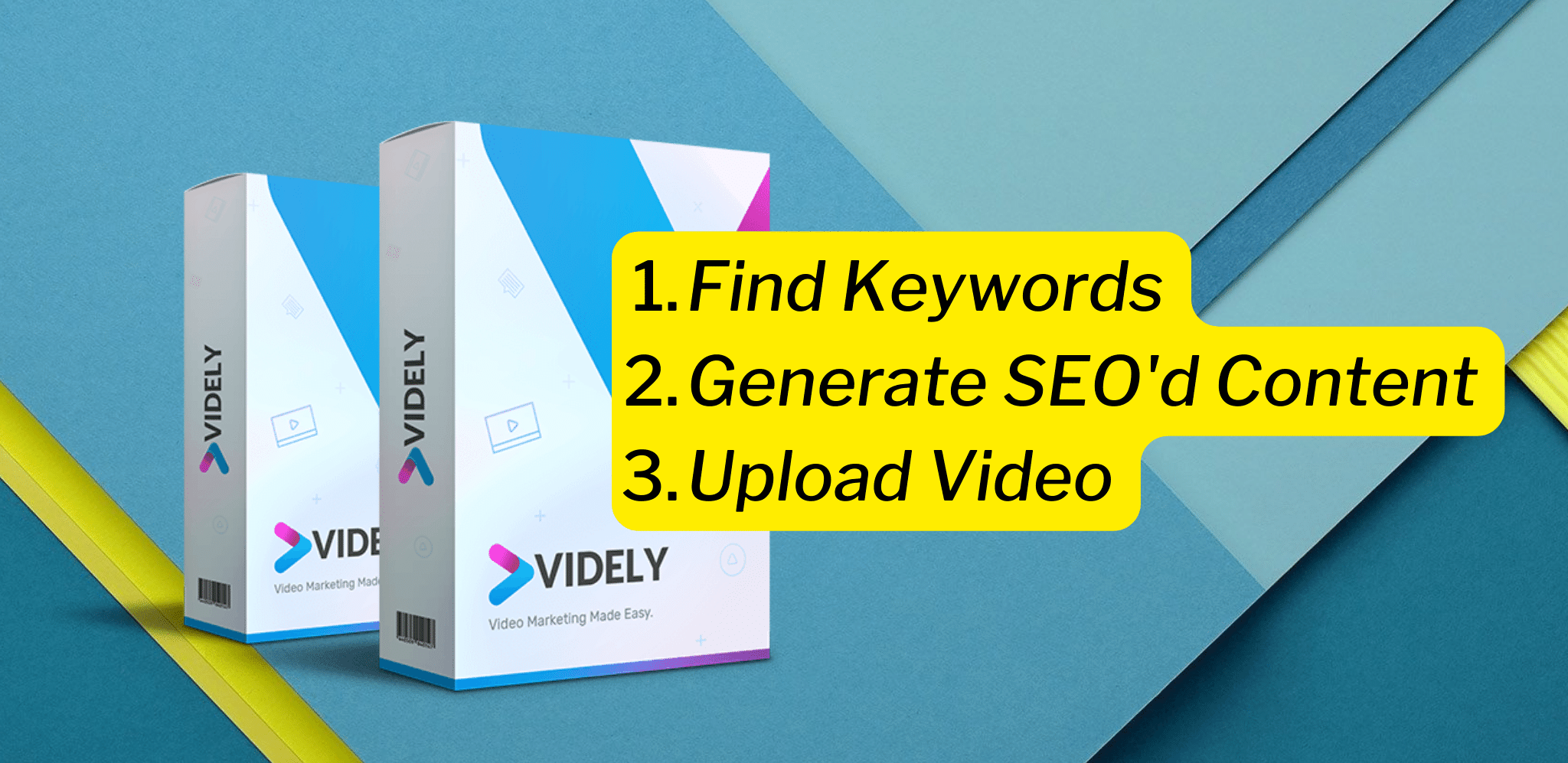 Each of these steps is designed to ensure that you are able to upload YouTube videos and content that will rank highly when visitors search for your target keywords.
The process for creating high converting and ranking content is essential if you are looking to rank highly and generate organic traffic on a consistent daily basis – for absolutely nothing!
You can use the Videly video ranking tool on your existing YouTube videos as well!
More information can be found by watching a short clip on the Videly sign up page which gives you an indication of how easy it is to get started.
The best part is:
You do not need to know ANY SEO
You do not need to build BACKLINKS
You do not need any technical experience at all
No Need To Learn Anything the software does it all for you
All you need to do is upload a video and copy and paste
If you do go ahead and purchase Videly, you can reach out to us with any help you may need, or if you simply want to scale your business, our FREE course is designed to help you with that.
[elementor-template id="8407″]
How Good Is Videly?
Videly software is legit!
It is a very powerful video ranking software tool that can benefit all video marketers, entrepreneurs, and business owners.
Everyone who is trying to make money online, needs more traffic, leads and sales, and that is exactly what Videly will do for you.
Honestly, it truly does what it says it does, so we highly recommend trying out the software for yourself so you can see how awesome Videly really is.
Videly has not only worked for us, but we have found over 1100 other positive Videly reviews and testimonials in our searches, all raving about the software.
Here are just a few reviews we took a snapshot of.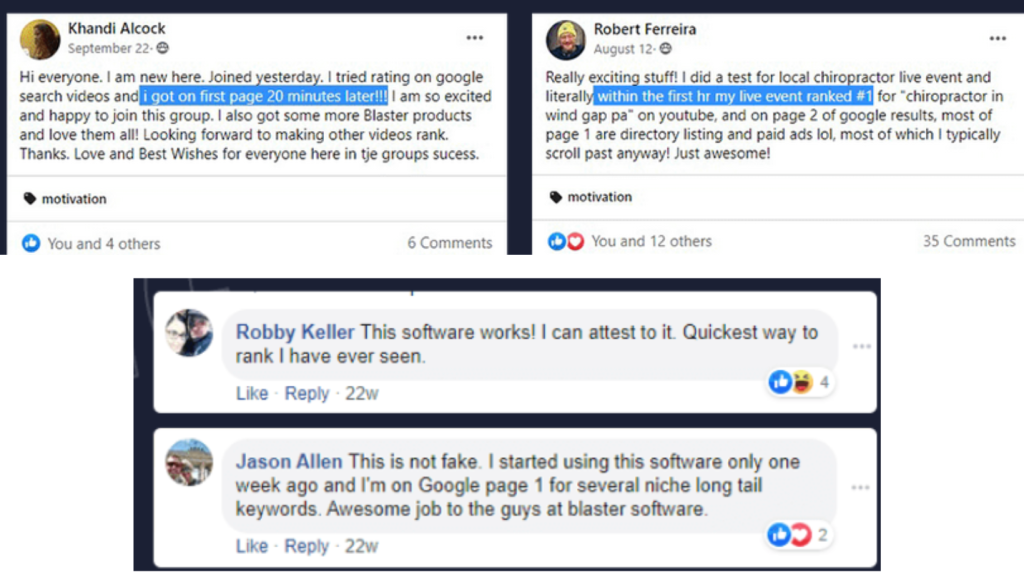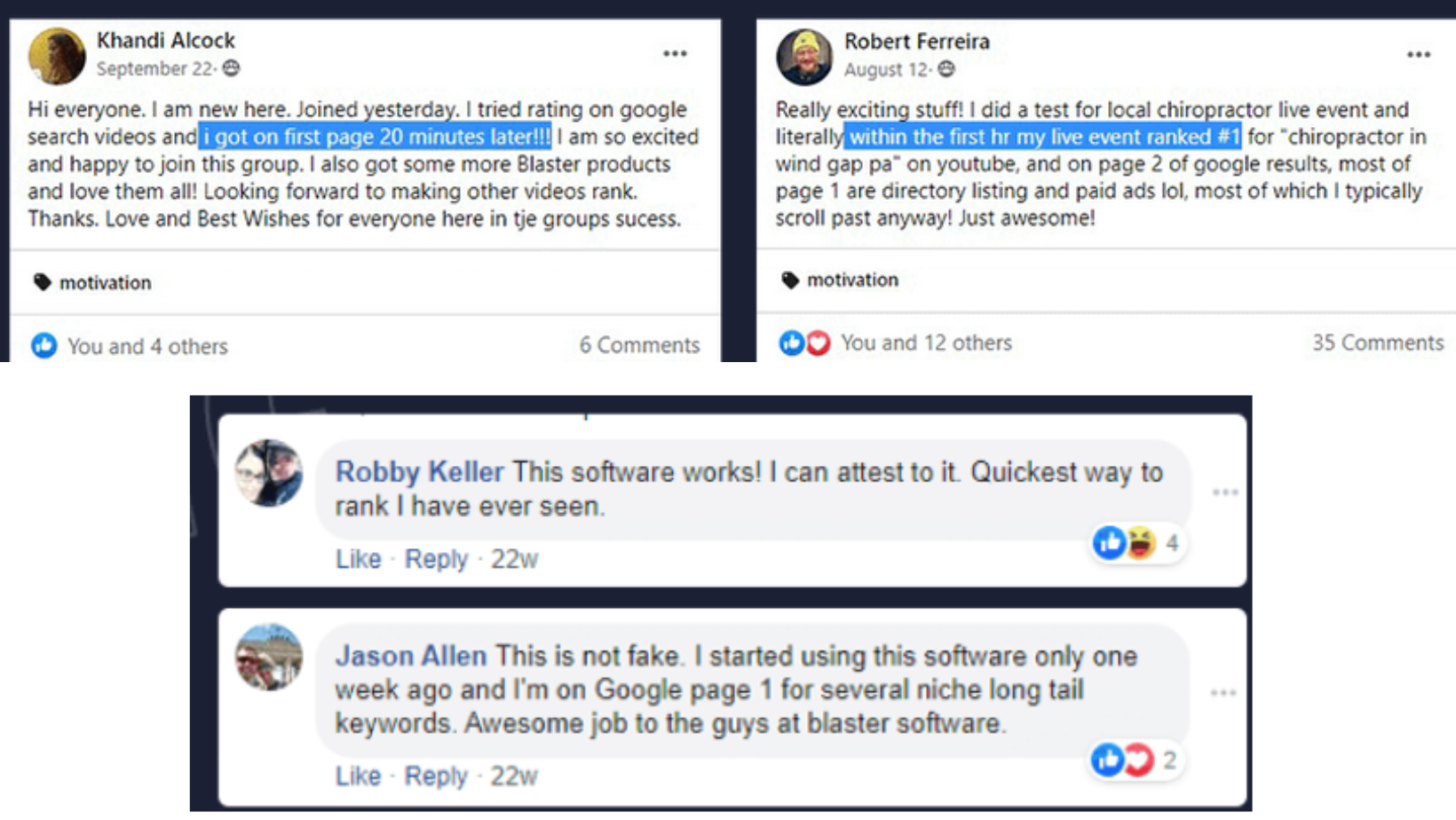 Who is Videly for?
YouTubers
Influencers
Affiliate marketers
Resellers
Ecommerce marketers
Freelancers
Multi-Level-Marketers
Business owners
SEO Agencies
Basically anyone looking to increase their traffic, followers, subscribers, sales or influence.
This YouTube ranking software will help you accomplish all these things and more.
Videly YouTube Software
The first features that we'll cover in this Videly review, is the YouTube software portion of Videly.
To upload videos on YouTube that rank and generate traffic on a consistent basis for free, the software will allow you to do this very efficiently and easily.
When you rank for hundreds to thousands of YouTube searches (in time), the positive effects include:
More Traffic
Increase in brand exposure
Lead generation
Customer generation
Increase in subscribers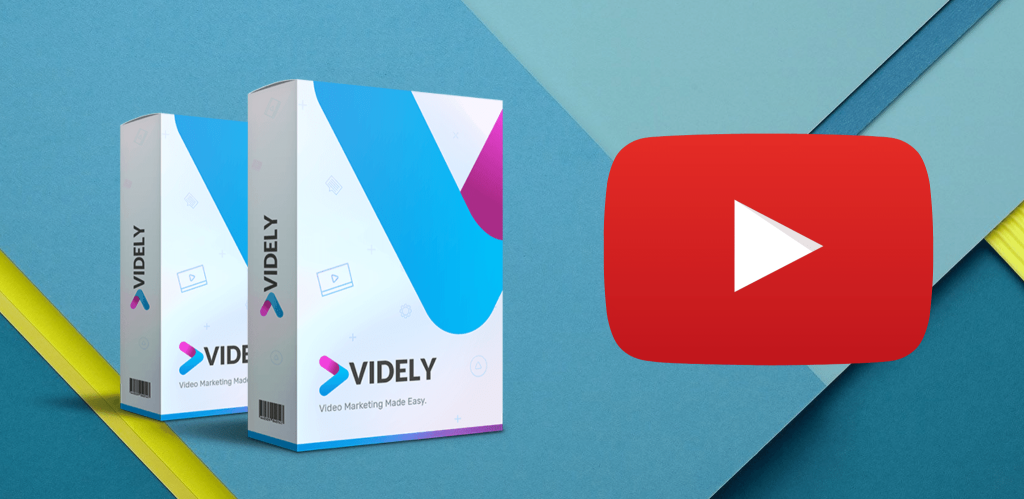 The longer you use the Videly software, and the more search terms you rank for, you'll be able to rapidly scale your efforts without too much difficulty.
Many people run their businesses purely on content production alone using YouTube, Google, and other platforms.
Here is one of the major reasons why;
Ranking content on YouTube is like having a bunch of traffic and money getting pillars that can last for years, whilst each video continues to bring in traffic and sales, even though you only did the work once for each video.
The Videly YouTube software is essentially helping you create passive income through these highly ranked 'pillars'.
Videly Google Software
The Videly software will also allow you to rank on Google.
As Google owns YouTube, your videos may appear at the very top of the search results!
This means that when people search on Google, your videos could also rank at or near the top search results in Google for your keywords.
If you follow and use the Videly ranking software correctly, you can create consistent pillars of targeted traffic and sales towards whatever business or passion you wish to grow.
We rank in position #1 to #3 on Google for a variety of terms that generate traffic and customers every single month on autopilot for our business.
There is nothing to stop YOU from doing the same!
If you didn't know, organic free traffic from search results by Google And YouTube is probably the highest converting traffic you can get.
This is because these searches are done by genuine and real people looking for what you have.
Plus, you don't have to lift a finger by trying to reach out and search for these customers, because they find you through organic traffic.
There is nothing better than that, so what are you waiting for? Click here to get it on the action, and start using Videly to grow your business to new heights.
Remember this:
YouTube Video > > > Videly Ranking Software > > > Your Video Appears on YouTube + Google = MONEY!
Who Made Videly?
Stoica Bogdan and Vlad Cristian are the founders of Videly.
They created the parent company in 2017, Blasters Software, that sells a variety of software products and services.
Stoica is the marketing expert behind the Videly operations, and has been an online marketer and software developer for over 10 years, while Vlad is the genius programmer who writes the code that allows the Videly software to work properly for customers.
Below in the picture is Stoica Bogdan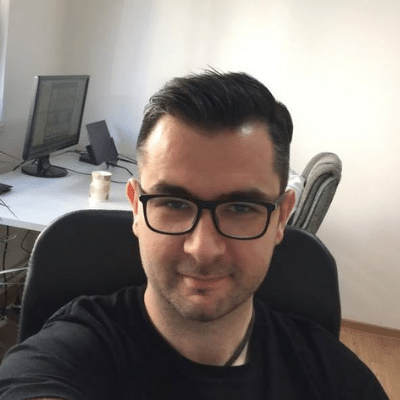 These 2 incredible individuals have a launched a variety of very successful products and services over the years.
Below in the picture is Vlad Cristian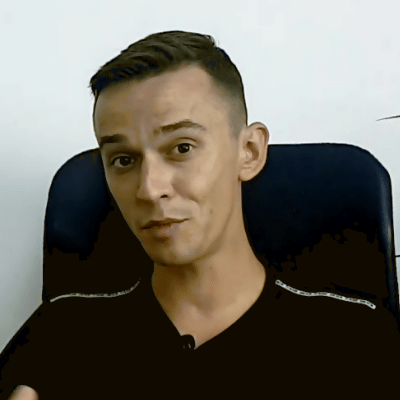 When Was Videly Founded?
Videly was founded in 2020 as the creators, Vlad and Stoica, realized there was a need in the marketplace for a YouTube video ranking software that works properly and actually delivers results.
How Much Does Videly Cost?
As of writing this Videly review article, it is priced at a one-time cost of $47.
Is There A Discount?
This is with a 75% discount applied through their special offer, which could be taken down at anytime.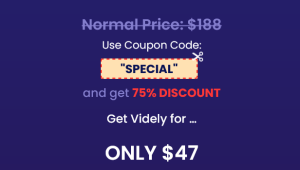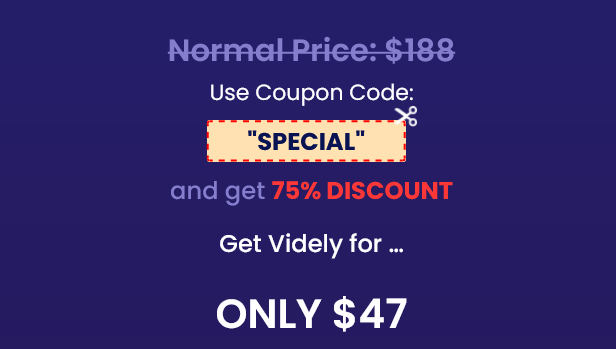 You will be getting Videly for only $47, instead of the normal $188 price, which means you save a whopping $141 today, instantly!
The best part is, there are no monthly payments for this YouTube ranking software.
So make sure and buy Videly today through their official website, before the price increases.
Two Bonuses Included With Your Purchase At No Extra Cost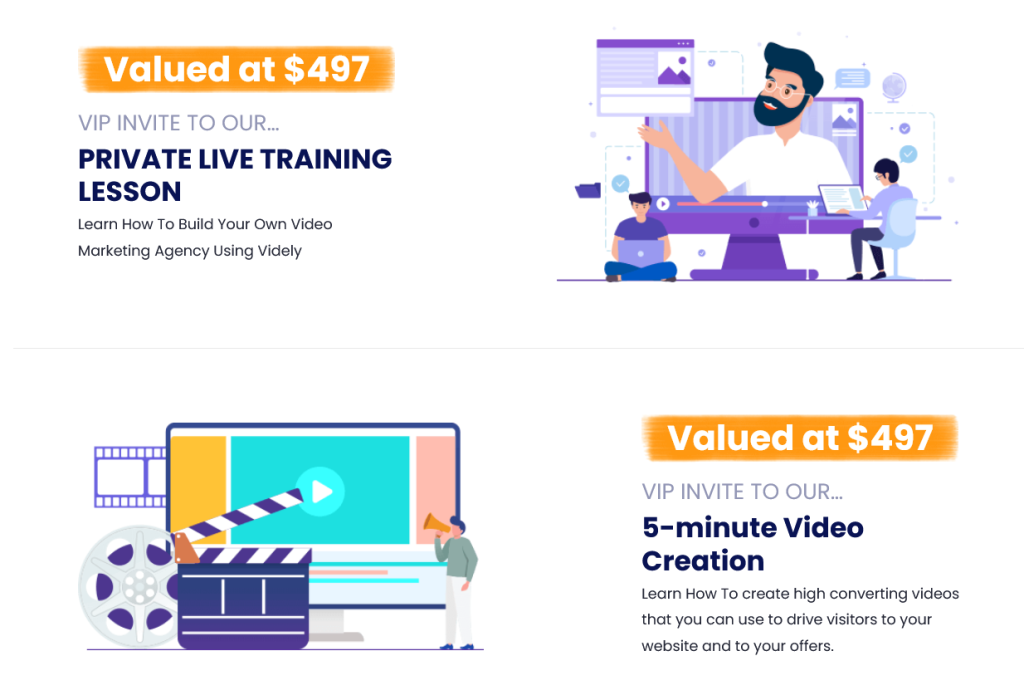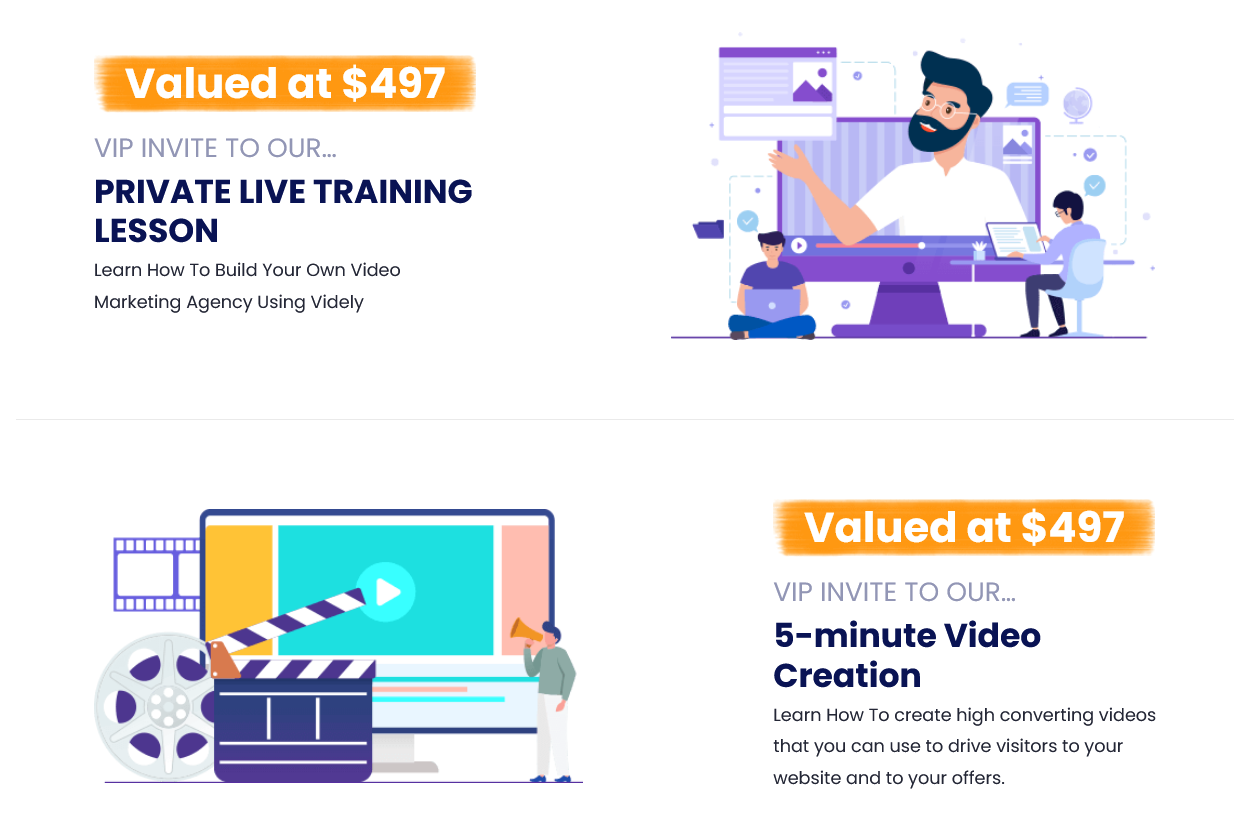 Videly Pro Price
Videly also has a pro version, you will be presented with after purchase.
This is an optional oto (one-time-offer). Videly Pro price is $47 every 3 months, with the ability to cancel anytime you wish, if you find you no longer need all of the additional features.
The standard version of Videly will more than do the job and does everything we have described in this article.
We decided to get the Pro version for ourselves, because Videly Pro will give you access to the Niche Analysis and Rank Tracker tabs, plus a whole lot more.
This is a MUST have if you are like us and want the ability to analyze multiple niches and keywords with just a few clicks, while also tracking your video rankings across Google and YouTube.
Here is what is included in the pro version.
Videly Rank Tracker
With the Rank Tracker you will have a full summery of all of your video rankings, plus any daily changes that may take place. You also have the ability to track all of your video metrics – like your views, likes, and comments.
We like to track our keywords for each video, and then add some notes to monitor our progress with the rankings of our videos.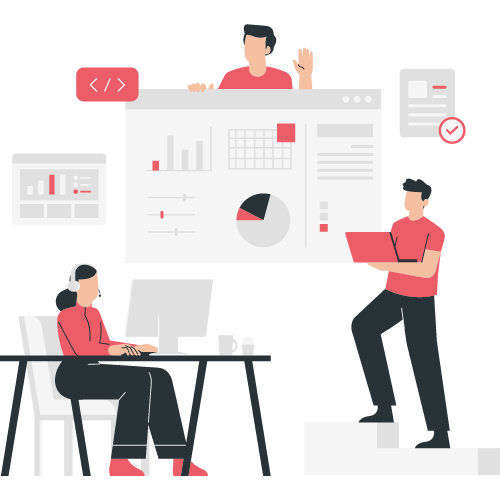 Videly Niche Analysis
The Videly Niche Analysis tool will allow you to instantly see in advance how easy or difficult it is to rank your videos for a specific keyword or niche.
You simply enter in a keyword, and the niche analysis tool will go to work. Once an analysis has been carried out, it will share with you a whole ton of vital information such as:
It will share with you the top 10 videos ranking for the keyword you put in, and their SEO scores.
Plus:
The average number of views per video for your keyword
The minimum views
The Maximum views
Average amount of comments
Average number of likes
The estimated traffic potential for your keyword (total daily views)
Videly's recommendations on how to outrank them
You can repeat this process for any keywords you want more information and details about.
This was an easy decision for us to buy Videly Pro, as there are other rank tracking and analysis tools that cost a WHOLE HECK of a lot more.
Does Videly Work & Get Results?
Yes, Videly works great and on a consistent basis gets good results for the users and customers of this amazing software.
There are hundreds of reliable and real testimonials you can look through online that show Videly is an incredible software that does exactly what it promises.
It helps you reliably rank on YouTube and Google without experimenting and failing for years.
Videly eliminates the struggle of finding proven keywords that convert, which will save you time and money.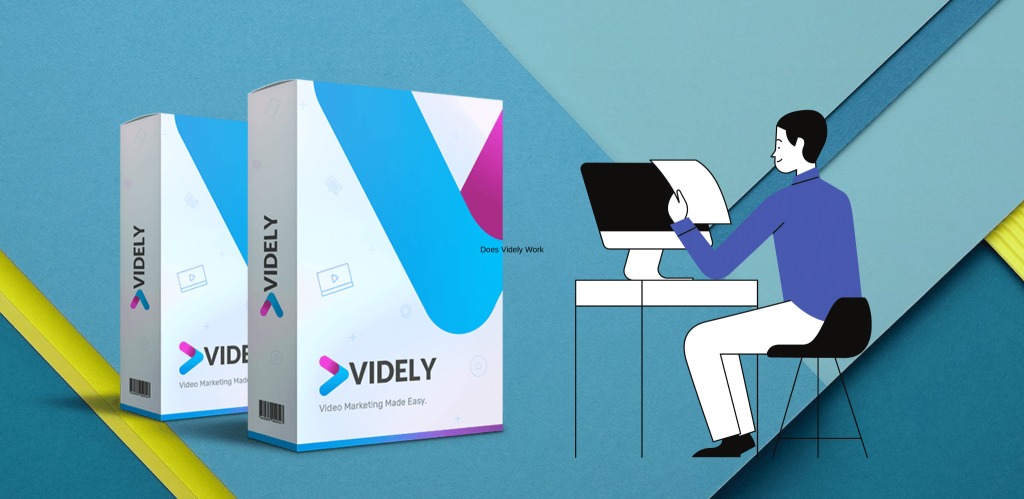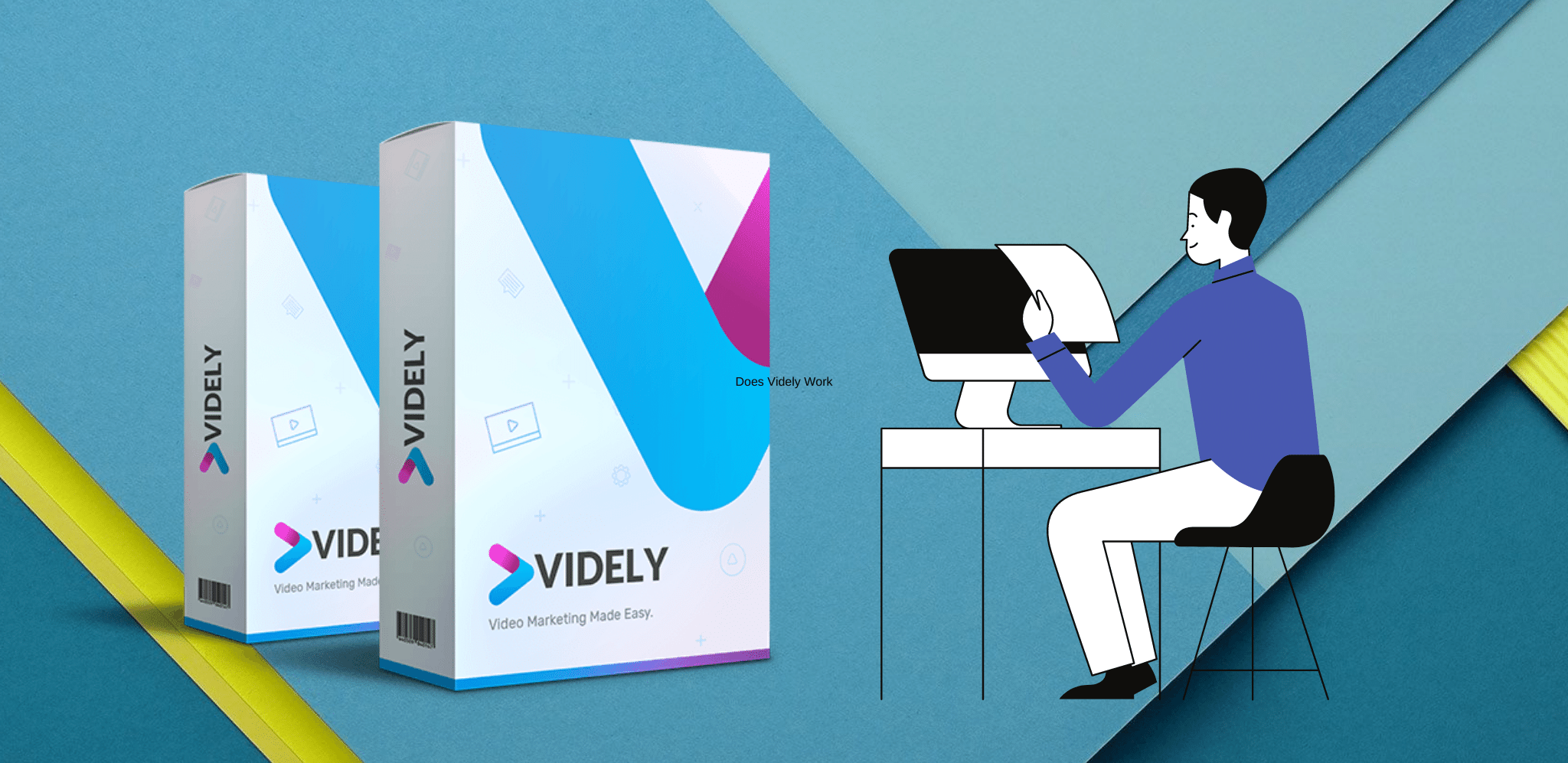 Videly Alternatives
While Videly is among one of the best YouTube ranker software available in the marketplace (actually the only), there are a few competitors that are great as well.
You should seriously consider these alternatives as options or compliments to purchasing Videly.
All of these competitors are reputable companies that have been in the industry, successfully, for many years!
Although each is not identical, they are similar in the way that YouTube is involved in the process in some way.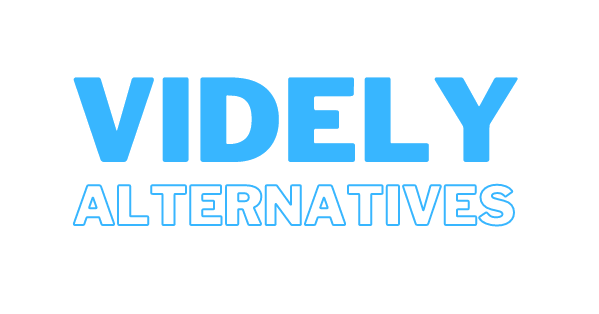 Content Gorilla
Content Gorilla works differently than Videly does, but also uses YouTube videos.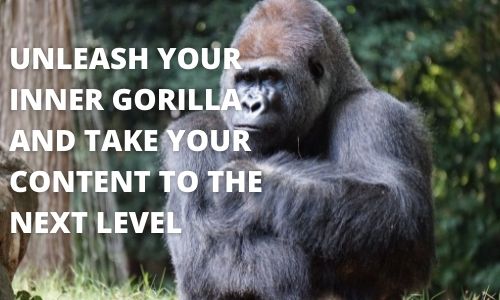 What Content Gorilla does, is turn YouTube videos into content and articles automatically.
It works by converting what is said in any YouTube video into written text. You can than use this content in a blog post, an ad, Facebook post, email or however you'd wish.
This allows you to turn any YouTube video into a properly SEO'd piece of article content in a matter of moments. As well, it has a variety of other features and parts to it.
Read our full Content Gorilla 2.0 Review
You can also click straight to the sales page of Content Gorilla.
YT Evolution
YT Evolution software functions similarly to how Content Gorilla does. With YT Evolution, you're able to turn any YouTube video into properly search engine optimized, feature-rich blog content.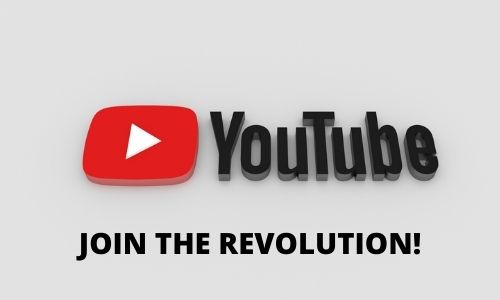 While Content Gorilla is more focused towards producing content and being able to take out all of the words from YouTube Videos – YT Evolution is a strong SEO focused article automation creation software that also builds niche websites for you and uses the YouTube videos directly in the articles.
Read our full YT Evolution Review or you can sign up directly below.
YT Marketer
Is the only main identical or as close to identical competitor to Videly. The big difference is YT Marketer is way more advanced YouTube marketing training, and not a software that does it for you like Videly.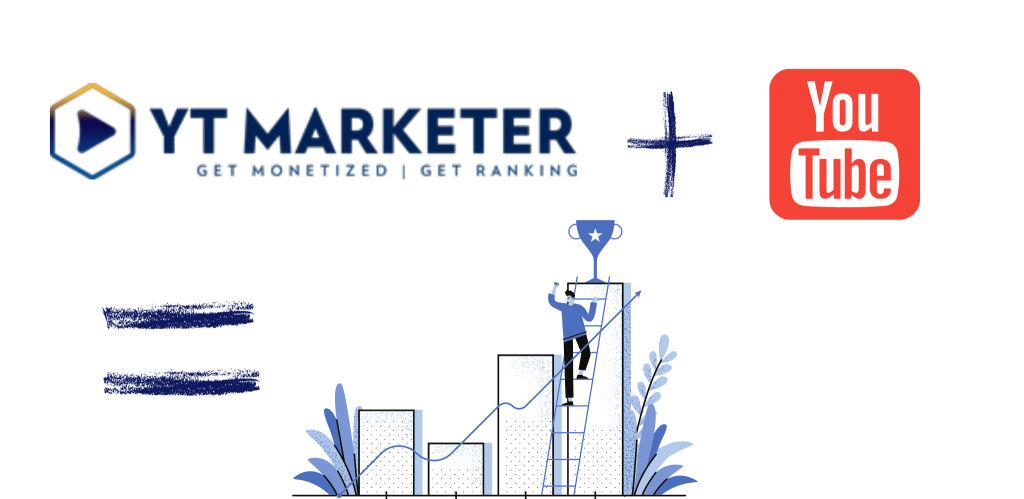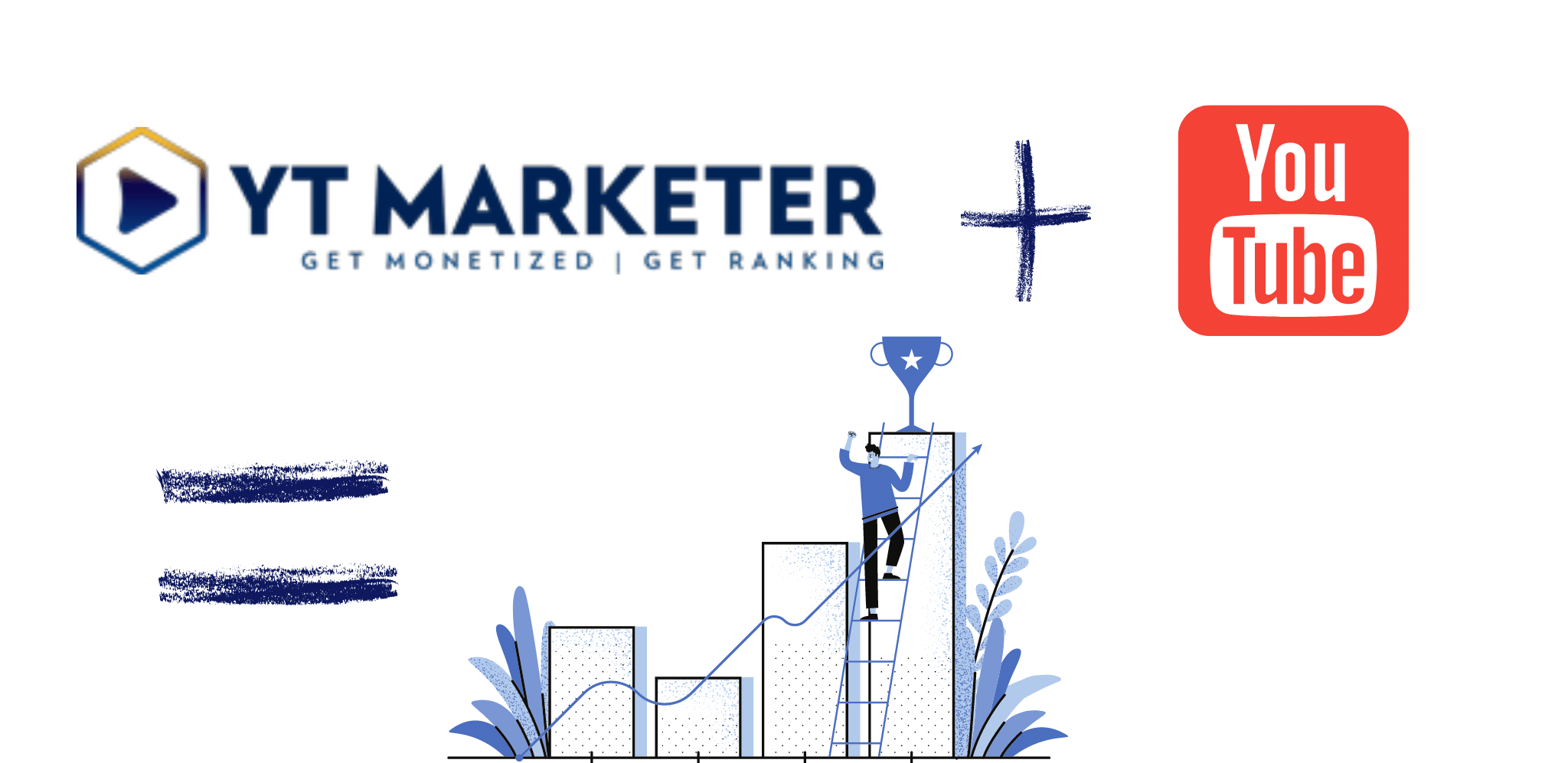 However, with that being said, YT Marketer can teach you how to get a YouTube channel monetized in as little as 30 days – meaning qualify for YouTubes partner program.
Where you get paid for every view you generate on your videos from Adsense. As google owns, Adsense, and YouTube.
There are some other differences as well. But this was as close to an actual identical competitor as we know about. Many readers of ours use some of these products in conjunction with one another, and have exploded their profits online.
Read our full YT Marketer Review or sign up below to get started!
So, are there any identical Videly alternatives?
Honestly, we looked high and low online, and through everything we use personally, and we could not find a single true identical competitor.
There are courses out there, but not software like Videly, that does it all for you.
So the answer is no, there is no YouTube ranker software that rivals Videly.
When there is, we will make sure and update this section of our review for you. Until then, grab it, and use it, because there isn't really nothing like it!
Videly Pros And Cons
Videly truly is a great YouTube and Google ranking software that will allow you to generate passive streams of traffic and possibly income.
We're going to now cover all of the pros and cons of Videly so you can have an unbiased Videly review.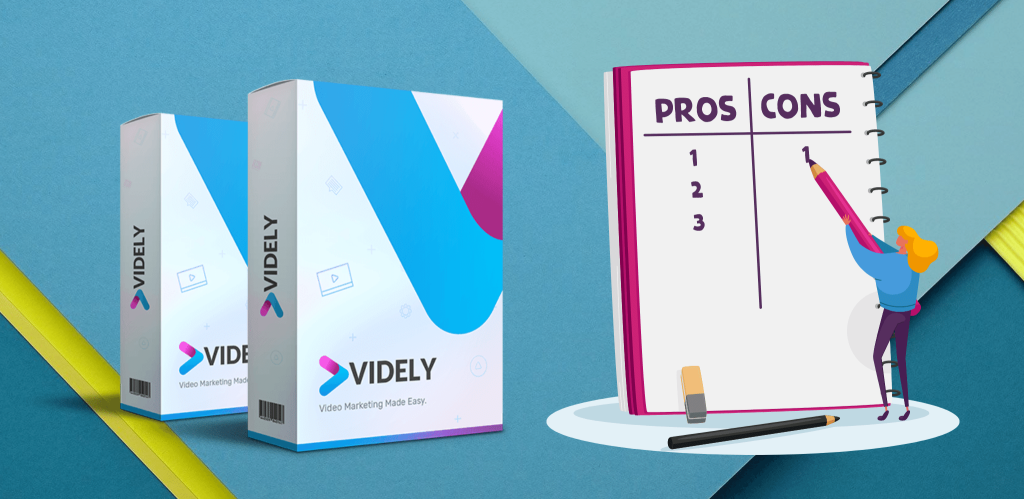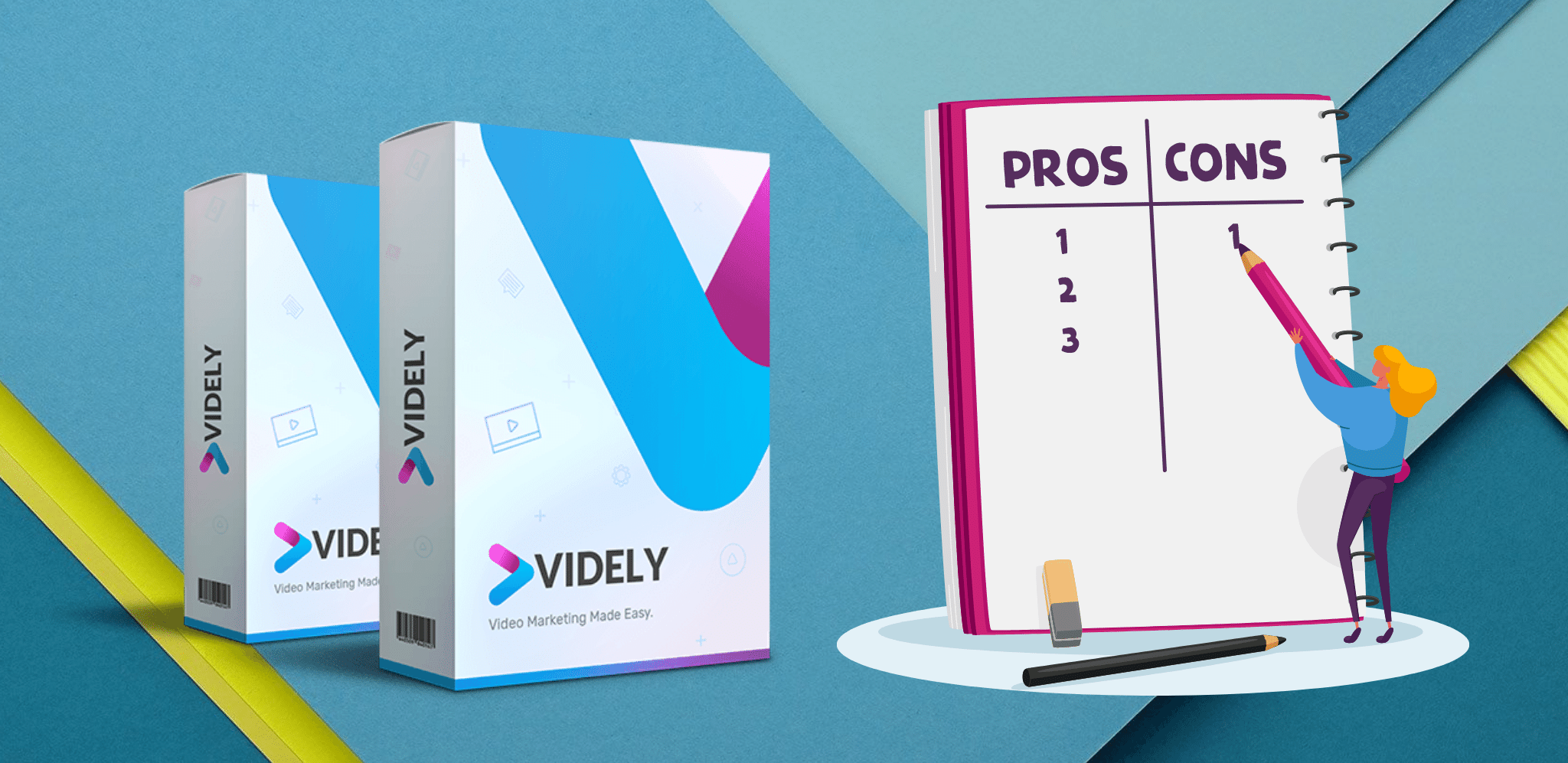 Pros
Easy to use
Simple to setup
Solid support- with life-time updates
Glitch free software
Ability to generate free organic traffic from YouTube and Google
Solid competitor in the YouTube ranker software marketplace – no real identical competitors we know about
Extremely affordable price point
30 day money back guarantee
Cons
Small learning curve if you haven't used YouTube much before
You have to create the video content itself
Honestly, we can not come up with any other cons. Not by us, or other users, we searched.
Videly Review Final Thoughts And Recap
After going through a wide range of Videly testimonials, features, benefits, pros, cons, and using the software – we've found through the Videly reviews that this is a great software.
The founders behind this product have been able to do a fantastic job creating software that does what it says it will.
Often in the digital marketing marketplace there is a large amount of false hype around products and services. With Videly, you'll find that the results you'll see from using their software are quite impressive and reliable.
We highly recommend using Videly, as it is among the best YouTube ranking software there is!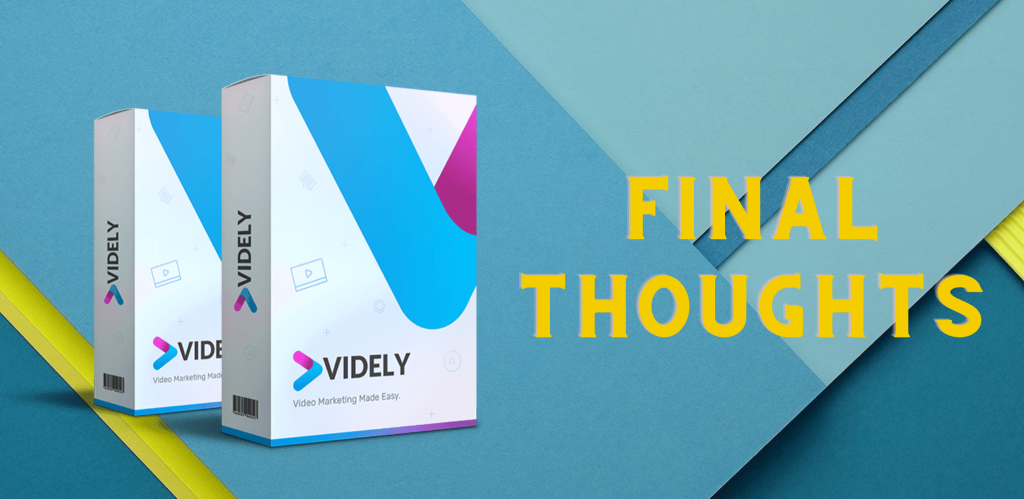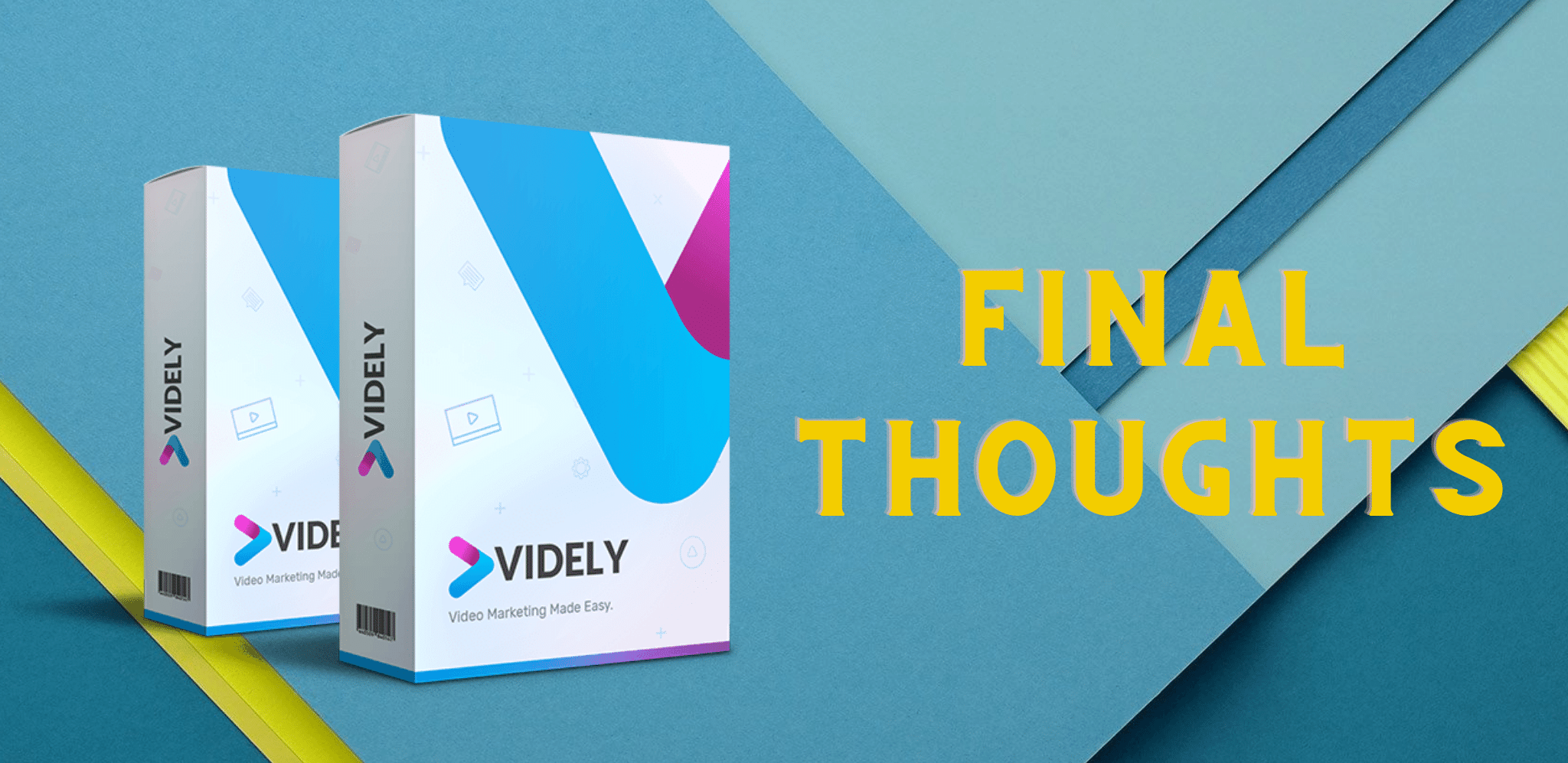 Videly FAQs
Here are some of the most commonly asked questions about Videly.
Will Videly work for foreign languages?
You can do keyword research with Videly and rank for any foreign language. According to Videly, ranking in foreign languages is even easier!
How can I contact Videly support if I have any issues?
Their support desk is located here, should an issue arise.
Does Videly offer refunds?
Yes, they have a 30 day money back guarantee.
Any additional Videly costs?
Nothing, the software does exactly what it says it does. They have a couple optional upgrades should you want even more features and benefits.
Are software updates free?
Yes, any time there are software updates, you pay nothing, all future Videly updates are included.
Is there any monthly cost?
No, the standard Videly software price is a one-time cost. The pro version is the only option that is paid quarterly. This also includes many more features and benefits as we described in this review.
Is Videly compatible with Windows, MAC and iOS?
Yes. As Videly is a cloud-based solution that is independent of your device's operating system or version. So long as you can access the website, you can get Videly software services. No worries about the browser or operating system you are using.
Does Videly offer a free trial?
No they do not, and there is really no need for it, as the software has rave reviews and offers a 30 day money back guarantee. If the software has not helped you in 30 days, simply ask for your money back.
We hope this Videly review has been extremely help full to you, and now after going through it, you have a full understanding of the software and how it can help you get more traffic, leads and sales for your marketing endeavors online.
We truly believe in this product and believe that it is very unique, and there is nothing else quite like it, the software creators have done an incredible job!
You can purchase the Videly YouTube ranking software here now.
Please leave us a comment below if you ever have any questions or need help in anyway, or just say hi ????
Have a fantastic day!
Sincerely,
Your Friends And Partners
Richard And John Weberg