Sqribble Review 2023 – Is Sqribble The Best eBook Creator Software?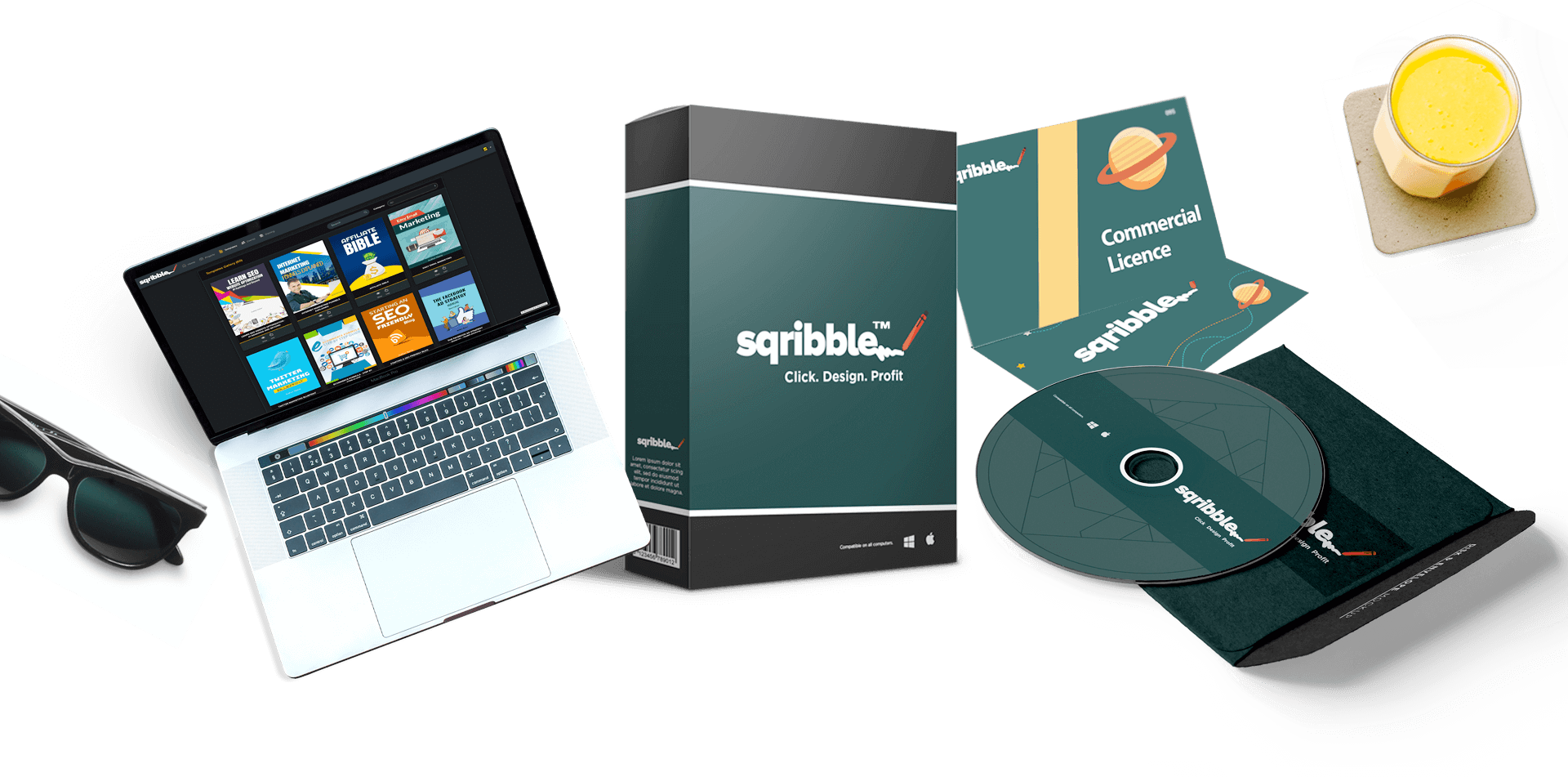 Sqribble eBook maker is a very powerful piece of software that is easy to use, and can be used to create eBooks, reports and whitepapers in minutes!
Our Sqribble review 2023 covers everything you need to know about this incredible software product and how it works.

Before we get started, lets just go over what Sqribble can do for YOUR business.
Its easy to use, even for beginners
Is inexpensive
Trusted by thousands
Royalty free images
Saves hours of writing, editing and designing eBooks and lead magnets
Since Sqribble's creation, it has allowed tens of thousands of people the ability to create eBooks in minutes using this instant eBook creator software that works perfectly in harmony with your content marketing strategy.
In this video, I'm about to walk you through exactly what the service is in more detail, and how Sqribble works on a step by step basis.
You can even share what you create with Sqribble, with anyone you wish.
It's perfect for all businesses and marketers!
Sqribble Review Demo Video
What Is Sqribble?
Sqribble is a software and eBook creator that allows you to quickly create professional and lead/customer producing eBooks, reports and whitepapers almost instantly.
Most people use this platform to create eBooks in order to attract and bring in leads for their digital business. They use these eBooks as their lead magnets.
Often this is because you can offer for free or sell an eBook made by Sqribble at a low ticket price to bring in "leads" potential customers.
Cheat sheets, eBooks, quick strategies, and more are a variety of ways that businesses use Sqribble to draw in their target audience.
---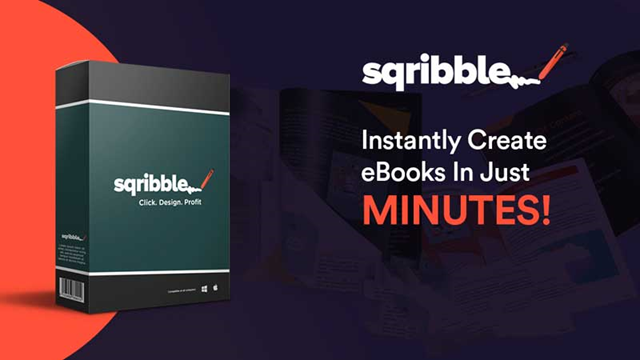 ---
eBooks are incredible lead magnets, and can be used in a variety of ways to attract leads, and new customers.
Sqribble's eBooks do a variety of incredible things that can draw in more profit for your business:
With Sqribble you can engage your readers like never before. Because the Sqribble software creates both professional and great looking ebooks, guides, and reports – you're able to inform and captivate your audiences attention at the same time. This offers you the chance to convert your leads into a customer and lifelong follower.
Sqribble helps you build your email list, and fast. One of the fastest ways to gather leads for any online business is to introduce to your audience what's called a "lead magnet". Sqribble allows you to create these professional lead magnets – and often when website traffic is ran to them they perform and convert very well.
Sqribble saves you hours of writing and designing. This is the main attraction to Sqribble and why it attracts marketers and businesses of any & every kind. This is because the sqribble software automates the majority of the writing and designing process, giving you more time to spend on your marketing and sales .vs. hours creating a complete eBook by yourself.
To summarize the power of Sqribble and what it can accomplish:
"Sqribble allows anyone to create unlimited professional eBooks using the in-built templates, add instant content, utilize thousands of royalty free images and web icons, edit and customize to publish and review within minutes."
Free Sqribble Demo EBook
Editor: Below is a useful link to the eBook I created using Sqribble in the demo video above.
Of course I could of spent longer improving the design and extending the content, but for now, i just wanted to show you how powerful Sqribble is!
Why not learn more about Sqribble by clicking the link below?
---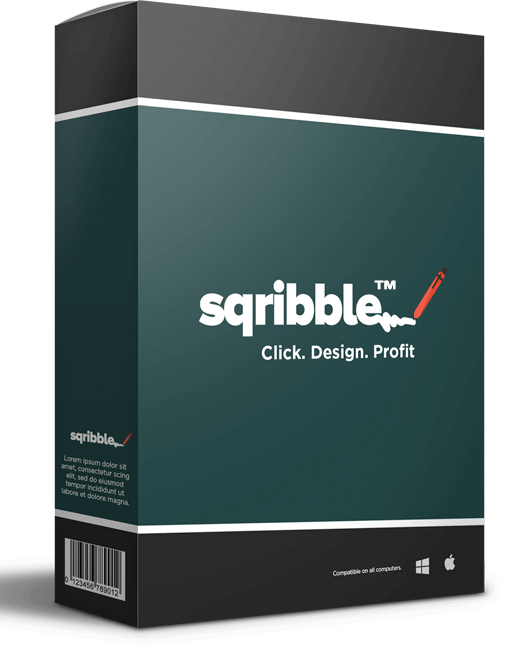 ---
Who Is The Founder & CEO Of Sqribble, Adeel Chowdhry?
The founder and CEO of Sqribble is Adeel Chowdhry.
Adeel is a serial entrepreneur that hasn't just developed and launched Sqribble, he's also mastered selling many different products and services online.
Adeel has had 25+ #1 best selling products across various marketing platforms, including, Clickbank, JVZoo, and Digital River, which have amassed over $18,000,000 + in revenue.
Additionally, He has been featured in various media outlets, as well as in the New York Times Best Seller "The Laptop Millionaire", and holds regular events around the globe, and has private coaching programs available.
He is a highly sought after 'super affiliate' in the affiliate marketing community. He's been online for well over a decade, selling some incredible products and software that have broken the internet. (In a good way)
With one of his biggest successes being Sqribble – he went from McDonalds to millions!
After 12 months in development and thousands of hours, Sqribble was born and created.
The ebook creation software was launched at the end of 2018, and continual improvements have been made to the software ever since.
Example: when the software was first launched you could not insert Tables, Charts and QR Codes into your Sqribble eBooks, and now you can.
There have been many enhanced features added since the Sqribble eBook software originally launched.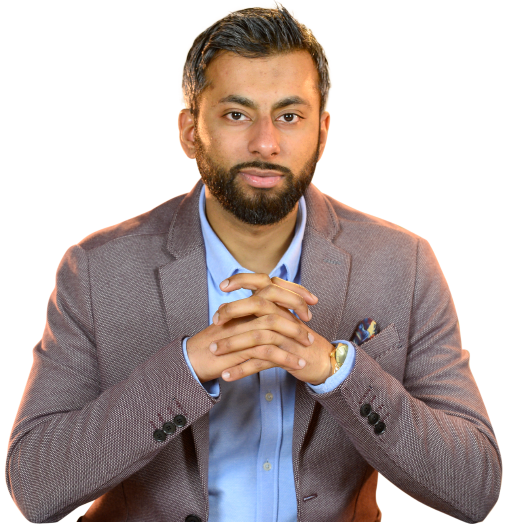 Adeel just recently launched another very successful software product – Prezentar
Sqribble Was An Industry First
Sqribble is the world's first & leading 'point & click' instant eBook creator that requires zero technical skills and saves your time and money.
The creators of this software spared no expense as they first initially created it for themselves.
The Sqribble commercial license they decided to promote out the gate of creation, allows you to create unlimited eBooks, reports and whitepapers to sell to clients as a service.
There are no annual fees or royalties to pay them. You may invoice your clients at your own rates too!
Allowing people to almost instantly create quality eBooks and reports, has allowed Sqribble to dominate it's niche in the market place and take over the custom eBook and report creation industry by storm.
---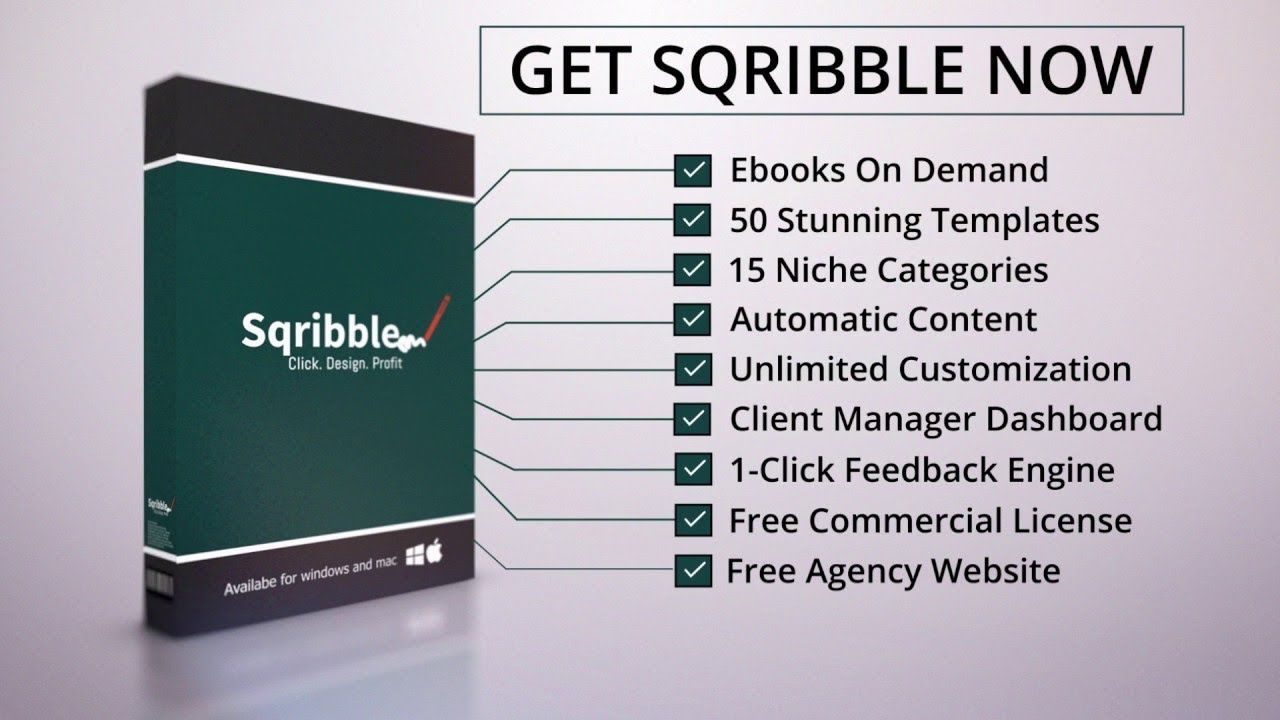 ---
Before we talk about how Sqribble actually works, we offer a FREE no obligation course you can join where we can teach you how to use this software and many more affiliate marketing tips and tricks.
How Does Sqribble Work?
The eBook and report creation process with the Sqribble software works in a very easy to use fashion.
They truly wanted to have customer usability in mind, so they made sure each step of quickly creating your own custom eBook would be easy and impactful, which it is!
We did a Sqribble review and demo video above that actually walks you through the steps of creating an eBook, as well we highlight the other instances and uses for eBooks and how they can be applied to your business.
Step 1: Pick One Of Sqribble's Done For You And Easily Customizable eBook Templates
Choose from 50 eye catching designs across 15 profitable and different niche categories.
Each template comes with table of contents and professional page layouts that converts readers into lifetime buyers.
This is a proven process and are proven eBook templates that they have both tested and shown to get more leads and convert them into true customers.
Offering eBooks and free reports to your target audience is a fantastic way to build like, know and trust.
You can even create unlimited eBooks whitepapers, slide shows, reviews, and more.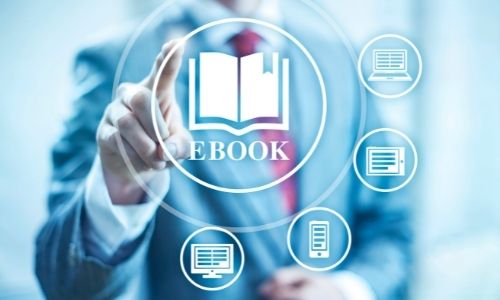 Step 2: Add Instant Content, Sqribble Auto-generates The Rest
Don't have time to create content?
If you don't, you can also simply just enter a URL and watch Sqribble automatically fill your pages with freshly made and custom content done for you.
If you do have some pre-made content for Sqribble to use and work with, all you have to do is upload your own Word File, then sit back as Sqribble automatically extracts the content from the document you provided and copies it straight over to your new eBook.
You can also use pre-generated and provided done for you content from Sqribble itself to push a single button and have the eBook created from any of their selection of 1,000 instant niche articles from their built-in content engine.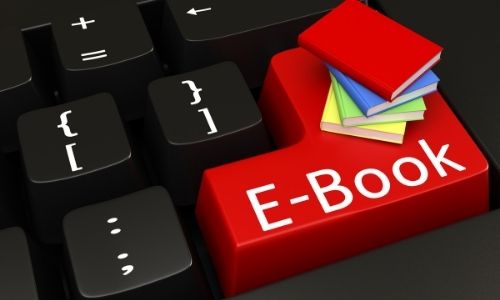 Step 3: Customize And Publish Your eBook Instantly
You finish the eBook creation process by clicking a color theme and customize.
Then add, delete or edit pages, headlines, images, paragraphs, text blocks, dividers, buttons and links, features, bullet lists, call to actions, or anything else you desire to be implemented into your eBook.
Then just hit "Generate" and you're done. In about 60 seconds you will have just created a trust building eBook that's ready to sell online now.
You can also give it away as your lead magnet to build your list faster as well.
Sqribble truly is an incredible way to quickly design and publish ebooks, reports, and whitepapers in minutes.
It's such a short and user friendly process you just have to try it yourself!

Why Use Sqribble .VS. Competitors Review
When you consider using Sqribble versus any of their competition, it's a no brainer comparison.
Here's a few reasons why Sqribble out competes everyone else in the marketplace..
With Sqribble, there are NO downloads of any kind.
It's an extremely consumer and user friendly experience that gives you complete and automated control of the content and eBook creation process.
Compared to competition as well, the Sqribble software is only a one time cost that is low ticket and available to the masses. For other competitors software you would be paying monthly.
Normally freelancers and other much more complicated software costs you between $100 – $700 just for a one time eBook creation.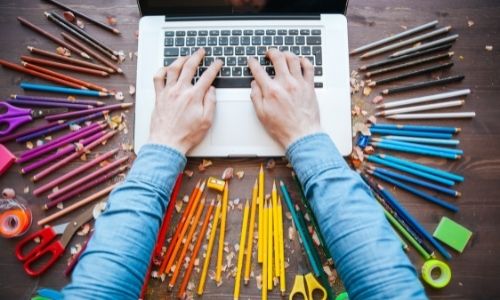 Graphic design alone can cost several hundred dollars paying someone else to do it for you, with Sqribble there is no need to pay others for graphic design.
This is while Sqribble gives you unlimited control to create as many eBooks and resources as you want.
Additionally Sqribble saves you a ton of time that you normally have to spend customizing and creating content yourself.
Whether you need some auto-generated content, content suggests, or want to change the look and feel of your eBook with a few clicks, Sqribble is easy to navigate and use for anyone in any niche.
---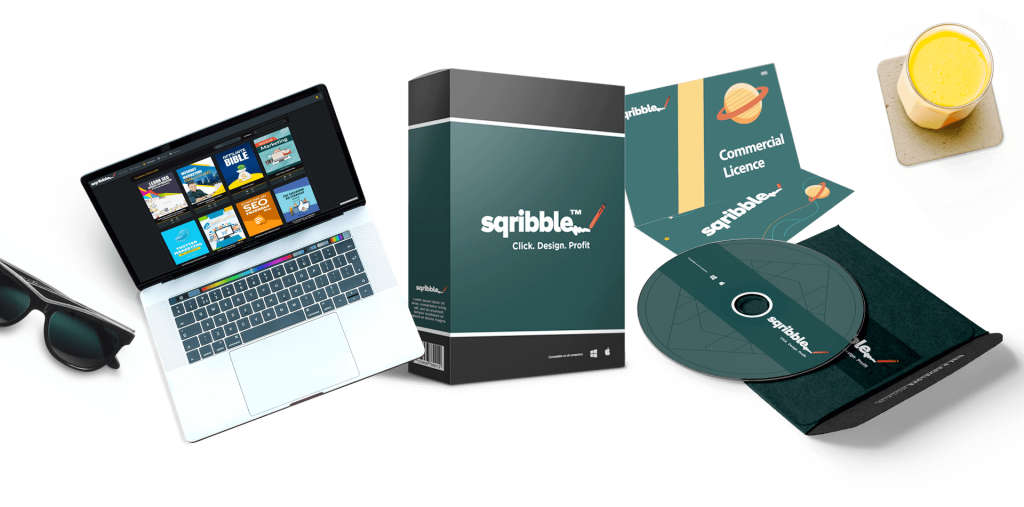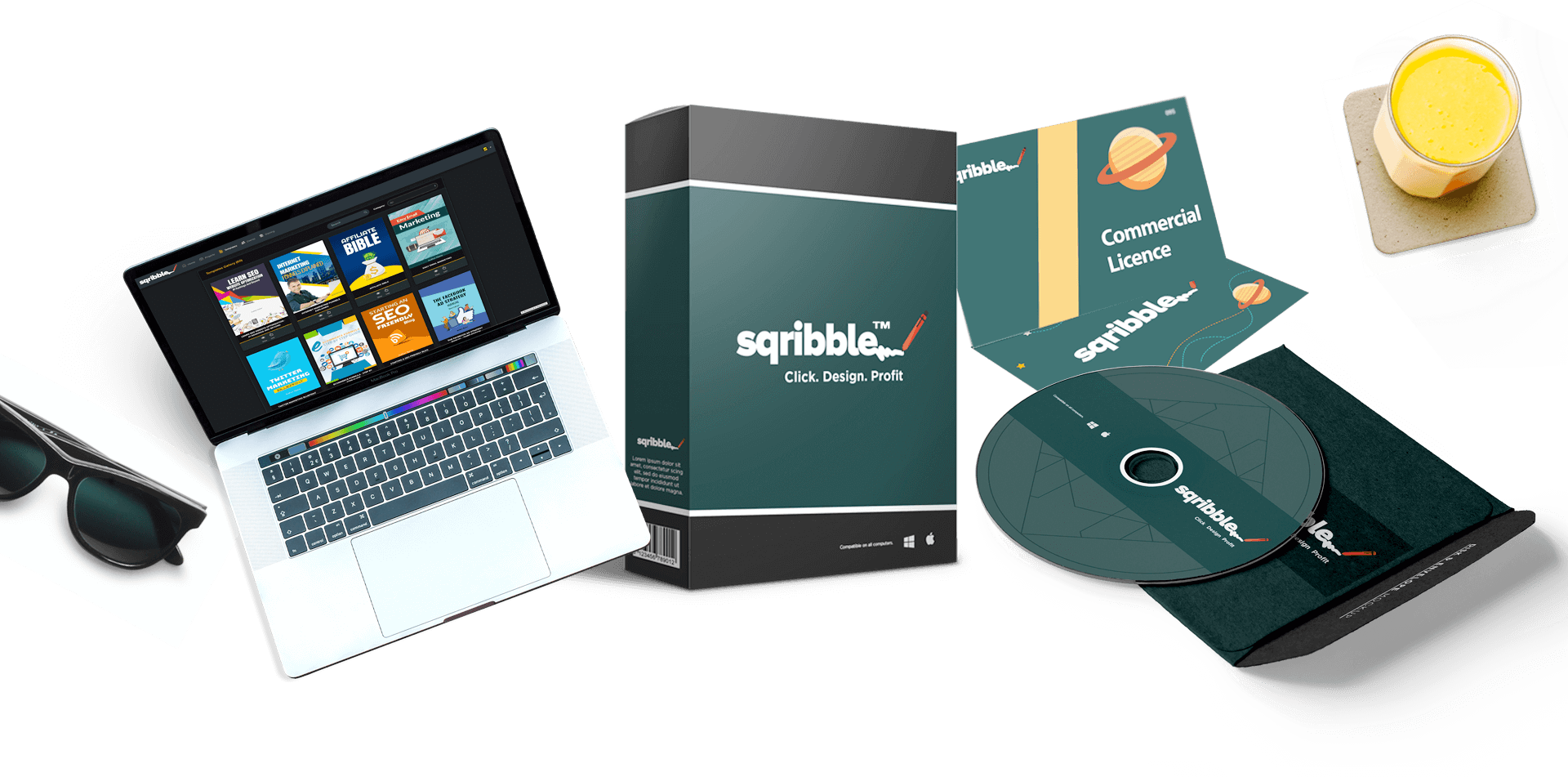 ---
What Are The Top Sqribble Features?
Below are the top features that show how much the Sqribble software does for their customers. Each feature was designed to make the process of using the tool easy to follow and useful.
This Sqribble reviews all aspects of what you get and what this software tool can do for you.
Automatic Content & Ability To Easily Share it
If you're looking to save a ton of money and time, this ebook creation tool allows you to automatically fill your eBook with professionally written content from MULTIPLE different sources.
You can forget having to spending hours hammering the keyboard, or staring at a blank screen because you can pull content into your eBook from any URL (like your blog or website), or from their built-in content database or Word document, instantly.
Your Automatic Table Of Contents, Customized
Sqribble allows you to automatically create a fully themed and editable table of contents and table of contents page.
This will give your audience a great user experience to navigate your eBook quickly and easily.
You can also reword or reformat it however you'd like.
They offer users fully customizable features.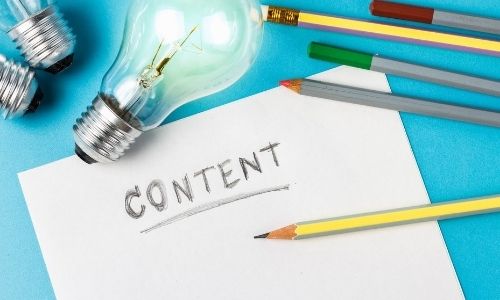 Drag And Drop eBook Creation Technology
Just like Groovefunnels or any other page and website builder on the market place, this eBook software allows you to drag and drop any of the elements you need to make your eBook the best it can be.
Just simply click to drag and drop any content onto any page you desire.
There is a completely customizable page layout, and you won't need any coding or design skills.
Unlimited eBook Pages & Unlimited eBooks With Sqribble
With this tool you're able to create as many pages in your eBooks as you'd like, and as many eBooks as you'd like as well.
This allows for you to be creative and experiment however you need to create the best eBooks and resources possible.
You can even add pages in from one template to another, its all customizable.
Automatic Page Numbering, Fully Customizable, You Name It – They Have It
Sqribble is an all in one eBook creator, resource, and software that allows you to have full control of creating your dream lead magnet or eBook without wasting your time, money, or brain power (because it's so simple and easy to implement and use)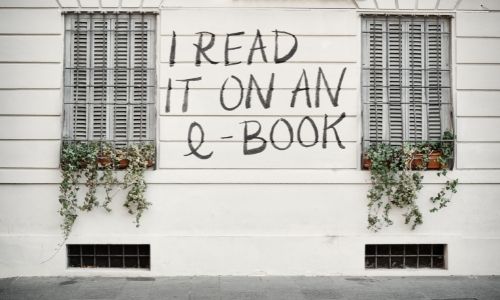 Sqribble Pricing
Sqribble basic only costs a $67 one time payment, however sometimes you can get it at a reduced cost using the promo code that is frequently displayed at the bottom of their homepage.
This pricing is extremely affordable for what they offer, as you're able to create a variety of different business materials, images, eBooks, and more – that can generate leads & profits for your business.
There are some upsells available to be purchased as well. They have a variety of costs, but are optional to be purchased, depending on what your needs are.
Sqribble Up-Sell Offers & Their Cost

All up-sells are a one-time cost as well, except for one. Each one of these packages offer you more benefits.
Up-Sell 1 – Sqribble Professional $97
This up-sell option will unlock 150 more professional eBook templates and graphics. It is ideal for marketers who want to cover a wide array of topics and niches.
Up-Sell 2 – Sqribble Prime $47
After buying Sqribble Prime, you will get 15 premium "limited edition" eBook templates every month.
This means your library will continue to grow over time. This is the only monthly option.
Up-Sell 3 – Sqribble Fantasia 3D $77
Sqribble Fantasia 3D unlocks a 3D cover creation tool. The tool allows you to create lifelike 3D covers for all of your eBooks.
This will help you design flip-books with animated and interactive pages and link them to any site you wish.
Up-Sell 4 – Auto Job Finder Software $197
If your goal is to make money selling eBooks with Sqribble, you will want to buy the Auto Job Finder software.
This marketing tool will find you jobs from various freelance websites and notify you so you can complete them.
You will be exposed to these offers after your initial purchase, and are all optional.
---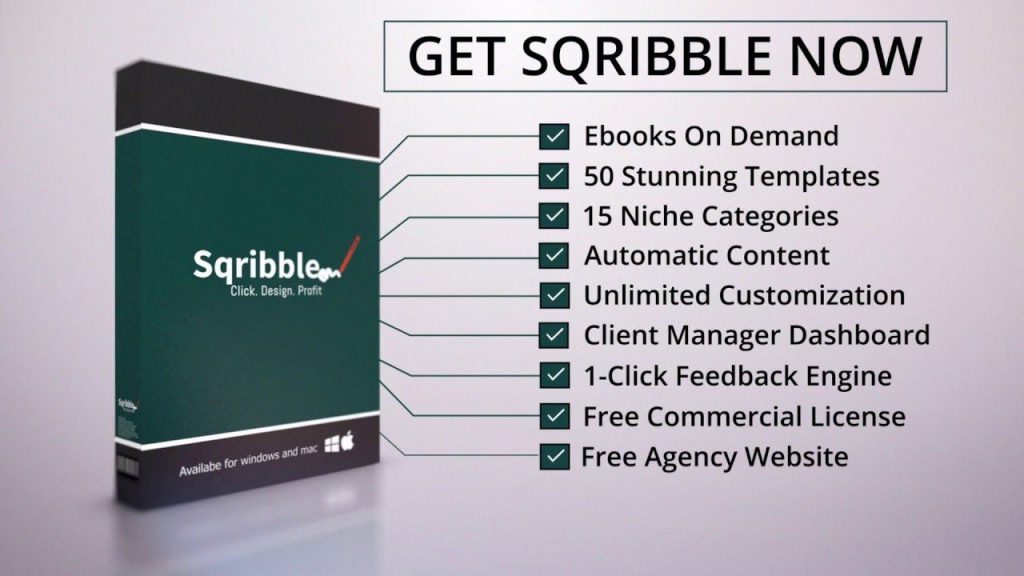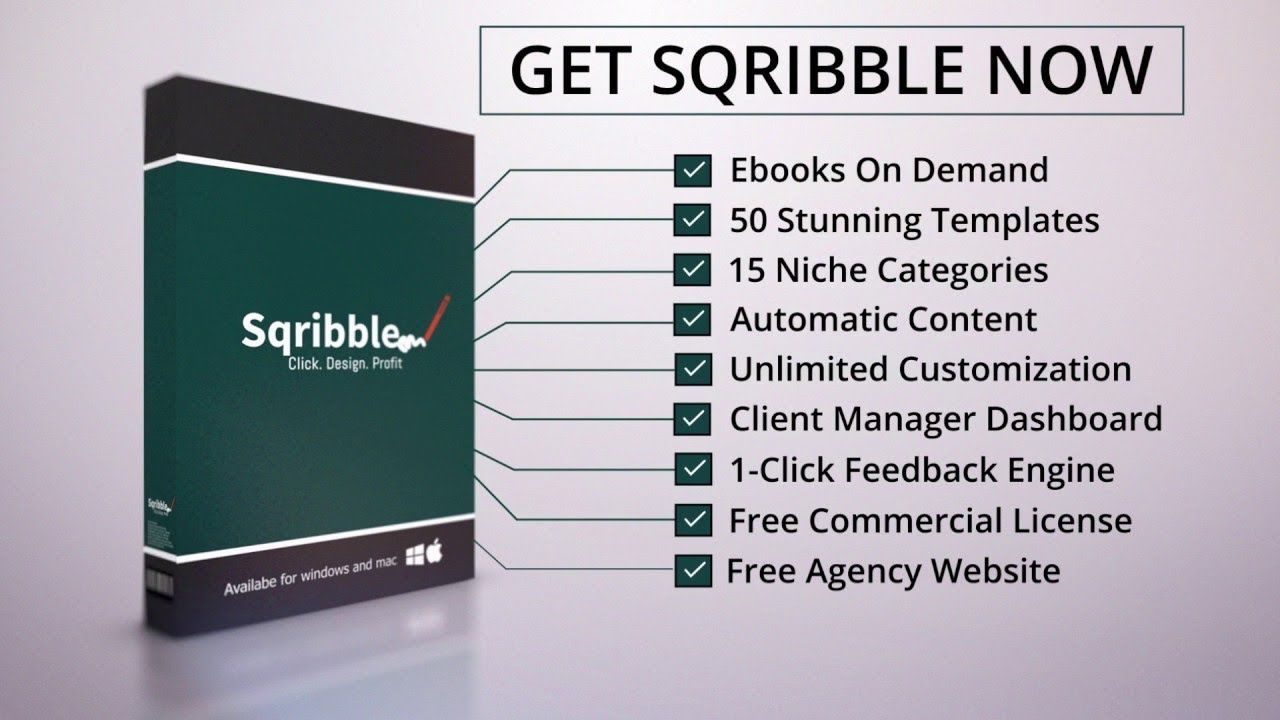 ---
Sqribble Affiliate Program
Yes, Sqribble does have an affiliate program!
As an affiliate, you earn 50% commissions on all referred customers. You can earn a generous amount of commissions as a Sqribble affiliate, as they have a number of upsells you can earn from as well.
We are Sqribble affiliates ourselves, and absolutely love their affiliate program. If you purchase Sqribble through our link we will earn a commission at no cost to you.
Their affiliate program is run through Clickbank, so you will need to join Clickbank in order to promote it.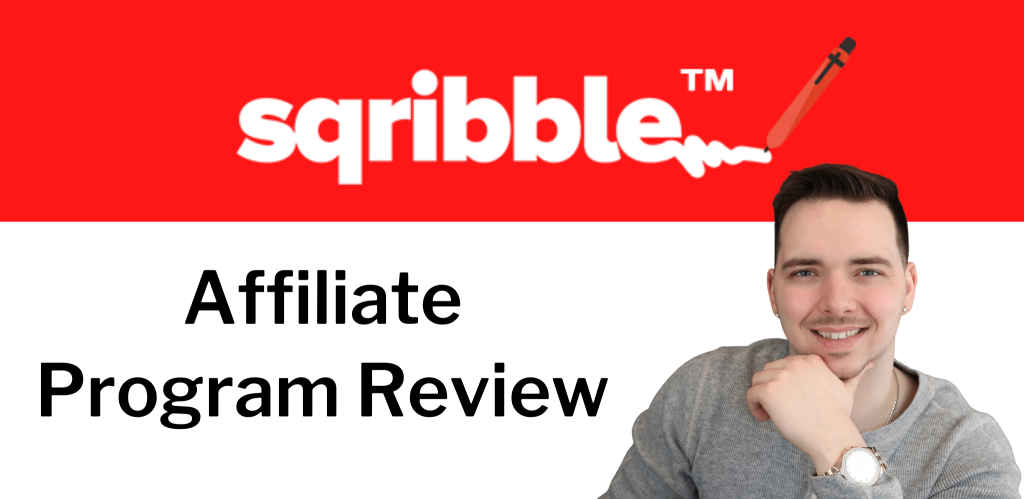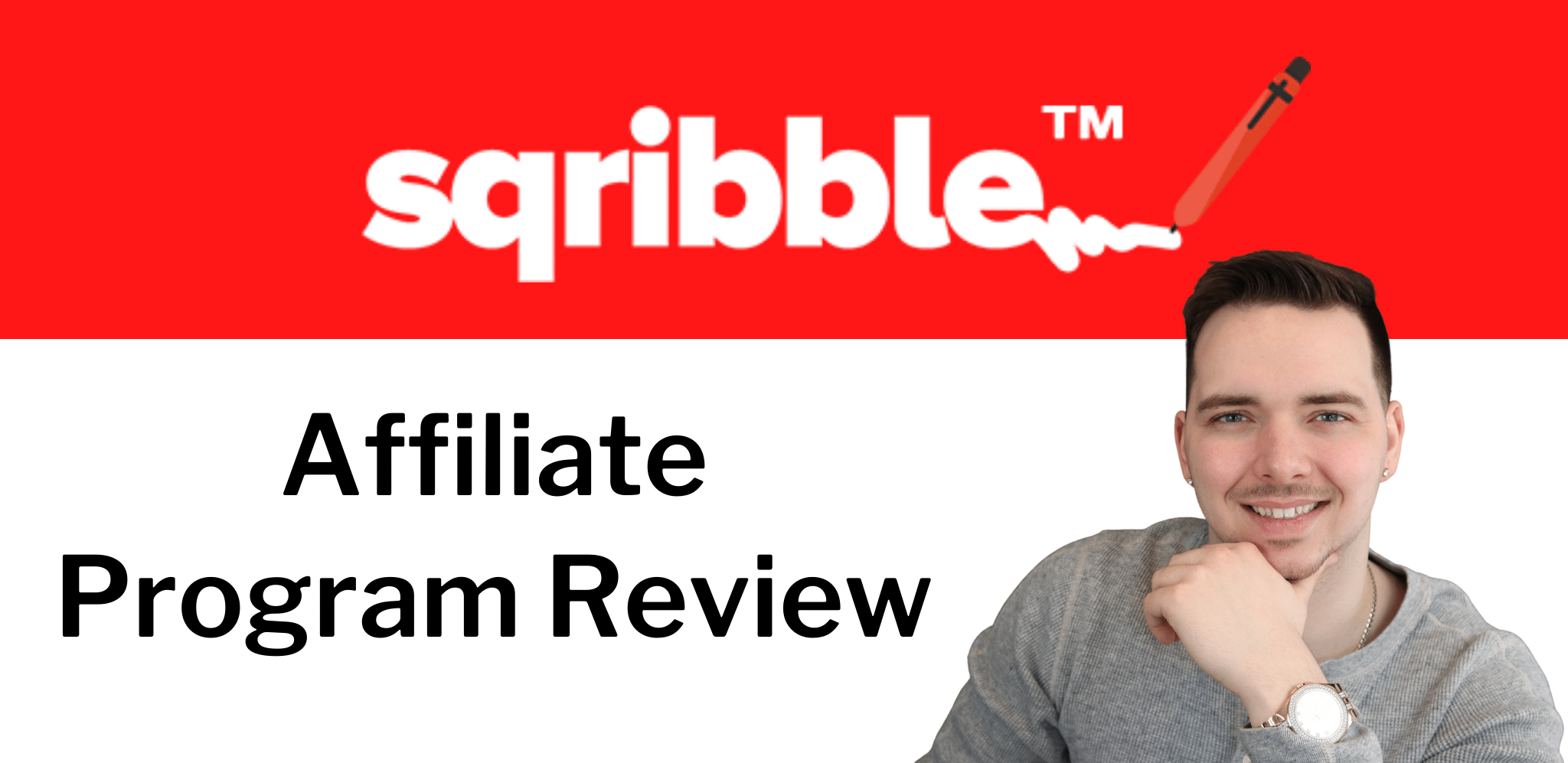 Often the CEO and founders will give out rewards and prizes for promoting Sqribble and generating a certain number of sales.
They have given out free PS5's, Xbox's, and much more to their top affiliates who promote and hit sales numbers of the Sqribble software.
This overview was made because of our personal experience using the system, and it just so happens that we are affiliates as well.
Login
Sometimes people find the Sqribble login page difficult to find. If you want to login, or find the login page, here it is for you. Make sure to bookmark this Sqribble review in case you can't find the login link again.
Why Was This Review Made?
Because only the best products and services deserve reviews. To many article writers create reviews just for the money, while we only create reviews for quality offers that we actively have tested as customers.
This ebook creator sqribble, is by far the best ebook creation tool to create professional ebooks.
Is Sqribble The Best eBook Creator Software On The Market?
If you want to quickly create a professional lead magnet or eBook that attracts leads and converts them into customers, then Sqribble truly is the best eBook creator and software on the market.
With years worth of experience in the industry, the people behind the technology have your best business thoughts in mind because they WANT their software to create more results for whatever you're offering to your market place.
You can review other parts of their technology to see this is the truth.
The customer support, money back guarantee, and ease of use of the technology are truly what take the cake and push this software to be the best you can get your hands on.
Without having to spend thousands of dollars experimenting on potential failing projects.
Here's the last few important notes about Sqribble and how it serves you better than any other on the market…
Auto-generated content that helps you create and fill your eBook with powerful and valuable information.
Time saved instead wasted experimenting or paying an expensive VA $450 to create one.
Competitive pricing compared to other eBook creators.
Easy simple usability that people love.
Anyone can create and launch their eBook within a few minutes.
Sell eBooks – Sqribble has an add on product that has its own market place where you can sell your eBook creations as well.
You can learn more or purchase the Sqribble ebook creator and software right here: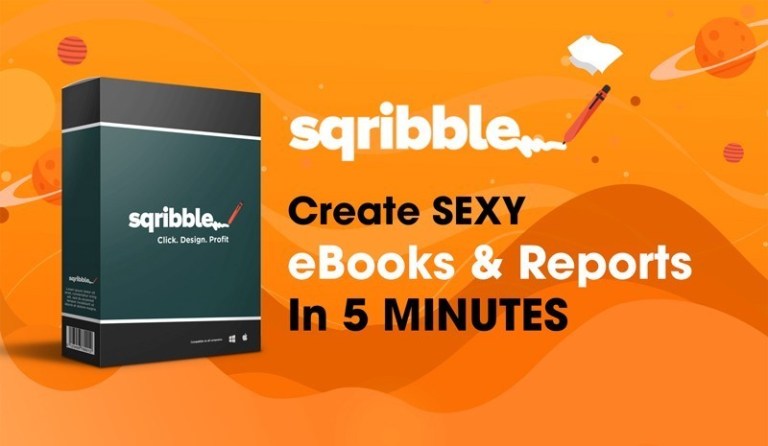 Since the normal pricing is only $67, it's both affordable and perfect for the value and help their product and service provides.
And for a limited time there is a coupon code on their site, which may still be available and will slash the price to 20.00.
Please make sure and watch our video above as it highlights the upsells available for product add-ons for this Sqribble review.
Sqribble Scam Or Legit?
Is the Sqribble eBook Maker a scam, or a legit piece of software?
Well, I have to say that I was a bit skeptical at first. I mean, how could something that promises to create professional eBooks in minutes be for real?
But after doing some research and trying out the software for myself, I can say with confidence that Sqribble is definitely not a scam!
In fact, it's a pretty nifty piece of software that can save you a lot of time and effort if you need to create eBooks on a regular basis.
Why Sqribble Is The Best eBook Creator Software
If you're looking for a way to easily create eBooks, Sqribble is the best eBook creator software on the market.
It's simple to use, yet powerful enough to create high-quality eBooks that look professional and are packed with valuable content.
Plus, with this software marketing tool you can easily format your eBook for any device, including Kindle, iPad, Nook, and more.
And because it's cloud-based, you can create your eBook from anywhere – all you need is an internet connection.
---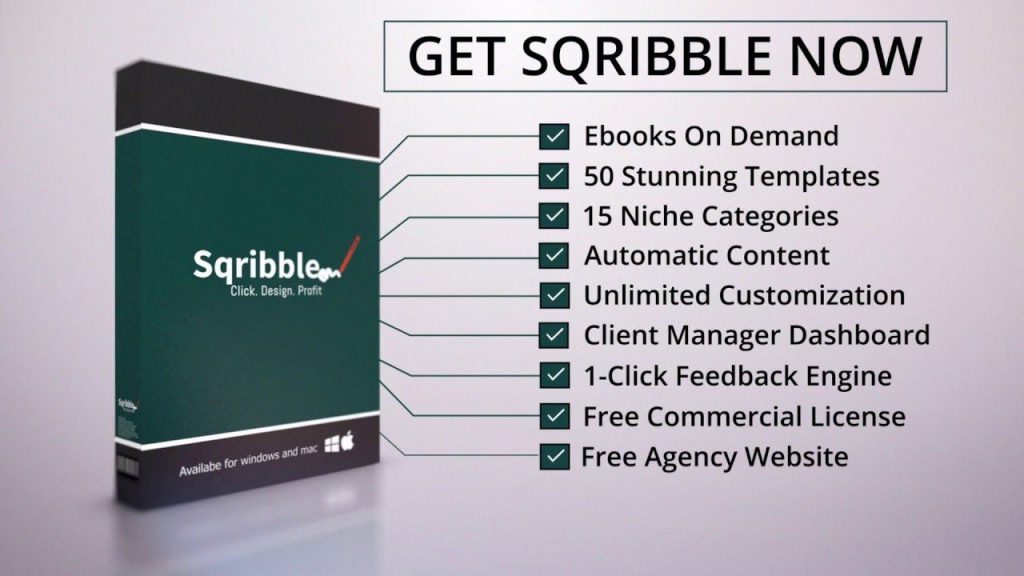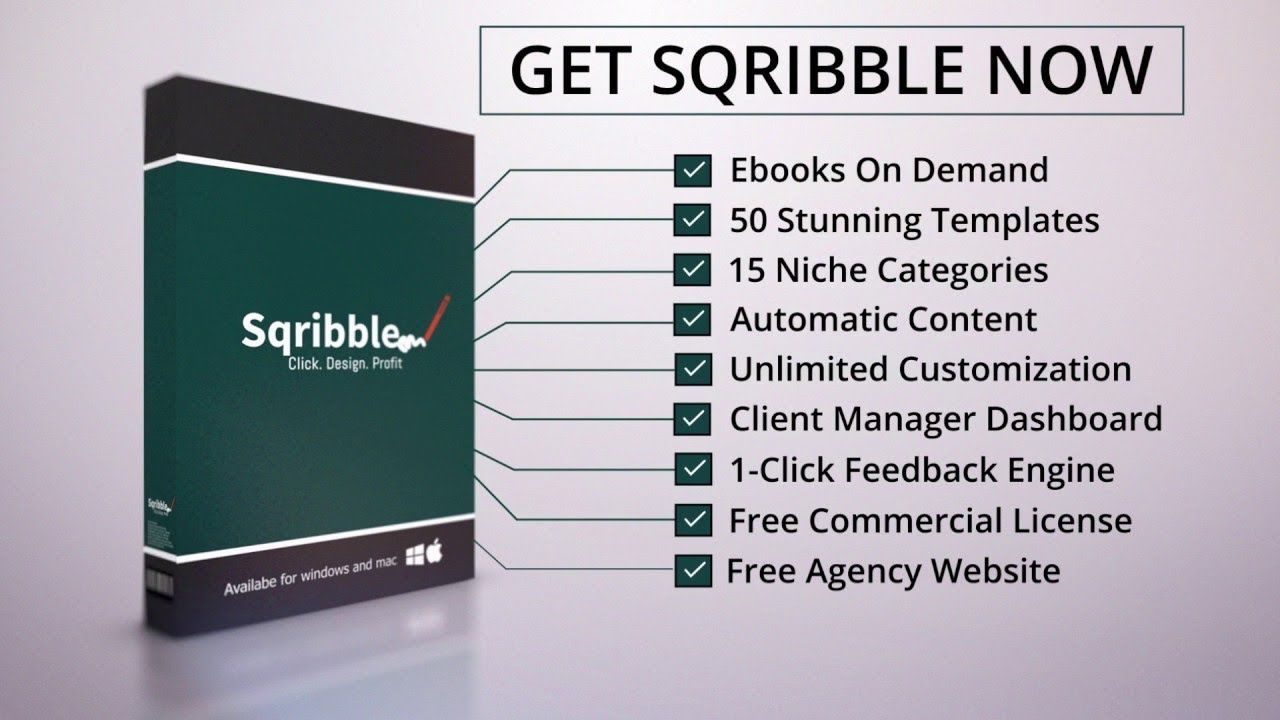 ---
Here are just some of the reasons why Sqribble is the best eBook creator software around:
1. It's easy to use.
Creating an eBook with Sqribble is as easy as 1-2-3. Just enter your title, add your content, and hit publish. That's it! You can review what you created afterwards as well.
2. You can create professional looking eBooks.
With Sqribble, you can easily create eBooks that look like they were designed by a professional. Choose from a variety of templates and designs, or create your own custom eBook layout.
3. It's packed with features.
Sqribble is loaded with features that make creating eBooks easy, including automatic table of contents, chapter headings, and more. Plus, you can add multimedia content like images, videos, and audio to really bring your eBook to life.
4. You can format for any device.
No matter what device your readers are using, Sqribble makes it easy to format your eBook so it looks great and is easy to read. Just select the device you want to format for and Sqribble will take care of the rest.
5. It's affordable.
It is one of the most affordable eBook creators on the market. You can get started for just $67, which is a steal when you compare it to other eBook creation software that can cost hundreds or even thousands of dollars.
6. It's backed by a 30-day money back guarantee.
If you're not satisfied with this tool for any reason, you can get your money back within 30 days. That's how confident we are that you'll love our eBook creator software.
So what are you waiting for? Get started creating professional looking eBooks today with Sqribble!
FAQS Review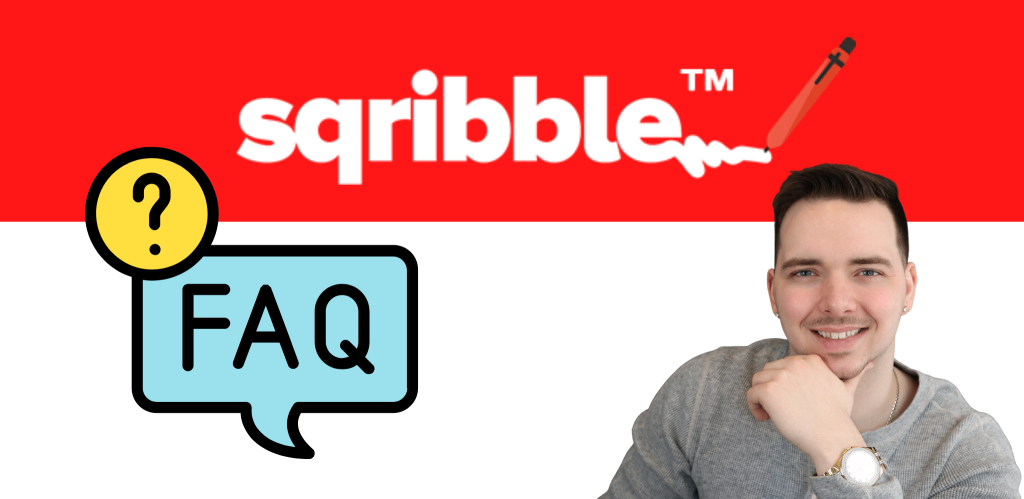 What is an eBook writer?
An ebook writer is a person who writes ebooks. Ebooks are digital books that can be read on electronic devices such as computers, tablets, and smartphones.
They are often shorter than traditional print books and are usually published electronically, making them readily available to a wide audience of readers.
Sqribble is a digital automated ebook writer.
What is Sqribble used for?
Sqribble is used for generating ebooks, whitepapers, and other content. This content then can be repurposed and used for generating sales, leads, customers, and more.
You can use it for creating an eBook for a passion you have as well. Regardless of what you want to use this tool for, you can feel sure that it is reliable.
We only are doing this walk-through, because we're customers of the product who actively use the ebook creating software on a regular basis..
Can you make money from ebooks?
Yes, you can make money from ebooks! You can sell them on your own website or blog, through online retailers such as Amazon, GumRoad or through social media platforms such as Facebook.
Sqribble even has it's own store platform for you to sell your ebook creations in, it is available through one of their upsells.
Is Sqribble ebook creator easy to use?
Yes, Sqribble is very easy to use. You don't need any design or programming skills to create beautiful ebooks with this tool. Their custom built templates are also very useful.
Can I create an ebook with Sqribble even if I don't have a lot of content?
Yes, you can! The Sqribble ebook creator is designed to help you quickly and easily create ebooks, even if you don't have a lot of content.
Simply enter your content into the Sqribble ebook creator and let it do the rest!
They also have many niche specific articles you can use as your own.
Why use Sqribble for creating ebooks?
There are many reasons why you might want to use Sqribble for creating ebooks. First, it is an easy and user-friendly platform that makes creating ebooks a breeze.
Second, with Sqribble you can create professional looking ebooks without having to hire a designer or spend hours learning complicated design software.
Finally, Sqribble ebooks are compatible with all major ebook readers and can be sold on popular ebook platforms such as Amazon Kindle or Gumroad.
Does Sqribble write books?
Yes, you can use Sqribble to auto-generate and organize text for you. As well as templates!
In fact, you don't even have to come up with the content inside the book. You can use and turn articles instantly into books, and so much more.
The Sqribble tool and software is quite diverse in its ability to generate content that can be marketed, advertised, and given away. If you believe you missed out on what else Sqribble can do, read through again the beginning of this review.
Does Sqribble have a monthly cost?
No, Sqribble is a one-time payment and no on going cost.
There are optional upsells available, that come with even more features and benefits, and they are only one-time payments as well, except for one.
Sqribble Review: Final Thoughts
We hope our in-depth Sqribble Review 2023 has provided you with all the information required to start creating profitable eBooks on the fly.
We always try and deliver as much value to our readers as we can. And deliver the most recent news about the industry.
We really hope this article has been extremely helpful to you. If you have any questions, don't hesitate to post them in the comments section below or just say hello.
Sincerely,
Your Friends And Partners
Richard And John Weberg