Heavy Hitter Leads Review – Best Done For You Leads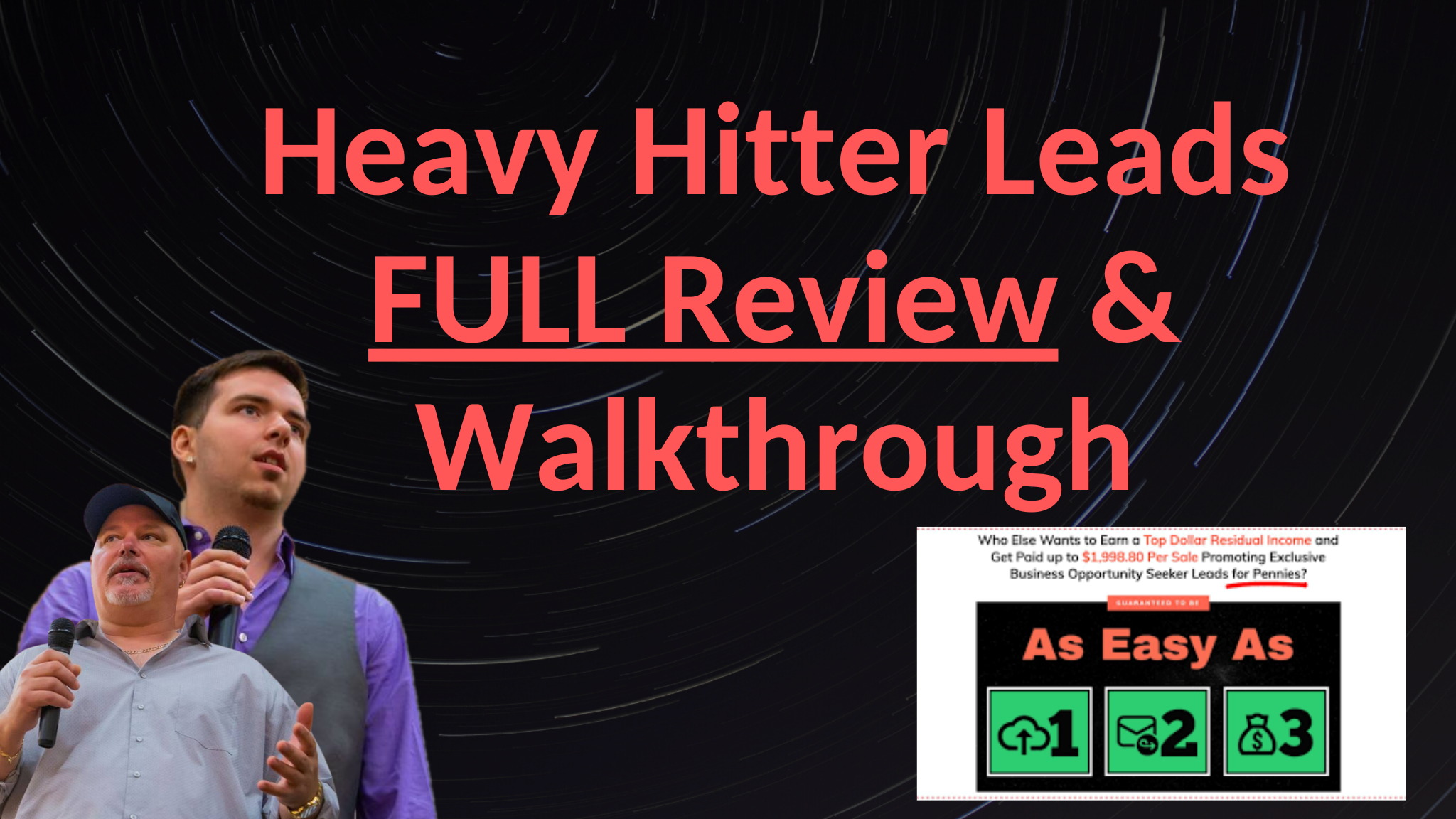 Let's take a look at exactly what Is Heavy Hitter Leads. We will give you a full review of Rob Fore's leads program.
When Rob Fore, the owner of Heavy Hitter Leads told me… "Jon…These leads are going to BLOW your mind"….
I wasn't sure, until we saw the actual results of how these leads converted.
We have been impressed to say the least!
Here is our Heavy Hitter Leads review for you..
What is Heavy Hitter Leads?
Heavy Hitter Leads is a done for you PPL, Pay Per Lead company.
Heavy Hitter Leads allows you to buy leads that are already…
Vetted
Targeted
Filtered
Scrubbed Clean
This allows the leads to become highly valuable customers for your products and services much faster. No bogus emails addresses here.
Rob Fore made SURE to make Heavy Hitter Leads go through an extreme cleaning process.
Allowing them to pass on to you, real high quality leads that buy – that you can sell or promote whatever you'd like to.
If you have a MLM business, are an affiliate marketer, promoting marketing software, or looking to promote your favorite business opportunity, these leads will work for you, or we should say buy from you!
Get Our Top Recommended Lead Generation System To Use With Heavy Hitter Leads
Heavy Hitter Leads Packages
They basically have three different categories of lead packages to choose from.


You can either upload these leads your self to your autoresponder or you can also have them automatically drip feed them for you into your autoresponder of choice.
Their automatic lead drip feed works with: Active Campaign, Adopia, BuilderAll, Campaign Refinery, Constant Contact, ConvertKit, Drip, Emercury, GetResponse, Imnica Mail, ListFlex, MailingBoss, MailerLite, MailWizz, Market Hero, Maropost, Ontraport, Send Eagle, Sendlane, SendShark Autoresponder and Squeezify.
They do not integrate with Aweber.
They also have mobile phone generated leads, if you wish to be able to call your leads as one of the first point of contacts.
They will send first name, last name, email address, phone, and ip to your autoresponder and make the full record available for you to download as they are delivered.
You can call them, text them, email them, and contact them personally, how ever you want.
The best part is, there is no marketing on your part to get these leads, they are guaranteed – done for you, the number you order is the number you get.
There's even more information from their website…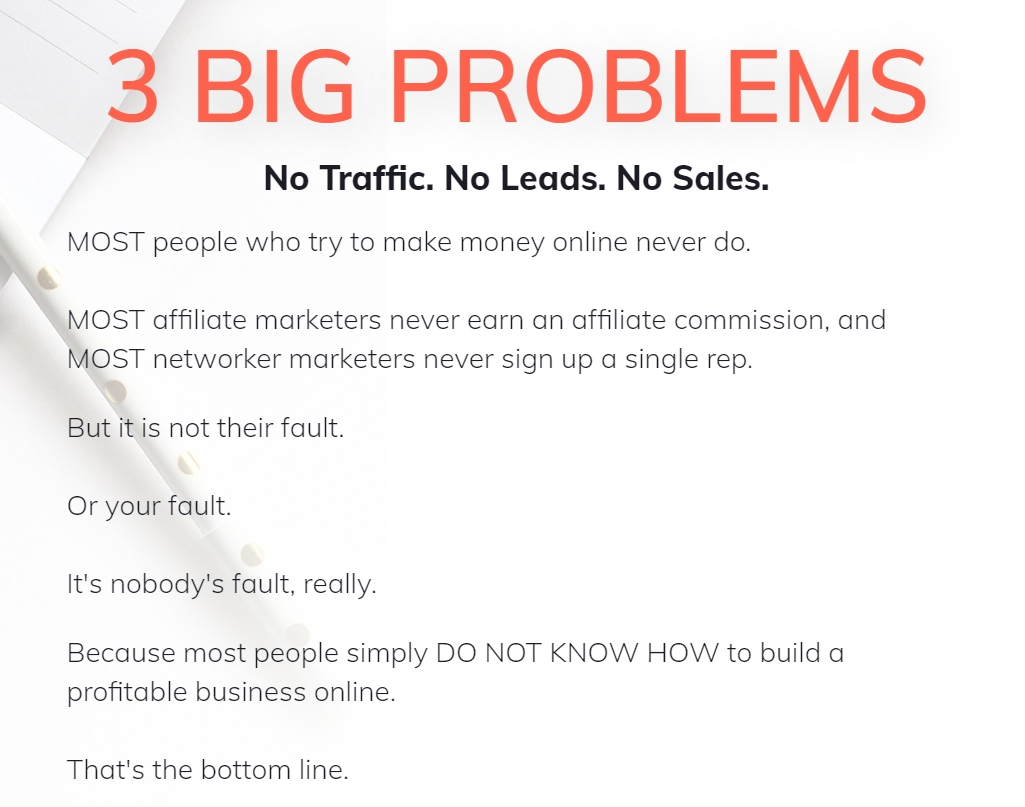 Are Heavy Hitter Leads Expensive?
"Our Premium Heavy Hitter Leads are generated live 24 hours a day by one of the most prolificbusiness opportunity lead generation companies online.
We buy TENS OF THOUSANDS of leads per day to lock in the absolute lowest price possible and share these savings with you. Plus we only sell these lead records once!
So you have to hurry if you want to pick up the best leads in the business at the best price possible because we only have a limited number of leads available and once they're gone… they're gone!"
Heavy Hitter Leads Pricing
Even though they have three categories of lead packages, the pricing per package is the same for all three categories.
So they are not inflating the price just because, say you buy mobile leads as an example and are provided the extra of the contacts phone number.
They have three packages available to buy from each category and the pricing is as follows:
1000 leads – $97.00
2000 leads – $167.00
3000 leads – $227.00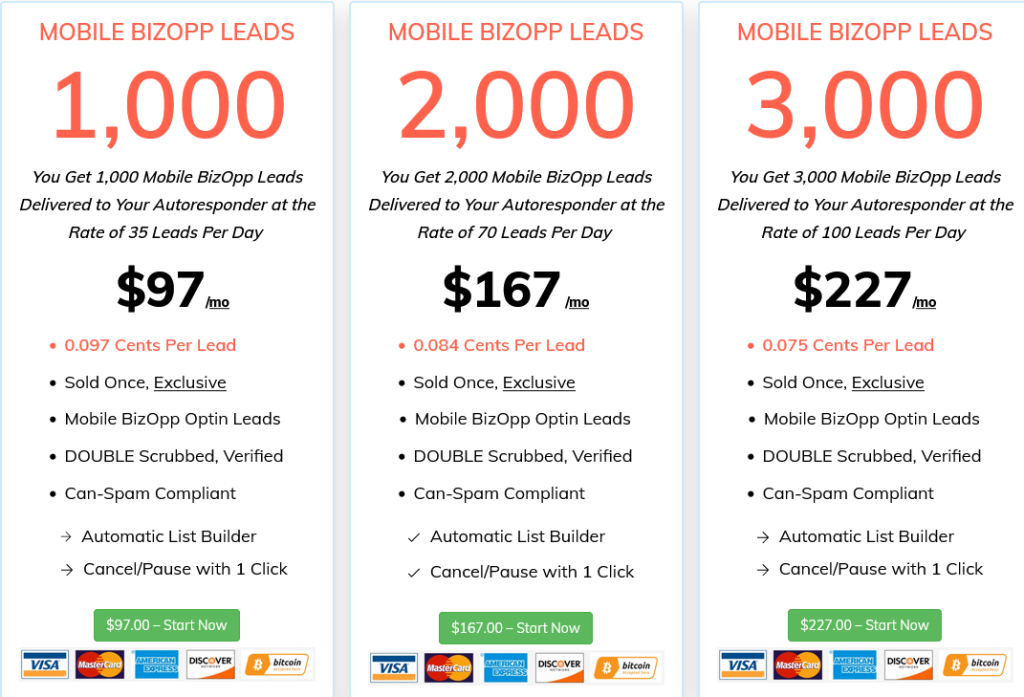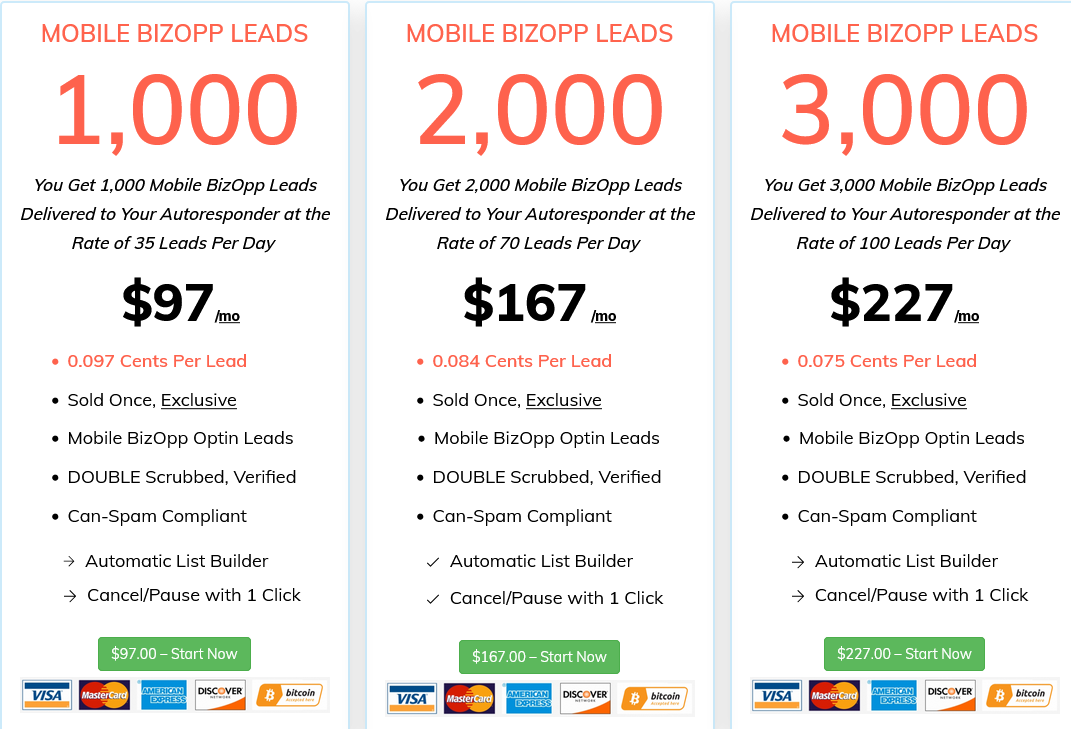 Your leads will start being delivered 24 – 48 hours after purchase.
So to answer the question of "Are Heavy Hitter Leads Expensive?" The answer is no, when you compare them to any other lead source, you will not find leads at this price and quality anywhere else.
And even more importantly…
Heavy Hitter Leads are of REAL HIGH quality.
…And this makes these leads even more valuable.
(Meaning they're active, responding, and actually interested in what you are offering)
These leads are of such high quality because of the process used to clean them, before being passed on to you.
How Heavy Hitter Leads Qualifies and Filters Their Leads. (Cleaning Process)
On their homepage they mention…
"We source this data set every 24hrs & use Email List Verify to scrub, validate and verify each contact record.
We check the domain, validate the smtp, remove catchall emails, eliminate spam traps, fix syntax errors, remove all duplicates and delete both soft & hard bounces to make sure you get great email delivery from your marketing.
THEN, right before we deliver the leads to you, we scrub the email list one more time AND check the phone numbers against a gigantic database of known TCPA litigators & habitual filers."
You may or may not know what all of that tech mumbo jumbo meant, just realize it means – these leads are scrubbed clean as a whistle!
The question is now, can you depend on Heavy Hitter Leads & the owner to be consistent and dependent?
Get Our Top Recommended Lead Generation System To Use With Heavy Hitter Leads
Who is Rob Fore and how long has he been in business?
Rob Fore has been in online marketing since 1996, his wife Lisa and him have built numerous six plus figure businesses over the years. They've created and managed many different successful programs, businesses, and platforms.
We have personally known Rob Fore now for several years and we walked on glass with him at a marketing event where we were both featured speakers.
(He also runs mindset trainings and glass walks)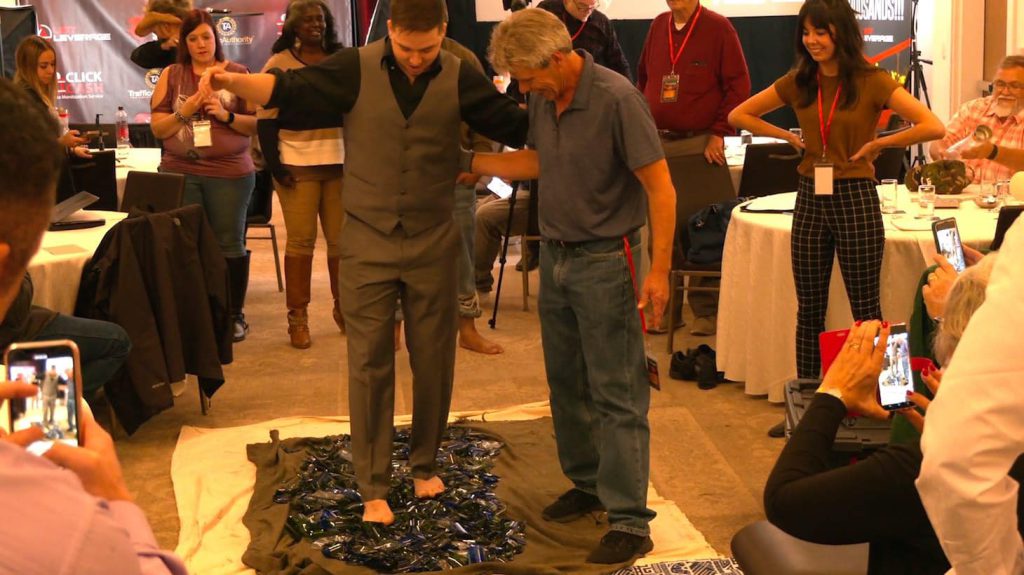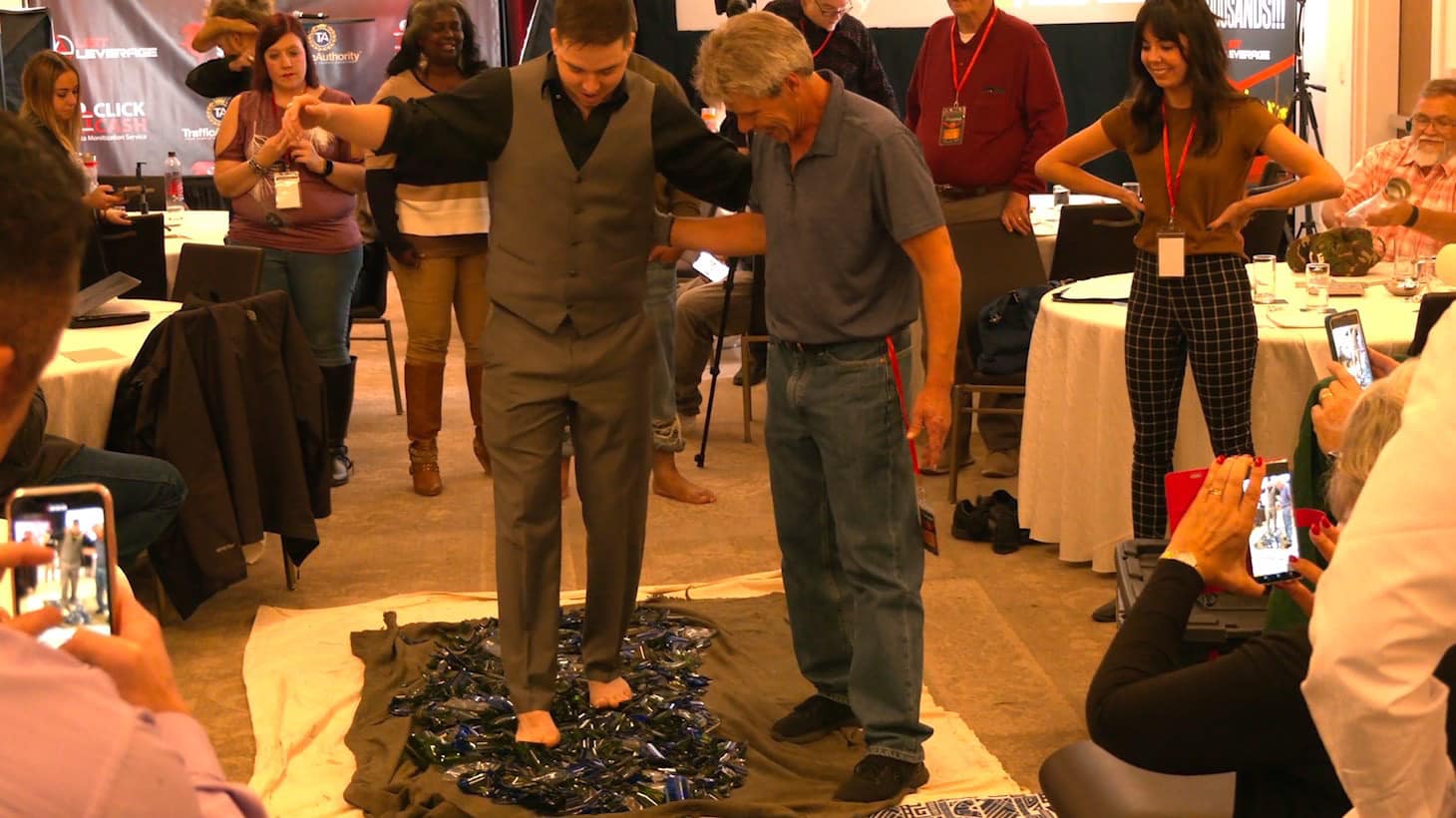 Rob Fore has been doing marketing and sales full time for years, and continues to this day to be extremely active on social media daily.
He is constantly creating content on his social networks, sharing his knowledge and ideas with others. He has personally helped thousands of other marketers succeed online.
Rob decided to create Heavy Hitter Leads when he realized that most entrepreneurs and businesses were failing terribly at getting quality leads.
Getting responsive leads that are actually interested in purchasing what you have to offer is one of the biggest struggles online marketers face..
Rob Fore has solved this problem, and has an outstanding reputation in providing quality that last.
When was Heavy Hitter Leads Created?
Rob Fore created Heavy Hitter Leads back in January of this year (2021). These leads have been proven and are super responsive, all one needs to do, is to just try them out.
Rob Fore, his wife, and their organization we can confidently say have your best interests in mind, and truly know what it takes to get you results, ESPECIALLY with their Heavy Hitter leads packages.
Does Heavy Hitter Leads Have An Affiliate Program?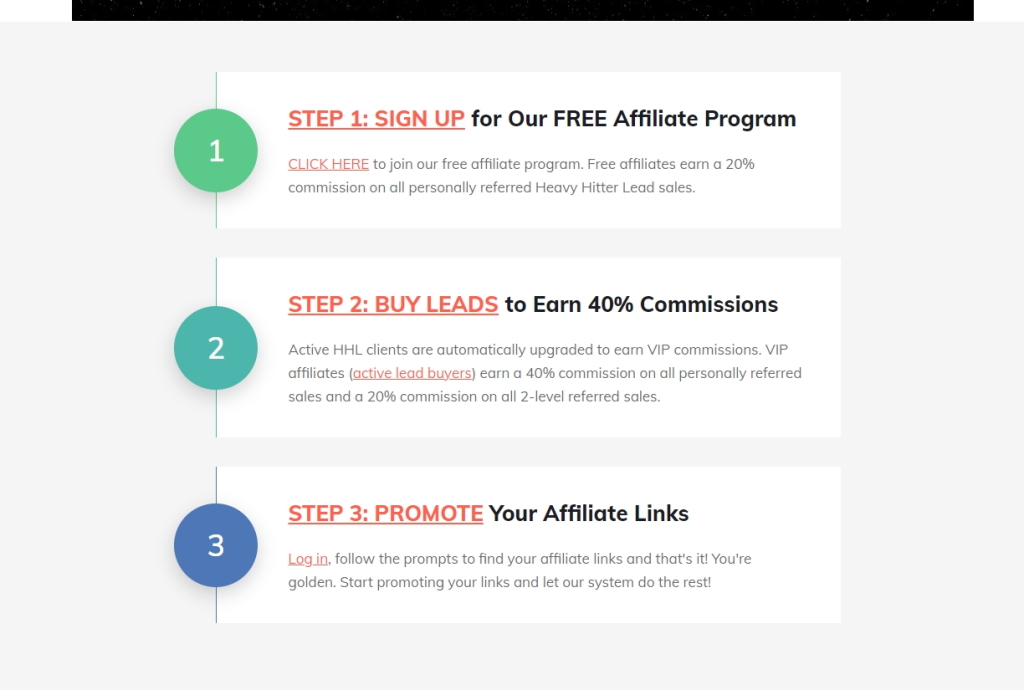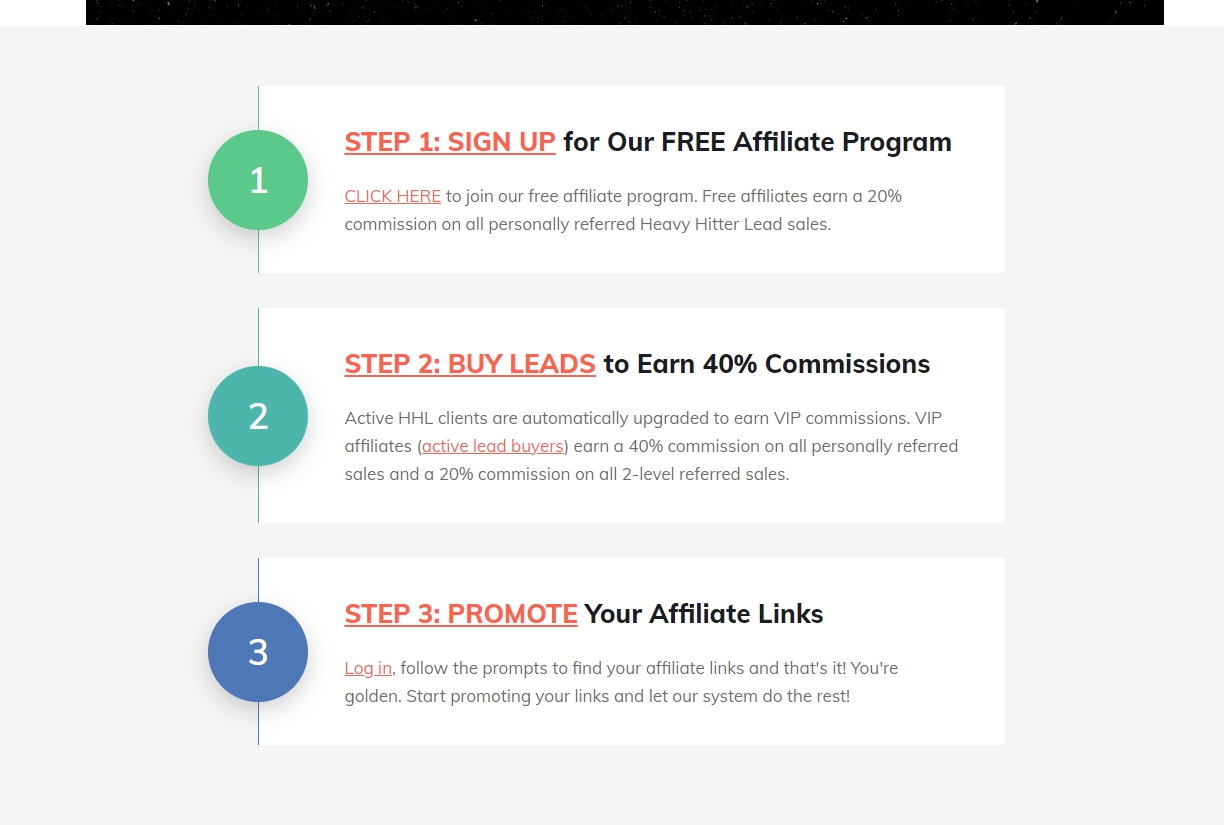 Yes, Heavy Hitter Leads has an affiliate program and one that is extremely lucrative!
As every business, entrepreneur, affiliate marketer, and business opportunity promoter on the planet, needs more leads..
If you sign up as a free affiliate, you're able to earn 20% commissions across the board.
However, if you buy leads you are automatically upgraded to earn 40% commissions off of your first level sales.
And THEN, you're able to earn 20% commissions off of your second level sales as well. So we are both customers and affiliates of Heavy Hitter Leads.
They have some great tools in their back office as well that can help you increase your conversions and refer others to get some incredible traffic and leads as well.
Our Heavy Hitter Leads Honest Review & Final Thoughts.
Heavy Hitter Leads is a premium traffic and leads vendor that you can use for immediate profit and sales for whatever product or services you are offering.
If you're in online marketing, you'll see much increased conversions as well, because their leads have shown to perform exceptionally well with business opportunities, MLM, marketing software offers, and affiliate marketing.
You should definitely test their done for you leads, you can get a batch right here:
As well, if you're looking to scale your business and results you'll want to have as many leads running as possible. Without quality lead flow, you can not make any sales online.
So make sure to take the best package with the most leads possible, that you can afford.
Enjoy Heavy Hitter Leads, their traffic is great and the founder Rob Fore is even more incredible!
We really hope this Heavy Hitter Review has been extremely helpful to you. If you have any questions, don't hesitate to post them in the comments section below or just say hello.
With our kindest regards,
Jon Weberg
Richard Weberg
P.S. (Another GREAT performing lead, traffic, and sales source has been Mailbox Secrets as well)