Kajabi Review: Pricing, Details, And More About Kajabi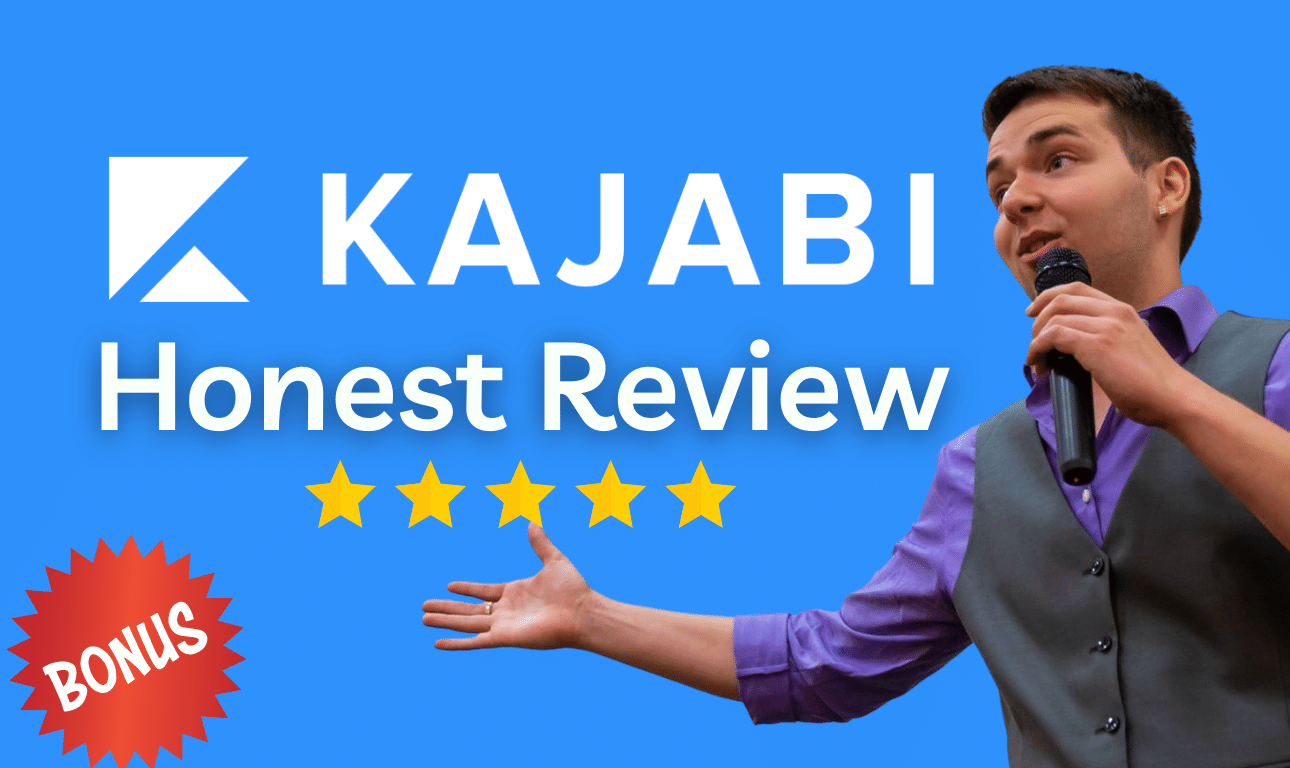 Over the past decade there have been an increasing amount of CRM's hitting the marketplace. Every entrepreneurs and digital business owner has been fighting over which CRM is the best for managing and growing any business. And you know what? After being in the industry for over 10 years, it's been found that Kajabi is the #1 all in one CRM, page builder, autoresponder, and marketing tool there is.
This full Kajabi review will go through how this CRM works, what it can do for your business, and why it may be the best marketing tool to have ever been created.
What Is Kajabi Used For?
Kajabi is used for creating and managing a variety of digital assets and processes. You can use Kajabi too…
Create funnels and sales processes
Create email campaigns and automations
Create websites and blogs
Create membership sites
Create affiliate programs
Accept & process payments
Manage leads
Manage customers
Sell products, services, and subscriptions
Sell courses
Launch a podcast
Build communities
Sell coaching
And much more!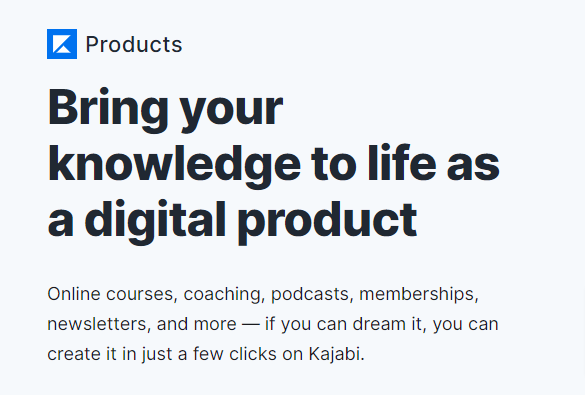 You can use Kajabi to create almost anything you need in order to sell any product, service, idea, or more – online. It's a great tool to help you sell more online.
How Does Kajabi Work?
Kajabi is an easy to use and simple marketing tool that is simple to operate. Once you join Kajabi as a customer, you're able to use all of their tools and software they have available to customers.
Here's what you get access to and can use as a paying Kajabi member…
Autoresponder
Page Builder
Website Builder
Blog Builder
Membership Site Builder
Affiliate Software
Payment Processing
Checkout Cart Builder
Course Builder
Podcast Platform
Coaching Program Builder
Kajabi Pricing
Here's a picture that illustrates the current Kajabi pricing for you…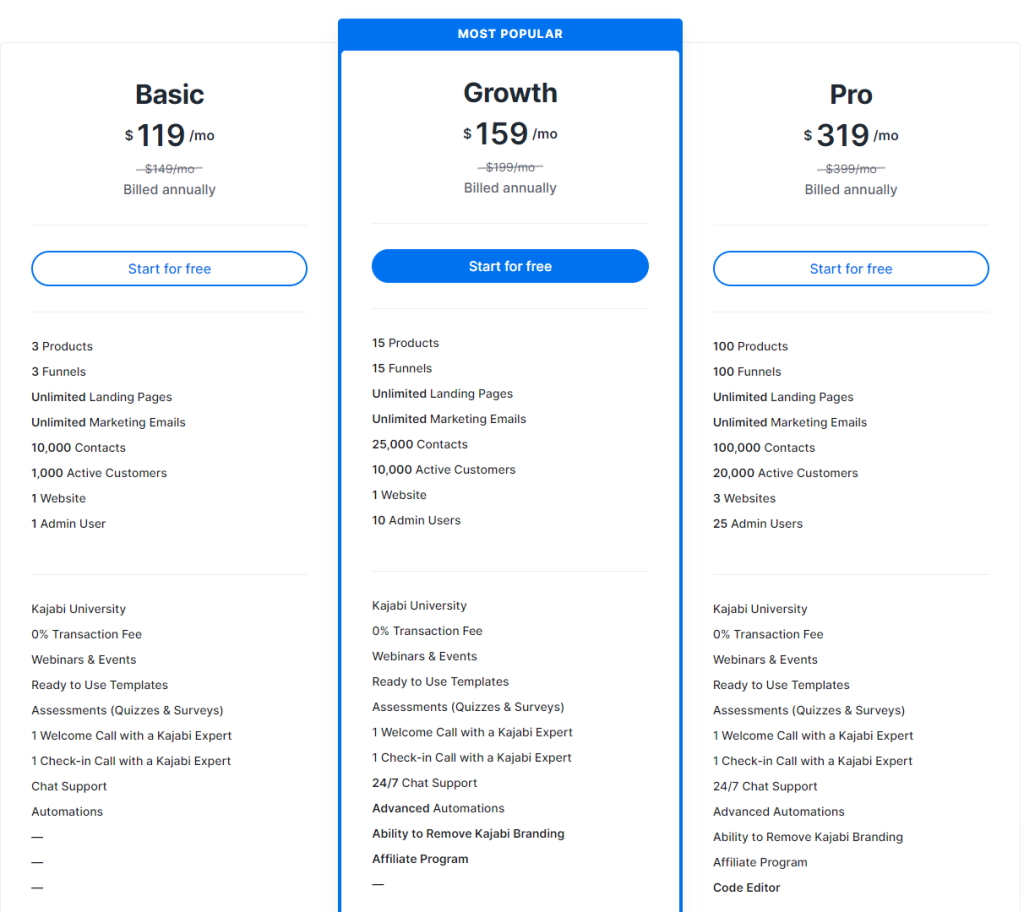 How Much Does Kajabi Cost?
There are a variety of pricing plans available for people interested in becoming customers with Kajabi. Here's a list of those pricing plans and how much they will cost you on a monthly, and yearly basis.
Kajabi Free Trial
Yes, you can get started with Kajabi for free if you decide to invest in their "free trial" program. This is where you can test out Kajabi for 14 days for free, and decide whether or not you want to continue using the platform and pay for it.
Kajabi Basic
The lowest and most affordable Kajabi pricing plan costs only $119 per month if you pay yearly, and $149 per month if you pay monthly.
Kajabi Growth
The middle pricing plan will cost you $159 per month if you pay for it yearly, and $199 per month if you decide to pay for the platform on a monthly basis.
Kajabi Pro
The highest grade and most comprehensive plan on the Kajabi platform is $319 per month if you're going to pay for it yearly, or it is $399 per month if you will decide to pay on a monthly basis.
Kajabi Review: Is It The Best Sales Pipeline Builder & CRM?
Deciding whether or not Kajabi is the best all in one CRM is a difficult decision to make. Why is this? It's because there is a large amount of new CRM's hitting the marketplace every single year. However, after we've tested and uses dozens of CRM's over the years. It is our personal opinion that Kajabi is the best CRM that every business owner should consider investing in.
Here's a list of pros and cons that you can look at to decide for yourself if you think using Kajabi is right for your business.
Pros
Here are the main reasons why any business owner or entrepreneur should considering purchasing the CRM.
Affordable pricing plans
Free trial available for all new users
Full service true CRM capabilities
Simple affiliate program capability
Membership site creator
Blog setup
Easy to use course creator
Coaching program creator
Podcast creator
Easy to use back office
Great customer support
Onboarding calls included
Kajabi University
Kajabi Webinars
Payment processing
Cons
Here are a few reasons why you may not want to consider using Kajabi CRM.
Slightly more expensive then some competitors
Less customization then other CRMs
More rigid page and checkout page designer
Kajabi Templates & Website Examples
Before some users and entrepreneurs decide if they're going to use a CRM, page builder, or autoresponder – they want to see live websites built on the platform. So, here are 3 website examples and templates that are entirely built on Kajabi.

Profitalize
This all in one community & training platform, teaches business owners how to infinitely scale their businesses. If you go to profitalize.com, you'll see in the source code that the platform is built entirely on Kajabi.
Frank Kern
One of the most important entrepreneurs in the world, Frank Kern, has built much of his wealth from using the Kajabi platform, among others as well. But, you can take a look at his website, frankkern.com, and many of his courses – to discover they are built on Kajabi.
Kevin Anson
The best videographer and one of the best ad creators in the world, Kevin Anson, uses Kajabi for many of his courses and website too. You can check them out at kevinanson.com
Kajabi Alternatives
While Kajabi is debatably the #1 CRM any business can use, there are a few alternatives to Kajabi that you could consider using today. Here is a list of the best Kajabi alternatives that are also mostly all inclusive CRM's.
ClickFunnels: This CRM built by Russel Brunson is among the most well known CRM's in the world. Why? Because it's easy to use and build inclusive funnels in minutes. It is a highly recommended alternative to Kajabi. But, ClickFunnels isn't as good.
ActiveCampaign: ActiveCampaign is a quality CRM, however it lacks some of the other features that better CRM's have. However, ActiveCampaign is still a good CRM you can use.
Keap: Keap is a CRM that used to be called Infusionsoft, is among the best CRM's in the marketplace as well. However again, it doesn't have all of the same functions and uses that Kajabi has.
Best Kajabi Features Better Then Competitors
You'll find that some competitors of Kajabi are a full CRM as well, but they don't have the same quality of these features. Here's some of the main ways Kajabi stands out from all competition…
Quality Reporting & Tracking
Accurate Dashboards And Ease Of Use
Quality & Caring Support
Large Variety & Number Of Integrations
FAQS
Is Kajabi legit?
Yes, Kajabi is a real company with 10,000's – 100,000's of customers. They have employees and are based out of Irvine, California.
Is Kajabi mobile friendly?
Yes, any sales page, funnel, or website built on the Kajabi platform is mobile friendly.
Does Kajabi have good support?
Yes, Kajabi has 24/7 support that truly cares about their customers and users.
Is Kajabi free?
Yes & no, you can start a free trial and try out Kajabi for free. However, you have to pay for Kajabi after the trial is over if you want to continue to use Kajabi. Kajabi's plan is to always serve customers as much as possible.
Are All Kajabi Reviews Honest?
It depends on who makes the reviews. You only want to read an article of a review from someone who is an actual customer or user of a software like Kajabi.
Can You Create A Course With It?
Yes, Kajabi's advanced software will allow you to create any kind of course you desire. As well, it is a…
1. Sales pipeline builder. 2. Course creation platform. 3. Autoresponder & email marketing tools. 4. So much more!
How Does It Compare With Other CRM's?
When you compare Kajabi with almost any other CRM, you will find that it comes ahead. Why is this? Well, after we have fully reviewed and used this CRM, and dozens of competitors – we find that Kajabi does the most at an affordable price. Whether you want to use the platform to build an online course, sell an ebook, or offer consulting – it's useful & very easy to use.