MaxBounty Review: The Best CPA Affiliate Network?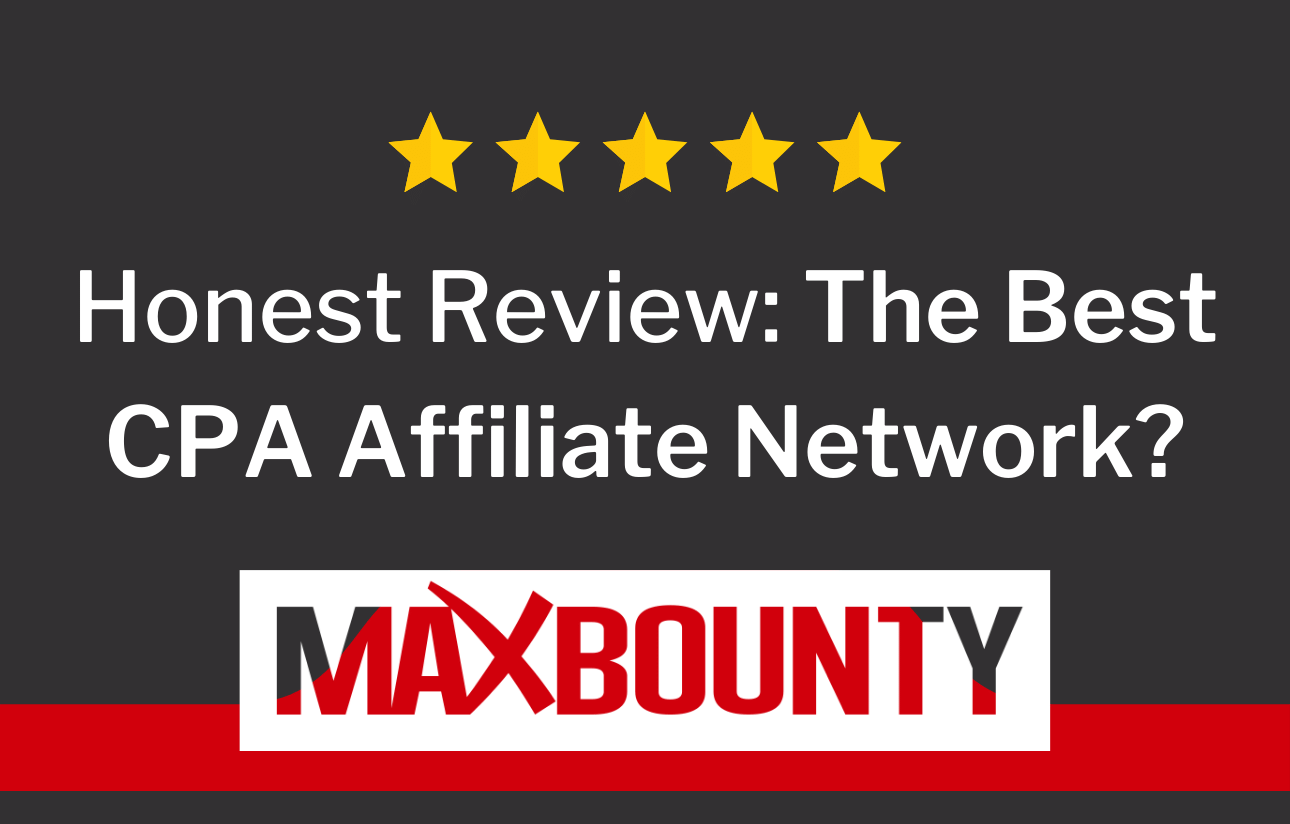 Each affiliate network and affiliate marketplace across the world has helped businesses grow quite profitably over the years. And MaxBounty has lead the CPA affiliate industry by providing high quality affiliates & premium affiliate offers. By allowing companies first hand access to the world's best affiliate marketers, they are able to get great results for both parties.
This full MaxBounty review will cover what makes this company so great, and why affiliate marketers all of the world are applying to sell their top of the industry offers. This review will also go through why CPA advertisers want their offer on MaxBounty so badly.
They are a premium CPA affiliate network that has risen above the others over the years. This company MaxBounty, may be one of the best affiliate networks to exist in the world.
What Is Maxbounty?
MaxBounty is a CPA affiliate network. A company that gathers world class affiliate marketers together who refer customers to advertisers offers. With MaxBounty, you pay per action generated. For example, here's the variety of actions you can pay for… (CPA means cost per action)
Leads
Clicks
Form Submissions
Sales
Subscriptions
Etc…
The MaxBounty and affiliate partners agree upon a metric they are certain will both generate a commission for the affiliate partner while also getting the result needed by the client hiring MaxBounty for CPA services.
How Does Max Bounty Work?
There are 2 different ways that you can work with MaxBounty. You can either become an affiliate on their CPA network, or become an advertiser. Either way you will go through an application process. Max Bounty has this application process in place to ensure only the best affiliates, and advertising offers, are in their network.
The company MaxBounty has quality assurance in place to make sure all parties are satisfied. Once you are approved as an affiliate for MaxBounty, you can begin browsing the offers they have in their marketplace.
Once you are approved as a CPA vendor, you can list your offer on the MaxBounty marketplace and either approve or decline applying affiliates.
How Much Can You Make With MaxBounty?
The amount of money you can make as a MaxBounty affiliate depends on a few different factors. Your experience as an affiliate marketer, your budget, your conversion rates, and the commission you earn per action you generate – either can increase or decrease how much you make.
In CPA affiliate marketing in general, you can make a few thousands dollars per month as an average affiliate. A top tier super affiliate can generate $100,000's per month. MaxBounty affiliates have an even great chance to earn higher commissions and payouts.
Is Maxbounty Legit?
Yes, MaxBounty is a legit company and CPA network with great reviews from their customers. Their affiliates, users, and affiliated companies all have positive thoughts and opinions about the platform. This is why MaxBounty is one of the best affiliate networks in the world.
Maxbounty Offers
MaxBounty has some of the highest quality affiliate offers that there are. Their affiliate offers are both high converting and have high customer retention. Additionally, Maxbounty affiliate offers usually have a high payout for affiliates. And of course advertising CPA partners & companies working with MaxBounty can expect great results.
It may be helpful to know that if you generate $1000 in affiliate sales in your first 3 months, MaxBounty will award you an additional $1000 as an affiliate bonus!
Sign Up
Simply go to the MaxBounty website and click on the Affiliates or Advertisers tab to sign up to work with the company in either way. You can click HERE if you would like to register to become a MaxBounty affiliate. Remember however, that they do not let everyone in. You should be a previously successful and experience affiliate in order to consider applying.
Login
To login to your account at MaxBounty, simply just go to their website here and click on the, "Login" button, in the upper right hand corner. The login page is very simple and easy to get to. MaxBounty always wants to ensure their customers and affiliates both have a great experience.
Is Affiliate Marketing Good For CPA Networks?
Yes, by having credible affiliates in a certified CPA network, advertisers can feel safe knowing they will be able to generate credible results. The affiliate network MaxBounty has created is among the best in the world. Meeting the CEO at a party in Vegas gave us a great view into how the company treats their affiliates and partners.
Most other CPA networks are not as thorough as MaxBounty and they don't offer the same support that this team can provide. This is why MaxBounty is so highly recommended.
Which MaxBounty Reviews Can You Trust?
You should only trust reviews on MaxBounty from credible sources who either are actual customers of the MaxBounty platform, or who are legit MaxBounty affiliate marketers.
FAQS
Is Max Bounty The Best Affiliate Network?
Yes, MaxBounty offers the highest payout for affiliates, and the best CPA results for advertisers. They have a great affiliate management team that ensures both parties are of the best quality possible.
How Do You Get Accepted To MaxBounty?
You must go through the application process for affiliates. After you submit some personal information to show you are a legit person and a credible affiliate, one of their affiliate managers will reach out to confirm specific details to ensure only quality affiliates join their partner program.
I have personally been accepted as an affiliate, so MaxBounty reviews like this are legit because I am in their program. Only serious affiliate marketers with previous experience should consider signing up to the program.
Does Max Bounty Pay Daily?
No, the MaxBounty does not pay out their affiliate daily. They initially pay out affiliates every 15th of every month. Following this, after earning over $100 you will be paid every Wednesday, on a weekly basis. MaxBounty always makes sure to pay their affiliates on time and accurately.
Final Thoughts On This MaxBounty Review
MaxBounty has premium affiliate marketers, team member, employees, and customers. This makes them debatably the best CPA affiliate marketing company there. We highly suggest that you use MaxBounty if you are an affiliate marketer or advertiser looking for traffic, leads, or customers.
We hope you enjoyed this review a lot! MaxBounty has so far been a great CPA network to work with an they continue to reward affiliates handsomely. While also have great offers to promote!
With our kindest regards,
Jon Weberg
Richard Weberg