Systeme.io Review: Systeme Pricing, Affiliate Program, & More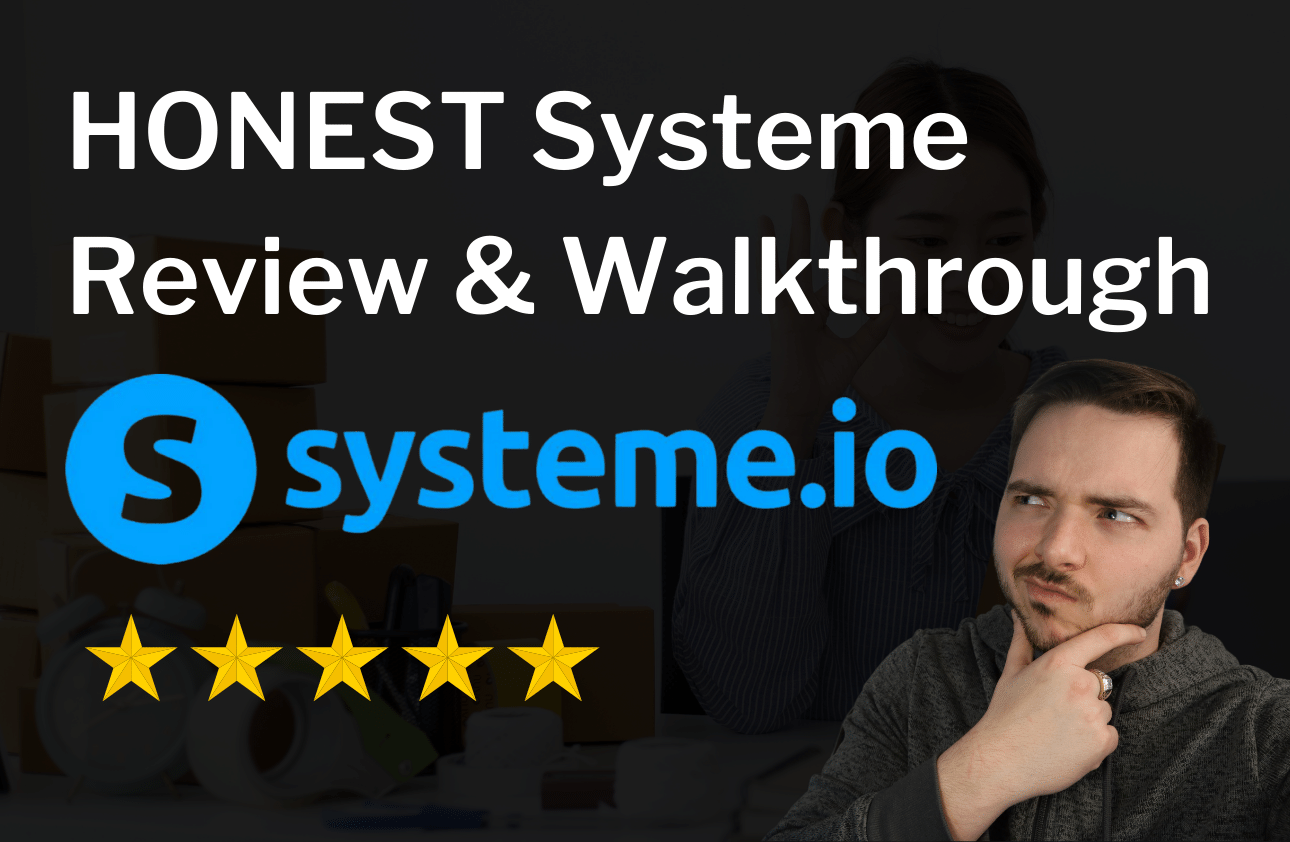 The number of CRM's, autoresponders, and digital marketing tools that are in the marketplace right now, is vast. Over the years the CRM and digital tool space has increasingly become congested with a large number of tools. One however, has started to stand out amongst the crowd. Systeme.io or Systeme has taken the CRM world by storm and is one of the fastest growing digital marketing tools in the world. But, what makes it different from any other CRM?
This Systeme.io review will cover exactly what makes this tool one of the best in the CRM industry. We will covering their affordable pricing plans, how their affiliate program works, and everything else concerning the Systeme.io system.
What Is Systeme.io Exactly?
Systeme.io is a full service CRM. It is a digital marketing tool used to follow up with customers, create sales processes, host affiliate programs, and so much more. This comprehensive tool has allowed tens of thousands of entrepreneurs and businesses the ability to create anything they desire.
Here's the variety of services & tools Systeme.io provide for you and other customers…
Autoresponder Email Marketing System & Follow Up Tool
Page Builder, Funnel Builder, Blog Builder, & Website Builder
Affiliate Management System
Payment Processing
Checkout Cart Tool For Selling Products & Services
Blogging System
Business Automation
Online course hosting
Systeme is a completely comprehensive CRM that has every feature and tool you may need to setup and build a business online.
How Does Systeme.io Work?
Members of Systeme.io are able to use the business building tools however they wish. As a member you can sell or create and product or service you desire. As well, you get full rights to anything you create on their platform. Simply choose a pricing plan that fits your budget and digital marketing needs, and then get started using the platform.
This is one of the most comprehensive business automation tools and CRM's you can find. After we've tested many other competitors over the years, we've found that Systeme IO offers the widest range of easy to use services and features possible.
Systeme Pricing Plans
There are 4 pricing plans that you can choose from with Systeme. Here is the full list and what is included in each.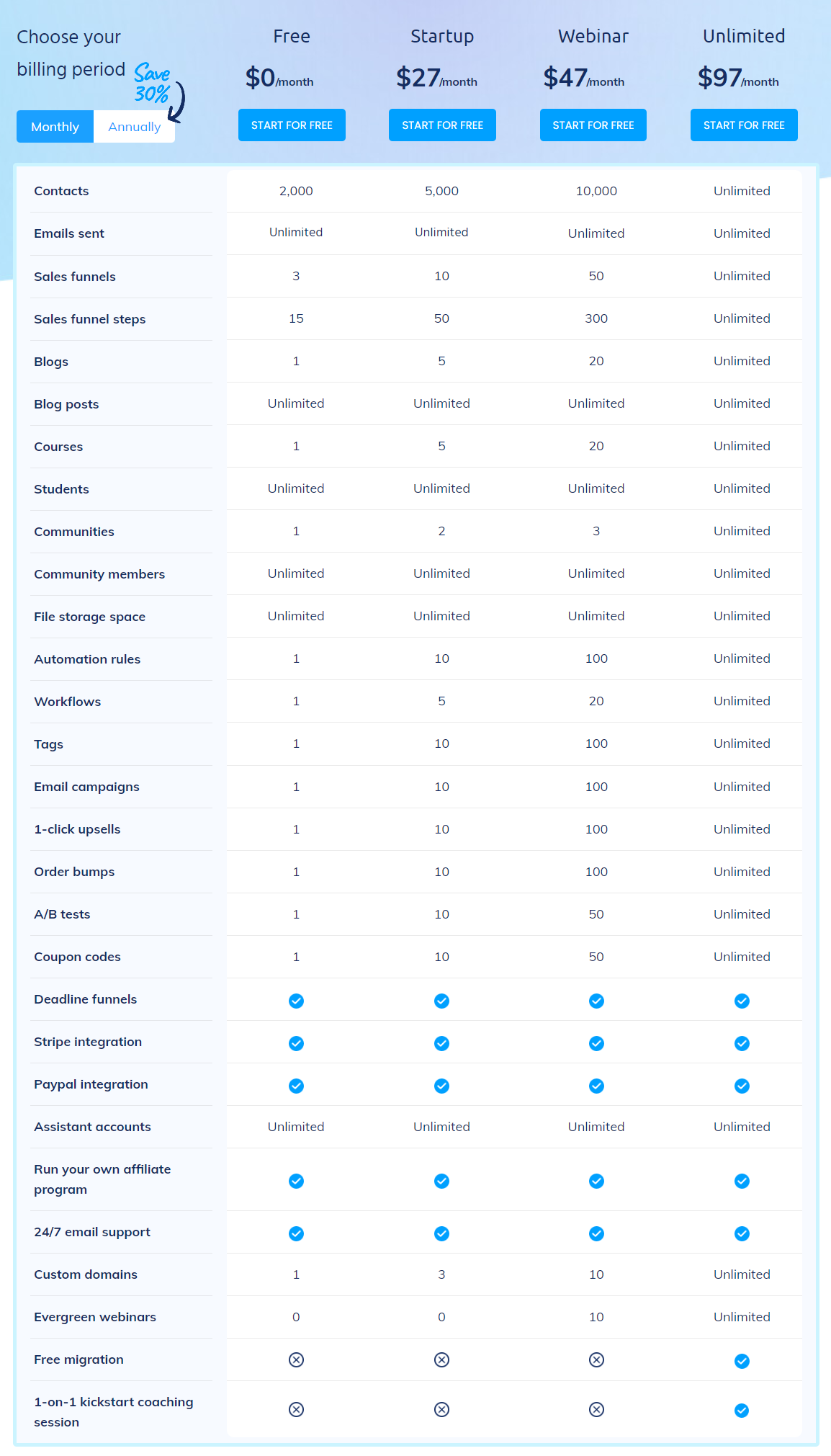 Free Version
Get access to look around and use Systeme in a limited way. You have a limited capability for being able to access and use all of Systeme.io features. But, this package and plan gives you the chance to take a look at the inside of the Systeme.io system.
Cost for the Free plan: Free
Startup Version
Increase your Systeme.io capabilities by getting a hold of the Startup membership level. This will allow you to fully use all of Systeme however you want to build and scale your business. However, certain limits are put on aspects of the platform. You can only have so many courses, blogs, etc.
Cost for the Startup Plan: $27/month
Webinar Edition
Go all out and improve and increase everything you can do with Systeme. This pricing plan includes everything you get with the Startup version + much more. Increase all of the previous limits you had before. What your email marketing tools can do with Systeme IO also increased at this membership level.
Cost for the Webinar Plan: $47/month
Unlimited
Unlock the full potential of Systeme.io with the Unlimited plan. You will have zero limits on your account, and get bonus access to 1 on 1 coaching call and free migration. Every asset is unlimited with this pricing plan for Systeme IO.
Cost for the Unlimited plan: $97/month
Systeme IO Pros and Cons
These pros and cons of how Systeme works and what makes it an option to build your business on, you should read through below. When you compare Systeme to any other CRM or business automation tool, it seems to come far ahead.
Pros
Here is the full list of pros for Systeme IO…
Easy to use software
Great customer support and team behind the company
Amazing CEO
Wide variety of features
Wide variety of tools and automation
Full website builder
Full email marketing suite
Email segmentation features
Split testing features
Full page builder & sales funnel creator tool
Course creation and learning center
Payment processing
Website hosting
Domain transfer
Great competitive pricing
Accurate analytics
Lucrative affiliate program
Best business automation services
Cons
Here is the full list of cons for Systeme.Io…. Consider these when deciding if Systeme IO is right for your business. There are very few Systeme.IO cons because of how well their software and company makes sure to service your business.
Takes time to setup your systems and automations
Doesn't have funnel transfer available for lower pricing plans
Isn't always free
Systeme Affiliate Program
Yes, Systeme.io does in fact have an affiliate program and it pays some generous commissions! Every Systeme affiliate can earn up to 40% lifetime commissions from every single sale & lead they refer to the CRM.
As well, if anyone you refer upgrade or buys additional products or services with Systeme, you will be awarded those additional commissions. They also have a great affiliate support manager with an affiliate reward program as well.
Support & Company Culture
The Systeme has a great company, culture, and CEO behind the company.
Aurelian Amacker is the CEO and founder of Systeme.io who has built an incredibly profitable and growing company with excellent customer support & affiliate support. This CRM and what has been built behind it, is incredible.
Should You Become A Systeme CRM Member?
Yes, especially if you want an affordable CRM option that still gives you full and true CRM services and ability. You can go here now to setup your own free or paid membership to this amazing CRM. This business marketing platform is set to surpass ClickFunnels and many other competitors in the online business tool industry.
Final Reviews Thoughts On New CRM IO Experience
Overall Systeme IO is possibly the best new CRM that you can find. We've tested their support, pricing, features, and more – which are all easy to use & give the most valuable possible to the consumer. Whether you need to build sales funnels, want a premium email marketing software, or need more automation for your business – Systeme IO is a great choice. They are especially a good choice because of their great customer service.
Talking personally with their CEO and team, I've found them to be exceptionally professional and helpful to work with.
FAQS
How good is Systeme io?
Systeme.io is a very good CRM that offers full CRM functions at an affordable price for almost every entrepreneur.
Systeme.io Login
Go to this link now to login to systeme.io: Systeme.io Login
Just click, "Login", in the upper right hand corner.
Is Systeme.io free?
Yes, their is a free pricing plan that you can choose when becoming a member of Systeme.io. However, this plan is limited, but does give you access to the back office. You'll have to invest in a paid plan if you want access to more features and increases in the assets you're able to create.
Does Systeme Have Email Marketing Features?
Yes, one of the main functions of Systeme is their email marketing autoresponder that offers every single autoresponder feature imaginable.
Who Is The Founder Of Systeme.IO?
Aurelian Amacker is the founder and CEO of Systeme.IO. He's a serial entrepreneur who decided to create an all inclusive CRM that allows you to build, manage, and automate every single aspect of your online business & marketing.
Can I build a website on Systeme io?
Yes, you can build a fully functioning website and blog on Systeme.io.
Regardless of your business model or businesses needs, with Systeme you can create any customer experience you need with their wide range of features.