Zapable Review: The Best App Builder?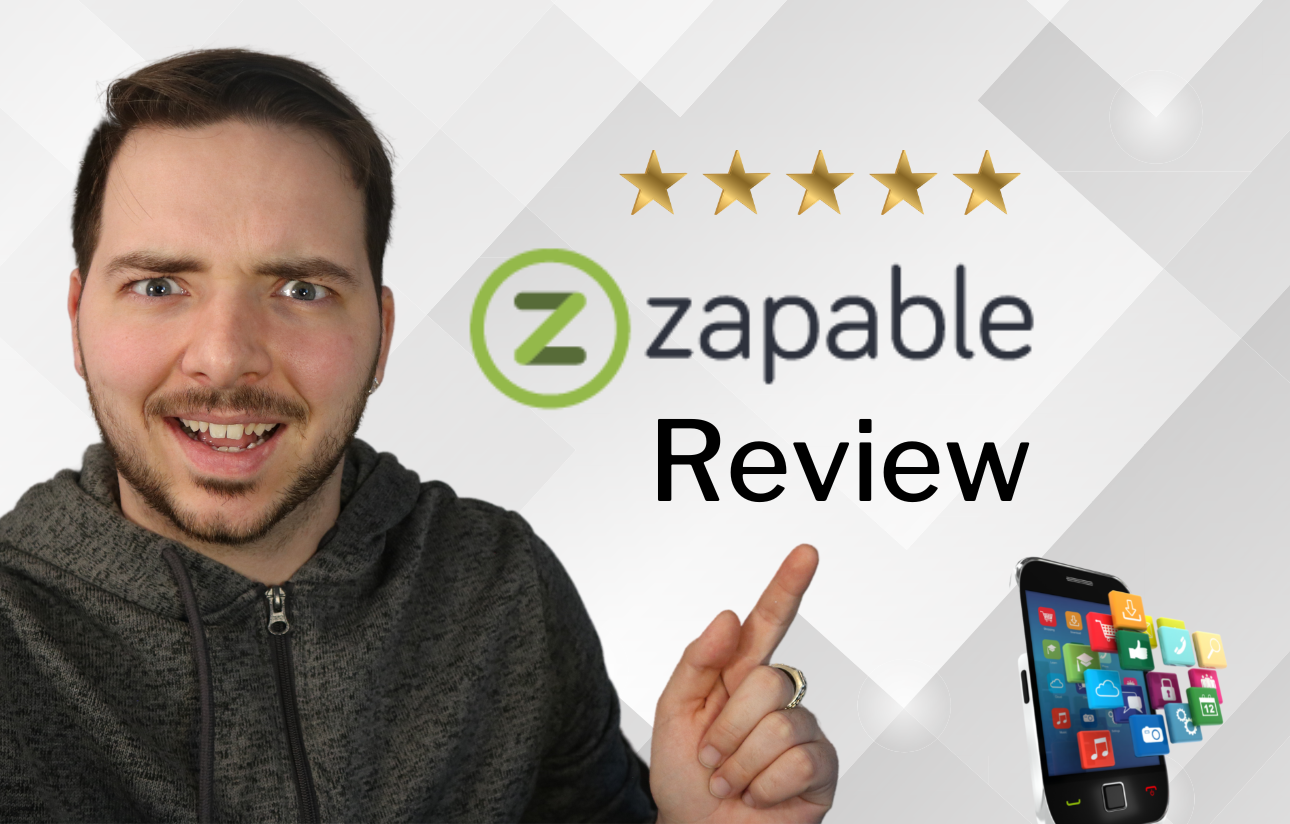 Building effective apps can be important for business owners and entrepreneurs. An app that is built right can help you get more sales, customers, and give a better customer experience. This need for good apps, is being taken care of by a new and incredible app builder. Zapable is the new best app builder on the market that allows anyone to quickly and easily build any custom app they want.
Yes, with Zapable you'll be able to create an app for your business, passion, friend, and so much more. Let's go through this Zapable review so you can learn whether or not Zapable is a good app building solution for you.
What Is Zapable?
Zapable is an instant mobile app builder that allows you to create any app of your choice. You can customize nearly ever aspect of your app, how it works, what it looks like, and so much more. This software tool gives the every day person the ability to quickly and easily create apps without being "tech savvy" or having to know any coding.
It's a software that is popular and has grown in usage over the past few years. Created by Andrew Fox, the owner has a great design and support time behind the scenes making sure you app creating and app building experiences go well.
How Does Zapable Work?
Within minutes of using the tool you'll have your own app created. There are 3 easy to follow steps for how Zapable works…
Select a professional and user friendly template
Build your app and select the features you want.
Publish your instant mobile app within seconds.
These 3 steps are simple to follow and anyone can use this tool. With the amount of customizability and usability, this is a user friendly software. Their feature allows a lot of the marketing work to be done for you as well!
Zapable Features
Of course you may want to know the most important features of Zapable that make it better then nearly any other app building software on the market. Here's the top features and benefits to take a look at…
Sell Your Own Digital Products Inside Your App – This is the future of how we consume content online
Integrates with popular payments services '1 click' such as – JV Zoo, Pay Kick Start, Warrior Plus
Accept Payments in App – Accept Paypal & Stripe inside your app
Sell Access to your ebooks – Audio files – videos and much more you can offer.
Be in your users pocket – literally! Give yourself a competitive edge over others by allowing them access to your content, 24/7 on demand from their mobile phone / tablet
Zap Membership
Protect Your Member Only Content With Ease – Link direct to your membership site within your mobile app for easy of access and protection.
Simple 1 Click Integration – Link membership site by filling in or entering a simple URL.
Increase member retention – The closer you are to members, the easier it is to retain them for longer periods of time.
Integrates with popular member services like WishList, Member Mouse, etc…
Deliver new content at lightning speed. Smoother, faster & easier than ever before.
Zap – ECom
Sell Physical items in App – Want to sell physical items, increased perceived value to your digital brand. This helps you scale easily with real world products.
Send Push Notifications for Instant Sales – Send seasonal offers, weekend offers, Black Friday offer for quick influx of sales.
Integrates With Tee Spring, Shopify, Volusion, Magnento and many more main stream providers will always be available for you.
Push Notification
Send Instant Push Notifications – Alert users of new content you have, sell additional products and services. And when new stock is available.
Online Coaches – Alert people when your Zoom classes / webinars are live.
Cafe / Restaurant Owners – Alert user of special 'meal deals' and much more included.
Scheduling – Program your push notifications to go out at set dates and times.
Geo Targeting – Send segmented Notifications to people only in a certain area and radius. This can be customized in many different ways.
Social Media
Add Facebook – Link to your Facebook profile to keep people up to date.
Add LinkedIn– Share people your business services by linking to your profile.
Add YouTube – Get more YouTube Subscribers, encourage them to subscribe and even embed your video content in App (which still adds to Your Tube view count).
Add Tik Tok – Take advantage of one of the new and fastest growing social media platforms on the planet.
Online Food Ordering – Restaurants, Takeaways & Coffee Shop
Huge Opportunity – Online food ordering and take away services continue to grow and need extra business help in 2022.
QR Code Menus – No Contact Menus are huge right now. Allows users to scan a simple QR code to access your menu in app.
Health and Safety notice – Keep Customers feeling confident visiting your premises by sharing your health and safety procedures – even embed a quick video.
Push Notifications For Instant Sales – Alert users to lunch times specials, weekend specials or tell them about a new menu.
Multiple Location options – Have multiple outlets? You can have a menu to select which one to go to.
Track n Trace – Some countries by law require you to collect customers' details. Now you can in app. Stop having staff write down details on a piece of paper that can easily get lost.
Digital Loyalty Cards With QR Scanning
Digital Loyalty Cards – Reward customers for repeat business ie " Buy 6 Coffees – Get 1 free" by letting your customer scan a simple QR code.
Flexibility Functionality – You can set number of purchases needed to unlock a reward. Offer rewards in points, free drinks, meals voucher.
Full Design Customisation – Create Beautiful, attractive and fully customizable loyalty card designs with drag n drop interface.
Staff Management Option – Incentive staff to get customers to use their loyalty card. You can check stats and see who their best performing staff member is and give them a bonus.
Full Media – Audio and Video
Showcase Your Products – Share beautiful pictures of your products and services. Very important in catering, eateries and beauty.
Perfect for Small Hotels – Show your hotels features, rooms, amenities, check in process.
Automotive Apps – Share your cars and van inventory within your mobile app and allow people to call or email you from that page.
Directories Create City/ Town Direct
Create Your Own City / Town Directory – List all local amenities, services and things to do.
Sell as An Affiliate – Negotiate deals with local businesses to earn a % referral on any business you send your way.
Sell Premium Listings – Charge an advertising fee to place people businesses at the top of the page known as "premium listing" for maximum exposure.
Form Builder
Collect Emails In App – Build Your highly Targeted Prospect List.
Free Lead Generation Courses – Offer Free course about your topic in exchange for emails. Fantastic way to build a hot prospect list.
Create Beautiful Designs – Create Visually attraction designs with our easy to use editor.
Major Autoresponder Integration – We integrate with Active Campaign, Get Response, Aweber, Mail Chimp and more – export your leads at any time.
Build custom forms – This feature allows you to build multiple text fields or as little as you want – you choose what suits your needs.
Google Maps
Share Your Location – Users can click " go now" and head to your premises. Making it easier to them means less friction and a great chance they will complete their visit.
Embed the Map into the App – This keeps the user within your app instead of sending them to a different website.
Automated Apple And Android Submissions
Fast track our Apple submission – Using our brand new automated system.
Full Support and Tutorials – If you ever get stuck or need a hand clarifying everything we have a full support Academy.
Submit to Android – Using our brand new automated system that works pretty effortlessly.
Is Zapable Legit?
Yes, Zapable is a legitimate company and product that works well. It's a highly recommended app builder and app creator that we suggest using if you don't have any coding experience. The CEO and founder of the company is a highly caring and supportive owner.
Is It A Great App Builder?
Yes, whatever your app building needs are, this great tool should be one you use. Any business owner, person with a passion, or entrepreneur, shouldn't pass up on using this excellent app creation tool.
We hope you enjoyed this review on Zapable.
With our kindest regards,
Jon Weberg
Richard Weberg