How To Become A Solo Ads Reseller?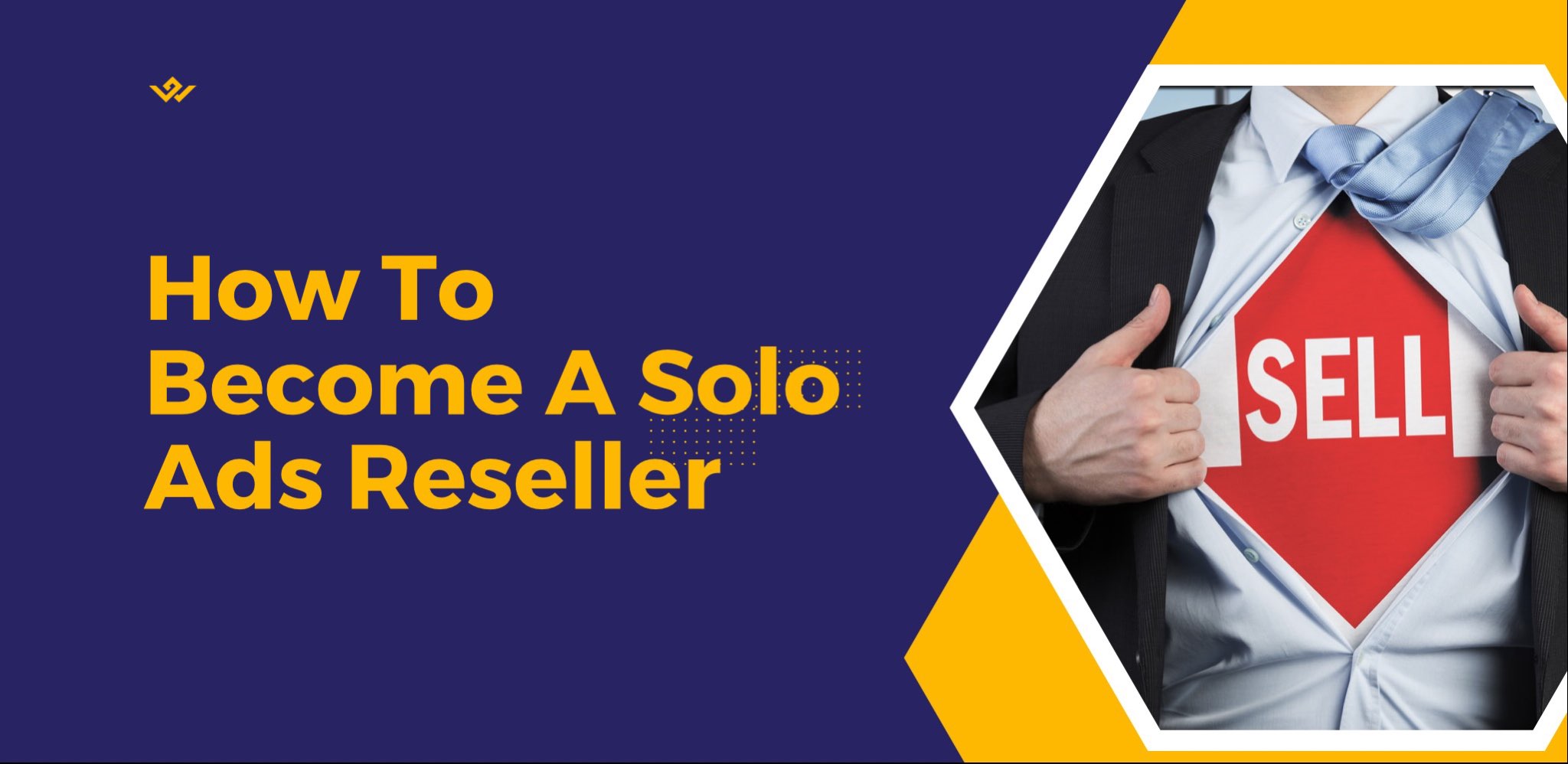 Advertising is big business, and popular online advertising platforms like Google, Facebook, and YouTube make billions!
Just imagine for a moment, if you could refer people who buy Facebook ads, and then earn a percentage of every single dollar they spent on the platform…??
Now, unfortunately you can not be a reseller for Google, Facebook, or YouTube, as they do not allow this. But thankfully, it does not mean your out of the game, as you can become a reseller for an alternative advertising medium – Solo Ads.
And….the good news is, more and more businesses are looking for alternatives, as advertising cost on the most popular platforms have skyrocketed..
Solo ads are an alternative advertising solution that has been used for over 20 years now, and you can become a reseller, and get a piece of the action!
There are few ways you can become a solo ads reseller, and in this article we will show you how to..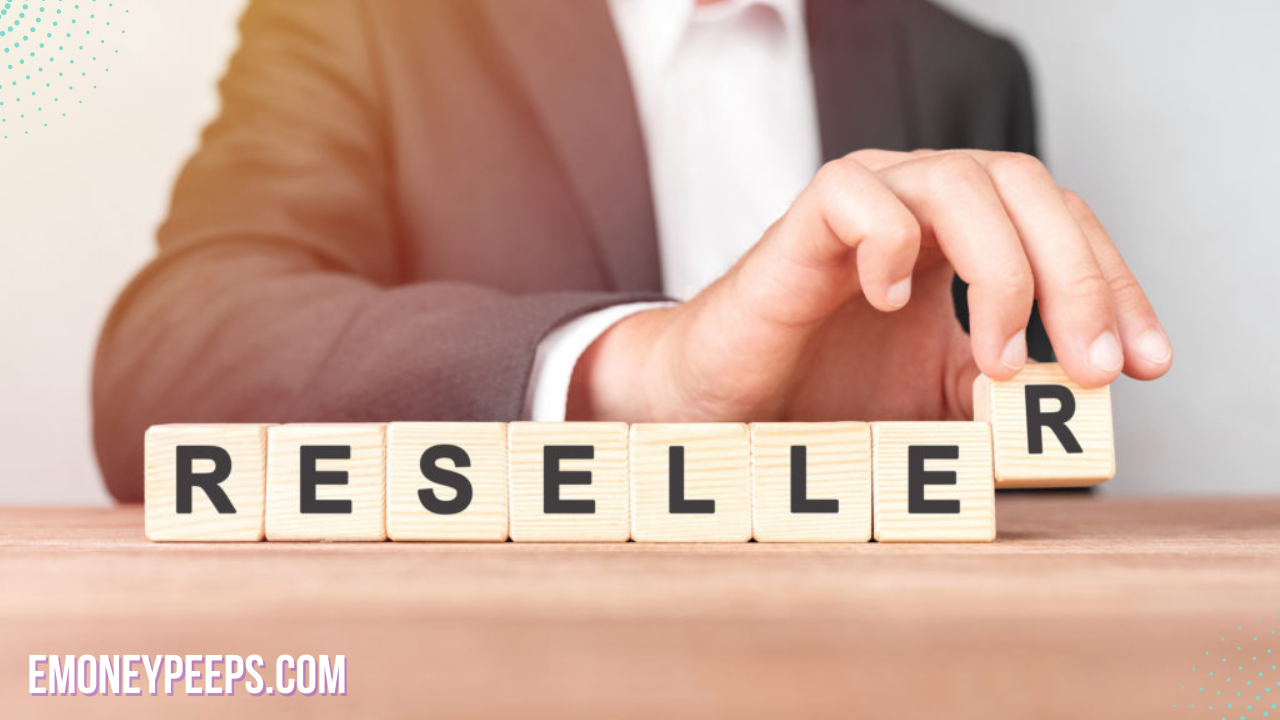 Why Become A Solo Ads Reseller?
There are a variety of impactful, and important reasons that illustrate why it can be a great idea to become a solo ads reseller.
Each of these following reasons why you should become a solo ad affiliate, we will illustrate in a list below.
As, every one of these solo ads reseller benefits you'll read through, have been discovered through our personal experience of buying and selling solo ads for well over 10 years.
Here's the number one reasons as to why you should consider becoming a solo ads reseller…
Lifetime Commission Potential: Once you refer someone to purchase a solo ad from a solo ad vendor, you earn commissions on the lifetime of that customer's purchases. This means that you can generate $1,000's or more per customer referred to any 1 solo ad provider. Big money!
High Commission Percentage: Unlike other traffic & lead sources you can become a reseller for, some solo ad providers pay a handsome percentage of the total sale generated to their resellers. You can earn as high as 20%-40% commissions on every sale you generate for a solo ads seller. Of course, this percentage can be lower depending on the solo ad vendor you sell for.
Solo Ads are one of the easiest products to sell: Selling traffic & leads for a lot of people, is a much easier commodity to sell. Why is this?
Every entrepreneur, affiliate marketer, and business needs website traffic, no matter what they are trying to sell online.
Variety Of Solo Ads Vendors & Companies To Be A Reseller For: Because there are a large variety of different kinds of solo ads vendors that serve different industries – you have a wide range of potential solo ads companies to sell for.
Website traffic is consumable: It is something that is bought on a recurring basis. **As an example, we have been buying solo ads for over a decade.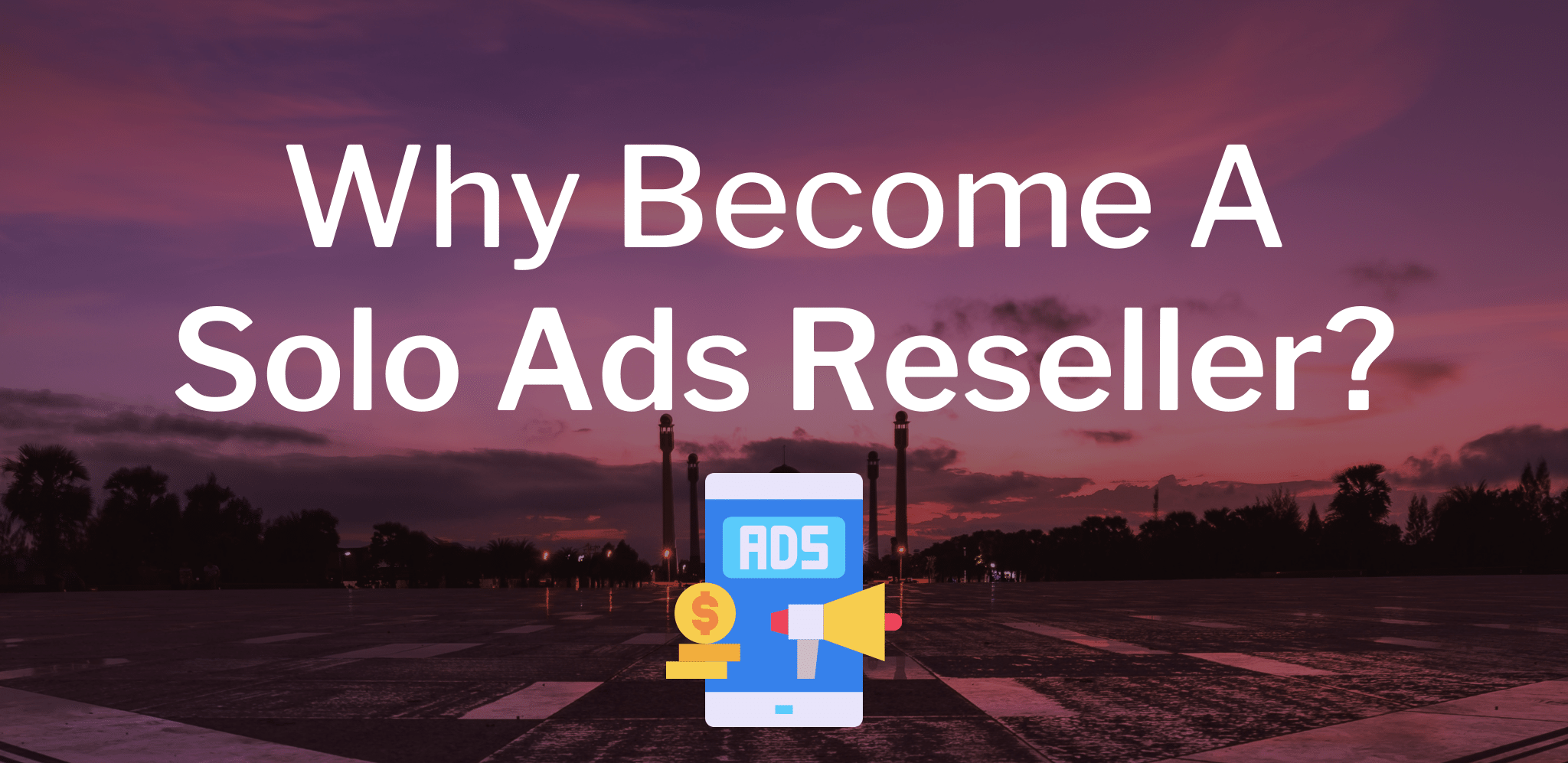 Each of these benefits will allow you to feel easy knowing that running a solo ads reseller business is potentially extremely profitable.
Get Our Top Recommended Lead Generation System To Use With Solo Ads
Is It Easy To Become A Solo Ad Seller?
Yes, you'll find it easy to become a solo ads reseller for most major solo ads providers. Solo ads providers and lead suppliers are excited to receive new solo ads affiliates who want to sell their traffic to the masses.
Most solo ads providers will allow you to become a reseller completely free, and they may even offer you free traffic on occasion for referring them a large number of customers over time. (Included with the commission percentage of the solo ads sale you will receive)
How high the percentage of commissions you receive will be, will change depending on the solo ad companies you work with.
You should only become a solo ad reseller for a solo ad platform that gives you a minimum of 10% or higher of the sale as a commission.
Steps To Reselling Solo Ads
If you want to become a full fledged solo ad reseller, there are a few simple steps you should follow to begin selling solo ads successfully.
Becoming a reseller of solo ads is simple, but you will still want to setup a proper solo ads affiliate business in a proper fashion.
Keep in mind, that selling solo ads can be an extensively profitable business to run & manage. Here's the series of steps you should follow as a solo ad affiliate looking to run a profitable business.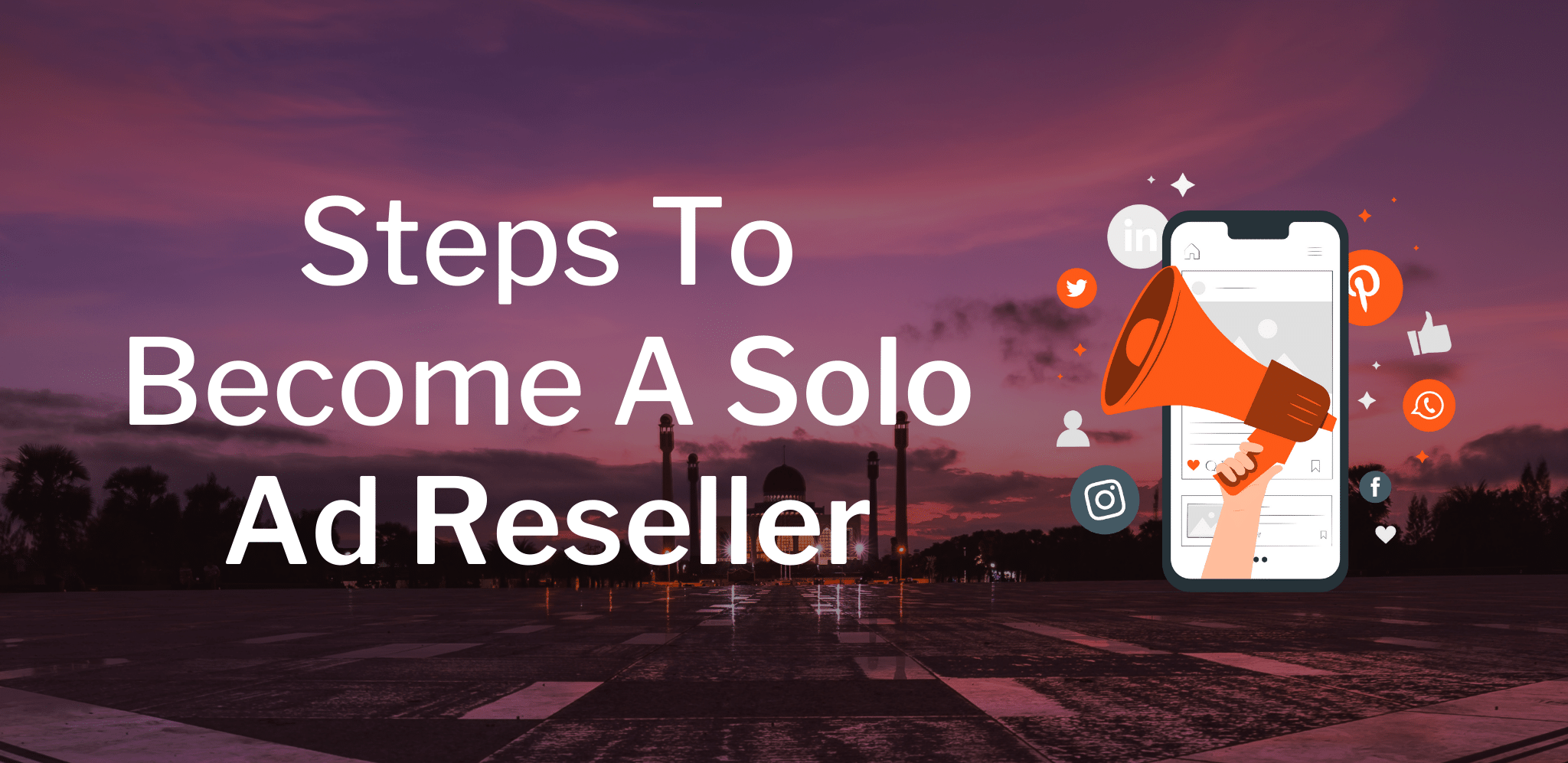 Step #1: Understand How Solo Ads Traffic Works
Before you decide to start selling solo ads as an affiliate – you should first understand how solo ads work in the first place.
This will allow you sell solo ads as an affiliate much more successfully, since you will able to explain the benefits of solo ads better to potential customers.
Step #2: Choose Solo Ad Platforms To Sell For
To be able to sell solo ads successfully, you will want to only sell solo ads from the best solo ads vendors, and the best solo ads providers.
This is where you'll want to begin researching which solo ads providers have the highest quality traffic & the best support for customers.
When you sell high quality solo ads that have great support – you'll retain and acquire lifetime traffic buyers. And they'll keep buying time and time again, because the traffic is actually good!
Further down below in this article, you will find a list of the best solo ads vendors that we've been buying traffic from for years.
Step #3: Setup A Marketing Campaign
In order to sell solo ads traffic profitably and at scale, you'll need to set up a proper marketing campaign. This will include…
Advertising & Lead Generation: You need to be able to generate attention, traffic, and leads, as a solo ads reseller. Without traffic, you can't sell anything either.
A Lead Capture Page: To run a successful digital business you need to be able to gather and manage leads. Use an autoresponder or CRM, and setup a lead capture page.
A Sales Page: After your leads opt-in they should be sent to a sales page. This sales page should direct the leads to purchase the traffic or solo ads of their choice.
Email Follow Up: In your autoresponder or CRM you should have automated follow up emails put in place to follow up and build a relationship with your leads.
Having these 4 main foundations in place will allow you to become a top solo ads affiliate in a profitable way.
Once you're setup, you can sell solo ads as a reseller all day long!
Step #4: Sell Solo Ads & Scale Your Reseller Business
To truly be able to scale your solo ads affiliate business, then you'll need to understand how to optimize and scale the business properly.
In order to understand how to scale a business properly, you should learn from a course, mentor, or through content, and continue learning.
Scaling a business properly and affordably is the most difficult part of building a growing business. This is why you need professional guidance to help you grow & manage your business properly.
Best Solo Ad Platforms To Become A Reseller For
You'll find that there are a select few premium solo ads providers to sell for. Each of these solo ad platforms have a level of professionalism and quality that can't be matched.
We suggest that you join each of these companies as a solo ad reseller, and as a customer so you can test out the quality of the traffic for yourself.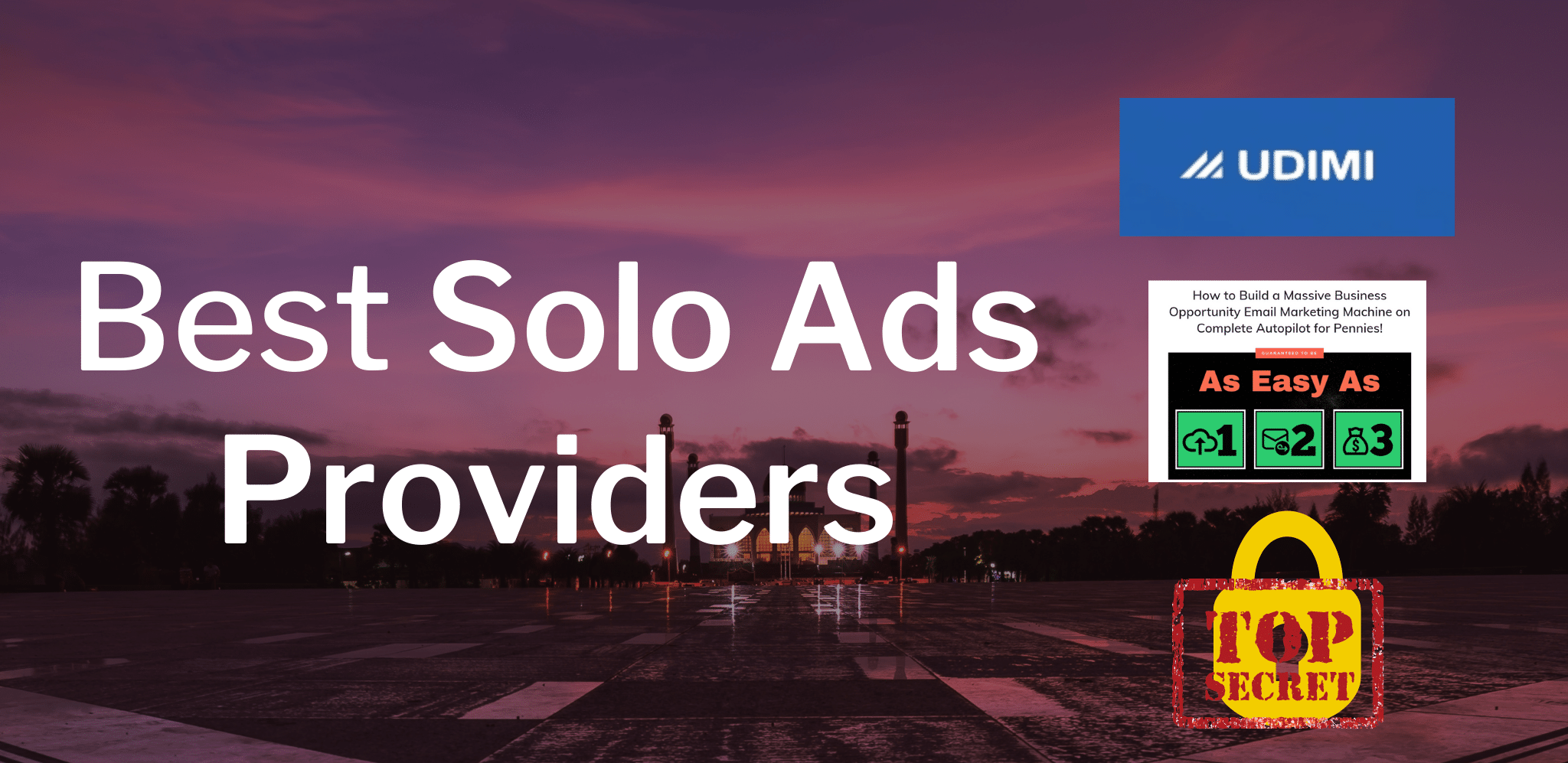 Here's the best solo ad companies list – We are resellers of, and regularly buy from.

Traffic Authority
The owners of Traffic Authority have been in the wholesale traffic business for over two decades. They have paid their resellers millions of dollars.
Their solo ads traffic is 100% USA and Canada based. When you become a Traffic Authority reseller, you will get access to all the tools you need to start your own online traffic brokerage business.
It is free to sign up, but to be a reseller you will need to pay $47.00 monthly, please watch the video above it will explain more.
Traffic Authority pays 30% commissions.
Traffic Authority pays second tier commissions as well. This means if you refer someone who wants to be a reseller, you will earn additional commissions from their sales.
Lifetime commissions on referrals.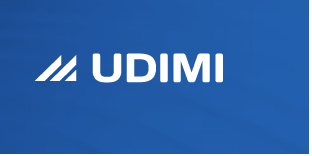 Udimi Solo Ads
Udimi has a respect in the industry that is well deserved! For over a decade, they have provided solo ad traffic to the world from an all-in-one inclusive platform.
Udimi has a highly supportive affiliate program that pays out a recurring 15% commissions for life!
Free to sign up and become an affiliate/reseller.
You will earn 15% from ALL orders of your referrals, As an example: If your referral orders a $1000 solo ads package, you will receive $150. If they make more purchases, you will receive commissions again and again, for every single order!
Up to 50% from all Prime subscriptions. Recurring Prime is $15 / month. You will receive $8 every month for every active Prime referral if you are Prime yourself or $4 if you are not.
As a welcome gift, all your referrals will receive $5 discount on their first order from Udimi right after registration. You don't lose money on this discount.

Heavy Hitter Leads
Heavy Hitter Leads is a done for you PPL, (Pay Per Lead solo ad company). Heavy Hitter Leads allows you to buy leads that are already, vetted, targeted, filtered, and scrubbed clean.
These awesome leads can be drip fed directly into most autoresponders. So, you can either buy these leads and then resell them your self, or refer people directly to Heavy Hitter leads for some nice commissions.
You can sign up as a free affiliate – reseller, and you're able to earn 10 – 20% commissions across the board.
If you buy leads you are automatically upgraded to earn 40% commissions off of your first level sales. And THEN, you're able to earn 20% commissions off of your second level sales as well.
Lifetime commissions on referrals.

TrafficForMe
TrafficForMe is another really great solo ads platform with solo ads traffic from 100% English Speaking Countries.
These are the markets they serve best – Biz Opp and make money, internet marketing, health and diet, personal development, stocks, Forex and binary, and survival and prepping.
Sign up as an affiliate/reseller for free.
40% commission. This is 40% of Net Profit (this is the cost of the clicks minus what they pay their publishers to deliver them).
Refer someone to them, and get paid for every traffic purchase they make for life.
Regularly offer sales on their solo ads to induce your customers spending. This means increased profits for you!
You should always test traffic sources before you sell them.
However, if you're not going to purchase a traffic or solo ad package from any of the above solo ads vendors, then you should take a look some quality reviews of each of the solo ad companies we listed.
Get Our Top Recommended Lead Generation System To Use With Solo Ads
Are Solo Ads Good To Sell?
Yes, you can feel comfortable to buy solo ads, and reselling solo ads as an alternative advertising source to others.
Because solo ads offer quality & affordable traffic that is easy to have sent to any business. (You should consider buying solo ads from Udimi if you want to run a solo ad test)
You could even consider selling solo ads yourself, however it takes a lot of time to learn how to generate the number of clicks & leads needed to successfully run a solo ads company yourself, why it is much easier to become a solo ads reseller for the companies we have listed.
As you have only one job, to sell!
You'll find that solo ads are good to sell as well, because they're the #1 alternative advertising source. When people stop buying social media ads because they're to expensive and full of bot traffic, they start turning to solo ad & other traffic sources.
Additionally, you can even sell high ticket items with solo ads and they still will convert!
How Do I Become A Solo Ad Seller?
Some people are interested in learning how to sell solo ads themselves. (NOT being a reseller, but to generate and sell clicks directly)
If you want to be able to sell solo ads yourself, it's necessary that you following these next steps…
Learn exactly how the business of selling clicks work.
Learn how to generate quality clicks and traffic for your customers
Setup your click & lead selling solo ad business.
Once you've done those 3 things, you'll have your own business selling solo ads clicks.
Final Thoughts On Becoming A Solo Ads Reseller
The journey to be able to sell solo ads in a enjoyable way, is pretty simple. You simply have to take the time, and focus on understanding how solo ads work, deciding which solo ad providers to become an affiliate for, and then setup a proper marketing funnel to sell the solo ads services.
Once you've setup your solo ads reseller business properly, all you have to do is start generating leads and interested customers.
This guide was made to properly guide you through selling solo ads as a reseller, and we hope it helped you immensely.
Sincerely,
Your Friends And Partners
Richard And John Weberg
P.S. If you like this article, please make sure and share it, as we hope you can see by reading it, many others would benefit as well.
Get Our Top Recommended Lead Generation System To Use With Solo Ads
FAQS
Can solo ads resellers make a lot of money?
Yes! As every website owner, affiliate marketer, online entrepreneur needs website traffic in order to sell stuff and make money online.
Facebook is a billion dollar company and so is Google, and that is exactly what they do – sell traffic!
Is selling solo ads a good way to make money online??
Yes! Selling solo ads can be a great way to make money online. You can be your own boss, set your own hours, and work from anywhere in the world. Plus, you get to help people promote their products and services.
How do you make money selling solo ads?
Simply put; you build your own email list through free and paid advertising methods. Once you have sufficient leads flowing in, you can start selling email solo ads for profit on a platform like Udimi, which we have listed in this article.
You can also monetize your list further by selling products and services to them as an affiliate marketer.