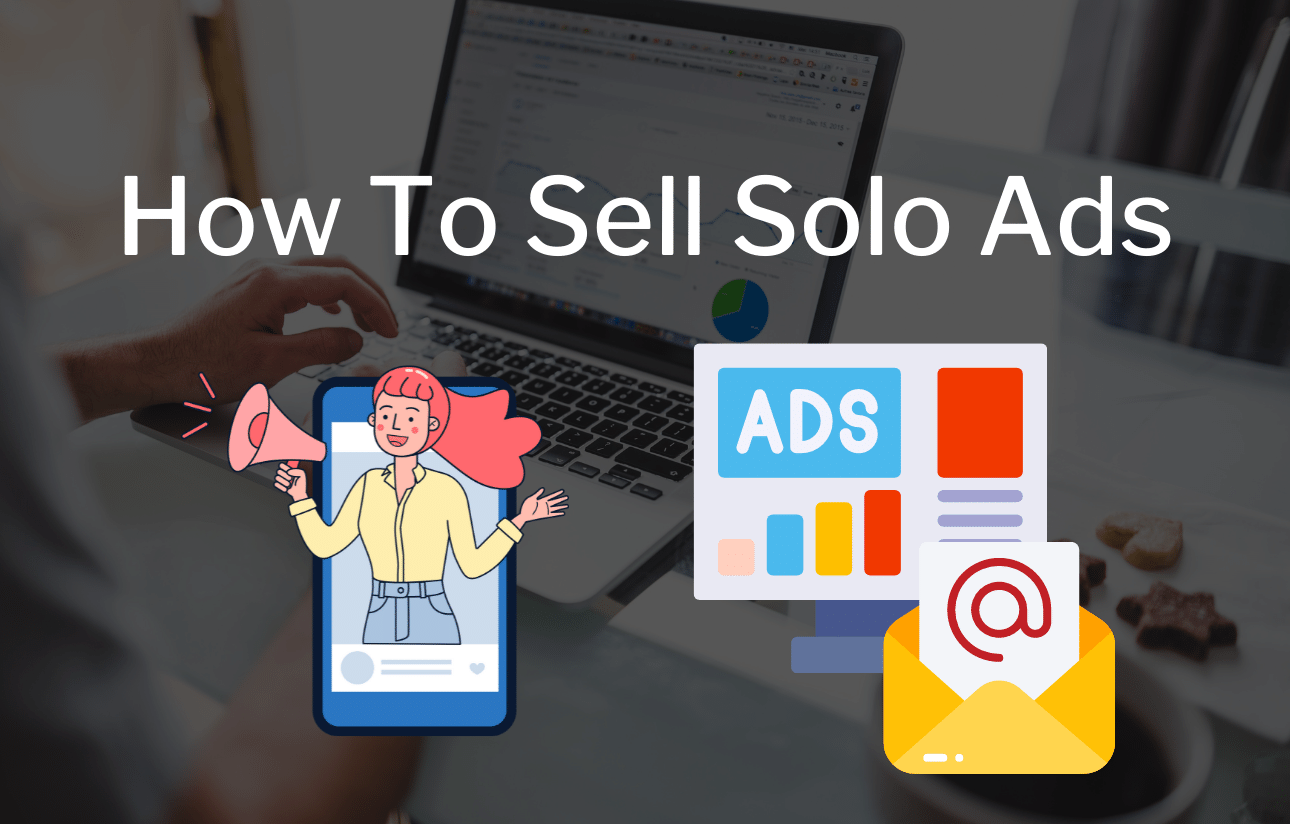 Learning how to sell solo ads is a process that takes time, but it also can be quite rewarding. Solo ads are a lead generation technique that is in it's own industry. You're able to provide consistent targeted leads and traffic to your buyers at an affordable cost. This guide will walk you through every step to follow in order to become a profitable solo ads seller. Let's get started!
Make sure you read through every step so you understand exactly how the solo ads selling process works and how you can become a seller yourself.
Steps To Sell Solo Ads
Below you'll find the most important steps to follow to sell solo ads properly. Follow them and you'll become a solo ad seller in no time!
Understand How Solo Ads Work
The most important part of being able to sell any solo ads, is the understanding of how solo ads work in the first place. Without the right knowledge you won't be able to properly run your ads effectively for your buyers.
This is how solo ads work…
A solo ad seller like yourself, generates and put leads onto their email list. You then offer to send these leads to checkout a buyers offer, in exchange for a fee. The solo ad seller usually charges per lead or per click delivered to the customers offer. These leads or clicks are generated from the solo ad providers leads, viewing the customers offer.
Here's what else you need to learn about…
How solo ads work in even more detail.
How to generate traffic and leads.
How to manage your customers and buyers
How to get clicks for your buyers
We'll teach you all of this below!
Pick The Niche You'll Offers Solo Ads For
You need to decide on the niche or type of solo ads you'll be selling. Why is this? Because not all solo ads convert for every offer or niche. Solo ads only work if the solo ad traffic is directed at an offer that is what the audience wants. The better your solo ads traffic matches with the offer, the more your clicks will convert to results for your customer.
Because of this you'll have to choose a niche to sell solo ads in.
Here's a variety of the most popular solo ad niches you can decide to sell for…
Health and Wellness
SaaS
Crypto
Make Money From Home
MLM
Once you've chosen which type of solo ads traffic you'll be offering, it's time to start generating that niche traffic & leads!
Generate A Consistent Lead Flow And Build Your List
In order for you to deliver results for your buyers, you need to start getting leads onto your email list in order to send these leads to buy from your solo ad buyers. You can generate these leads and get them onto your email list by using 2 different methods.
Organic lead generation.
Paid lead generation.
This means you'll have to either buy traffic or generate traffic through content production in order to build your email list. The best idea is to be able to charge more money to your solo ad buyers then it costs to generate leads and traffic. If you can do this profitably, can you start selling solo ads easily.
Join Solo Ad Marketplaces As A Solo Ads Seller
Once you're able to generate leads and traffic consistently, the best place to find buyers for your solo ads is through a solo ads marketplace.
We highly suggest you join the following marketplaces to have an easier time selling your traffic and leads.
TrafficForMe
Solo Ads X
Send Email Broadcasts To Your Solo Buyers
Once you get an order for your solo ads, it's your responsibility to begin broadcasting your customers offer to your email list. Only accept an order for your traffic if the niche of the offer matches up with the niche your audience is in.
Once you receive your payment, begin setting up an email broadcast to promote your customers links / offers.
Continue broadcasting to your audience until you have fulfilled the customers order. This usually means you've generated a certain number of clicks or leads that they've ordered.
Why Should You Sell Solo Ads?
You should sell solo ads if you're looking to start a lead generation business. Some people enjoy the process of selling traffic, and often solo ad sellers promote their own offers to their audience. As a solo ad seller you can promote other people's offers in exchange for money, while also selling whatever you wish to your audience.
It can be a very profitable business model.
Final Thoughts On Selling Solo Ads
Being able to sell solo ads at a profit can be a great experience. It will take some time, effort, and money to get started. We hope you enjoyed this article and it helped you learn about how to properly sell any solo ad.
With our kindest regards,
Jon Weberg
Richard Weberg