Fiverr Solo Ads Services Review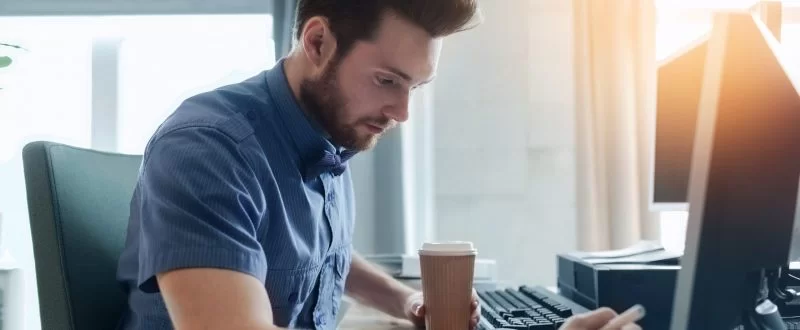 Should You Buy Solo Ads From Fiverr Sellers?
Solo ads are fast, effective, and can be used to scale your sales fast. But before investing in these type of ads, you have to ensure that the platform you are using for purchasing your solo ads is reliable and is actually providing true solo ads. If not, you might end up fake funding bot clicks, and you will not get any conversions of any kind. When you go online, you will find numerous platforms where you can buy solo ads like Fiverr.
Here is our Fiverr solo ads services reviews and why you should NOT use this platform to buy any solo ads. First we will explain what Fiverr sellers do very well with.
Fiverr Is A Wonderful Services Providing Platform
What Fiverr does well, is provide a market place for freelancers that specialize in providing digital services to consumers and businesses online at inexpensive pricing.
Fiverr is a great place to get quality logos made, graphics, content written, blog post, a website built, videos done for you, etc. These are the kinds of services their sellers excel at.
Over the years we have had many banners and other graphics made by Fiverr freelancers and they did an excellent job.
Some Of Fiverr's Digital Freelance Services
Graphics & Design, Digital Marketing Services, Writing & Translation, Video & Animation, Music & Audio, Programming & Tech, and Data services.

Why You Should NOT Buy Fiverr Solo Ads
Fiverr freelancers really provide some great quality work, but any of the sellers on Fiverr's platform who are selling solo ads are providing bot clicks and or are using safelist and mailers, which provide very little actual opt-ins for the amount of clicks delivered.
Any solo ad seller promising to send your solo ad to 500K people for $10 bucks, is not providing a true solo ad. If any solo ad provider could provide this much traffic that cheap, everyone online trying to make money would be filthy stinking rich!
Here are a couple of examples: Screenshots taken from two of the solo ad sellers on Fiverr. They are all pretty much this way. You will see in the small print on the right hand side of each image, they are actually claiming to send a solo ad to 500,000 people for $10 bucks.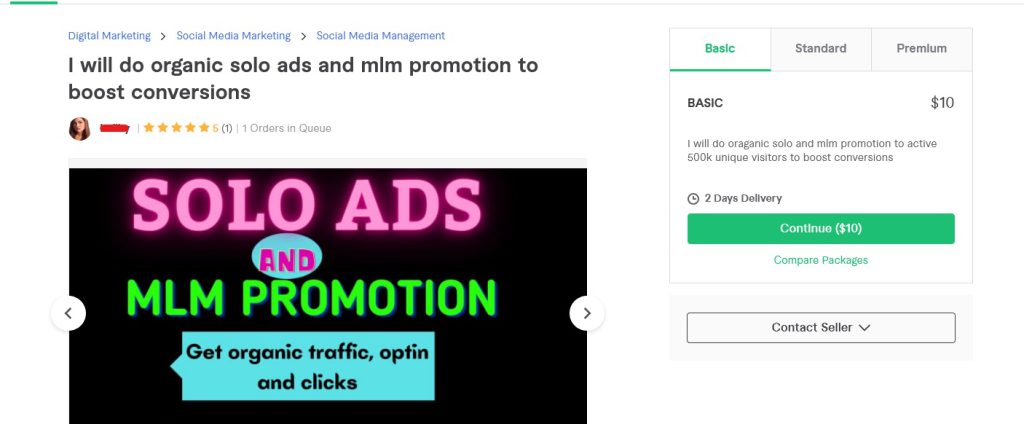 Second example: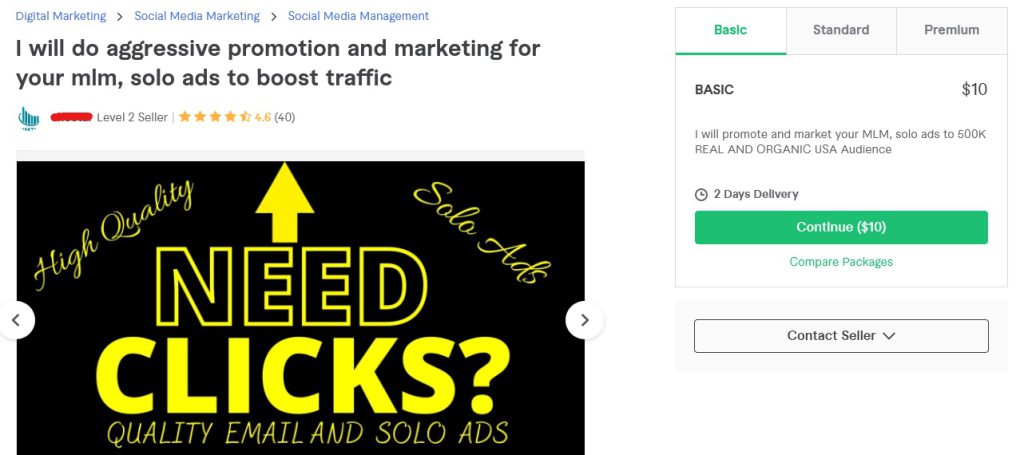 Now when you are new to marketing online, people do not know any better, and at one time we did not either, and we fell for these types of offers, promising ludicrous amounts of traffic for a few bucks, and it was a total waste of money.
We bought several of these types of gigs from Fiverr years ago, with absolutely no results, not even a couple opt-ins.
Real true solo ads you pay by the click, anywhere from .30 cents a click to $2.00. So as an example: If you bought 100 clicks from a reputable solo ad seller, you would pay some where in the neighborhood of $30 to $200.
And if your using a good lead capture page, you should put anywhere from 25 to 50 or more new quality leads on your email marketing list from the 100 clicks.
Getting leads on your email list is very valuable, we have people who have been on our email list for over 15 years now who buy from us all of the time. (For more information on how real true solo ads work << Click here)
How To Find The Best Solo Ad Providers
Here are some things to keep in the forefront of your mind when looking to find quality providers.
Find Platforms that specialize in Solo ads
Meaning – this is what the platform is dedicated to. Now Fiverr is fantastic with many digital services because they are services based, but their sellers cannot provide actual real true solo ad services at those prices that Fiverr is known for.
Cultivating a real email marketing list that you can sell clicks from, take much time, energy and money for a seller to create.
True solo ad sellers dedicate themselves to building responsive email list and that is their specialty.
Get Our Top Recommended Lead Generation System To Use With Solo Ads
Guaranteed traffic delivery
True Solo Ads Sellers will guarantee the number of clicks delivered to your offer.
You can use many marketing platforms for your business like Fiverr, but not all of them are reliable or will guarantee that you get the traffic generation you purchased. But that is not the case with real quality solo ad providers.
When you use platforms dedicated to providing solo ads, you can be assured that you will get a guarantee on your campaign – the number of clicks you purchase will get delivered.
This is because genuine solo ad providers and services have a targeted email list to ensure that they have sent information about your company, products, or promotions to people interested in what you have to offer.
Besides, a true solo ads platform will offer you a real traffic analysis report. This means that you will have a clear idea of how the marketing option is doing, and where the clicks are actually being sent from.
Make sure the pricing is realistic
Stay away from outlandish claims. If a seller is offering to send your solo ad to 100,000 people for 10 bucks, it is not real a real solo ad.
Solo ads in most cases are sold by the click, and are sold in click packages costing somewhere between .30 cents a click and as high as 2.00 a click.
So if you bought a real solo ad to 100,000 people it would cost you between $30,000 and $200,000.
Click packages as well start low, so they are accessible to all marketers, most start at 50 to 100 clicks, and go higher from there. Real solo ad providers give realistic options.
So stay away from those unrealistic solo ad claims LIKE those made on Fiverr , they will give you NO RESULTS!
Real marketing strategies have cost and will yield real returns.
Fast growth for your business
Genuine solo ads providers can provide you with fast growth for your business
This is another reason you should use real quality solo ad providers, they will help your business get recognition quickly. Unlike other marketing options, you will not have to wait to grow your business when using true solo ad marketing.
Reputable solo ad platforms will give your business an opportunity for fast growth without using too much effort. The reason being is they specialize in solo ads and will make sure that you get the traffic and the targeted clicks that you had requested and purchased.
Get Our Top Recommended Lead Generation System To Use With Solo Ads
Solo Ad Companies We Buy Traffic From
These solo ad services get our highest recommendation. We have been buying solo ads from them for years, as they are the highest converting providers.
4. TrafficForMe
5. MLM Leads
Conclusion
When you do your research on Fiverr solo ads services review, you will notice that this is not their specialty, they offer many great services but unfortunately solo ads are not one of them.
Solo ads are especially effective for those with a limited budget who want to use an online marketing platform to grow their income. By using this option, you can be assured you will get value for your money.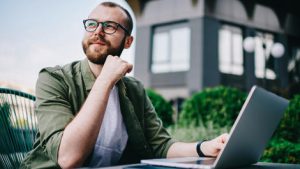 If you still have questions about solo ad providers, please also read: 10 Most Commonly Asked Questions About Solo Ads
And: Ultimate Guide To Solo Ads
We really hope this Fiverr solo ads services review article has been extremely helpful to you. If you have any questions, don't hesitate to post them in the comments section below or just say hello.
Sincerely,
Your Friends And Partners
Richard And John Weberg
FAQS
Do Fiverr solo ads work?
No, they do not work, we have tested them several times. They are not true solo ads. They are using bots and/or sending your offer to safelist and mailers.
Is Fiverr a scam?
No, Fiverr sellers provide many quality services for very reasonable prices. Fiverr can provide many great services, but not for solo ads.
Is Fiverr a safe website?
We have bought gigs on Fiverr many times, and they are one hundred percent safe. As with any other website, there are some scammers, but they are very rare and almost never slip through the cracks because of the back checking that Fiverr conducts and the reviews past customers leave publicly. Before you pay for a service on Fiverr though, we highly recommend:
1. Making sure the seller you are looking at has many good reviews or is Pro Verified.
2. Look at their past work, credibility, schooling, accomplishments, etc…
3. Message this person and ask a few questions to see if they are right for the job, and can easily understand you.