The 5 Best Digital Marketing Courses Online For Learning Marketing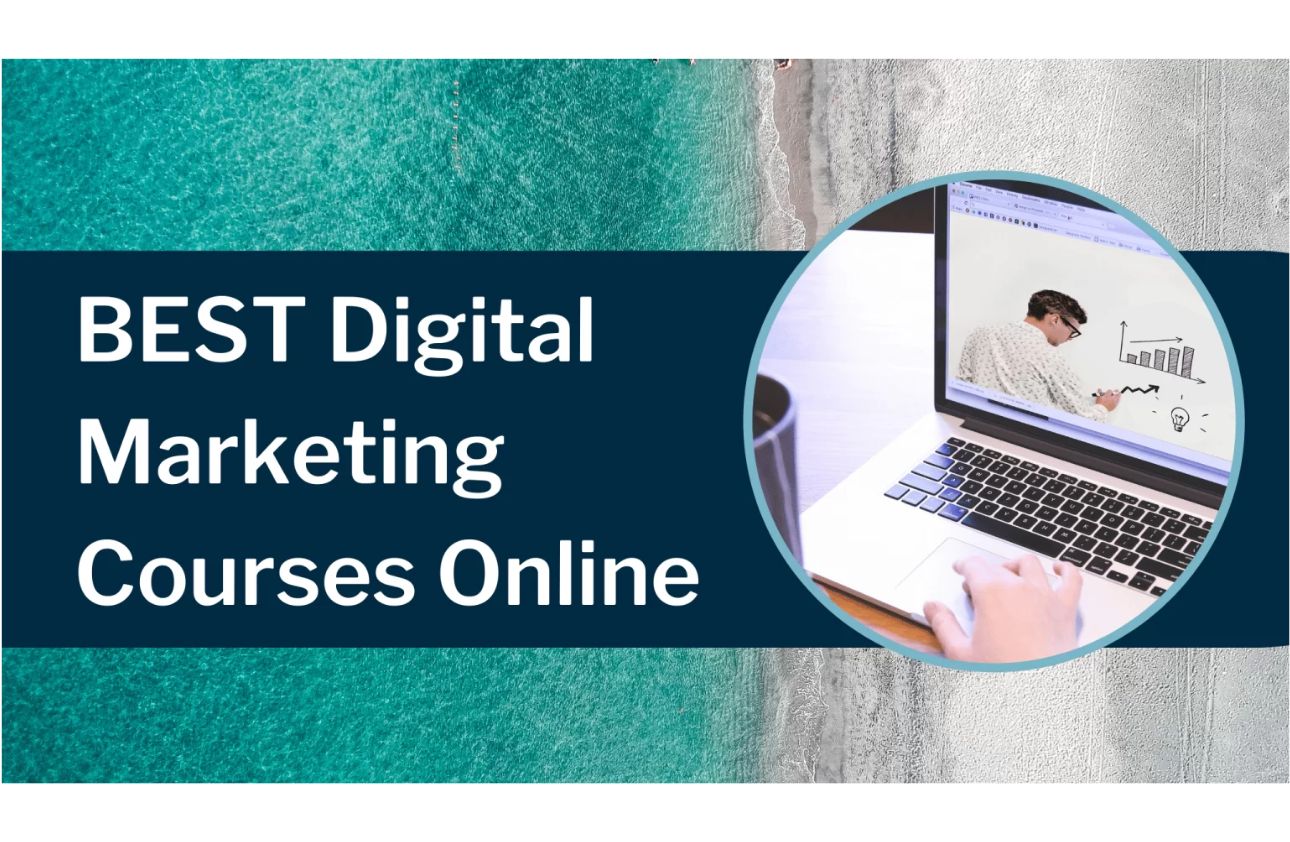 Learning how to improve your marketing efforts is one of the main ways businesses scale their profits. This is why the best digital marketing courses online are so sought after!
Better digital marketing is the key to growth that businesses will also pay top dollar for. In fact, businesses on average spend between 7-8% of their revenue on marketing.
This is why we want to walk you through the top digital marketing courses. You'll find out which courses and training programs are the best, pricing tiers – plus the key features you should be considering.
Is Digital Marketing Worth Learning Online?
Yes, in fact the growing majority of marketers are learning about digital marketing online now. Every year more and more marketers are moving into the digital field because of businesses transitioning to online sales.
But why is this?
Well, you only have to look at any online digital marketing marketplaces to discover a range of courses, from training programs to lessons taught by masterminds and many more.
You'll find most of these courses all teach many levels of digital marketing, so for you and me – we are treated to a huge range of training material!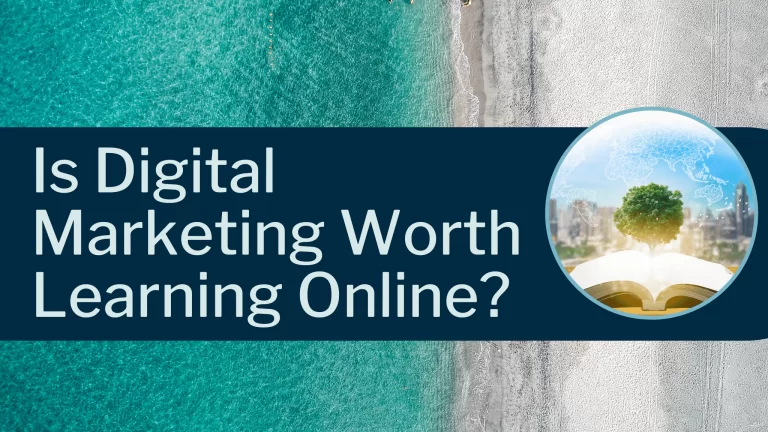 Because digital marketing really entails a variety of different aspects of marketing. What you'll learn in any digital format is now often better then the in person alternative. As well, making digital marketing mistakes can be easily fixed .vs. trying to fix offline marketing mistakes.
The online and digital learning experience is getting better and better! Especially when you learn from the right online education platforms & digital marketing learning resources.
Can I Learn Digital Marketing On My Own?
Yes! Anyone can learn about digital marketing on their own.
Many entrepreneurs are self taught or invest in marketing courses & other forms of marketing education in order to learn marketing best practices.
Over the years however, the marketing education space has been diluted with a variety of low quality "digital marketing consultants & coaches" – perhaps this is because they claim they are experts.
However, they are simply good at only selling their own services – and not actually good at teaching others about marketing.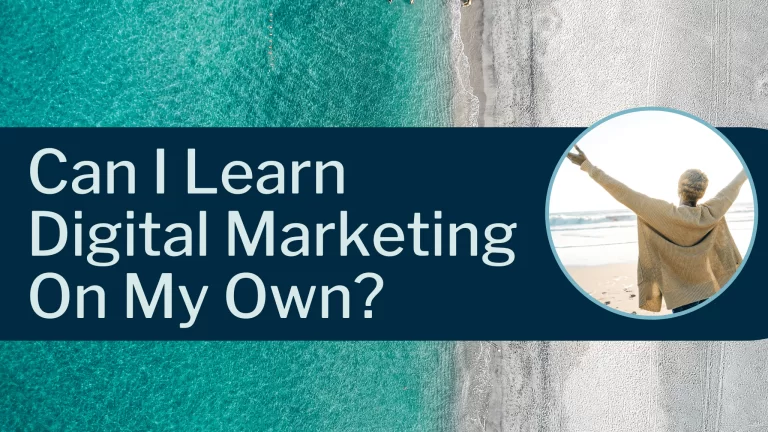 When deciding on purchasing any online digital marketing course, be careful and selective. Not all online marketing courses are created the same!
When you choose any online courses to learn from, make sure the creators of the courses are true experts of their craft. You'll also need good tools for presenting your digital ideas and digital products as well.
SO YOU WANT TO LEARN DIGITAL MARKETING?
Our course offers EVERYTHING you need to know get started – plus it's completely FREE!
Can Digital Marketing Be Self Taught?
The digital world is the best place to become a self taught master of any skill. Yes, digital marketing can be self taught, and most often it is self taught through trial & error.
Schools are no longer the best place to learn life long important skills. Going through an online course, lesson, lectures, or program – is a cost effective digital alternative to schooling that the world is adapting to quickly.
You should learn in the digital world through a course of some kind, as they often are created by world class talented digital marketing entrepreneurs.
Best Digital Marketing Courses Online
Below are the top digital marketing courses online. Each digital marketing course has been reviewed and tested for it's quality of education and training it provides.
While each review of each course will be honest and transparent, always use your own discretion when deciding what investments you are willing to make into your digital education.
Only some of the courses below will include a digital marketing certification. (Remember that a marketing certification is not a necessity. In the digital marketplace, most businesses looking to hire digital marketers don't care about certifications.)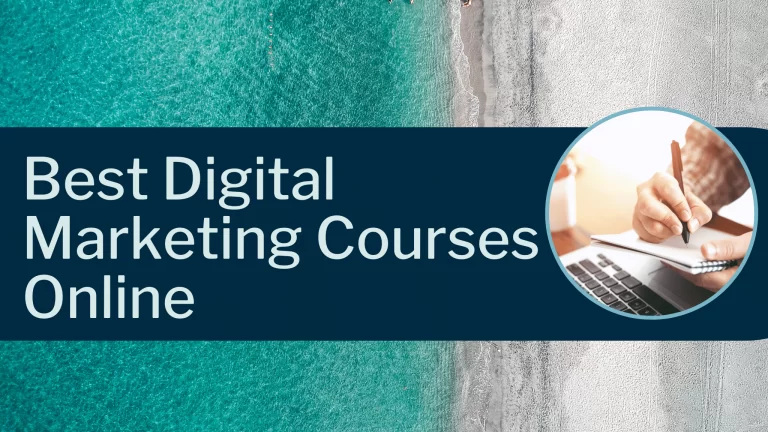 Marketing Mastery Elite
This top tier digital marketing education platform provides the best digital marketing courses to ever have been created. The creator & CEO, Jon Weberg, is a world-class business growth consultant who helps businesses scale through optimization. T
his creation of his has allows businesses to create hyper growth across every metric measured in business.
Marketing Mastery Elite was created to help businesses scale every single aspect of their marketing, sales, advertising, and business. You're getting a mastery level education, templates, guides, walkthroughs, and resources – for every digital marketing need you may have.
In fact, MME offers a digital solution and digital marketing education in any & every aspect of business you may need guidance on.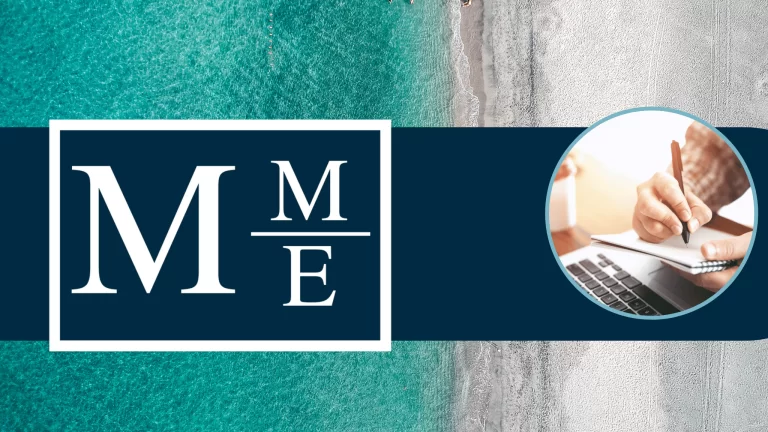 By purchasing Marketing Mastery Elite, you will never need to invest in any other marketing, sales, course, or business resource ever again.
It is a permanent digital solution to any entrepreneur or marketing businesses needs imaginable. This is why they charge more then other courses do.
Here's all of the digital marketing courses that Marketing Mastery Elite provides when you become a customer with them…
Organic Lead Generation Course
Paid Lead Generation Course
Email Marketing Course
Funnel & Sales Process Design Course
SEO Course
Follow Up Course
Sales Course
Human Resources Course
Business Taxes Course
Graphic Design Course
Videography Course
Social Media Course
Growth Hacking & Conversion Optimization Course
Offer Design Course
Customer Retention Course
Follow Up Course
Product Design Course
Customer Management Course
Affiliate Marketing Course
Inbound & Outbound Marketing Course
Each course is designed to scale your efforts in that specific area of digital marketing, to the most profitable form possible.
Each course is a total mastery level of education & knowledge. After reviewing dozens of courses and education platforms, none can match the level of easily understandable expertise that Marketing Mastery Elite provides.
Pricing
For Individuals & Small Businesses: $2997 one time.
For Medium To Enterprise Businesses: Starting at $49,997 one time.
Features
24/7 Live Support
24/7 Live Updated Digital Marketing Content
Lifetime Digital Account Access
Team & Employee Account Access
Premium High Converting Templates For Every Part Of Your Businesss
Over The Shoulder Walkthroughs
#1 Globally Recognized Business Education & Skill Courses
Easy To Use Digital Back Office
Beginner To Master Friendly
One Of A Kind CEO & Founder
One Time Pricing
Total Marketing Social Media Mastery Course Collection
Marketing Mastery Elite is truly the only education, course, mastermind, course, or book – you or any one of your employees will ever need to learn from for life.
A Globally Recognized Education Hub
"A top tier digital marketing education platform loved by thousands!"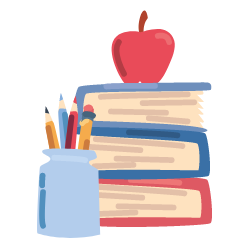 Internet Jetset Super Affiliate System Course
Being one of the most successful affiliate marketers in the world, John Crestani created the Internet Jetset program to help people start and run an affiliate businesses at scale.
Through this incredible course you will learn multiple different aspects of digital marketing while focusing mainly on affiliate marketing.
What people don't understand about affiliate marketing and this course, is that it involves multiple different aspects of other digital marketing skills.
Email marketing, content marketing, and more – are all using in affiliate marketing.
The Internet Jetset system will walk you through…
How to choose and sell a high converting offer in any niche or industry.
How to drive traffic and leads to your offers
How to scale and optimize your offer to be more profitable
While the Jetset Super Affiliate System isn't built for digital business operating at a large scale, it is still a quality online course on digital marketing.
Pricing
$47 per month to join – for the course, private group access, and more. There are a select few upsells you can purchase for a one time price as well.
Features
Learn how to run ads, manage your offer, and scale
Learn at a mastery level how affiliate marketing works
Learn from a globally recognized leading affiliate marketer & entrepreneur
Great support team
Easy to follow course
Testimonials and proven process
Affiliate Lab SEO & Affiliate Course
Matt Diggity, a well known SEO master & specialist, has created his very own course on digital marketing. In the Affiliate Lab course, he teaches you how to master SEO while creating, flipping, and selling websites.
Through Affiliate Lab you will learn various aspects of digital marketing that will allow you to learn how to start and scale a business in any industry or niche.
This courses is for beginners to intermediate experts, and it has a track history of producing reliable results for those who follow the course closely. The founder did an amazing job putting this course together!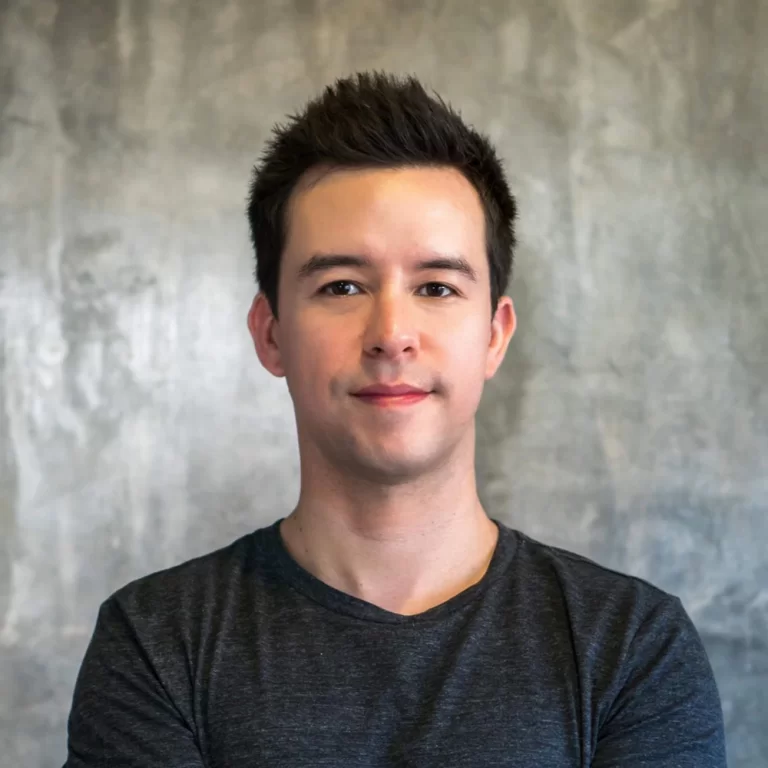 Here's some of the highlights of the Affiliate Lab course…
Pricing
$997 one-time fee or 2 payments of $597. This includes the course in its entirety.
Features
Learn from a top 5 globally recognized SEO expert
Great support team & customer support
Affordable pricing with a payment option
SEO & Affiliate Marketing Focus
Variety of smaller courses and teachings inside
Quality product and success rate
Easy to follow course
Internet Marketing Gold By Kyle Roof
The Netflix of SEO, Internet Marketing Gold is definitely a top 5 best course. Kyle Roof recently has grown in popularity and became a icon in the SEO world.
Internet Marketing Gold was created, as an ongoing SEO and digital marketing course that anyone can tap into at any time.
This course specializes in SEO especially, however it does teach you about other kinds of marketing. Primarily design, content marketing, email marketing, and more.
Kyle Roof is a highly respected SEO expert who only creates quality products and services that serve their customers as promised.
Pricing
$97 per month for a variety of courses, online trainings, and levels of walkthroughs.
Features
Active & engaging support team
Extremely affordable
Month to month cancel at any time
High tier quality digital marketing education
1 of a kind CEO & founder
Reliable results generated from this course
Overall, IMG digital marketing platform is definitely worth small monthly investment.
YT Marketer By Chris Derenberger
If you want to become a master content marketer and influencer, then YT Marketer is the best course for you to invest in.
Chris Derenberger created a one of a kind course that guarantees that after 30 days of following his instructions, you'll have 1000 subscribers and be monetized on YouTube.
This course is one that so far has a 100% success rate for clients that have followed the course closely.
Chris is among the best YouTube marketers in the space, and he's taught tens of thousands of people who to run and scale a profitable business with YouTube marketing.
Pricing
$1295 one time cost for the full course.
Features
Quality support team
One time cost only
Great CEO who is a quality digital marketer
Simple course that is beginner friendly
Updated on a regular basis
Private members only Facebook group
Step by step course instructions
What Does Digital Marketing Consist Of?
People often have the misconception that digital marketing is a single action or industry, however you will find that digital marketing is made up from a variety of smaller industries.
Each industry and marketing practice listed below is a part of digital marketing that makes it whole.
Email Marketing
Content Marketing
Social Media Marketing
Outbound Marketing
Inbound Marketing
Advertising
Search Engine Marketing
Referral Marketing
Product Marketing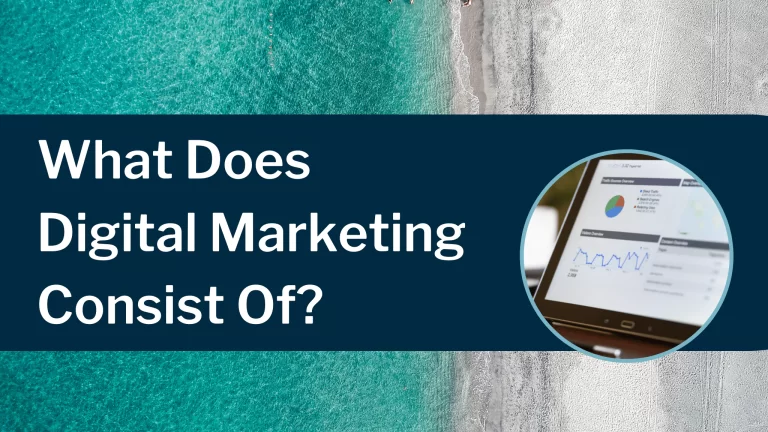 Each of these forms of digital marketing requires a different but important skillset to be successful in each field.
The purpose of most digital marketing course certifications & courses in general – is to learn how to master these digital marketing skills specifically. There is a course available online for each of these skills. Marketing Mastery Elite above, has a course for each one & more.
Which Digital Marketing Strategy Will You Learn In A Course?
In a good course you will learn in depth digital marketing strategies on how to master a few important aspects of marketing. Most often you will learn about…
The customer experience in the digital and online world
Customer management
Copywriting
How to sell to a digital audience
How to create content in the digital marketing space
How to generate leads & traffic
Content creation and management
Each of these skills can be used both in the digital world & the real world.
What Is The Best Digital Marketing Strategy & Skill To Learn
The best strategy to learn the most about, is how to relate & communicate with customers. This marketing skill will allow you to be effective in all communication and messaging your business puts out into the marketplace.
In both the digital & physical world, learning how to communicate properly is crucial.
Which Digital Marketing Specialization Is The Most Useful?
As you start learning digital marketing you will most likely start specializing in a certain are of marketing. This is where you'll become an highly value expert in 1 or 2 areas of digital marketing specialization.
Among the specializations, there are a few that are the most useful and universal. Here are the marketing specializations I suggest focusing on first…
Advanced Email Marketing
Digital Marketing Analytics
Social Media Marketing
By learning more specifically about these forms of marketing in a course or training, you'll have a more useful and in demand knowledge in marketing.
The digital world rewards highly skills digital business specialists.
Digital Marketing Certification
Getting a digital marketing certification after going through a course is what many course seekers would like to happen for them. However, not all marketing courses include course certifications.
For the ones that do, upon course completion, you most likely will receive both a digital and physical certification. This is a certification that you can display on your websites, blogs, or on your office wall.
People want physical and digital certifications because they believe that having a certification will bring them in more customers & make them be seen as a more credible authority to their digital audience.
This often is the case, however your business and its growth won't be dictated entirely by having certifications. Some businesses have scaled to 8 and 9 figures without having any certifications of any kind.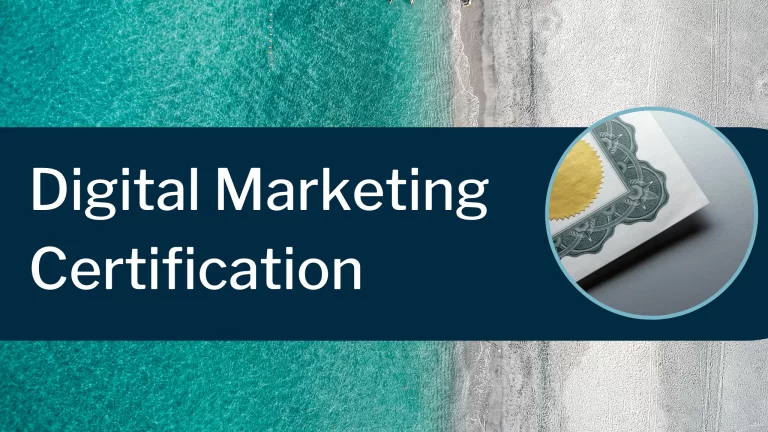 Having a certification in digital marketing or any profession is an added certificate of authority. While it is recommended that you have them, you don't necessarily need them.
Is It Worth Getting A Digital Marketing Certificate?
It depends, on the cost of getting the digital marketing certificate and the authority the certificate represents. If you get a digital marketing certificate that isn't recognized by a wide audience, then getting the certificate may not benefit you.
If you want to get a marketing certificate, you want it to be one that your audience will respect & recognize. This will show you that you are an expert on digital marketing and any form of marketing in the digital realm.
If you're going to get a digital marketing certificate, you also want to ensure that you're not spending $1,000's just for the piece of paper or recognition.
Only invest in a digital marketing certificate if it is…
Affordable
Recognized widely in the digital and offline industries
Has quality marketing training that is applicable to digital business practices
You will get quality digital marketing training with a certificate, and this training will help with your overall digital marketing strategy.
Digital Marketing Course FAQS
There are a variety of other important digital marketing questions that should be answered for you! Take a look below that the list of questions and answers to see if they help you learn more about how every kind of course works.
Courses are easy to understand once you get your questions answered. If you want to learn from the best courses, you'll only find these top courses from a better quality digital marketing institute – such as Marketing Mastery Elite.
Are Udemy Digital Marketing Courses Any Good?
For most businesses and people, no. Udemy courses are entry level at best and offer very little in depth training or education of any kind. Only if you are a complete beginner should you ever consider investing in a Udemy digital marketing course of any kind.
Udemy is a low budget and low quality massive course collection that has no real specialty or focus. HubSpot has better courses then Udemy as well.
What Is The Top Free Digital Marketing Course?
While free digital marketing courses are not the same quality of paid digital marketing courses, free courses are still useful & helpful.
If you want to learn digital marketing for free then you should look on either YouTube or Google. Through YouTube you can watch free videos walking you through all kinds of digital marketing, while Google will have articles for you to learn from.
Here's 2 reputable and free digital marketing YouTube channels you can learn from…Watch these at anytime if you have a flexible schedule. Both Jon Weberg and Richard Weberg are each a digital marketing specialist in their own way.
Watch the videos on these channels to learn everything about what digital marketing is and how it works. Learning this kind of specialization & in depth knowledge is important for any digital entrepreneur or digital business – wanting to learn digital marketing. Marketing in the digital world is lucrative, once you take time to learn how marketing really world in the online space.
Is Google Digital Marketing Course Worth It?
The Google digital marketing course is free to take, so if you have extra time on your hands, you should definitely consider taking it. This is a well recognized and respected course to take that also comes with a certification upon completion for your digital marketing needs.
Take the Google digital marketing course here. Hubspot is another alternative digital courses association available in the digital world.
Is Social Media Marketing A Big Part Of Digital Marketing?
Yes, social media marketing is a big part of marketing in business. This is why every business owner and employee should go through at least 1 beginner friendly social media marketing course.
A course that teaches you the fundamentals of SMM will help you understand how the content you produce in social media effects your conversion rates, lead, generation, and so much more. The online world is expanding, be a part of it!
Courses covering any part of the digital business world are going to be impactful, especially in our digitally social world today. Social media marketing is crucial for digital marketing to even exist.
After all, social media marketing is responsible for billions of dollars of sales throughout the world. This is why every social media marketing strategy for any online business in digital marketing is so important.
Digital Marketing Course Fees
The costs of online courses varies depending on a variety of factors.
Each course cost is determined by…
Complexity and depth of the digital marketing education provided
Who made the course & which digital marketing specialty does it cover
The industry the course is in, within the "digital marketing field"
You should invest in courses that have costs within your budget, while also containing the digital education & knowledge you need.
A short course may be easier to go through for example, but may not have the needed depth that a quality digital education needs.
Is Every Marketing Course Digital?
No, you can learn digital marketing in an offline learning format. A school, institute, or college, can also have marketing courses that cover all digital forms of marketing and sales online.
However, most offline digital marketing education is not comparable to the best online marketing courses. This is due to offline education being outdated!
What's The Top Digital Marketing Institute?
If you want a truly effective digital marketing path of learning to follow, look no further then the marketing education platform called Profitalize. This marketing and digital learning company allows you to learn exactly how to scale every aspect of your business, more profitably. Digital marketing is good and works well, especially when you learn digital marketing from the best!
Why Investing In Marketing Courses In The Digital Industry Is A Good Decision
Most businesses aren't running their operations nearly as profitably as they could be. By investing in any course online you're enabling your business to be optimized and grow quickly.
Online businesses are profitable depending on how each aspect of their operations, is managed effectively and in the digital space.
With digital marketing courses, either yourself or employees can learn how to become master of the their craft and area of digital marketing they manage.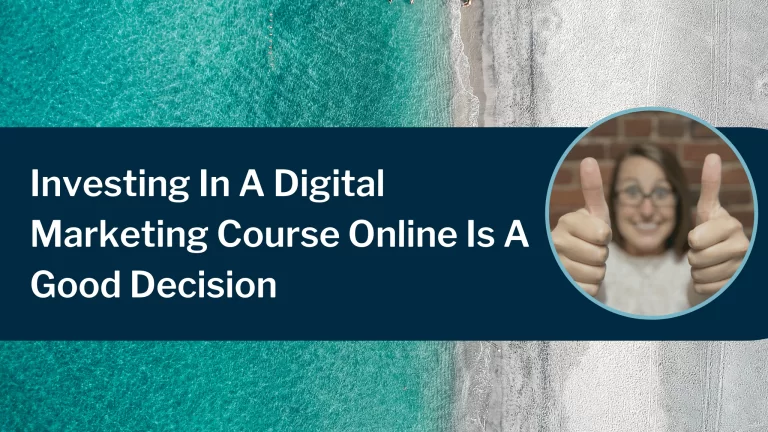 You can find digital online course that available at any price point or budget. A course made by a true marketing specialist, will also teach you everything you need to know about any aspect of digital & marketing world.
The online world is expanding and every course you can get your hands on will help you scale your business faster. Trainings, programs, courses – they all will aid your digital journey!
Consider investing in a course now if you have a need to learn about digital marketing, or have a need to make your online business more profitable from digital marketing efforts.
With our kindest regards,
Jon Weberg
Richard Weberg