4 Best Presentation Tools Online For Creating Presentations Online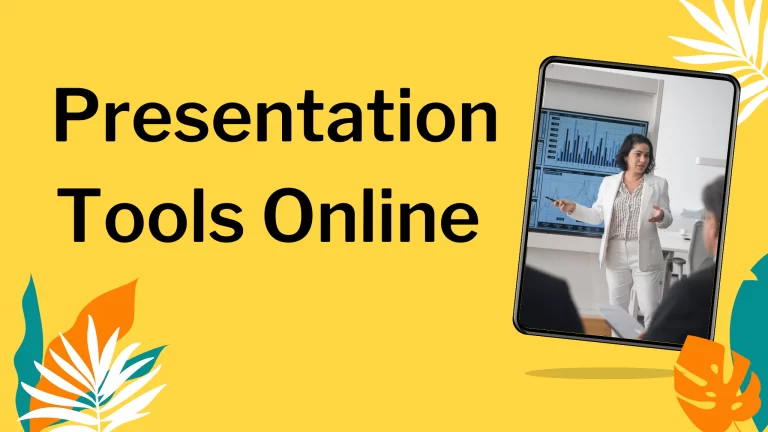 Presentations are a powerful tool used to engage and communicate with an audience in an effective & illustrative way.
The best presentation tools online are ones that retain your audience long enough for them to understand and feel the message you're communicating.
The presentation tools below are going to be the best for creating presentations that convert. Checkout each of these tools now and see if they're right for you! (A good presentation can mean a big difference in the results the presentation can create)
What Makes A Good Presentation App Or Tool?
When deciding which presentation app or tool you're going to use, there are a variety of important factors you should consider when making presentations.
Features: You want to be able to have the freedom to be creative. In order to do this, you need different features to allow you to customize your presentation or slide shows however you want. Find a good presentation tool that has a wide range of dynamic features for editing.
User Friendly: A good product or service should be easy to use for all customers. All slides and presentations should be "easy on the eyes" to read.
Customizability: You should be able to customize and make any change you desire to color, size, shape, and other features – of any editable element in your presentations.
Engagement & Audience Retention: Being able to retain and keep the attention of your audience in a presentation is crucial in order for your presentations to generate results.
Variety Of Templates And Custom Built Slides: Having already previously and professionally made templates and slides to build your presentations from, makes creating presentations easier. People recognize some templates for a presentation so you will want to customize any templates you use.
Best Presentation Tools Online List
Each of the below presentation tools online has been tested and proven to be easy to use and have dynamic templates for every niche. You'll find them easy to use and great for creating content of all kinds! Read through the review of each one closely to decide which is best for you.
Each presentation tool has a variety of features, benefits, pricing, and other aspects that are unique. Remember what your business, marketing, or audiences needs are when choosing the right presentation tool online for you.
Prezentar Presentation Software
Prezentar is a new presentation software that has launched and within the first 7 days sold over 10,000 copies. This huge success brought a dynamic new presentation tool into the marketplace. This fully customizable and easy to use tool is bringing a new professional and quick way to make presentations that work. Prezentar is the #1 recommended tool for creating…
Presentations
Presentation Templates
Slide Shows
Webinars
Content
eBooks
Carousels
Social Media Posts
Videos
Course creation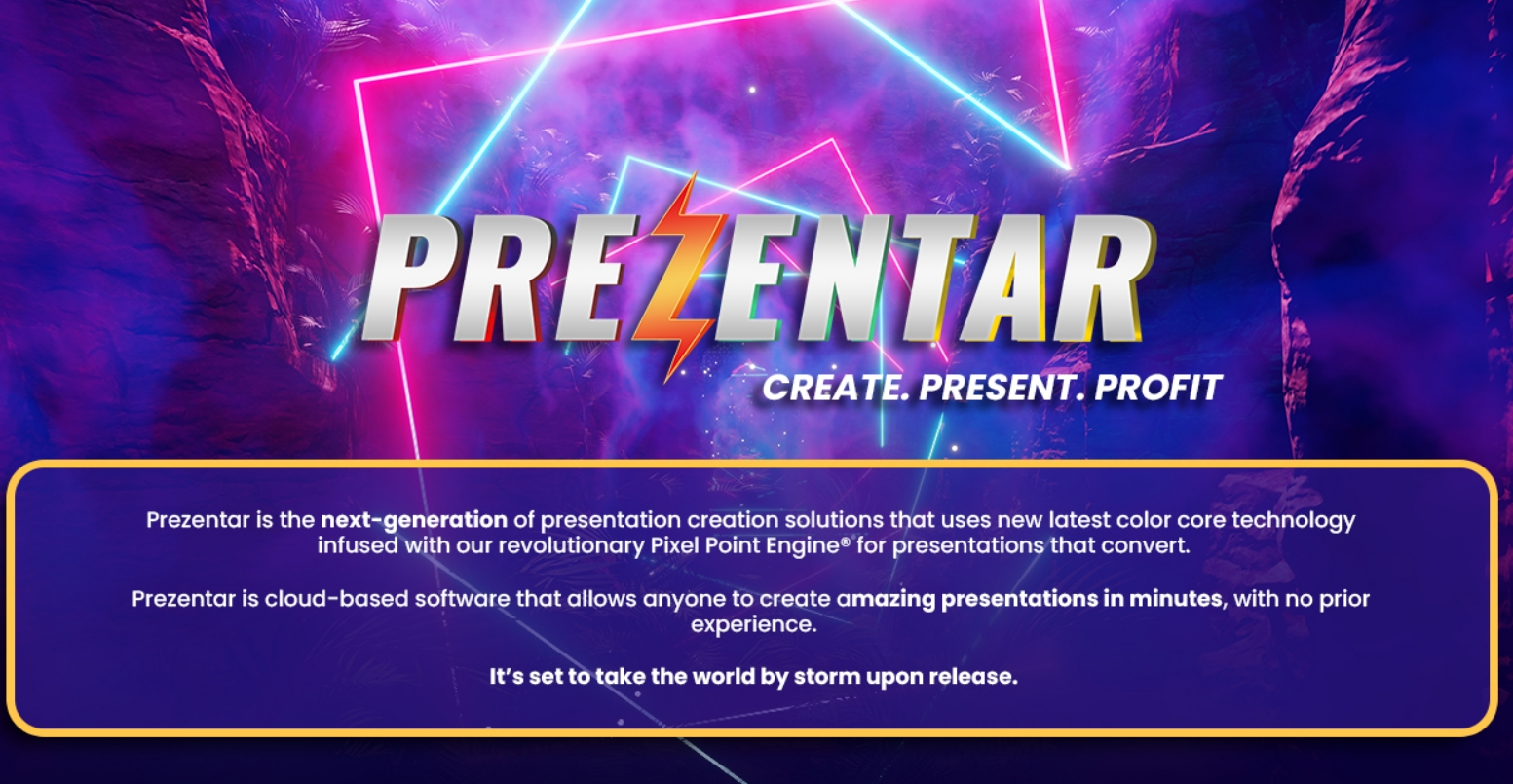 Pricing
You can buy Prezentar for only $47! This one time fee is affordable and accessible to anyone who need a quality presentation tool or service. There are a variety of upsells and upgrades available for purchase as well in order to enhance any presentation you make further.
Features
You'll find that Prezentar comes with the following features to help you create the best presentations possible.
Unlimited storage for presentations & other creations
Unlimited customizability of all elements
Easy to use simple design
User friendly
Quality support time for great customer support
Ability to create videos, slides shows, presentations, webinars, posts, ebooks, and much more.
Founder And CEO with credible products and services creation background
Drag and drop feature
Variety of professional templates
Pros
Easy To Use & Create Any Presentation
Simple
Has High Converting Tools & Elements Editable On Every Presentation Style
Download as PDF, MP4 video file, and more…
Affordable pricing
Take only minutes to create any piece of content
Cons
Not free to use like other presentation creators
Takes some time to set up the presentation or slides
Of course, if you need any assistance with this presentation creator – sign up below, and we'll talk you through it.
Canva – Online Presentations Creator
One of the most popular and well made presentation creators has to be Canva. Over the years Canva has grown to be one of the most used and best rated presentation tools in the marketplace.
What makes it better then other alternatives? The affordable pricing and easy of use makes it a #1 choice for many businesses, entrepreneurs, and individuals.
Canva is often better suited however for creating images, videos, and social media content pieces. They also do have a variety of good templates for their presentations, and also for their slides.
You can join Canva as a free or paid user.
Pricing
You can setup an account with Canva completely free. However, you can upgrade your Canva account to get all of the premium features. Paid plans start at only $9.99 per month.
This means that you'll be paying a small fee on a monthly basis in order to use the advanced Canva features, images, templates, logos, etc. But again, it technically is a free presentation app if you don't want to upgrade.
Features
Create several types of content − From social media posts, presentation, to videos, to ads, Canva can help you design & create anything you want…
Drag and drop feature − Every element inside of the Canva editor can easily be drag n dropped, edited, and much more. Every aspect of any presentation is fully editable.
Templates − Canva over 50,000 templates that you can choose, edit, and customize as you want… Also, new templates are regularly added to the existing library that Canva has.
Photo editing − You can do more than basic cropping and texturing photos in Canva. With its beginner-friendly features, you can blur your photos, add texts, create collages and photo grids that will produce an engrossing impression for every presention.
Stocks images, icons, and fonts − Canva has a library of free stock photos, icons, and fonts that you can use to create graphic designs of every kind… You can also upload your own photos as well in any presentation.
Pros
Free to join
Affordable pricing
Widely used and respected in the industry
Great customization
Great support & uptime
Long standing reputation
Easy to use
Simple and consumer friendly
Plenty of pre-made templates, presentations, slides, and more
Great marketing features
Cons
Isn't completely free if you want the advanced version of Canva for making better quality presentations
All content is hosted on Canva until downloaded.
Google Slides – Free Presentation Software
Yes! Google Slides is a free online presentation tool that will allow you access to a simple and user friendly presentation option.
However, Google slides lacks the ability to create powerful slides that are effective and that convert at a high enough rate. If you are on an extremely tight budget and need an extremely simple presentation tool, then this is when you may want to consider Google Slides.
Otherwise, you should build slides and a presentation with a different presentation creator. Free isn't always the best. And being to simple, and dumb down any presentation or slides created.
PowerPoint Presentation – To Show And Create Beautiful Presentations
You've heard of this tool & presentation creator since you were young, PowerPoint is the most mainstream and widely used presentations tools in the world. However, it is also the most basic and simple tools.
This means that you can effortlessly create slides shows in minutes, but there is very little dynamic and engaging content that you can add. Simple, but not high converting. There also is no pricing free plan for this tool used to show and create presentations.
To unlock your creativity and make a presentation or slides your viewers will love, go with a different option.
Why Are Presentations Used?
Presentations are used because they are great at presenting information in an easy to understand way.
They engage viewers longer then other kinds of content, while also retaining their attention. Presentations are often how large corporations, businesses, and other individuals – present ideas.
With a presentation you can include graphics, images, text, headers, videos, and more. By combining these different elements together into a presentation, your presentation will be effective at getting its message across in a persuasive way.
Presentations have been used for decades in order to illustrate view point in a more effective matter. Over time presentations have became more complex, in a way that has increased their efficiency.
Is Every Presentation Software Good To Use?
No, you should only use the presentation software that meets your needs.
Why?
Because otherwise you may waste your time using a presentation tool online that doesn't do what you'd like it to, or you may find yourself using a software that does way more then you need. Be careful in deciding which tool or software you're going to invest your time or money into.
A bad presentation can not just lack conversions, it can ruin the reputation of your business. You need good slides, templates, and features – in order to create a truly effective presentation. (Especially online)
How Effective Are Presentations?
Presentations are extremely effective at persuading, selling, strategizing, and much more. Steve Jobs, Oprah Winfrey, Tony Robbins, and many other global influences use presentations because of their effectiveness.
These slides show and pieces of content are easily understood and visually pleasing for viewers.
Well made online presentations or slides can help a business get more customers, convince a friend to go on a trip with you, and so much more.
In order for an online presentation maker to be effective, it should allow you to create any presentation your imagination can come up with.
As you design a presentation, you will realize that the best features are the ones that allow you to relate & engage with your audience the best. This type of converting presentation will be much more effective for any presenter to use.
A good presentation can…
Generate millions of dollars
Convince an audience of a viewpoint
Much more!
So how well you presentation or slides are made, is extremely important. (And it's why you want the best presentation maker possible)
What Tools Do You Use For A Presentation?
To create a proper & professional online presentation, you may use the followings tools…
Slide Show or Presentation Creator
Image Library
YouTube
Other Media Crafting Tools
Presentation Editor
While most presentation tools you use will be able to provide every needed service to create a presentation, others won't. In this case, you may need to use a combination of tools together in order to create the presentation you want. Each presentation slide should be unique in some way.
What Kind Of Online Presentation Tools Should Not Be Used?
You should avoid using online presentation software that are hard to use, or that are expensive. You should stay away from any presentation tool online that…
Costs more then $100.
Takes hours of testing to learn.
Doesn't have a good customer support
Doesn't look professional or legit
You want your presentation to be the best it can, and when you don't use a top presentation software, you're going to sacrifice your presentation quality. The best video presentation software should be built for beginners and experts alike, with a variety of templates you can create with. As well, it should be available to be used by multiple users.
Here's a list of presentation softwares that should NOT be used.
Zoho Show. This slides creation platform is not very good at creating any good quality presentation. While it is free, it does not have very good templates. Don't use this to create presentations.
Powtoon. This presentation maker is among many that should not be used. While you have the basic functionality of any presentation, you don't have the variety of important features that other presentation creators do have. Their slides and templates are not as good too.
Final Thoughts On The Best Presentation Tools Online
Finding the best online presentation tools to use is a simple process if you know where to look. Each of the tools you've read through you can feel sure are among the best to create presentations.
When you have created 1000's of presentation without almost every software available, you start to know the good ones from the not so good ones available. Give your small business the chance to show presentations that get results.
Use your own thoughts and consideration when deciding which presentation software is best for what you need. And remember that a good presentation can mean a lot for your business, or influence. Spend as much time as you can perfection your presentation and slides to make them perform well, complete optimization is best.
With our kindest regards,
Jon Weberg
Richard Weberg
Online Presentation Tools FAQs
What Are The Best Free Online Presentation Tools?
The best online free presentation tools are going to be…
Canva: Presentation Maker
Google Slides: For A Simple Presentation
PowerPoint: For Easy To Use Presentation
Each of these are easy to use, simple to navigate, and a great for creating presentations. They are quality producers of presentations online.
What Are Some Presentation Templates Examples?
In any presentation software you will see a variety of templates examples listed. Simply choose from which one you want to look at or work with – or start a presentation from scratch. Any presentation created should be designed with your audience in mind. 
If you want to find presentations custom templates then you can also look on Fiverr for template creators.
How Do You Present An Online Presentation?
You should present by following a few guidelines as a presenter showing any presentation…
1. Talk clearly and at the appropriate volume, regardless of the presentation.
2. Present information starting from more general, continuing to either more complex or more specific.
3. Move from slide to slide at an even pace, do not speed through the presentation.
Offer free value as much as you can, and your presentations should do well.
What Is The Best Simple Presentation App?
If you want to only use the most simple presentation app in the market and aren't looking to be creative, just use Canva. It is by far the easiest and most simple to create a presentation of any kind