5 Best Digital Marketing Coaches To Hire Or Learn From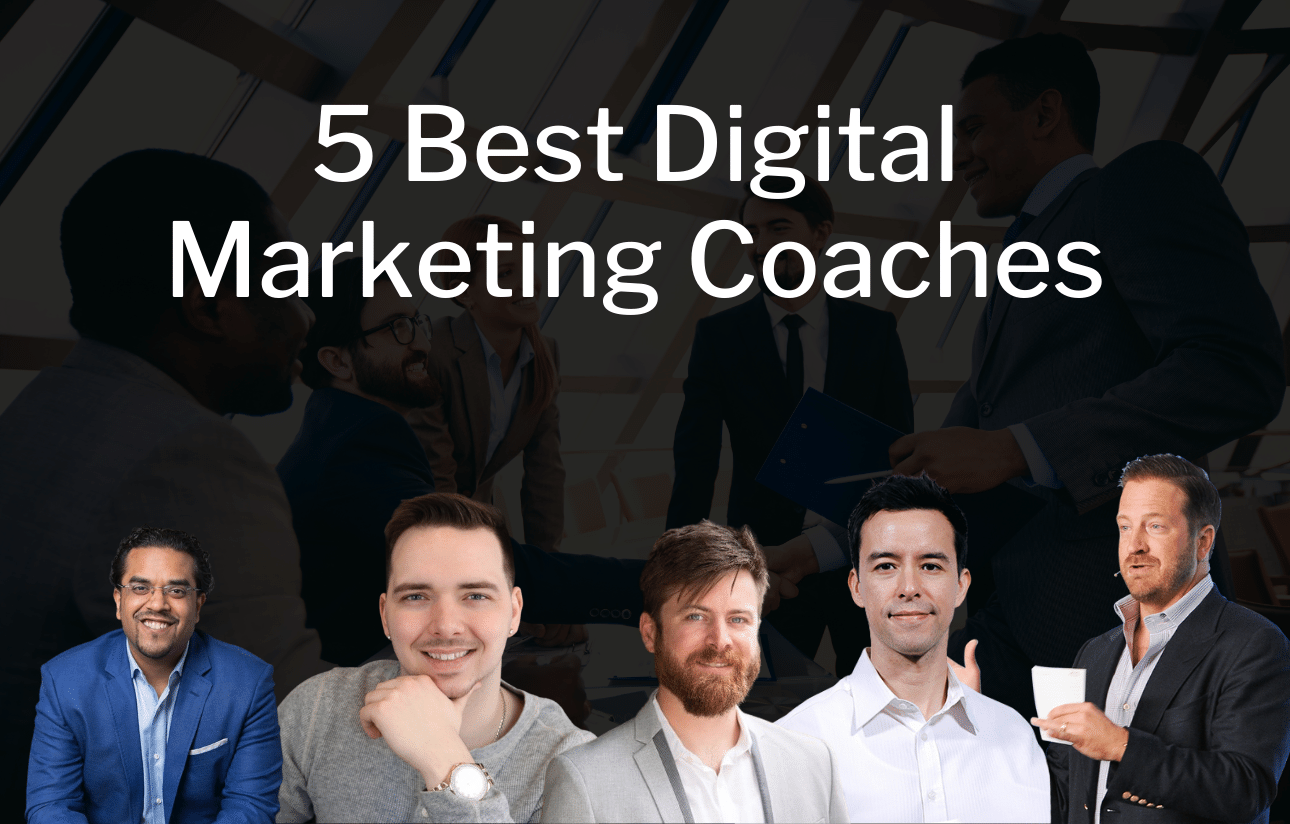 Being able to find a great digital marketing coach can skyrocket your business profits. However, how do you find a quality marketing coach who can get you real results? This guide will walk you through everything having to do with digital marketing coaches and what they can do for your business.
We'll be highlighting the top current coaches in digital marketing, how much it costs to hire coaches, and so much more. Keep in mind that these coaches are only open to serious clients who are committed to their businesses. Each coach below has produced millions of dollars in sales over a period of years in profit with their businesses. Let's learn more about it all now…
Best Digital Marketing Coaches
1. Frank Kern
Considered by many as the, "Godfather of Digital Marketing", Frank Kern is debatably a great coach. He's one of the founders of selling digitally online while even having "million dollar days" as a marketer. You could hire him as a coach, however his rates are exceedingly high for most entrepreneurs and even most businesses. You should expect to spend no less then $20,000 per month, and that rate could be possibly more.
As well, Frank Kern may already be completely full with clients since his talent is in such large demand. However, Frank is still an amazing digital marketer who truly cares about his customers and audience. While – being incredibly talented and knowledgeable.
2. Jon Weberg
A young digital marketing coach and entrepreneur who focuses on optimizing businesses to drastically increase their profit margins, Jon Weberg is a coach everyone should consider. Being a second generation digital marketer who has been in digital marketing for over 10 years, he has a wealth of knowledgeable expertise. One of the great things about Jon's coaching is that he charges based on your revenue and business size.
He is an expert when it comes to the following digital marketing skills and strategies…
Email marketing / Follow up
Sales / High Ticket Sales
Customer retention
Sales process & funnel design
Content creation and management
Affiliate marketing
While he has a variety of mastered skills, he's also a very fun and ethical person to work with.
3. Matt Diggity
One of the most notable and well known digital marketers across the world, Matt Diggity is a proficient SEO and affiliate marketing expert. For over a decade Matt has became an SEO sensation via both is YouTube channel and blog. Matt is a great coach, especially if you want to learn mainly about SEO or affiliate marketing.
Matt is also a very genuine person who truly loves the craft of content and SEO. Matt charges at the medium to high range for most of his clients.
4. John Crestani
A polarizing but very knowledgeable affiliate marketer who is popular in the industry, John Crestani is a well bearded an amazing digital marketer. He's been a coach for affiliate marketers for over a decade and put a lot of his personality into all of the content he creates.
John has a variety of potential coaching, courses, and programs that he has available to the masses. You'll find John to be very impressionable and characterized in how he speaks.
5. Anik Singal
The CEO of Lurn and a great person to work with – Anik Singal is by far one of the best affiliate marketers and digital marketing coaches there are in the world. Anik has a very friendly and open personality where he focuses on exact precise strategies for lead generation – for most of his clients.
Anik has a specialty in affiliate marketing, course creation, coaching, and especially content creation. He is often found business growing his LURN university like business.
What Does A Digital Marketing Coach Do?
The purpose of a digital marketing coach is to identify the problems you're facing in you digital marketing, and discover the most profitable solutions to them. Digital marketing coaches can quickly cut down learning curves and give you high ROI shortcuts to optimize and grow your business much more efficiently.
Here's a list of potential things a digital marketing coach may provide…
Weekly or monthly coaching calls
Strategies for optimization of your business
Quick "hacks" for your business to boost profits
Motivation and timing on how and when to execute
Accountability to doing what is needed to grow your business
Strategies to increase lead quality, and quantity
Strategies on how to increase customer retention, and acquisition
Why Should You Considering Hiring A Coach?
You should consider hiring a digital marketing coach because of the increased amount of profits they can bring to your business. Coaches are capable of finding and eliminating problems your business are facing, and also often can find highly efficient and profitable solutions.
You will need a decent budget however to work with a coach. Any good digital marketing coach will need to be paid properly for their time and expertise.
Most often, what a coach charges is in proportion to the results they can get for your business.
How Much Does A Digital Marketing Coach Cost?
Most digital marketing coaches cost anywhere from $2,000 – $20,000 per month. This may seem expensive to some, however it is nothing compared to the amount of money a proper coach can bring your business.
The best coaches in digital marketing can help you increase your ROI anywhere from 2X-5X. A few simple changes from a very knowledgeable expert can mean years of difficulties removed from your future business journey.
It's not about the cost, it's about the long term true potential of how much more money your business could be making you right now.
Final Thoughts
Being able to work with any digital marketing coach is a true blessing. Their knowledge and insights can be nearly priceless. Considering hiring a digital marketing coach if your business is currently stagnant, or if you desire to grow your business more profitably.
Thank you so much for reading through, you are appreciated.
With our kindest regards,]
Jon Weberg
Richard Weberg