Best Affiliate Marketing Coaches In The World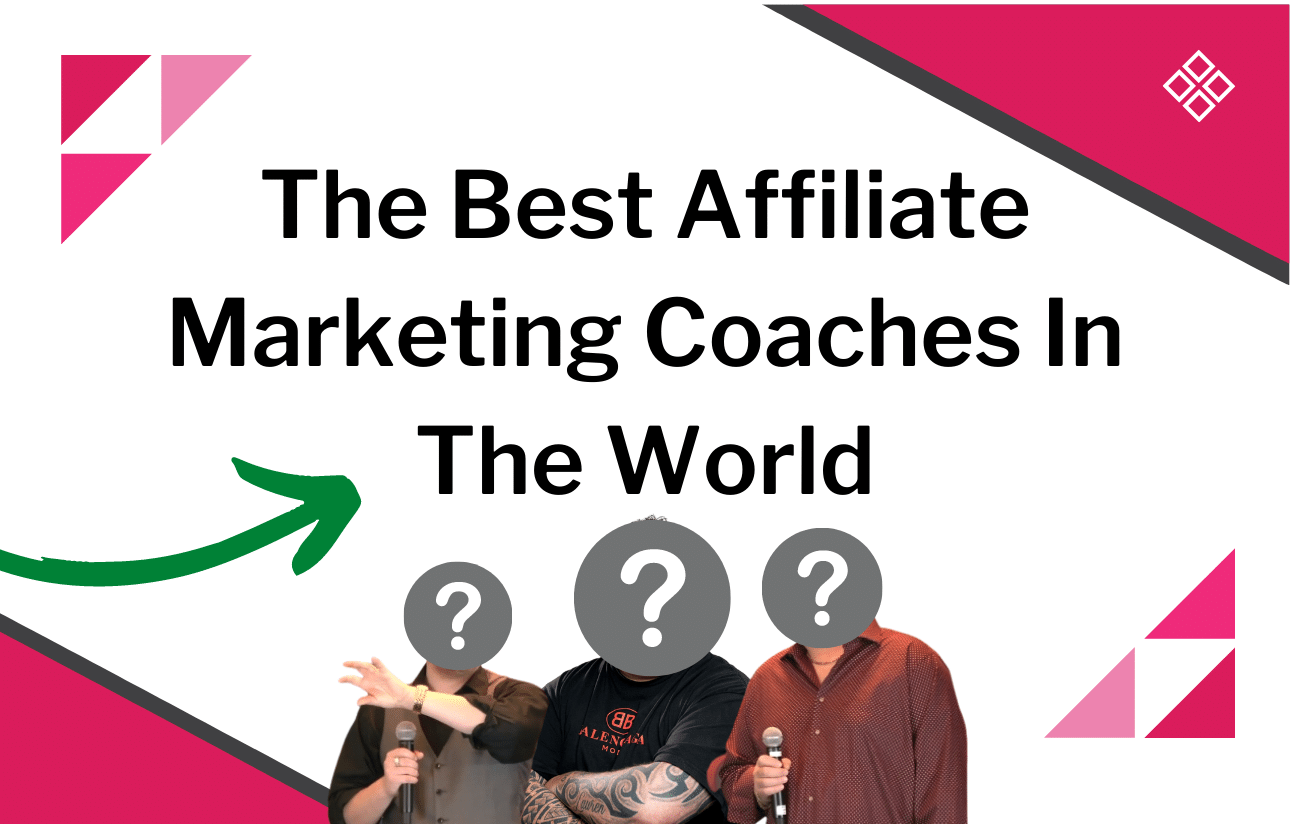 There's a variety of industries where having a coach is almost necessary for growth. One of these industries, happens to be the affiliate marketing niche. Since affiliate marketing has grown in popularity over the years, so has the need for while meaning mentors, coaches, and consultants. And we'll be covering the best affiliate marketing coaches in the world that money can buy.
Keep in mind, that each of these coaches has been in the industry for a minimum of 5 years, and has generated a minimum of $3 million in affiliate sales.
As well, each coach has had a variety of past proven success with affiliate marketing, in such a way that you can feel certain they can help you get reliable results with your own affiliate business. Let's go through the list of coaching experts now…
Best Affiliate Marketing Coaches List
There are a lot of affiliate coaches and affiliate consultants in the world, and this list consists of the best you can find. Some of these affiliate coaches are our peers, so we personally know how good their coaching & expertise is.
Each of these affiliate marketers haven't just made incredible commissions with multiple companies, they are actively some of the best teachers & affiliate educators in the world.
Each one has a blog, social media presence, their own website, and multiple affiliate incomes that have surpassed the top 1% of affiliate marketers. They are life long affiliates, many with some high quality courses & programs they offer as well.
Here's the full list of the top affiliate marketing coaches and coaching mentors…
John Crestani
Possibly the most well known affiliate marketer in the world, John Crestani has built many businesses to 8 figures at a decent profit margin. John promotes high quality affiliate products, services, and offers – while only occasionally offering consulting and coaching for affiliate marketers who have the budget to invest in his services. He also has a successful affiliate program available. The marketing he does for even his own affiliate programs is phenomenal.
John teaches and has done a lot of ClickBank affiliate marketing throughout his careers. His coaching focuses on using ClickBank as your main marketplace to find offers to promote.
Adam Enfroy
With the fastest growing affiliate marketing blog in the world, Adam Enfroy has created an empire in a very short time period. He has grown a large following with SEO, which he uses to attract leads, customers, and potential clients. He is a coach with some astounding accolades. Definitely consider him for coaching & mentoring the growth of your affiliate marketing business.
He has a few affiliate training programs you can learn from as well if you don't have the budget for coaching.
Craig Campbell
A speaker and truly a legend in affiliate marketing, Craig is one of the best affiliate marketing coaches in the world with a proven track record that extends for years. He can be hired for coaching 1 on 1, or you can learn from some of his coaching affiliate programs.
Craig also speaks on stages across the world teaching affiliate marketing beginners how to scale their business using both SEO affiliate marketing.
Richard Weberg
A name in the industry that can't be forgotten, Richard Weberg is an industry expert who has been doing affiliate marketing successfully & profitably for over 15 years. He is the father of Jon Weberg, who also is an affiliate marketing coach. He has done marketing coaching for over a decade.
You'll find that Richard's specialty is his ability to help you obtain high profit margins and ROI from your affiliate marketing efforts.
Jon Weberg
One of the youngest, brightest, and most profitable affiliate marketers of all time, is Jon Weberg. He's 24 years old and got started in the industry at the very young age of 14. He has grown multiple businesses at an 8.4X profit margin. He is a great coach who has been coaching other marketers for 8 years now.
You'll find that Jon has an expertise that is surrounding around helping you grow your business with high profitability in mind. Definitely checkout his training and programs!
What Makes An Affiliate Marketing Coach Good?
In order to be good at teaching other the craft of affiliate marketing, a coach must have a variety of skills and certain fundamentals in place that will allow them to be a good coach. Below you will find the full like of what makes an affiliate marketing coach good for anyone looking to become a full time affiliate marketer.
The ability to reduce time & money wasted on experimenting.
The ability to educate & train with clear guidance
A history of past successful experience as an affiliate marketer
The ability to help others see similar results as themselves
Each of these aspects is important to have in a good affiliate marketing coach.
Can Anyone Be An Affiliate Marketing Coach?
No, not everyone has the ability or skillset to be an affiliate marketing good. Only very successful affiliate marketers with a history of experience both being profitable and educating, should consider being affiliate marketing coaches. Coaching is a difficult but enjoyable profession.
Do Affiliate Marketing Coaches Work?
Yes, for most people hiring an affiliate marketing coach can help them scaled their affiliate business much faster & profitably. If you want to grow your own affiliate business and eliminate unnecessary learning curves then an affiliate coach may be right for you.
A coach will help you quickly help you identify what needs to be done to grow your business more profitably. They may even recommend or have better affiliate programs for you to promote because they pay better then programs you already are a part of.
Is Affiliate Coaching For Everyone?
No, affiliate coaching is only for affiliates who are dedicated to running their affiliate business like a real business. To many people and entrepreneurs look for coaching, when they aren't dedicated enough with their current business for a coach to be necessary.
Someone should only invest in coaching for their affiliate business in these circumstances below…
They are serious about their business and plan to run it for years to come
They know it takes time, money, energy, and resources – to see results.
Coaching doesn't mean instant results over night – it means realistic and consistent growth
You're investing in coaching, mentoring, and training.
Are Affiliate Programs Better Then Coaching?
It depends on how much time you have. Going through affiliate programs that coach you on how to be an affiliate will take more time and not be as impactful as having an actual affiliate marketing coaching mentor.
Programs are still useful however, you just won't see the same results that a coach can bring you. With coaching you a get a true 1 on 1 experience, where programs usually have much less interaction.
Having a quality coach is going to be more expensive however, so keep in mind the budget you have. Whether you decide to hire coaching programs or join affiliate programs with training, either option will move your business forward.
We hope you enjoyed this article on coaching, and also hope you're able to find a coach that works for you!
With our kindest regards,
Jon Weberg
Richard Weberg