How To Become A Full Time Affiliate Marketer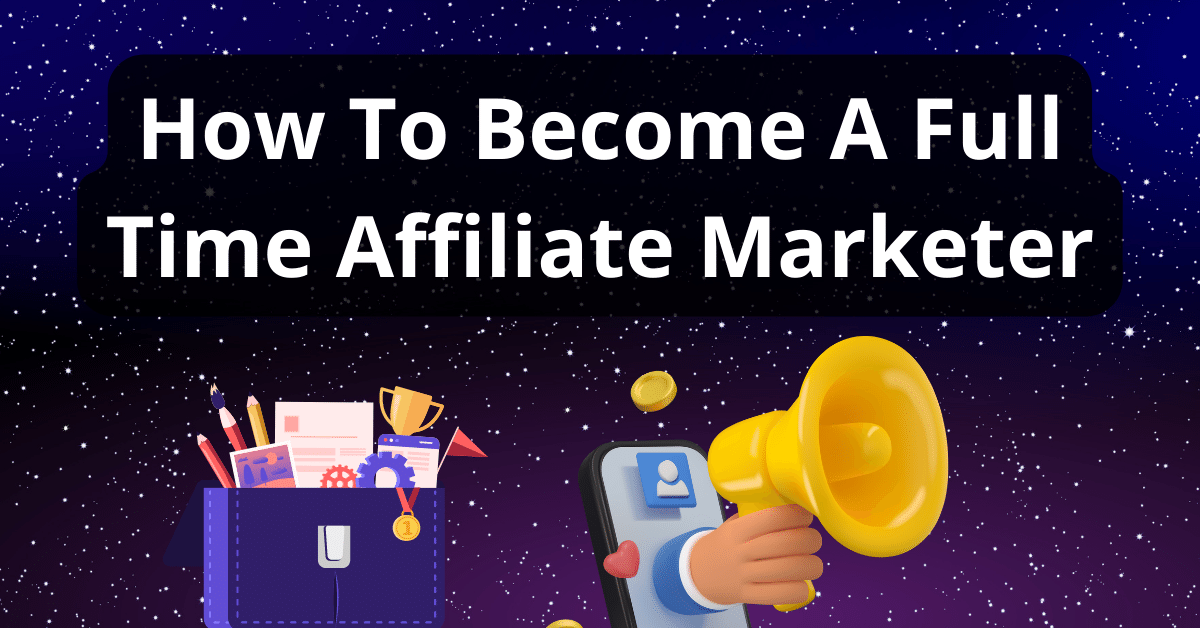 More people then ever before are turning to the affiliate marketing industry. And quite frankly, it's because becoming an affiliate marketer is both fulfilling and easier to do then starting other business models. Many people are wondering what the best path is to learn how to become a full time affiliate marketer. And today, we're going to lay out that path for you, step by step.
Becoming a full time affiliate marketer is easier to do, then starting other kinds of businesses. However, there still are some important steps you need to follow in order to become a true full time or part time affiliate marketer. Let's go through these steps together in depth so you can fully understand the benefits of being an affiliate marketer full time.
Steps To Becoming A Full Time Affiliate
There are a variety of important steps or parts of setting up a successful affiliate marketing business. If you follow this walkthrough and guide, you'll know exactly how to become a full time affiliate marketing entrepreneur in the shortest time possible. Here's every in depth step and how to get them done easy.
Choose Your Affiliate Niche or Affiliate Industry
The first step to doing affiliate marketing full time is to choose the kinds of products & services you want to promote. This means that you should decide which niche or industry you want to promote offers for. Here's a list of some of the more profitable affiliate programs & industries you should consider selling as an affiliate…
Software (SaaS)
Financial Investing
Health & Wellness
Services
Agency
Home Goods
Amazon
Electronics
Once you've chosen the industry or niche you want to be in, it's time for your next step!
Setup Your Advertising
In order for any business to run profitably, it needs leads. Leads, are the life and blood of your business. Which is why you'll need to either setup some organic or paid advertising / organic or paid lead generation.
To generate customers, you must first generate leads. Which, you can either do through free or paid methods. We suggest that you setup both free lead generation methods and also do run paid advertising at the same time.
Setup Your Sales Process
After you've setup or have a way to generate leads & customers – you need a process for those people to go through in order to generate sales consistently!
This is when you'll need to setup a sales process or sales funnel. Here's the best to setup an effective and basic sales process…
Opt-In / Lead Capture Page:
Sales Page
Checkout Cart
Upsell or Down Sell Page
Setup Your Follow Up
To turn your leads and audience into customers, you'll need to follow up with them on a consistent basis. And, you can't just send any normal follow up messages. You need to follow up with volume and quality of follow up.
You can follow up from a variety of sources…
Emailing
Texting
Calling
Messaging
You can also follow up from a variety of perspectives…
Entertaining
Educating
Enticing
If you follow up from multiple different sources and perspectives, you'll increase your percent chance to convert your leads into paying customers.
Launch Your Affiliate Offers
Once everything is setup for your new affiliate business, it's launch time! Start letting traffic and leads run people through your funnels, follow up with those leads generated, and start growing your affiliate efforts.
We recommend that you only launch and start selling any affiliate offer, once you have successfully followed the above steps. It will take some time, but will be well worth the effort when your business launches successfully!
Is It Worth Becoming A Full Time Affiliate Marketer?
Yes, becoming an full time affiliate marketer is definitely worth the resources to make it happen. After being an affiliate for over a decade, I can say for a fact that the long term results & life you can produce from affiliate marketing – is more then worth it.
I've been both a part time and full time affiliate marketer, it feels very fulfilling!
Should Everyone Become An Affiliate?
It depends on if you want to run your own business. Because while being an affiliate is easier then running other kinds of businesses, you still are a business owner in the end. This means you have to be comfortable setting up, managing, and scaling a business.
So, everyone & anyone should only become an affiliate if they want the responsibility & rewards of running a business.
Final Thoughts:
If done correctly, being an affiliate can be an incredible experience.
We highly recommend the journey, and hope you decide it's the right decision for you. Affiliate marketing has became a lifestyle that many enjoy through generating passive affiliate income.
With our kindest regards,
Jon Weberg
Richard Weberg