10 Best Affiliate Marketing Tools Every Affiliate Needs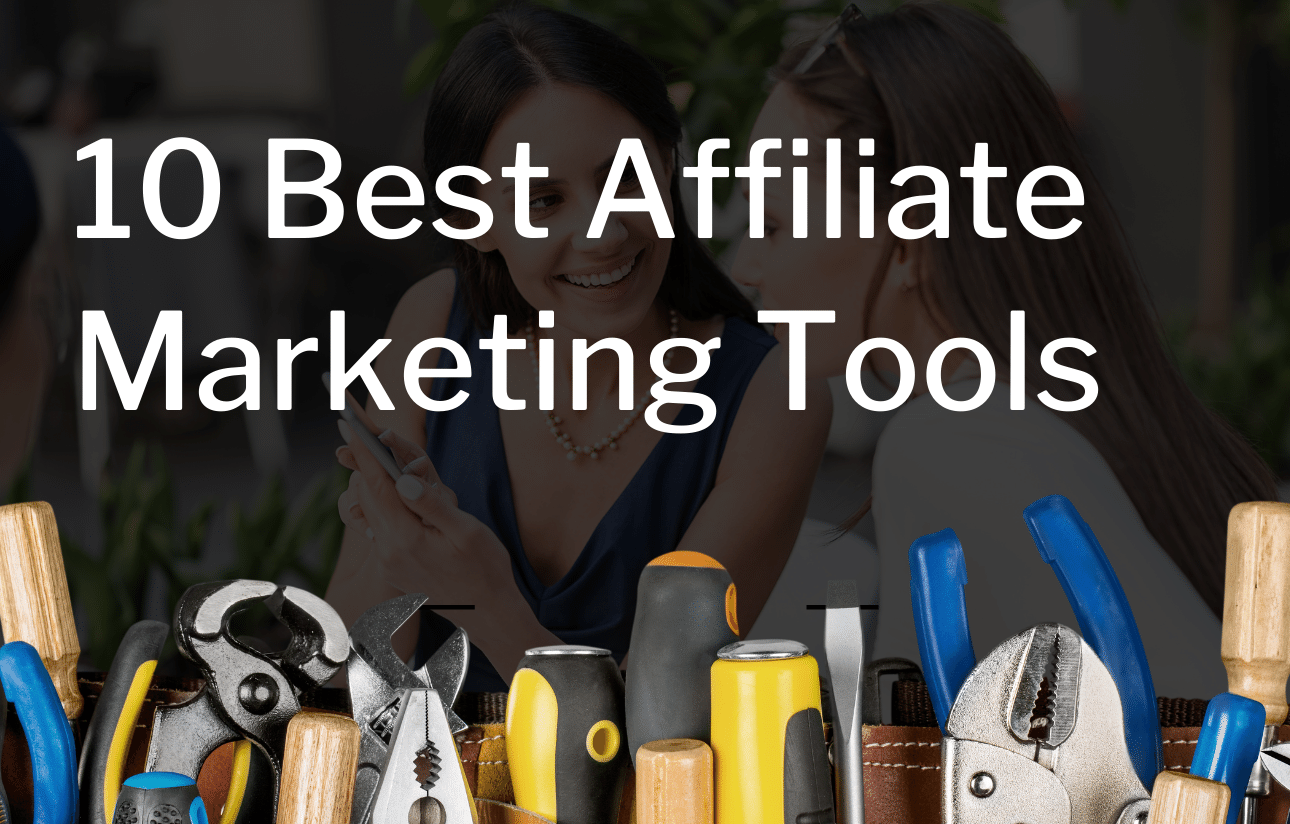 When you're an affiliate marketer you rely on useful tools to grow your business profitably. Because of this need of quality software and resources, we'll be walking you through a list of the 10 best affiliate marketing tools every affiliate needs. Pay close attention as you read – because we have personally used all of the affiliate tools we'll be reviewing.
Tools for affiliates allow you to grow your business quicker and more efficiently. Here's the best list of affiliate tools we gathered together for you. See which of these options are going to help you with your own affiliate efforts.
Top Affiliate Marketing Tools You Need
1. Kajabi – Or Another High Quality CRM
Every affiliate business and marketer needs a way to gather leads, follow up with customers, and manage their business. With Kajabi you get a full service CRM where you can use their tool to create anything you will ever need for your business.
Affiliate marketing needs to be treated like any other business model. This means you need high quality tools and software in order to grow your business accordingly. Kajabi has some of the best customer support, services, and features that you can find in the marketplace. We highly recommend using this CRM as we are active and paying members ourselves.
2. Canva
The number affiliate creation tool you can use to make any images, graphics, PDF's, you name it! Canva has a wide variety of features that allow you to make any kind of creative imager your mind can imagine. Often as an affiliate marketer you will have a need to brand yourself or the offers that you are promoting. Because of this, Canva is great to create an image or graphic you want on the g.
They are the best, and I've been a customer of theirs for over 5 years. After testing their services and using them for every image I have ever edited or made, we highly recommend them.
3. Social Media Accounts
The ability to create content as an affiliate and attract the leads and customers you want, is crucial. With a wide variety of free social media accounts at the top social media websites – you give yourself the potential for lots of exposure. Social media marketing has been one of the most common affiliate marketing content strategies.
Why? Because social media works for affiliates better then many other forms of content creation. If you already have social media accounts, then you can simply optimize your profile in order to sell more of your affiliate programs you are a part of.
4. Calendly
Booking calls, meetings, and Zooms, is needed in todays digital marketing world. You will need an easy to use affordable meeting software so you can schedule calls with potential affiliate partners, prospects, and customers. Calendly is the most widely used meeting and video tool in the world.
It is extremely easy to use and even non "techy" people can figure out how to run a meeting fairly quick. Consider investing in Calendly, it's great!
5. ClickBank
As an affiliate you will need a marketplace to find affiliate offers. The best affiliate marketing marketplace is for sure ClickBank. This marketplace for offers has been around for decades while offering the best products and services you can promote as an affiliate.
It's completely free to join and create your account. Simply sign up and you can begin viewing all of the vendors who want you promote their offers in exchange for generous commissions.
6. WordPress
Another free tool that every business owner needs. WordPress is the #1 blogging and website software that is more widely used then any other in the world. You can create and setup a blog in a very short period of time. If you want to generate long term traffic and attention for your offers as an affiliate, then blogging on WordPress is a great idea.
The blog you're reading this article on is based on WordPress!
7. Stripe
Collecting money without big fees is important for any affiliate marketer. If you want to launch your own products and services, or need another way to charge customers – simply use Stripe! It's a completely free payment process that has great support. They have low fees, and allow you to collect payments from a wide variety of credit cards, debit cards, and countries.
Stripe also easily integrates with almost every other tool or service, so do consider creating an account. Go to stripe.com to join for free now.
8. Hyros
It's important that you track your results, profit, and traffic. Even as an affiliate you need accurate reporting and tracking. The best in the world is Hyros. Which you should seriously consider investing in to scale your affiliate marketing over time.
Great tracking will allow you to know exactly which sources of traffic you are directing at your affiliate links is converting the best. By knowing which traffic sources are converting, you can then optimize your ads and sales processes for maximum profits.
Go to Hyros.com to apply now.
9. Page Optimizer Pro
If you end up doing any SEO as a blogging affiliate, then you need a way to optimize the blog articles and content you create. Kyle Roof has created POP (Page Optimizer Pro) so you can optimize your on page SEO very easily and clearly.
SEO is used to generate organic leads and customers. Often people this is organic traffic, these are very high quality people who are viewing your content. This also builds your brand!
10. ActiveCampaign
If you simply just want to gather and follow up with leads, then you should use ActiveCampaign as your autoresponder. AC is one of the best autoresponders in the world. We have an active account because their email deliverability is the best in the industry.
You can even join ActiveCampaign with a free trial so do at least give them a try.
Final Thoughts
Each of these affiliate marketing tools we've gone through you can use to more quickly grow your business. Your profits will increase and your brand will scale as you are able to manage your business more easily.
As we've been affiliate marketers for decades we have used these tools. Our personal experience gives use great insights that we can provide to help you better choose what you want for your own affiliate efforts.
With our kindest regards,
Jon Weberg
Richard Weberg