The Best YouTube Affiliate Marketing Guide: How It Works & How To Do it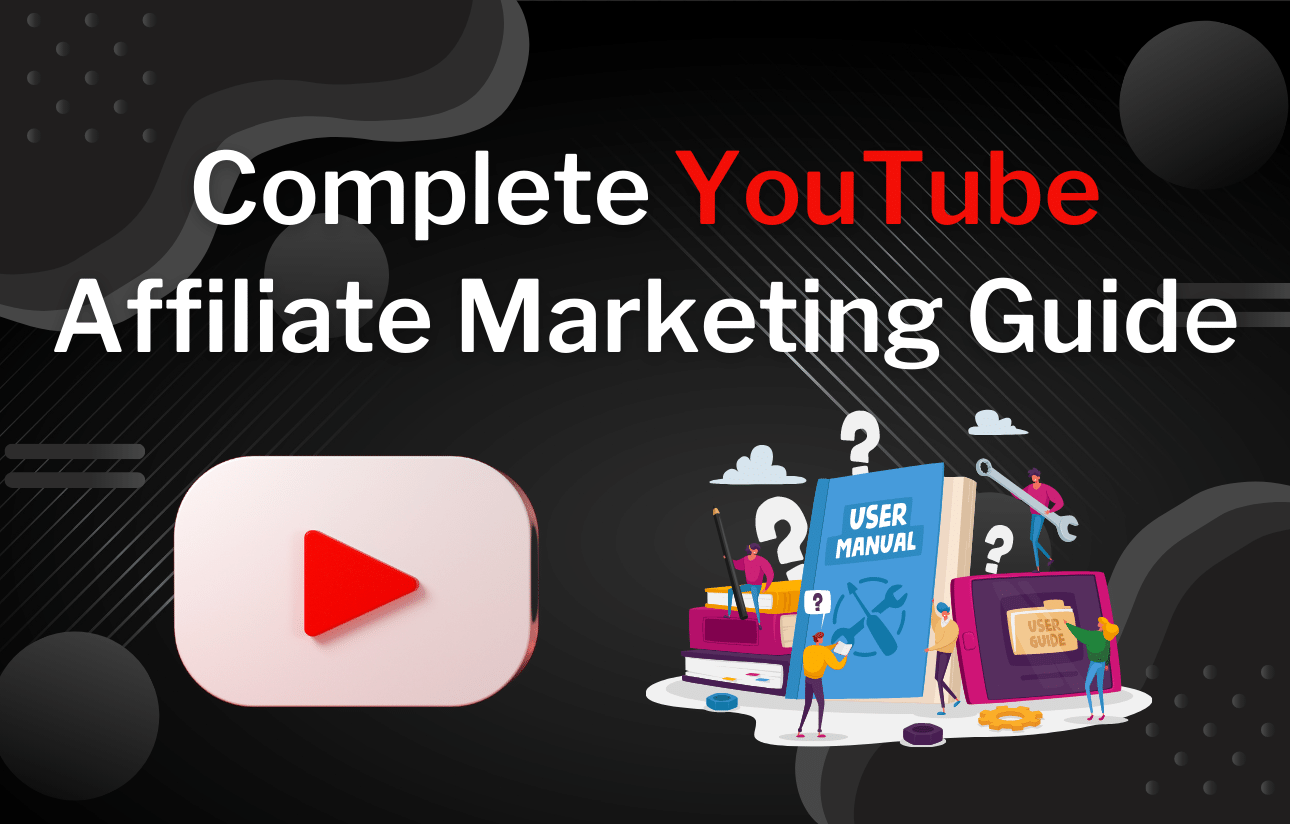 The potential for YouTube to help you grow your business is growing rapidly. Entrepreneurs, businesses, and affiliate marketers, are quickly realizing it may be the best platform to create content on. But, is YouTube affiliate marketing truly effective & profitable? Can YouTube help you generate more affiliate sales and leads?
This best YouTube affiliate marketing guide will walk you through exactly how you can use YouTube to grow your affiliate business. Some of the worlds biggest super affiliates are using YouTube to reach a massive audience, and it's working quite well! Here's how you can use YouTube now.
What Is YouTube Affiliate Marketing?
The simply describe it, YouTube affiliate marketing is the process of creating content on YouTube in order to attract viewers to buy affiliate products and services. Over the past few years the number of affiliate marketers using YouTube has steadily increased. In fact, some of the worlds largest YouTubers are technically affiliate marketers.
PewDiePie, MrBeast, and many of the worlds leading YouTubers do affiliate marketing by accepting sponsored videos on their channels. Whenever any YouTube channels created content with the goal of generating leads or customers for a business, that is technically YouTube affiliate marketing.
Why Use YouTube For Affiliate Marketing?
YouTube has quickly grown to become one of the worlds largest search engines and places to digest content. Because of this, there is an endless audience for people to reach in order to sell their affiliates services and products. If you can build a big enough following on YouTube, you can sell an product or service on the platform as an affiliate with relative ease.
Take a look at the largest influencers in the world. They can mention a brand or company, and generate it millions of viewers and sales, by simply talking about it in a few sentences. Do you now see the potential power of YouTube to be used in the affiliate industry?
Is Doing Affiliate Marketing On YouTube Good?
Yes, YouTube is one of the best affiliate platforms that anyone can create content on. With YouTube you can provide value to your audience while also potentially generating sales for any affiliate offers you are an affiliate for.
As well, by ranking certain videos on YouTube, you can create longstanding content that brings in viewers for years to come. This makes YouTube possibly the best content and social media platform for affiliate marketers to build their business on.
We have YouTube affiliate channels ourselves because we understand and see the potential for this platform to only grow more.
The Potential To Produce Massive Affiliate Sales With YouTube
What makes YouTube different then other social media companies and content creation platforms? Longform and short form content gives YouTube an edge when it comes to building a meaningful and large following. Especially, if you're an affiliate who wants to be in business for decades.
Even the world's largest affiliate marketers use YouTube, and they're able to produce big affiliate sales quite often. If you can generate thousands to millions of views, there is a variety of ways you'll earn money with YouTube.
You can earn affiliate income from Adsense & YouTube monetization
You can earn affiliate revenue from directly selling affiliate products on YouTube
You can earn affiliate profits from being sponsored to make videos on YouTube
The possibility to make reliable income streams as an affiliate on YouTube is massive!
YouTube Affiliate Marketing Guide Steps To Success
If you want to make a serious affiliate income that is profitable, this entire guide will show you exactly how to see success with YouTube affiliate marketing. Read and take action with each steps we guide you through, and you are certain to see results from affiliate marketing with YouTube.
Setting Up Your YouTube Channel
In order to have real success with YouTube as an affiliate, you need to setup and optimize your channel to build a real brand. As well, setting up your channel properly allows you to generate leads and sales, while also being seen as more reputable.
In order to set up your channel in an optimized way, here's what you should do.
Create and upload your profile picture and YouTube channel banner.
Create playlists or "categories" for your videos to go into.
Put links to others social media presences or affiliate offers in your banner
Create & edit your profile bio – will an introduction, important affiliate links, and social media profiles
Decide and select which category the majority of your content will be in.
Creating Content On YouTube As An Affiliate
Once your channel is setup, it's time to decide what kind of content will be published how often on your channel. As an affiliate marketer on YouTube we do have a recommended quality, kind, and quantity of content we recommend you upload.
Post 1 long form video per day
Create & upload 3 shorts per day
Make 1 community post per week
Following this schedule will allow you to quickly grow your YouTube following as an affiliate marketer and be able to monetize & earn from the content you are producing.
Monetizing Your Content
In order to earn affiliate commissions and money from your content, it needs to be monetized in some way or another. There are a few different choices you have for content monetization, which is important because it gives you flexibility in how you will earn from what you produce.
Earn from YouTube Monetization & Adsense
Earn from doing sponsored YouTube videos
Earn from doing affiliate reviews
Earn from creating content that promotes any affiliate program, product, or service.
You should choose 1-2 of the above options to focus on in order to capitalize efficiently on how you monetize what you do as an affiliate on YouTube.
YouTube Courses For Affiliate Marketing
If you want to decrease the amount of time it takes to master affiliate marketing on YouTube, then you should consider investing a YouTube course to grow your affiliate following. Here is a list of possible affiliate courses for you to buy.
YT Marketer by Chris Derenberger
YouTube Mastery by Profitalize
YouTube Masterclass by Dan Lok
We hope you enjoyed this article! Thank you so much for reading.
With our kindest regards,
Jon Weberg
Richard Weberg