Best Private Video Hosting Platforms For Sharing Videos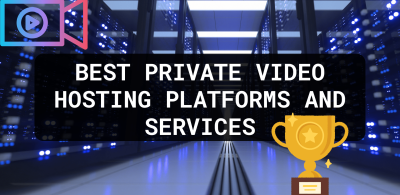 There is no denying that video is a powerful marketing tool, and that video hosting is a valuable resource for both individuals and businesses. In this digital age, video hosting has become an even more vital asset for both companies and entrepreneurs looking to get their message out to a wider audience. This is where the best private video hosting platforms come in handy.
With the ever increasing popularity of social networks and the use of cellphones, video content is now shared with ease and can be syndicated to masses of people very easily. Video, works.
For some marketers and businesses this may be a problem, as not all content is meant to be shared freely with the masses. Many sell their content for profit and is only meant to be shared with the people that pay for it.
As an example: if you created a course on SEO, and your selling your course to people, you do not want everyone to be able to easily share your video lessons. You want a private platform where paid students can learn and watch every video in private.
So it is becoming even more important for businesses and marketers to choose very carefully where they host their videos that they do not want pirated or easily shared. Video privacy is important to consider for any video or videos being uploaded.
How Does Private Video Hosting Work?
When you have private video hosting, it means that your videos you upload are private and secure. You can decide who does, who doesn't, have viewing access to videos you upload.
This means that you can monetize the videos you're creating, you can give them to a more exclusive audience, and there's a lot more you can do as well with each video.
This form of private content is preferred mostly by businesses, corporations, private people, and those who simply wish to have reliable hosting that isn't public. Most video sharing platforms are public, and you have little control over viewership – private hosting videos is your friend.
A video hosting platform that is private, will also allow you to make your content public if you'd like to. You will have full control over every video and live streaming video.
Two Types Of Video Hosting
You basically have two types of video hosting. Free and hosting you pay for (Private Video Hosting). How private you want your information to be will dictate which kind of hosting you will use for your videos.
Each way to host a video is different. You should host every video based on who should be seeing the video.
Private Video Hosting
One of the biggest benefits to private video hosting is keeping competitors ads out of your videos.
As free video hosting platforms such as YouTube, put ads in almost all videos now, and usually it is a competing advertiser that is similar to your video content.
Private video hosting platforms offers a number of other benefits as well, such as the ability to control who can access your videos and the ability to add security features or put them behind a paywall.
As we explained earlier in this article on hosting video, if you are a course creator who sells your content for profit, you certainly do not want people to be able to publicly share your video lessons. This online video hosting format is preferred by most, while also being more secure video hosting for uploading any private video.
For a video to truly be private, it must not be accessible or downloadable from outside means. You'll need to find the right video hosting service in order for this to be possible.
Free Video Hosting
Free video hosting in most peoples minds is usually synonymous with YouTube, or now even TiKTok. Most businesses and entrepreneurs that host videos on these platforms, use them as a means to drive more traffic to their offers and create more sales.
They want these videos to be easily syndicated and shared freely, because the more people that see them, the more potential new customers they can attract. However, the downside of hosting your videos the free way, is that they are not secure and anybody can access them.
So free video hosting has its place in ones marketing arsenal, and if you are not uploading video content to these free platforms, you are leaving hoards of FREE money on the table with your videos.
What kind of video content you want uploaded and what kind of video access you want available, is your choice.
How To Choose The Right Video Hosting
The choice is clear in my mind, on which Video hosting services should ever be considered for use. And this depends a lot on what you're going to be using your video hosting for. If you're going to be uploading videos and don't care what happens to them or how many competitors ads are in them, then sure upload every video to YouTube platform.
However, if you want every video to have…
Censorship free place to have complete control of your speech
Ad free platform where you get complete control over monetizing your content
Affiliate program where you can make money from offering the video hosting to other potential users.
Best Private Video Hosting Platforms
Below are the best platforms for having private video hosting. Hosting private videos in a secure place is important, so you'll love these option for storing your private videos.
Viduber
Storing videos in a private manner is easy and secure with Viduber. It is a new private video sharing platform that is growing in popularity for being able to upload quality video. Why?
Viduber platform has everything you could ever want in a video hosting site offering a video hosting service…
Free Speech For Any Video
Zero Ads On Any Video
Monetize However You Want
Private Video Storage
Public Video Storage (Optional)
Live Streaming
Basic Functionality
Fast Video Upload Speed
Great Video Quality
Rumble
For some important reasons, Rumble is the second best platform for uploading videos that are private.
Rumble has an incredible free speech, zero censorship, and open revenue sharing monetization method.
You can join Rumble platform for free and both upload public and private video content.
Here's some of the best features that Rumble offers…
Complete Free Speech
Zero Censorship On Any Videos
Great Video Storage
Fast Video Speed
Low Buffering On Every Video
Free To Use
High Definition Video Quality
Top Rated Video Hosting Service
New Platform For Videos
Vimeo
You'll find that Vimeo is a more popular option for private video hosting. The only downside is that Vimeo is not as strong on the free speech side of things.
However, Vimeo is a fast growing and solid company that does care about their users experiences.
Free To Use Platform
Paid Options For Your Videos
Limited Storage For Videos
Not Fully Free Speech For Every Video You May Upload
Large Platform
Private Video Hosting For Your Videos
Over the years the internet has developed a large variety of different video hosting platforms. The original of course, YouTube, sparked this video hosting journey. After years went by new and different platforms became mainstream. They have developed key features that attract content creators, especially live streaming. This growing interest in video has grown the market significantly. You have the largest most common platforms as listed…
YouTube
Wistia Video Platform
Vimeo
Viduber
Rumble
You'll find that there are a few issues with many of the most commonly used video hosting services today. As of recently the biggest problems with most video hosting sites are these…
A) Censorship On Videos
B) No freedom of speech
C) To many ads – YouTube recently started putting ads on all videos
D) Big government control
E) Big business interests
F) Hard to grow exposure and presence no matter any video you upload
There's also another huge problem with most video platforms. The only way to monetize and make money from your content, is if you're actually promoting something in each video or video platform.
There are only 3 video hosting companies that have affiliate programs where you can make money from promoting the platform itself.
Wistia pays 3% commissions to affiliates.
Vimeo pays 3% commissions to affiliates.
Viduber pays 60% commissions to affiliates.
And this is why Viduber is starting to take over the video hosting company marketplace.
Ad Free Video Hosting Solution
The vast majority of video hosting services are free to use. However, relying only on these services can give you some major limitations. For example, YouTube's business model is advertisement-based, and they recently enacted a new policy to put advertisements on all videos, even if you have selected not to have ads shown in your video content. So If you do not want your competitors ads to be shown in your videos, it may be better to find an alternative service that charges an affordable fee per month for unlimited storage and without any form of advertisements.
Otherwise you risk losing your sales to people who are paying for their ads on YouTube.
Now, don't get us wrong, YouTube's platform is an entire marketing strategy in itself. We are not saying to not expose your videos on YouTube, because there certainly is an audience to reach there, in fact next to Google, YouTube is the second largest searched platform in the world. It is just that your audience there can and will be distracted by ads in your videos from competitors, and there are lots of other videos listed all around your video in YouTube while someone is watching.
So the potential on Youtube for someone to leave your video to go to your competitors website or to just go watch a different video is huge, because there is so many potential distractions. This is why you need the right video hosting solution for keeping your videos where you want them to be.
Plus if you are doing any kind of marketing training, online marketing courses or coaching programs, you sure do not want competitors ads in your videos. The only way to get around this is to pay for video hosting from a quality provider, that ensures you videos will not be laced with ads in them and around your videos.
Private Video Hosting Platform Benefits
Video hosting services allow you to bring your video content to the masses. Of course, there are different reasons why you want video hosting. Some people want to stream games, while others want to share their business or passion. You'll find that as you grow your video hosting presence – these 3 things will dictate who you decide to stick with for the long run.
No censorship on videos
Monetization and no ads on any videos
Freedom for every video
Video hosting live for your videos
While observing these 3 ideas and benefits, we find that almost ALL video hosting platforms don't truly have any of these 3 things. Take a look at YouTube, they have an obvious bias and censorship on certain political content. You can also take a look at Twitch, if certain things are said or done they will shutdown a channel. Across the board, every single one of these platforms except for 1 doesn't have these 3 features.
Viduber is the single video hosting platform that I've tested that has ZERO censorship, is completely ad free, and gives you complete freedom and control of your content.
When you have these 3 things you can feel safe and secure in knowing that your content will never be taken down, changed or have third party ads put in them.
Video Hosting Server
When you're hosting videos anywhere, you must have the best video hosting server possible. This is because, your videos are actually hosted on physical servers. The speed and data storage of each video hosting server dictates how fast, stable, and the amount of data that can be stored on each server. The unfortunate truth, is that the majority of platforms outsource their video hosting servers to other companies.
This means that most companies don't actually have any control of their servers. When this is the case, many issues can arise. Without complete control of your servers, companies can't… 1. Update servers easily. 2. Replace servers easily. 3. Fix servers easily for your videos.
This means that with most video hosting businesses the probability of the safety of your videos being compromised is extremely high.
You will want to find a company that hosts and has their own video hosting servers under their control. You'll find that there are only a select few companies that actually practice this on their videos and servers.
Video Hosting Sites Costs
The costs of video hosting is another important part of deciding which video hosting you want to invest your time and money into. We've found that almost every platform that hosts video can be quite expensive in costs. Often, companies force you to upgrade, or have such limited capabilities you have no option but to choose the most expensive package they offer.
Do not be tricked by these pricing strategies they use to lock you into expensive plans. Choose carefully, and really make sure to check out more then one company at a time when considering your options.
Video Censorship On Video Sharing Platforms
The other point we want to make here, is YouTube and some of the other more popular free video hosting services have now gotten really political and have been banning videos and shutting down whole channels if they feel your content goes against their narrative of what they deem acceptable, so be aware..
It does not even matter if your a major influencer, because it has happened to them as well. The landscape of free speech has changed drastically in the last 2 years due to the pandemic and the policies of the governing body and big tech, and online marketers are getting the short end of the stick. Free always eventually comes with a major cost of loss.
How To Host A Free Private Video
Simply choose a platform that meets your private needs – and join them!
Depending on the platform you use, there is a variety of different video streaming and hosting features you'll have available. The main feature of being able to upload any free private video you want, will still be a main ability regardless of the platform chosen. Videos rock!
Video Hosting Options Are Growing Exponentially
By 2022, online videos will make up more than 82% of all consumer internet traffic — 15 times higher than it was in 2017.
72% of customers would rather learn about a product or service by way of video. Google says 6 out of 10 people prefer online video platforms to live TV.
There is over 2 billion hours of video watched every single day online, and as video continues to grow in popularity, lots of businesses and people are searching for alternative ad free video platforms to upload and host videos that they have made. There are several platforms that offer this service, but it's important to be aware of the costs involved before you get started.
A lot of services will charge a monthly fee for using their hosting, and the prices usually increase the more videos you host and storage you use.
Some ad free video hosting services are very expensive, in fact some of the most popular services cost the most, such as Vimeo and Wistia. A lot of online marketers and entrepreneurs will actually continue to use free video hosting platforms like Youtube even though they may lose customers, because the cost is so high with the better quality ad free video hosting platforms.
Where Can You Get Unlimited Video Hosting For Any Video Needs?
Finding a platform that gives you the opportunity to upload an infinite number of videos, is called "unlimited video hosting". The great thing is that most streaming and video companies all allow you to upload any number of videos you want.
The only limited uploading platforms are Wistia and Vimeo. This is why they are lower rated video sharing platforms. They also don't have the same video security features as another private video hosting service may have.
Overall if you're looking for a reliable platform to host videos on where you are in control, there are a plethora of platforms available for you to choose from.
Regardless of which platform you choose, aim for affordability with maximum freedom of expression. You should be able to manage your videos however you see fit.