How To Write Email Marketing Body Copy That Engages Your Leads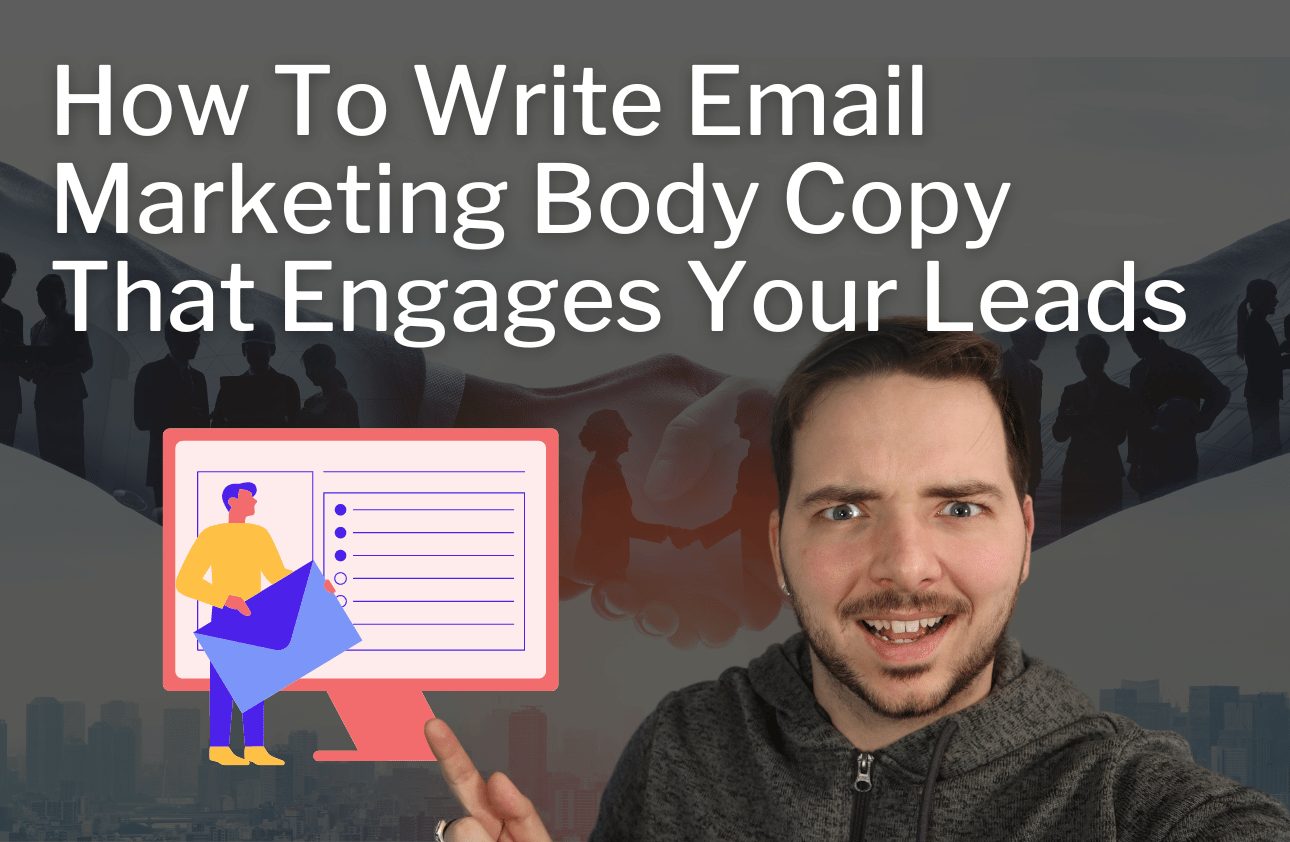 While the headline grabs attention, it is the body copy of your email marketing campaigns that holds the power to engage readers, build trust, and ultimately drive conversions. Well-crafted body copy keeps recipients hooked, delivers your message effectively, and motivates them become a buyer. Writing highly converting email marketing body copy takes time to learn, which is exactly why we're going to help you navigate the email copywriting journey here today.
This guide will walk you through the most important strategies behind writing email copy, and also how structure your email copy to generate the maximum number of sales over time.
The Importance of Compelling Email Marketing Body Copy
Email marketing body copy serves as the core content that delivers your value proposition, that enables you to cut down your audiences objections, and that ultimately generates customers. This follow up with your leads is your #1 way to create a genuine connection with your audience. With attention to detail and a focus on conversion-oriented techniques, your email body copy can significantly increase your over all profits.
Now that you understand the important of writing great body copy, let's walk you through the strategies behind making it happen.
Strategies for Writing Highly Converting Email Marketing Body Copy
Understand Your Audience
Before writing your email body copy, gain a deep understanding of your target audience. Know their pain points, desires, and deepest motivations. Tailor your copy to resonate with the language and tone they use on a daily basis as well for improved acceptance of your email copy. Personalize where possible to build even stronger rapport with your email list as a whole.
Keep It Scannable:
Most recipients skim through emails, so make your body copy scannable and easy to digest. Use subheadings, bullet points, and short paragraphs to break up your text every paragraph or so. Use bold or italic formatting sparingly to emphasize important points and to create a difference between your most important points and the rest of the text surrounding them.
Focus On Benefits & Pain
Throughout your email copy you will want to do 2 things. Address the main results your audience desires, and you'll also want to point out how you are going to eliminate the problems they hate going through the most. By addressing both of these ideas, you'll relate more to the majority of your list. Each piece of email marketing content you create in the body copy of your email sequences, is responsible for closely relating to your audience.
Utilize Storytelling:
Engage readers through storytelling & sharing genuine insights into your business. Real world narratives usually tend to strongly evoke emotions, which draws in your audience to buy. Stories humanize your brand and help readers relate to your message, making it more memorable and persuasive too.
Call-to-Action (CTA):
Include a strong and clear call-to-action that prompts readers to take the desired action. Use action-oriented language and make the CTA stand out visually. Clearly state what you want recipients to do and create a sense of urgency or exclusivity to encourage immediate response.
Provide Social Proof:
Incorporate social proof elements such as testimonials, case studies, or reviews to build credibility and trust. Highlight positive experiences from satisfied customers to reinforce the value of your offering. Social proof adds authenticity and increases the likelihood of conversions.
Craft Compelling Subject Lines:
While the body copy is crucial, remember that recipients may still skim the email. Grab their attention with compelling subject lines that complement the body copy. A cohesive and attention-grabbing subject line increases the chances of recipients reading the body copy.
Test and Optimize:
Regularly test different variations of your email body copy to determine what resonates best with your audience. Experiment with language, length, formatting, and structure. This will takes at least a few dozen emails sent to your email list in order for your to have enough data to understand how your audience reacts to each email body type.
Steps To Write Your First Email Body Copy
Now that you understand the most critical ideas & tactics behind writing body copy for emails, it's time to walk you through writing your first email body copy.
Here's a suggested structure for writing email body copy that truly engages your leads:
Attention-Grabbing Subject Line:

Create a compelling subject line that piques the reader's curiosity or highlights a benefit.

Greeting and Personalization:

Start the email with a friendly greeting and personalize it with the recipient's name if possible. Personalization is great for increasing email engagement and click through rates.

Introduction:

Begin the body copy with a concise and engaging introduction that hooks the reader's interest.
Clearly state the purpose of the email or the value proposition you are offering.

Body Content:

Provide valuable information, insights, or offer solutions to the recipient's pain points.
Use a conversational tone and keep the content concise, focused, and easy to read.
Break up the text into short paragraphs or bullet points for better readability.
Use subheadings or bolded text to highlight key points or important information.

Call to Action (CTA):

Clearly state the desired action you want the recipient to take.
Make the CTA prominent, using a button or bold text.
Use persuasive language to encourage the reader to take action.
Provide a sense of urgency or highlight any time-sensitive offers if applicable.

Social Proof or Testimonials (Optional):

If relevant, include a brief section that highlights positive reviews, testimonials, or other types of social proof.
This can help build trust and shows that you're an authority to your email list.

Closing:

Wrap up the email with a concise call to action or concluding of the idea discussed.
Restate the value proposition or why they should take action now.

Signature:

Include your name, title, and contact information.
Optionally, you can add a professional headshot or a link to your website

P.S. (Optional):

Include a postscript section after the signature.
The P.S. section often catches the reader's attention, and has a high chance of delivering one last final message the lead will go through.
This is a general guideline for writing copy. We suggest that you customize this outline based upon the industry you are in. Consider studying your top competitors copy they're using in order to get a better understanding of the structure you should be using yourself.
Final Thoughts On Writing Email Marketing Copy That Converts
Mastering the art of writing highly converting email marketing body copy is an essential skill in the digital marketing world. Especially since email marketing is the #1 highest converting form of marketing, you'll want to learn how to quickly become an email copy expert.
By understanding your audience, delivering compelling benefits, utilizing storytelling, incorporating social proof, and including a strong call-to-action, you can engage readers, build trust, and drive conversions. Remember to make your body copy scannable, test different perspectives to email from, and continually optimize your emails as your write more copy over time.
Engaging your email list on every single email broadcast won't always be the results you'll see. However, as you get better at copywriting you'll learn how to increase your overall engagement through writing copy that resonates more with your list.
Make sure to email your list often, sending 1 email broadcast is recommend for most businessses.
With our kindest regards,
Jon Weberg
Richard Weberg