How To Do An Email Marketing Audit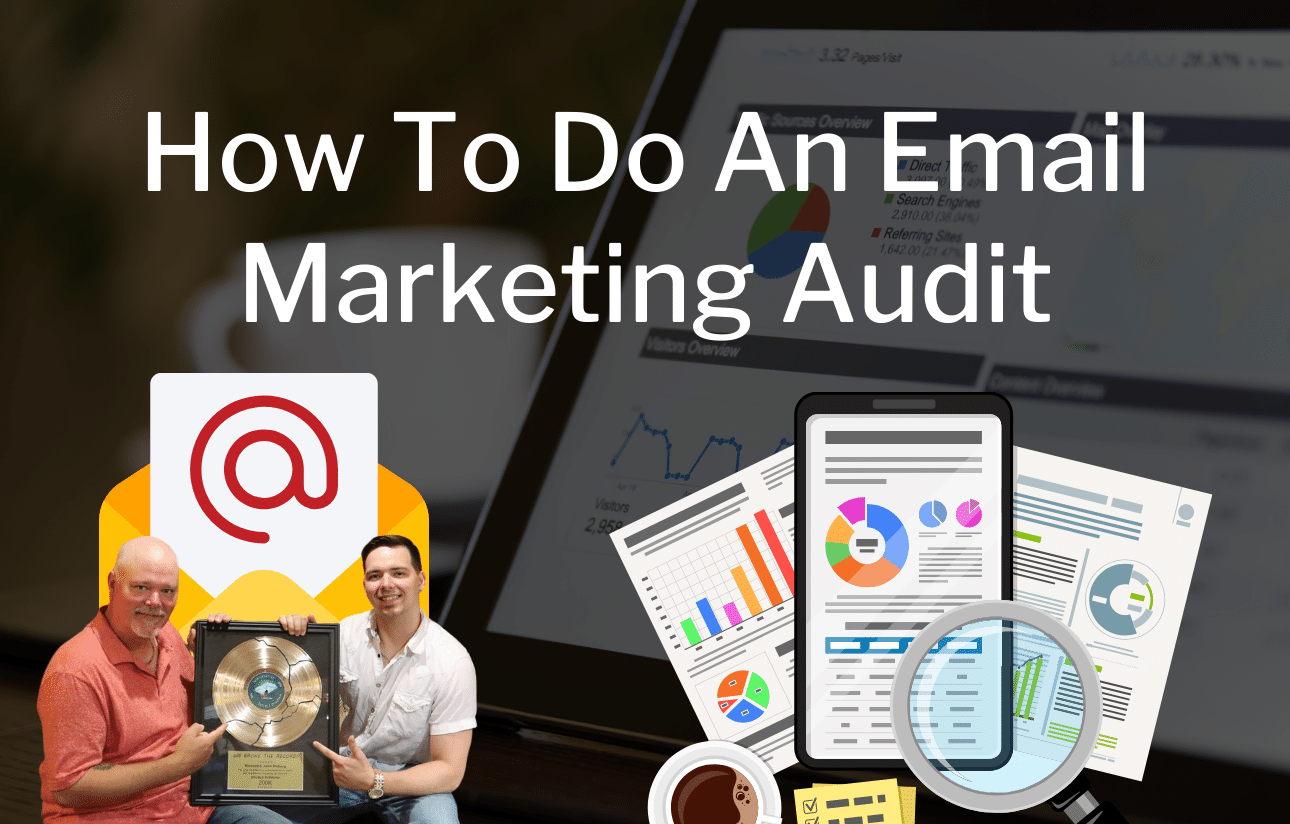 Being able to analyze your email marketing data gives you a clear picture on how to you can optimize your email marketing campaigns. This guide will be walking you through exactly how to do an email marketing audit. You should be excited to do an audit, as it will reveal new ways for you to improve all of your emails.
Doing an email audit will take some time and resources to accomplish. However the rewarding information you'll reveal can show you how to grow your email business much faster. You'll be able to increase your open rates, conversion rate, and click through rates after learning how to do an email audit right now.
What Is An Email Marketing Audit?
An email marketing audit is a process that examines your email marketing data in order to discover potential areas of growth and problems as well. The audits can show you a variety of important data such as…
Bounce rates
Open rates
Click through rates
User activity
Engaged users
Most and least active campaigns
Lead retention
Lead loss
Lead gain
Lead activity
Unsubscribes
Deliverability
By understanding these metrics you can make decisions to optimize and improve the ones that need the most work. We recommend that every business and entrepreneur runs at 1 email audit per month. This will ensure email marketing best practices are being followed. And you'll have a healthy and clean email list.
Also consider measuring and checking which of your email marketing segments are the most effective.
How To Audit Your Emails
The first method is to use your CRM, ESP, or autoresponders automated audit tool. Some tools and software can run an automated email audit for you. They'll take the most important email metrics and compile them into and easy to read report.
The second method to audit your email marketing is to manually record and analyze your data yourself. This means that you need to gather a variety of important email marketing metrics to ensure you know what's happening across your email campaigns.

Here's a checklist of the most critical data and statistics of your email marketing that you'll need to gather…
Open rates
Click through rates
Unsubscribe rates
Lead retention
Lead activity
Lead scoring
Bounce rates
List segment activity
Knowing these particular data points in a report will give you concrete data to analyze and optimize. These metrics are the most important because of the impact they have on your businesses email marketing and total profit.
Use your email marketing tools back office to compile together these metrics, and how they have either risen or gone down over time, into a data sheet or physical sheet of paper.
Upon recording these metrics, analyze and see how they trend to either increase or decrease over time. Compare these trends to how you've been operating your email marketing strategy, and then discover which activities are causing which trends to happen.
Once the optimal activities are discovered, change your email marketing strategy to match the tactics that will increase your metrics the most. You can also take a look at a checklist and compare the data of the results being produced, to the elements contained within the emails themselves.
Email Marketing Audit Checklist
You may want a complete list of email marketing data to analyze. Here's a complete email marketing audit checklist for you to consider using. It's extremely important to not just take a look at the results being generated, but also at the actions and content around the results that cause them to happen. An email marketing checklist for your audit helps organize our data in a more accurately readable way.
Email Copy Used
Take a look at the tone and intensity of copy being used in the emails being audited. The copy and structure of the copy, location of the CTA, and more – can all effect click through rates, and email longevity. Content of your emails can have a impactful effect on all of your email marketing.
Email Subject Line
Of course the biggest impact on your email marketing campaigns is going to be the types of subject lines you use. Go ahead and audit both the length of your email subject line copy, and the ideas they are around. From these 2 metrics you can discover the proper length and types of headlines your subscribers click on the most.
Send Time
The time you send emails at during the day can also increase or decrease when they hit your subscribers inboxes. And when they hit your subscribers inboxes can determine if they are opened, or are never even seen. Take a look and compare when you send emails usually to find a trend when they are opened most.
Day The Email Was Sent
If you send your emails every few days, the day of the week they are sent on could be an impacting factor on both open & click through rates! It even may directly correlate with increased or decreased sales.
Email Sender Details Both Name & Email
If you ever send your emails from different domains, then it's important to know which domain or name is causing an increase or decrease in your metrics. Monitor this closely, however it does not apply to most businesses.
Why Do An Email Marketing Audit?
An email marketing audit is the most effective way to gather valuable insights on what is, and isn't, performing. From these insights you can change the actions you're taking and strategies you're using. This then can increase your email marketing results. (A.k.a. email marketing optimization).
Are Email Marketing Audits Helpful?
Yes, email marketing audits are extremely useful. They are efficient ways to discover how your email marketing practices are generated results. Or how you possibly may not be using the best email marketing strategies.
What To Do With Email Audit Data
Once you've gathered your data you need to analyze it for trends. Trends in how you email, what you email, and how they interact with the metrics being produced. From there you can start making decisions and thoughts on what would be the best ways to improve your data and get better results with your email marketing.
We hope you enjoyed this article and can do run a successful audit!
With our kindest regards,
Jon Weberg
Richard Weberg