Quickbooks Affiliate Review 2023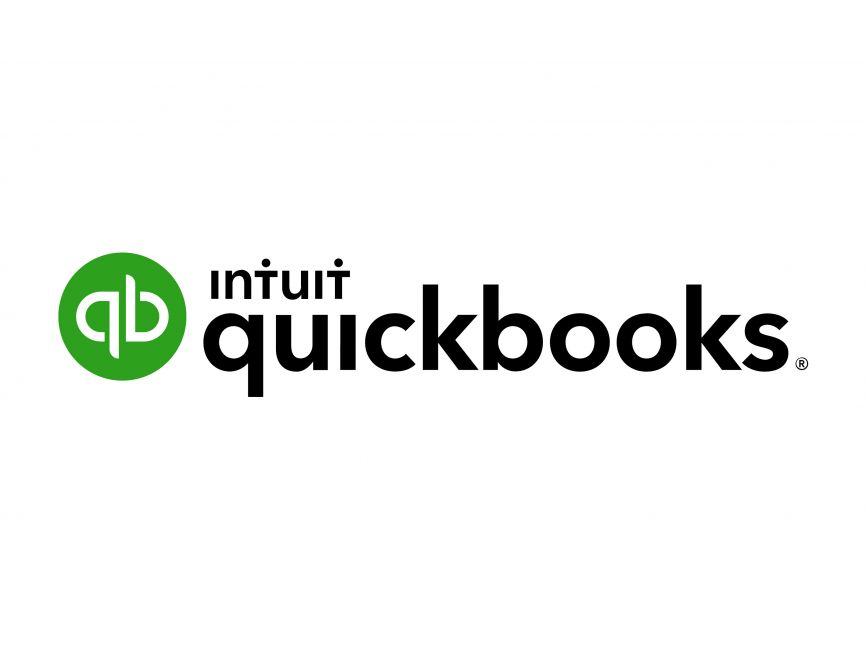 Being online marketers ourselves, we get asked questions all the time from our community wanting to know about whether are not certain businesses have affiliate programs.
And we were recently asked about QuickBooks, so we decided to do an updated Quickbooks affiliate review for 2023.
Because several members in our community asked…
Does Quickbooks Have An Affiliate Program?
Yes they do, and they have quality products that are worth promoting as an affiliate marketer.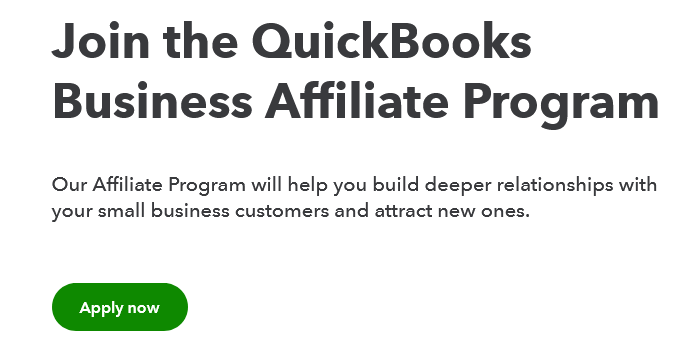 Quickbooks Affiliate Review: Is It Worth Joining?
In our Quickbooks Affiliate Review, we take a look at why this accounting software is the best option for small businesses, and why you might want to include it in your affiliate marketing promotions.
From invoices to expenses, cash flow and payroll, Quickbooks is a simple solution that is easy to work with, is reliable and comes with award-winning support!
Here is a quick snapshot of the accounting software features available:
Live bookkeeping – bring your financials up to date
Freelancer expenses – use the app to track your finances
Small business accounting – a collection of simple tools to make your business successful
Payroll – with integrated time tracking
Payments – add a button to your invoices
Easily Track – all of your expenses
Free Mobile Apps
Free Guided Setup
And much more…
---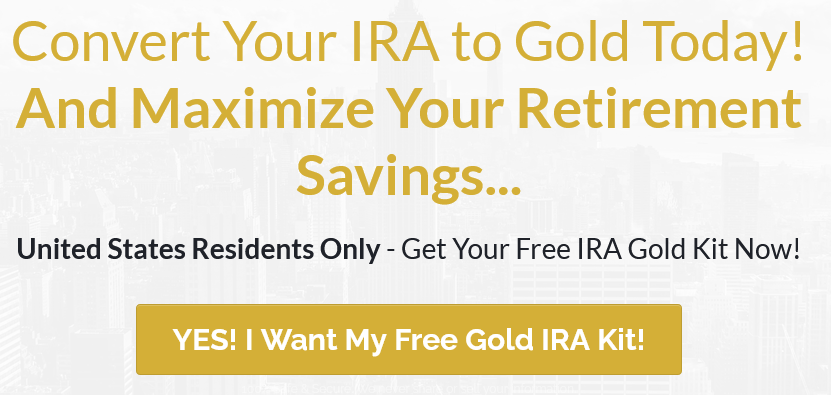 ---
Is Quickbooks Worth Getting?
With immense depth, flexibility and ease of use, Quickbooks is a smart choice for any small business looking for a simple time-saving accounting solution.
The user interface is simple, and the experience out of the box is uncomplicated.
You can login to a well-organized dashboard from any device, anywhere in the world.
Users benefit from a comprehensive set of reporting tools and financial tracking so you can feel confident your finances are in order.
It enjoys an excellent reputation in the financing community too.
For affiliate marketers, there is a freelancer plan which starts from just $7.50 a month, which is a great point of entry if your are new to affiliate marketing, but want to keep your finances in check.
Any Business or entrepreneur can benefit from using QuickBooks tools and software.

Join The Quickbooks Affiliate Program
As with any affiliate program you want to promote to your subscribers, you should certainly trial it first so you can offer an honest insight into its use.
We feel its highly beneficial to offer a personal recommendation if a product is worth buying, that is based on your actual use of the product or service.
Offer Quickbooks. Add value, And Earn commissions.
With the opportunity to offer a wide range of Quickbooks products to your list at a discount, this affiliate program works well if you promote it to the right audience.

You can earn recurring monthly commissions , which is a good a rate for a software product in a competitive market.
There is an online affiliate toolkit that you can tap into for materials that you can place on your website, blog or as part of an email drip campaign.
Anyone with an interest in promoting a sound accounting software product can apply.
It's well worth checking out the FAQs before you apply, as not all applicants are accepted.
We hope our Quickbooks affiliate review offers you some valuable tips into how both the product and affiliate program work.
How To Apply
Complete an online application form, their affiliate program is run on PartnerStack which is an affiliate marketing platform like Clickbank
Read the Quickbooks Affiliate Agreement
If accepted after applying, you'll receive a notification in 7-10 days.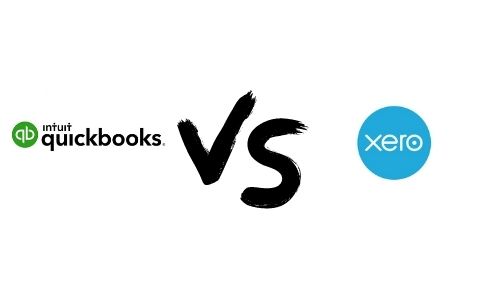 Quickbooks vs Xero
Let's put our Quickbooks affiliate review to one side for a second and focus on a quick comparison with another industry leader – Xero!
We want to compare two successful piece of accounting software to find out how they stack up against one another.
Choosing between Quickbooks and Xero depends on what features you require, like most bits of software, and how easy they are to use (because no one likes complex software!)
Both offer similar modules to keep your finances in check.
Let's take a look at what Xero can offer its user.
Invoicing, quotes and purchase orders
Live bank connections
Inventory tracking
Tax management
Dashboard and reporting tools
Accept online payments
Mobile app
Payroll
Integration with over 700 platforms
24/7 support
Whereas Quickbooks offer very similar features such as:
Income and expenses tracking
Tax management tools
Receipt capture service and organization
Reporting
Invoices and quotes
Bank account connections
Accountant access
Customer support
Accept online payments
FREE mobile app
Free guided setup
Has an affiliate program
As you can see, there are not too many differences between the services you can expect to receive once you have signed up.
In our opinion, after trialing both platforms, it is likely to come down to pricing models.
Xero Price Plan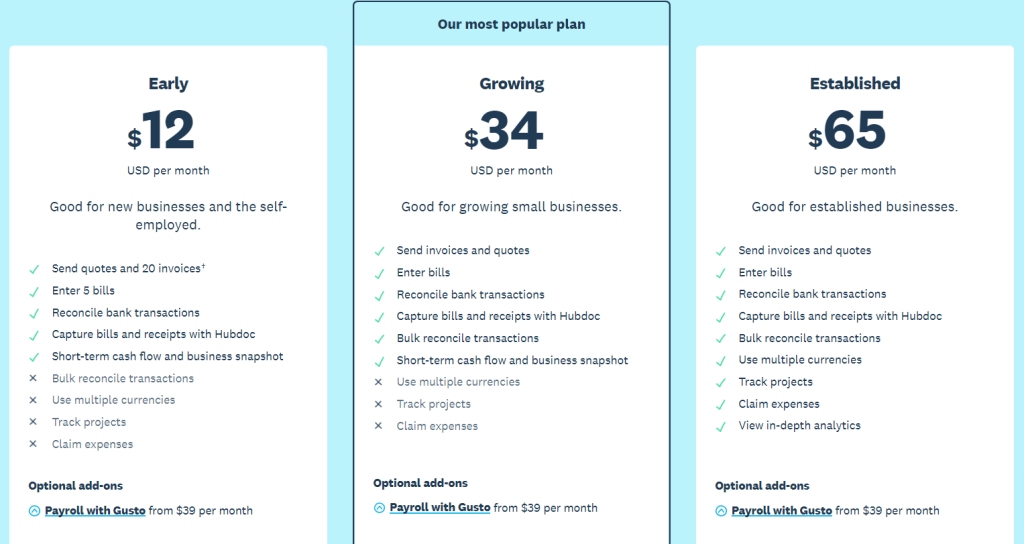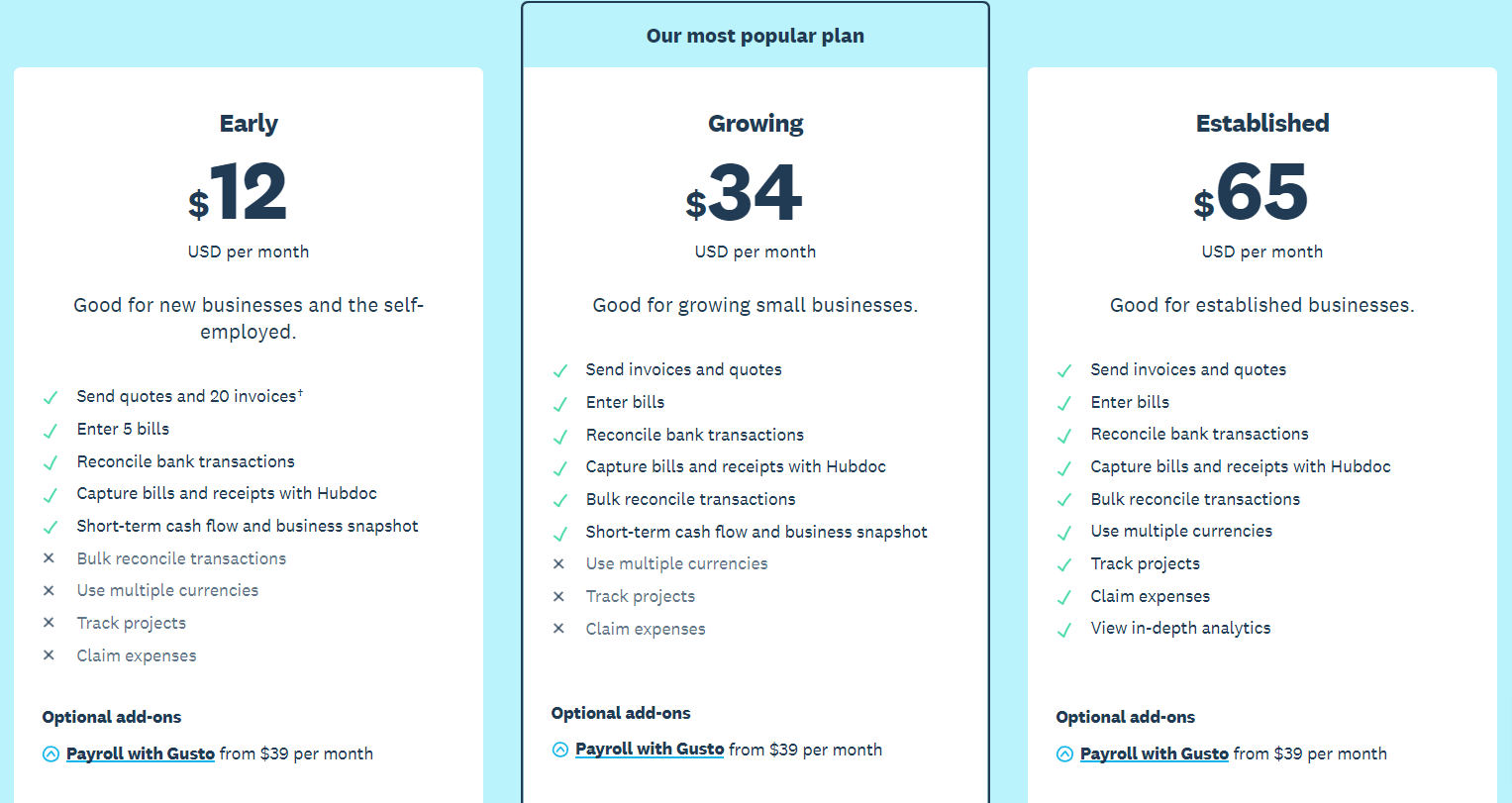 Quickbooks Price Plan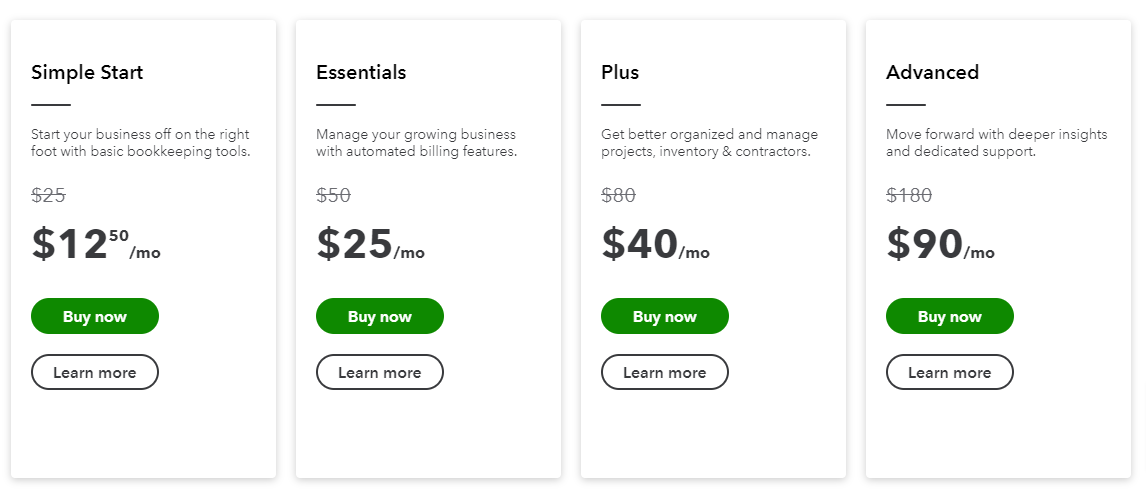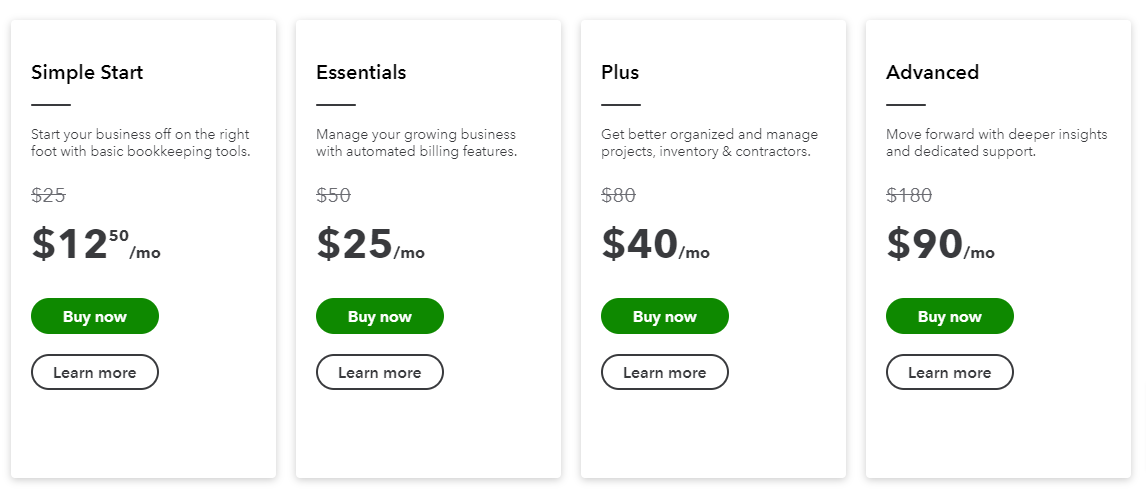 As you can see, both start from around $12 per month which works out at about 0.40 cents per day which is inexpensive considering the raft of features packaged with each platform.
The big difference between the two is the basic plan.
Xero only offers a limited number of features, such as the ability to send up to 20 invoices.
To send more, or add additional tools to your dashboard, you can upgrade to the 'Growing' plan etc.
Quickbooks gives you full access right from the start, and often dangles you a carrot by offering huge discounts, sometimes up to 50% for the first three months!
There are four plans, which gives businesses the option to add additional users, instead of holding back their full suite of tools.
QuickBooks also offers now free guided setup for customers of their products.
As part of our Quickbooks Affiliate Review, you can use this comparison of Quickbooks vs Xero to highlight this key difference.
It could generate you more affiliate sales!
What about access?
Both Xero and Quickbooks offer access from any device, anywhere in the world – which means in you are lounging around on a deckchair in Malibu, you can still send an invoice or purchase order!
This is great for small business owners, and access can be through an app, both are included and are free to use.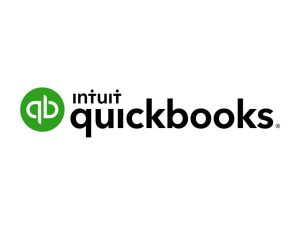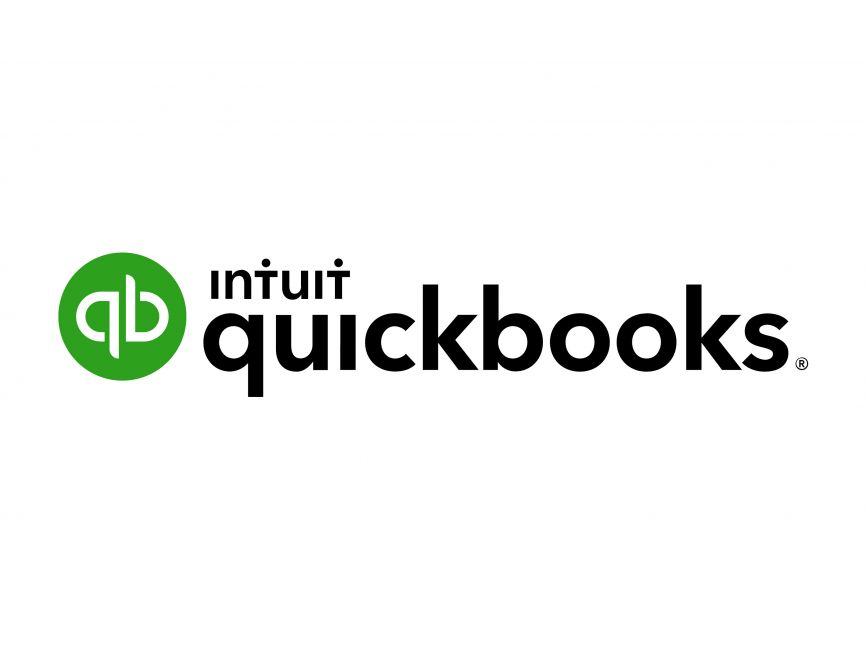 Before we dive into the type of businesses that Quickbooks would really benefit from, we wanted to let you know about our FREE course.
If you want to learn more about affiliate marketing, building a website, or making money online, feel free to sign-up below.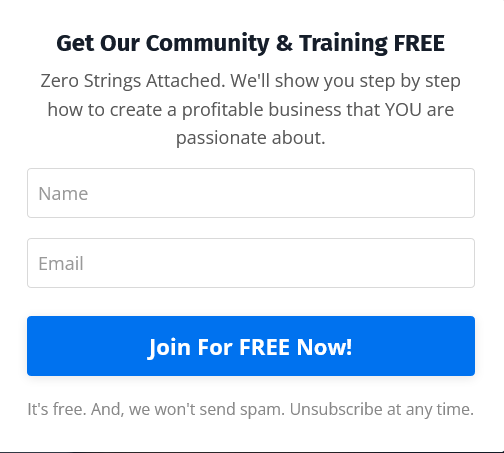 What Type Of Businesses Can Use Quickbooks?
Lets jump back to our Quickbooks Affiliate Review and discuss what type of businesses can use the software.
As we mentioned, Quickbooks offers five plans;
Freelancer
Simple Start
Essentials
Plus
Advanced
Each level is designed for certain businesses.
These are:
Freelancer
The cheapest package is aimed at freelancers and the self employed.
Once signed up, you are given access to all the features you will need to track income and expenses, capture and organize receipts, estimate quarterly taxes, track transport miles and run a few basic reports.
Simple Start
The second tier offers all of the above, plus cash flow tools, sales and tax tracking, the ability to send estimates and manage 1099 contractors.
Essentials
The middle tier again, offers all of the features of the Freelancer model and Simple Start plans, plus the ability to plan and pay bills, track time – and up to three users can have access to the platform for those with a larger financial team, or an accountant.
Plus
The most popular plan is the 'Plus', priced at $40 per month, it offers most of QuickBooks core features such as inventory tracking (great for eCommerce businesses), profitability projections, and you can assign up to 5 users tom your account.
Advanced
The premium Quickbooks model gives you access to a complete suite of tools, including in-depth business analysis tools, employee expenses, app integrations, a dedicated account team and on-demand online training.
We figured that we should include these plans in our Quickbooks Affiliate Review because when it comes to generating leads, sending emails to your list and making commissions – you will want to know the pricing structure – and the features offered.
Quickbooks Online Login
As we've mentioned, you can access Quickbooks from anywhere in the world, but how easy is it to login?
Firstly, there are four options to login to Quickbooks.
Quickbooks Online Login
Quickbooks Self Employed Login
Quickbooks Online Accountant
Quickbooks Pro-Advisor
This is to make easy to assign access to persons who need to access your finances.

What Type Of Industries Can Use Quickbooks?
Our Quickbooks Affiliate Review is designed to give you all the information you need to be a successful affiliate marketer, therefore, its key that you understand what type of industries could benefit from this accounting software.
These include:
Non profit organizations
Retail
Construction
Hospitality
Professional services
Legal
Churches
Manufacturing & wholesale
And almost every other industry you can think of..
No matter how big or small, Quickbooks will help your business get the job done.
Quickbooks Affiliate Commission Structure
If you have read this far, and are interested in enrolling, then you will need to learn about the Quickbooks Affiliate Structure.
There are four commission structures as follows:
Quickbooks Software Products – Set at 7% under $10,000, and 10% over $10,001
Quickbooks Online Edition – $25 bounty for each trial version
Intuit Online Payroll – $25 per paid subscription
Quickbooks Supplies – 10% of each order (supplies include check printing)
As you can see, there is huge potential here! Especially if you convert a trial into a fully paid member, and then keep the supplied going.
Pay-out is 45 days after the end of each month, provided you have reached a minimum threshold of $50.
Quickbooks stress that commissions can ONLY be earned through affiliate links, not phone sales.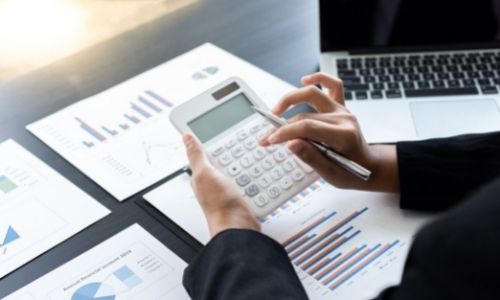 Quickbooks Affiliate Program: Final Verdict
That concludes our Quickbooks Affiliate Review.
If you have a blog, or are considering starting a blog in the accounting or finance niche, then this affiliate program should be high on your list.
Created by a trusted brand, almost all businesses, small or large, will find it incredibly useful.
There are many advantages and it should promote itself if you utilize a good email marketing campaign!
If you have any questions, please leave us a comment below.
Sincerely,
Your Friends And Partners
Richard And John Weberg
To learn more about other quality affiliate programs, read our other marketing products reviews