KnownHost Review 2022: Is KnownHost The Best Hosting Provider?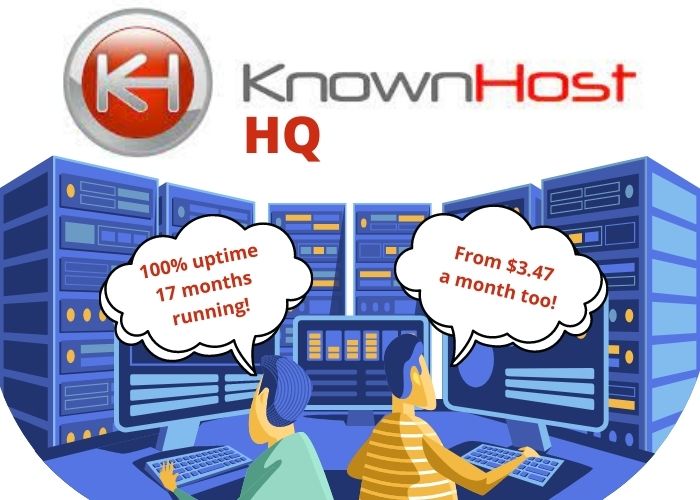 There are many critical factors you should consider before launching a website online, and one of the most important is your website hosting.
This is because your website is responsible for serving all your content to your clients, customers and subscribers, i.e. your 'digital presence' so to speak. Which is why you'll need KnownHost, one of the best hosting providers in the world.
Through this KnownHost review you'll discover why Knownhost's hosting solutions are the best and most useful.
This company ensures your websites, content, and more will…
be reliable
be lightning fast
be available to visitors 100% of the time (no exceptions!)
offer 24 hour support
be cost-effective to your business
be able to cope with demand in traffic
Listen to the wrong web hosting reviews and you'll risk your entire business due to common issues like poor accessibility, super slow snail speeds, and intermittent services,
This article reviews everything you need to know.
What Is KnownHost?
KnownHost is a premium website hosting company based in the United States.
They offer a wide range of web hosting services that include shared, reseller, managed, dedicated, cloud, and VPS, as well as domain name registration and SSL certificates. Their hosting services will allow you to host and manage any website, platform, or app. KnownHost has been in business since 2006 and continues to maintain a status as a high performance hosting provider for tens of thousands of customers from over 150 countries.
Their mission is to provide customers both big and small, the highest level of service and support, managed by a team with over 20 years experience in the web hosting industry.
They offer a variety of different hosting packages available, each with their own pricing, which we will explore further on in this article.
What Does A Web Host Do?
A web hosting provider, or web hosting platform, offers website hosting services.
This means that they store your website data and information on servers owned by themselves, in order for your website to be live and accessible online.
Some web hosting providers offer different kinds of hosting services. This depends on the quality, speed, and data size of hosting that you may need.
In sum, website hosting services are comparable to buying a certain portion of land where you can build the physical building of your business company.
In an online setting, it is the portion of an internet land where your website storefront is placed.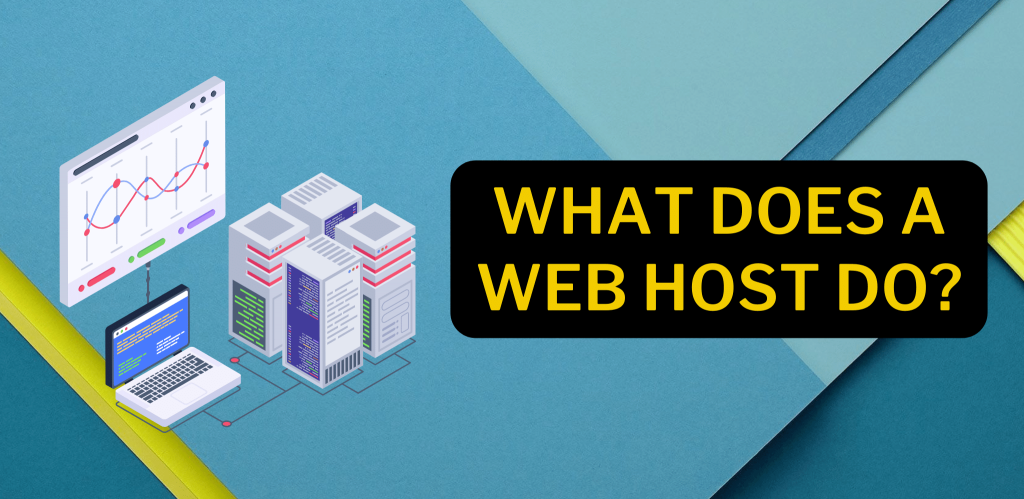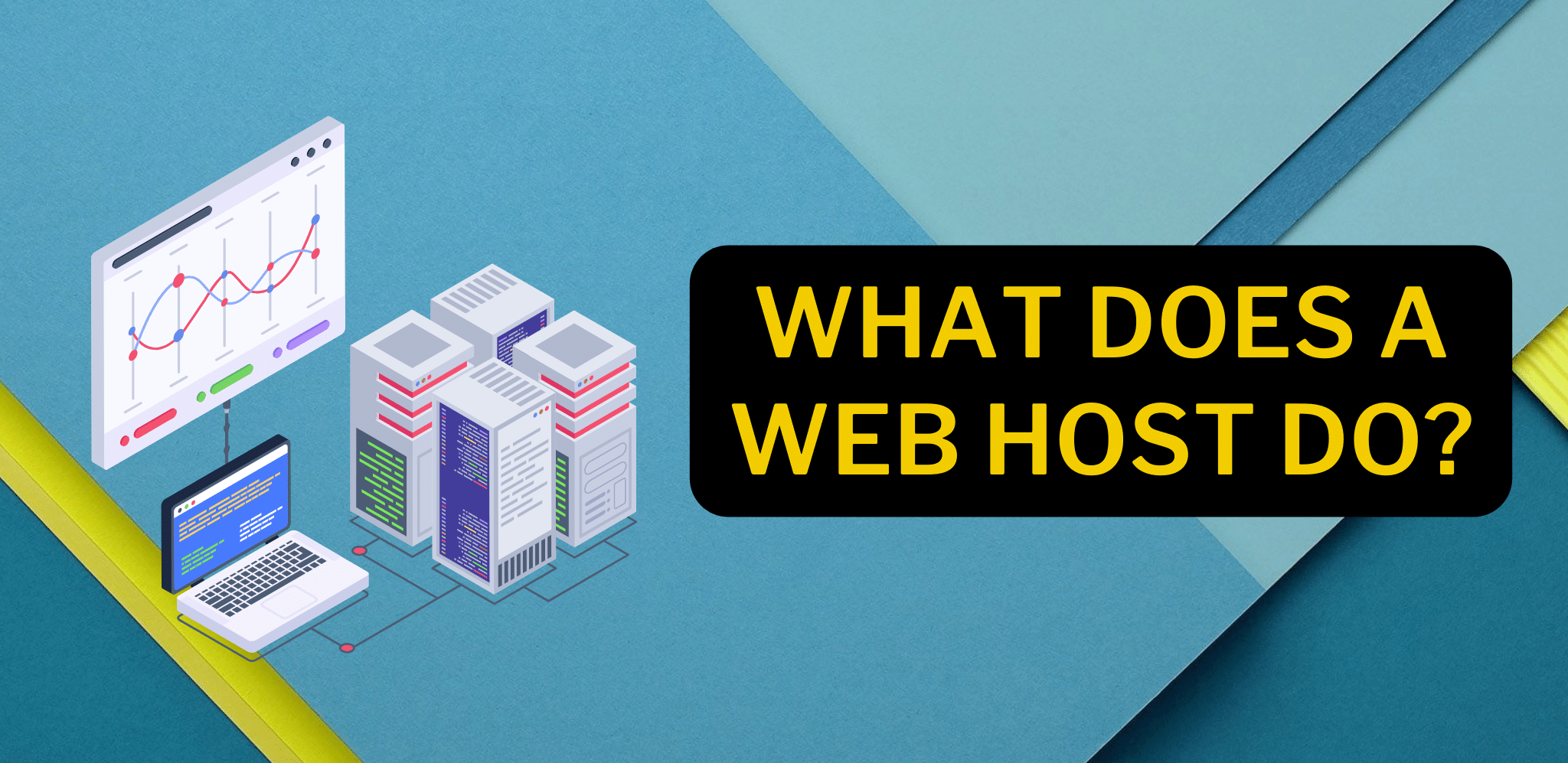 Depending on the model of business that you are running and its size, there are a lot of web hosting services that you can opt to use.
Thus, it is necessary to get to know your business for you to find a web host that can accommodate your business well.
There are a variety of important web hosting factors that determine which web hosting companies are the best to use.
Each of these factors will dictate your site speed, number of visitors you can handle, and so much more.
Here are some of the most important web hosting factors you need to consider..
Security – You need to work with a hosting company with great security. Having your website hacked needs to be prevented.
Speed – If your website isn't fast, people won't use it – and your conversion rates all decrease.
Scalability – You need to be able to quickly upgrade and have your server hit with large amounts of traffic.
Uptime – Your website needs to be up 24/7. Cheap web hosting providers will let you down.
How Does KnownHost Work?
KnownHost works by allowing you to host your websites data on their website hosting servers.
These servers host the physical and digital data that is created when anyone hosts any website online across the world.
The process to get your website and data hosted goes something like this…
Browse the hosting packages KnownHost has available for purchase.
Invest and purchase the hosting packages that matches your budget and needs.
Go through the thank you process where you'll provide some basic information to get your website hosting up and running quickly.
KnownHost's services provide a fully managed hosting experience with a 99.99% uptime guarantee – which is why so many companies and entrepreneurs want to use them.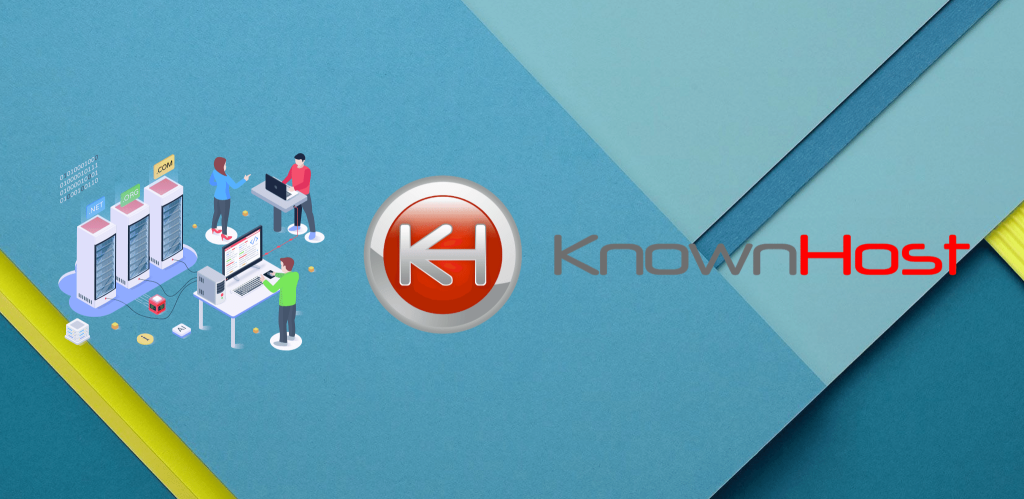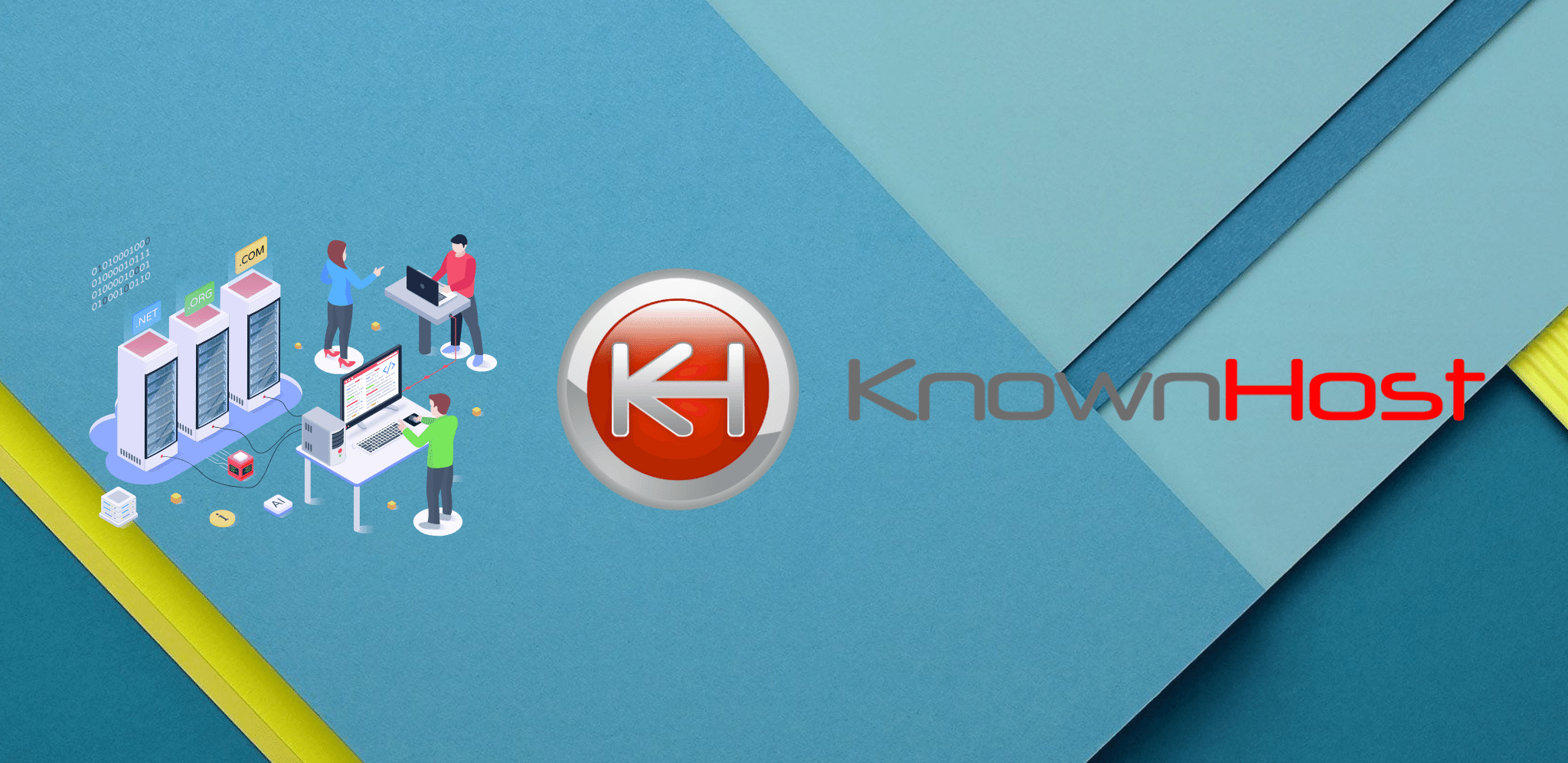 The company also reviews all servers to make sure they are maintained properly.
Features
The features that KnownHost provides to customers are among the best web hosting features in the website hosting industry.
The following features will allow you to have a fast and reliable experience, no matter what your hosting needs are. Here's the full list of features for you to consider as you read through reviews…
Backups
Because KnownHost values servicing their customers as top priority, they will preconfigure your backups so that in the event of a failure or corruption, you'll have a fallback position to restore and resume hosting operations.
Here is what KnownHost says "Although it may cost us more money, we know backup systems are essential for any responsible website owner, that is why we include ours – free of charge for our customers."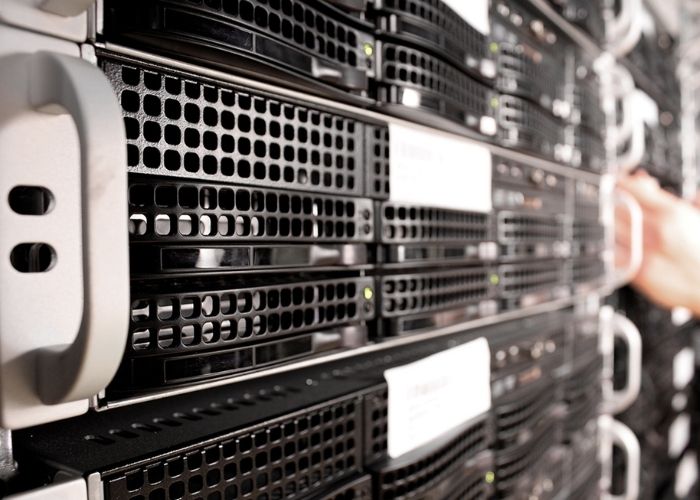 Reviews show that this company has some of the best backup servers. These backups support your VPS hosting, wordpress site, shared hosting, and other kinds of hosting solutions.
cPanel & DirectAdmin
It's important to mention the 'workings' or 'back-end' of your website, as you may need to familiarise yourself with this in the future.
With this site you will have access to cPanel or DirectAdmin depending on the hosting package you choose.
Both will allow you to access the "back end" dashboard of your website, which is where all of your files, configurations, and folders reside.
KnownHost Managed WordPress Hosting – Comes with cPanel all ready to go.
Their VPS, Cloud KVM and Dedicated hosting plans you will have your choice between cPanel or their DirectAdmin.
Please read this article that will explain the difference between cPanel and DirectAdmin.
This reviews how they are similar and different.
Dedicated Servers
KnownHost's Managed Dedicated Servers are built-to-order with dedicated infrastructure, customizable, secured, and fully optimized straight out of the box for high-traffic users and businesses.


Their dedicated servers feature the most stable environment, making it ideal for processing large volumes of data. The configurations are baseline package options and can all be customized to meet all of your specific needs.
All Dedicated hosting packages are Linux based, and housed at their Central US (GA) datacenter which includes premium bandwidth such as Internap and Level 3, all while being fully customizable with full root access for the more advanced user.
With all of their Managed Server Hosting options, you can rely on the best 24/7/365 managed server admin team and industry leading uptime at an affordable price.
If you want affordable dedicated servers, KnownHost can provide them at price point that very few other hosting companies can match.
Domain & Hosting Migration
Getting your domains, emails, databases, images and files moved from one web host to another can be technical agony, and may come as a challenge for users just starting out.
At KnownHost, they remove that stress by handling site migrations for you. Quick, easy and with a minimum amount of downtime all for FREE.
If you have any specific questions regarding a domain transfer or hosting migration, click here to visit KnownHost and access their live chat in the bottom right hand corner of their site.
Load Speed
We are customers of this provider and actively test our website load speed, so we have accurate data that shows KnownHost load times are low, and the server speed is fast.
With their optimizations, you'll find that all of their web hosting is lightning fast.
The shared, reseller and WordPress plans are also built on premium hardware, with premium networking and are optimized by their expert admin team. Even their shared hosting is quick.
Managed WordPress Hosting
As a large portion of websites across the world use WordPress as their CMS (Content Management System), Knownhost has managed WordPress hosting options available for the customers that need it.
If you are going to have a website that uses WordPress as the CMS, then in this circumstance we would recommend that you invest in KnownHost managed WordPress hosting VS dedicated hosting or another option.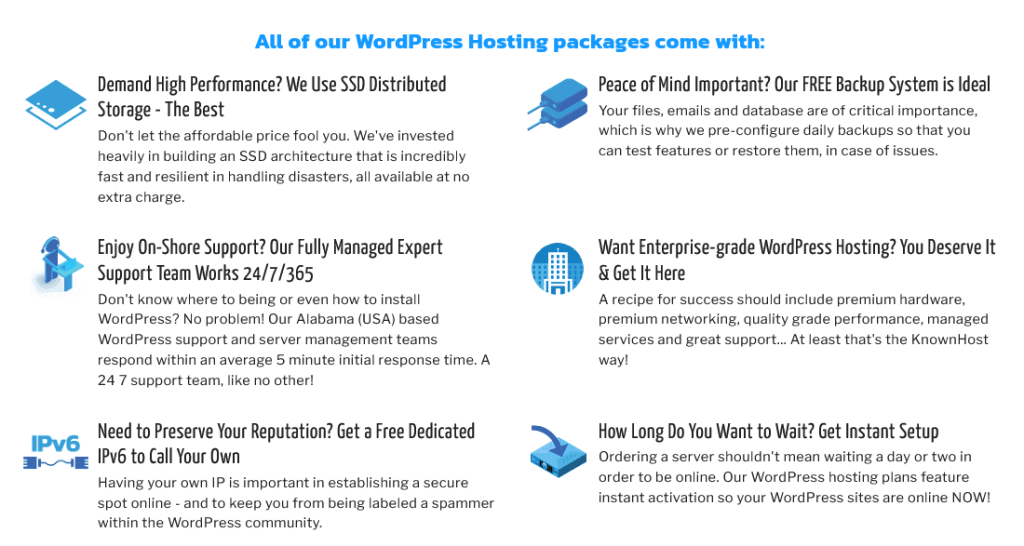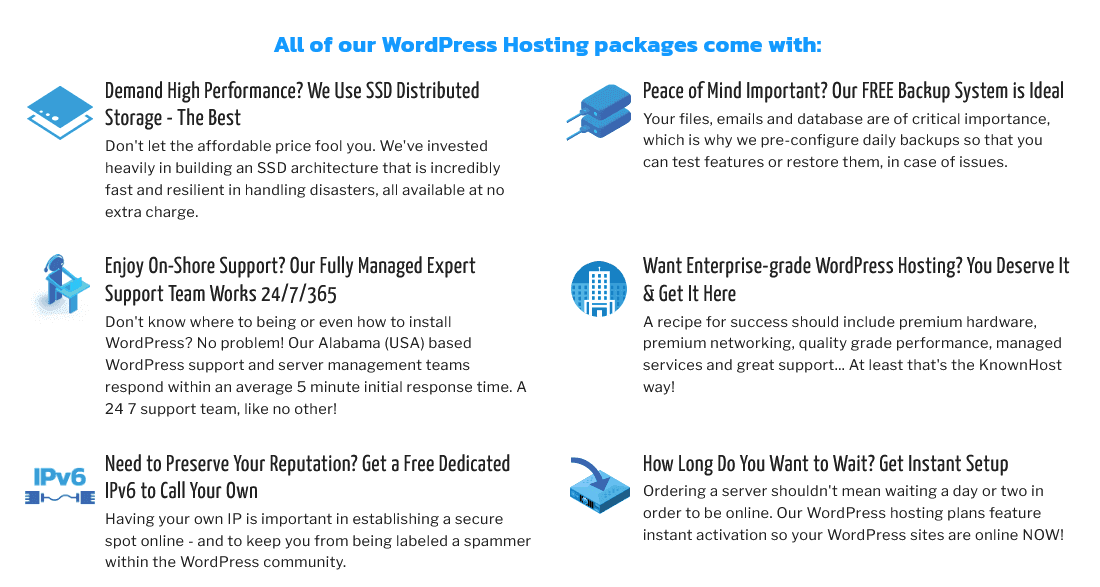 Shared hosting through this company can also be managed on WordPress.
USA Based Support
There's a lot of reasons USA based support is ideal, including things like… Communication.
KnownHost provides this quality of support with real quality support agents that care.
Education is another matter – At KnownHost, they hire experts – and then they train them further on additional topics, control panels, databases, operating systems and more – just to make sure that they can not only solve your problems – but they can do it quickly, without unnecessary trial and error.
Their support staff are also available 24 hours a day, 7 days a week, 365 days a year. The team reviews all tickets and inquires to serve customers best.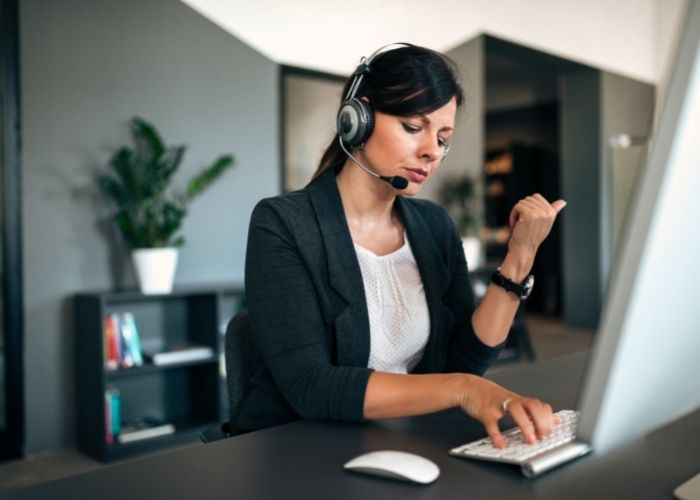 Web Hosting Services
Deciding on what web host will you choose to place your business websites is quite a challenging decision. It is one of the keys to the success of your business.
Thus, it is a vital factor that you need to highly take into consideration & review.
With a fully managed platform offered, KnownHost takes web hosting service to a different level, more advanced than most other web host.
They are your trusted full-time partner in your web hosting experience and assure that you're guided throughout the process.
Moreover, they offer different types of web hosting, depending on your personal preference or to the need of your business that you can fully choose from.
They offer these web hosting services…
Web Hosting & Domain registration
Shared Hosting Plans
Free Domain Transfers
Free Migration
24/7 Customer Support – 365 days a year – USA Based
Back Up Servers & Back Up Hosting
Instant Free Setup
Free SSL certificate on Managed packages
99.9% verified uptime for over a decade
30 Day Unconditional Moneyback Guarantee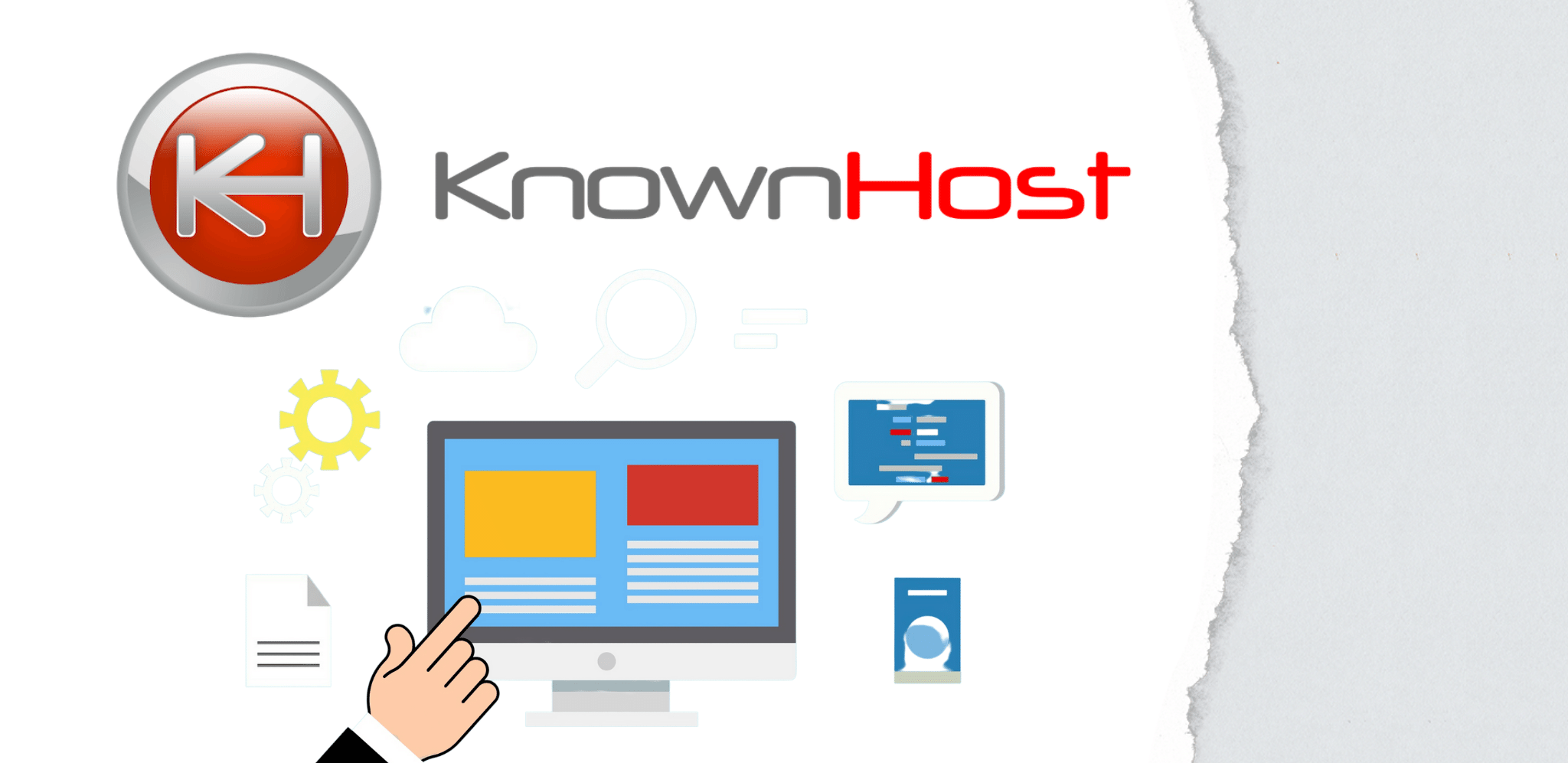 Does KnownHost Have Shared Hosting?
Yes, there is a variety of hosting plans Knownhost has. This includes Knownhost shared hosting, knownhost vps hosting, dedicated hosting, and a variety of other hosting solutions.
Why Use KnownHost?
There are many web hosting competitors in the hosting space. We've found that there are only a select few that are worth the investment.
No, we are NOT talking about HostGator, Bluehost or GoDaddy.
We've found them to be among the worst hosting and domain providers to ever exist. KnownHost's services are the best hosting providers on the market.
We've found that KnownHost meets the necessary requirements for a top tier hosting provider service.
They have great security programed into their servers. This ensures you won't be hacked and that your hosting is secure.
They have a 99.99% uptime guarantee. This means that it's virtually impossible for your websites to ever be down for any reason.
Their hosting speeds are benchmarked above most other hosting companies. This means your website will be fast and load.
Their servers have great scalability. You can upgrade your servers at anytime and have access to some of the best servers in the world.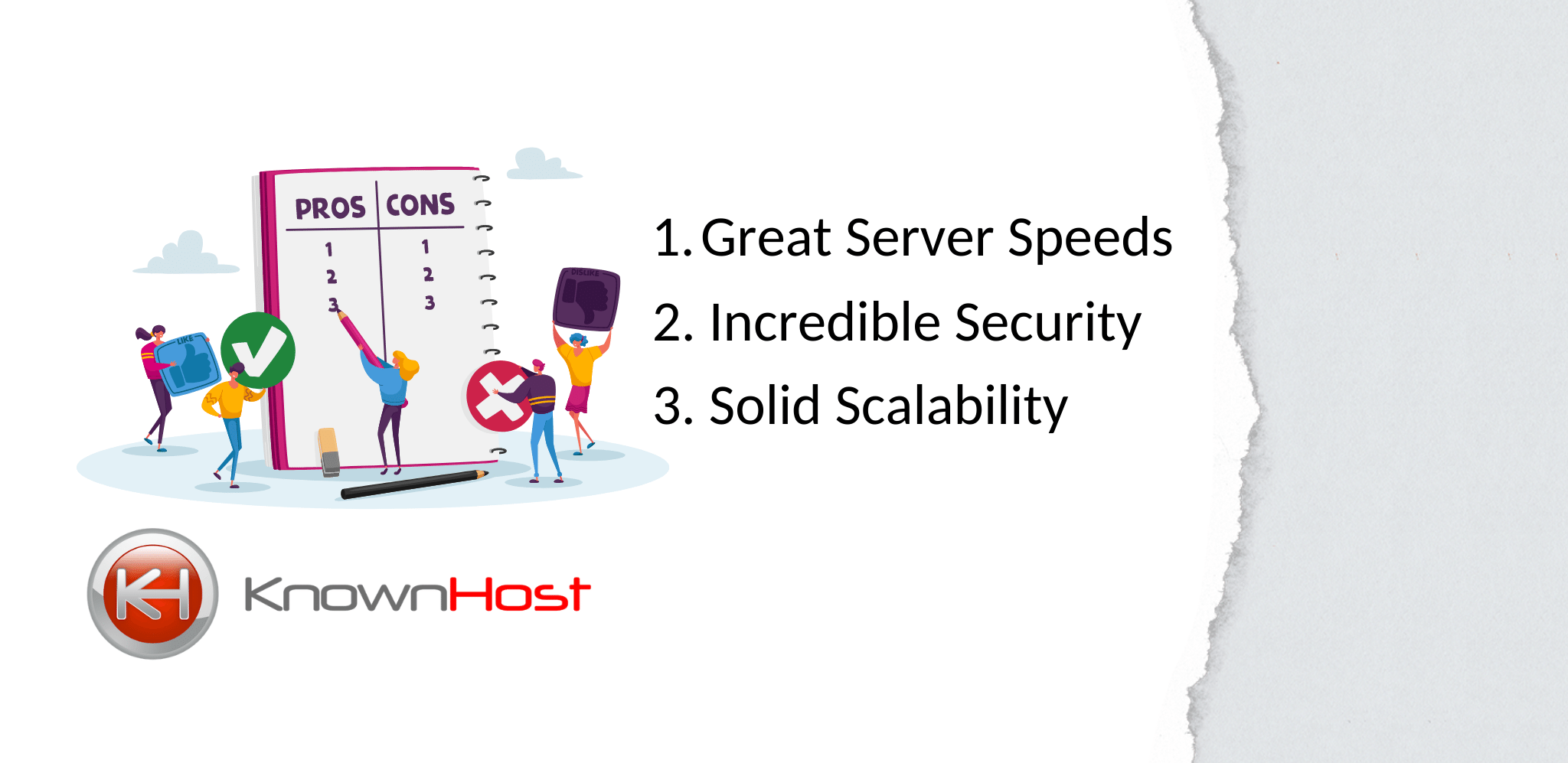 KnownHost is among the best hosting providers you can use and find.
Packages
When you browse through their website, you'll find that there are 6 main KnownHost webhosting packages available.
These packages give you a variety of features, services, and bonuses that come with them.
Each has a generous amount of storage, scalability, speed, and more offered between them.
Here are the 6 kinds of hosting they provide, and how they each uniquely provide benefits to customers.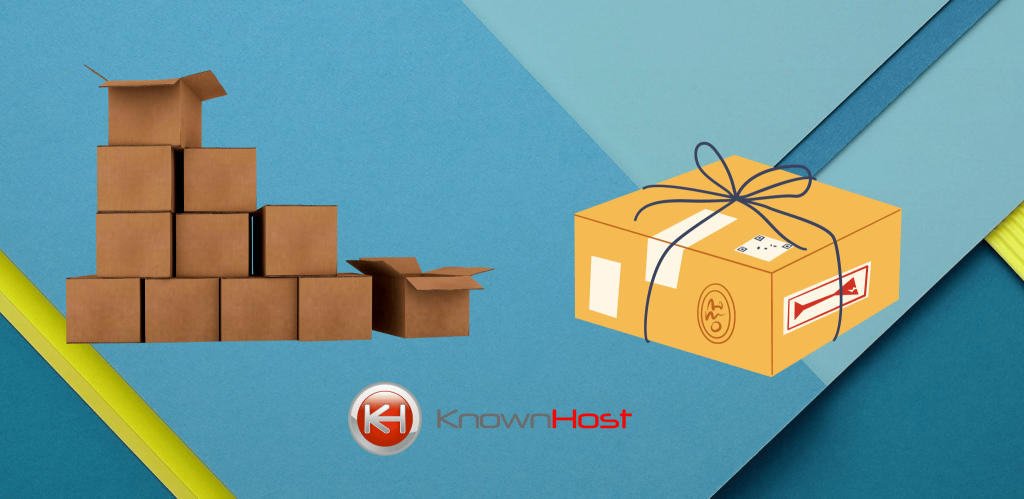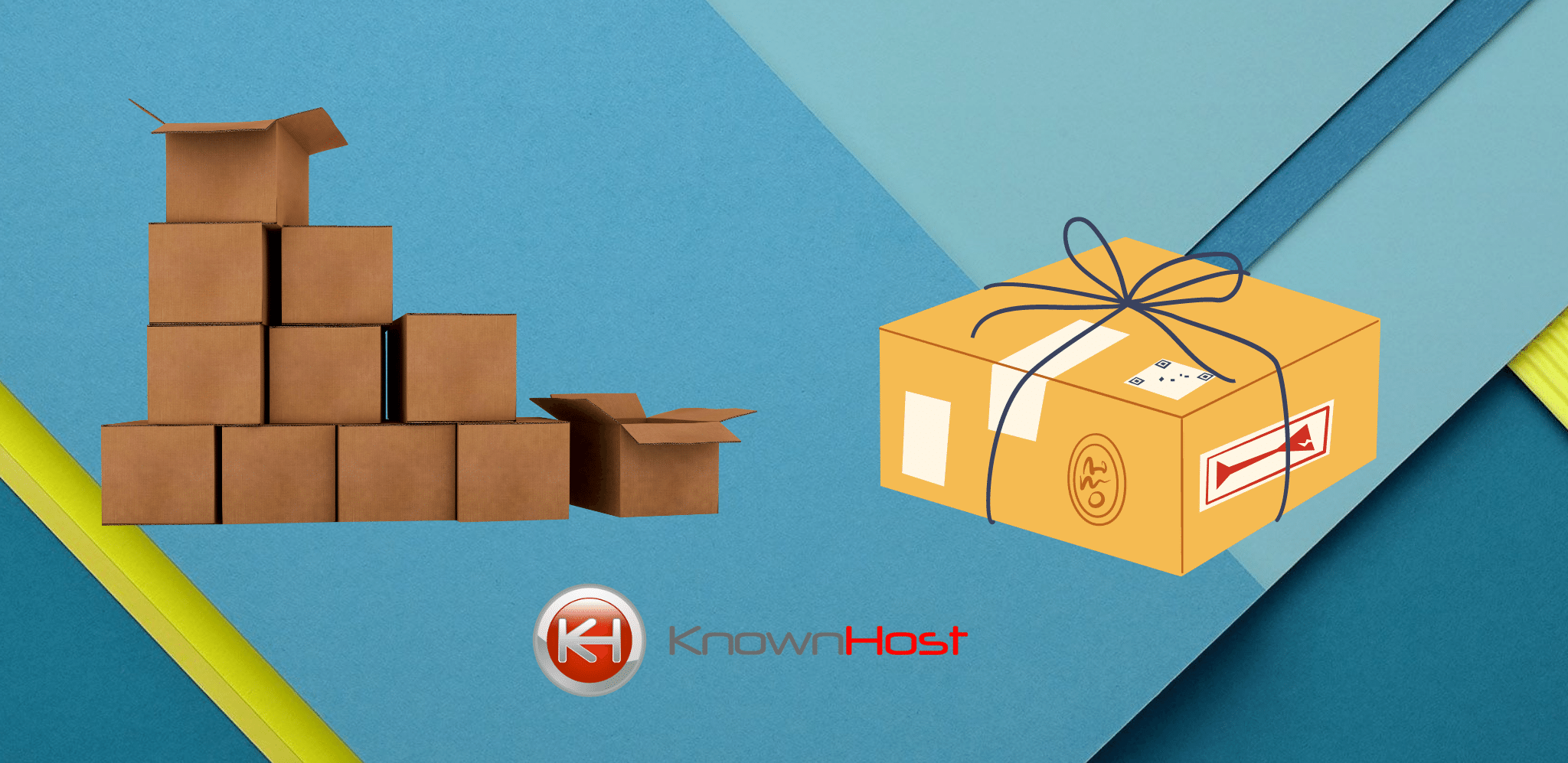 Shared Hosting Plans
If you want an extremely affordable hosting package and plan, you should review KnownHost's shared web hosting.
With shared hosting, you website will be hosted on a server along with other websites being hosted on that same server as well.
This enables you to save money, but it can compromise the quality and speed of your hosting in certain circumstances.
This is why we only recommend shared web host for people who either plan to have extremely low amounts of traffic sent to their websites – or for people who are searching for web hosting on a very tight budget.
Shared hosting is both affordable and great to have. (And possibly better then another VPS plans)
Unmanaged Entry VPS
If you're technically savvy, you may want to take a look at the KnownHost unmanaged entry VPS servers.
These servers are unmanaged, which means you're responsible for making sure they are kept up to date, and monitored on a regular basis.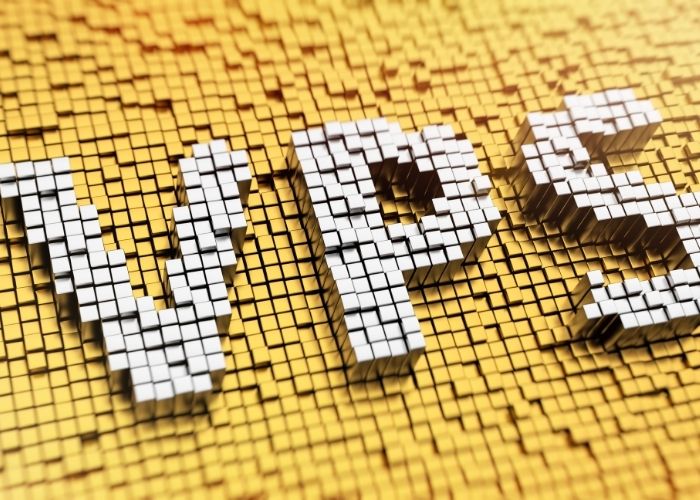 These hosting services are extremely affordable, at the cost of having to manage them yourselves, which we do not recommend.
VPS Hosting Managed Basic
These cloud based servers gives you access to great server speeds and the flexibility that cloud hosting provides as well.
As KnownHost only uses SSD (solid state drive) storage, this ensures you'll have a quality experience at a decently affordable price comparable or cheaper than other web hosting providers in the marketplace.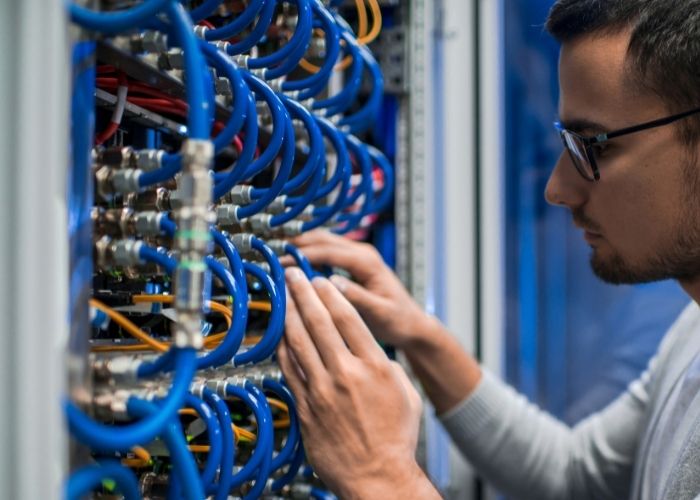 VPS hosting is another affordable and flexible option to consider. Many reviews consider hosting through VPS to be very efficient.
Dedicated Server Hosting
This kind of server is among the best in the industry.
Serious entrepreneurs, businesses, passion builders, and more – use managed dedicated hosting. And for good reason!
Fully managed dedicated servers are among the best kinds of servers in the world.
Why is this?
Dedicated servers are:
The fastest kind of server.
The most secure kind of server.
The most reliable kind of server with great uptime.
The most efficient kind of server.
If you have the budget and want a secure, fastest speed, and reliable server for your website – choose a managed dedicated server. We review them, because they are the best.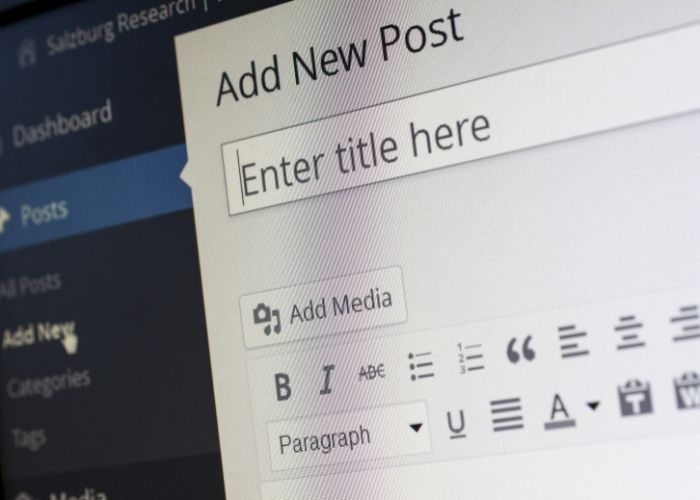 Managed WordPress Hosting
If you use or will use WordPress on your website then we highly recommend you take a look at KnownHost managed WordPress hosting, as it may be a better fit than any other hosting package they may provide.
Managed WordPress Hosting is usually only use for websites that will be using WordPress as their CMS. After a thorough review of Knownhost managed wordpress hosting, we found it to be of good quality.
Reseller Hosting
Do you have multiple domains or multiple client hosting accounts that you are managing?
This is when reseller hosting may be an option for you to choose.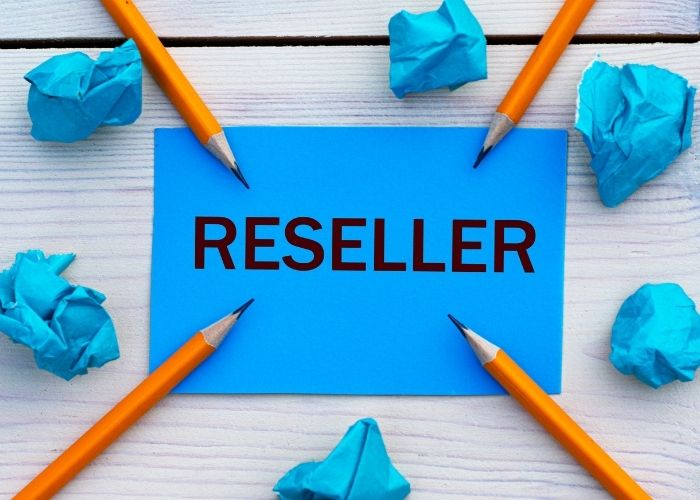 Make sure to take time to consider the best hosting packages that meet your needs and wants.
Click here to visit KnownHost and learn more.
Pricing
We found that KnownHost is among the most affordable and quality hosting options available online to choose from.
With this being said, we are going to review the basic starting pricing for each of their main 6 hosting solutions, and also provide pricing for their 2 other main services…
Shared Web Hosting: $8.95 per month
Unmanaged Entry VPS Hosting Servers: $5.00 per month
Managed Basic VPS Servers: $40.00 per month
Managed Dedicated Servers: $158 per month
Managed WordPress Hosting Servers: $11.95 per month
Reseller Hosting Servers: $13.95 per month
KnownHost also has pricing on their 2 main services they provide…
Register Domain Name: $14.50 per year
Secure SSL Certificates: $30 per year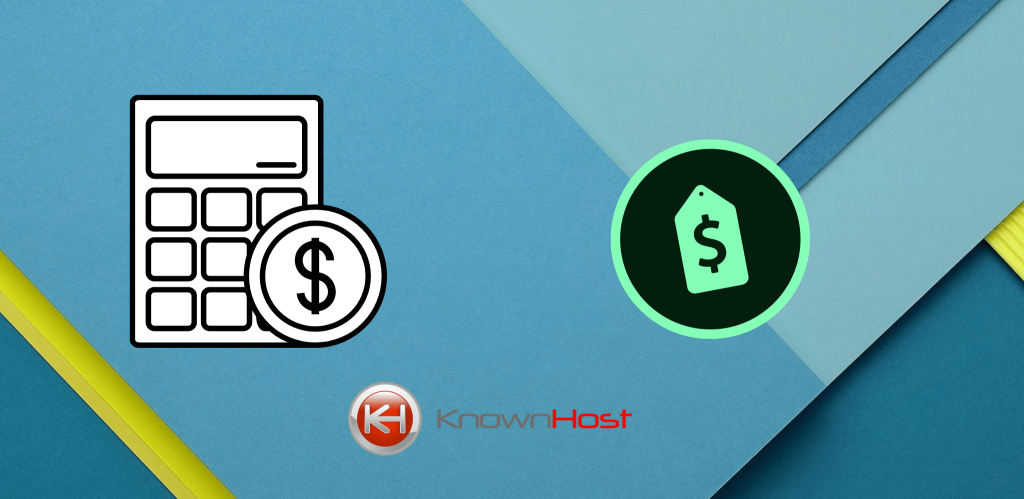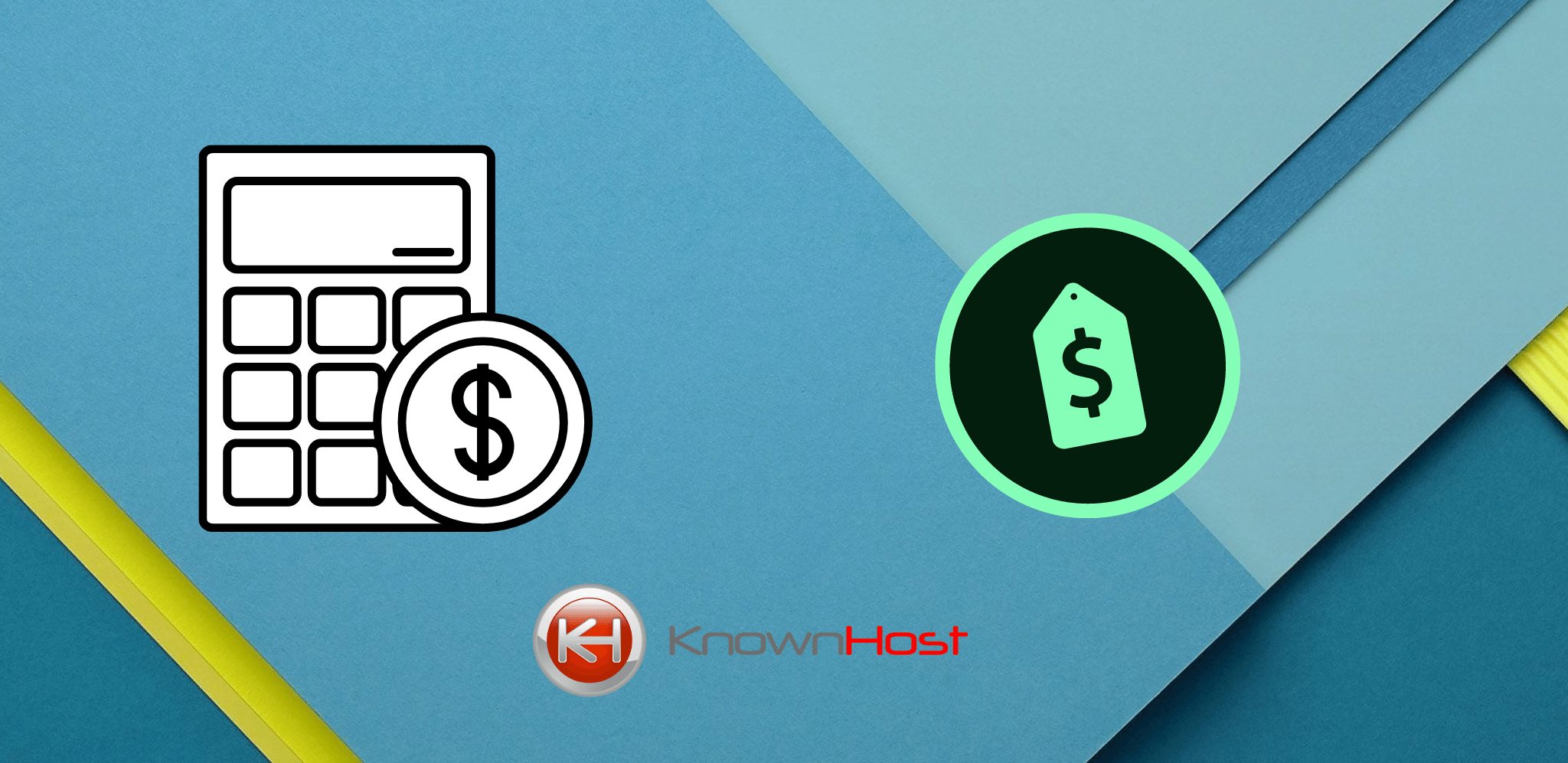 Why Choose Knownhost Over Other Hosting Companies?
You'll find that the majority of hosting companies in the marketplace, aren't as great as many reviewers tell you they are. Companies like BlueHost, HostGator, CloudWays, and many others – are popular – while having the least dependable and consistent hosting available.
They are popular because they are very cheap, and are heavily promoted by affiliate marketers who are looking to make money selling web hosting. They are an easy sell because they are so Cheap..They ARE NOT promoting them because they are the best..
Don't take our word for it, over 55% of BlueHost actual customer reviews think they suck. See BlueHost TrustPilot Reviews. HostGators is not much better.
Because of this, companies like KnownHost are lesser known, and are more used by people who actually do their research.
So for example, if you compare site speed and uptime, KnownHost scores much higher then competitors.
You'll have a better customer experience and get more one-on-one attention if you need it.


This company is an extremely affordable and quality hosting provider that in our personal experience, is among the top hosting providers in the world. (We've tested almost all of the competition that currently exist)
Finally, the KnownHost support team and shared hosting plans are much better then competition.
Alternatives
There are a few KnownHost alternative hosting companies that are of the same quality or better.
We're going to go through our personal and tested picks, that have given us, and hundreds of thousands of other customers, incredible website hosting experiences.
Keep in mind, we test and have websites actively hosted on any hosting option or hosting alternative that we recommend. So we also have a review on the other compared companies as well.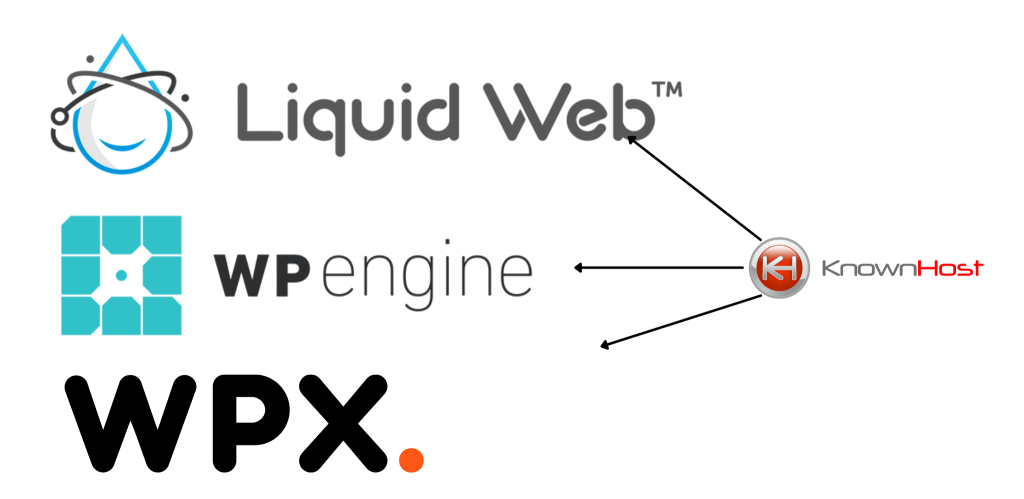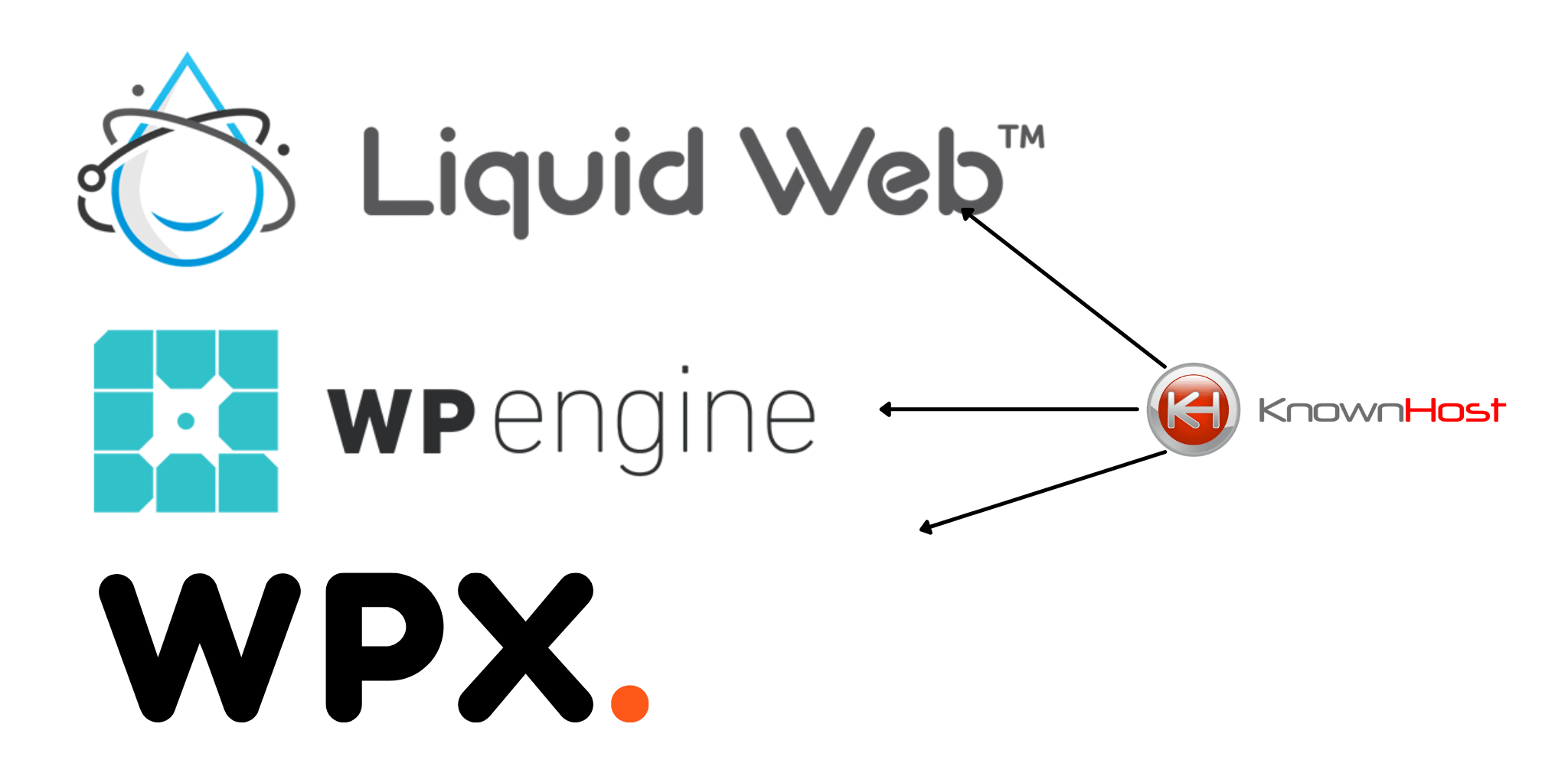 Here is our list of the top alternatives and competitors:
Liquid Web : Our #1 rated hosting option has to be Liquid Web. They have the best service, speed, reliability, support, and hosting – we've ever seen or tested in 29+ years.
WP Engine : Specializes in Managed WordPress Hosting, they have many additional resources available for building your WordPress based website.
WPX : Specializes in Managed WordPress Hosting, they have there own CDN (Content Delivery Network), now called XDN, is their superfast, hand-built Content Delivery Network with 30 'end points' (and growing!) around the world.
Pros And Cons
Because this is such a diverse hosting company, they have a lot to offer to their customers. Because of this, there are a lot of pros, and relatively few cons.
We want to provide you an honest and no-biased overview, which is why we'll cover the full site pros and cons list right here now.
Pros
Fast load times and great website speed
Hosting scalability and backup servers available
Great support that is US based, and is well trained, genuine and helpful
Affordable pricing that any size business or passion can invest in
Great variety of hosting packages available for all kinds of websites and businesses
Solid security that means you're data and information will be safe
State-of-the-art datacenters
99.99% verified uptime guarantee for over a decade
Cons
Smaller company and not as well known
Only has 3 data center locations – Can be a con in some countries as they have no Asia-region servers
No Windows system only Linux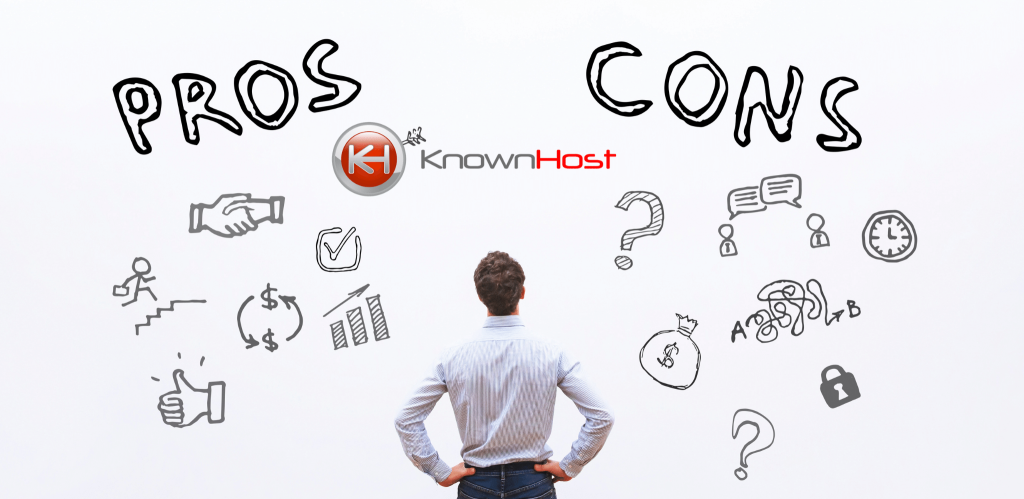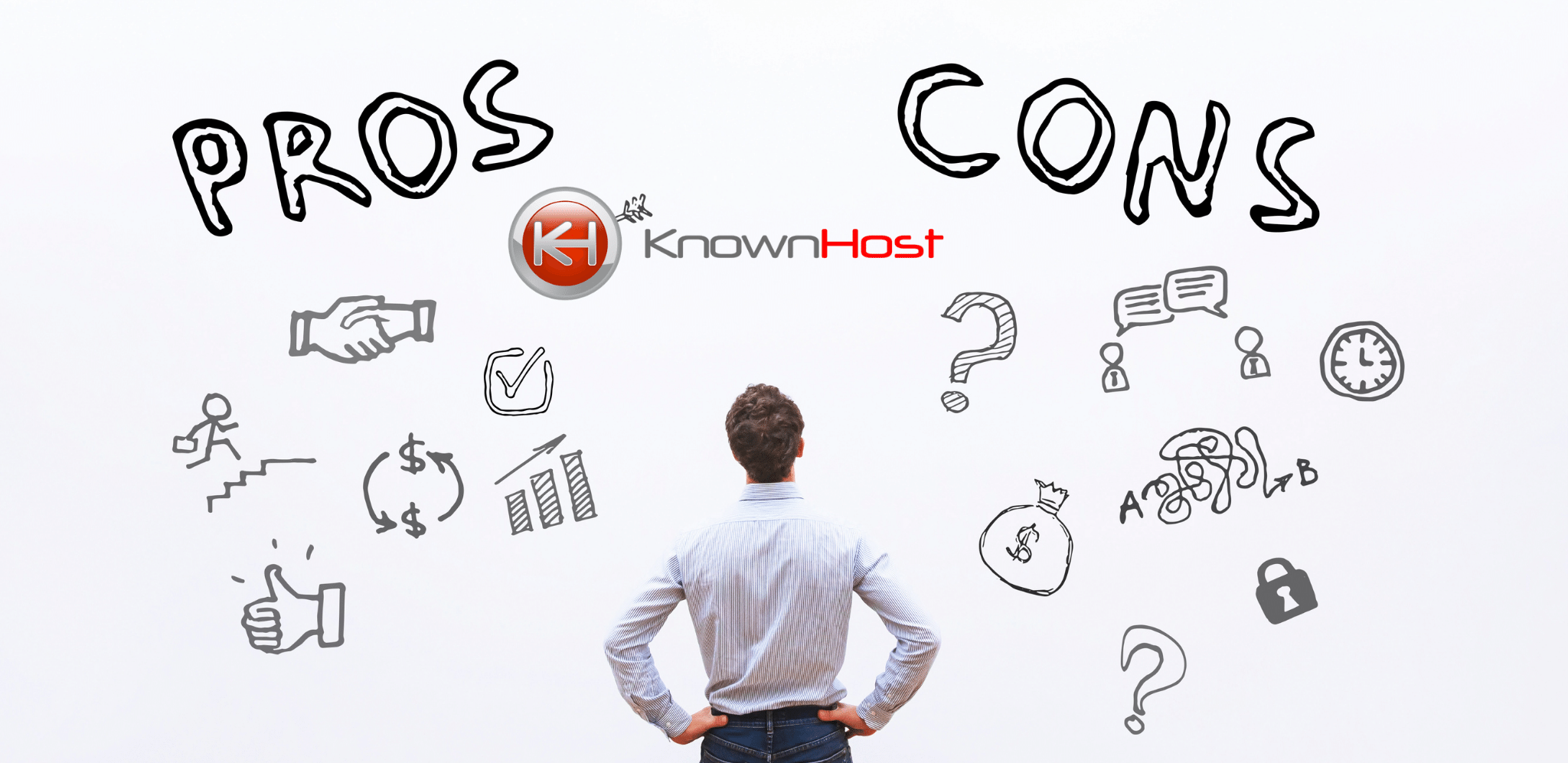 Support
This company does pride itself on the great support experience, they guarantee this for all of their customers, new and old.
KnownHost recognizes that people only invest in affordable options that also genuinely care about the businesses that they are supporting.
You'll find that site support is highly trained, easy to find and talk with. They are helpful people who genuinely want you to have an incredible hosting experience.
They have a live support chat located on their main site here, it is located in the lower right hand corner.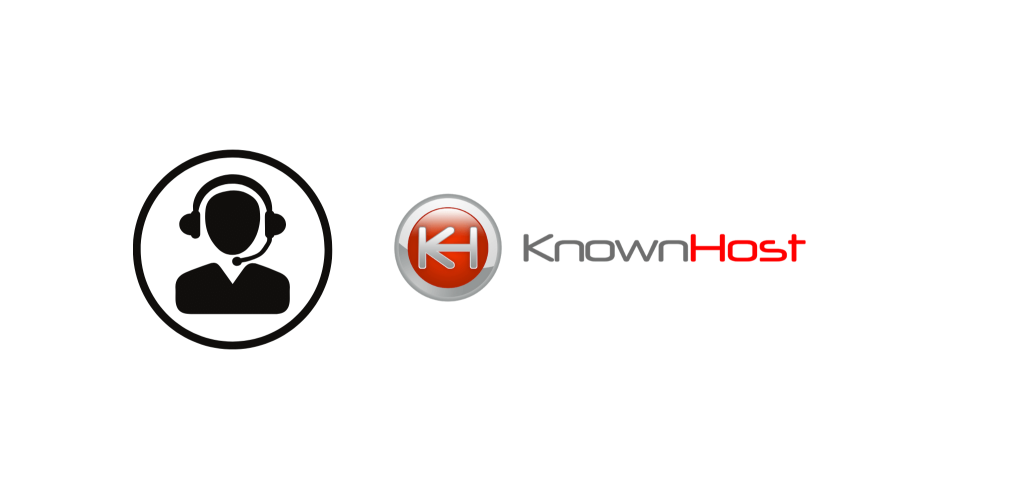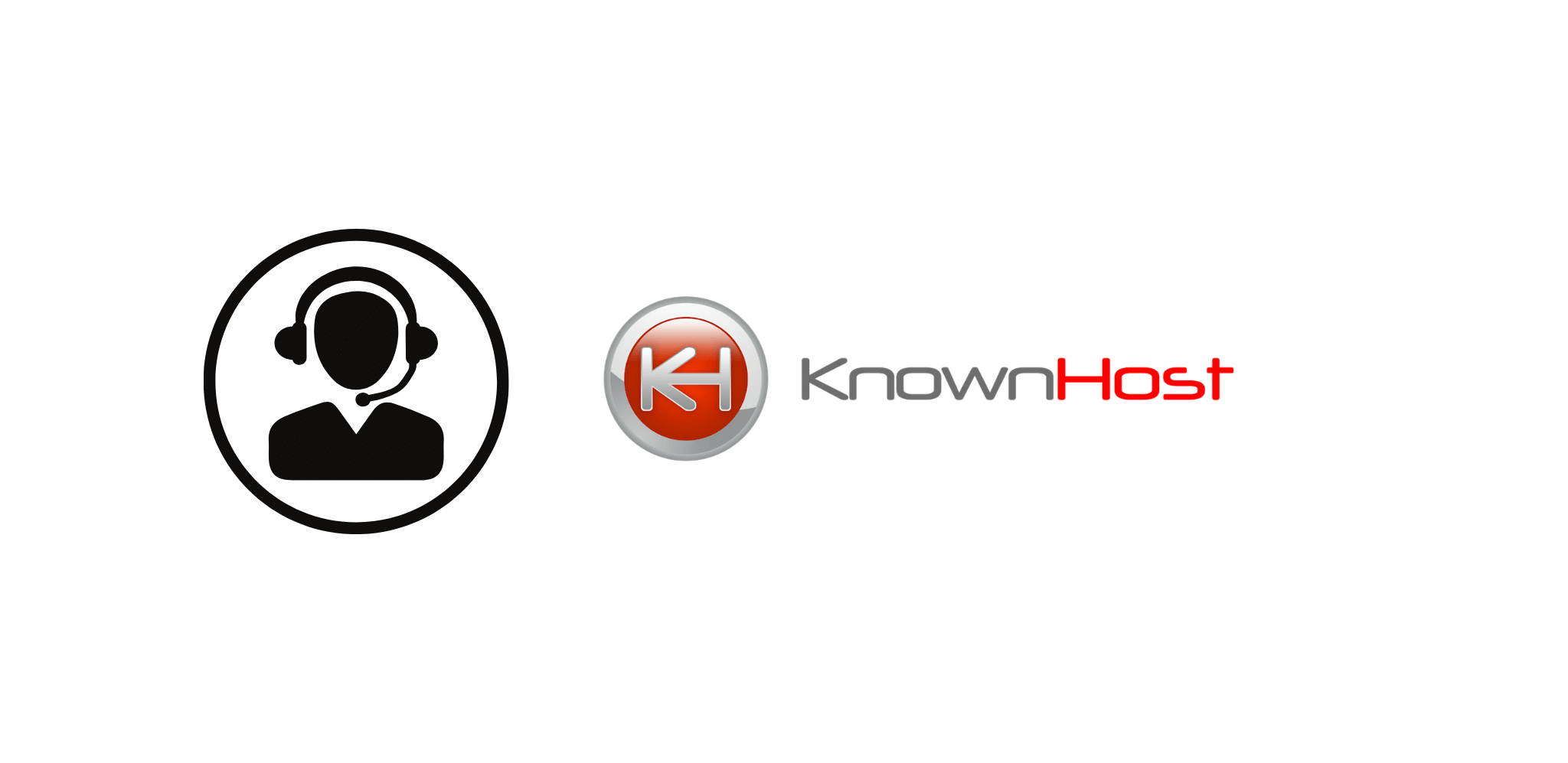 If you find you still have questions after reading our KnownHost reviews, go a head and give their live chat a shout, and they will be happy to answer you.
Their support staff is all United States based as we explained earlier in this article, no worrying about them being able to understand you.
They are also available 24 hours a day, 7 days a week, 365 days a year.
KnownHost Website
The KnownHost website is well designed and customer friendly.
Located here, you will be shown all of their packages, pricing, and benefits – displayed clearly and easily for all customers to understand.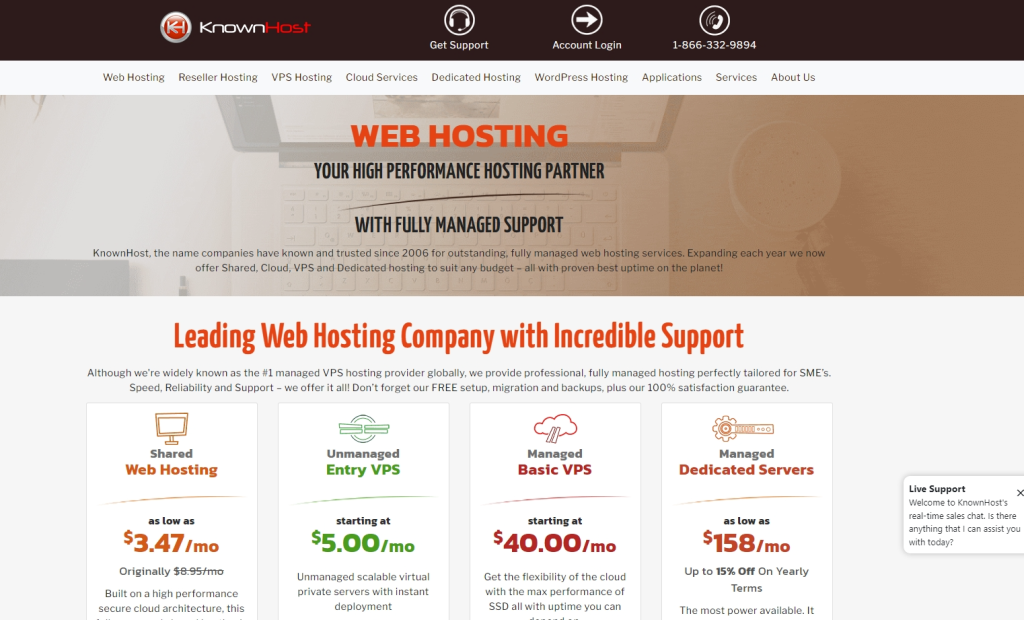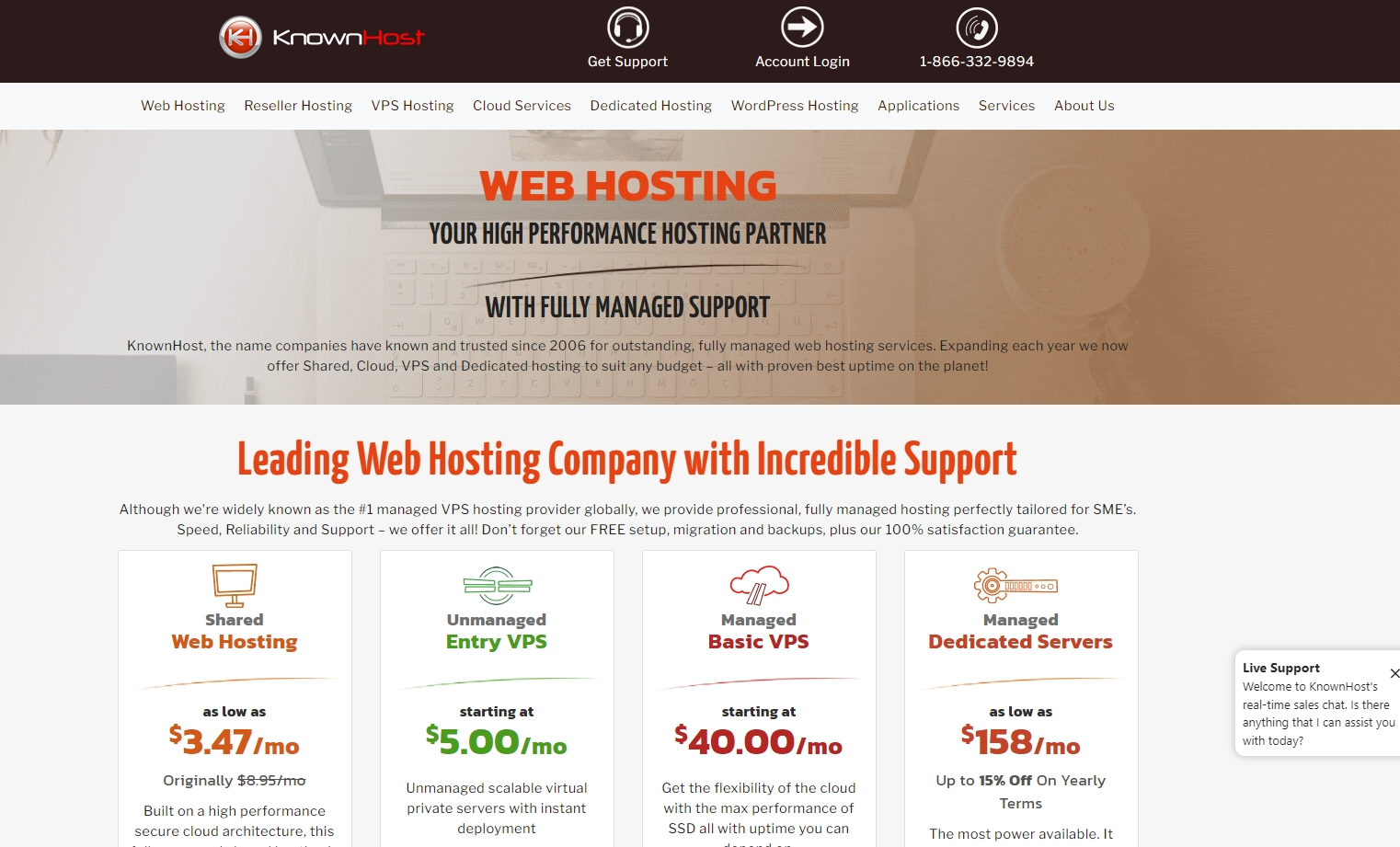 Reviews FAQs
Each question and answer below reviews the most frequently asked questions about this incredible company.
If you want know more about how this solutions keeps every site secure, fast, and reliable – review the information below.
How Many Datacenters Does KnownHost Have?
KnownHost has 3 World Class state-of- the-art Datacenters, which matters, especially for speed and connectivity. It also allows their shared hosting to run properly. Each site reviews their server centers to monitor quality assurance.
Depending on where the majority of your website visitors come from, this is a very important question one should ask when looking for reliable web hosting.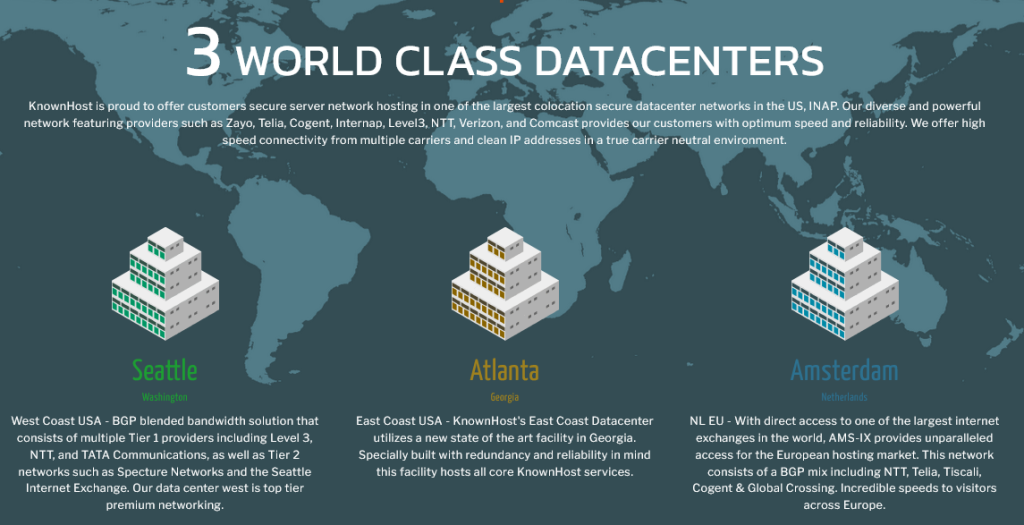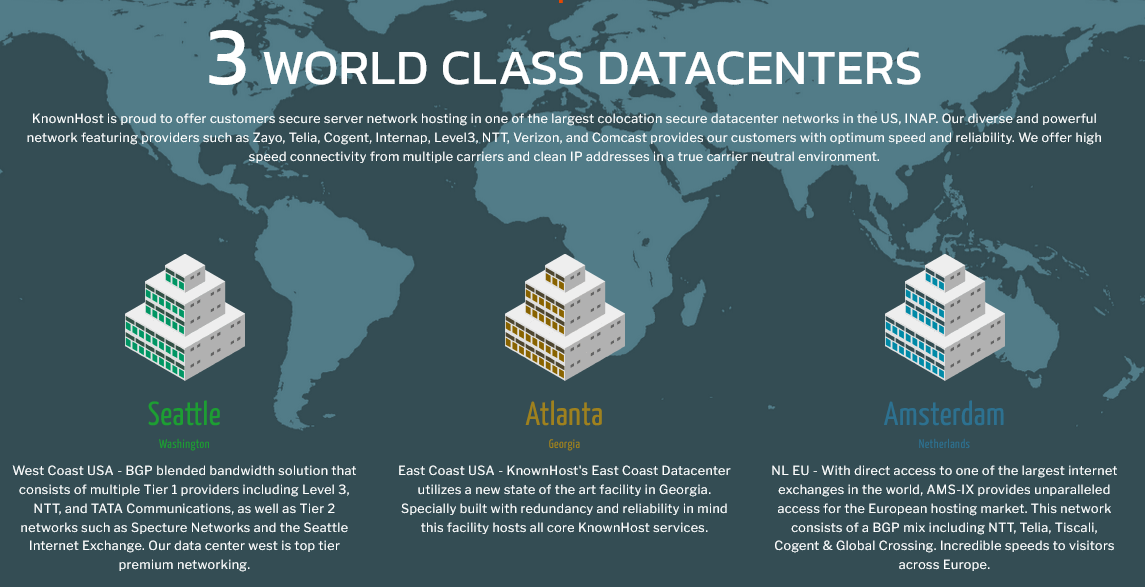 How Data Centre Locations Impacts Speed & Connectivity
Your website is composed of data, and data travels through the Internet via a network of connections.
Even as fast as data can be transmitted, the longer the distance the data must go, the longer it will take to reach its destination – it's simple math.
The time taken for data to travel from point A to B is called – latency. This is KnownHost hosting solutions are among the best.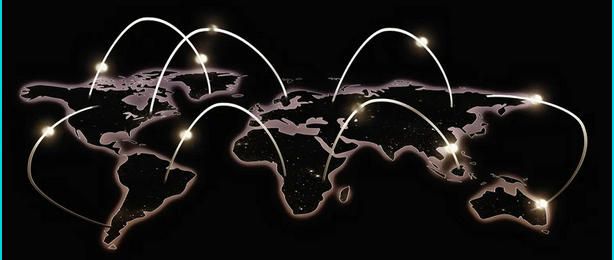 For example, let's say you have a business (website) that targets users who are mainly in the United States.
If the web host your website is hosted on only has 1 data center in Europe, this means the data that makes up your site literally must travel halfway around the world to reach each visitor.
You also need to remember that websites aren't just static, meaning every time a visitor interacts with your site. Like clicking on a button to purchase something, that request goes back to the data center, and new data is again sent to the user.
To summarize, as you can see from this example, there are two main factors involved here; latency and and where the majority of your visitors are located.
To resolve this problem, you need to use a web hosting provider that has servers in locations closer to the bulk of your visitors. The web hosting KnownHost provides can give you this.
So if the bulk of your visitors are in the United States, you want to make sure your site will be hosted in a data center in the United States at least.
Make sense?
This is one of many reasons why KnownHost has more than one data center. Here is Googles insights into website loading speed.
Where Are KnownHost Datacenters?
KnownHost has data centers and physical locations in Seattle (West Coast), Atlanta (East Coast), and Amsterdam.
These data centers back each other up and allow you to maintain quality server speed and connectivity.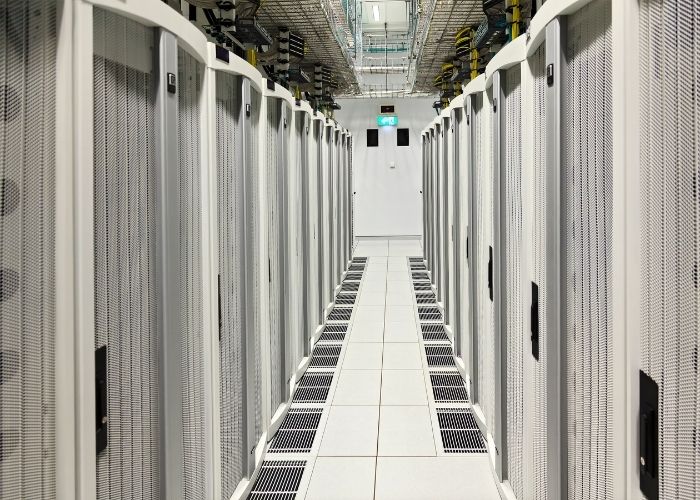 Is KnownHost Reliable?
This is one of the most common questions asked about this site and any dedicated server hosting.
Yes, KnownHost is a very reliable hosting service that guarantees optimal connection worldwide.
They back up this promise with a 30-day money back guarantee that ensures you love your web hosting experience with KnownHost.
Plus, KnownHost has one of best Verified hosting uptime on the Planet: 99.99%+ For the past decade. This is also a guarantee for all of their hosting plans including shared hosting.
Here is what KnownHost says "We don't provide any second class web hosting services to any of our customers, regardless of the package they choose."
Backups or migrations with OpenVZ (a KnownHost service) are done with zero downtime. They NEVER allow their customers' performance to suffer as a result of poor server quality or lack of available resources. They have good GB and TB storage as well.
This site and culture truly takes care of their customers with great services and assurance.
If you are enjoying our article so far, thank you, and you can sign up below (in case you don't know where to do this! And you can share this too)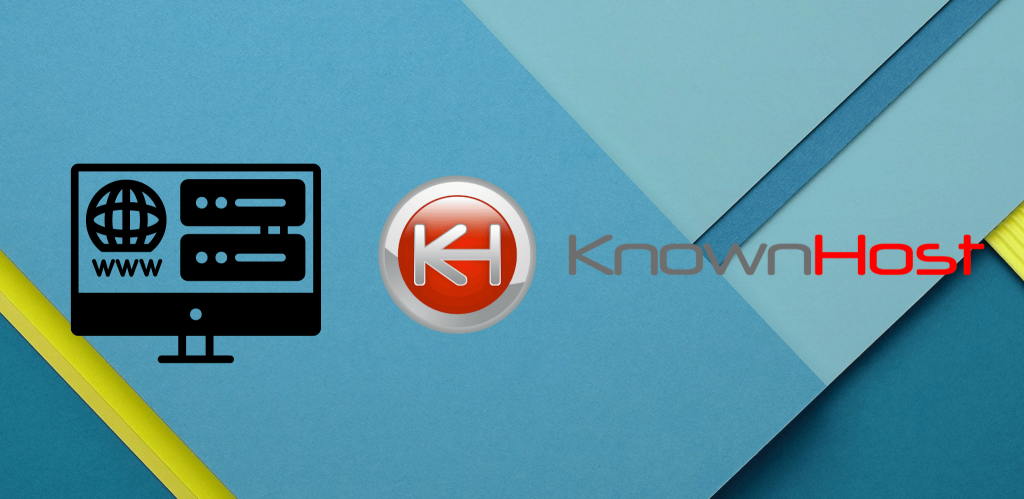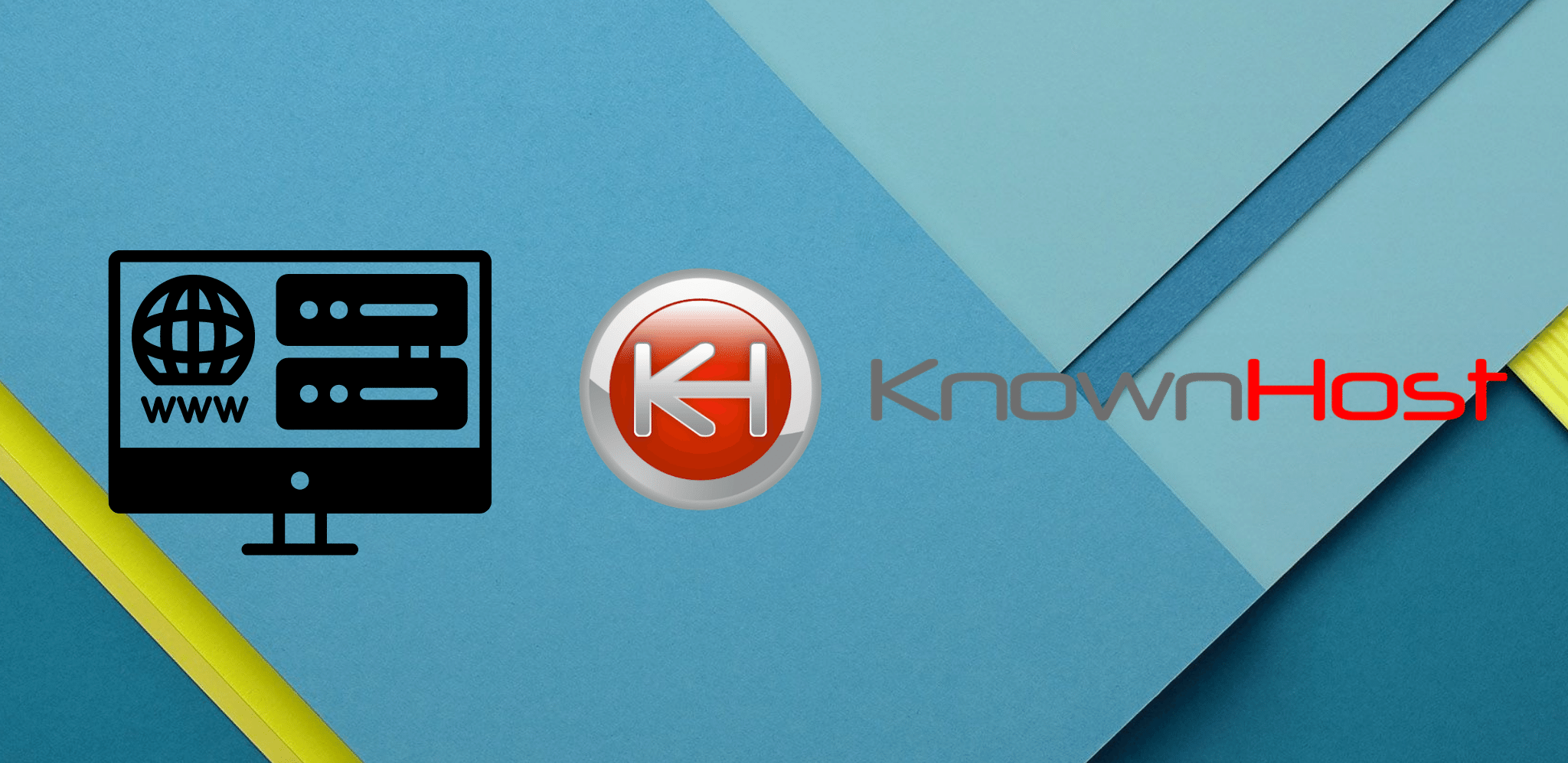 Does This Company Provide Fully Managed VPS Hosting?
Yes, with this incredible web site & company, VPS hosting is a package or plan you can purchase. They also have shared hosting, and other related services. Their services reviews all server needs as well.
They offer powerful hosting solutions.
Final Review Thoughts On This Incredible Hosting Company
Overall we've found that KnownHost is a great web hosting provider and company that offers some of the best affordable hosting services in the market. Especially after a full review.
If you're looking to host your website with a reputable and quality hosting service, you should definitely checkout KnownHost and decide if they're right for you.
Here's a brief recap of what makes KnownHost a quality hosting company you should consider today…
Affordable options
Fast server speeds
Data packages with a vast amount of storage
Great support
Free website or hosting transfer
Scalability
Variety of packages for different needs
Excellent website up time
Overall good customer experience
Tracking of your hosting
If you'd like to potentially become a KnownHost customer or learn more about them, you can checkout their website here.
As always, if you have any questions about our KnownHost reviews information, please don't hesitate to post them in the comments section below or just say hello.
Web hosting reviews like this one are important for knowing which companies you should work with.
Sincerely,
Your Friends And Partners
Richard And John Weberg