How To Choose The Best MLM To Join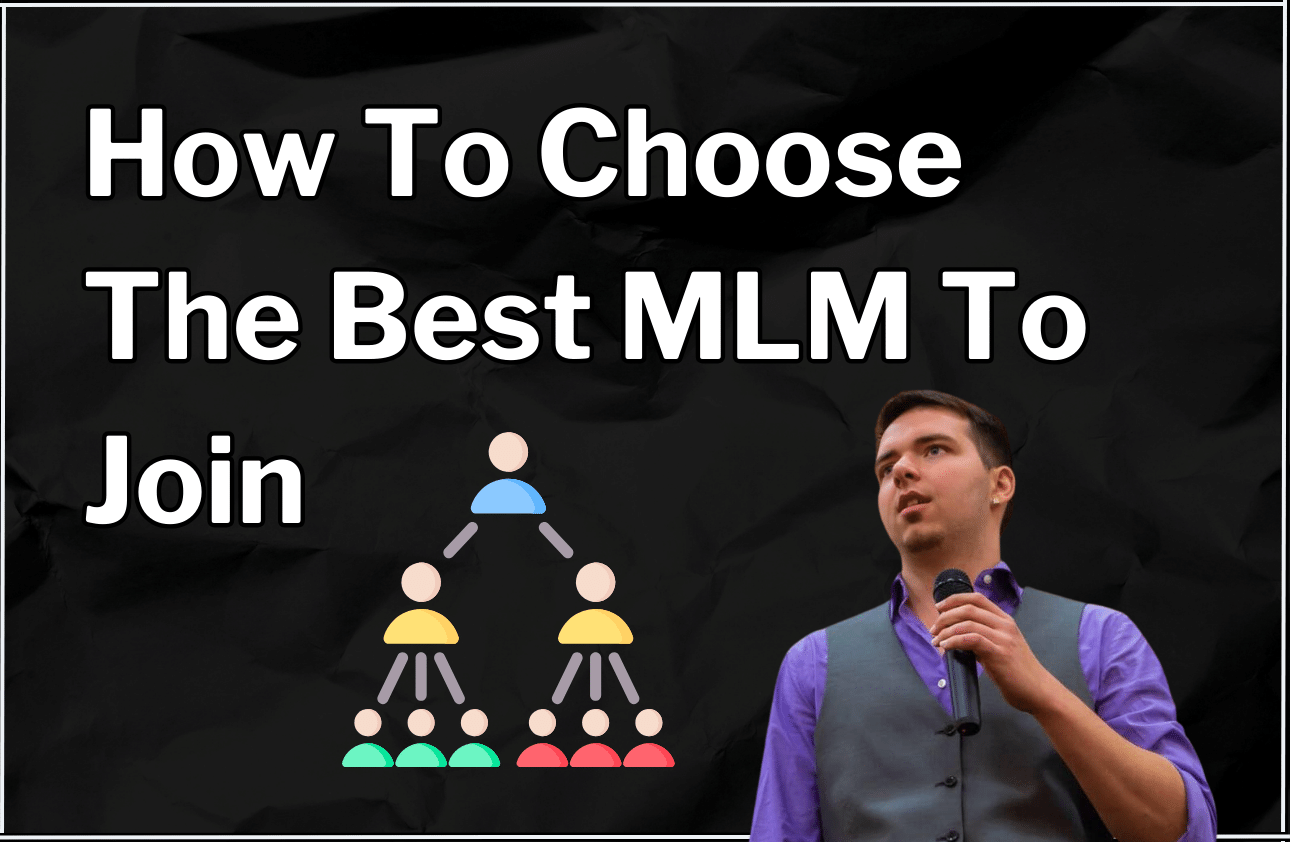 Deciding which MLM or network marketing opportunity you're going to become a part of can be a big decision. Depending on the MLM you decide to join, a numerous amount of different factors will change. And, so will your income potential, the industry or niche you'll be in, and so much more. This is why it's always important to ask, what defines the best MLM to join?
This guide will walk you through exactly how to choose the top MLM that has your best interests in mind. Our team has been in the network marketing and MLM industry for well over 20 years, so we're extremely knowledgeable about how MLM's work and which ones are the best to become members of.
How To Choose The Best MLM
Compensation Plan
The type of compensation plan provided by the MLM you're considering joining is absolutely crucial. Why is this? Different compensations plans such as binary's, matrix's, and more – pay different total percentages of sales generated throughout any organization. This means that you need to be careful when you read through the compensation plan or commissions structure of any MLM you're considering joining.
Here's a few strategies to use to ensure you're only joining quality MLM's with legit and high payout compensation plans…
Simple: Yes, you don't want to join an network marketing opportunity with 7 different types of payout. Honestly, the best compensation plans are simple and easy to understand. Bad MLM's will try to "trick you" into thinking you're earning more by having multiple very small ways to get paid. Don't fall for this.
20-50% Commission Rate or More: You should be earning a minimum of 20% commissions or more per total sale generated. Why? Because this signifies a quality MLM that truly cares about their affiliates and distributors.
Binary VS Matrix: Often their are a few "multi level marketing" paying structures that you earn in addition to your direct commissions. They usually come in 2 forms, either a "binary" or a "matrix". More often then not, a binary will pay out much more and at much higher cycles – so try to join a binary based MLM if that's possible.
Do consider each of these when making a final decision on possibly becoming an MLM affiliate.
Longevity In The Industry
Years of experience and success in an industry as either an MLM or network marketing company and directly indicate the probably of a great company to work with. However, this is not always the case. There are still MLM's that have been in the industry for decades that are not ethical or that aren't the highest quality to join.
So, try to find and work with an MLM that not just pays well, but that also has years of ethical experience serving legitimate customers who gives raving reviews of the quality product and services offered.
Product or Service Quality
The quality of the results MLM customers and consumers get, dictates how high the quality of the product or service is they are offering. This also signifies and tells you whether or not most like an MLM is worth joining. Network marketing is fueled by quality services and products that are both affordable and wanted.
If you see messaging or communication about an MLM that is only around how much money you can make, then you may want to reconsider another option. Often, MLM's and network marketing businesses that strictly focus on the earnings – signify a pyramid scheme. Which is NOT the same as an MLM.
Look for quality products, great happy reviews, and try testing the offer first before becoming an affiliate or distributor.
Activity And Socials
Good companies that are legit, are usually extremely active on social media. Watch out for the users, CEO's, team members, and customers of any MLM – being active or inactive on social media. Again, this doesn't completely dictate whether or not an MLM is worth joining or if you can make money with it, but it is an indicator of if the company is at least active online.
Most quality and thriving companies are active on social media, are hosting events, have active social distributors & affiliates, and more. Combine this with the other standards we've set above and you'll make the best decision possible on joining the right MLM.
FTC Compliance & Standards Of Messaging
One of the most important standards to hold every MLM and network marketing company to, is if it is on the FTC's watchlist. As well, you'll want to make sure that the messaging from the company is not against FTC guidelines.
While initially a new thriving MLM may not be noticed by the FTC, at a certain size nearly every company will at some point will be put underneath their watchful eye. Why? Because companies need to be held to a level of transparency and accountability. Ensuring they don't make false claims that hurt MLM consumers and MLM's alike.
Keep in mind that MLM's and pyramid schemes are not the same thing, but they can be similar in a few ways.
Suggestions For MLM's To Join
We've gathered together a sample list of MLM's that are actively growing, that offers high quality products, and that seem to be ethical. Consider joining them after doing your own research on each.
GotBackup
A data storage company that operates very similar to Google Drive and other competitors. Except, you can actually get paid as an affiliate of the company, up to 200% commissions!
Here's Where To Learn More About GotBackup
Traffic Authority
Want to be able to buy, and resell quality traffic from 1 single place? Traffic Authority is an boutique traffic and lead service that pays out multiple levels in commissions to its affiliates.
Here's Where To Learn More About TrafficAuthority
Final Thoughts
It's important to consider all of the above factors we've gone through, when you're deciding which MLM or network marketing company is going to be the best to join. Take your time, and consider each factor carefully and with your best judgement.
We sincerely hope our expertise and knowledge on this subject will help you make a more safe and logical decision – regardless of which company you join or make money with.
With our kindest regards,
Jon Weberg
Richard Weberg