MLM vs Pyramid Scheme: What's The Difference Between Them?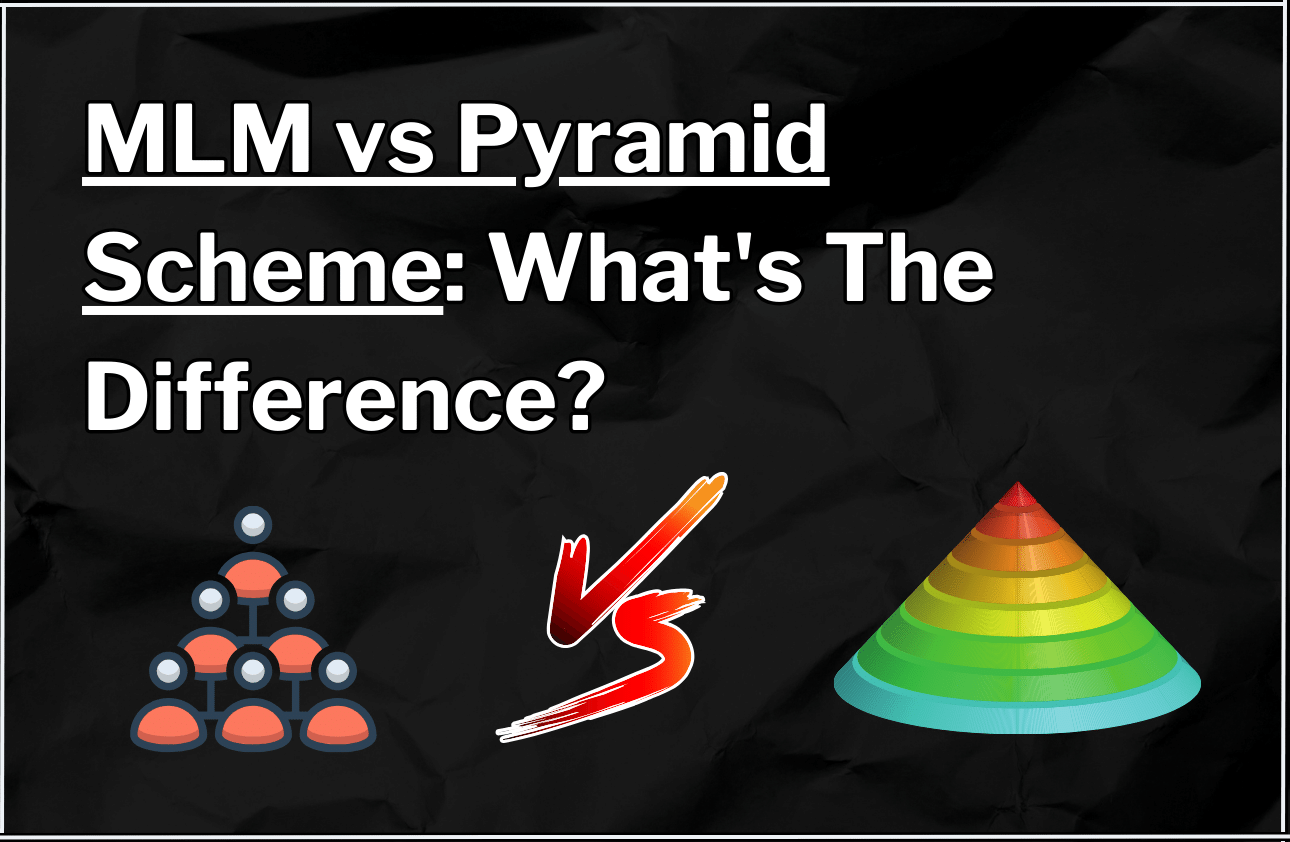 While they are similar in many cases, the fact still remains that MLM's and pyramid schemes are not the same thing. This means that it's important to understand the ideas that separate them from one another. Because over the years both MLM and network marketing have gotten misconstrued opinion about them because of the confusion of relating them to pyramid schemes.
We're going to walk you through exactly what makes MLM's and pyramid schemes similar, different, and why the MLM space should get better reception by the media. This knowledge about these 2 structures of affiliate marketing, come from our experience in the industry for well over 20 years. Let's get started…
What's The Difference Between An MLM And A Pyramid Scheme?
The main difference between an MLM and a pyramid scheme, is the focus on how you bring in customers. With an MLM, you're focusing on selling the product or services offered by a company. With a pyramid scheme, your goal is to only bring in customers so that they can also bring in customers as well. This is illegal, as companies cannot have a structure where the only focus is to recruit more people – to recruit more people.
Pyramid schemes run off of only bringing in more distributors to bring in more distributors. While MLM's focus on selling the product, while happening to have a multi-level payout structure to affiliates.
Usually you can distinguish between an MLM and a pyramid scheme by the copywriting, sales material, and messaging on their websites.
How Are MLM's And Pyramid Schemes Similar?
There are a few things that both MLM and pyramid schemes have in common you should be aware of. These similarities are normal, and are all legal.
MLM's and pyramid schemes both are business structures based on affiliate marketing. Since both have affiliates or "distributors" who's job is to bring in more customers, they both are forms of affiliate marketing. Network marketing is also a form of MLM, and affiliate marketing.
Both pay a percentage of total sales on multiple levels to distributors or affiliates. An MLM and a pyramid scheme pay a portion of the total sale generated to whoever referred the customer to buy the product or service in question. While MLM's focus on selling product to generate commissions, pyramid schemes focus on bringing in more people.
Their "pyramid structure". Yes, MLM's and pyramid schemes both have the structure of a pyramid for how they bring in customers and affiliates. However, so does most jobs, and companies as well. The structure itself is not a legal issue.
These are the 2 most common similarities between MLM and pyramid schemes that are the most important to consider.
Is Multi Level Marketing Legal To Join?
Yes, MLM's are completely legal and ethical to join or start. Since an MLM is simply an affiliate program that pays out on multiple levels, there is nothing wrong with MLM's.
Most MLM's on get into trouble or have issues when they start only focusing on expanding by bringing in more distributors. MLM's that focus on selling good products and services, that genuinely help their customers very much – never have an issue with the FTC and other governing bodies.
High quality MLM's that are the best to join also make sure to not make any big or false claims about the type of income you can earn.
Are Pyramid Schemes Legal?
No, pyramid schemes are illegal and wrong. They only live off of affiliates and distributors bringing in more of their own kind. They aren't based off of the product and helping customers. Eventually they begin to fail, be unable to pay their promoters, and often do go bankrupt or get shutdown.
Final Thoughts On MLM vs Pyramid Scheme
While both MLM's and pyramid schemes rely on the structure of affiliate marketing to generate their growth, their is much between them that is not the same. It is important to makes these distinguishments so you're able to identify a good work from home business opportunity – vs a money grab that can leave your broke.
Consider joining only the best MLM's that truly seem to care about the audience they are effecting. We hope you enjoyed this walkthrough of MLM vs Pyramid Scheme.
With our kindest regards,
Jon Weberg
Richard Weberg