How To Do Affiliate Marketing Management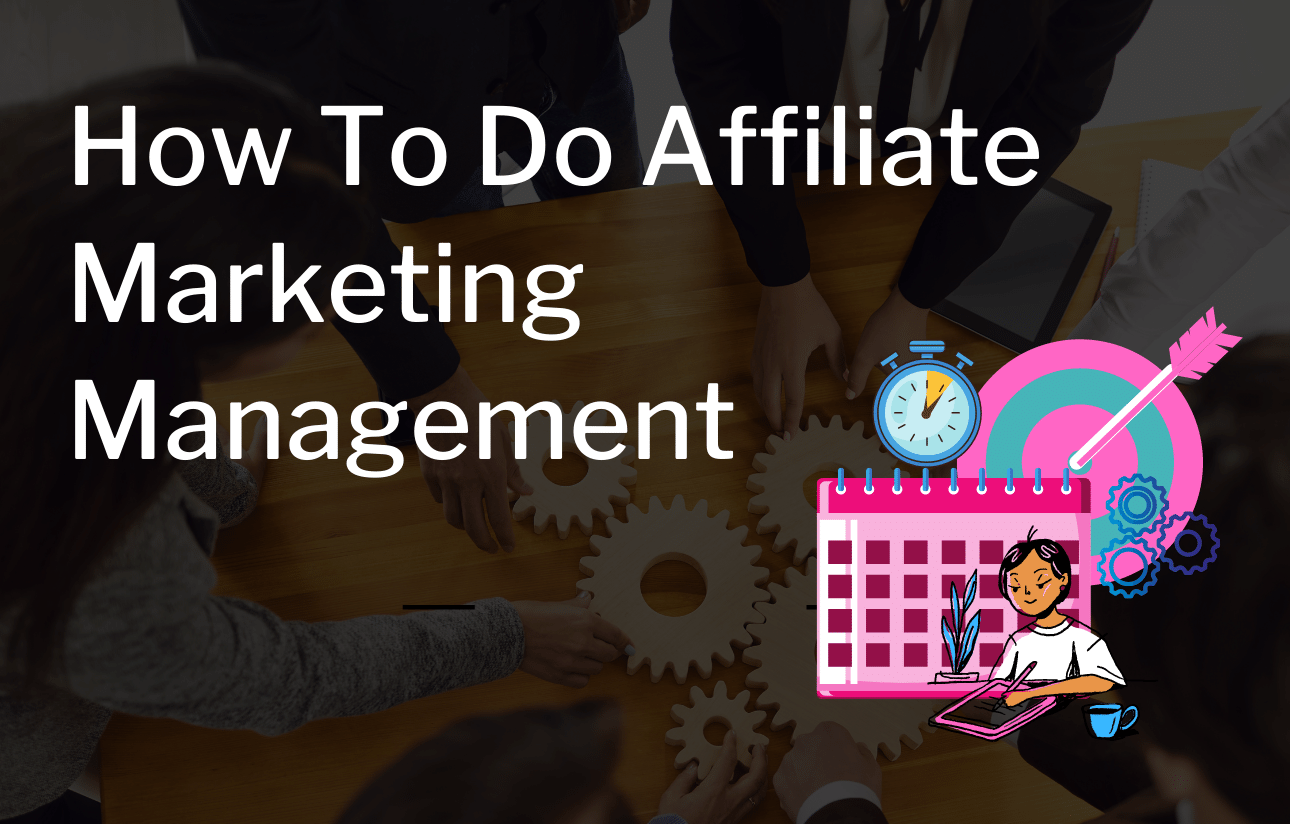 Being able to manage affiliate partners an affiliate marketing activities is a crucial part of any growing businesses strategy. Because proper affiliate marketing management will allow you to quickly obtain more clients through all affiliate efforts. This guide will walk you through exactly how to be a successful affiliate marketing manager.
Let's go through the steps together. We've been in affiliate marketing for over 2 decades so our knowledge and expertise on the subject is quite extensive. Make sure to read carefully as doing good affiliate management can change a businesses trajectory forever.
Decide On The Details Of Your Affiliate Program
Affiliates and affiliate partners alike will only promote your offer if it is lucrative enough. This means that you need to decide on the following foundations of your company's affiliate program…
Percentage Of Commissions For Each Referral
You need to decide how much you're going to pay each affiliate partner for the sales they refer. The percentage of commissions they earn can be recurring, one time, or a variety of other options. You simply have to make sure that you pay a lucrative enough commission, without costing your company to much money.
For low ticket products we suggest that you pay the affiliate anywhere from 20-50% of the sales as a commission.
For high ticket products we suggest that you pay your partners between 10-20%.
Each of these commissions percentages are high enough that you can bring in some high quality affiliate marketers to promote your business.
What Kinds Of Resources To Provide
For an affiliate program to be a total success there needs to be a vast majority of resources that are available to all affiliates to use. This could mean a variety of sales pages, webinars, and checkout carts they can promote. As well, here is a list of other resources most affiliates want…
Good banner ads
Good branding images
Variety of affiliate links
Easy way to contact affiliate managers and affiliate management
Affiliate Tracking Links
For affiliates to be paid accurately they need cookie affiliate links to track when they refer sales to you. Instead of custom building your own affiliate process, you should use a done for you marketplace or software instead.
If you want to create affiliate links and have masses of affiliates lining up to promote you offer, consider joining these affiliate marketplaces and putting up your offer on them.
MaxBounty
ClickBank
JVzoo
You can join each of these affiliate networks for free!
Paying Out Affiliates
You can either pay affiliates automatically through an affiliate network or you can pay them manually through a payment process. Stripe and PayPal are your best options for payment processors. You can also pay through cryptocurrency if you are familiar with the crypto affiliate niche.
Come Up With An Affiliate Partner Acquisition Strategy
The best affiliate program is one that is able to bring in high quality affiliate marketers. The strategy we're going through will include manual outreach to affiliates with incentivized offers.
Here's how to find the best affiliate partners…
Make a list of affiliates to contact.
Go to an affiliate marketplace if you need a place to easily find affiliates.
Reach out to each affiliate from a variety of sources and ways.
Have a lucrative offer to help them make more money as an affiliate.
Reward Affiliates And Incentivize Them
Helping your affiliates promote your offer more means that they might need an extra reward or incentive to draw them in. You should consider creating an affiliate reward program, or potentially offering bonuses when they accomplish certain sales milestones.
Scale Your Affiliate Offer Through Improving Affiliate Resources
The relationship you build with your affiliates can define how fast your businesses affiliate marketing efforts grow. You see, long term affiliate can bring in $100,000's-$1,000,000's in sales. That's not included sales from growing the name brand and taking customers away from your competition.

Make sure you take good care of your affiliates, communicate with them often, and do everything you can to make them happy. Even consider sending them some small in person gifts every month, this will show them that you are committed to their success!
Why Affiliate Marketing Management Is Important?
Management of affiliate marketing when done right, it causes exponential growth. This is why more companies then ever before are getting into affiliate marketing.
Through partners and affiliates you can not just generate leads and customers. You build your brand, and cement yourself in your marketplace.
We hope you truly enjoyed reading through this article on affiliate marking management. The practice is important and needed in todays world.
With our kindest regards,
Jon Weberg
Richard Weberg