WPX Hosting Pros and Cons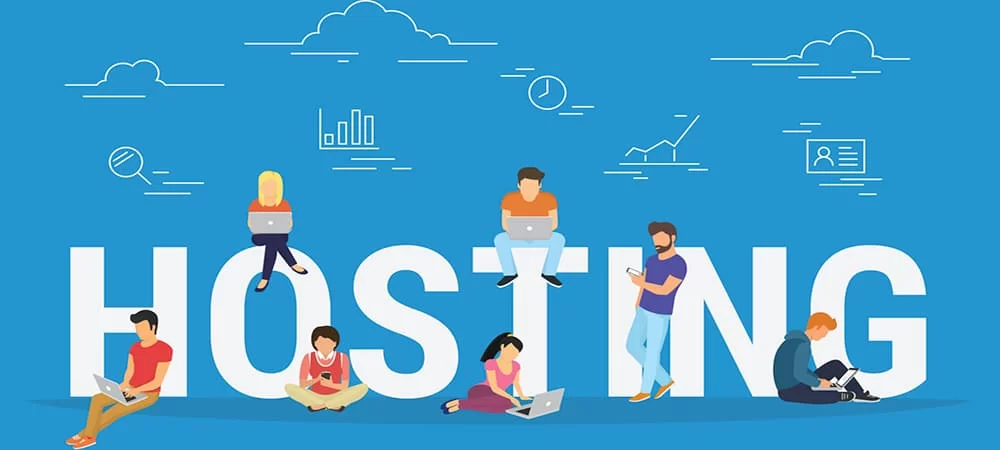 When you have a WordPress website, you know for a fact that hosting is important. WPX Hosting is a good option but just like the other hosting options, there are pros and cons.
It is important to look at each and every pro and con so that you would know what to expect from the hosting option before you would get it. We took the liberty of examining each and every one of the WPX Hosting pros and cons:
Pros of WPX Hosting
Affordable Pricing
Compared to other managed WordPress hosting options, WPX hosting offers affordable rates. We all know how you would need to spend for a lot of other things when it comes to running a WordPress website.
It is a good thing you won't spend much for hosting when you choose WPX. Thus, you'd have more money in your budget for other marketing necessities.
WPX hosting is truly an affordable hosting option regardless of the budget you're on.
However if you're looking for a WPX alternative option, you could take a look at KnownHost.
WPX Packages
This company has 3 levels of hosting available for purchase depending on your needs. If you take a look at their website, you'll find that the packages and exact pricing is as such.
The first WPX hosting package starts at $8.75 per first month right now. You can host up to 5 websites. (Normally $24.99 per month, but they have a special running. Special could end at anytime )
The second WPX hosting package starts at $17.50 per first month right now. You can host up to 15 websites. (Normally $49.99 per month)
The third WPX hosting package starts at $34.65 per first month right now. You can host up to 35 websites. (Normally $99.00 per month).
Even if the hosting packages were not discounted for the first month, they would be very competitive when compared to any matching quality alternatives. You can also save even more money using WPX if you pay your hosting yearly instead of monthly.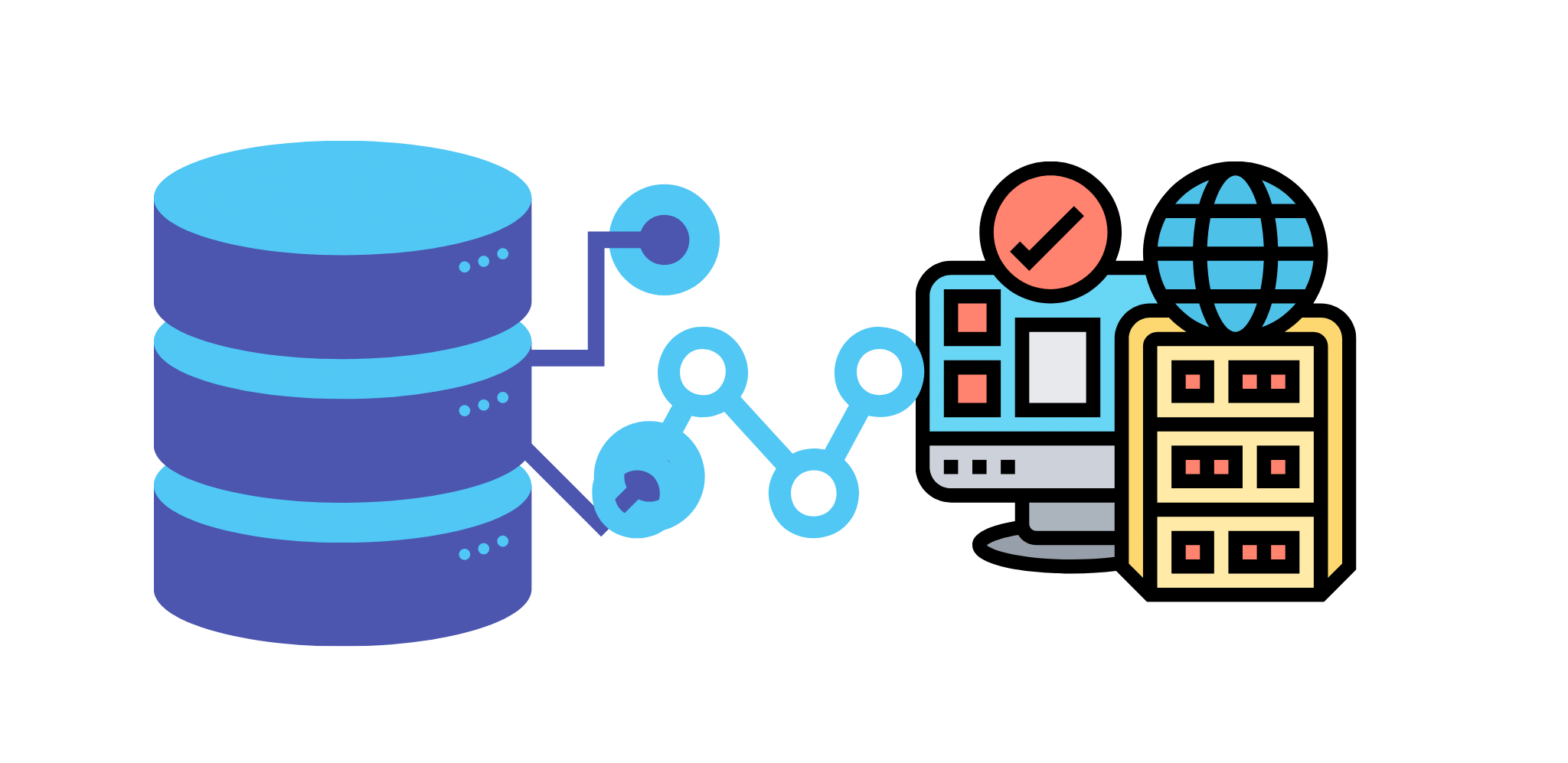 Easy to Use Hosting Portal
The first time you get to look at the interface would be a real blessing in disguise because everything you need is apparently just one click away.
It won't take you too long to get yourself familiarized with their hosting portal as they make it easy to navigate for all of your needs. They have 1-Click WordPress Installs.
Simple interface that works
One issue that many people find with a lot of web hosts is that for first time users, or even some more experienced users – the interface can be unnecessarily complex. Many hosting admin areas are designed for computer science postgraduates not real everyday people.
But, the WPX Hosting's interface is different, it is much, much simpler.
Cleanup of Malware
There is always the option to clean your hosting of any malware yourself. We all know how these things can do a lot of harmful stuff to your website when you let it linger. It's better to do the cleanup every once in a while so that it is not something that will eventually corrupt your entire website. WPX does malware removal for free for you.
Handles Huge Traffic Spikes
There will indeed be times when your website would get a lot of traffic. That would actually be good news since you are doing what needs to be done in order to get people to come to your website.
If you don't know by now, it just means implementing a bunch of SEO strategies that will get you into the mix of doing what is right.
When you have these big traffic spikes and your website exceeds its bandwidth limits, there is NO automatic site shutoff, as is the case at many Web hosts. Yes, many website hosts will literally make your site not accessible if you exceed your bandwidth, WPX does not do this.
Site Speed
WPX already had some of the fastest loading speeds in the web hosting industry, then in October 2018, the WPX CDN (Content Delivery Network), now called XDN was launched, it is their own super-fast, hand-built Content Delivery Network with 30 'end points' (and growing!) all around the world.
XDN is like having a server near any of your site visitors to help load and run your website faster and more efficiently for them, even for visitors from the other side of the world.
As an example, let's say that you're a animal photography blogger based in Colorado, USA, and your website is hosted with WPX in their Chicago data-centre.
(Without XDN) Your site will load well across North America but animal-lovers visiting your blog from Australia, Europe, Asia, and Africa will find that your website is slower to load for them.
This is because your blog's content (images and text mainly) is being retrieved from one of our Chicago servers and sent all the way across the world to visitors outside the USA.
(With XDN) WPX's network has already copied your popular content to servers around the world to benefit your far-away site visitors.
So whether your visitors are from Berlin, Sydney, Johannesburg, or Tokyo, they'll see your blog content from a fast local server and not from the other side of the world.
Using their XDN, the speed increase for your site visitors around the world is dramatic. The XDN is available for free, no additional cost.
Excellent Customer Service
WPX has a 30 second average response time on live chat. They have dedicated customer service with experienced support agents, and are available 24 hours a day, 365 days a year through live chat.


WPX is rated excellent on TrustPilot at 96% out of 1829 review.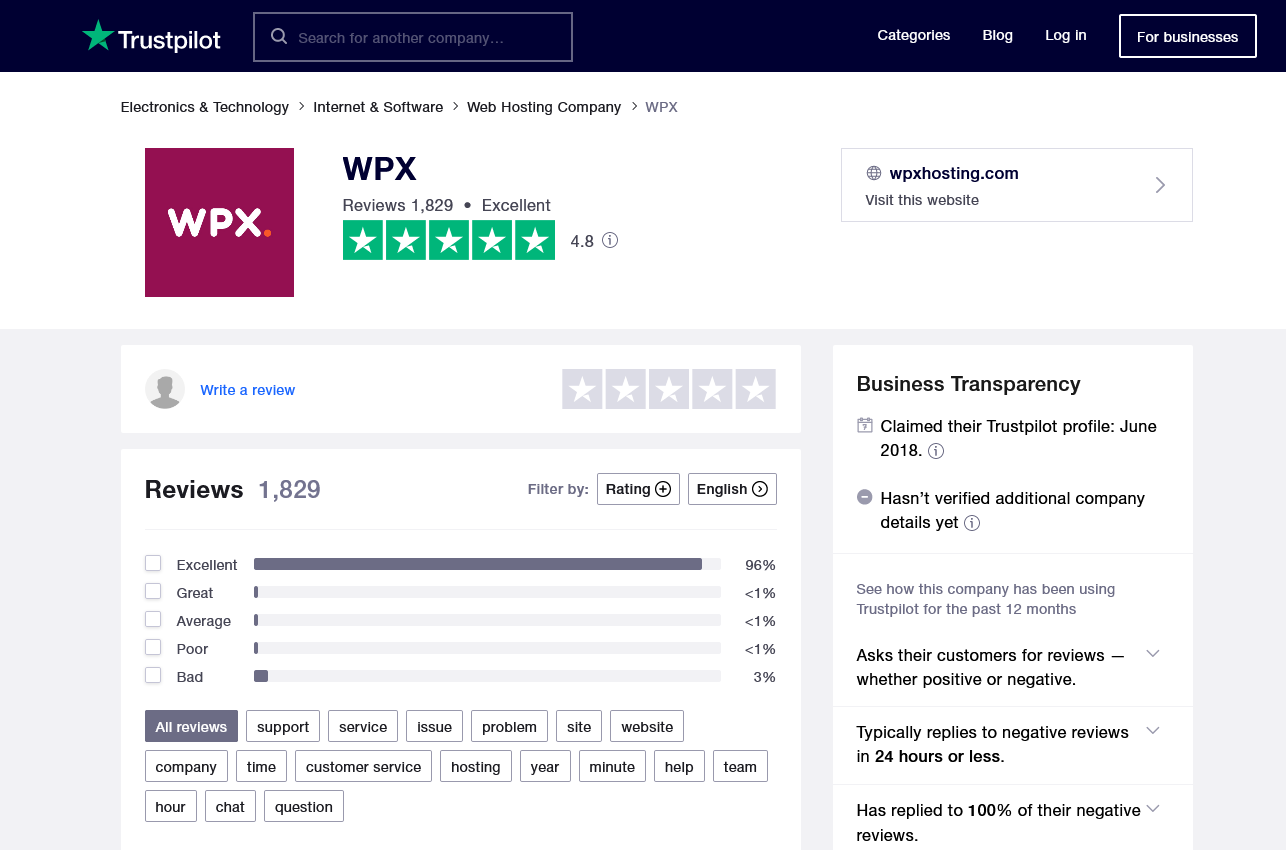 Cons Of WPX Hosting
Absence of Customer Service Phone Team
There is no hotline to dial when you are having problems with WPX Hosting. You can't blame yourself for looking for their hotline since that is what we are all used to. Unfortunately, you will have to make do with their support ticket system and live chat option.
The good news is that they respond extremely quickly so it is pretty much the same. Their live chat is available 24 hours a day, 365 days a year, and is always on.
Some people feel the need for telephone support. So we listed this here as a con of not having it.
Lacking Features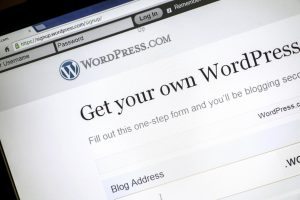 Compared to other hosting options, the interface won't give you as much features to work with. The truth is it won't be that big of a deal since you will basically get everything you need there. These are the features that would make it more convenient but that does not mean that you really need them. Some people just prefer the extra features.
Some migration restrictions
Now, most web hosting companies as well as WPX offer free site migrations, just be aware a type of site migration that is NOT free at WPX is when the domain requires changing e.g. the site, tomsblog.com, is moving to WPX and being changed to tomsgreatblog.com.
WPX charges for this type of site migration saying "This needs considerable extra time in database editing and checking which means a $98 charge for that (fairly unusual) type of site migration."
Our Recommendation on WPX Hosting
Whichever hosting solution you want to invest with, there are a select few factors of quality you should always consider.
Affordability
Security
Speed
Ability To Scale
Customer Service
Ease Of Use
Each of these quality factors will enable your website to run smoothly with large amounts of traffic at a fast pace. We've found that WPX hosting does support these 6 important hosting quality factors. This is one of the reasons we do recommend WPX hosting.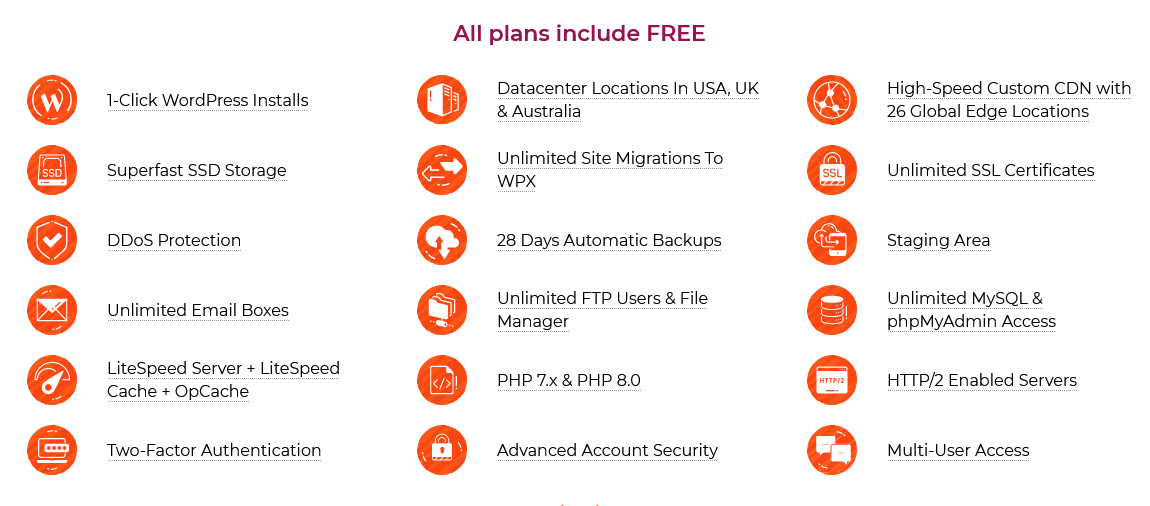 WPX Hosting Alternative
While WPX hosting has been a staple of quality website hosting for many years, there are other alternatives people consider.
Mainly, there are 2 other WPX hosting competitors. Each of these competitors has its own pros and cons while also being a quality hosting provider themselves.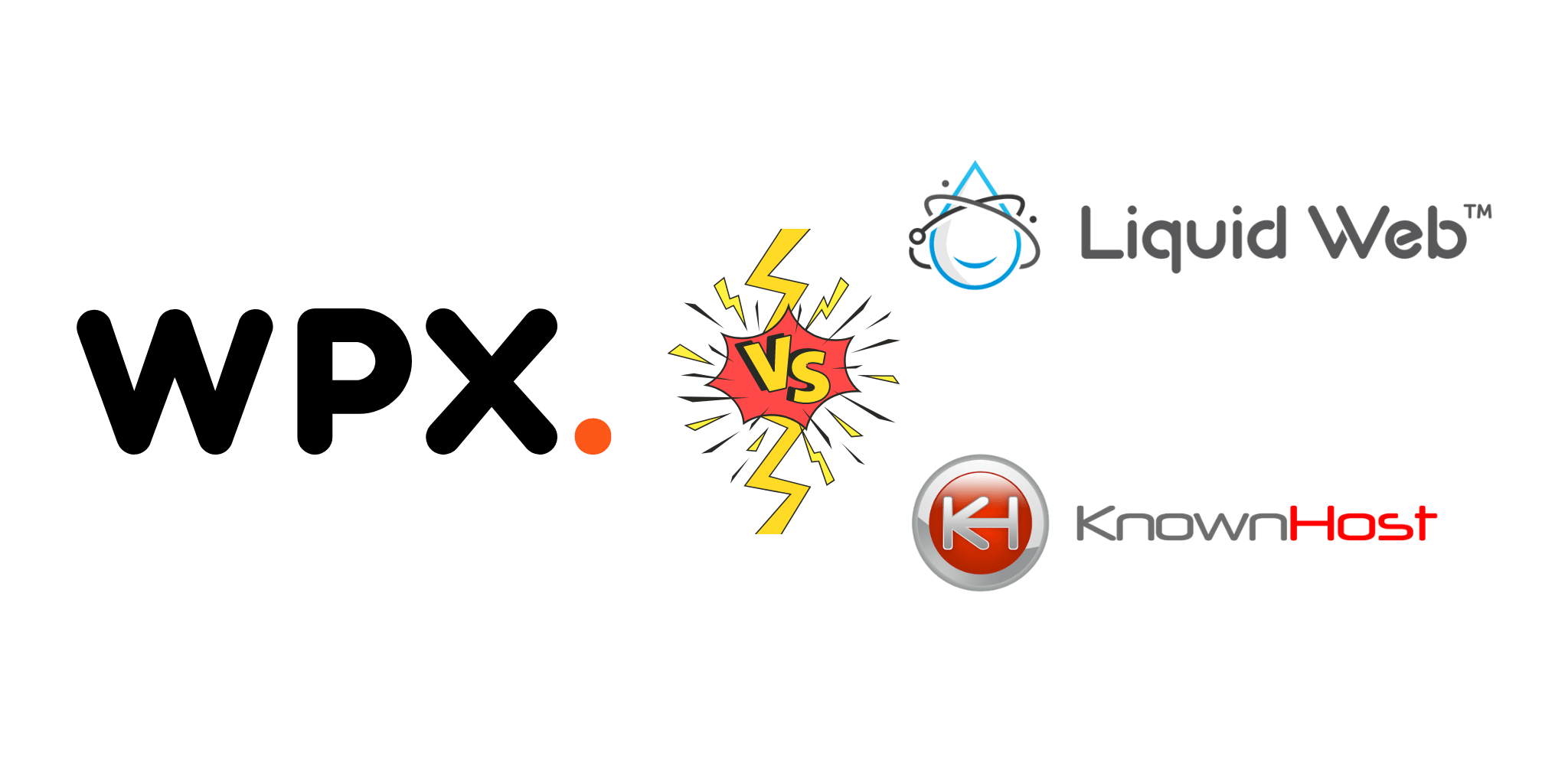 WPX Hosting VS Liquid Web
While WPX hosting has affordability in it's court, Liquid Web is considered the best website hosting provider online. We've done an extensive review on them and are actual Liquid Web dedicated hosting customers as well.
Over 10 years of using Liquid Web for a hosting company, we've never had a single outage or time our websites were down.
Overall, consider Liquid Web the best upgrade possible from WPX hosting. While Liquid Web is far superior, it does cost substantially more. Liquid web is often a hosting company we recommend for people who are looking for…
Superior website speed and security
Redundant servers that keep your hosted websites up 24/7
Phone, email, and messaging support with "get back to you" guarantees
Fully managed dedicated hosting solutions – meaning you don't have to upgrade or manage your hosting anymore
(Liquid Web is more expensive, but is often considered the best web hosting in the entire industry)
WPX Hosting VS KnownHost
There is another staple in the hosting industry that gives WPX hosting a true competitor.
KnownHost is another highly affordable hosting company that offers a variety of different packages and services to their customers.
KnownHost is also known for their speed, quality customers assurance, and as well for having great uptime on all of their servers.
You'll find that KnownHost does have a larger selection of hosting options available, and is also a quality hosting option for most people who want a website that is up for customers and users.
If you want to learn more about them, you can check out our Known Host review.
The bottom line on WPX Hosting
An affordable quality web hosting provider that has great support, and specializes in managed WordPress hosting. They are making it simple for the average person to create and run a website online.
Server uptime
WPX Cloud CDN uptime
Full Email functionality
Functionality of the WPX user admin panel including the Staging Area
Platform optimization for high-speed WordPress performance
Constantly updated/monitored security at the server level
Malware scanning & removal – at no cost to WPX customers
Full daily backups going back 28 days
Free site migrations from your old host to WPX within 24 hours (free UNLESS it involves a domain change)
Technical Support, with a 30 second average response time, according to Live Chat Inc:
Issues where our 'Fixed For You' Guarantee applies due to a site going offline
Billing accuracy
One time free speed optimization, analysis & recommendations (if requested by the customer)