How To Start High Ticket Sales As A Beginner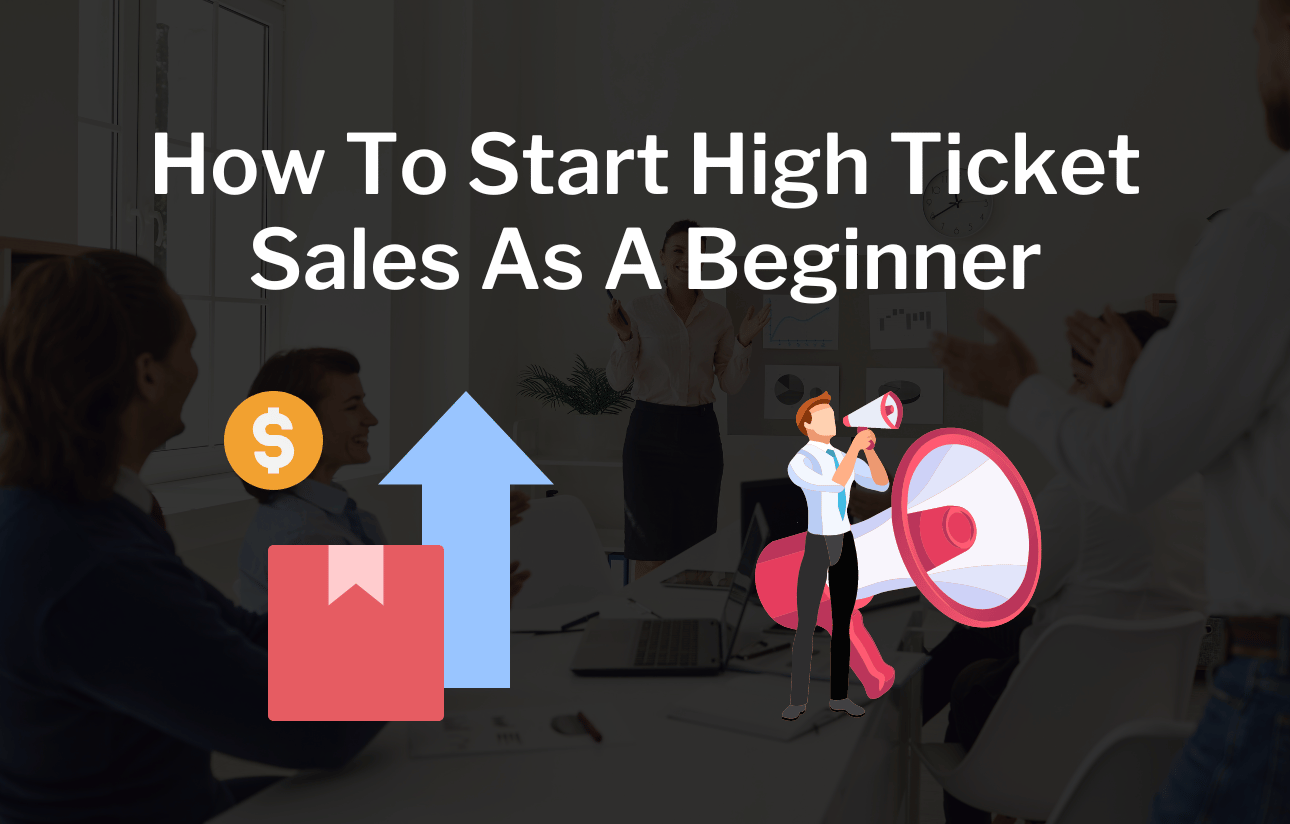 Learning how to start high ticket sales can be a challenge for those who are just getting started. However, even as a beginner, if you follow proven guidance and instructions on how to do high ticket sales then you'll make the learning process easier.
This guide will walk you through exactly how to start doing high ticket sales. Let's go through the steps together now…
How To Start High Ticket Sales As A Beginner
Identify a high ticket niche market to sell for
Whether you are selling your own high ticket products and services or someone else's – you'll want to work in a market that is interested in high ticket items and has the ability to pay for them. You want to find a niche or industry that isn't just high ticket, but that has high ticket profit margins.
Here's some of the most common high ticket sales niches…
SaaS
Education
Agency
Consulting
Services
Research potential products
You will want to look for high ticket products that are in demand and have a proven track record of success. If you're looking to sell the products or services yourself, then also make sure to choose a niche you're passionate about. You can also sell high ticket products and services as a sales person, or as an affiliate.
Here are some steps to help you research high ticket products to sell:
Research potential products: Look for high ticket products that are in demand and have a proven track record of success. You can do this by searching online, attending industry trade shows, and talking to industry experts.
Consider the competition: Research the competition to see what other high ticket products are being sold in your market and how they compare to your product.
Determine the price: Consider the price point of the product, as well as any additional costs, such as shipping or taxes. Determine if the price is competitive and if it will be profitable for you to sell.
Evaluate the potential demand: Research the potential demand for the product to determine if it is likely to sell well. This may include looking at industry trends and analyzing market data.
Make a decision: After thoroughly researching the product, consider all of the information you have gathered and decide if it is a good fit for you to sell.
Learn how to do high ticket sales and how sales works
To learn high ticket sales, you should start by educating yourself about the product or service you will be selling and the target market for that product. It's also important to understand the steps a customer goes through before deciding to buy a high ticket item.
Developing your sales skills, such as asking questions and addressing concerns, and practicing your presentation and closing techniques will also be crucial. Seeking out a mentor or joining a sales training program can provide valuable guidance and advice from experienced sales professionals.
Practicing regularly and staying up to date on industry trends and best practices can also help you to improve your sales skills and stay competitive.
Build your sales funnel
A sales funnel is the process that a customer goes through before making a purchase. Create a high ticket sales funnel that guides your prospects through the buying process.
It drives the prospect often to a sales call or a webinar. As high ticket sales converts well when you have a more personal touch with the prospect or lead. A well made sales funnel or sales process will make closing your customers and leads much more easy.
Develop a marketing strategy
Determine how you will reach your target market and promote your products. This may include content marketing, social media marketing, email marketing, or paid advertising.
If you are a sales person, sometimes the company you are working with with bring in leads for you. Otherwise if you are selling your own high ticket offer or are an high ticket sales affiliate, you'll be responsible for your own marketing.
Offer value
High ticket products often require more consideration and research from the customer before they make a purchase. Offer value to your prospects through educational content, demos, and customer reviews to help them make an informed decision.
Social proof, testimonials, and building a genuine relationship with the the prospect, will make closing the prospect much easier. The more value you give, the more likely someone is to buy.
Follow up with leads
Don't be afraid to follow up with leads who have shown interest in your products. This can be through email, phone, or direct mail. Follow up is the #1 way to increase conversion rates and close more prospects.
You'll want to follow up on a daily basis with all of your leads and prospects. This will help you close more, so long as you are following up with value. And you're making sure to truly help your leads and prospects.
Close the sale
The final steps to doing high ticket sales properly, includes closing prospects into becoming customers. You will want to learn how to structure your high ticket sales conversation call or webinar, and as well how to communicate with the prospect during it. Finally, you'll need to learn how to close in a high ticket sales environment.
Use closing techniques, such as scarcity and urgency, to encourage prospects to make a purchase.
Remember that selling high ticket items requires patience and persistence. It may take longer to close a sale, but the commissions can be significantly higher when compared to regular sales.
Final Thoughts
By following the steps laid out here you'll be able to start doing high ticket sales with relative ease. The high ticket sales profession is a great one to do since you can make an incredible income from doing it.
Consider reading more from our blog on high ticket sales, and sales in general, so you can being mastering the skill and becoming a true sales professional.
With our kindest regards,
Jon Weberg
Richard Weberg