How To Make Affiliate Marketing Content Daily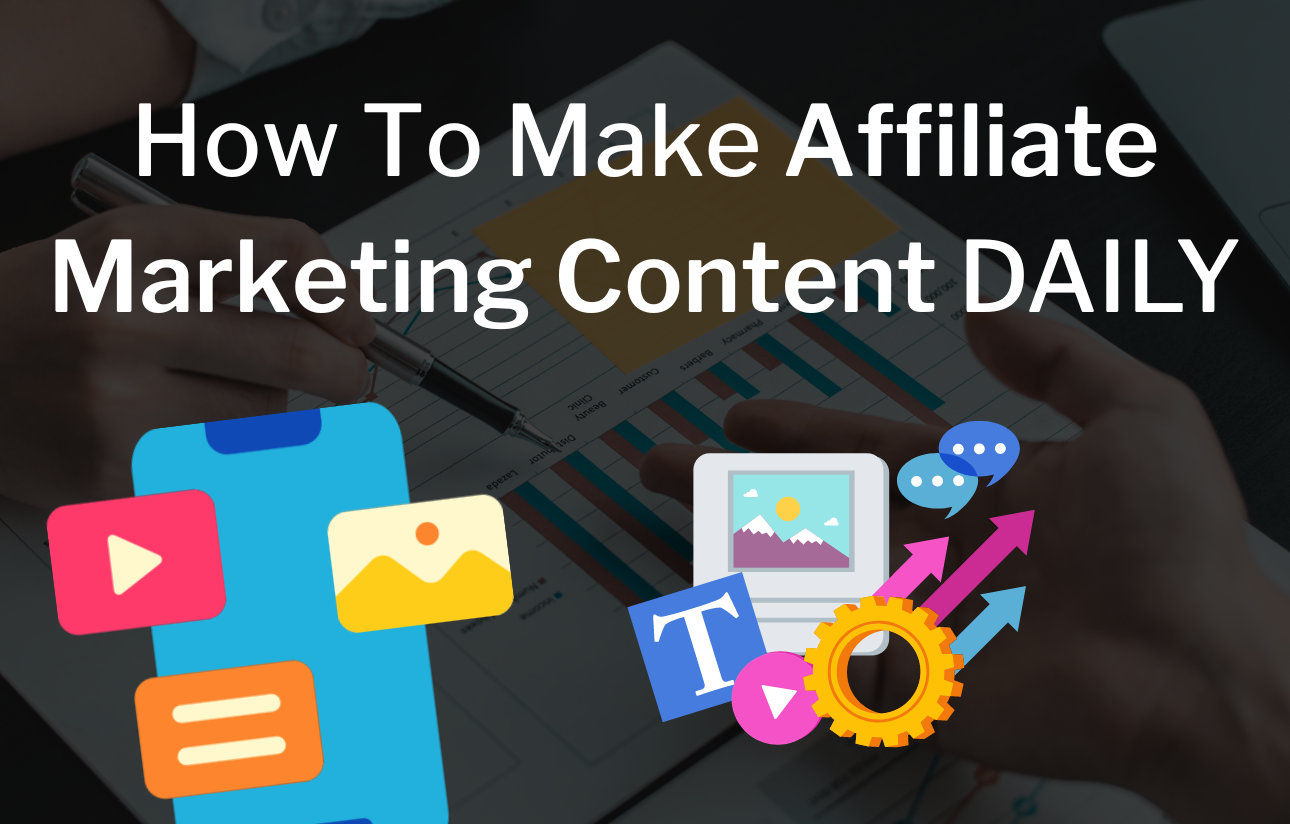 Making content as an affiliate marketer is just as important as other tasks you may complete during the day. Why is this? Because creating affiliate marketing content enables you to grow your own personal brand, generate quality leads, and potentially generate customers. Because of the importance of content production we'll be showing you how to make affiliate marketing content daily.
Each steps and instruction below will walk you through how to clearly create affiliate marketing content that will engage your audience to want to work with you.
Decide The Kinds Of Content You Want To Create
The first step of being able to create content that you audience wants and needs to see, is deciding what specific kinds of content you'll be uploading. In general, there are 3 kinds of content you should be creating across all social media and followings your business has.
Education content
Enticing content
Entertaining content
These are the 3 kinds of content that successful affiliate marketers like ourselves use in order to engage every emotion and kind of audience member that may be seeing our messaging. By creating content in each of these 3 categories, you're able to quickly relate to your audience, build trust with them, and engage them to buy from you.
As well, there are 2 different formats of content that you can create.
Short form content
Long form content
Both have their own benefits and in combination they can be great for scaling any business to become successful – especially for affiliate marketing.
Make An Affiliate Marketing Content Creation Plan
Once you've decide what kind of affiliate content you want to upload then it's time to create your plan. You have to decide on a few factors that control the quantity and quality of your affiliate marketing content. Here's how you should create your affiliate marketing content creation plan…
Decide how often you will create your content.
Decide how often you will edit your content.
Decide how often you will upload your content.
Decide which social media channels are best to upload content on.
Decide if you want to create long form or short form content, or better, both!
Think about and create goals for your affiliate content creation.
Create The Content On A Daily Basis
Now it's time to do the hard part, creating the content! Creating engaging and enticing content that makes your viewers and audience want to work with you, is where it's going to take time and energy. You'll want to make sure that you are doing everything you can to create content that retains your viewers attention while also giving them value.
You can creation a variety of different kind of affiliate content…
Social media posts
Videos
Blog posts
Articles
Each of these kinds of content will perform well in affiliate marketing especially. You can create a variety of engaging affiliate content pieces with the combination of these put together. Just make sure you're taking time every day to create the content.
Upload The Affiliate Marketing Content
Now that you've created affiliate marketing content that is rich in value and helpful, now it's time to actually upload your affiliate content! You should should 1 or 2 main platforms to build your following in, while you syndicate your content across all of the others.
This content you create as an affiliate marketer will allow you to be seen as a brand, more professional, and more valuable in your marketplace. Uploading your affiliate content to as many different channels as is possible is important. Make sure in any of your affiliate content that you include your affiliate links and affiliate offers. You can put these in your descriptions, comment section, and other areas as well. This will ensure you can achieve maximum affiliate conversions from all of your content.
Share & Syndicate The Content Across All Social Media Channels
You need to spread you affiliate marketing content so it can be seen from everyone in your audience. This way your affiliate business reaches as many people as possible, which increases your chances of generating both leads and customers. Here's an example of a great affiliate marketing content creation plan put into action…
Upload long form videos to all platforms that allow that kind of affiliate content.
Cut the long form video content into short form content to be spread across all social media platforms. YouTube shorts, Facebook Reelz, etc…
Syndicate posts across all social media followings
This plan of action will enable to generate lot of sales and customers as an affiliate while quickly building your brand.
Scale Your Affiliate Marketing Content
In order to scale your affiliate marketing business, production of affiliate marketing content will need to consistently increase in volume and quality. This you can outsource to a VA or employee, or possibly to a content marketing firm that can manage the content for you.
We hope you enjoyed this article very much!
With our kindest regards,
Jon Weberg
Richard Weberg