The Best Affiliate Marketing Checklist For Beginners And Experts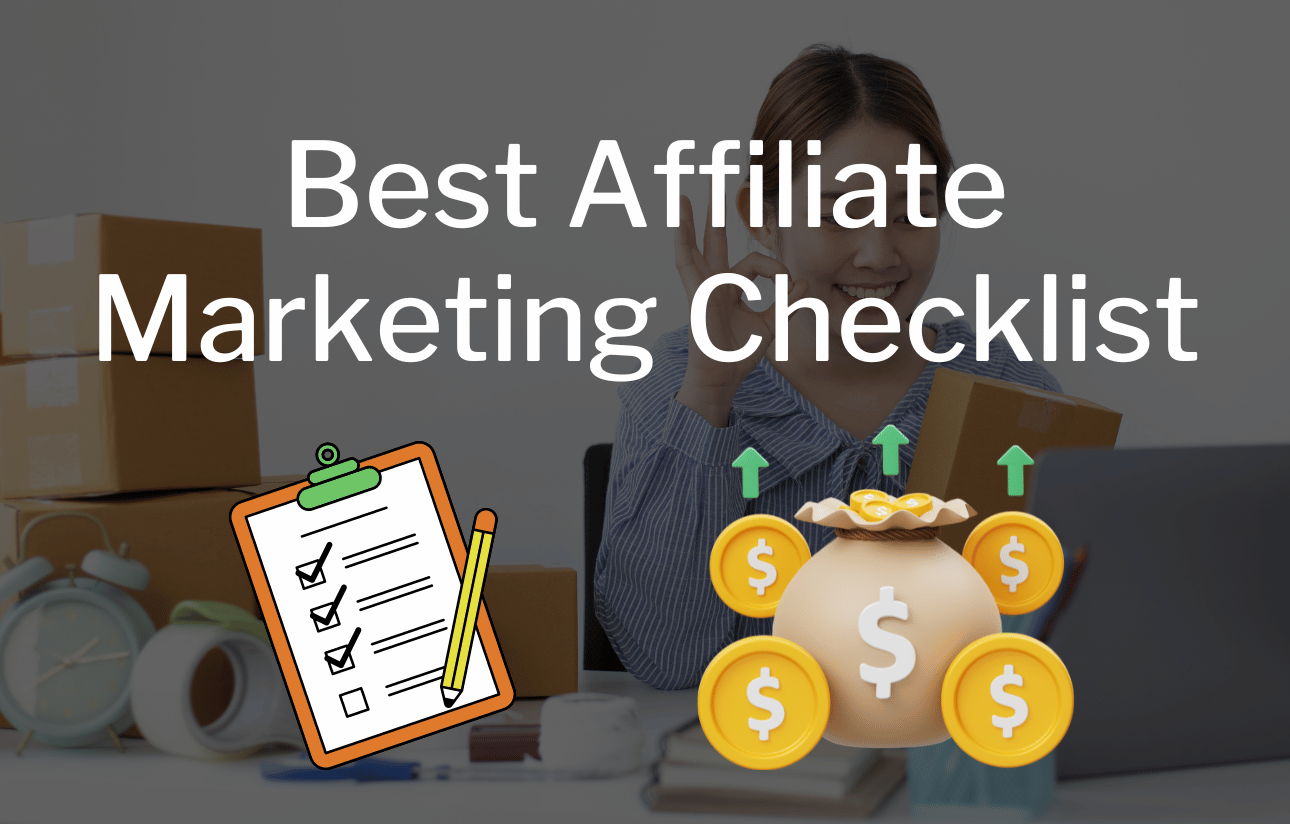 Being able to follow a proven affiliate marketing checklist can help any affiliate marketer ensure their business is up to date and running profitably. Checklists like the one you'll see below, walk you through proven guidance on how you can can improve your current affiliate marketing business.
After reading through the checklist below, make sure to apply the strategies you learn to your affiliate offers and campaigns you have in place. Making sure to check off each of the strategies from the list once they have been accomplished. This will reduce the challenges you'll face as an affiliate. Here's the affiliate checklist now for your to follow…
Affiliate Marketing Checklist
Researching and selecting affiliate products
To research the best affiliate products, you can start by looking for products that have a high conversion rate and a strong sales funnel. This will increase your chances of making sales. Additionally, you should research products that have a high commission rate. It's also important to look for products that are in high demand, which can be done by using Google Trends to research the popularity of a product over time or by checking Amazon bestseller lists.
Reviews and testimonials from other affiliate marketers can also provide insight into which products have been successful. If possible, test the products yourself and give a personal review and show the product in use. Finally remember to look for a vendor that has a good reputation and provides good customer service. The best offers can also be the low competition affiliate niches that don't have as many affiliates promoting them. This means you have more room in the marketplace to market them.
Having a detailed plan
A beginner affiliate marketing needs a detailed plan to follow on how to setup and maximize profits with their new affiliate business.. This plan should include specific tactics you will use, such as blog posts, social media, email marketing, and more for generating leads.
You'll also want to lay out how you're going to set up a process for the leads to go through, like a funnel, for them to become customers. And finally, you should create a plan for scaling this business. A great plan will make your checklist much more effective.
Signing up for the affiliate program
Joining your first few affiliate programs is an important step to check off on your list. Once you join these affiliate programs, then obtaining your unique affiliate link is a necessary step to do next. These links are what allows you to earn commissions when someone clicks through and makes a purchase after viewing or clicking on them.
Some affiliate programs are free to join and you can promote for them very easily. However, there are some affiliate programs that require an application process.
Creating content that includes your affiliate link
To get your products and services you're offering as an affiliate into your desired audiences eyes, you can start creating content. This could be in the form of a blog post, video, or social media post, and should provide an in-depth look at the features and benefits of the product. The content also needs to illustrate how you solve your prospects problems and get them the solutions they desire.
Using a tracking link to monitor performance
Being able to track your affiliate links is important for understanding which of your promotion efforts are driving the most sales. This will help you to optimize your strategy and focus on the tactics that are working best for your business. You'll be able to track your links properly through…
The affiliate program tracking your links for you.
By using a separate tracking program.
Utilizing email marketing to nurture leads
If you want to grow your affiliate efforts even faster, make sure you are gathering and following up with the leads you generate for each affiliate offer. By nurturing these leads with email marketing follow up strategies, you'll convert even more of them at a higher conversion rate, into customers.
You'll want to make a landing page that is able to gather leads for each affiliate offer you are promoting. Make email follow up sequences for each list as well.
Test and optimize your affiliate campaigns
Being able to have better conversion rates is important for improving the overall performance of your affiliate marketing efforts. You can increase your conversion rates by testing and optimizing each affiliate campaign for each offer you promote. This could include testing different headlines, calls to action, or promotion styles.
You'll want to make sure that your tests include sending a substantial amount of leads through an affiliate offers or campaign. Because you need a decent amount of data in order to make accurate predictions and analyses.
Staying up to date with the latest affiliate marketing trends
Being knowledgeable about the latest trends for affiliates is key for staying ahead of the competition. This could include staying informed on the latest social media algorithms, or experimenting with new promotion techniques for affiliate launches.
You'll want to also follow affiliate marketing blogs like this one, in order to stay up to date with offers that are converting the best. And, you'll be up to date with new affiliate marketing strategies.
Be on the lookout for new affiliate products
Being able to promote new opportunities to expand your affiliate income is important for keeping your affiliate marketing efforts fresh and relevant. This could include experimenting with new affiliate programs or exploring new niches. Make sure however that you don't abandon your current leads with any affiliate offers that aren't relevant to the kinds of products and services they need specifically.
You want to continually and slowly add highly relevant offers to your current list of affiliate offers. And market them to your audience by illustrating how the offers are congruent and can work together nicely.
Final Thoughts On Following The Best Checklist As An Affiliate
Make sure you follow this affiliate marketing checklist closely so you can improve and set up better affiliate marketing assets and efforts. After being affiliate marketers for over 20 years, our experience running multiple businesses has allowed us to learn the best checklist strategy their is in the marketplace. This affiliate marketing roadmap increases your own chance of success.
Thank you so much for reading through this checklist, once applied to your own business as an affiliate you are sure to see increases in your profits and results, just like we did.
With our kindest regards,
Jon Weberg
Richard Weberg