My Traffic Powerline Review: Is It Legit Or A Scam?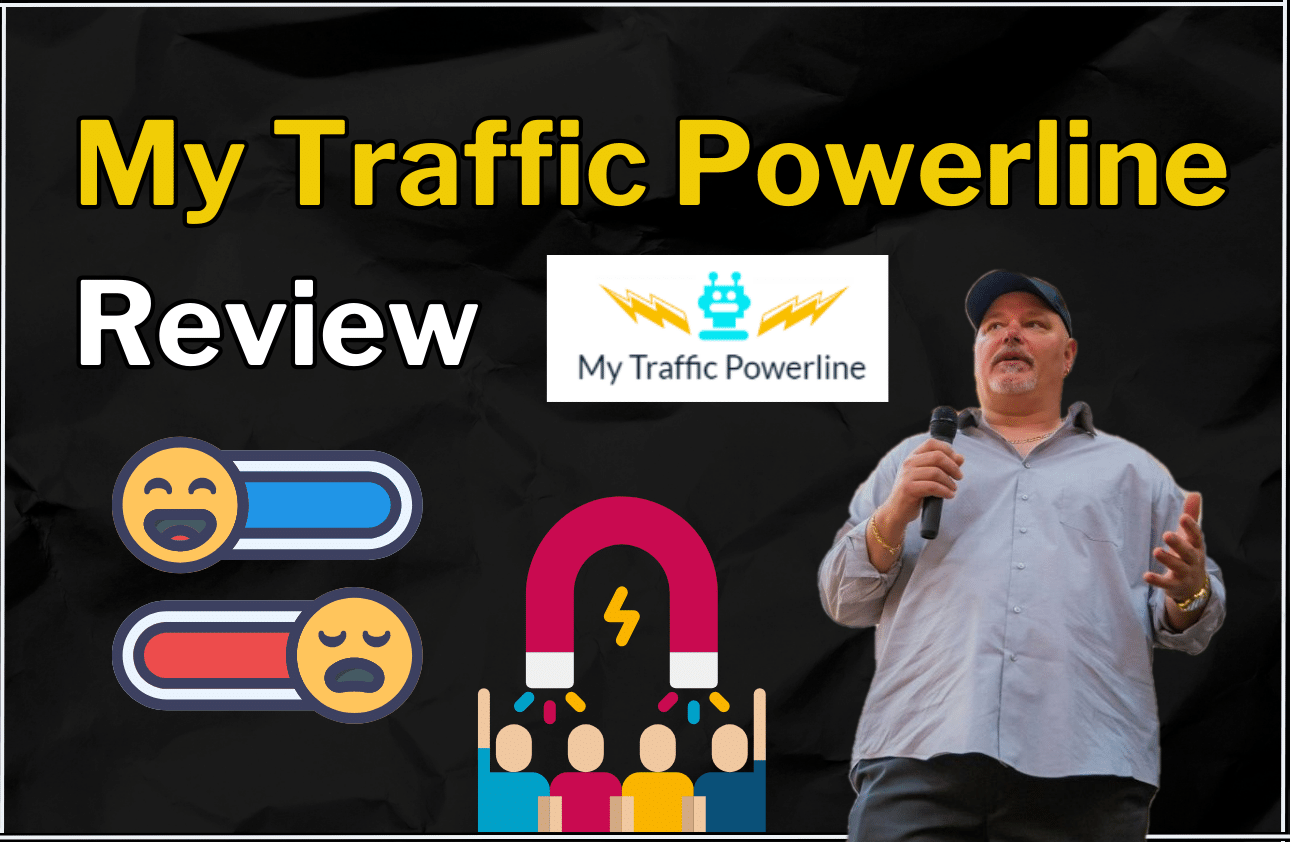 Every single entrepreneur, online business opportunity, and network marketer is in need of traffic. Traffic and leads fuel the growth and profits every business will see. The question is however, where can you get quality traffic that will be able to generate you sales? This is where My Traffic Powerline hopes to make a change in the online lead generation industry.
Through this My Traffic Powerline review you'll learn about the company, the founder behind this new resell-able click opportunity, and whether or not the traffic is actually any good. Keep in mind that this review comes from an actual customer of the My Traffic Powerline system. As well, we've been in the network marketing industry for 20+ years so our insights are extremely in depth and accurate.
What Is My Traffic Powerline?
My Traffic Powerline is a network marketing company that sells traffic. They sell on a click basis, with 2 available packages currently and publicly. However, it is extremely unfortunate that they don't share where they get their traffic from. And based upon the pricing they have, which is around $0.20 per click, it suggests the quality is low.
Usually quality traffic and leads in the industry cost a minimum of $0.50 – $1.00+ per click at least. Additionally, they have a "no refund" policy. On top of this, they don't have any public testimonials sharing results generated from customers purchasing their traffic.
The only public information shown about the program directly is a few paragraphs about the founder, Jeremy Duncan. Otherwise they do not share anything about the company itself, a story of how it was created, or any other information. Also, the majority of the information on the website is based around earning money, not the traffic quality.
Pricing
Here's is the pricing on how much the system costs for you to join.
Monthly Plan: $20 per month + $40 one time.
Yearly Plan: $200 per month + $40 one time.
While this traffic is affordable, it is very difficult to test if it is effective with such small packages of clicks.
Jeremy Duncan – The CEO & Founder
Jeremy Duncan is a network marketer. He is the founder of MyTrafficPowerline and person behind the idea.
Is the Traffic Any Good And Does It Convert?
The traffic from this system seems to be similar to that of solo ads and other related traffic sources. We personally have not seen any conversions from the traffic yet, and we've purchased in our lifetime $100,000's worth of traffic and leads.
The traffic will need to be tested at scale before anything can be said about how effective it is or is not.
Best MyTrafficPowerline Alternatives
While My Traffic Powerline does offer a resource (traffic) that network marketers and MLM's need. There are a few other alternatives that pay more to their affiliates, and that also have a proven history behind the way they service customers. Finally, they also have more information on the company, and more overall transparency. Most importantly, they don't just focus on making money. They focus on the quality of the product or service in question.
GotBackup
If you still want to offer your audience a service that they want, need, and can use for decades, then you should consider becoming a member of GotBackup. It has some of the best data, memory, picture, and file storage there is online – while also paying up to 200% commissions to affiliates.
Along with this, GotBackup focuses on the product, how high of quality it is, and it also has a high retention rate. Which means people stay customers, and it also means affiliates keep generating higher commissions month after month.
You can get started with GotBackup for as little as $9.97 per month.
Traffic Authority
If you want to promote and sell traffic to your audience, then this industry standard should grab your attention. With proven and tested traffic that has converted for decades, and a highly incentivizing compensation plan, Traffic Authority is the #1 traffic and leads supplier for any network marketer, MLM, etc.
With even the Traffic Authority website you will notice a focus on the quality of the traffic, and proof that it works. As well, you can buy much higher amounts of click with TA, which means more efficient and easier to make tests.
Pros
Low cost traffic
New and growing system
Potentially easier to sell then other MLM's since people desire traffic
Cons
Cheap traffic generally means low quality
Focus on making money .vs. quality of the traffic
Unknown where traffic is from
Zero public testimonials or reviews on the site
Hard to test with such little amount of traffic being sold
Low commission rate
Only get paid 1 time on direct sales
Affiliate Program
The affiliate program for My Traffic Powerline unfortunately only offers one time payments per subscribed customer you refer. This means that you only get paid on the first months purchase. After this, you don't make anything directly off of customers who continue paying.
You make $25 one time direct commission off of any person who purchases the $20 monthly subscription. (A 100%+ commission, but only paid one time). This means that after the 1st month, you don't make anything.
You make $50 one time direct commission off of any person who purchase the $200 yearly subscription. (Only 25% commission, and only paid 1 time).
You also (if you meet requirements) can earn 25% matching check on your 1st, 2nd, 3rd, and 4th generations of purchases below you.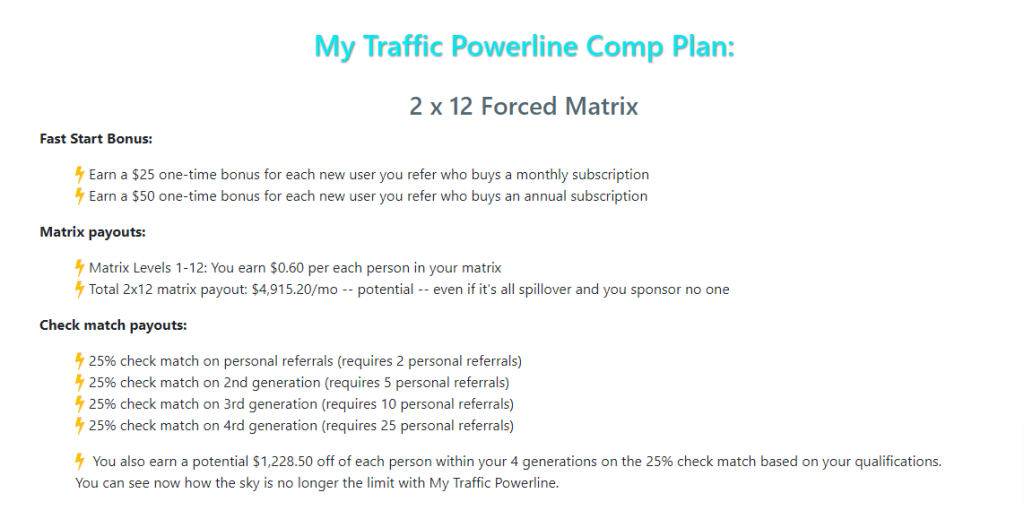 Forced Matrix 2X15 Structure
You earn only $0.60 per person in your matrix. This is considered much lower then other binary or matrix compensation plan. The GotBackup alternative mentioned above for example, pays up to $8-$20 per cycle.
In some cases the structure is great temporarily, but usually binary's and matrix's of infinite depth are better.
Final Thoughts
The My Traffic Powerline system is a source of traffic that you're able to purchase at an affordable price. However, it seems there are some ways it could be improved, especially when you take a look at what their competitors are doing.
We recommend from our research and time in the industry, that you look into alternatives. It is unclear the quality of the traffic and what the future holds for My Traffic Powerline system. This is our own personal guide, you should use your own thoughts when making any financial decisions. You are free to use any system that you want.
With our kindest regards,
Jon Weberg
Richard Weberg