Best High Ticket Sales Closing Strategies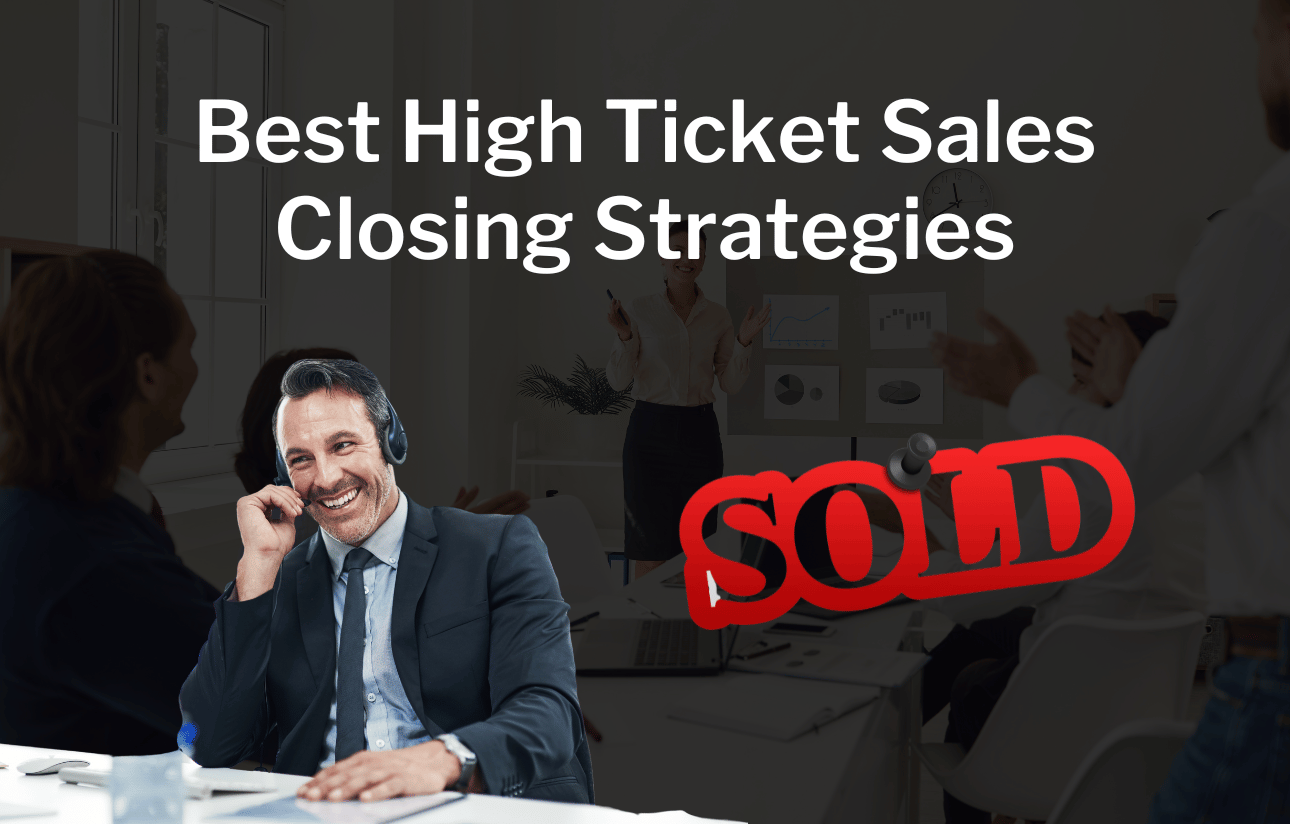 Doing high ticket sales is extremely rewarding and lucrative, if you know the right closing strategies to get the sale made. Let's go over these best high ticket sales closing strategies so you can learn how to close more calls & make more money.
These strategies are for sales closers, high ticket closers, and sales enthusiasts of all kinds. So, read carefully and you will definitely pick up a few essential new strategies for closing customers & prospects with ease.
High Ticket Sales Closing Strategies You Should Know
Assume The Sale
The best way to close any high ticket sale is to do what is called, "assuming the sale". When you assume the sale, you are making a statement or asking a forward question to progress the conversation to where the prospect is going to buy.
Instead of asking, "Would you like to work with us? You may instead state, "I'm glad we're on the same page. Would you like to get started now or tomorrow?".
By saying something phrased in a similar manner, you are assuming the sale, since you are not asking for it in the first place. This is a well tested and effective high ticket sales closing strategy that really does work well.
Ask For A Credit Card
It may seem like a scary question to ask, but as long as the rest of the sales conversation went well, asking for a credit card to make a purchase won't be a big deal. Here's the best way to close the customer and ask in a simple way for the credit card details.
After you have had an enjoyable and productive sales conversation, you say this…
"Glad we both agree this is the best path for you to take. Let's move this forward and get you started too! What's the best card for us to use for your new account?"
This is a very smooth and non threatening way to ask for a credit card in order to close any high ticket sales conversation.
Ask If Everything Sounds Good
A very easy way to close any sales or high ticket sales call is to simply ask, "Does everything we went through sound good?" If the prospect says yes, then you say, "Great! Glad to hear, I think the same. Let's get you started". And then you simply move forward to gather payment information. The close of a call doesn't have to be hard, as long as you relax and speak kindly to your prospect or customer.
Ask If They Are Against Moving Forward
By asking if a prospect is against moving forward, you identify if they have any reasons they believe they shouldn't purchase from you. If they don't give any reasons to not work with you, then you can simply ask to move the conversation forward then.
This allows you to identify objections as well which is crucial to know for closing any sales conversation.
Be Genuine & Yourself
The most ethical and honest sales tactic that works the best for closing high ticket sales, is to be yourself. Being a genuine and real person who cares about the prospect they are talking to, is the fastest way for you to close the sale.
Your prospect wants to work with a sales person who truly care about them, and when they see that you do, they will naturally want to buy from you.
Other Tips For Closing High Ticket Sales Calls Easier
Here are some final strategies and tips on how to ensure you close as many prospects into customers as you can in all of your high ticket sales conversations.
Understand your products, services, and offer – deeply and clearly.
Pay very close attention to the prospect, their desires, and their problems.
Match the tone, pace of talking, and volume of language, used by the prospect.
Make sure the sales process language matches with the sales call language.
These 4 additional tips will ensure sales conversations go smoothly and professionally, with much higher closing rates!
Final Thoughts
All of these strategies when used together will help you close more high ticket sales in a faster and more efficient manner. Make sure to apply these strategies and test them out in order to see how well they work in any sales environment.