Best Email Marketing Experts To Learn From Or Hire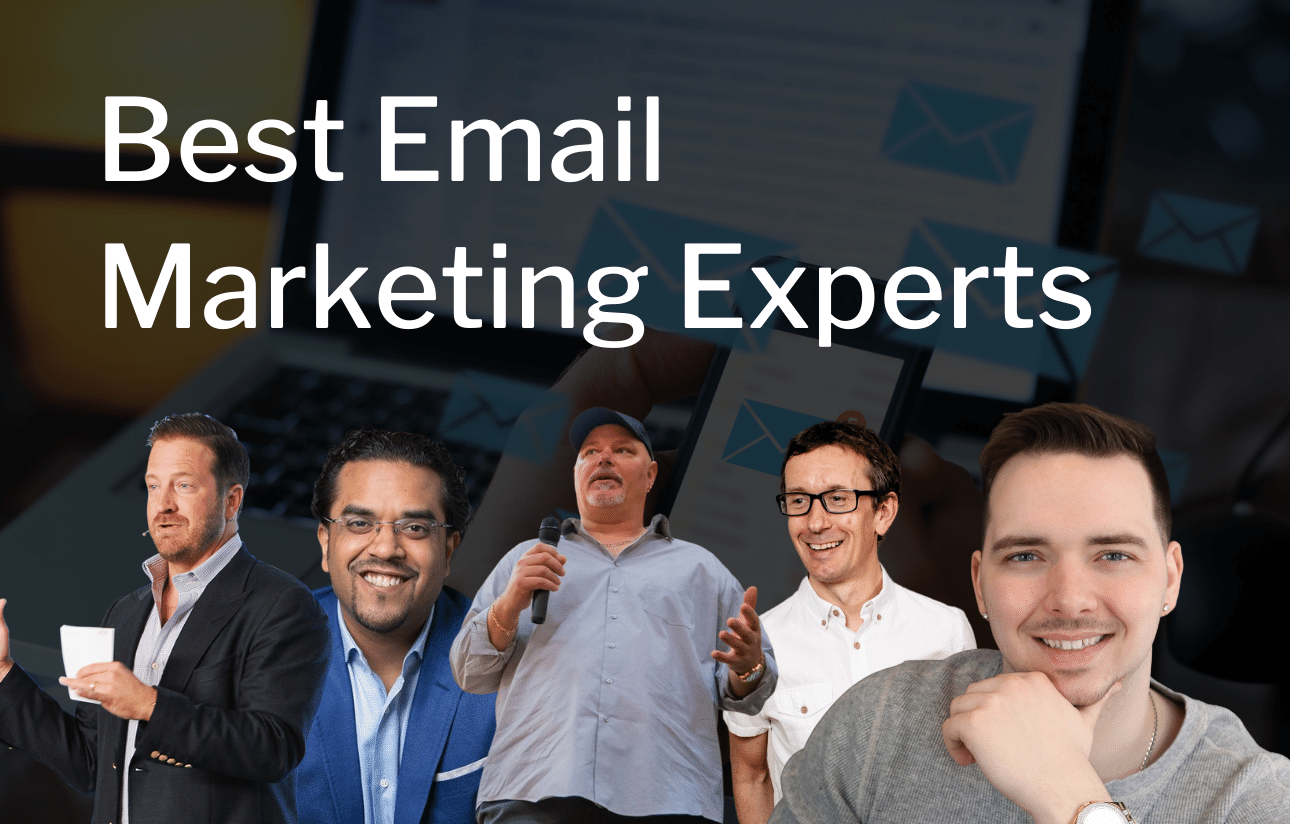 Knowing which email marketing experts are the best to learn from is incredibly important for a new email marketer. The wrong advice can pull down your profits, while the best guidance will send them through the roof. We decided to put together a comprehensive guide on which email experts you should learn from and which ones you should hire.
We've personally worked with many of theses leading experts, so you can feel sure knowing we have clearly identified their skill level at email marketing. Here now is the list of best email marketing experts, coaches, and mentors. Each has their own style of email marketing, and how they structure each email they write.
Frank Kern: Email ROI
The best email marketing expert who has achieved the most ROI from his email marketing campaigns is Frank Kern. Recognized as the god father of email marketing – Frank is a master of generating ROI from any email list. Frank Kern is worth both hiring and learning from because his expertise on email is above nearly everyone else in the industry.
Frank has sold in the digital marketing space for many decades while also being able to sell any product / service – low or high ticket alike.
Dan Kennedy: Email Copywriting
Debated as one of the best copywriters to ever live, you'll find that Dan Kennedy is also one of the best email marketing talents in the world. Dan has been a leading copywriting legend for decades. Frank Kern, Anik Singal, an nearly every current email marketer that is great at what they do – have studied Dan Kennedy copy.
Dan is worth learning from and he's worth hiring for his depth of email marketing / copywriting knowledge. He is the Godfather of copywriting along with David Ogilvy.
Anik Singal: Your Email Experts Favorite Email Marketer
A huge email marketing leader who has trained tens of thousands of entrepreneurs across the world – Anik Singal is another amazing email marketing expert. Anik has built his entire business on being profitable from his email marketing efforts. As well Anik does teach email marketing, and even advanced email marketing courses as well.
You should definitely consider learning from or hiring Anik Singal for any email marketing needs you have. He is among the best experts in the world when it comes to email marketing.
Jon Weberg: Email Marketing Automation Expert
The son of the "father-son duo", Jon Weberg has achieved some of the highest known levels of ROI from email marketing. In fact, him and his dad Richard Weberg have accomplished an astounding 8.4X profit margin from their email marketing efforts.
Jon is well versed in email marketing optimization, and how to use a variety of storytelling tactics to turn leads into high paying customers rather quickly. So much so, Jon has created his very own style of email marketing foundations that only him and his father practice today. You should definitely hire or learn from Jon Weberg's email marketing knowledge.
Richard Weberg: Email Campaign Manager
The dad of the "father-son duo", Richard Weberg has been practiced high ROI email marketing for over 2 decades. Yes, over 20 years of experience building multiple different businesses makes Richard one of the best email marketing experts in the world. Him and his son have accomplished extremely high conversion rate from their email marketing that makes them among the most desired to work with.
Take some real time considering learning from or hiring Richard Weberg's email marketing strategy.
Michael Cheney: Dedicated Email Marketing & Affiliate Marketer
The best affiliate marketing email marketer by far is Michael Cheney. His vocabulary and wild use of words makes him an astounding copywriter and even better email marketer. Michael Cheney, along with every other email marketing expert listed here, has generated millions of dollars as an email marketer.
He is definitely worth the time and money his email marketing costs to work with.
Should You Hire An Email Marketing Expert?
It depends, on whether or not you have a decent ability already to write emails that convert. If you don't, and aren't sure of your ability to generate sales from email marketing – then definitely hire an email marketing expert. Most entrepreneurs and businesses generating over $10,000 per month should consider hiring someone else to write their email campaigns.
What an email marketing specialist can provide in additional email profits will be quite extensive. This is because email marketing specialists have the ability to get more of your leads to turn into customers. There are some cheaper email marketing services you can hire but you'll definitely want a specialist if you can afford one.
How much does it cost to hire an email marketer?
Hiring an email marketing expert can cost you anywhere from $2,000 – $8,000 every month. The cost level depends on the specialty and ability of the email marketer. However, if you're running a serious business, an email marketing experts ability to generate more sales for your business will far surpass the expense to hire them.
Some email experts will charge per email, or they will charge you for a large number of campaigns created as a bulk email package. Agencies that have a dedicated email marketing team will most likely charge per month.
We hope you enjoyed our walk through of the best marketing experts who use email as their main way for generating sales.
With our kindest regards,
Jon Weberg
Richard Weberg