Yes, GotBackup is a legit company that provides digital backup, storage and data protection services. The company offers backup solutions for personal and business use, with plans ranging from individual accounts and family to business-level solutions.
GotBackup provides a secure, reliable, and user-friendly solution to protect your important data and files. You get 6 separate accounts to protect you and your family for only 9.97 a month, which includes 6 Terabytes of backup and storage space.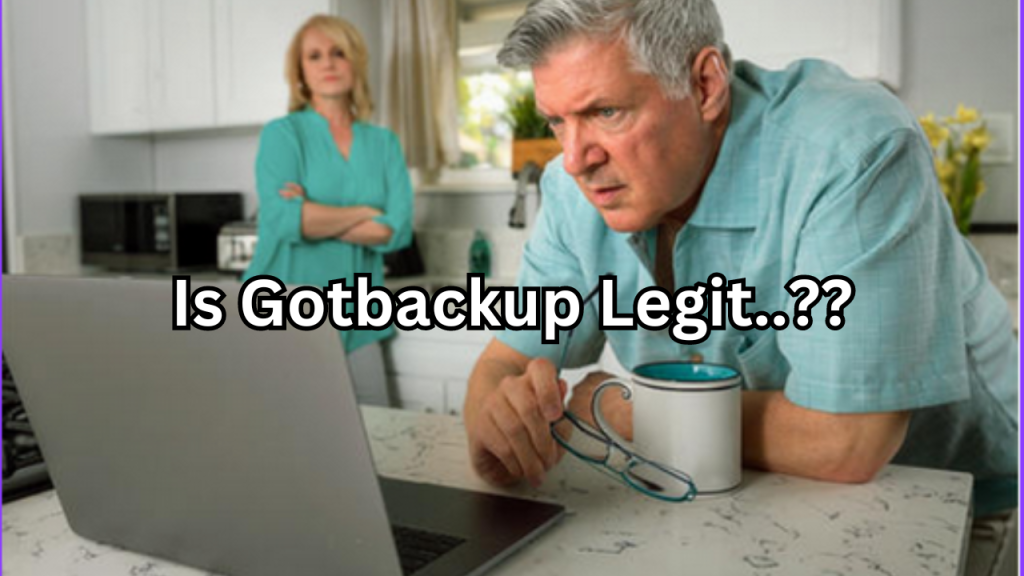 As the world turns even more digital, it is more important than ever to have a trusted backup solution so you do not lose your precious memories, photos, videos, and work or business data.
GotBackup service takes care of everything for you, automatically backing up your files to their servers and the cloud, and making them easily accessible anytime, anywhere.
You can access your data from any device, and even share your data if you choose, and collaborate with others seamlessly.
The parent company that owns Gotbackup, GVO (Global Virtual Opportunities) has been in business for 25 years, and owns a data-center.
Is Gotbackup Legit, Should You Use Their Service?
How To Use Gotbackup
To get started with GotBackup, simply create an account, log in and follow their instructions, then choose the files you want to back up. Then, GotBackup will automatically back up your files to the cloud and their servers on a schedule that you choose.
Every time you take a new photo or add some other digital data, it will automatically get backup and stored.
Unlike other backup services, you can backup unlimited devices with Gotbackup.
With GotBackup, you can enjoy the peace of mind that comes with knowing that your data is always safe and secure. The solution has military-grade encryption and provides multiple redundancies to ensure maximum protection of your files.
You don't have to worry about losing your files to cyberattacks, viruses, hardware failures, dropping your phone down the toilet, or any other unfortunate event.
My Dad actually while we were ice fishing a few years ago (Before Gotbackup existed) dropped his cell phone down one of our ice holes, yep, it plunged down 20 feet to the bottom of the lake, and he lost all of his precious memories on his phone..
Your data will be safe and secure with Gotbackup. Learn more here.
Gotbackup Apps
Yes, Gotbackup has apps for both Android and iphones, and instructions on how to set up the service and use the other available features that Gotbackup has..
They are much more than just a backup service.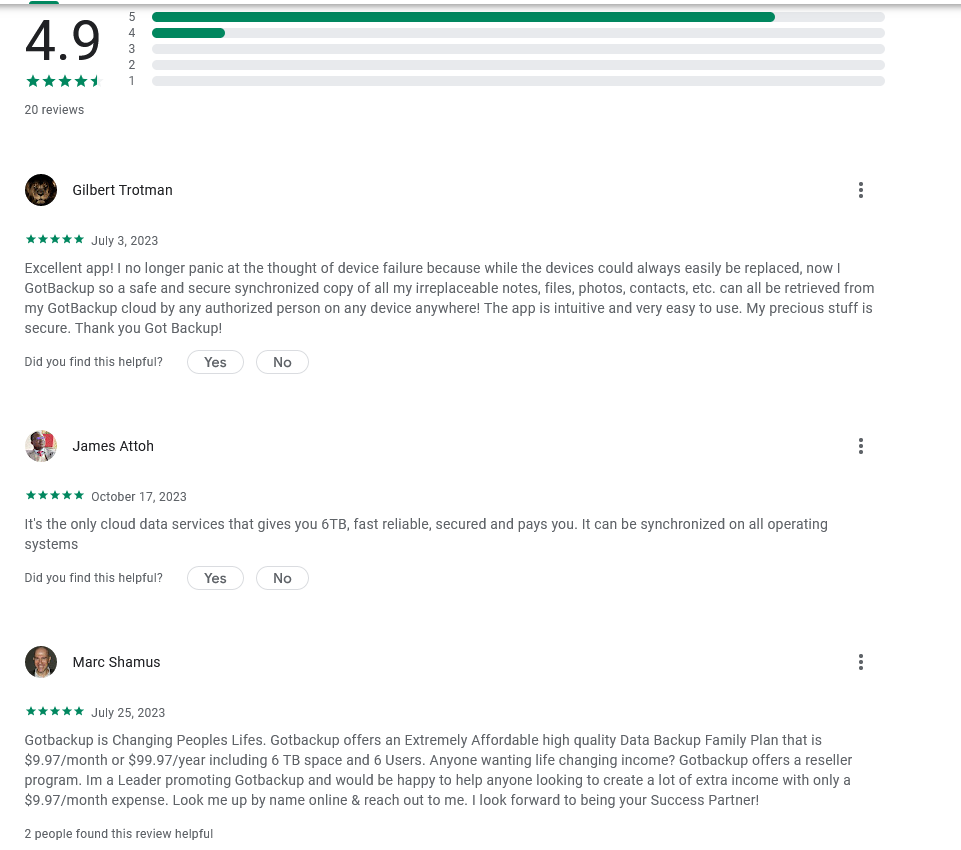 Trustpilot Reviews
And Yes, there are also many other positive reviews about Gotbackup on Trustpilot, as they have an excellent rating. If you look around online including social media, you will find many people raving about the service and the business opportunity.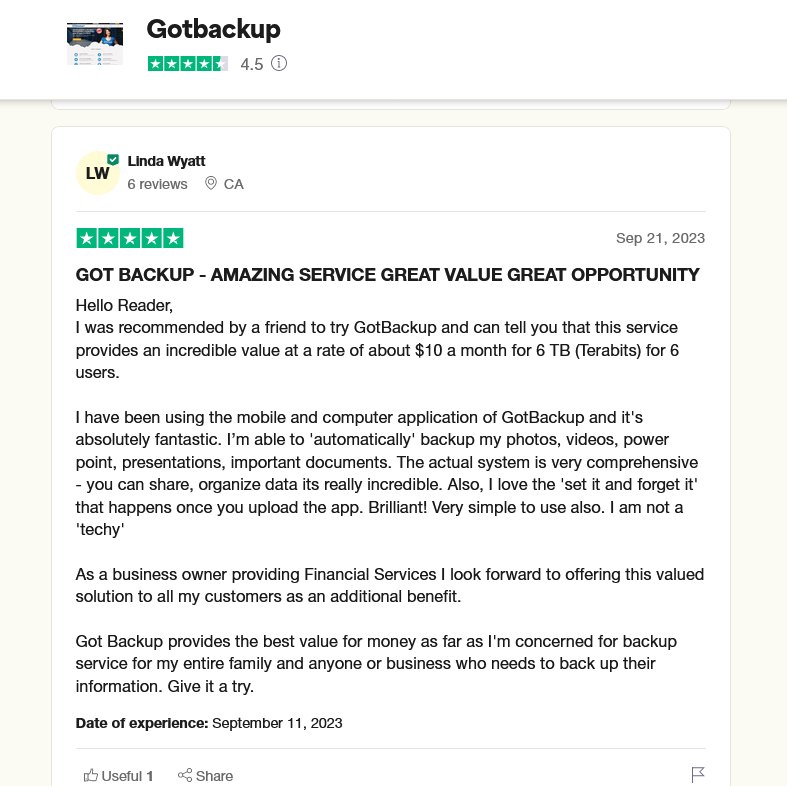 You Can Also Refer Others To Gotbackup And Make Money!
As a reseller of GotBackup services, you can also take advantage of the excellent opportunity to earn significant recurring commissions.
The company offers a lucrative compensation plan, giving you the ability to earn up to 200% upfront commissions on your referrals, and much more on the back-end.
This makes it a fantastic way to build a passive income stream while helping others secure their digital data.
Read Also: Gotbackup Compensation Plan and see all of the exciting details about how you can earn a full time income promoting their services.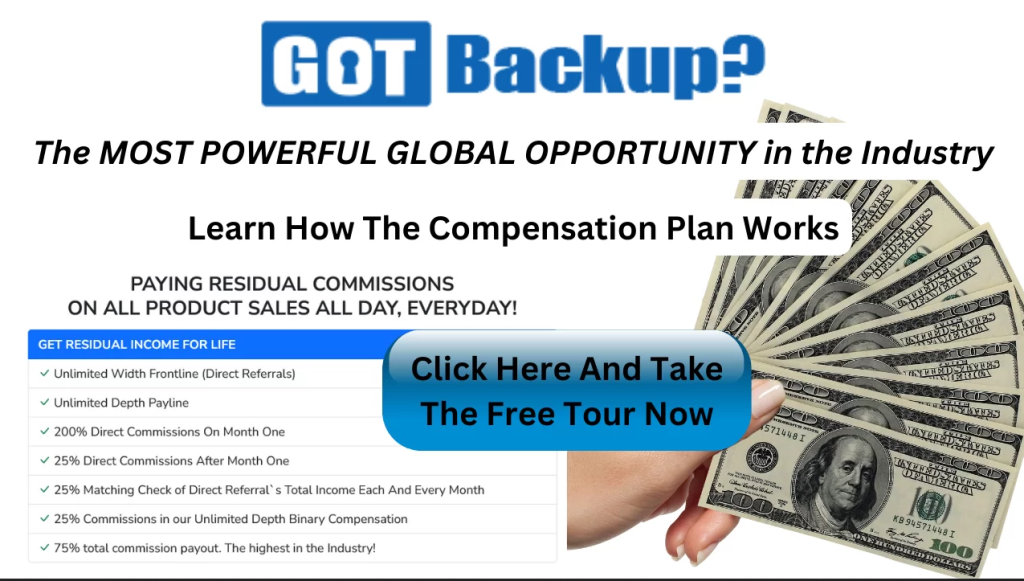 Gotbackup has a $40 one-time reseller fee, and sometimes the reseller fee is dropped to only $20. The company from time to time offers a special on this.
As a business opportunity, Gotbackup has no other competition, as all of the Gotbackup competitors do not pay people to refer them customers.
I have been personally paid by this company for well over a decade for promoting their other products and services and we are promoting Gotbackup as resellers and use the service.
In Conclusion
Is Gotbackup better than their competition in the backup space?
No, many of their competitors have been offering backup services for much longer, its just that Gotbackup offers much more value than all of them do, and Gotbackup has many other features the others do not, including an amazing business opportunity that anyone anywhere in the world can participate in..
"Opportunities are like sunrises. If you wait too long, you miss them."
Click here to read our full Gotbackup Review
We really hope our article here helped you to better understand how legit Gotbackup is, and how you may use it yourself to protect all of your digital photos, videos and other digital data from being lost forever.
If you ever have any questions, don't hesitate to contact us.
And if your interested in joining Gotback to learn more about the services or the business opportunity, make sure and click here and take the free tour.
Sincerely,
Your Friends And Partners
Richard And John Weberg