Segmetrics Review: Is It The Best Marketing Tracking Tool?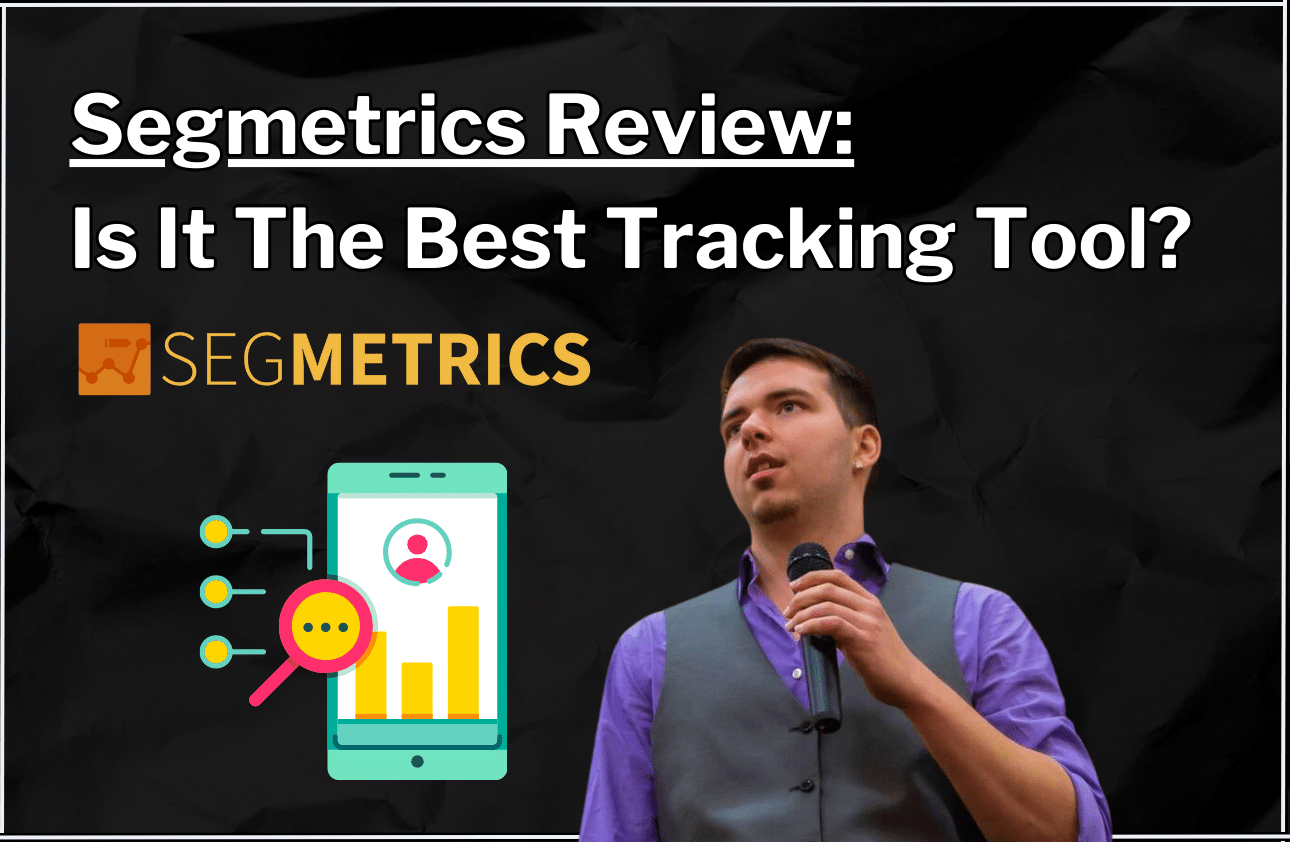 Being able to accurately track the lifetime value of your customers and leads, is one of the most important issues of todays world in digital marketing. This is why Segmetrics was created, to ensure you always can clearly measure all of the most important metrics concerning all aspects of your business. In fact, most businesses (because of a lack of proper tracking) waste the majority of the ad spend they use to bring in leads. This wasted ad spend & operating costs can keep a business from growing, and is where Segmetrics becomes your best friend.
This Segmetrics review will walk you through the pros and cons of the platform, how it works, pricing, and why Segmetrics is among the top funnel & ad attribution platforms that money can buy.
What Is Segmetrics?
SegMetrics is a marketing tool that gives you actionable marketing insights to uncover where your customers come from and how they navigate through your sales funnel. It allows you to clearly optimize every stage of your funnel, from ad clicks to repeat purchases, so you can focus on maximizing lifetime revenue.
Each part of the process will make it clear how much your potential customers are truly worth.
This helpful software was made by marketers, for marketers. It's important to see how every interaction in your marketing plan affects the value and success of your potential customers. By looking at these interactions along with where your potential customers come from, you can figure out which ways of attracting them are the most valuable.
How Does Segmetrics Work?
By easily being able to integrate Segmetrics with your current marketing tools, or through plugging in a simple plugin, Segmetrics automatically tracks & updates all important data regarding your all aspects of your business. From your average checkout cart value, to your lead value, to your lifetime customer value – Segmetrics allows you to quickly identify every metric concerning your businesses growth.
You can get all these useful insights without having to do any complicated coding or messing around with spreadsheets. In just a few seconds, Segmetrics measures & gives you easy to understand analytics so you can tell what is and isn't working in your business.
No coding skills needed – just bring in the data you already have. You can gather information from your email marketing tool, your payment system, and other places to make sure your reports about revenue and potential customers are 100% accurate.
Pricing
Essentials
Cost: $175/mo
Full-journey attribution to uncover your hidden profits
Full LTV Attribution
Essentials Reporting
Multi-Touch Web Tracking
Unlimited Users
12 Hour Data Sync
Training & Support
Intelligence
Cost: $375/mo
Advanced intelligence to take your business to the next level
Everything in Essentials
Business Intelligence Reporting
Step-by-Step Customer Journey
Purchase Conversion API
8 Hour Data Sync
1-on-1 Onboarding
Business Plan
Cost: $675/mo
Attribution tools & support for data-driven decisions
Everything in Intelligence
Advanced Data APIs
Full Journey Web Tracking
Server-Side Tracking
6 Hour Data Sync
Dedicated Account Manager
Enterprise
Cost: Custom Pricing
Enterprise-grade reporting, support and features
Everything in Business
Custom Reporting
Advanced User Permissions
PO Billing
Custom Data Retention
Strategy Consultation
Integrations
Segmetrics integrates with hundreds of other platforms and marketing tools in order to allow you to work with your existing software & tool stack. This means that Segmetrics is easily used with the page builders, CRM's, advertising sources, and email marketing tools you're already using.
Reviews On Other Platforms
Segmetrics have been found to be a highly reviewed platform and tool that users love. The Segmetric model is based upon giving marketers an amazing experience being able to truly understand accurate analytics and metrics concerning their business. You'll find that on review platforms and reviews made from individual customers on social media – they generally receive a 5 star positive response.
Should You Use Segmetrics?
Yes, if you own an online business of any kind that doesn't currently have a 3rd party tracking tool in place, then you need to consider becoming a Segmetrics customers. Why? Because by not having a tool or software like Segmetrics in place, you're costing your business a lot of money. Alternatives to Segmetrics like Hyros tracking is also a potential option to consider.
Inaccurate tracking equates to massive losses in profit margins, customer conversions, and much more. This means that having tracking like Segmetrics in place, actually helps your business earn more money per what you're spending on ads or content creation.
Segmetrics Affiliate Program
Segmetrics has an extremely rewarding affiliate program in place to help them generate more customers and growth. You can both refer Segmetrics customers, and you can even refer Segmetrics affiliates and earn from both efforts.
Commission Rate For Referring Segmetrics Customers: 15% recurring commissions
Commision Rate For Referring Affiliates To Segmetrics: 5% from all the affiliates earnings.
Click Here To Join The Segmetrics Affiliate Program
Final Thoughts On This Segmetrics Review
In conclusion, this review highlights the critical role of digital marketing in today's world and how Segmetrics was designed to address the core challenges businesses face in measuring their marketing efforts. The platform offers a comprehensive solution to track and optimize various aspects of a business, ensuring that valuable advertising budget is never wasted or lost.
Segmetrics is a user-friendly tool that empowers marketers to understand their customers' journey, measure their worth accurately, and make data-driven decisions. The pricing tiers, ranging from Essentials to Enterprise, cater to different business needs and budgets, offering a variety of features and support options. Integration with various platforms and positive user reviews further underscore its effectiveness.
If you want to stop wasting ad spend and better track your marketing, consider joining Segmetrics today.
We appreciate your time and hope this honest and in depth review from real customers and affiliates gave you enough insights into this great tracking tool.
With our kindest regards,
Jon Weberg
Richard Weberg