Mergepdf.io Review: Fastest Online PDF Combiner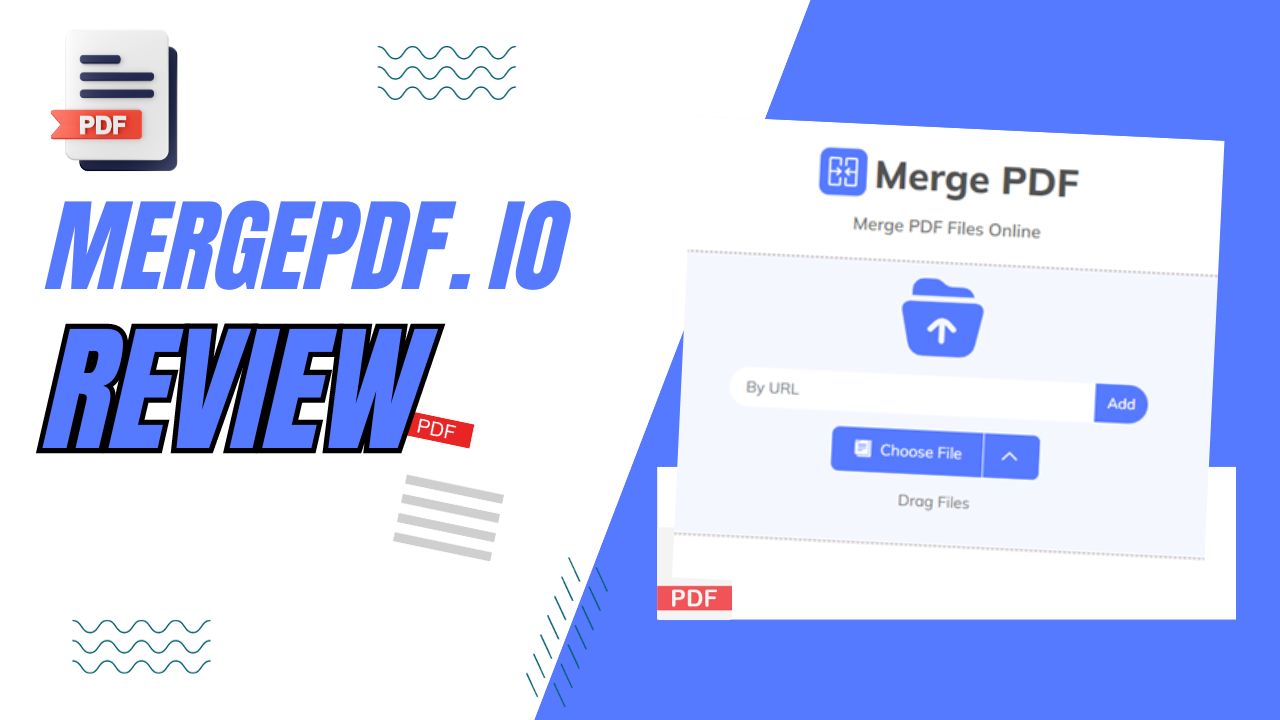 Are you tired of scrutinizing through various PDF files and wish there was an easier way to streamline your documents? Look no further than Mergepdf.io, the fastest online PDF combiner here to simplify your life.
In this article, well take you through the ins and outs of this impressive tool, ensuring you understand how it can revolutionize how you handle PDF files.
What is Mergepdf.io?
Mergepdf.io is a free online platform that combines multiple PDF files quickly and easily. This PDF Combiner is fast, merging documents in seconds. But what sets it apart from other online tools, and why should you consider using it?
Lets explore how it works and the key features that make Merge PDF a top choice.
How it Works
Merge PDF simplifies the process of merging PDF files into a few easy steps:
Upload PDF Files: To get started, upload the PDF files you want to merge. The platform allows you to select multiple files from your device effortlessly.
Arrange Files Before Merger: After uploading your files, Merge PDF provides a user-friendly interface that enables you to rearrange them in the desired order.
This step ensures that your merged PDF document is organized exactly how you want it.
Merge and Download: Once satisfied with the arrangement, click the Merge Files button. Merge PDF will swiftly combine your PDFs, and you can download the merged PDF file to your device in seconds. Its a straightforward and efficient process that anyone can follow.
Key Features
Merge PDF has many useful features that you will find valuable while using the tool online. It stands out as one of the best tools to merge PDFs online.
It offers convenience and ensures your files and data are safeguarded. You don't need to worry about losing the quality or text in your PDFs. Mergepdf.io can be used on any device, whether a desktop, mobile, tablet, or Mac.
Merge Multiple PDF Files at Once
One of the standout features of Merge PDF is the ability to merge multiple PDF files simultaneously. It boasts a user-friendly interface, making it easy for anyone to understand and utilize all its features.
You can join PDF files online anytime without the hassle of manual merging.
Completely Secure
Data security is a top priority, and Mergepdf.io understands this. Combining your PDF files, it ensures the safety of your data. You wont have to worry about losing confidential information stored in your PDF files.
Merge PDF combines and deletes your PDFs once you download the output folder to your device.
Easy-to-Use PDF Merger
Mergepdf.ios free PDF merger is incredibly user-friendly. After you upload your files, you can easily drag and rearrange them using the cursor.
The entire process is a breeze – click the Merge Files button, and your PDFs will be combined in less than a minute. There is nothing that you can't do without previous experience or training.
100% Free and Unrestricted Use
One of the most significant advantages of Merge PDF is that its entirely free. You no longer have to pay to merge PDFs manually.
Simply upload all the files you want to combine and click the merge button. There are no limitations on the size or number of files you can merge.
Edit before You Combine PDFs
MergePDF.io allows you to organize and re-arrange your uploaded files per your requirements.
Your files will be merged after you press the Merge Files button, and the process will take no more than a few seconds.
Step-by-Step Guide
For those new to online PDF combiners, Merge PDF offers a step-by-step guide that walks you through the entire process.
The user-friendly interface is designed to be intuitive, from uploading your files to rearranging them and merging. This guide ensures that you can start merging PDFs even if you have no prior experience.
Batch Processing
Efficiency is key when working with multiple PDF files. Mergepdf.io doesn't limit you to combining just a few files simultaneously.
It supports batch processing, merging numerous files in one go. Whether you have a handful of documents or an extensive collection, this feature saves you valuable time and effort.
Online Privacy and Security
In an age where online security is dominant, Merge PDF takes privacy seriously. It employs robust security measures to protect your data during the merging process.
Moreover, it doesn't store your files for an extended period. Once you've downloaded the merged PDF, the original files are promptly deleted from the server, ensuring your information remains confidential. If you want to use a 3rd party service to store your data and files, consider using GotBackup.
Collaboration and Sharing
Mergepdf.io isn't limited to personal use. Its a versatile tool perfect for collaboration in a professional setting. You can merge PDFs for team projects, share documents with colleagues, and streamline your work processes.
This feature is especially valuable for businesses and organizations looking to improve document management.
Customer Support
No matter how user-friendly a platform is, questions and issues can arise. Merge PDF offers excellent customer support to assist users with any problems.
Whether you have a technical question or need guidance, their support team is readily available to ensure a smooth experience.
Universal Access
This PDF merger tool has been designed with universal accessibility in mind. It doesnt matter which device, operating system, or browser you prefer; Merge PDF works seamlessly across all platforms.
Whether on a Windows PC, a Mac, an Android smartphone, or an iOS tablet, you can access and use Mergepdf.io without any compatibility concerns. Its a tool that caters to everyone, ensuring you can merge PDF files regardless of your technology preferences.
No Registration
One of the standout features of Merge PDF is its no-registration policy. Users don't have to complete any registration or sign-up process to access the tools full functionality.
This means you can merge PDF files straightaway without any financial commitment or the hassle of creating an account.
Mergepdf.io values simplicity and user-friendliness, making it a hassle-free solution for anyone needing a fast and efficient PDF merging tool.
Why Mergepdf.io is Worth Using for PDF Mergers
Ideal for Everyone: Whether you're a teacher, student, author, or professional, Mergepdf.io is the best PDF merger for you.
Customization: It allows you to arrange files according to your desired format.
No Subscription: You can combine PDF files without any sign-up or subscription, making it hassle-free.
Lightning-Fast: Mergepdf.io is one of the fastest PDF merging tools on the web. You can combine your PDF files in under ten seconds.
Top-Notch Security: Its strong barriers prevent anyone from accessing your uploaded files.
Multi-Lingual: This online tool is available in multiple languages, including Indonesian, Portuguese, Italian, and more.
Device Compatibility: Its a user-friendly tool compatible with various devices like desktops, mobiles, laptops, and more.
Conclusion
Mergepdf.io is a game-changer when it comes to managing your PDF files. It offers a fast, seamless, and secure way to merge PDFs and is completely free to use.
Its user-friendly interface, fast merging capabilities, and top-notch security make it the ideal choice for students, professionals, and anyone dealing with PDF documents.
FAQs
These FAQs should address many common questions users may have about using Mergepdf.io for their PDF merging needs.
1. Is Mergepdf.io a Free Service?
Yes, Mergepdf.io is entirely free to use. There are no hidden charges or subscription fees, making it a cost-effective solution for merging PDF files.
2. Is There a Limit to the Number of Files I Can Merge?
No, there are no limitations on the number of files you can merge using Mergepdf.io. Whether you have a few files or a large collection, you can combine them all in one go.
3. Do I Need to Install Any Software to Use Mergepdf.io?
No, Mergepdf.io is an online platform, and theres no need to install any software. You can access and use it directly from your web browser, making it convenient and hassle-free.
4. Is My Data Safe and Secure with Mergepdf.io?
Absolutely. Mergepdf.io prioritizes data security. Your files are deleted from the server when you download the merged PDF. This ensures that your information remains private and secure.
5. Can I Use Mergepdf.io on My Mobile Device?
Mergepdf.io is accessible on various devices, including mobile phones and tablets. You can easily use it on Android and iOS platforms, making it versatile for users.
6. Is There a File Size Limit for Merging PDFs?
Mergepdf.io has generous file size limits, and it can easily handle larger files. There's no need to worry about the size of your PDFs when using this tool.
7. How Long Does It Take to Merge PDF Files with Mergepdf.io?
Merging PDF files with Mergepdf.io is a quick process. It typically takes less than a minute, and the tool is known for its speed and efficiency.
8. Do I Need to Sign Up or Register to Use Mergepdf.io?
No, there's no registration or sign-up process required. Mergepdf.io offers a hassle-free experience, allowing you to merge PDF files straightaway without creating an account.