How Much Are Gold Bars Worth?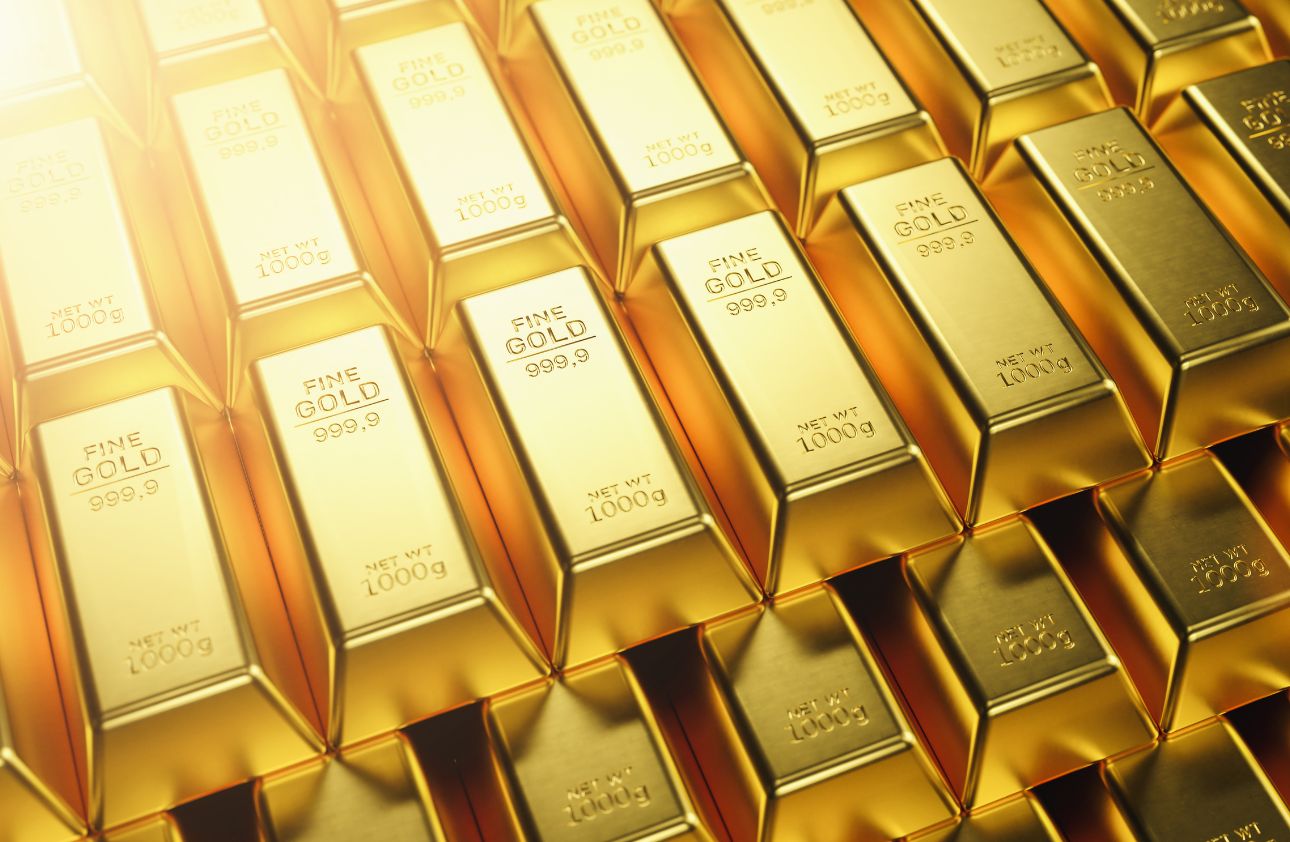 Gold bars are a valuable asset that are often seen as a safe option for high-value purchases or investments. Their worth can vary significantly depending on their purity and weight, so it's important to understand exactly how much are gold bars worth before investing.
In this article, we explore the factors that determine the value of gold bars, including market price, weight, purity, and condition.
We'll also look at some current price estimates for gold to help you understand it's worth and how much you can expect to pay when you buy gold bars.
How Much Are Gold Bars Worth Today?
Today's Gold Spot Price Per Ounce at this minute; 7:04 PM 1/10/2023: Gold: $1,884.65
This is a historical view below of golds value from 1995 to 2023, as you can see gold was around $400 an ounce in 1995, and has risen to the current price it is at today.
You can check golds current price in real time by clicking on the image, and it will take you to the Money Metals website where you can check any precious metals current prices.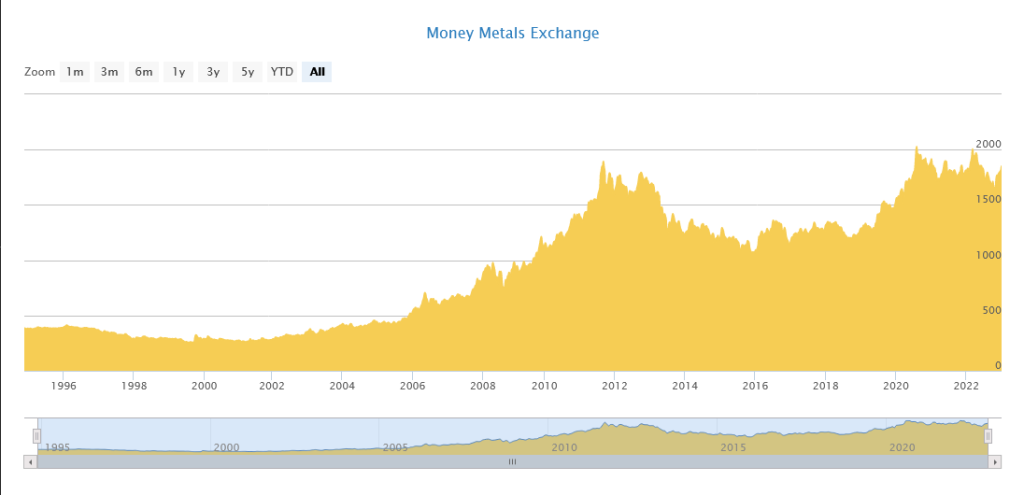 Investing In Gold Bars
When it comes to investing in gold bars, there are a few things you need to keep in mind. First, gold bars come in different sizes.
The most popular size is the 1 oz bar, but you can also find bars that weigh 2.5 oz, 5 oz, 10 oz, and even 1 kg (32.15 oz). Gold bars can also be sold by the gram.
Obviously, the weight of the bar will affect the price.
---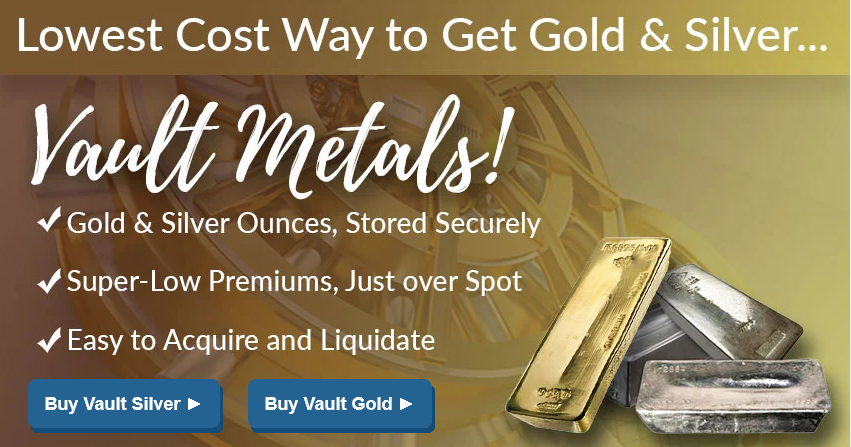 ---
Converting Grams To Ounces
When gold is sold by the gram weight, the unit used to measure precious metals is (troy ounce), not imperial ounce that we commonly use here in the United States to weigh sugar, grains, and other items.
An imperial ounce is equal to 28.3495231 Grams, and according to the U.K. Royal Mint, when converting grams to ounces with precious metals, 31.1034768 grams equals one troy ounce.
So every 1 troy ounce of .999 fine gold bullion has precisely 31.1034768 grams of pure gold.
Do You Have To Buy A Full Ounce Gold Bar?
No, you can buy gold bars weighing as little as an 1 gram.
Gold Prices Fluctuate
Like stock prices and other types of investments, the spot price of gold fluctuates every single day, all day long.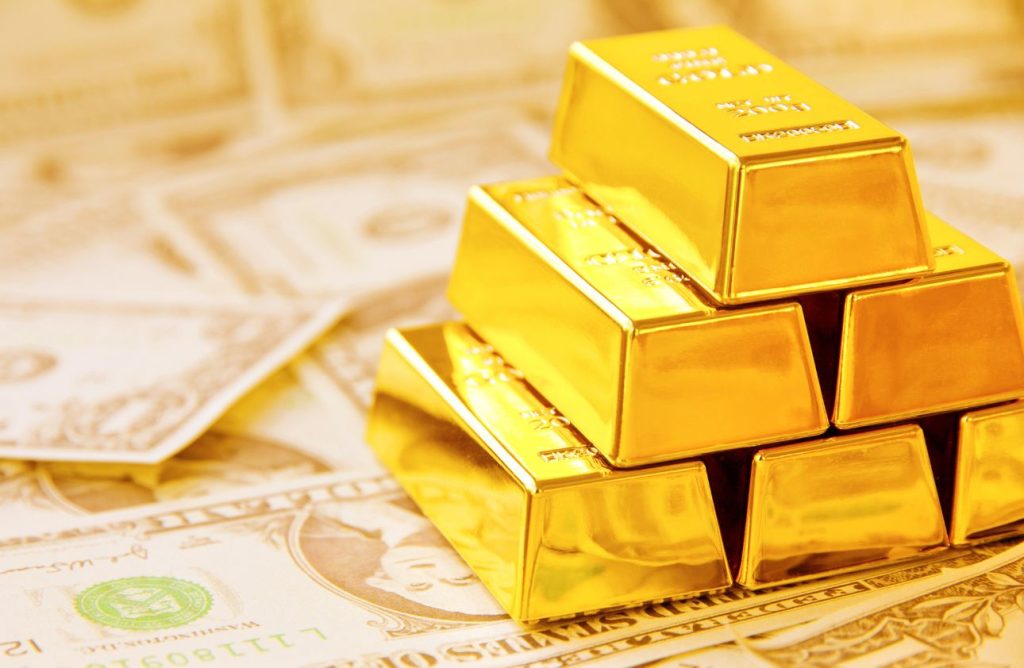 What Does Spot Price Mean?
Because gold is traded and sold on the markets almost 24 hours a day, gold spot prices update each minute across the world. (Unlike the New York Stock Exchange, for example, which closes overnight.)
There is almost always a location somewhere in the world that is actively selling and trading gold, including New York, London, Sydney, Hong Kong, Tokyo, and Zurich.
The spot gold price refers to the price of gold per ounce at this minute. In other words, if you go to a gold dealer online to purchase right this minute, the gold spot price at this minute is close to what you'll pay for a gold coin or bar per ounce.
You'll pay a little more than the spot price, because manufacturing and distribution costs are added to the cost of the coin or bar, plus a small commission for the dealer.
As an example, if the current spot price of gold is $1,884.65 per ounce. You might pay a premium of $50 to $150 over the spot price, depending on what type of gold you are buying, and where you are buying it.
Some dealers may also give you a discount if your buying multiple coins or bars.
Interested In Diversifying Your Investment Portfolio With Gold?
Grab Your FREE Gold IRA Kit!
"Reap the benefits of a traditional IRA, and invest in a real tangible asset" Why Invest In Gold?
Buying gold bars is a popular investment choice for many people because they offer a tangible way to invest in gold.
Gold has a history of outperforming inflation and proving to be profitable in economic downturns.
Gold is also a non-correlated asset, which means it doesn't move in lockstep with stocks and other investments. This makes it an ideal tool for diversifying your portfolio and reducing your overall risk.
Gold is a global asset, that is extremely valuable anywhere in the world. This makes it easy to sell and trade.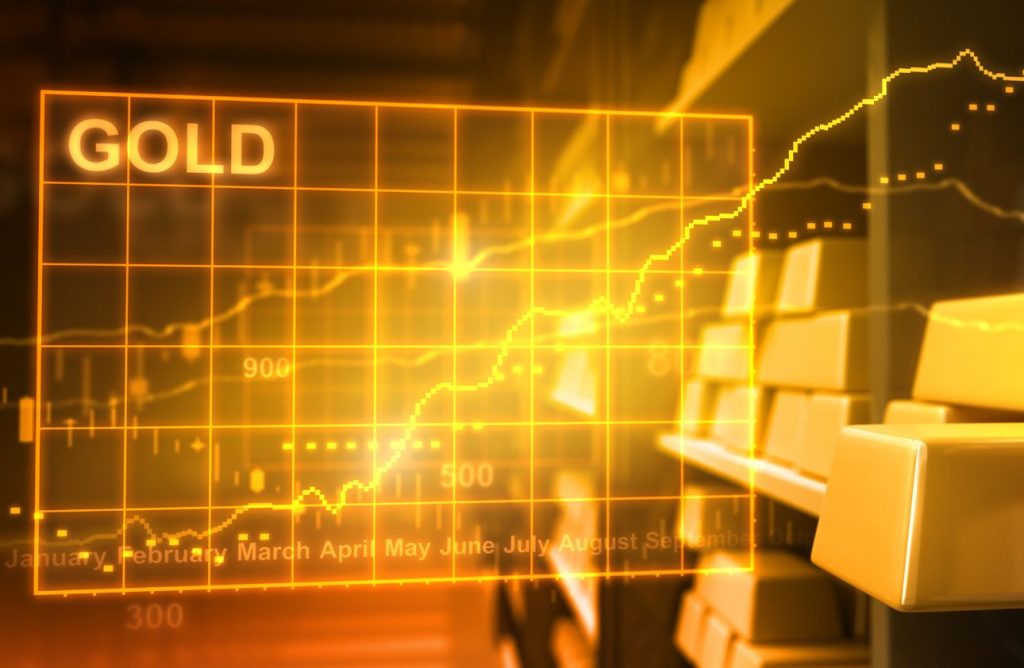 What Are The Best Ways To Invest In Gold?
There are several ways to invest in gold, including the following:
Self Purchasing: This includes buying gold coins, bars, or jewelry from a dealer yourself, and storing them in your bank or at home. This can be a good option for those who want to hold the physical asset and value the tangibility of gold.
ETFs or ETNs: Exchange-traded funds (ETFs) or exchange-traded notes (ETNs) that track the price of gold or a basket of mining companies can be bought and sold on stock exchanges. This can be a convenient option for those who want exposure to gold but prefer the ease of buying and selling on an exchange.
Mining stocks: Investing in the stock of gold mining companies can offer more risk and higher potential returns than investing in physical gold or ETFs/ETNs.
Futures contract: If you want to speculate on the future price of gold, you can buy or sell futures contracts that are traded on a commodities exchange. Futures trading is a more advanced and higher risk strategy, it's not recommended for beginners.
Physical Gold IRA: A gold IRA, or precious metals IRA, is a type of (self directed) individual retirement account (IRA) that allows investors to diversify their portfolios and invest in physical gold, silver, platinum, and palladium, instead of traditional stocks, bonds, and mutual funds.. It is an attractive option for those looking to minimize risk while also taking advantage of the long-term stability of precious metals. Physical gold IRA investing can provide a sense of financial security in retirement knowing that gold has never become worthless, and you are investing in a real tangible asset. Plus you get the same tax advantages with gold IRA's as traditional IRA's.
It's important to note that these are all different options for investing in gold with different levels of risk and reward. It's always good to do your own research and consult a financial advisor before making any investment decisions.
Potential For Growth
Gold has the potential to provide significant growth over time. Gold has outperformed the S&P 500 for the last 20 years.
If you're looking for a way to invest in gold, a gold IRA is a great option available. You'll get the benefit of diversification, tax advantages, and the potential for long-term growth. Grab your free gold IRA kit to find out whether a gold IRA is right for you.
GRAB YOUR FREE GOLD IRA KIT TODAY!
Reap the benefits of a traditional IRA, and invest in Gold, a real tangible asset
When Is The Best Time To Buy Gold?
Ultimately, the best time to buy gold is when it aligns with your investment goals, budget and risk tolerance.
As with gold prices fluctuating constantly, it can be difficult to determine when the best time to buy is.
There is something called – Dollar Cost Averaging that we believe in, and has served us well with all of our own personal investments.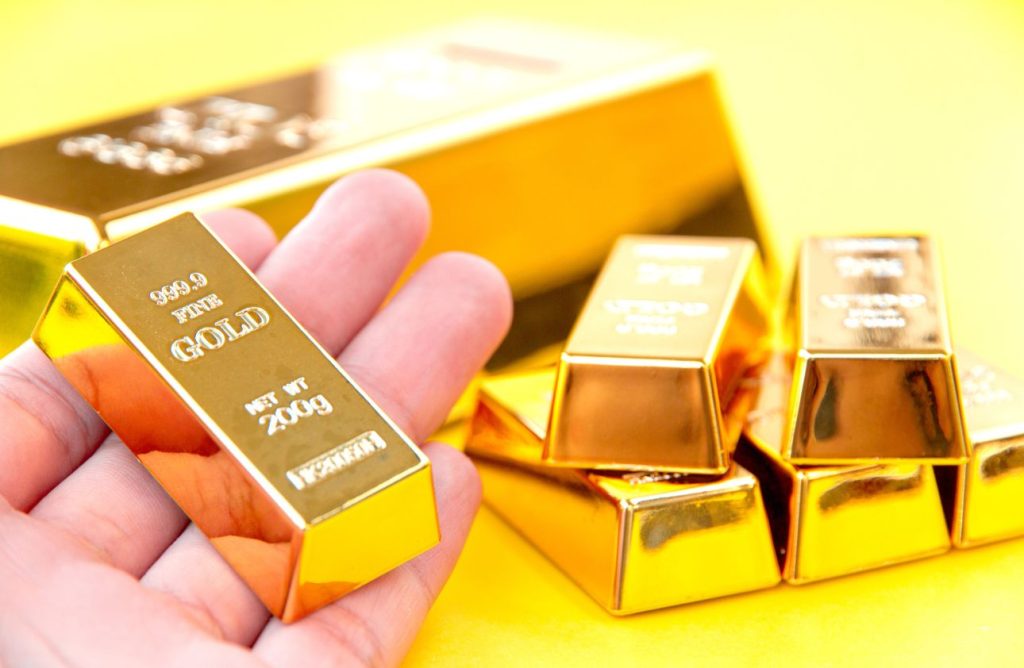 What Is Dollar Cost Averaging?
Dollar cost averaging is a strategy for investing a fixed amount of money at regular intervals, regardless of the price of the investment.
The idea behind this strategy is to reduce the impact of volatility on the overall purchase of an asset.
For example, an investor who wants to invest $10,000 in a stock might choose to invest $1,000 per month for 10 months, rather than investing the entire amount at once.
This way, if the stock price is high when the first installment is invested, the subsequent investments will be made at potentially lower prices.
By averaging the cost of the investment over time, the strategy aims to reduce the risk of investing a large sum at the wrong time and potentially buying it all at a high price.
It can be applied on stock, bonds, gold and other assets. The key of this strategy is to invest consistently and not try to time the market.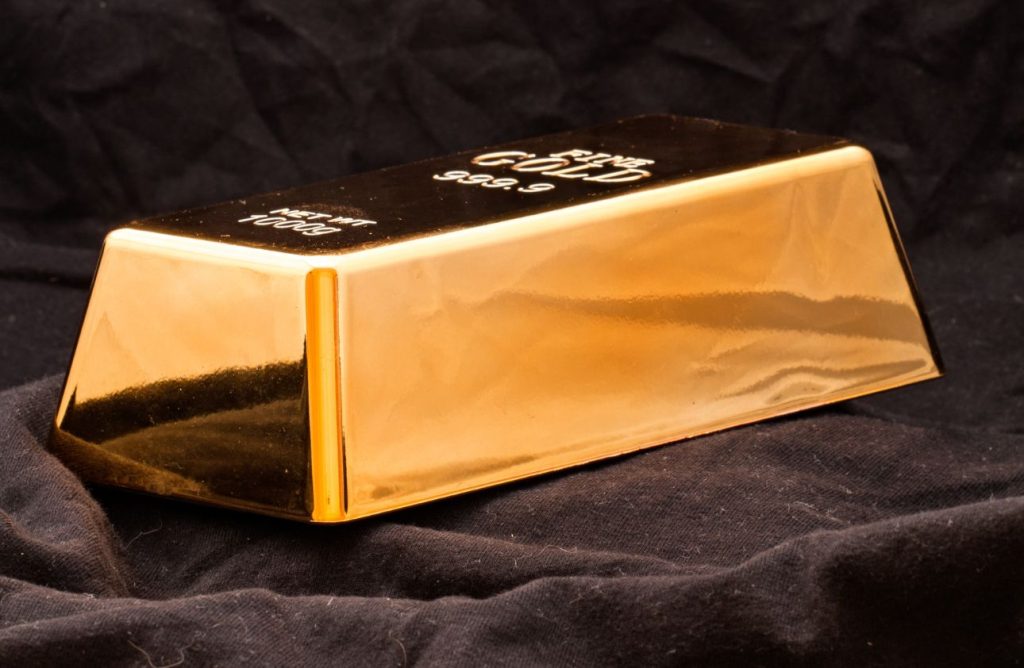 It can be helpful in a long-term investment strategy and often will help to mitigate some of the emotional effects of trying to buy low and sell high, and spending hours stressing trying to figure out perfect timing.
How To Buy Gold Bars Right Now
The best way to buy gold bars and coins is through a reputable precious metals dealer.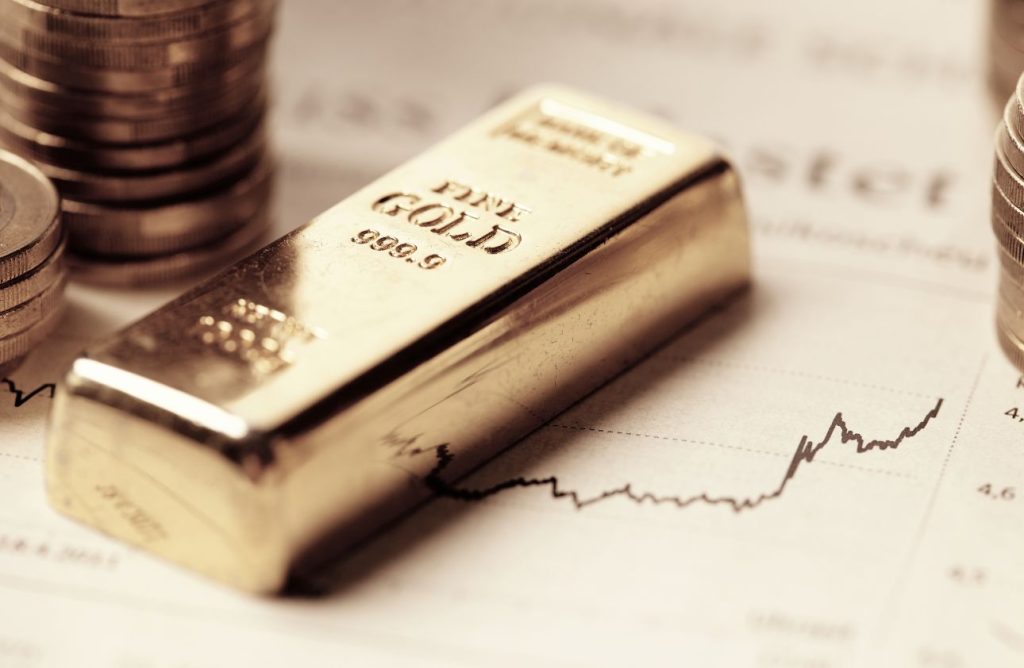 There are two that stand out in the industry, that have incredible customer service reviews, and you can fully access them online.
They have been in business for years providing gold, silver investments, and other precious metals to tens of thousands of investors.
Money Metals Exchange – has lowest premiums in the industry, and provides top-notch service, speedy delivery, and high-quality precious metals educational content.
BGASC Precious Metals – is one of the Largest, Fastest, Most Trusted Precious Metals Suppliers in the U.S.
Final Thoughts: How Much Are Gold Bars Worth?
Tracking the price of gold can be a daunting task. However, by understanding how gold is priced and what factors influence the price, you can make informed decisions about when to buy and sell.
Gold bars are a popular choice for investors because they offer a tangible way to invest in an asset that has the potential to provide long-term growth.
However, it's important to understand that the price of gold can be volatile and you could lose money on your investment if you're not careful.
When considering investing in gold, it's important to understand how gold is priced and what factors influence the price. By doing this, you can make informed decisions about when to buy and sell.
We really hope this article has been extremely helpful to you, and you have learned more about how much are gold bars worth, why, and how to get started investing in gold.
If you have any questions, don't hesitate to post them in the comments section below or just say hello.
Sincerely,
Your Friends And Partners
Richard And John Weberg