Profile Mate Review: The Ultimate Instagram Lead Generation Tool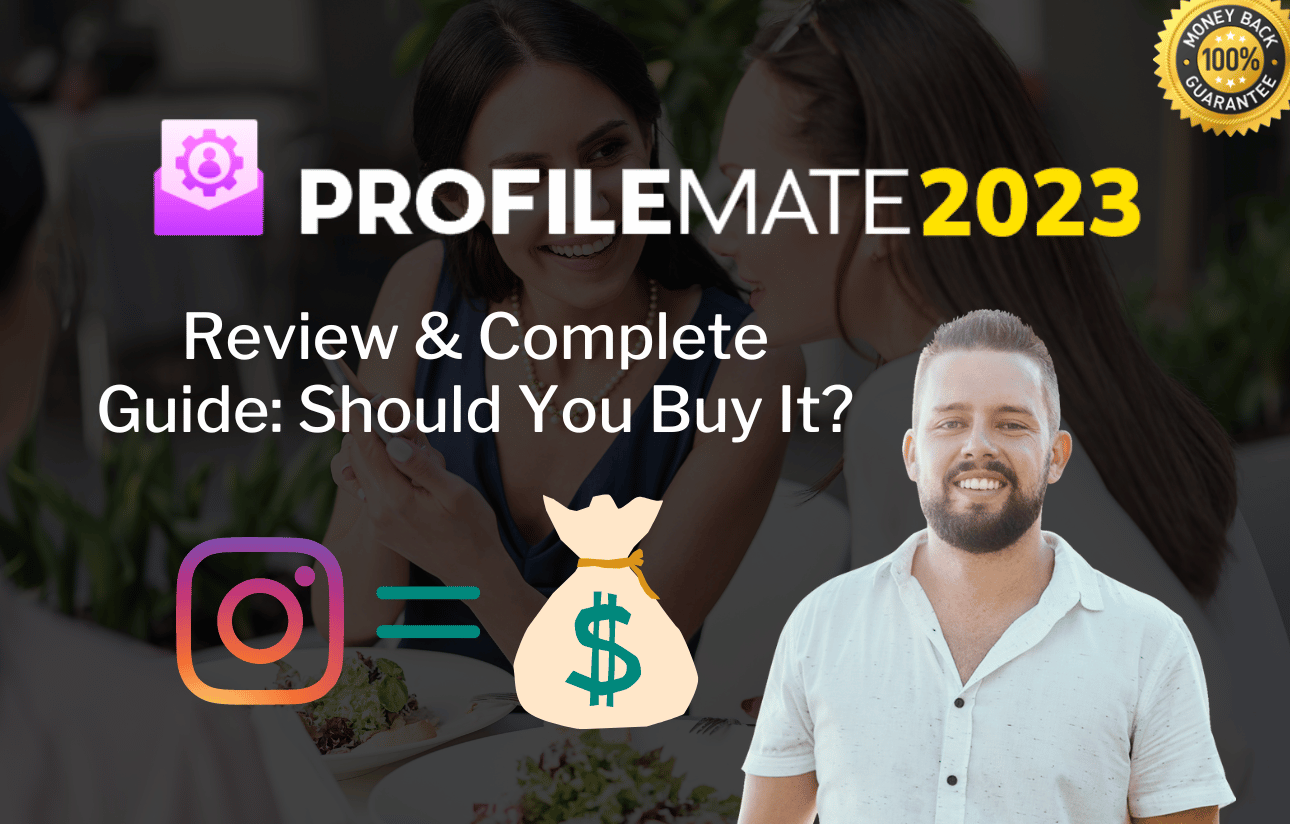 While Instagram has grown to become a mainstream social media platform, business owners all over the world have been using it for years to generate leads & sales. Profile Mate is one of the best Instagram lead generation tools made to date, and today we'll be walking you through a complete review of this software.
After reading through this thorough Profile Mate review, you'll understand everything you need to know about ProfileMate in order to make a buying decision about this amazing tool. We've reviewed dozens of other similar tools and services, to know that we only are willing to review the absolute best in the industry.
What Is Profile Mate?
Profile Mate is a tool used to gather leads & potential customers from Instagram. It allows you to gather together information on potentially millions of followers of some of the worlds biggest influencers. By accessing this data, you can then email and contact these leads & followers in order to generate sales for your own business.
While ProfileMate has launched before, in this new launch they have even more features, upgrades, and bonuses, that you really should consider investing in.
How Does ProfileMate Work?
ProfileMate is a groundbreaking software that enables you to analyze, plan, and reach out to the followers of any Instagram profile in bulk from day one, and start making money immediately. It's a straightforward solution that revolutionizes how businesses can leverage the power of Instagram.
What drew me to Instagram and kept me obsessed for the past seven years is its unparalleled user engagement and buying potential. In today's market, having a large fan base is not enough; the real value comes from converting those followers into customers or achieving specific goals.
Profile Mate lets you access this data in order to use it for your business & efforts.
Price
Profile Mate
Profile Mate Cost: $47 one time.
However, this price may increase or decrease depending on the popularity of its sales.
There are many other upgrades and potential upsells you get access to as well with ProfileMate.
VIP Training + AI Cold Email Writing Upsell
Cost: $67
ProfileMate offers an exclusive VIP training program that teaches you how to leverage the insights obtained from the software and turn them into tangible sales results. Whether you're running an e-commerce store, a local marketing campaign, or an affiliate marketing program, this training, along with a series of ten VIP webinars, will give you the tools and strategies you need to succeed with Profile Mate.
Additionally, you'll receive access to our latest AI content writing technology, which allows you to create compelling email campaigns without having to write a single word yourself. This training and toolset are designed to help you maximize your ROI and achieve your business goals in the shortest time possible.
VIP Searches Upsell
Cost: $47 per month.
With this upgrade, ProfileMate users can supercharge their search results and get the equivalent of ten days' worth of front-end search results in just one day. This translates to a massive increase in productivity, as users can now generate up to 3,000 emails per day instead of just 300.
Additionally, this upgrade expands the search capabilities of Profile Mate by enabling users to search for both hashtags and location-based posts. By unlocking these advanced features, users can broaden their reach and find even more high-quality leads to fuel their business growth.
10 & 50 Unbranded Agency Key Licenses
Cost: $197 – $497
If you're an agency or a local marketer looking to offer Profile Mate to your clients as a customized solution, this offer is a no-brainer. With this option, you can create unbranded ProfileMate front-end licenses and seamlessly add your clients as if you built the software yourself.
This white-label solution provides you with a simple and effective way to offer your clients the powerful features of Profile Mate without any branding or logos that might confuse them. By presenting it as your own solution, you can build even more trust with your clients and position yourself as a true expert in the field.
Features
Upon purchase you get access to a variety of different features that allow you to generate even better results from using the Profile Mate software. Here's some of the most important features that they offer you and other users.
Mass Contact users with Profilemates Public Email & Phone Number Domination module
Generate Buyer Traffic in Minutes
Profilemate Delivers Thousands of Contactable Users Delivered to YOU Every Single Day
Contact any pages most engaged fans with ProfileMate's Engagement Domination tool
Competitor Breakdown
Call To Action Based Sorting
User OCCUPATION & Interest search
Who Is The Owner?
Luke Maguire is the owner and creator of ProfileMate. Luke has been an entrepreneur for over a decade and is well known for launched extremely successful products on a variety of affiliate marketplaces like JVZoo.
Luke is a very reliable and honest business owner who prides himself on his ability to create viral products that you can always rely on.
Final Thoughts On The ProfileMate Instagram Lead Generation Tool
If you're looking to generate leads and customers for your business, we highly recommend that you use Profile Mate. It is a truly effective and incredible software that is extremely easy to use. It's simple interface give you easy access to a great tool for getting targeted leads, exposure and more – for your business.
You can grab a copy of ProfileMate for only $47 one time payment today.
We recommend it highly and know that Luke always make sure to create products and services that can consistently generate reliable results for every single customer.
With our kindest regards,
Jon Weberg
Richard Weberg