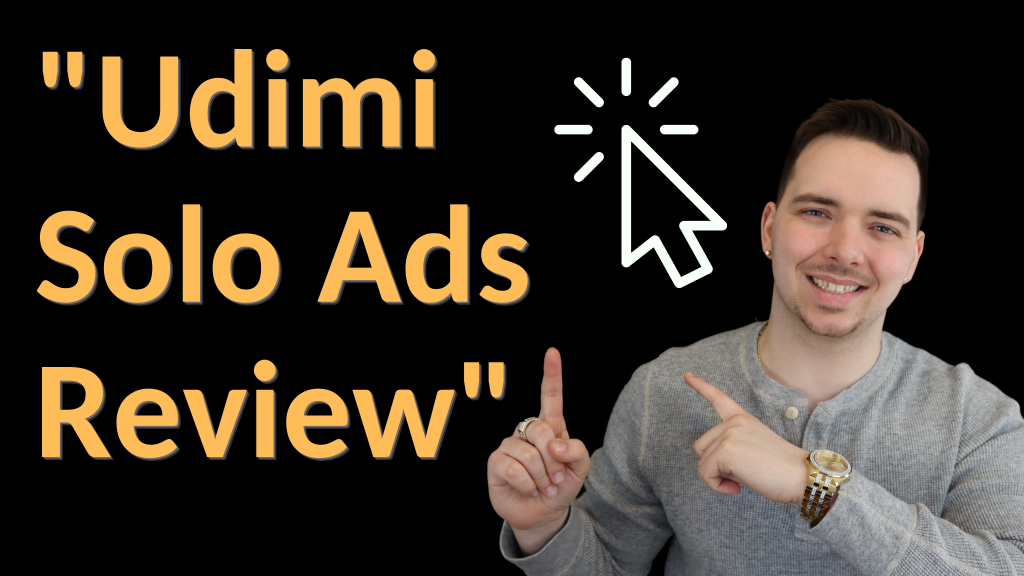 Udimi Solo Ads Review
When you take a look at solo ads you often want to see real and trustworthy reviews that aren't hype. For that reason, we're going to do an honest Udimi solo ads review that comes from someone who has spent tens of thousands of dollars on solo ads over the past 5 years straight.
From the $10,000's spent, we've found Udimi Solo Ads to be among the top traffic and lead providers in the industry. The company itself has been around for over a decade, so it truly is an industry solo ad standard for quality and longevity.
This full review will go over every part of Udimi and how Udimi works. I will go through different tier traffic providers within Udimi, the quality of their traffic, the average pricing, their website, and why you should or shouldn't sign up to Udimi at all.
Udimi Traffic
Udimi is a top tier traffic provider that has processed tens to hundreds of millions of dollars in traffic. One of the most unique qualities of Udimi's solo ads, is the fact you can choose from hundreds of different providers within their network. As well, within these different traffic providers you'll find they have different solo ads package prices. And finally they have different prices that include different industries that each provider's traffic is better for.
For example, you'll notice the majority of traffic providers charge between $0.40 – $0.75 a click. And each person has their own kind of clicks and leads. (because not all clicks and leads are the same).
So you'll want to find a fairly priced traffic provider that sells clicks for your industry or niche. Udimi traffic stands out in this way, because you're getting only high quality and high tier tailored solo ads traffic that has been designed for your audience.
As another note, you can also decide the size of the traffic package you get from each provider within Udimi. Whether you want to order 50 clicks, 500, or 5000 – you'll be able to choose the amount of traffic you want that's within your budget.
Udimi also has a review feature and rating system built right into the platform, so solo ad buyers can leave their feedback on an individual seller, all members can see this feedback.

This feedback will help you determine sellers you wish to buy from that have good ratings verified by other previous buyers.

Udimi Pricing
There is a broad but reasonable range of pricing for Udimi traffic. As Udimi has hundreds of vetted and qualified traffic providers within it, they all charge their own rate per click. (often discounting larger traffic packages per click)
Udimi pricing for traffic varies around the prices of $0.40 – $0.75 per quality click delivered. Udimi filters all traffic delivered, so you can feel safe knowing you're only getting the highest quality unique traffic possible.
All Udimi traffic is mostly tier-1 traffic that has been put through a global filter for quality click and quality lead assurance. If a seller fails to deliver your clicks, you will automatically get a refund based on the number of clicks undelivered.

Udimi Website
The Udimi website has been designed for a single purpose – they want you to be able to sign up for free and view the potential solo ad providers they have available. The website is a clean looking and professional site. Their site attracts both solo sellers as well as buyers into one unique platform, a community of sorts. They actually have a feature so that you can converse directly with any solo ad seller.

This enables you to ask questions, and be provided with the best possible service.

You'll be able to setup a free for life account and purchase as much traffic as you want at anytime.
Udimi Sign Up
Udimi has a free and simple sign up process that anyone can use. The Udimi sign up link is right here<<
You'll want to create a free account soon so you can choose which solo ad providers you want to invest and buy from. We highly recommend buying traffic from Udimi as it's among the 4 highest converting traffic sources we've used in a combined 27+ years of being in business. (Profitably with a 8.3X ROI)
How To Start and Grow a Profitable Online Business Today!
Learn How We Make Over $997 Daily From Affiliate Marketing & How You Can Too
"Get Your Step-By-Step System to a Hyper-Profitable Business"
Your Success Is Our Obsession
"Jon and Richard have directly made my company well over a million dollars, and I couldn't be more happy with everything they've done for us. If you're lucky, they'll let you work with them!"
"I you're seeing this right now align yourself with John and Richard. Just like people have lifted me up and helped me get to where I am today... John and Richard can do the same for you. "
"Jon and Richard will help you solve any problem you're having in your business. They are ready to help you, and know their stuff like the back of their hands. I trust Jon and Richard because they deliver results!
Turn Your Passion Into Profit