Traffic Authority Pricing
Traffic Authority Pricing Review
When considering a good traffic source to invest in that delivers quality leads that buy from you, you'll find that Traffic Authority is among the best. And this Traffic Authority pricing review is going to cover not just how much traffic authority packages cost, it will also cover more about the company and how they've been able to sell hundreds of millions of dollars of traffic over the years.
You'll find that the Traffic Authority pricing for the traffic packages they offer is a great deal and price. As they offer some of the highest converting traffic in the entire industry – that we've tested after spending well over $10,000's on their traffic to see if it truly is of good quality.
Traffic Authority Traffic Packages
You'll find that TA offers a variety of different traffic packages at different price points – in an aim to serve as many customers as possible.
Below is the breakdown of the Traffic Authority pricing that is official from the company.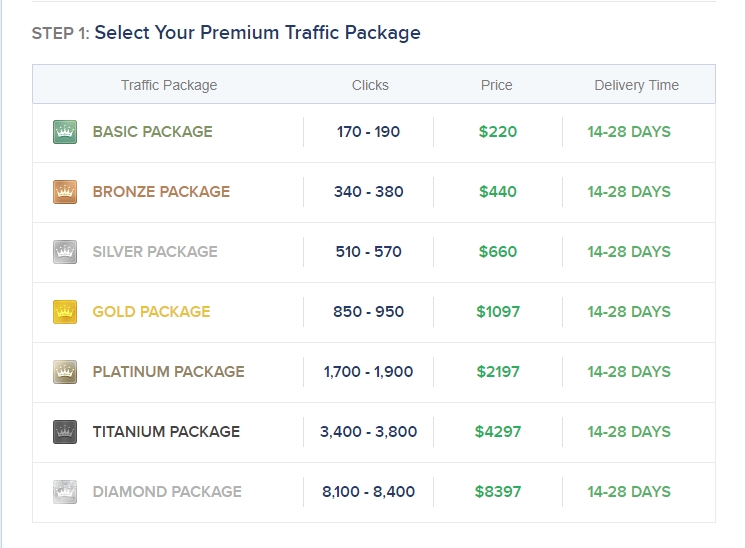 Here's the costs of the traffic packages for Traffic Authority…
Basic Package: 170 – 190 Clicks: $220
Bronze Package: 340 – 380 Clicks: $440
Silver Package: 510 – 570 Clicks: $660
Gold Package: 850 – 950 Clicks: $1097
Platinum Package: 1,700 – 1,900 Clicks: $2197
Titanium Package: 3,400 – 3,800 Clicks: $4297
Diamond Package: 8,100 – 8,400 Clicks: $8397
The great thing about their traffic, is that it has a high amount of buyers who are viewing your products and services. When you compare the lead and traffic prices of YouTube ads, Facebook ads, or any other main ad platform – Traffic Authority is cheap AND effective.
Traffic Authority CEO Greg Chambers
The active and supporting owner of Traffic Authority is Greg Chambers. Greg is a lifelong businessman who has been selling masses of traffic for over a decade. He has reportedly sold over a hundred million dollars of traffic, which also means over 100 million clicks have been sold through Traffic Authority. As well, Greg and Traffic Authority offer some of the best tracking for your traffic that is available in the industry as well. And in reality, without proper tracking, you never know if your traffic is converting or not.
Greg Chambers is a very ethical and great person to be around. We've hung out and have spoken for Greg at him and Matthew Neer's List Leverage conference, as we are the top 10 affiliates in the entire company. You definitely want to do business with someone like Greg who has such incredible values and who cares about his customers so much.
Should You Buy From Traffic Authority?
From our experience, and from the experience of well over 1000 people we've referred to Traffic Authority, you should definitely invest and test some traffic from TA now. This company has been in business for well over 10 years, and even has an A+ rating with the Better Business Bureau.
From our tests of buying every single traffic package they have, all of their traffic packages have gotten us customers. This means that regardless of the traffic package you purchase, you should get customers and sales. The more clicks you get, increases your potential to get even more sales.
Of course you should budget carefully and only invest in traffic packages that within your means. Create a free account.

We often buy excess amounts of traffic, since more leads means more customers. Most businesses will want to do exactly the same.
Read Also: Full Traffic Authority Review And Pricing
How To Start and Grow a Profitable Online Business Today!
Learn How We Make Over $997 Daily From Affiliate Marketing & How You Can Too
"Get Your Step-By-Step System to a Hyper-Profitable Business"
Your Success Is Our Obsession
"Jon and Richard have directly made my company well over a million dollars, and I couldn't be more happy with everything they've done for us. If you're lucky, they'll let you work with them!"
"I you're seeing this right now align yourself with John and Richard. Just like people have lifted me up and helped me get to where I am today... John and Richard can do the same for you. "
"Jon and Richard will help you solve any problem you're having in your business. They are ready to help you, and know their stuff like the back of their hands. I trust Jon and Richard because they deliver results!
Turn Your Passion Into Profit